Purchase your Aquarium of the Pacific discount tickets starting at only $24.90 and save up to 20%! Lowest prices guaranteed on Great Work Perks!
Scarium of the Pacific tickets included in your General Admission Tickets!
NEW: 25 YEARS OF CONNECTING TO NATURE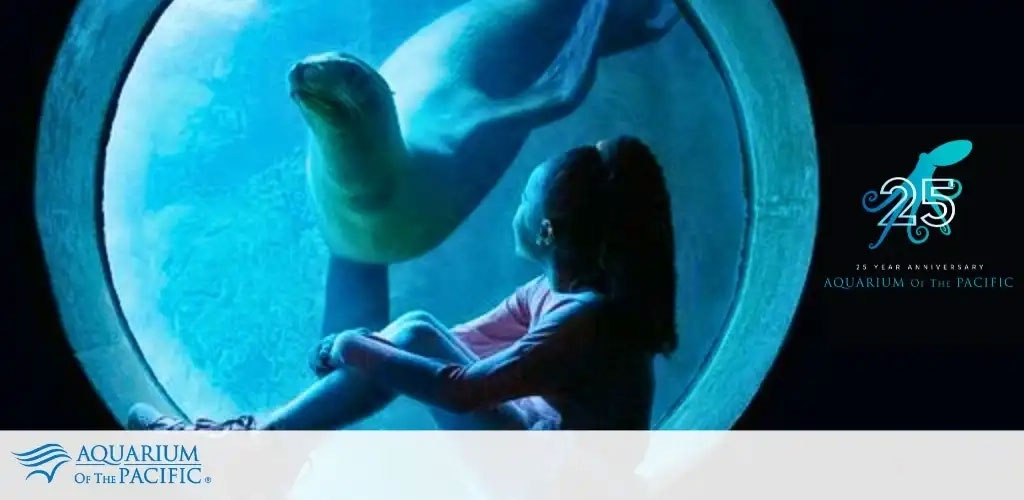 Join us as the Aquarium of the Pacific celebrates its 25th Anniversary with new exhibits, events, and programs highlighting the remarkable natural world right outside our door. Journey through a re-imagined Southern California Gallery highlighting fascinating local animals and marine habitats. Discover colorful reefs, kelp forests, and sea grass beds as you meet a pod of lobsters, an octopus, deepwater fish, and more. Hear about the local species we are saving, how we plan to rebuild California's coastal wild, and unique ways we are connecting our community to the healing power of nature and our deep blue ocean.
NEW: Babies!
Meet the newest members of the Aquarium family and discover how cute these baby animals can be. From rescued sea otters, mesmerizing cuttlefish, and miniature sea jellies to tiny translucent fish or a young desert tortoise, experience the heart-warming joy of baby animals while learning their fascinating behavior and biology, how we care for them, threats to their environment, and the importance of their survival for future generations and our oceans. Visit the Aquarium of the Pacific in Long Beach and enjoy the exclusive discounts from GreatWorkPerks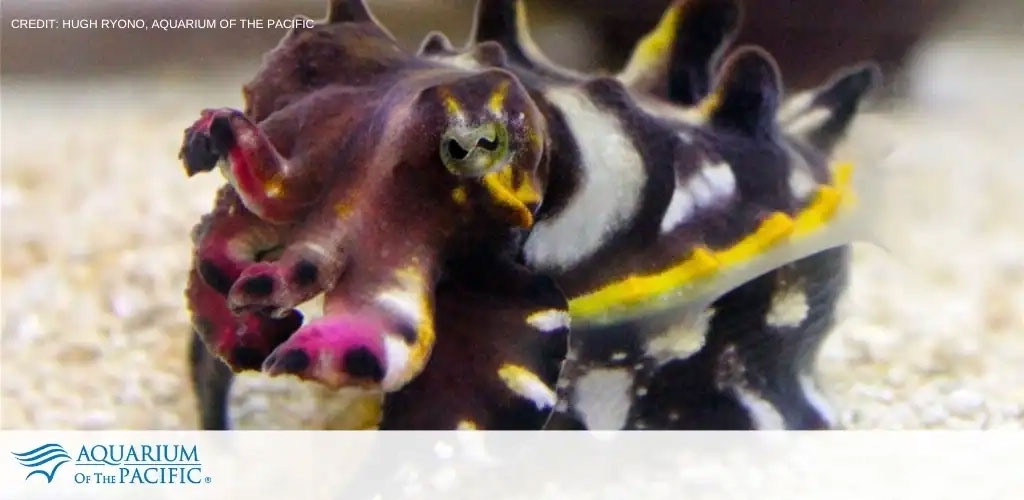 Events To Watch Out For!
There is always something happening at the aquarium! Get to experience Scarium of the Pacific, Member Months, First Wednesdays: Lecture, Cocktail Hour, and Music, and a whole lot more when you visit on certain dates!
Teen Science Café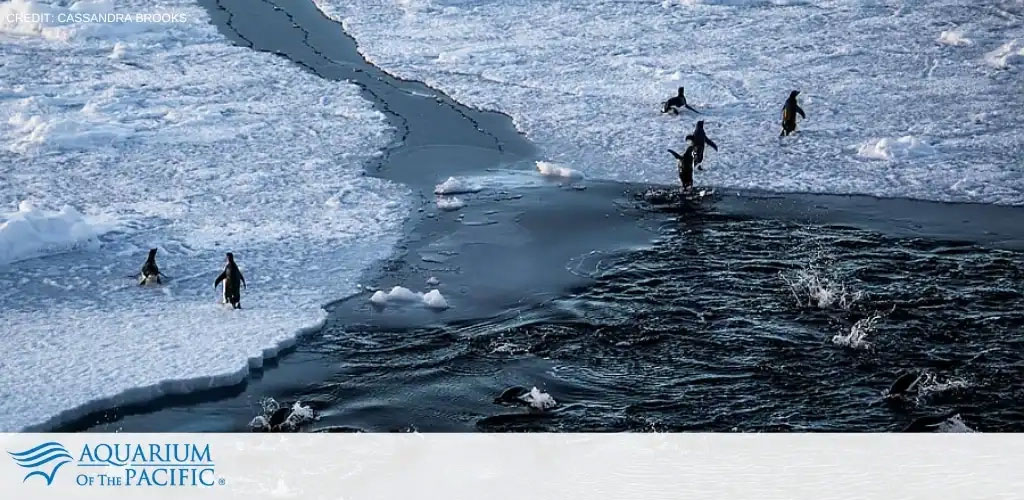 Watch out for this event on May 18, 2023
The Aquarium of the Pacific's Teen Science Café is bringing you a nine-part series about the National Science Foundation (NSF) funded Antarctic Women in Science Project. You won't want to miss this incredible opportunity to learn and be inspired! Grab this opportunity to learn from some of the most brilliant scientists currently exploring Antarctica's wonders! Get ready to expand your knowledge and dive deep into the fascinating world of science!
** This event is free. RVSP today, as space is only limited.**
What does the Aquarium of the Pacific discount tickets from GreatWorkPerks include?
Buying your ticket from GreatWorkPerks, is just the same as buying it at the front gate of the Aquarium, only more affordable. You will get the same experiences and will be able to enjoy the same activities as if you would have purchased your ticket directly at the gate.
Your discount Aquarium of the Pacific tickets from GreatWorkPerks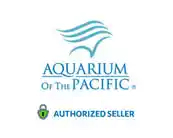 Lowest Prices Guaranteed!
GreatWorkPerks is an authorized seller of discount Aquarium of the Pacific tickets. We are one of the largest sellers of discount tickets in the country, and we couldn't have thrived for over 30 years if we weren't highly trusted by our customers. We would love you to join our family and enjoy the best price for the Aquarium of the Pacific tickets and other nationwide attractions!
Hassle-Free Transaction, Skip the Lines!
Another benefit of purchasing with GreatWorkPerks is that you do not need to print your discount tickets. Consider your phone your new best friend because all you need to do is present your discounted Aquarium of the Pacific tickets at the gates and, voilá, in you go!
What is the Aquarium of the Pacific?
Aquarium of the Pacific is the largest aquarium in Southern California. This aquarium in Long Beach is home to more than 12,000 animals and sea creatures. Experience wonderful live animal exhibits and learn more about creatures such as otters, sharks, frogs, jellies, turtles, penguins, and fish, among others. These animals have come from all over – some are from the Northern Pacific, others from the Southern California region, and there's also those from the warm lagoons of the Tropical Pacific.
Get your Aquarium of the Pacific discount tickets through GreatWorkPerks today!
Is Aquarium of the Pacific a good place to visit?
This aquarium is a great place to visit especially if you love animals. There is no animal cruelty involved. The Aquarium of the Pacific actively participates in conservation efforts, such as watershed education, rehabilitating endangered creatures, community science, and other loving actions to help the animals in their care. Visiting this world-class aquarium in Long Beach can be such an educational and wonderful memory!
Fantastic Surprises
Apart from the usual exhibits of this Aquarium in Long Beach, you must also try these fantastic encounters you'll surely not want to skip! You will love these if you are an animal-lover!
Pacific Visions
Paint A Fish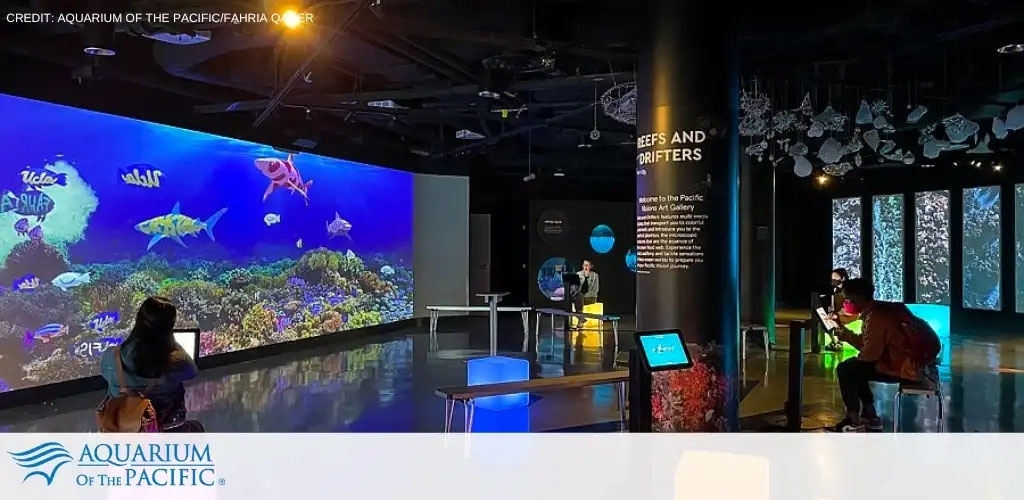 This interactive exhibit will surely amaze you! Visit this awesome glass building and discover everything you can do here. You can show off your painting skills, by coloring a virtual fish and watching it swim away! You can also enjoy the coral reef in an amazing and interactive state-of-the-art theater.
This exhibit is fun for the whole family! You can paint together with your family and see your fish as they swim along in the Aquarium!
Learn about the different species as you choose which virtual fish you will be painting! Are you going to choose a Parrot Fish, a Blacktip Reef Shark, or a Fairy Basslet?
Coral Film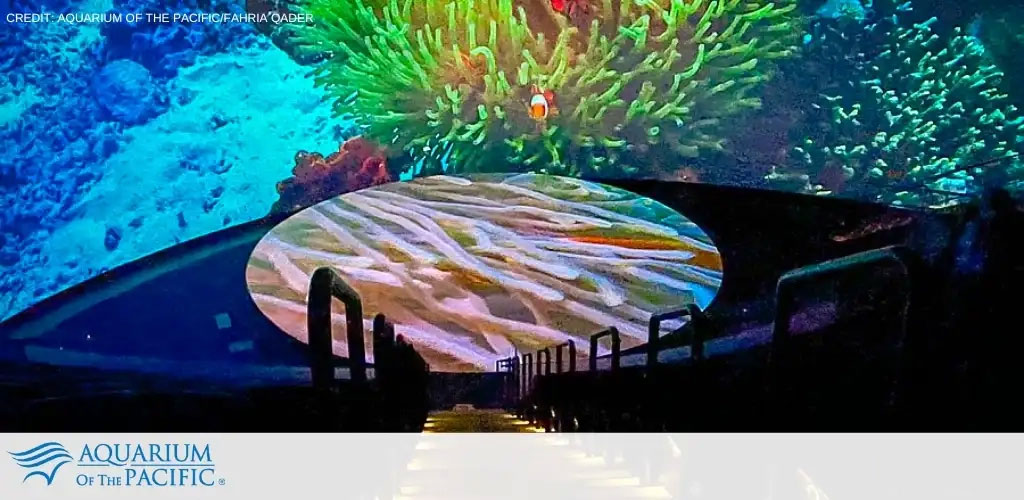 If you're curious about what fishes or expert scuba divers see underwater, give this Coral Film in the Pacific Vision exhibit a try! Learn all about the life of fish under the sea! Watch them interact with their habitat and other species.
If you care about our lovely and innocent animals underwater, take a seat and listen to the educational show and learn so many new things about these underwater creatures! Learn about their life cycle, and about some of the major ecosystem threats they encounter.
You might just want to keep learning how to help animals and start taking action to save them after watching this! Buy through GreatWorkPerks today and save yourself a seat!
Animal Shows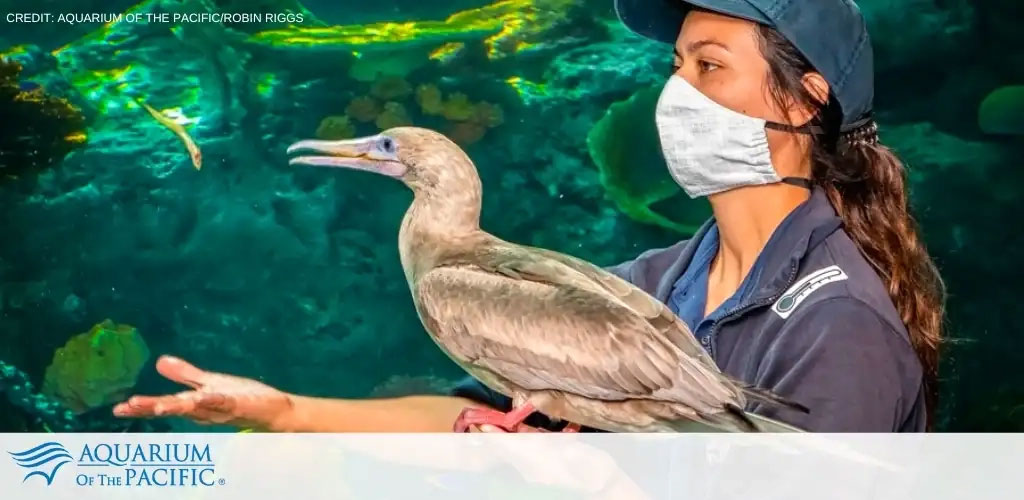 Come watch animals and how they play with their trainers! It is such a fun experience! You'll see how these amazingly talented creatures play and show off their skills in this interactive show!
You won't believe your eyes when you see these trained animals interact with their caretakers! Who knows? You might even be able to participate and be called to the stage! Wouldn't that be the best memory ever?
This exhibit is included in your Aquarium of the Pacific discount tickets from GreatWorkPerks
Architecture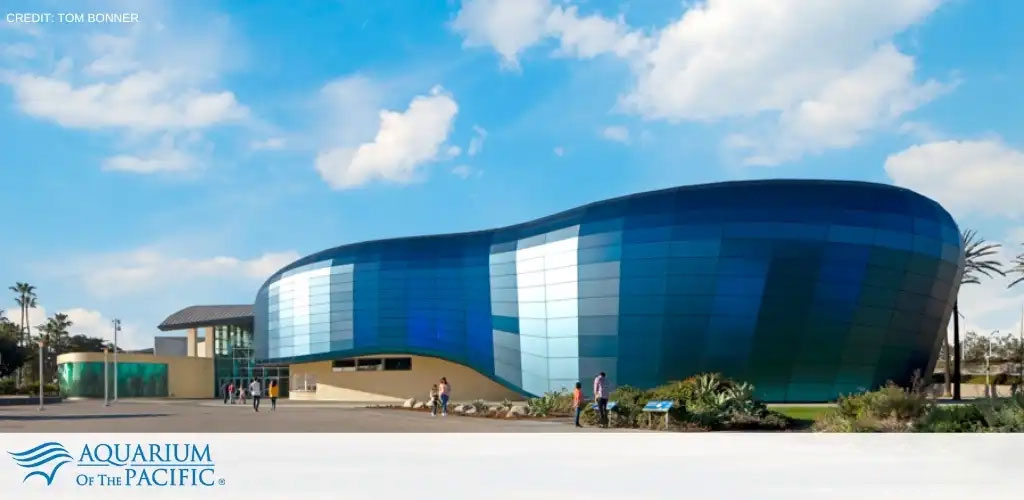 Your Aquarium of the Pacific in Long Beach experience will not be complete if you miss dropping by this unique building in the Aquarium! You will be surprised to see it's architectural design. Prepare to take your pictures, inside and out of the building. Be sure to tag us when you take some post-worthy shots!
Your Aquarium of the Pacific discount tickets from GreatWorkPerks include all these exhibits!
You'll never get bored at this aquarium in Long Beach! Have a splendid time visiting the home of more than 12,000 animals and sea creatures. Your Aquarium of the Pacific discount tickets gives you access to all the beautiful exhibits.
Coral Reefs: Nature's Underwater Cities
Marvel at the beauty of the coral reefs at the Tropical Pacific Gallery! Learn everything there is to know about residents of the coral reefs and how to help save them.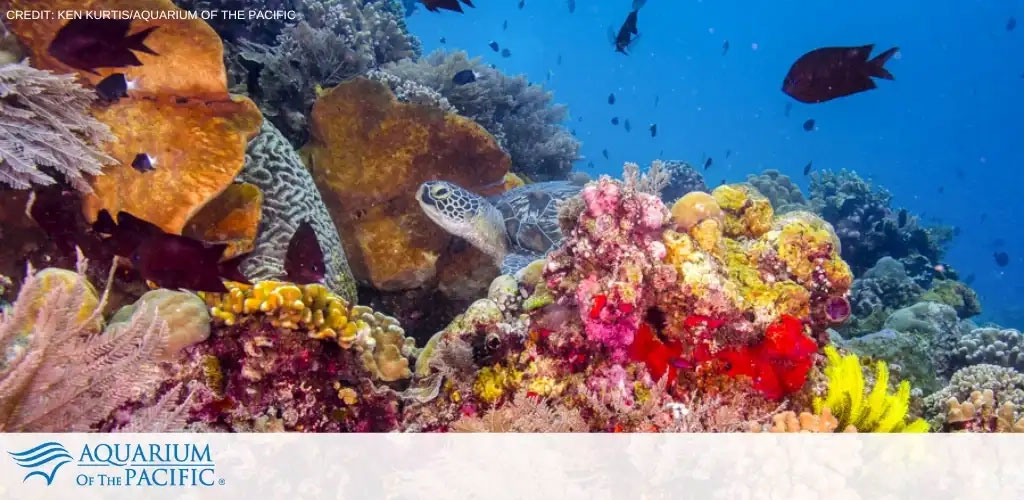 Frogs: Dazzling and Disappearing
When visiting this aquarium in Long Beach with your Aquarium of the Pacific discount tickets, stop by this brilliant display of amphibian life. Discover the history, life cycle, and the different environments that frogs and their amphibian relatives live in through thematic displays and interactive exhibits.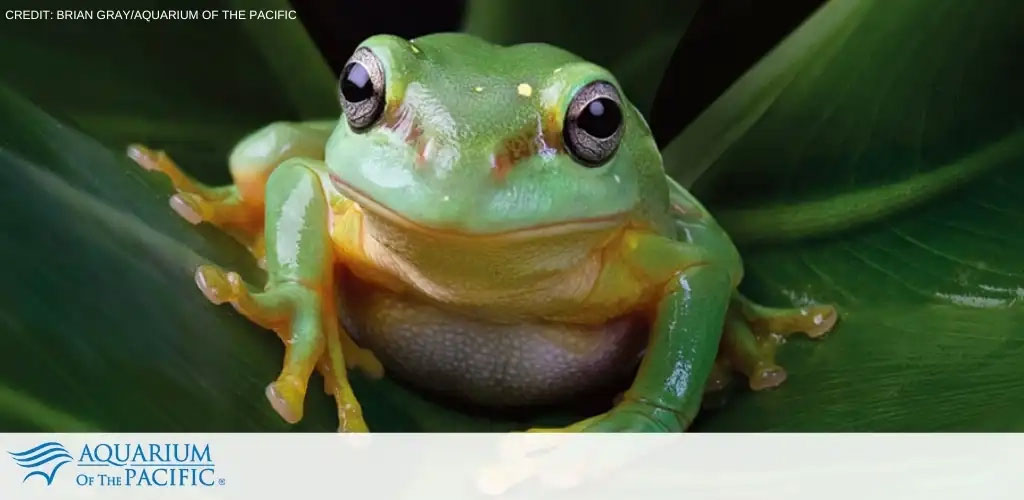 Shark Lagoon
Make sure you visit Shark Lagoon! See several different species and sizes of sharks (some of which you can even touch)! This aquarium in Long Beach has daily presentations and feedings that will surely make you take an interest in these predators.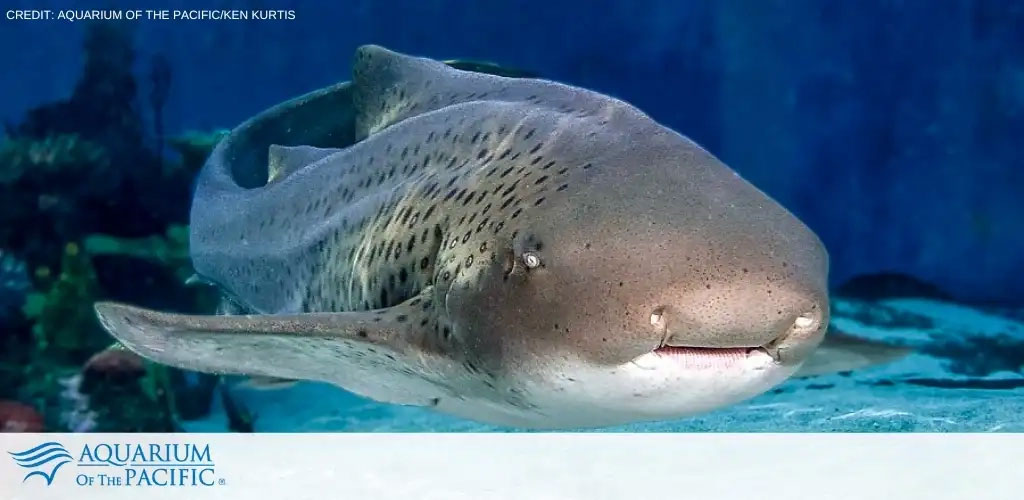 June Keyes Penguin Habitat
This gorgeous exhibit is home to twenty Magellanic Penguins. Enjoy this educational experience that features exhibit panels and interactive touch screens so that you can learn more about these adorable creatures. The June Keyes Penguin Habitat also includes a cozy crawl-in space that allows you to get closer to the penguins!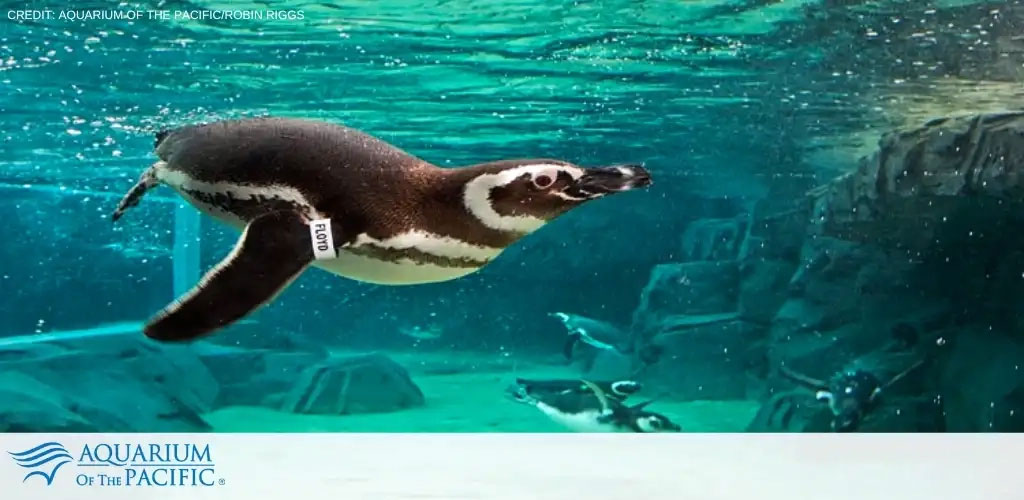 Sea Otter Habitat
At the Aquarium in Long Beach, discover the busy world of sea otters as they swim around the fish and kelp! The Sea Otter Habitat also hosts friendly competitions where you can learn more about sea otters, their habitat, eating habits, and more!
Northern Pacific Gallery
Discover what lies beneath the northernmost region of the Pacific Ocean! This Gallery takes you on a journey across the Northern Pacific. You'll meet adorable otters, sea jellies, and the mysterious giant Pacific octopus! Stop by this fantastic exhibit when you get your Aquarium of the Pacific tickets through GreatWorkPerks.
Tropical Pacific Gallery
Explore this feast for the eyes exhibit at this aquarium in Long Beach. Featuring over a thousand colorful fish, you will have an enjoyable viewing experience at the Tropical Pacific Gallery. Learn more about the diversity of the ocean life found off the coast of Palau.
Shark and Ray Touch Pool
Another exhibit included with your Aquarium in Long Beach discount tickets is the Shark and Ray Touch Pool. You're sure to get an interactive experience when you gather around the shallow touch pools, reach in, and touch these graceful animals. Get an up-close experience with the epaulette shark, cownose ray, and many other amazing creatures!
Jellies
Get to explore a wonderful world of sea jellies at this aquarium in Long Beach! Visit this gorgeous exhibit and you'll learn more about these mysteriously beautiful creatures and the vital part they play in the planet's ocean. The view is truly spectacular as these colorful jellies swim around. Drop by this exhibit!
Harbor Terrace
Visit this unique outdoor area that will be a learning experience for the books! They are located on the east side of the Aquarium building. Visit them and see the Moon Jelly Touch Tank. This touch tank is one of the most popular features. They also have the archerfish exhibit. You will get to see the archerfish's hunting prowess in this exciting display. Another exhibit found at the Harbor Terrace is the Mudskippers exhibit. Learn more about this one-of-a-kind fish that can live underwater and on land!
Get Up Close to animals with this Animal Encounter!
If you are up to having a once-in-a-lifetime encounter, then get ready to have a blast here at the Aquarium! During your visit, you will have the chance to encounter these popular animals up close in the Aquarium of the Pacific: Sharks, rays, seals, sea lions, penguins, and even some feathered friends! Please be advised that these encounters below are not included in your Aquarium of the Pacific discount tickets.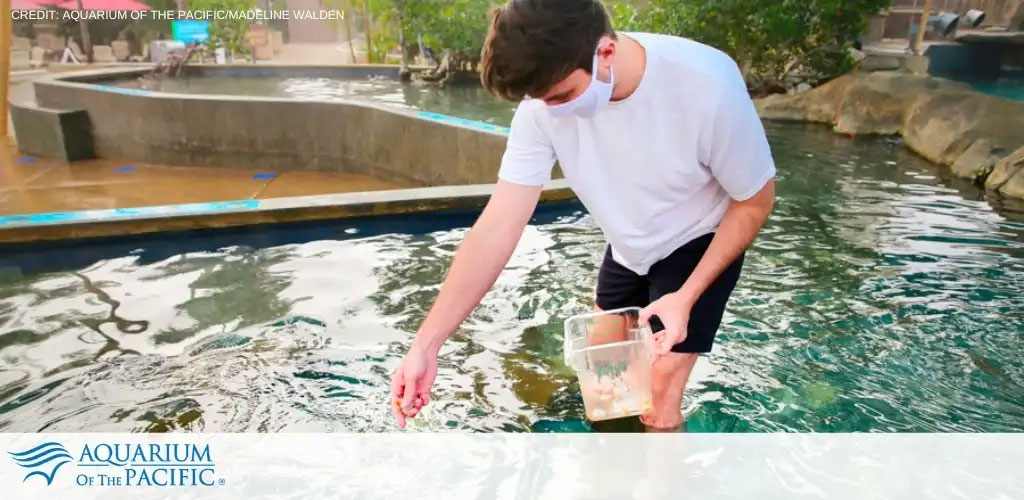 Animal Encounter: Sharks and Rays

This is one of the best ways to learn the truth about sharks, and stop being so afraid of them. You can learn so many interesting facts here at the Aquarium in Long Beach! You will learn that these species are entirely different than what movies made them out to be. You will live an adventure as you have the chance to feed sharks and rays!

"How deep is this touch pool, and what's the recommended outfit to wear?"

Keep in mind you will be walking in the water, so bring some extra pants and some swim shorts

Be sure to bring some extra comfy clothes to change when you are done!

The touch pool is 18 inches deep, and you must be at least 4'6" tall!
Where is Aquarium of the Pacific located?
This aquarium in Long Beach is located at 100 Aquarium Way, Long Beach, CA 90802, United States.
How much time does it take to explore the aquarium in Long Beach?
Guests typically spend about 3 hours exploring the aquarium. This might be more when extended by shows and special events. There are schedules by the entrance that include a list of events happening within the day. Enjoy a fun-filled aquarium day with your Aquarium of the Pacific discount tickets!
When is the Aquarium in Long Beach open?
The aquarium is open all days of the week, from Monday to Sunday, 9:00 AM to 6:00 PM. Operating hours may vary.
Where can I eat at Aquarium of the Pacific?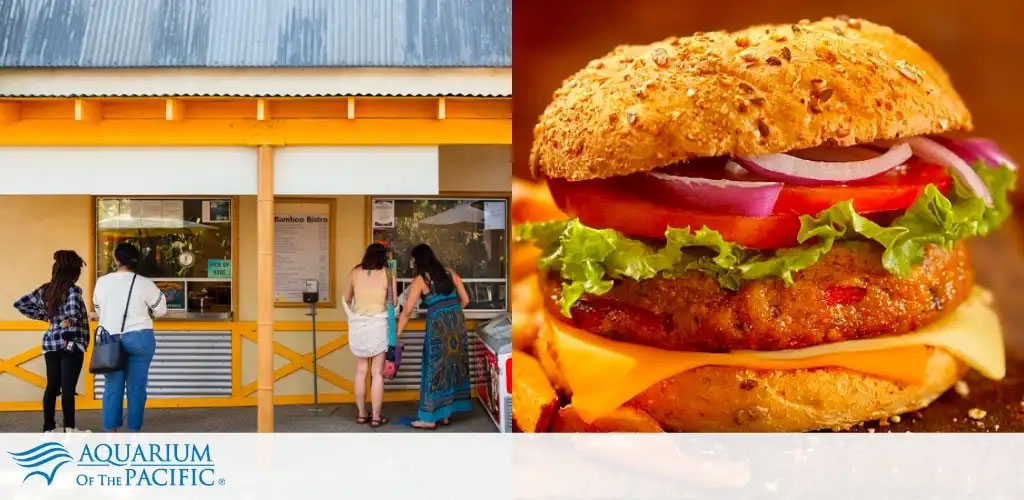 We understand that you need to make sure food options are available before getting those discount tickets. Well, there's no going hungry at this aquarium in Long Beach! There are multiple dining options guaranteed to fuel you for your day. Dining options are not included in your Aquarium of the Pacific discount tickets. Here are a few of those yummy choices:
Bamboo Bistro
They serve a lot of different food options: sandwiches, burgers, pizza, and more. Whether you're looking for a quick snack or a heavy meal, Bamboo Bistro has food options you'll love. They even have Churro Bites and Chili Cheese Nachos!
Café Scuba
This dining option serves a variety of salads, sandwiches, burgers, other tasty treats in a relaxing atmosphere. Watch the Seals and Sea Lions exhibit while enjoying a delicious meal! They also serve Starbucks! Coffee and Tazo Tea.
Blue Whale Café Coffee Cart
Do you want to grab some coffee? This Coffee Cart is located inside the Great Hall under the Blue Whale sculpture. They also serve Starbucks! Coffee and Tazo Tea.
Bar Fresh
After a long day at the Aquarium Of the Pacific in Long Beach, you probably need a refreshing drink, right? This is the place to go! Bar Fresh also serves specialty smoothies.
Covid 19 Safety Guidelines at Aquarium of the Pacific
At the Aquarium in Long Beach, they prioritize guest safety. Here are the health and safety guidelines set up to ensure you have a safe visit:
Wearing of Mask Coverings

All Guests ages two and over visiting the Aquarium of the Pacific are encouraged to wear a mask covering their nose and mouth while in indoor areas. This guideline applies to both vaccinated and unvaccinated guests.

Make sure you're healthy!

Guests experiencing COVID 19 symptoms such as cough, shortness of breath, fever, sore throat, or loss of taste/smell will not be permitted to enter and will be asked to visit another time.

Posted signs and directions

There are posted signs and directions in the aquarium that guests must follow for safety reasons.

Sanitize!

There will be numerous sanitizing stations located throughout the aquarium. Guests are expected to sanitize after touching a surface. For protection, staff also regularly sanitize all areas.
Frequently Asked Questions about Aquarium of the Pacific:
Are reservations required at the Aquarium of the Pacific?

Yes, your date-specific Aquarium of the Pacific discount tickets serve as your reservation. Buy your discount tickets today to secure your visit!

What if I don't make it to my reservation time (or on that date), what should I do?

General admission Aquarium of the Pacific tickets are valid one year from the purchase date. You are welcome to use your existing discount tickets within one year of the selected date and create another reservation HERE.

Do children get into Aquarium of the Pacific for free?

Children under the age of three years old get in free.

Is there free parking at Aquarium of the Pacific?

No, parking rates apply.

Are re-entries allowed in the Aquarium of the Pacific?

Yes, re-entries are allowed. Please make sure to have your hand stamped at the exit door to be assured of your re-entry.

Does the Aquarium of the Pacific have lockers?

Unfortunately, they do not have lockers due to health and safety reasons.

Am I allowed to bring outside food inside the Aquarium of the Pacific?

No, outside food is not allowed inside the aquarium.

Are cameras or video cameras allowed inside the Aquarium of the Pacific?

Cameras and video cameras are allowed for personal use only. Tripods are not permitted into the aquarium.

Are wheelchairs available inside the Aquarium of the Pacific?

Yes, wheelchairs are available on a first-come, first-served basis for free.

Are strollers available inside the Aquarium of the Pacific?

No, but they offer baby "backpacks," which can be borrowed at the information desk for free. Visitors are welcome to bring their strollers as well.
Last updated June 5, 2023.
Aquarium of the Pacific Tickets