Kindly check //www.rwsplash.com/prices-n-operating-hours/operating-hours for Raging Waters San Jose operating hours.

Now Open for Summer 2023!
This awesome water park is now open! Operating hours for the water park may vary, so please refer to their official website for detailed information. Prepare for a big splash this summer and purchase your discounted Raging Waters San Jose tickets from GreatWorkPerks today!
Splash Away the Summer Heat in Raging Waters San Jose!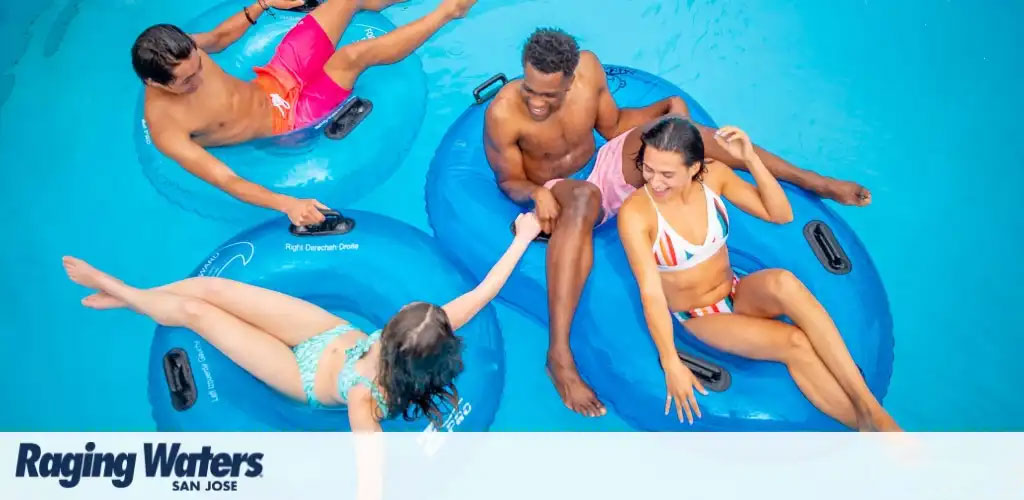 Raging Waters San Jose is Northern California's largest water park. With scenic views of Lake Cunningham and the San Jose Foothills, the water park features 23 acres of rides, slides, and attractions. From thrill rides like Bombs Away and Barracuda Blaster to family-friendly play areas like Wacky Water Works, an Endless River, and a 350,000-gallon wave pool, this water park offers fun for everyone. Whether for a family play day, a whole season of summer fun, a birthday party to remember, or a special day for your group, Raging Waters San Jose is Northern California's top spot for family fun!
Buy your GreatWorkPerks discount Raging Waters San Jose tickets!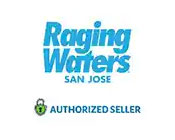 Lowest Prices Guaranteed!
GreatWorkPerks is an authorized seller of discounted Raging Waters San Jose tickets. We are one of the country's largest sellers of discount tickets, and we couldn't have thrived for over 30 years if our customers didn't highly trust us. We would love you to join our family and enjoy the best price for Raging Waters San Jose and other nationwide attractions!
Hassle-Free Transaction, Skip the Lines!
Another benefit of purchasing with GreatWorkPerks is that you do not need to print your discount tickets. Consider your phone your new best friend because all you need to do is present your discount tickets at the gates, and in you go!
Refreshing Family-Fun Adventure at Raging Waters San Jose!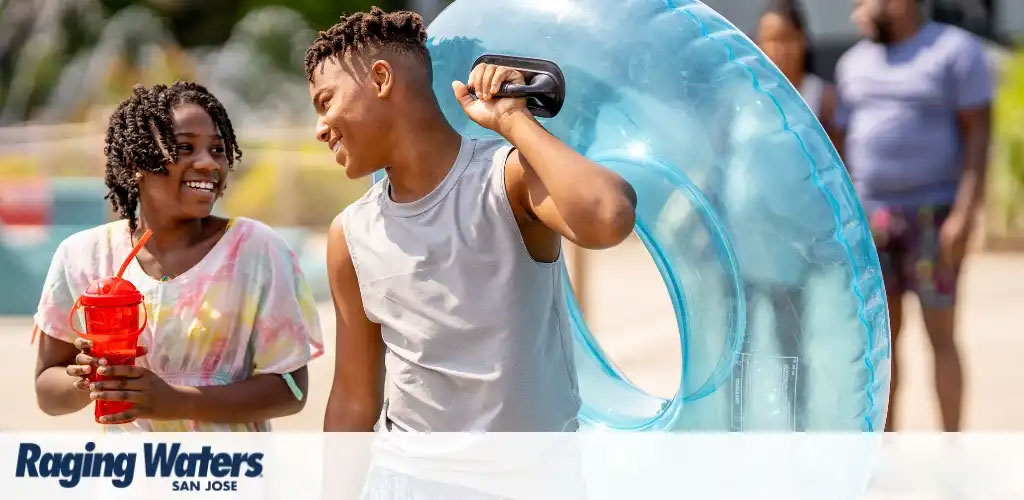 With over fourteen attractions and seven dining options, visiting will be an exciting and refreshing family adventure during the hot season! Hop into the Activity Pool, gently float down the Slide Creek falls, and feel the thrill in the Dragon's Den!
Replenish your energy and stuff your stomach full of yummy foods at any of the park's many dining options! Come and taste the delicious items from the widely-ranged menus of Pacific Pizza, Kluck's, Wacky Weiners, Flat Mike's, Seaside Ice Cream, Dippin' Dots, and Sharky's Big Bite BBQ & ICEE Mix-It-Up! Your discounted Raging Waters San Jose tickets from GreatWorkPerks will give you a splash of adventure and a chance to eat some delightful food trip!
Bombs Away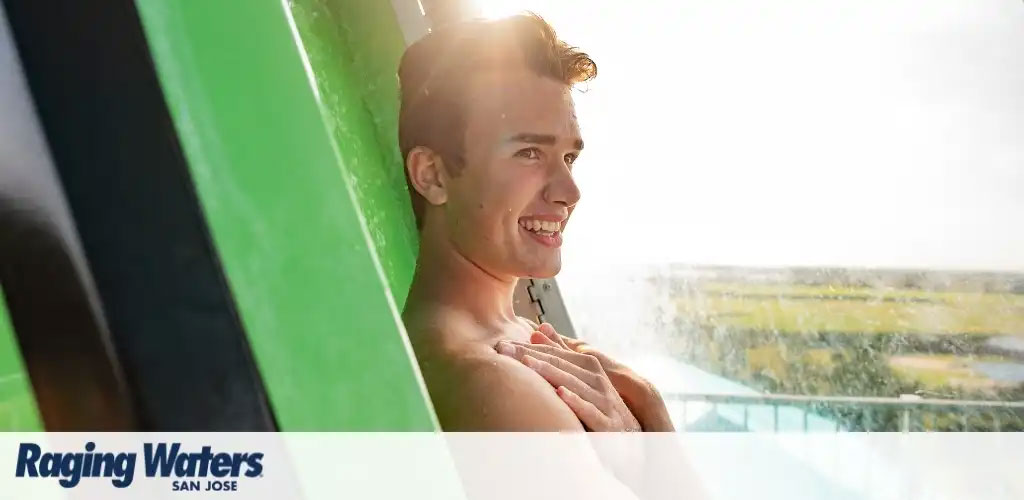 Step into one of the most thrilling rides if you dare! You'll first enter the capsule high up in the skies, and you only have a few seconds to prepare for an adrenaline rush! Once the trapdoor below you opens wide, you will be free-falling into an enclosed water slide of 200 feet. Expect dizzying twists and swift turns that will make your ride exciting!
For everyone's safety, the attraction implements height and weight restrictions for the water slide. Riders must be at least 48" tall and below 300 lbs. Experience a fun and thrill-filled journey at the lowest prices with GreatWorkPerks and purchase your discount Raging Waters San Jose tickets from us today!
Wave Pool
Let your worries be carried away by the waves as you dip into the 350,000-gallon Wave Pool! Want to wind down from all the excitement? Relax at the shallow end, where the rippling waters cool you off as you enjoy the park scenery. If you're looking for more fun, dive into the deeper end, where you can ride different wave patterns! This refreshing attraction is perfect for lighthearted fun for the whole family. Purchase your discount Raging Waters San Jose tickets from GreatWorkPerks today for a fantastic time at the lowest price!
Dragon's Den
Prepare for an exciting quest as you venture into the Dragon's Den! After you and your companion climb aboard a raft, you will be launched into the slippery and twisty lair of the dragon. Hold on tight for the swirling ride and witness the majestic creature! It will be a thrilling adventure for your party and an excellent way to share fun memories. In order to keep guests safe, the minimum height requirement for the ride is 48", while the maximum weight combined for both participants must not exceed 400 lbs.
Invite your family and friends for an incredible journey with your discount Raging Waters San Jose tickets from GreatWorkPerks
Frequently Asked Questions for Raging Waters San Jose
Where can I visit the water park?

You can visit the water park at 2333 South White Road, San Jose, CA 95148. Don't forget to purchase your discounted Raging Waters San Jose tickets from GreatWorkPerks while you plan your trip!

Are there parking fees?

Yes, the city of San Jose charges parking fees. You can find the entrances at Tully Road and White Road, and you may obtain the parking permits from the parking booth attendant or self-serve pay stations. Parking rates are subject to change.

Is the park ADA-Accessible?

Yes, the water park accommodates guests with disabilities as much as possible. Keep in mind that for the safety of every guest, some rides might not be able to permit guests with medical devices that aren't permanently attached to the body. Guests are advised to contact the Guest Services Associate 48 hours before the visit.

Are changing facilities available?

Guests are welcome to use the two restroom locations that have changing and shower facilities accessible. One can be found at the Main Plaza beside the locker rentals and food court, while another is next to the wave pool.

Are outside food and drinks allowed inside?

No, any outside food and beverages are not permitted – except for clear plastic water bottles. The park encourages visitors to enjoy the widely-ranged menu from several restaurants inside the park.

Is smoking and alcoholic beverages allowed?

The park is smoke-free. Guests are also not allowed to bring them inside the park. However, there are alcoholic beverages sold inside.

Are there life jackets available?

Life jackets in various sizes for complimentary use are available throughout the park. Guests under 48" are required to wear life jackets in the wave pool. For children and non-swimmers, wearing one is highly advised. Personal life jackets are acceptable as long as it is Coast Guard-approved.

Is there a First-Aid station?

Yes, the park values everyone's safety. The First-Aid station can be found next to the wave pool, and a certified EMT is always on-site.
Last updated July 06, 2023.
Raging Waters San Jose Tickets