Buy Adventureland Resort discount tickets through GreatWorkPerks today and enjoy savings of 58% off the gate price.

Experience the Ultimate Thrills at Adventureland!
Embark on an unforgettable journey filled with excitement and adventure at Adventureland! Get ready to immerse yourself in a world of thrills and discover many heart-pounding experiences that will leave you breathless. Adventureland offers exhilarating rides and captivating attractions that individuals of all ages will love. With over 100 thrilling options, there is something for everyone to choose and enjoy at this remarkable destination!
You will discover many entertainment options catering to various interests during your visit. From delightful kiddie rides that are sure to bring joy to the little ones to exhilarating thrillers that will leave you on the edge of your seat to the refreshing and invigorating Adventure Bay waterpark experience. There is no shortage of family-friendly attractions to keep everyone entertained throughout your stay. Get ready to immerse yourself in a world full of thrilling escapades and unexpected twists with your Adventureland Resort discount tickets!
The LOWEST-PRICED Adventureland Resort Discount Tickets
Hassle-Free Transaction, Skip the Line!
Another benefit of purchasing from GreatWorkPerks is that you do not need to print your Adventureland Resort discount tickets. Consider your phone your new best friend because all you need to do is present your e- Adventureland Resort tickets at the gates, and in you go!
Try Out the Newest Rides at the Park!
Draken Falls – NOW OPEN!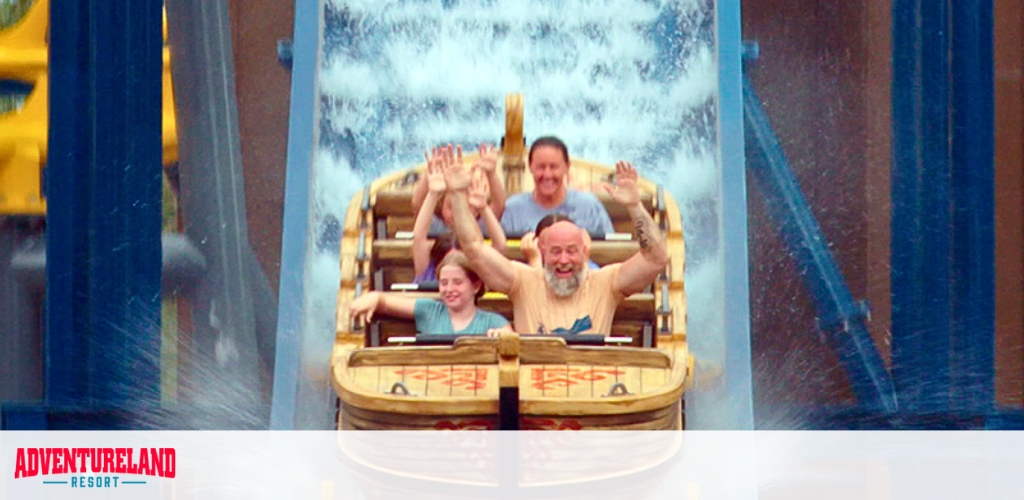 Embark on an exhilarating adventure as you step onto the magnificent Viking ship, ready to sail on a thrilling voyage. Brace yourself for an adrenaline-fueled experience as the ship propels you forward at an exhilarating pace throughout your journey. Hop on an exhilarating log flume journey that will whisk you away on a thrilling adventure through a captivating river landscape. Brace yourself as you navigate through all the exciting twists and turns, each designed to keep your heart racing and your senses heightened. Get ready to be captivated by the breathtaking scenery surrounding you as you glide effortlessly through the water, immersing yourself in the natural beauty that unfolds at every bend.
Flying Viking – NOW OPEN!
Experience the exhilarating sensation of soaring through the lush treetops of a majestic Viking Forest aboard the awe-inspiring Flying Viking. Experience the exhilaration of this family-friendly roller coaster, a thrilling adventure that guarantees lasting memories for kids and adults alike. This captivating attraction is designed to be enjoyed by individuals of all ages, fostering a sense of togetherness and shared excitement. Embark on a journey that will leave you breathless with anticipation as you navigate twists, turns, and loops that will ignite your sense of adventure. Don't forget to bring your discount Adventureland Resort ticket when you drop by!
Ticket Information
Discounted Adventureland Resort ticket is valid for one single-day entry/use to the park through September 16, 2023.
Tickets are not valid for Private and Special Events.
Adventureland Resort tickets are non-refundable. All ticket purchases are final.
Operating hours are changing without prior notice. Please confirm hours of operation or visit the official website of Adventureland Altoona to get the latest updates.
Frequently Asked Questions
Do I need to make a reservation with my Adventureland Resort discount tickets?

No need to make a reservation. Your Adventureland Resort tickets are valid until September 16th, 2023. You can visit the park anytime you want!

Where is the park located?

Adventureland is located at 3200 Adventureland Drive, Altoona, IA 50009.

Is there free parking at the park?

Only paid parking is available. Standard and preferred parking rates apply.

Are Adventureland Resort discount tickets refundable?

No. Adventureland Resort tickets are non-refundable, non-exchangeable, and non-transferable.

What are the operating hours of the park?

Operating hours change without prior notice. Please confirm the hours of operation before going.

Do I need to purchase a separate Adventureland Resort ticket for my child?

Children ages four (4) and above should have a valid entry ticket.

What type of payment does Adventureland accept?

The park is currently cashless and offers Cash-to-Card Services. Cards such as credit, debit, and prepaid cards are the only accepted cards for any purchases.

Cash-to-Card kiosks are located throughout the resort.

Are animals allowed at the park?

Service animals are welcome, given they are trained to do work or tasks to help individuals with a disability.

How soon will I receive my GreatWorkPerks discount ticket?

Instantly! Adventureland Resort tickets are e-tickets and will be sent to your email along with your receipt.

Do I need to print my GreatWorkPerks discount tickets?

Travel paperless with GreatWorkPerks Present your tickets through your mobile phone for easy and fast entry!
Last updated August 5 2023