Buy your Disneyland California discount tickets starting at only $261! Save up to $36 per ticket! Lowest prices guaranteed on GreatWorkPerks

Make the best family memories while saving huge with your Disneyland discount tickets! Who wouldn't get excited about going to Disneyland California at the lowest price? Buy your discount Disneyland California tickets, and get ready to enjoy magical attractions, amazing restaurants, and breathtaking stores while visiting the happiest place on earth! Make the most of your visit by reserving your GreatWorkPerks discount tickets! Spend an awesome day with family and friends at the park. Visit Disneyland California today!
NEW! at Disneyland California
Star Wars: Rise of the Resistance
Get ready to be recruited and be part of the world-famous Star Wars fandom. You are going to enjoy like never before once you hop on this amazing ride. You will feel so excited to be part of the secret mission. With incredible sound and light effects, you will love going on this one-of-a-kind adventure! Buckle up and hold on tight, your mission might lead you to encounter some surprising twists and turns along the road.
Our discounted Disneyland California tickets will surely transport you to the ultimate experience in the universe!

Overview
Welcome to the Happiest Place on Earth! Travel to this magical kingdom, where you can ride Dumbo the Flying Elephant across the skies, see Cinderella and all the other beautiful princesses at Royal Hall, and even give Mickey a great big hug!
You will never get bored of visiting because there's always some new magical attraction to discover, such as the Pixar Pier at Disney California Adventure Park, where you can meet your favorite Pixar characters while eating, drinking, shopping, and having a blast in some cool Pixar-themed rides. With so many places to visit and rides to catch, it doesn't matter if you have been here plenty of times, there's always something new to discover.
With your Disneyland California discount tickets, you can experience all of this thrill and adventure for a great price!
Disneyland Discount Tickets from GreatWorkPerks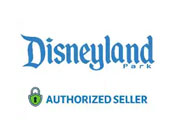 Lowest-priced tickets in the market!
Our company guarantees to give you the best prices! Get your Disneyland discount tickets and visit the world-famous theme park! We have been providing our customers with these exclusive discounts and best prices for Disneyland California tickets through our long-time partnerships. For the past 30 years, we have offered the lowest priced discount tickets and discount passes possible to thousands of companies. Buy your Disneyland discount tickets now to enjoy the best discounts in the industry!
What to expect with your discount Disneyland California ticket from GreatWorkPerks
Here are some important things you should know when buying Disneyland California tickets
Since we are an authorized ticket seller for Disneyland California tickets, our terms, and conditions, as well as policies, are also aligned with Disneyland's. Here are the quick previews of what you can do with your discount Disneyland California ticket from GreatWorkPerks:
Unlimited Access to Rides and Attractions

Our discount Disneyland California tickets give you unlimited access to the theme park's attractions, rides, and live shows! Take advantage of our discount Disneyland California tickets to maximize your visit and enjoy your favorite attractions and rides!

Admission to Disney Themed-Lands

By purchasing your tickets through GreatWorkPerks you can roam around and drop by all the theme parks at Disneyland. Below are the lists of the themed areas inside both Disneyland Park and Disney California Adventure Park that you can access using your discount Disneyland California ticket from GreatWorkPerks.
Disney California Adventure Park
Buena Vista Street
Hollywood Land
Cars Land
Pacific Wharf
Pixar Pier
Paradise Garden Park
Grizzly Peak
Disneyland Park
Main Street, USA
Adventureland
Frontierland
Fantasyland
Tomorrowland
New Orleans Square
Critter Country
Mickey's Toontown
Star Wars: Galaxy's Edge
What you should know before you go!
Make the most of your Disneyland California vacation and stay safe at the same time! Disneyland California has done everything to create a safe environment and safeguard all guests. Safety measures are taken around the clock. The park has modified its criteria to keep everyone's health safe from potential hazards.
Some other things you should know and prepare for before visiting Disneyland California:
Secure a Reservation and a Valid Ticket to Enter.

Before visiting the theme park, guests ages 3 and above should have a valid ticket as well as a reservation for the same day and the same park. Follow these steps to make your reservation:

Step 1: Visit //Disneytraveltradeinfo.com/dlrcalendar to verify whether your desired date is available.

Step 2: If your desired date is available, return here to purchase your discount ticket.

Step 3: Visit www.StartYourDisneylandExperience.com to login to, or create your Disney account, and link your tickets.

Step 4: Access the Reservation System and Create Your Party.

Step 5: Select the day and time you'd like to visit.

Step 6: Review and confirm your visit!

Vaccination is Recommended.

The State of California strongly recommends that guests should be fully vaccinated or at least obtain a negative COVID-19 test before entering Disneyland California Resort.

Wearing Masks.

Visitors are strongly recommended to wear face coverings or masks when visiting the theme park. Below are the guidelines to "When am I required to wear one?"

Ages 2 and older are required to wear face coverings regardless of the vaccination status, especially during indoor activities and enclosed transportation.
Face coverings are optional only in outdoor areas.
Download the Official App for a Better Disney Experience!
Your visit to the theme park with your Disneyland discount tickets has been made easier for you. The App will provide you with whatever information you require while within the theme park. Waiting times for attractions, eating options and pre-ordering in addition to payment booths around the park, and much more! For a better experience, download the app.
The following are some of the application's features:
See Virtual Queue
There are certain attractions that would allow you to join the virtual queue. If you have it, you won't be disappointed.
Order Food Online
If you're trying to save time for dining during your visit so you can experience all the rides, attractions, and shows in the park, then you better order food ahead using this feature in the park's official app!
Details You Need to Know
Some of the attractions, rides, and shows in the park will open at certain hours, so be sure to check the app first. This will save you time! Use the app to view operation hours, schedules, dining locations and other info!
The App has way more to offer guests apart from the above-listed features. All you have to do is download it, and you are set to go!
Access Disneyland California Attractions, Rides, and Shows with your Disneyland discount tickets from GreatWorkPerks
Thrill Rides for Adults and Teens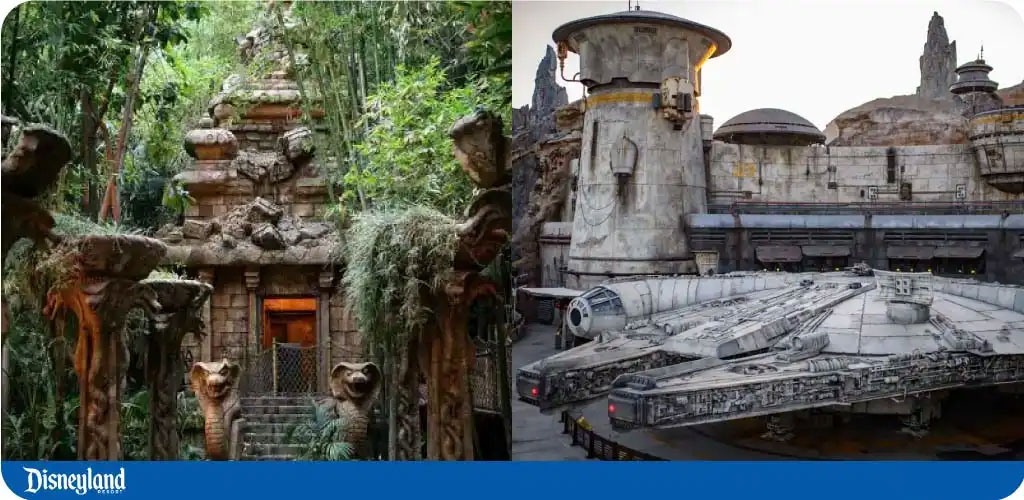 Indiana Jones Adventure
The Indiana Jones ride at the theme park is a thrilling experience that transports you deep inside a temple full of snakes, hidden traps, and insects. You will have to rush out of there with Indiana Jones' help! The Disneyland California Resort's Indiana Jones Adventure: Temple of the Forbidden Eye is a must-see attraction. Discover the explorer in you with your Disneyland discount tickets!
Millennium Falcon: Smugglers Run
If you're looking for an interactive ride that is really fun, then Millennium Falcon: Smugglers Run is a must try! It is a highly entertaining ride due to its graphics and realistic effects. You will feel like you are actually on a space mission! Blast off in this amazing ride with your discount Disneyland California ticket from us and enjoy the ride! Be brave and have fun!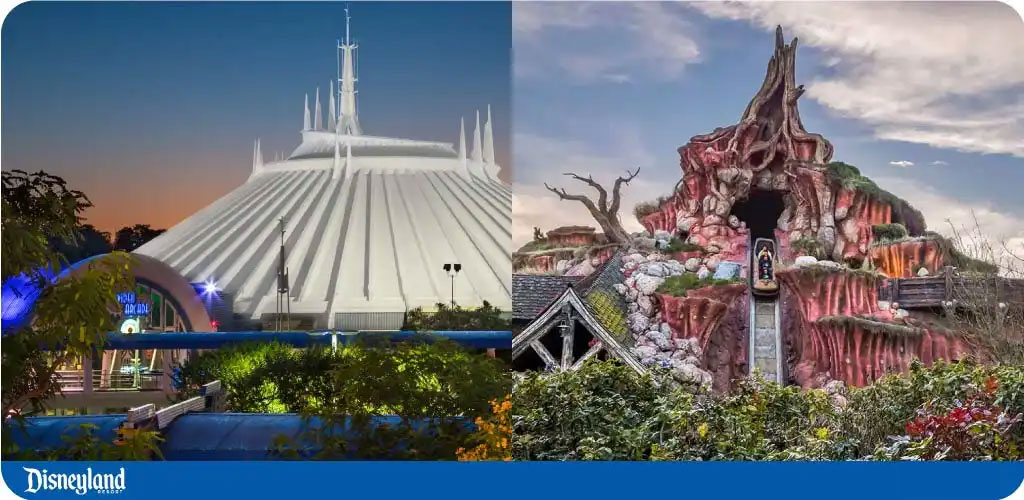 Space Mountain
One of the most well-known rides at the amusement park is Space Mountain. Enjoy this famous ride as you blast through a futuristic adventure full of twists, drops, and fast speeds. Travel at the speed of light far into space! You can have a great time on this space journey with your discount Disneyland California tickets from GreatWorkPerks
Splash Mountain
Hop on this classical log ride and sail through the bayou in Critter Country. This water ride is one of the kind rides and will not only get you soaked in water, but will drop you down a 5 story height! Enjoy the amazing view of the park from the top! This fun journey full of singing critters, and splashing fun is available with our discount Disneyland California tickets.
Kid-Friendly Rides, Attractions, and Entertainment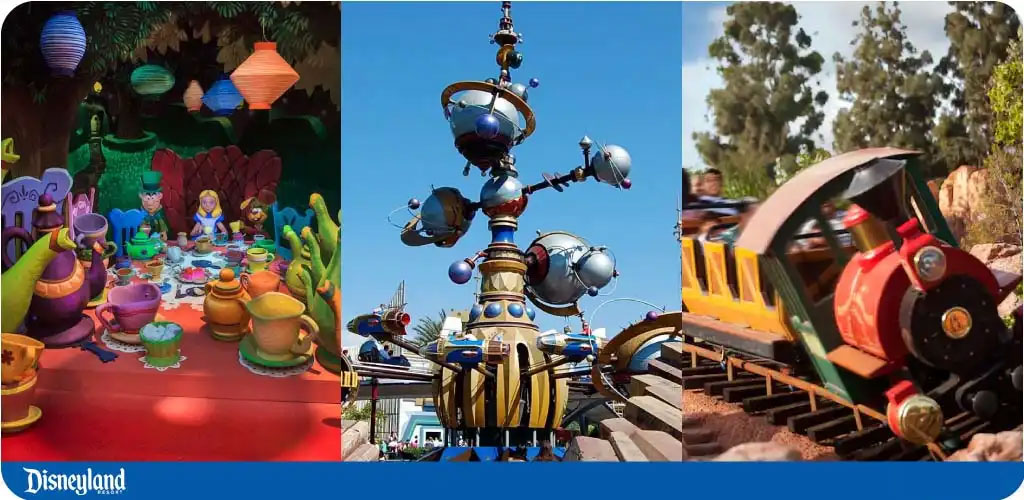 Alice in Wonderland
Ride aboard this giant caterpillar and enter the tunnel to see the magical world of Alice and her friends. This ride is perfect for kids and families of all ages due to its interactive presentation and vibrant-colored characters from Alice in Wonderland! This ride is located in Fantasyland and is available with your discount Disneyland California ticket.
Astro Orbitor
Hop in this classic spinning ride and blast away as you soar in the sky! You can be the pilot of your own rocket! Control how high you want to elevate by pulling and pushing the lever in your spaceship. This ride is a 3-seater ride. Perfect for your family! Using your discount Disneyland California ticket from GreatWorkPerks, you can fly aboard this Astro Orbitor! Create an unforgettable memory!
Big Thunder Mountain Railroad
All aboard! Get on this mysterious ride and get ready to discover a lot of fun. Big Thunder Mountain Railroad roller coaster is made for adults and kids. You will ride full speed through a bumpy rail full of twists, tilts, and cool drops. It's one of the best rollercoasters at the theme park and everyone loves it! Big Thunder Mountain Railroad is included in your discount Disneyland California tickets.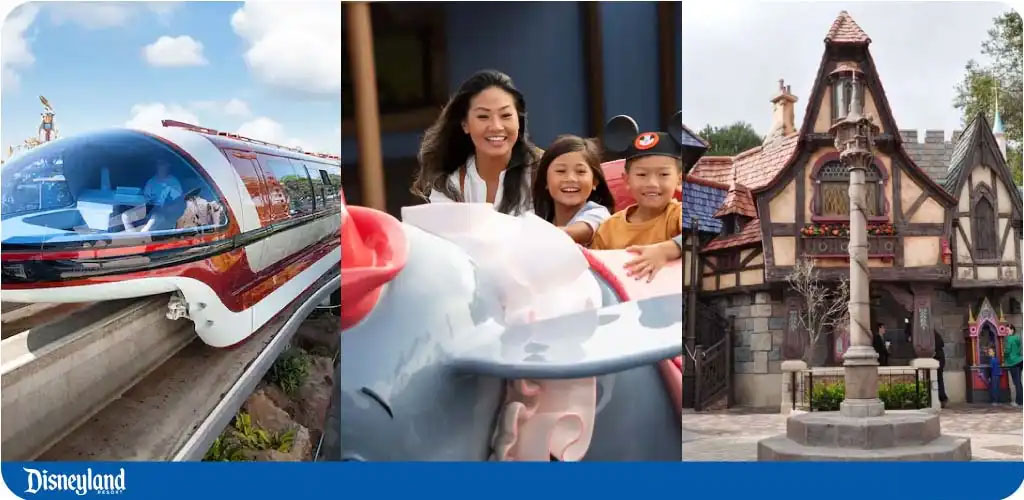 Disneyland Monorail
Get on this eco-friendly train and travel from one end of the park to another. The Disneyland Monorail is the ultimate transportation ride to get on! It's one of the most unique rides you could see inside the park. If you wish to get to other destinations while enjoying a beautiful view of the theme park, then this is the best option for you.
Dumbo the Flying Elephant
If you haven't seen an elephant fly, then you should head out to this attraction! At the Dumbo the Flying Elephant ride, you will fly high in the sky! With its magical and classical design, it will surely give you an amazing experience with your kids! It's a classic choice for toddlers to enjoy.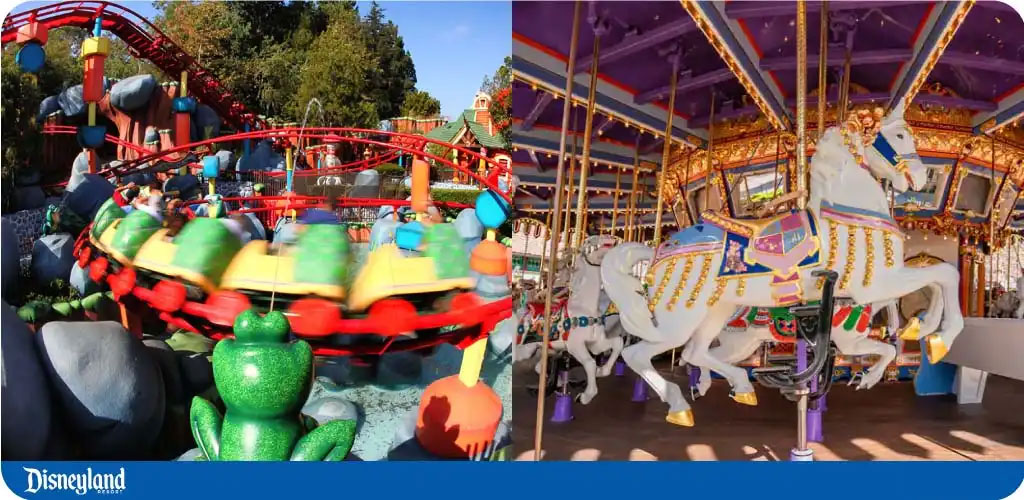 Fantasy Faire
All princes and princesses throughout the land - take a look at the Fantasy Faire! You'll meet and greet all your beloved royal characters in the Royal Hall and discover that dreams do come true! Meet all your childhood favorite Disney characters and watch them in some magical live shows. and capture your moment with them! Your discount Disneyland California ticket gives you entry to Royal Hall in this Fantasy Faire located in Fantasyland.
Gadget's Go Coaster
Get ready to ride this coaster made out of acorns with your kids! This amazing ride will take you through Chip and Dale's workshop. You and your kids are going to love this ride and will surely make you smile the whole journey! If you're seeking a kid-friendly adventure, then give this a go with your discount Disneyland California ticket from GreatWorkPerks
King Arthur Carrousel
Mount a great and fanciful merry-go-round. Inspired by medieval castles, this safe and fun ride is for everyone, including the youngest guests. The music and vibrant colors will make you feel like a royal prince or princess while you ride some beautiful ponies. You can access this with your discount Disneyland California ticket from GreatWorkPerks.
Main Street Vehicles
Do you want to wander around Main Street and take a look at all the surrounding attractions without having to walk under the heat of the sun? If so, hop aboard on this horse-drawn carriage and ride throughout Town Square to the Castle of Sleeping Beauty. Buy your discount Disneyland California ticket and ride along!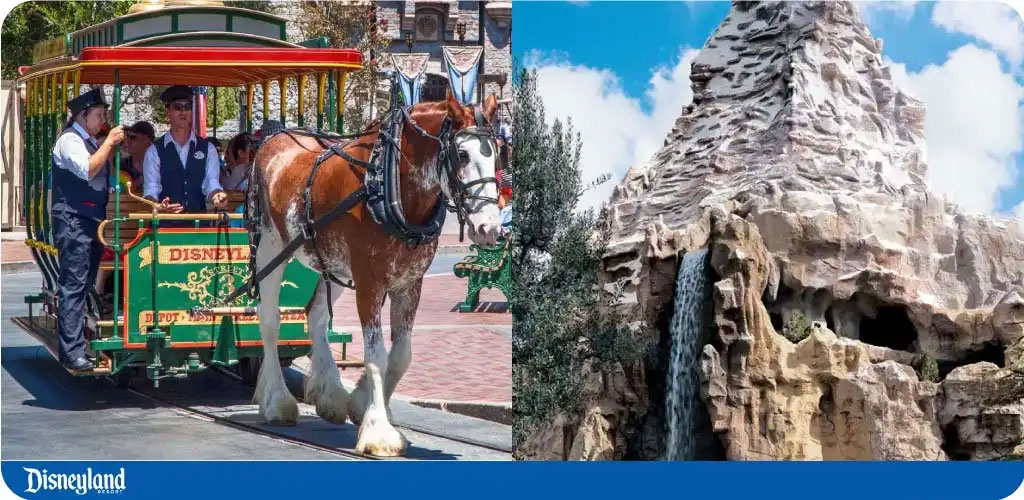 Matterhorn Bobsleds
Drive into the darkness at Matterhorn Bobsled. This ride will bring you chills and thrills as you marvel at the visual effects and reach high speeds! Go through the snowy summit and get ready to meet the Abominable Snowman. You'll never regret visiting this ride. Enjoy this coaster as many times as you wish with your discount Disneyland California ticket from GreatWorkPerks.
Top Suggested Rides at Disneyland California
There are some top rides you should never miss out on at Disneyland California Resort! The most popular rides are Star Wars: Rise of the Resistance – with high-speed rides that carry you through futuristic scenes, jaw-dropping effects, and an unexpected drop from space; Space Mountain – the nearly pitch-black roller coaster; and Indiana Jones Adventure, where you have to survive while riding a four-wheel-drive vehicle that zips along a track as the seat jolts, rumbles, and staggers around skeleton ambushes and fireballs!
Make sure to drop by and explore these rides during your visit to the amusement park with your Disneyland California discount ticket from GreatWorkPerks
What are Dining Options at Disneyland California?
One of the many things to love about Disneyland California is the variety of the food they offer! With affordable prices for each guest, there are many places to choose from. Disneyland California Park and Disneyland California Adventure Park offer a variety of menus and prices!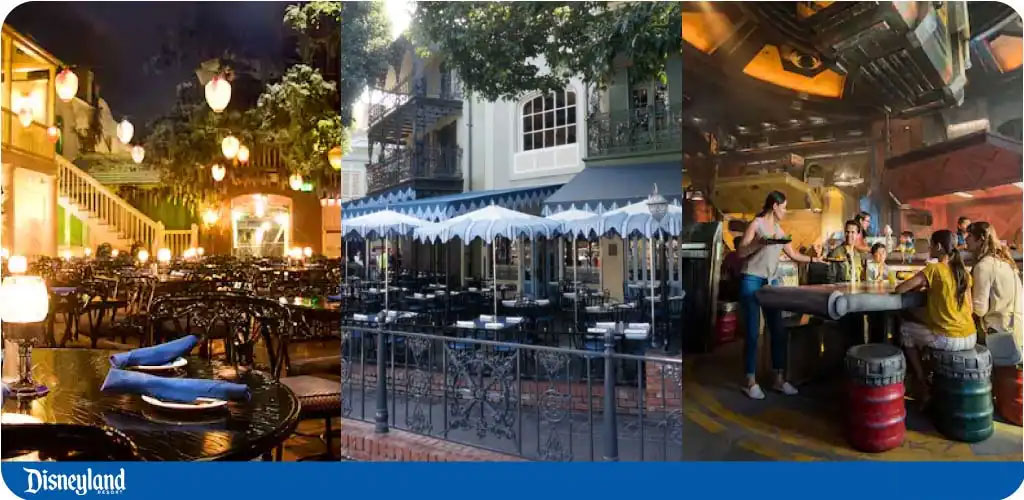 Disneyland Park Dining Options
Blue Bayou Restaurant | New Orleans Square
If you're looking for a cozy place to eat, Blue Bayou is the most talked-about restaurant in Disneyland! With its aquatic environment and location right next to where the Pirates of the Caribbean boats pass by, you'll surely enjoy a memorable supper on the bayou with your family, friends, and loved ones! Meal prices vary depending on your choice of food. The costs for lunch and dinner at Blue Bayou range from $35 to $59.99 per adult. *Please note that our Disneyland California discount tickets do not include discounts on dining.
Restaurant's Cuisine: Cajun-Creole
Café Orleans | New Orleans Square
When the weather is nice, the café is a lovely place to drink. Enjoy magnificent view of the Mark Twain Riverboat drifting past the Rivers of America from the deck. Menu pricing during lunch and dinner at Café Orleans starts from $15 to $34.99 per adult serving. Make room for a delicious dessert. Without it, no visit is complete! *Please note that our Disneyland California discount tickets do not include discounts on dining.
Here are some good foods you can try at Café Orleans: Battered and Fried Monte Cristo Sandwich with Pommes Frites or try out the Chicken Gumbo!
Docking Bay 7 Food and Cargo | Star Wars: Galaxy's Edge
This Docking Bay 7 Food and Cargo restaurant's biggest feature is its ambience! The finest location to dine before heading into space. Aside from the incredible scenery, the meal costs are also the finest here since they are quite affordable! Lunch and evening meals for adults are just $14.99 and less per serving. Isn't it amazing? What exactly are you waiting for? Visit Docking Bay 7 Food and Cargo in Star Wars: Galaxy's Edge! *Please note that our Disneyland California discount tickets do not include discounts on dining.
Restaurant's Cuisine: American and Vegetarian
Disney California Adventure Park Dining Options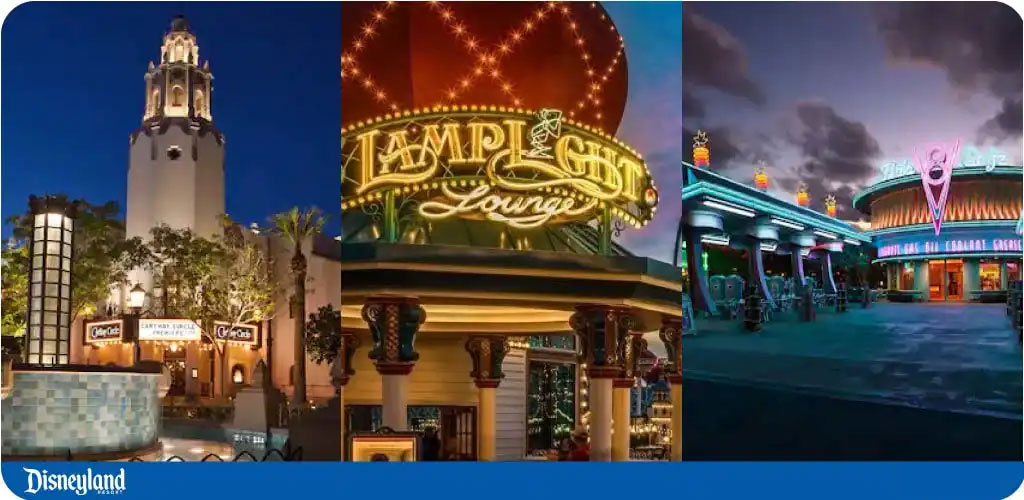 Carthay Circle Restaurant & Lounge | Buena Vista Street
Carthay Circle Restaurant is the place to go if you want to add some color to your day while eating your favorite meal on your Disney getaway! This gold-age-themed restaurant is known for its Niman Ranch porkchop, salads including Mary's Chicken arugula, pastas, and many other dishes, and desserts too! Please keep in mind that this establishment only serves dinner. The cost of one adult meal ranges from $35 to $59.99. *Please note that these Disneyland discount tickets do not include discounts on dining.
Restaurant is best for: Disney Date Night
Restaurant's Cuisine: American, Californian
Lamplight Lounge | Pixar Pier
Do you want to see how Pixar makes or animates their films? Here at Lamplight Lounge, you can observe how these animations are made into films! The many masterpieces are hung on the wall, and there are also a lot of toys to look at, which is ideal for little visitors. Aside from their popular Brunch Burger, they also provide beautiful cocktails! Brunch, Lunch, and Dinner meal costs range from $15 to $34.99 per adult. Isn't that great? Visit here and strike a pose since this location is Instagram-worthy! *Please note that these Disneyland discount tickets do not include discounts on dining.
What works best here? Nachos de Lobster
Flo V8's Café | Cars Land
If you've never dined at a gas station yet want to, this Flo's V8 café is a must-see! This Gas station-inspired restaurant has many to choose from. You can choose to eat indoors while enjoying the Cars-themed decorations, or you can dine outside and watch the wonderful view of the park if the weather is nice. Food is super affordable here, with prices starting at $14.99 or less per dish.
Enjoy your cheeseburger, fried chicken, classic shakes, and more favorites for less! *Please note that these Disneyland discount tickets do not include discounts on dining.
Cuisine of the restaurant: American
*Pro Tip: To save time when you visit restaurants, be sure to order ahead through the official app – available for download from the Apple iStore and Android's Play Store.
Entertainment at Disneyland
Do you want to make sure you won't miss your favorite show? Check out the schedules of the entertaining shows at the theme park!
Disneyland California Entertainment
"Magic Happens" Parade
Live at 3:30 PM and 6:30 PM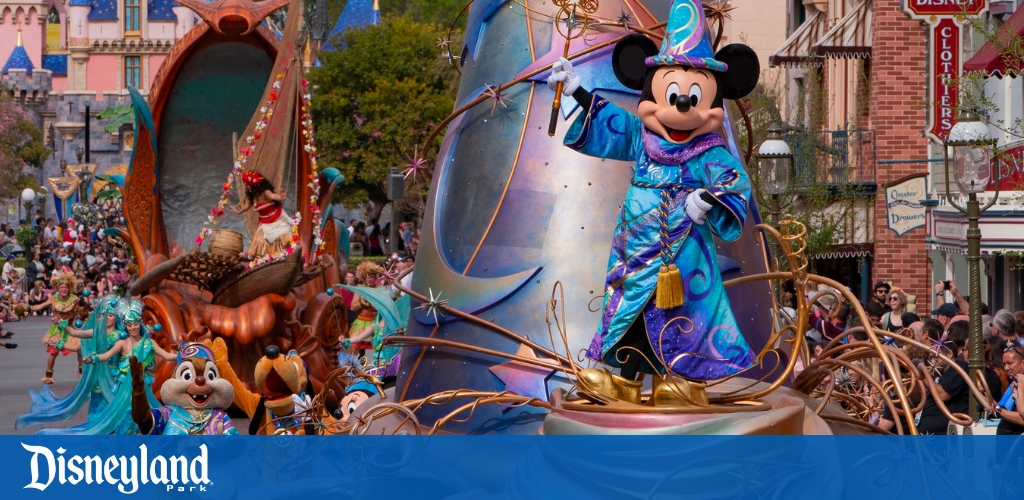 With a wave of his wand, Mickey Mouse ushers a parade of magnificent floats, costumed performers, and well-known Disney friends through the park and into your hearts, all the while moving to an upbeat modern musical score that puts a modern spin on beloved Disney songs. As a special addition, Todrick Hall, a singer-songwriter, co-wrote a moving song that brings some of your favorite Disney stories to life like never before.
Admire the enchanted woodland from Frozen 2 as Anna, Elsa, Olaf, Kristoff, and Sven stroll by, then follow Coco's guitar-strumming Miguel, who is joined by his dog Danté and other fascinating spirit creatures.
Please keep in mind that this event may not occur daily, and to make sure to check the official calendar of the park for up-to-date schedules.
Storytelling at Royal Theatre (Show)
Live at 10:45 AM, 12:00 PM, 1:15 PM, 3 PM, 4:15 PM, and 5:30 PM at Fantasyland at Disneyland Park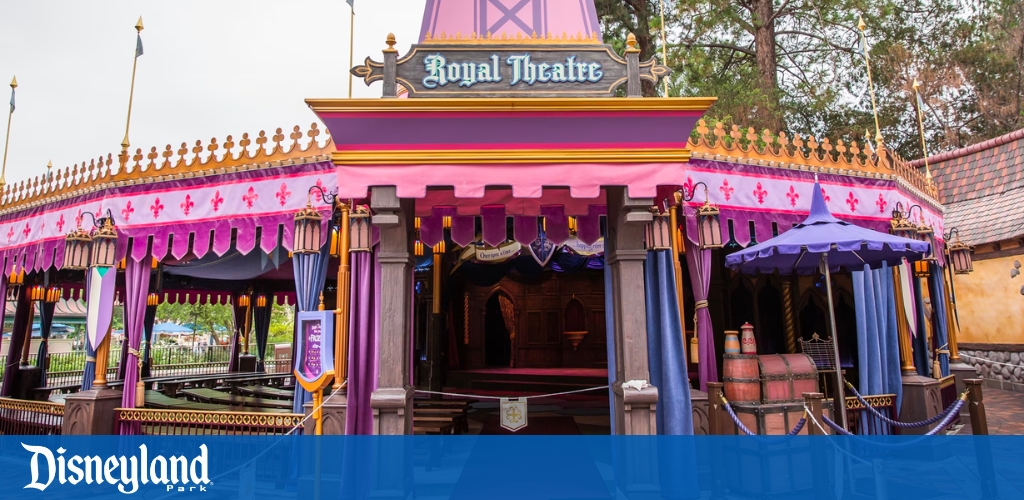 Gather in front of the gorgeous stage inside the open-air medieval-style tent. Your hosts are the dynamic thespian duo Mr. Smythe and Mr. Jones, who will be directing their humorous takes on Tangled or Beauty and the Beast moments.
Get ready to enter the humorous, amazing realm of "happily ever after."
Experience this with your Disneyland discount tickets!
Tale of the Lion King
Ready to enjoy everyday at 12:15 PM, 2:15 PM, 4:15 PM, 5:45 PM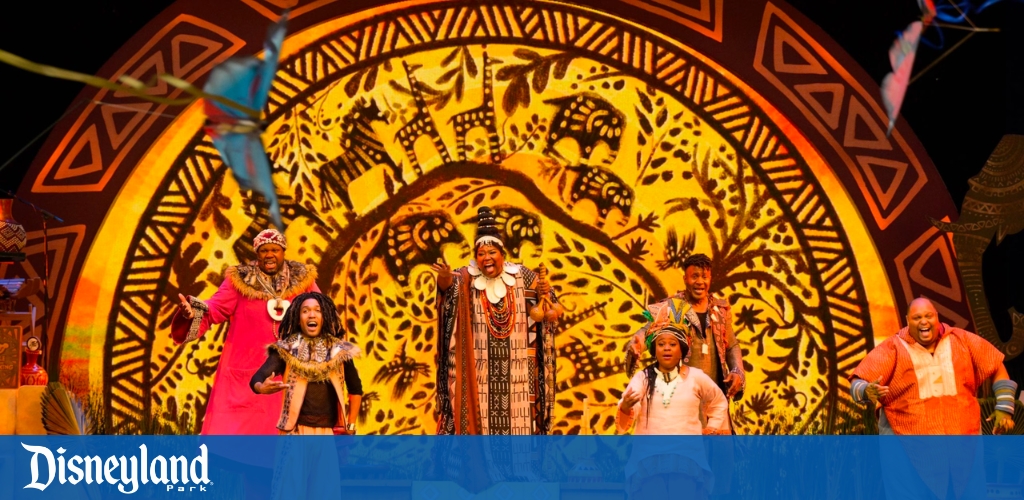 Relive Simba's transformation from fearful cub to powerful king in a way you've never experienced before.
With your Disneyland discount tickets, you will be able to witness Simba's ascent to royalty told by the Storytellers of the Pride Lands and depicted in a unique, theatrical manner with live music and dances that are influenced by the historical context of this classic tale. In the heartwarming story of Simba, Nala, Mufasa, Scar, Timon, and Pumbaa, beloved songs like "Circle of Life," "Hakuna Matata," and "Can You Feel the Love Tonight" are reimagined.
Enjoy wonderful family entertainment at the Fantasyland Theatre with brand-new staging!
Catch these and many other shows on the day of your visit to Disneyland California!
Disneyland California Adventure Park Entertainment
World of Color – ONE
Fireworks show live at 9:00 PM, 10:15 PM
Catch the Pre-Show themed Elemental Connection where you can immerse yourself in the colorful world of Element City, where the residents of Fire, Water, Earth and Air live together. Music, animation, and lighting effects come together to create a thrilling experience that delivers the humor and heartfelt emotion of Disney and Pixar's new Elemental animated film.
Experience a spectacular performance and watch the worlds of Disney and Pixar stories unfold in a breathtaking combination of dancing water and incredible special effects. World of Color - ONE honors the rich storytelling legacy begun by Walt Disney a century ago, bringing to life breathtakingly vivid moments from The Lion King, Moana, Ratatouille, Soul, Star Wars, The Avengers, and other classics!
Come experience the first World of Color featuring characters from Walt Disney Animation Studios, Pixar, Star Wars and other favorites with your Disneyland discount tickets!
Disney Junior Dance Party!
Catch this everyday at 10:15 AM, 11:15 AM, 12:15 PM, 2:00 PM, 3:00 PM, 4:00 PM in Hollywood Land at the Disney Adventure Park!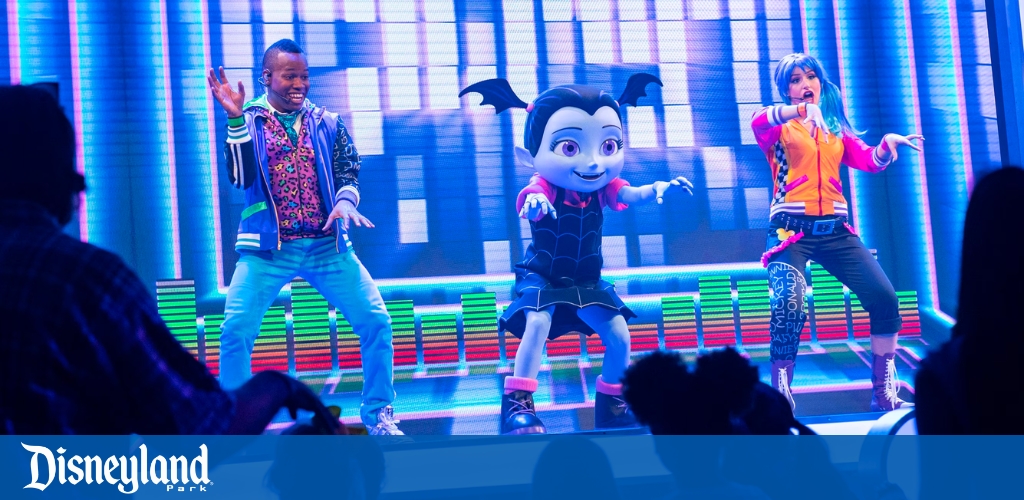 Shake it and laugh yourself silly with Vampirina and Doc McStuffins! Dance with DJ DeeJay and Finn Fiesta as they play songs from your favorite Disney Junior shows and bubbles float in the air.
Mickey and Minnie from the Mickey and the Roadster Racers came from Hot Dog Hills to join the fun.
Get ready to party like a Disney Junior star!
Rogers: The Musical
Live at 12:15 PM, 1:45 PM, 4:00 PM in Hollywood Land at the Disney Adventure Park!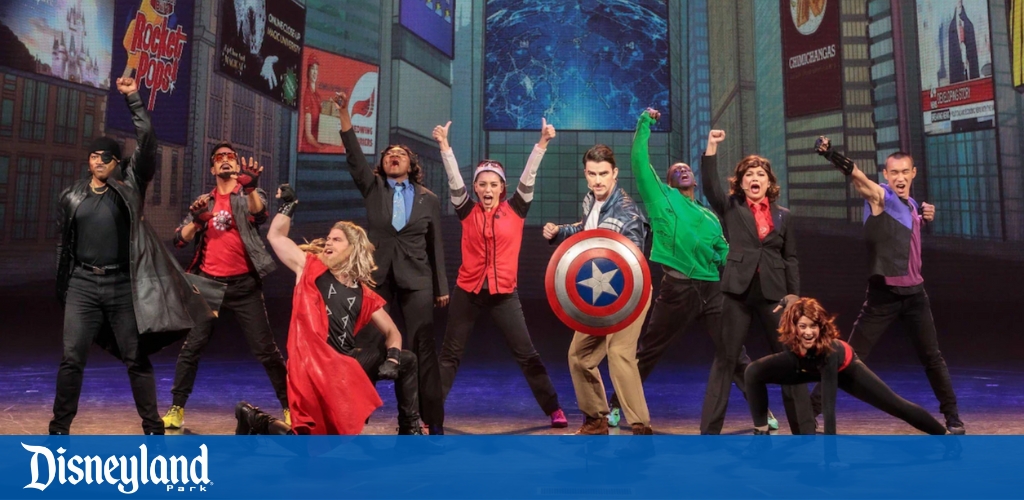 Relive the life of Steve Rogers, aka Captain America on this incredible stage! The musical story takes you from Steve's humble beginnings in World War II to becoming Captain America and leading the Avengers. Pay attention to the appearances of Peggy Carter and Nick Fury and watch some of your favorite Avengers come together in epic, show-tune style.
This is a larger-than-life one-act musical that will premiere this summer for a limited time at the Hyperion Theater in Hollywood Land at Disney California Adventure Park.
Featuring a book by Hunter Bell, the show will include five new songs with music by Christopher Lennertz and lyrics by Jordan Peterson, Christopher Lennertz and Alex Karukas.
You will also get to enjoy fan favorites like "Save The City" from the Disney+ Hawkeye series (with music by Marc Shaiman and lyrics by Scott Wittman and Marc Shaiman) and "Star Spangled Man" from Captain America:
The First Avenger (with music by Alan Menken and lyrics by David Zippel).
These characters are waiting for you! Purchase your Disneyland California discount tickets to save money and time!
Frequently Asked Questions about Disneyland California Resort:
Are reservations required?

Yes. After purchasing your Disneyland California discount tickets, you may make your reservations through their Reservation Portal.

How do I know if my preferred date is available?

They highly recommend checking the Theme Park Reservation Availability first before purchasing your Disneyland California discount tickets as they do require a theme park reservation in addition to valid discount tickets for the same park on the same date.

What are the opening and closing hours for both parks?

Disneyland California Park is open every day from 8:00 AM to 11:00 PM, and Disney California Adventure Park is open every day from 8:00 AM to 10:00 PM.

During your reservation, you will have to pick which park you'll visit. Please note that both parks are accessible with our Disneyland California discount tickets.

What should I do if I don't receive a ticket after purchase?

Don't worry! In the rare instance that you do not receive an email confirmation, you are unable to print your Disneyland California discount ticket from the eTickets viewer, or you do not have an internet-accessible handheld device present upon arrival at the Resort, just visit any Resort Box Office to have your Disneyland California discount tickets re-issued for use at both of the theme parks.

To receive re-issued discount tickets, please have the following on hand:

The credit card you used to purchase your Disneyland California discount tickets
A photo ID, such as a driver's license or passport
A printed copy of the initial order confirmation page

For security reasons, only the Guest whose name appears on the original credit card will be the one able to pick up replacement tickets.

Is there a difference between standard theme park tickets and Disney eTickets?

No. The Disneyland California discount ticket or Disney eTickets are legitimate tickets valid for admission at the theme parks of the Disneyland California Resort, including Disneyland California Park and Disney California Adventure Park. The only difference is that with Disney eTickets, you get purchased tickets faster than any other delivery option. Plus, you get the etickets at a discounted price from GreatWorkPerks

When is the best time to visit the Resort?

It's always a great time to visit Disney theme parks! However, when planning a trip to the Resort, expect lower crowds from mid-September through mid-November (before the Thanksgiving break). Mid-January through mid-March is another time when potentially lower crowds are expected. The parks are generally less busy during these 2 periods, which make it an ideal time to explore.

Where is the Adventure Park located in relation to Disneyland California Park?

The Adventure Park is within short walking distance of Disneyland California Park. The Main Entrances for both parks face each other. The Parking Lot Tram loading and unloading areas and the Ticket Booths for both theme parks are located a short walk from these Main Entrances.

Everything at the Resort is within walking distance.

Which attractions and entertainment will be closed for refurbishment during my visit Resort?

Please check their daily park hours for the planned refurbishments schedule for attractions and entertainment. The refurbishments schedule is subject to change without notice, and attractions and entertainment may be unavailable for unscheduled reasons.

What is the Downtown Disney District?

The Downtown Disney District is an exciting dining, entertainment and shopping promenade located adjacent to both parks.

What is the best way to dress for a day at the parks?

The parks are a casual, family-oriented environment. We suggest you dress comfortably, wear good walking shoes, and check the local weather report before you leave for the parks. Review our Pre-Arrival Tips to make sure you come prepared for a fun-filled trip!

Do you have lockers at both parks?

Yes. Lockers are available for rental at both and in the Esplanade between the parks. Lockers are rented per-day, and lockers inside both parks are subject to park operating hours.

Can I bring outside food and beverages into both parks?

Guests are allowed to bring outside food and nonalcoholic beverages into the parks for self-consumption, as long as they are not in glass containers, do not require heating, reheating, processing, or refrigeration and do not have pungent odors. Inform a Security Cast Member of any food items when you enter the park.

How do rain and inclement weather affect the availability of attractions and entertainment at the Resort?

In the event of inclement weather during your visit to the Resort, most attractions and indoor shows will continue to operate. For the safety and comfort of our Guests and Cast, some outdoor attractions may temporarily close until the inclement weather passes.

How far in advance can I make dining reservations?

Reservations are offered up to 60 days in advance at select restaurants throughout the Resort and, due to limited availability, they are highly recommended.

You can make dining reservations online.

What kind of identification do I need to supply if I wish to enjoy an alcoholic beverage at the Resort?

Alcoholic beverages may be purchased at the Resort by Guests 21 years of age or older. The documents required to verify age vary for United States residents and non-United States residents.

Is there free parking at the Disneyland California Resort?

No. Parking per car and motorcycle is at $30; oversized vehicles, motor homes or tractors (without trailer) is at $35 per vehicle; buses or tractors (with extended trailer) are at $40 per vehicle.
Last updated June 17, 2023.
Discount Disneyland California Resort tickets
2 Day - 1-Park Per Day Ticket

Ticket expires 13 days after first use or on January 12, 2024, whichever occurs first.

Adult

(Age: 10+)

Regular price $285.00

Discounted Price $275.75

Child

(Age: 3-9)

Regular price $270.00

Discounted Price $261.00

2-Day Park Hopper® Ticket

Ticket expires 13 days after first use or on January 12, 2024, whichever occurs first.

Adult

(Age: 10+)

Regular price $345.00

Discounted Price $334.00

Child

(Age: 3-9)

Regular price $330.00

Discounted Price $319.00

3 Day - 1-Park Per Day Ticket

Ticket expires 13 days after first use or on January 12, 2024, whichever occurs first.

Adult

(Age: 10+)

Regular price $360.00

Discounted Price $337.00

Child

(Age: 3-9)

Regular price $340.00

Discounted Price $318.00

3-Day Park Hopper® Ticket

Ticket expires 13 days after first use or on January 12, 2024, whichever occurs first.

Adult

(Age: 10+)

Regular price $420.00

Discounted Price $394.00

Child

(Age: 3-9)

Regular price $400.00

Discounted Price $375.00

4 Day - 1-Park Per Day Ticket

Ticket expires 13 days after first use or on January 12, 2024, whichever occurs first.

Adult

(Age: 10+)

Regular price $395.00

Discounted Price $370.00

Child

(Age: 3-9)

Regular price $370.00

Discounted Price $347.00

4-Day Park Hopper® Ticket

Ticket expires 13 days after first use or on January 12, 2024, whichever occurs first.

Adult

(Age: 10+)

Regular price $455.00

Discounted Price $427.00

Child

(Age: 3-9)

Regular price $430.00

Discounted Price $403.00

5 Day - 1-Park Per Day Ticket

Ticket expires 13 days after first use or on January 12, 2024, whichever occurs first.

Adult

(Age: 10+)

Regular price $415.00

Discounted Price $389.00

Child

(Age: 3-9)

Regular price $390.00

Discounted Price $365.00

5-Day Park Hopper® Ticket

Ticket expires 13 days after first use or on January 12, 2024, whichever occurs first.

Adult

(Age: 10+)

Regular price $475.00

Discounted Price $446.00

Child

(Age: 3-9)

Regular price $450.00

Discounted Price $422.00