Save Upto 17%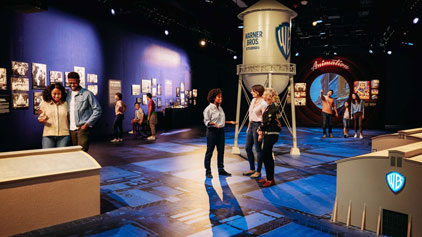 Save Upto 17%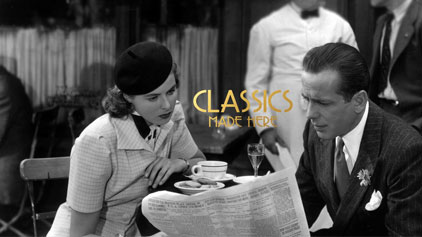 Save Upto 17%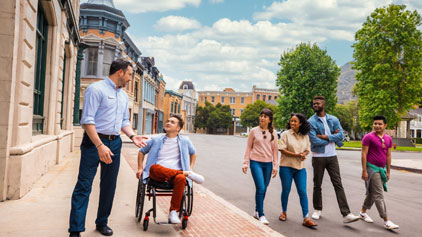 Studio Tour Spanish Trade
Buy your Warner Bros. Studio Tour discount ticket starting at $48.80 and save up to 22%! Lowest prices guaranteed on GreatWorkPerks

Guests are no longer be required to show proof of vaccination or negative COVID-19 test to visit the Studio Tour. Any mandates on mask requirements for the WB tour have been removed.
Tours last for approximately 3 hours.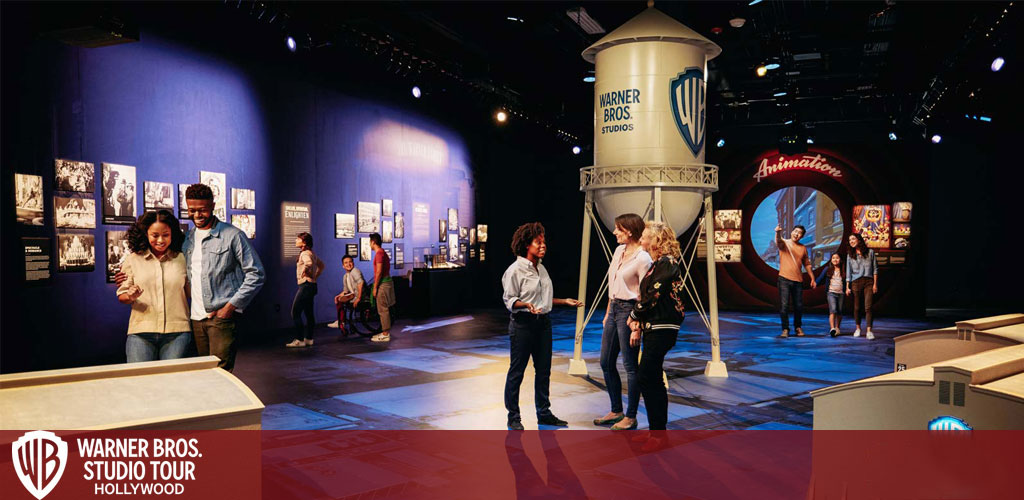 Experience the wonder of filmmaking from the director's perspective!
Come visit Warner Bros. and get ready for an unforgettable experience on the Studio Tour in Hollywood. This tour of Hollywood's working studios takes you behind the scenes to witness where movies are made, allowing you to catch a glimpse of the sets, costumes, and props you have seen in the best movies. You will have a blast! Hurry up and purchase your Warner Bros. Studio Tour tickets from GreatWorkPerks and step into an incredible behind-the-scenes production!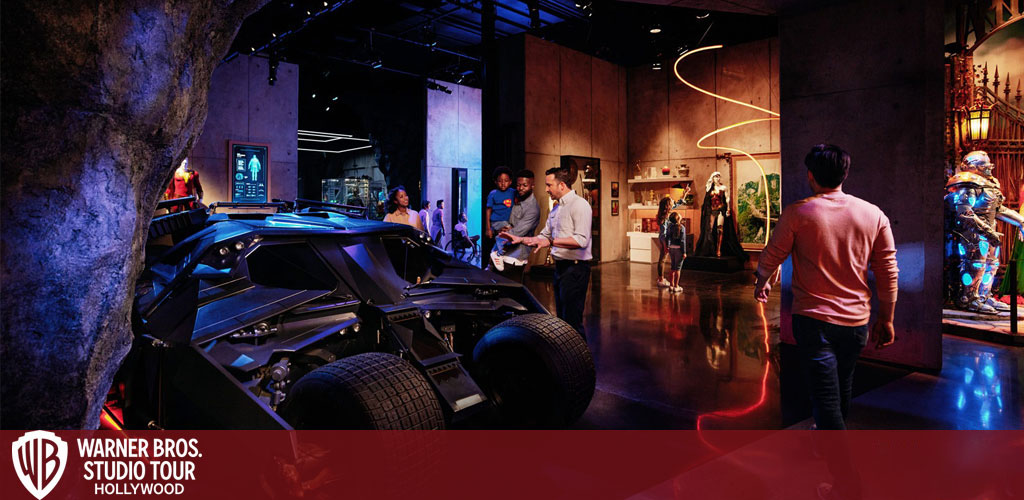 NEW! At Warner Bros. Studio Hollywood
DC Superheroes and Super Villains
Have you ever considered yourself a true fan of DC Comics superheroes and supervillains? If so, you should check out Warner Bros. Studio Tour Hollywood, the most significant operational studio in the world, where all the magic and action come to life! Take a picture of the most infamous criminals in Gotham, the iconic golden wings of Wonder Woman, and enjoy many other exciting surprises! Our Warner Bros. Studio Tour discount tickets include all of these thrilling experiences, so you can relive your favorite scenes from DC's greatest films without spending beyond your budget!
Warner Bros. Studio Tour Hollywood
Warner Bros. Studio Tour Hollywood gets you closer than ever to the entertainment that has captivated audiences for nearly a century in the movie industry! Visit the sets of many popular films and TV shows, like Friends, Pretty Little Liars, The Big Bang Theory, Gilmore Girls, ER, and many other great films! Learn about the process of making movies and visit the iconic locations used in the Harry Potter and Fantastic Beasts series, where you can meet magical animals and try out the Sorting Hat!
On your visit to Warner Bros., you will have the chance to participate in many enthralling and one-of-a-kind activities. From authentic movie memorabilia to jaw-dropping indoor standees depicting some of the film's most memorable characters. Imagine being in those incredible scenes from the movies and standing in the same place the greatest movie stars have been! Purchase your Warner Bros. Studio Tour ticket through GreatWorkPerks to enjoy the biggest savings in the market!
The LOWEST-PRICED Warner Bros. Studio Tour Discount Tickets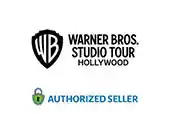 Lowest Prices Guaranteed!
GreatWorkPerks is an authorized seller of Warner Bros. Studio Tour discount tickets. We couldn't have thrived for over 30 years if we weren't highly trusted by our customers. We would love for you to join our family and enjoy the best price for Warner Bros. Studio Tour discount tickets, as well as other attractions nationwide!
Hassle-Free Transaction, Skip the Line!
Another benefit of purchasing from GreatWorkPerks is that you do not need to print your Warner Bros. Studio Tour discount tickets. Consider your phone your new best friend because all you need to do is present your e-tickets at the gates, and in you go!
Where is Warner Bros. Hollywood located?
Warner Bros. Studios is located in Burbank, California, at 3400 Warner Boulevard.
Pro-tips: Details to Know Before Your Visit
Operating Hours
Warner Bros. Studio Tour Hollywood opens daily from 8:30 AM to 3:30 PM. The studio tour will be closed on December 25, 2022 (Sunday), and on the following days of January:
January 10-12
January 17-18
January 24-25
Security & Identification Requirements
Everyone entering the studio must first go through a metal detector. All visitors above 18 must show government-issued photo identification before entering the studio. Please present any listed ID to be allowed into the Warner Bros. studio's backlot. The following IDs are valid (as per the studio's guidelines):
A valid Driver's License
A valid state-issued identity card (applicable for US guests only)
A valid passport
Mandates on Vaccination and Mask
Local and State health regulations no longer require guests to wear masks or other face coverings, but it is still highly recommended to do so whenever you are inside. Visitor vaccination records or test results are no longer required. Any regulations requiring the use of a mask have been removed.
A face mask may be required to enter some production spaces, such as stages or other indoor facilities. Your tour guide will tell you when it's needed and give you one if you don't have one.
Age Restrictions
Warner Bros. Studio Tour Hollywood welcomes visitors of all ages! However, all children and teenagers (ages 5-17) must have a parent or guardian during the tour.
Dress Code
There is no dress code at all, so feel free to wear whatever you like. Walking is involved in some tours of the backlot, so it is recommended to wear comfortable shoes.
Be sure to bring your camera!
Photography is permitted in some areas of the studio but prohibited in others. Your expert tour guide will advise you on the best times and places to snap photos. No filming of any kind is allowed inside.
What to expect during your Warner Bros. Studio Tour?
Discover and check out all the fun activities that are included in your Warner Bros. Studio Tour discount tickets from GreatWorkPerks.
Tour duration is 3 hours, including 1 hour guided tour + 2 hours of unguided tours (shopping and dining included).
Here are most of the things you'll see during your tour:
Storytelling Showcase
Explore the extensive collection to learn how Warner Bros. has been bringing stories to life for nearly a century. Travel in the footsteps of literary greats past and present by visiting the physical locations where their ground-breaking works were born!
Backlots
Expert guides will show you the inner workings of this historic film studio. Over the years, Warner Bros. has used its 110 acres (10 backlots) to produce some of the most iconic moments in cinema. These are some of the places you could see on your trip:
Brownstone Street

Many well-known television shows, movies, and cartoons have used the studio's Brownstone Street backlot location over the year, such as ER, Pretty Little Liars, and Looney Tunes: Back in Action.

Midwest Street

Mid-West Street, built in the 1930s, is one of Hollywood's most often-used sets, featured in almost 400 movies and TV shows. Stars Hollow from Gilmore Girls and Rosewood from Pretty Little Liars are just two of the many made-up towns set there.

New York Street

New York City streets have appeared in hundreds of movies, from classics like A Star Is Born and Whatever Happened to Baby Jane to modern hits like ER, The Big Bang Theory, The Last Samurai, and Blade Runner.
Friends Fountain
Snap some great photos next to the couch and fountain from the Friends opening credits. They were kept in the original ranch location so fans could get really close and take unforgettable pictures during their visit. Enjoy some incredible moments with your friends!
Stage 48: Script to Screen
The Studio Tour's self-guided Stage 48: Script to Screen transports guests onto a working soundstage. You will be able to visit the incredible inner workings of the film industry, from auditions to the glamourous red carpets. This part of Warner Bros. allows visitors to witness three distinct but equally essential sections in the filmmaking process:
Pre-Production
Production
Post-Production (New)
Friend's Central Perk Set
An episode of Friends when Ross takes a selfie is highlighted in Stage 48: From Script to Film. Visit the actual set of Central Perk and relive all of your favorite Friends' scenes, from Phoebe's Smelly Cat performance to a chat with Gunther, the bar's most popular barista.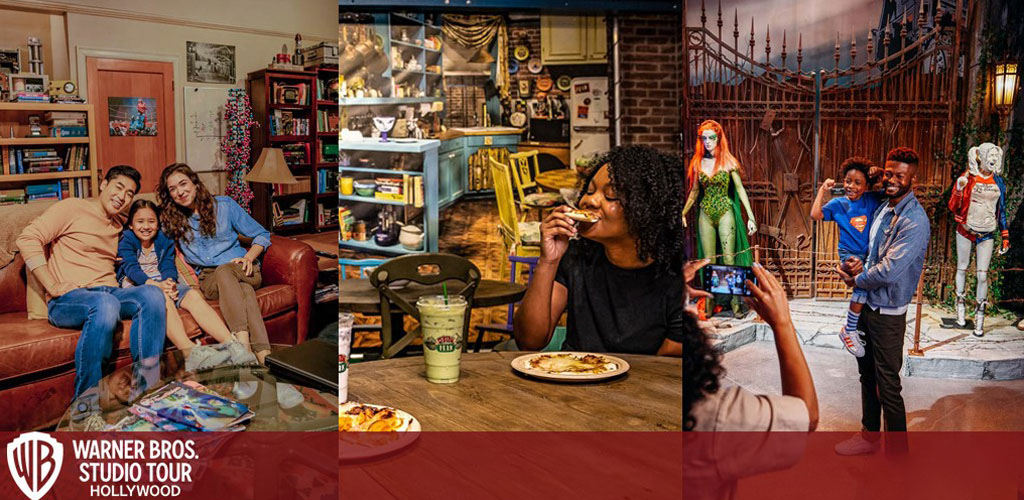 The Big Bang Theory
Get ready to visit the 4A Apartment in Pasadena, California, where the actors of The Big Bang Theory hung out and talked about quantum mechanics, Star Trek, and had hilarious conversations.
Central Perk Café
Visit this incredible shop and choose from many of the New York deli staples like corned beef melts, pizza wedges, hot dogs, fries, salads, sandwiches, or the Central Perk's signature blend of coffee. The menu has been modified to include new Friends-themed recipes like Rachel's trifle. Visit Monica's apartment or have a bite at Chandler and Joey's place. Make sure to stop by the Friend Boutique!
DC Superheroes and Super Villains
Visit DC Universe with friends and family and take some stunning photos! Your Warner Bros. Studio Tour discount ticket includes admission to this incredible attraction, perfect for die-hard fans of comic book heroes and villains.
Preview of the DC Comics Multiverse:
DC Super-Villains

Stand before the actual Arkham Asylum gates from Joel Schumacher's Batman and Robin and imagine yourself mere steps away from some of Gotham City's most infamous supervillains.

Wonder Woman's Study

Stop by Wonder Woman's workplace if you want to feel like a superhero for a day. You can photograph yourself with the iconic golden wings and Lasso of Hestia from the 1984 Wonder Woman movie.

Aquaman's Lair

Learn more about Aquaman by diving into his world. Take a picture while holding Aquaman's trident and keep an eye out for the Trench Creature.

Superman's Office

They've gathered a selection of authentic capes from the movies to honor Superman's long and illustrious career in film.

Batman's Batcave

If you visit the Batcave, you may see several original Batsuits and props, as well as the Tumbler from "The Dark Knight" and the Batmobile from "Batman, the 1989 movie" by Tim Burton.
Harry Potter and Fantastic Beasts
Picture yourself in front of the fireplace, surrounded by authentic set pieces, holding Harry's Hogwarts acceptance letters. Like Harry, Ron, and Hermione on-screen, you can make your own potions inside the Potions Classroom. You can practice your re-potting talents on young Mandrakes in the Herbology Lab. That tentacle over there is poisonous, so be careful! Visit Newt Scamander's shed and learn more about the magical creatures seen in the Fantastic Beasts movies. Keep your eyes peeled for the Erumpent, Demiguise, and Mooncalves!
Warner Bros. Studio Store
It's time to start collecting souvenirs to take back with you. Visit the Warner Bros. Studio Store to pick up all the mementos you need from your stay in the studio. Please note that Warner Bros. Studio Store is open every day from 10:00 AM to 7:00 PM and closed on Tuesdays and Wednesdays.
You may find some good finds here at the store:
Wizarding World

Hogwarts robes, journals, trunks, and glasses may all be engraved to make a one-of-a-kind present. Perfect gifts for potter heads!

Amazing Kids

Toys, plushies, and kids' apparel are available for purchase so that you may take a keepsake of the Studio Tour home and treasure it forever.

Heroic Comics

Comic books depicting your favorite DC Superheroes are available as collectibles only at Warner Bros. Gallery Shop.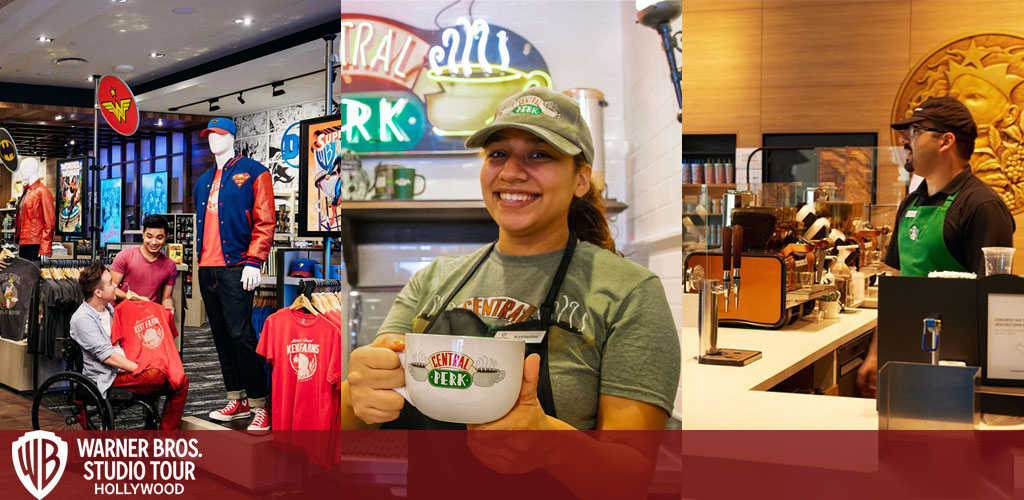 Dining Options inside Warner Bros. Studio Tour Hollywood
Time for some delicious food! After your fun and tiring tour, refuel at one of the Warner Bros. Studio Tour Hollywood's on-site restaurants. Starbucks has opened a Friends-themed cafe, and Central Perk has expanded their hours.
All New! Starbucks Café at Welcome Center
If you need a pick-me-up before or after your tour, stop by the Tour Welcome Center's freshly renovated Starbucks. Sit back and enjoy the California sun on the patio with your fresh Starbucks in hand.
Expanded Central Perk Café
The new Friends-themed café serves the amazing and unique Central Perk coffee blend and offers fans of the show a menu that includes corned beef melts, pizza wedges, hot dogs, fries, a variety of salads, hot and cold sandwiches, and so many other tasty surprises.
They have even made Rachel's Thanksgiving trifle, New York cheesecake, and Central Perk cupcakes!
Grab your choice of food and enjoy it in one of the many meticulously recreated New York City settings, such as Central Perk, Joey and Chandler's apartment, Monica's apartment, or a Greenwich Village-themed set! You can buy the most exclusive merchandise after getting a bite to eat at the Friends Boutique, which is only open during the Studio Tour.
Frequently Asked Questions:
Are reservations required before visiting Warner Bros. Studios?

Yes, during online purchase, you will have to pick a date and time of tour (this will serve as your reservation). No further reservation after purchase is required.

What days does Warner Bros. Tour operate?

Warner Bros. Studio Tour Hollywood operates five days a week, Thursday to Monday, from 8:30 AM to 3:30 PM. They are closed on Tuesdays and Wednesdays. The Studio Store is open from 10:00 AM to 7:00 PM daily and is closed on Tuesdays and Wednesdays. Opening hours may vary. Please check their official website for an updated schedule.

How much do Warner Bros. Studio Tour tickets for adults cost?

GreatWorkPerks offers the same Warner Bros. Studio Tour discount ticket for only $54.90 vs. $69 gate price.

How much do Warner Bros. Studio Tour tickets for a child cost?

GreatWorkPerks Warner Bros. Studio Tour discount tickets for children start at only $48.80 per child vs. $59 gate price.

How soon do I receive my Studio Tour in Warner Bros. Studio Tour discount tickets?

Your Warner Bros. Studio Tour discount tickets and receipt will be sent instantly to your email after you purchase through GreatWorkPerks

How much is parking at Warner Bros. Studio Tour Hollywood?

Warner Bros. parking facility is located at 3400 Warner Blvd. Burbank, CA 91505. Parking fees start at $15 per vehicle. RVs, trailers, and trucks are not permitted inside the parking structure.

Is photography allowed at the studio?

Your expert guide will advise which parts of the tour can be photographed and which portions are not; filming videos inside is strictly forbidden.

Will I see celebrities on tour?

Warner Bros. Studio Tour is known for its unique behind-the-scenes setup. The studio cannot guarantee you will see celebrities during your tour.

Where can I eat at Warner Bros. Studios?

Central Perk Café allows you to dine in recreated sets, including Central Perk, Joey & Chandler's apartment, Monica's apartment, and their Greenwich Village-themed set. At the same time, Starbucks Café is available for visitors from 8:00 AM to 5:00 PM at the Tour Welcome Center.

What COVID-19 precautionary measures are implemented?

Warner Bros. follows all mandated City, State, and Federal CDC guidelines. Face coverings and masks will NO LONGER be worn by all guests and tour staff on all parts of the tour, but when indoors, in some areas like the production stage, wearing a face mask is required. Guests that arrive without a mask will be provided with one.

Are guide dogs allowed on tour?

Registered service dogs are allowed! Please call +1(818) 977-8687 before your visit. Other animals and pets are, unfortunately, not allowed on studio tours.

Is the Warner Bros. Studio Tour Hollywood wheelchair accessible?

Yes, Warner Bros. Studio Tour has carts to accommodate most wheelchairs. Please contact the Tour Center at 877-492-8687 ahead of time to ensure that one of the carts will be available. Wheelchairs available from Tour Center are free of charge.

Is the Warner Bros. Studio Tour Hollywood ASL friendly?

Yes, if you call the Tour Center at 818-977-8687 at least three days in advance, the tour can assign an ASL interpreter to your group.

Does Warner Bros. Studio offer tours in Spanish?

Yes.

Is there a lot of walking during the tour?

Some of the tours might include minimal walking as visitors will ride on a golf cart for most of the tour.
Last updated May 8, 2023.