Buy your discount tickets for Crayola Experience for only $24.50 through GreatWorkPerks Save 20% off the gate price.

Experience the World of Crayola!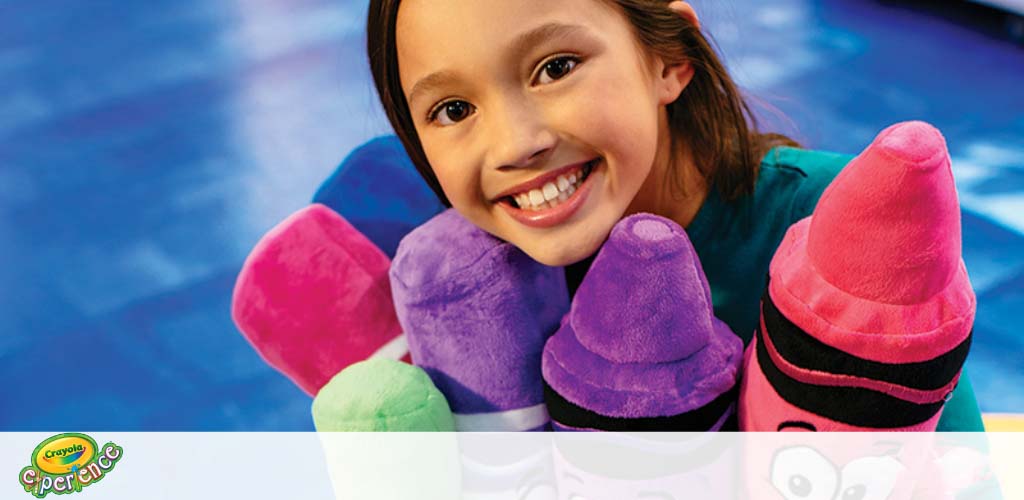 The Crayola Experience Orlando is a one-of-a-kind family attraction where you can explore the power of color. Families may engage in various interactive, imaginative activities in a vibrant Florida setting. Make your travel plans right now and get ready to create exciting, vibrant family experiences that will last a lifetime!
You won't believe the fun that awaits your little ones at Crayola's fantastic park! Trust us, a single day won't be enough to try out all the exciting activities they have in store! If you're looking for fun activities with your little ones, why not check out the fantastic Kaleidoscope or the Color Playground? They're both super cool and perfect for a family day out!
No park day is complete without immersing yourself in the excitement of the Activity Studio! The possibilities are endless, from rock stars to jungle explorers to superhero gear. With new themes regularly added, your little ones will be inspired year-round. Book your Crayola Experience discount tickets today and prepare for a colorful and fun-filled adventure!
The LOWEST-PRICED Crayola Experience Discount Tickets
Hassle-Free Transaction, Skip the Line!
Another benefit of purchasing from GreatWorkPerks is that you do not need to print your Crayola Experience discount tickets. Consider your phone your new best friend because all you need to do is present your e-tickets at the gates, and in you go!
What To See Inside the Crayola Experience Orlando?
Chaos and Creativity Show
Catch Gus' hilarious antics, Denny leading the pack, and Scarlet's sassy moves - all from the front row! They're about to introduce two new characters - meet Peri and Cat! Do not miss out on this wildly creative and chaotic adventure!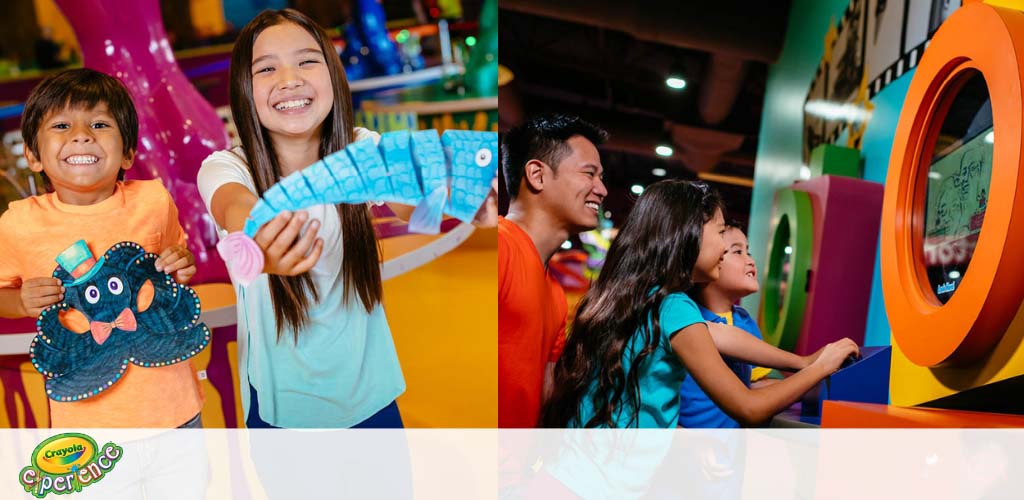 Activity Studio
No Crayola experience is complete without indulging in a fun-filled "cut, color, and paste" project! Get ready to unleash your inner creativity with this ever-changing theme! From crafting rock stars to jungle explorers and even superhero gear, we've got you covered all year round. Let your imagination run wild and join us on this exciting journey with your Crayola Experience tickets!
Be A Star
Are you ready to become a star in a fantastic coloring page photo booth? Let's get creative and show off our artistic skills! Have you ever wanted to be the star of your coloring page? Well, now you can get with Crayola!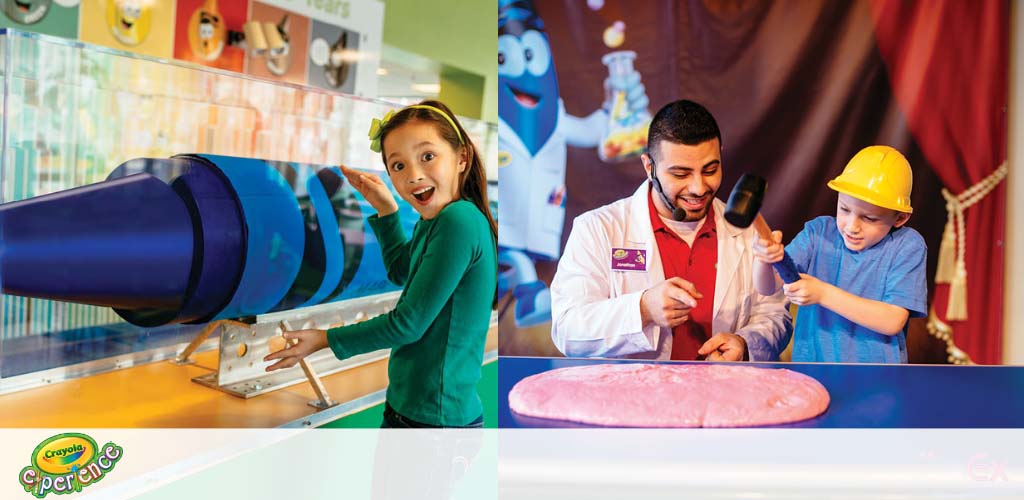 Bluetiful
Have you heard about the great Bluetiful crayon?! It's the biggest Crayola crayon in the world, weighing a whopping 1,352 pounds and measuring a stunning 15.6 feet long! And guess what? It's now on display at the amazing Crayola Experience and has become a permanent part of its collection!
Café Stage
Watch this super entertaining show that will teach you all about the science and magic of color behind your favorite Crayola products! It's seriously mind-blowing! You've got to check it out today with your Crayola Experience tickets!
Color Playground
Your little ones will be obsessed with this epic 2-story climber! They'll have a blast wiggling their way up a rad melted wax tower before bouncing across our super cool paint bridge. Watch the little ones as they easily navigate obstacles, sliding out of the crayon box and climbing their way up again!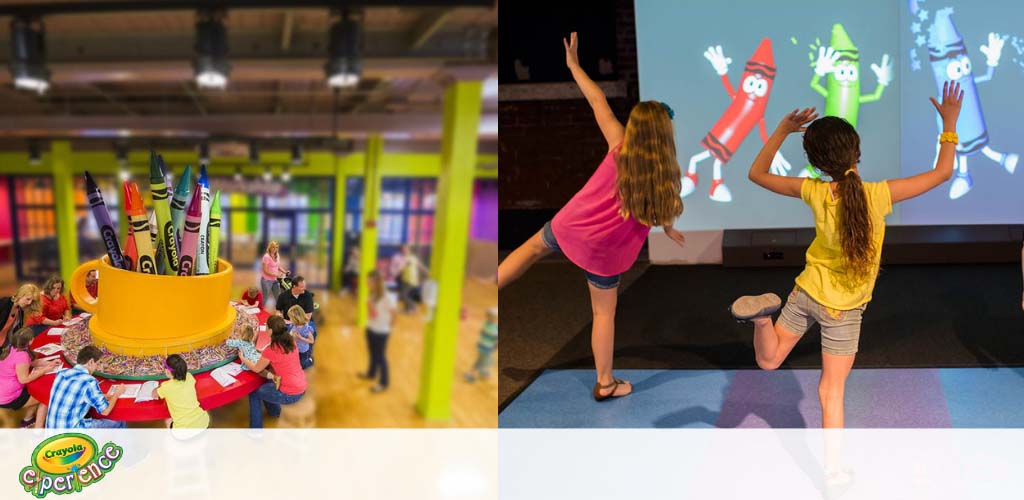 Colossal Caddy
You won't believe this massive caddy filled with thousands of crayons! It's perfect for both the young and the young at heart. Come check it out with your Crayola Experience discount tickets!
Cool Moves
Get ready to kick, twirl, and jump into a world of color as you transform into a vibrant Crayola crayon on a massive screen! Check out this fantastic colorful character that mimics your every move with your Crayola Experience tickets!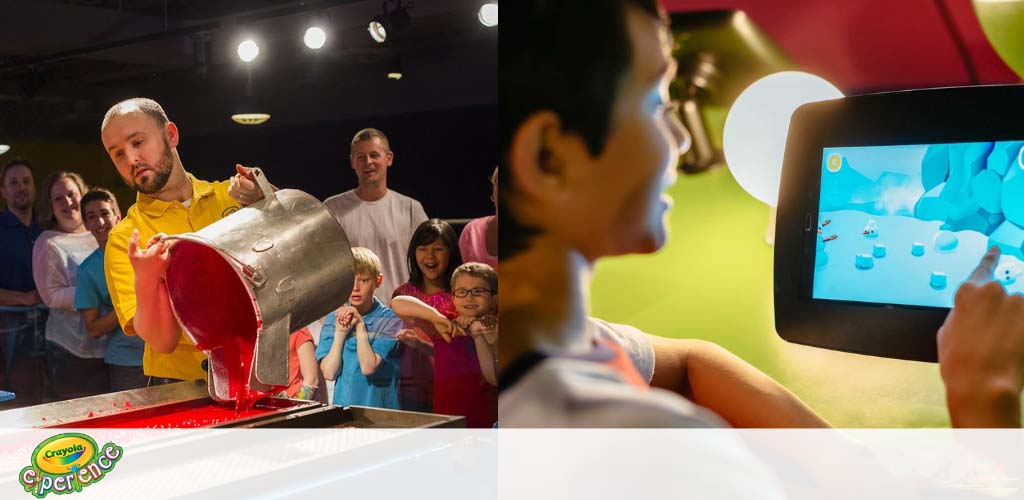 Crayon Factory Show
Have you ever wondered how crayons are made? Well, the fantastic, animated friends Scarlet and Turk (Turquoise) are here to show you in the most fun and exciting way possible!
Create and Play
Pet care, arcade games, and color experimentation - all in one! Such a blast! Bring out your inner creativity with your GreatWorkPerks Crayola Experience discount tickets.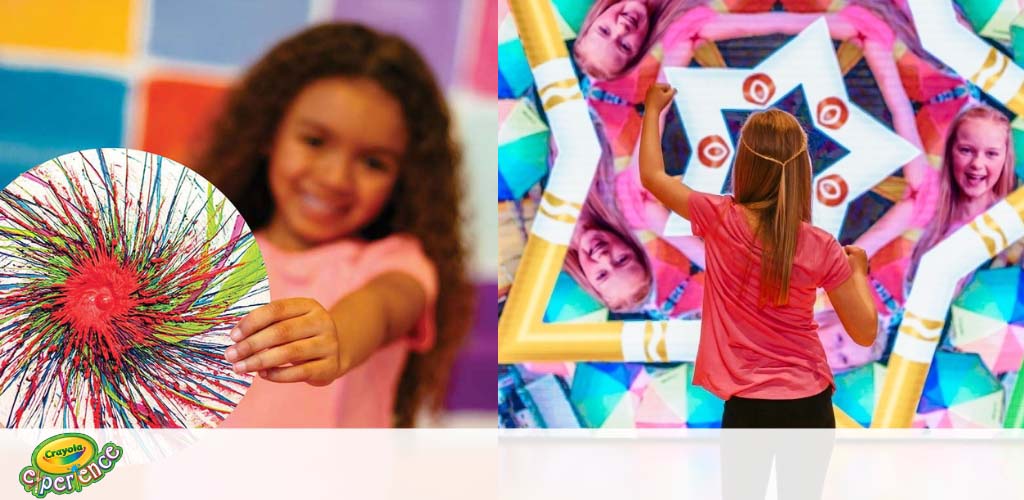 Drip Art
Create a stunning swirly whirly masterpiece at this one-of-a-kind activity! This experience will be so much fun, and the result will be breathtaking. All you have to do is load a fresh crayon into the machine, and voila! Watch it melt the wax onto your paper while spinning to create the most mesmerizing spiral art you've ever seen!
Kaleidoscope
Embrace your inner masterpiece and let yourself be swept away by this mesmerizing explosion of vibrant hues and illuminating radiance! Be sure to visit this new attraction at the park using your Crayola Experience discount tickets from GreatWorkPerks.
Melt & Mold
Are you ready to unleash your creativity? Head to Melt & Mold and make your unique ring, critter, or special character using colorful crayon wax! It's the perfect activity for a fun-filled day with friends or family.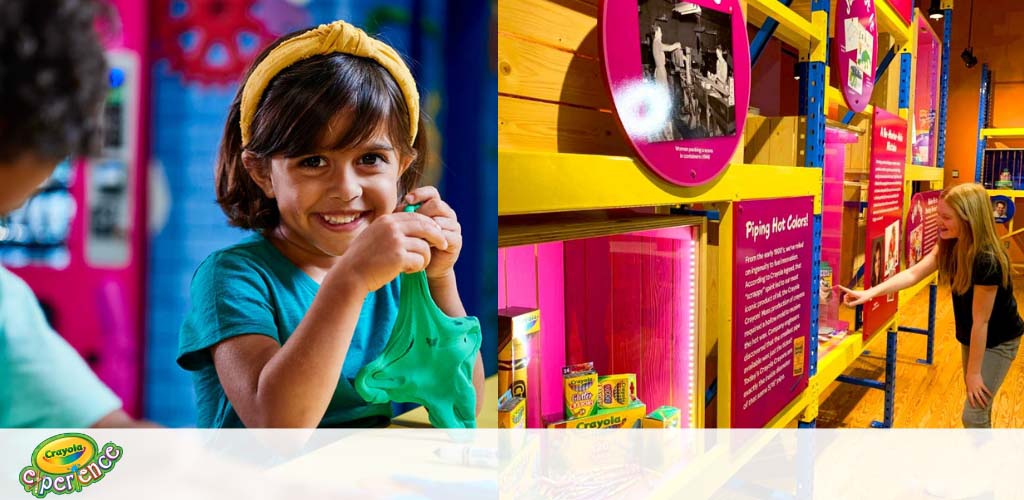 Modeling Madness
Have you tried using Crayola's Model Magic compound to create some beautiful and colorful sculptures? It's seriously so much fun, and the possibilities are endless! Get your imagination flowing, and let's make some magic together!
Outside the Box
Rumor has it, fam. Ever wondered where Crayola's unique products come from? Well, let me tell you, they grow in a magical imagination cave filled with glimmering "creativity" crystals! It's like something straight out of a fairytale!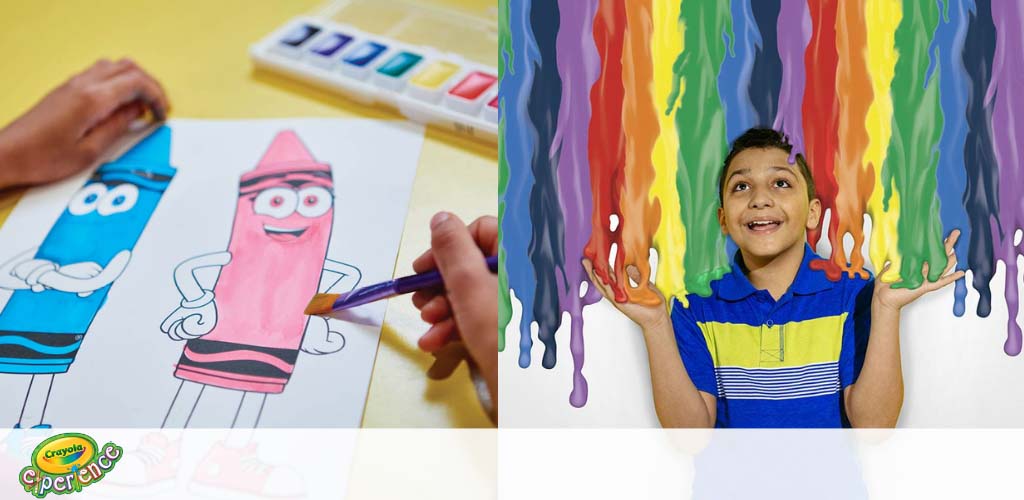 Paint Palette
Welcome to the ultimate painting experience! Let your creativity run wild and leave the mess to us. The team will take care of the clean-up so you can focus on unleashing your inner artist. Run your project through the excellent drying oven! This will ensure that your masterpiece is ready to take home and display on your fridge for all to see!
Rainbow Rain
Get the most amazing interactive experience where you catch digitally melted wax in your hands and bounce it off your head! Check out this amazing digital wonder that captures the vibrant droplets with every move you make with your GreatWorkPerks Crayola Experience tickets!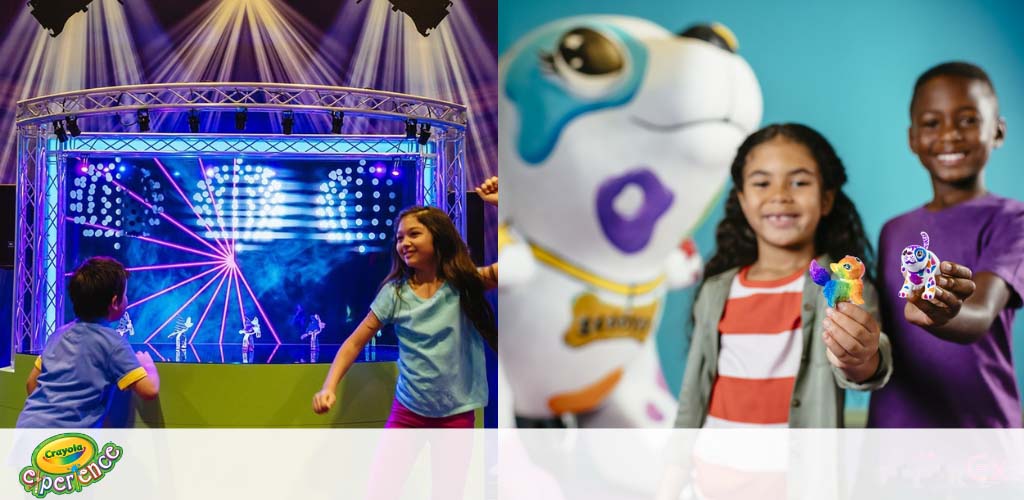 Rockin' Paper
Enjoy this multi-sensory experience that literally puts your art center stage! This amazing, personalized paper creation will make you dance and groove to the beat of the music!
Scribble Scrubbies
You cannot miss out on the incredible life-sized attraction that Crayola has brought to the table! Visit the fantastic Scribble Scrubbie - the perfect washable pet for hours of creative play! Get ready to color, scrub and play to your heart's content!
Scribble Square
Get ready to add color to your day with Crayola's super bright chalk! Take over this neighborhood and make it larger than life! Enjoy all this fun with your Crayola Experience discount tickets!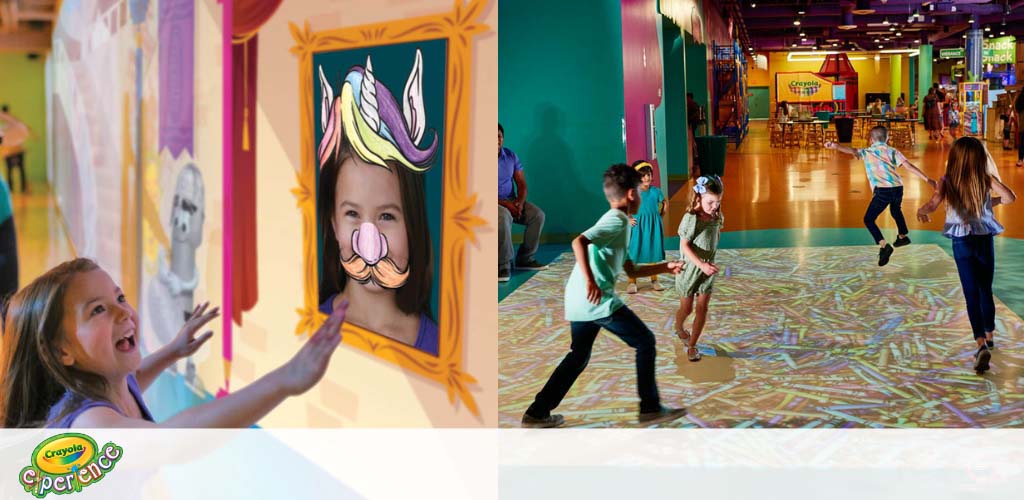 Silly Selfies
It takes selfies to a new level by letting you create and color a digital mask. You won't believe the amazing options available here! You can transform into a robot unicorn, a rock star parrot, or a zany pirate bunny! How cool is that?!
Stomp and Play
Get ready to stomp, kick and play like never before! This interactive floor is the perfect place to unleash your inner child and have a blast with a variety of colorful games. What about dodging some sharks, revealing hidden photos, cracking ice with your tootsies, and making popcorn kernels pop? These activities will keep you on your toes and provide some serious entertainment!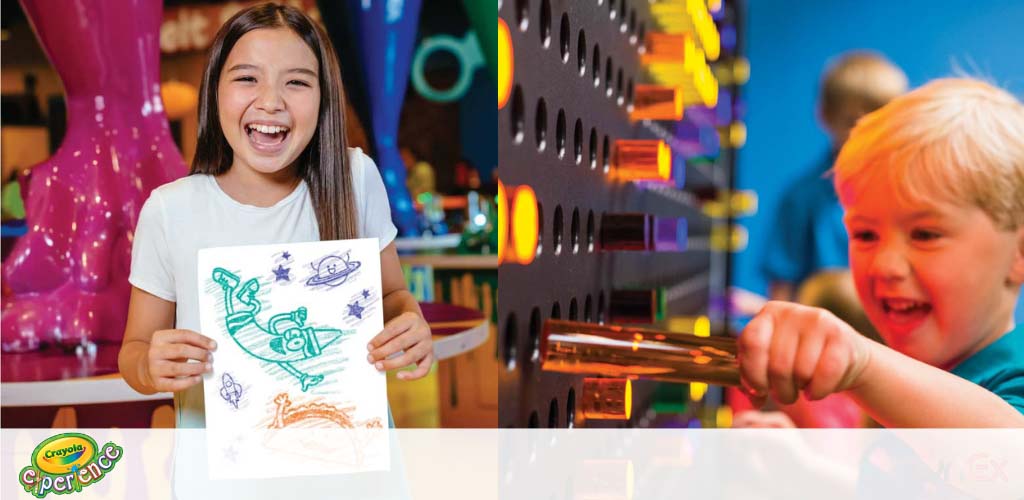 Texture CRAYze
Discover the most fantastic way to unleash your creativity! It's all about mixing and matching images with crayon-rubbing textures! It's a total mashup of awesomeness! This experience is included in your Crayola Experience tickets from GreatWorkPerks.
Toddler Town
Check out this fantastic area where Crayola's littlest fans can learn and play in the most colorful ways possible! Enjoy playing with a fun multi-colored peg board and exploring an incredible climber made just for the littlest explorers!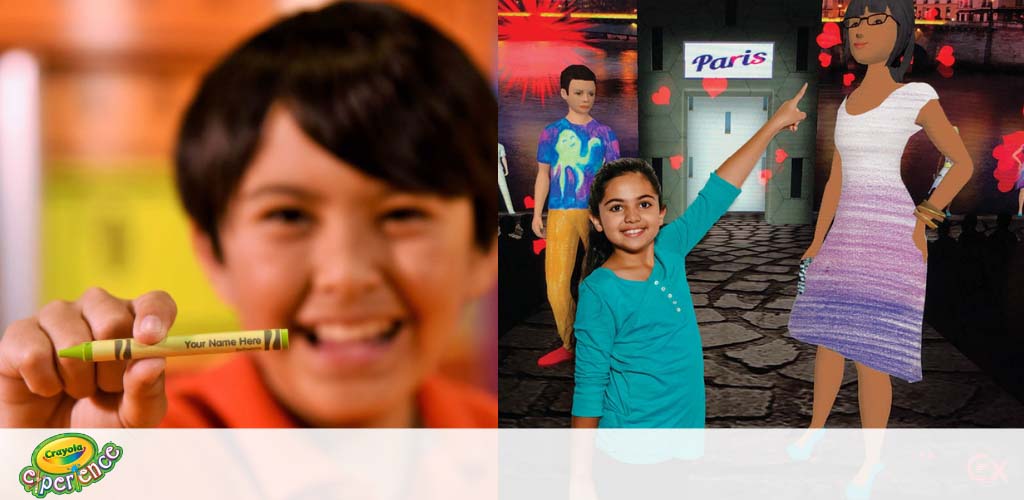 Wrap It Up!
With Crayola's personalized crayon labels, you can now add a touch of your personality to your art supplies! Please print out your original Crayola label and wrap it around a colorful crayon to create a one-of-a-kind masterpiece!
You Design
In this interactive studio, you can color, scan, and add digital accessories to make it truly unique to your style. And the best part? You can show it off in the spotlight! How cool is that?
Other Fun Things To Do Inside the Crayola Experience Orlando
Café Crayola
Get ready to sweat because, let me tell you, creativity burns MAJOR calories! If you're looking for a spot to unwind and recharge, Café Crayola is the perfect place! Treat yourself to a delicious meal while you sit back and relax.
Crayola Store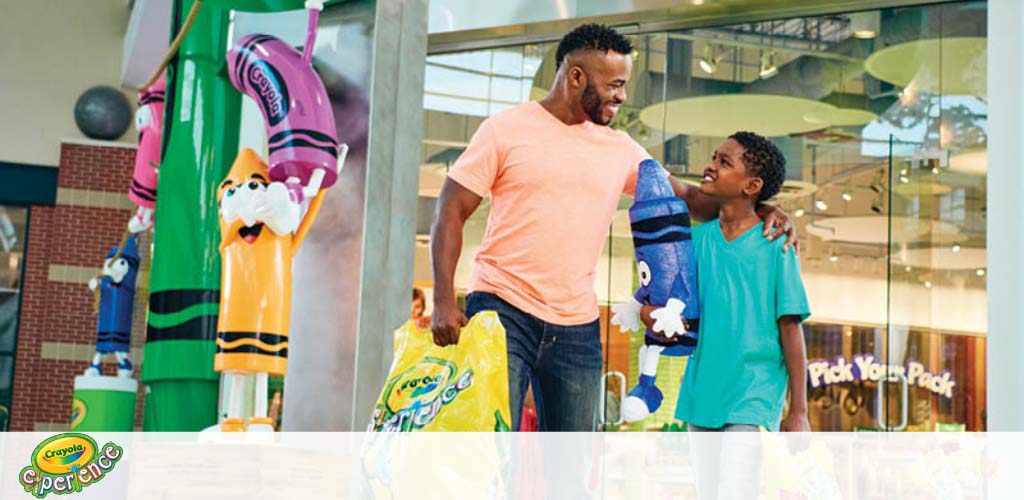 Head over to the city's most extensive collection of Crayola products and indulge in vibrant colors and creativity. Don't forget to check out the exclusive range of Crayola souvenirs that you won't find anywhere else! And that's not all; you can even create your custom pack of crayons and markers from our Pick Your Pack wall!
Tips for Your Visit to Crayola!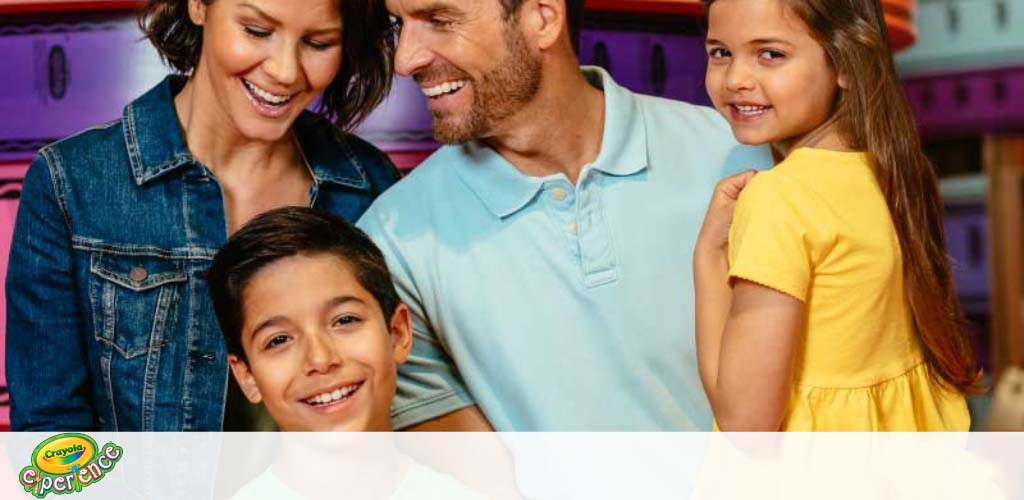 Buy your Crayola Experience tickets in advance.
Are you tired of wasting your precious time and money? Well, have no fear because GreatWorkPerks is here! With GreatWorkPerks, you can save both time and money without sacrificing any of the fun! You can now get up to 10% off on each ticket when you purchase them today through GreatWorkPerks Skip the long lines at the ticket booth and dive into the heart of the park's excitement!
Arrive Early at Crayola Experience Orlando.
The attraction is seriously HUGE! It's bigger than an entire football field! If you'd like to maximize your park experience, there's no better way than to arrive early! Get ready to have a blast the moment those gates swing open!
Get Hand Stamp
If you're planning on going out and coming back to the park on the same day, make sure to get your hands stamped before you exit! That way, you can quickly re-enter without any hassle.
Bring Extra Clothes
The attraction will be full of fun and games, be sure to bring extra clothes for your little ones to change if necessary.
Things You Need to Know Before You Go
Park Hours
The attraction is open daily from 10:00 AM to 6:00 PM. Please note that park hours may change without prior notice. Check their official website first thing in the morning on the day of your visit to know the latest hours of operation.
Directions
The park is located at Crayola Experience Orlando, 8001 S. Orange Blossom Trail, Orlando, FL 32809. You may use the address when locating the park using GPS.
Parking Information
You may park in any parking area at the Florida Mall, where the park is located, for free.
Frequently Asked Questions for Crayola Experience Orlando
Should I make a reservation before heading to the park?

No need to make another reservation. During your purchase online at GreatWorkPerks, you can pick a date that works best for you, and you're ready to go!

Where is Crayola Experience Orlando located?

It is located at Crayola Experience, 8001 S. Orange Blossom Trail, Orlando, FL 32809.

What are the operating hours of Crayola Experience Orlando?

They are open daily from 10:00 AM to 6:00 PM. Operating hours may change without notice.

Do I get free parking when I visit?

Yes. Parking is free at the Florida Mall, where the attraction is located.

Can I get a refund if I can't attend my scheduled visit?

Please note that all Crayola Experience tickets are non-refundable and non-exchangeable. Be sure to pick the best date to visit.

How soon will I get my Crayola Experience discount tickets?

You will receive your Crayola Experience tickets immediately, along with your receipt!

Do I need to print my Crayola Experience tickets?

No need to print them! Just show your Crayola Experience discount tickets through your mobile device, and you'll be granted entry, easy and fast!

Do we need to wear a mask when we visit?

Yes. Wearing of face mask is highly recommended for your safety, but they are not required. If you forgot to bring one, they are available at the Crayola Store.

What kind of payment does the attraction accept?

The attraction accepts major credit and debit cards. They also accept cash payments, but they do not accept personal checks.

How long can I stay inside the park?

Typical visits last 3 to 4 hours, but you can stay longer if you wish, as your Crayola Experience tickets are valid until closing.

Can I use my Crayola Experience discount tickets at any Crayola locations?

No. Crayola Experience tickets are valid for the location for which they were purchased.

Can I bring food and drinks inside?

Strictly no outside food and drinks are allowed inside. There are a variety of foods available for purchase inside the attraction.

Can I leave the attraction and re-enter again on the same day?

Yes. But please get your hands stamped before you exit to re-enter without hassle.

Are strollers allowed inside Crayola Experience Orlando?

Yes, strollers are permitted inside.

What kind of clothes should my child wear?

Since the attraction is a full-play area, kids and kids-at-heart should wear comfortable clothing suitable for hours of play.
Last updated Jun 12, 2023.
Crayola Experience Orlando Tickets
General Admission

Ages 3+ yrs

Regular price $30.87

Discounted Price $24.50