Check out other Sea Life Aquarium locations:
Purchase your discount Sea Life Orlando tickets for only $23.99! Savings of up to 24% vs regular price.

Event to Watch Out For!
EGG-stravaganza!
Happening from April 7 to 30th, Fridays through Sundays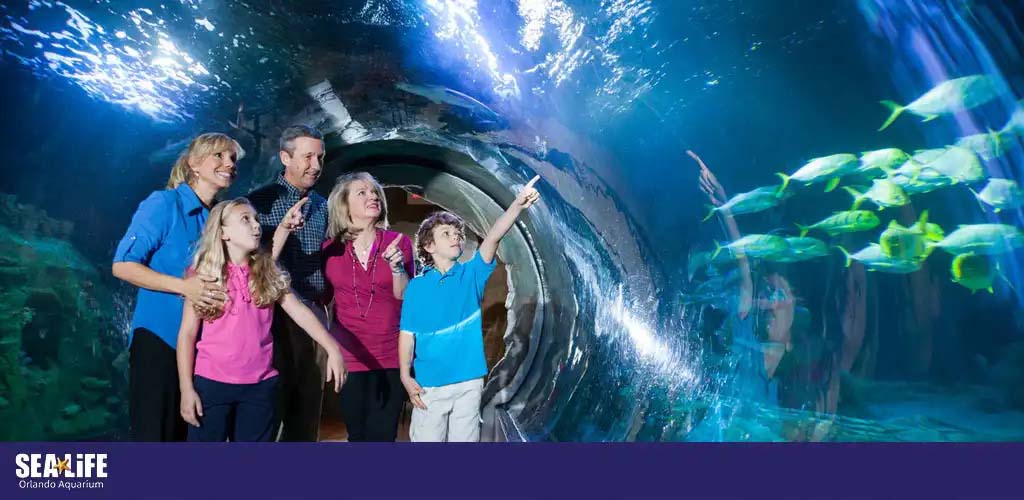 Meet Sharky
Learn more about Sharky, our good friend. Take a picture with the friendliest shark you'll ever meet and find fascinating information about shark eggs and the deep sea.
Easter Egg Scavenger Hunt
They hid golden eggs throughout the fish tank! Can you track them all down? Once you enter, don't forget to pick up a scavenger hunt guidebook.
What's NEW | Sea Life Orlando Aquarium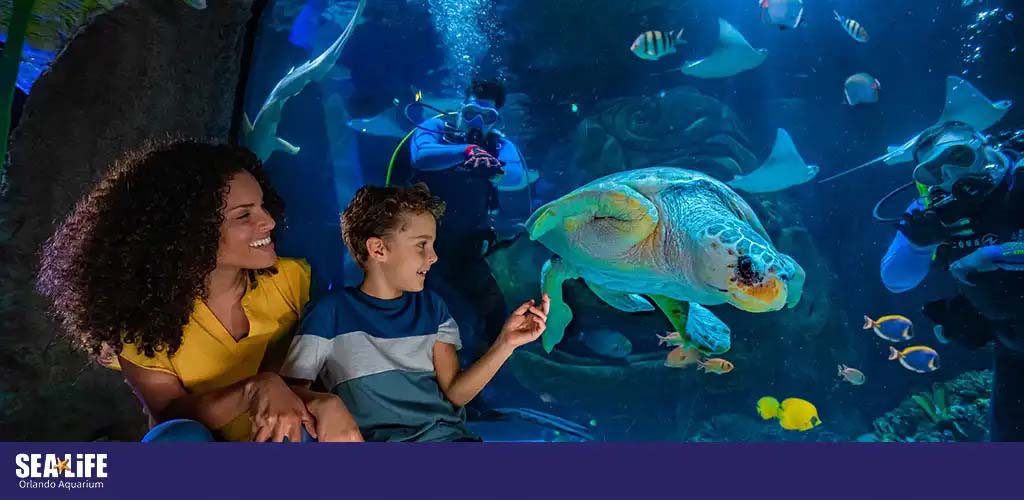 Bonnethead Sharks
Meet the bonnethead sharks this Shark Week. The Pacific Ocean is home to a pair of brothers named Mario and Luigi. Did you know that the maximum length for a bonnethead shark is just about 2 to 3 feet? To learn more, drop into Mario and Luigi's house.
Giant Pacific Octopus
Get to know Minerva, the newest member of the SEA LIFE crew! Minerva is a giant Pacific octopus, despite her current diminutive size. Over 2,200 suction cups help the giant Pacific octopus hold, but they can also be used for tasting and smelling. To find out more, visit Minerva at the shark shipwreck habitat.
Before You Visit!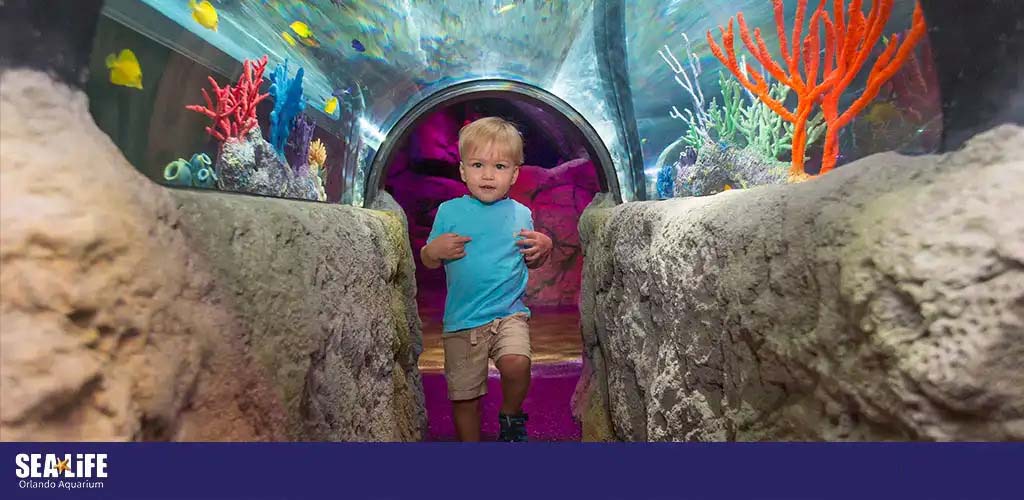 Visitors should do a few things before they arrive to make the most of your trip. Check the list we've provided below to make sure you remember everything!
Purchase Sea Life Orlando tickets in advance.
Purchasing a GreatWorkPerks discount ticket in advance is the best bet to get the best price and guarantee admission entry. Enjoy savings of up to 23% off vs the regular gate price.
Early Arrival is Recommended
As tickets to Sea Life Orlando are time and date-specific, visitors are urged to get there before the scheduled time. Even if you're 30 minutes past your appointment time, you'll still be able to visit, but you may have to wait in line to go in as other guests are also coming for their schedule.
Prepare your Barcode
Taking a screenshot of each barcode to scan at the Aquarium entrance speeds up entry. The more things you see during your vacation, the more enjoyable it is, so get in as quickly as you can!
Explore Orlando's Only 360ᵒ Ocean Tunnel!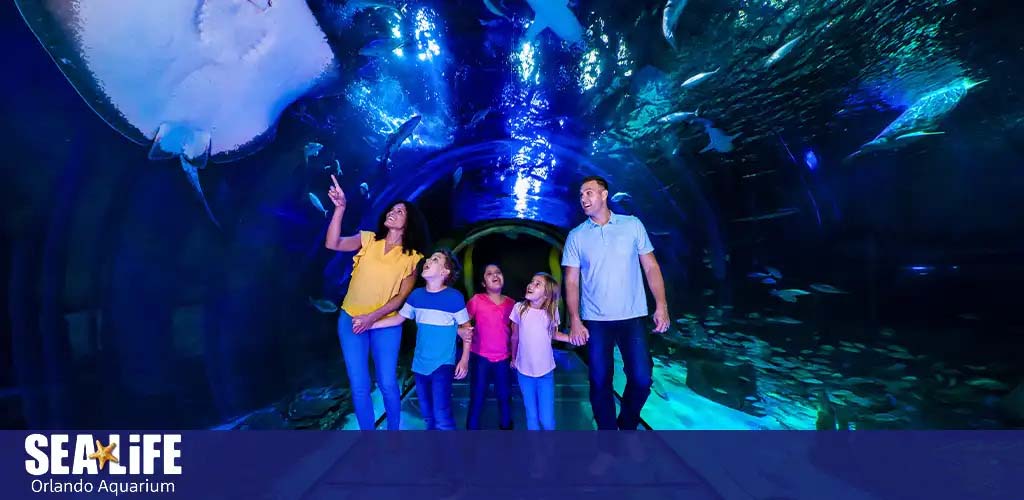 Have fun exploring everything under our ocean without going underwater! You'll be able to catch a view of fish, sharks, turtles, and eels swimming all around you! Make sure to bring your family and friends along to share this incredible experience. Don't forget to say hello to Chely, their rescued green sea turtle, while you are exploring!
Buy your GreatWorkPerks discount Sea Life Orlando tickets!
Hassle-Free Transaction, Easy and Fast!
Another benefit of purchasing with GreatWorkPerks is that you do not need to print your discount tickets. Consider your phone your new best friend because all you need to do is present your discount tickets at the gates, and in you go!
What can you expect in Sea Life Orlando Aquarium?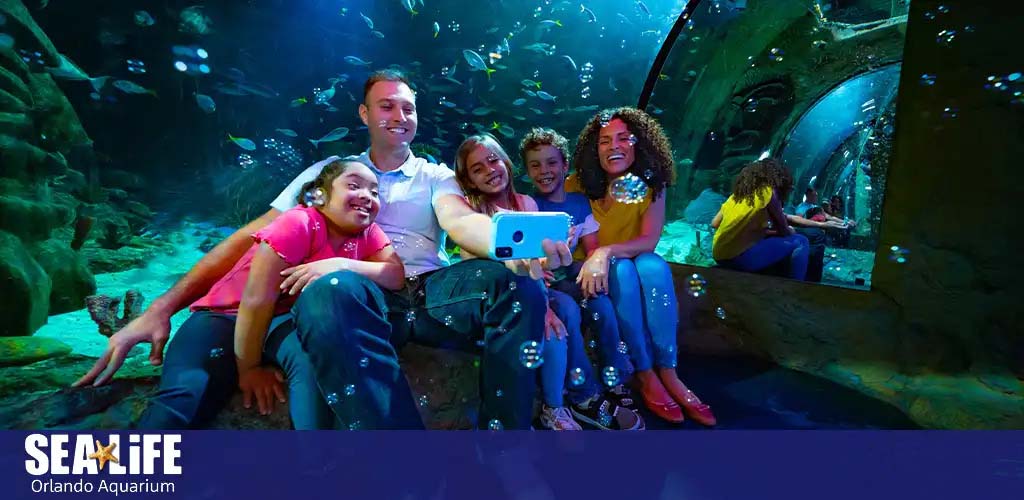 Experience a deep dive under Sea Life Orlando Aquarium where you will enjoy an underwater adventure full of sea creatures from around the world. You will come face-to-face with thousands of fish, sharks, stingrays, and even sea turtles! You will be bedazzled as a glittering world of scales, tentacles, and razor-sharp teeth surprise you. You will be able to touch and feed exotic starfish, sea anemones, and many other sea creatures as you explore the aquarium. If you feel like it, you can jump behind the scenes and see what it takes to keep all these wonderful marine lives fit and healthy.
JELLY WALL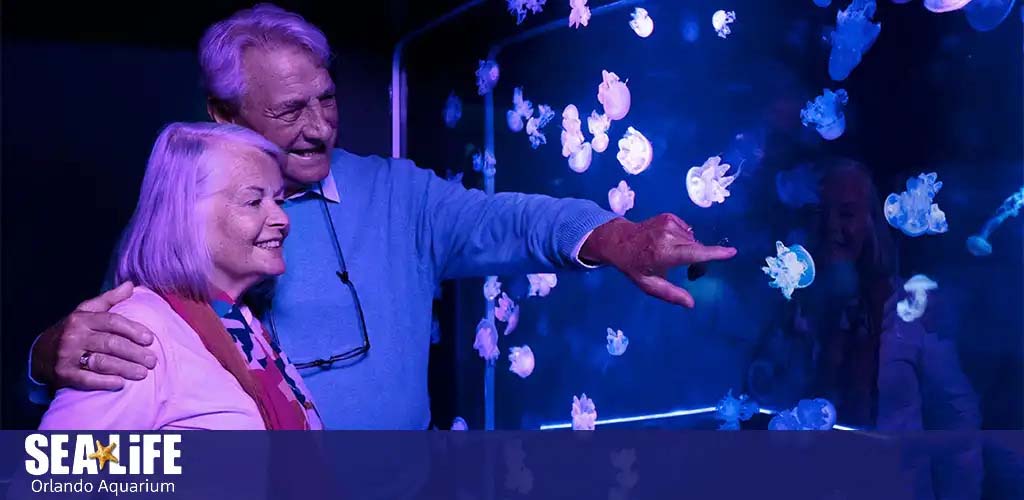 Take a break and enjoy the wall of multi-colored jellyfish. as they each have their own different colors, shapes, and sizes. You and your family will have the chance to change the colors of the moon jelly habitat and take some amazing photos. Don't forget to bring your camera with you!
Take some bright and colorful memorable photos with your discount Sea Life Orlando tickets from GreatWorkPerks
INDIAN OCEAN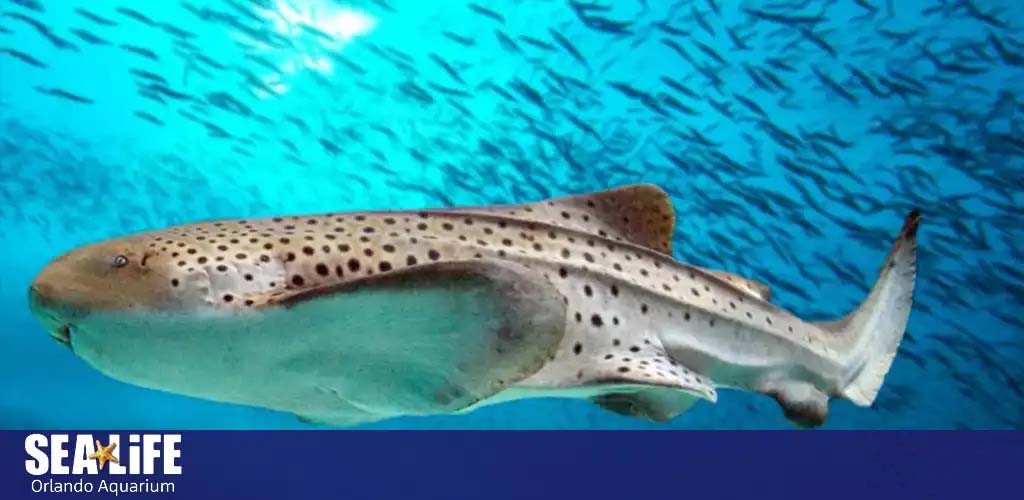 Meet Joy, the new zebra shark that is currently being rehabilitated in the aquarium. Joy was hatched from an egg at the Georgia Aquarium as part of their AZA's Species Survival Program so she doesn't have any wildlife experience yet. Don't forget to head on over and meet Ted, the turtle who helped develop the Turtle Excluder Device! You will have the chance to meet the aquarium's top two celebrities in the aquarium!
Have fun while meeting these two celebrities with your Sea Life Orlando discount tickets from GreatWorkPerks today!
FEEDING FRENZY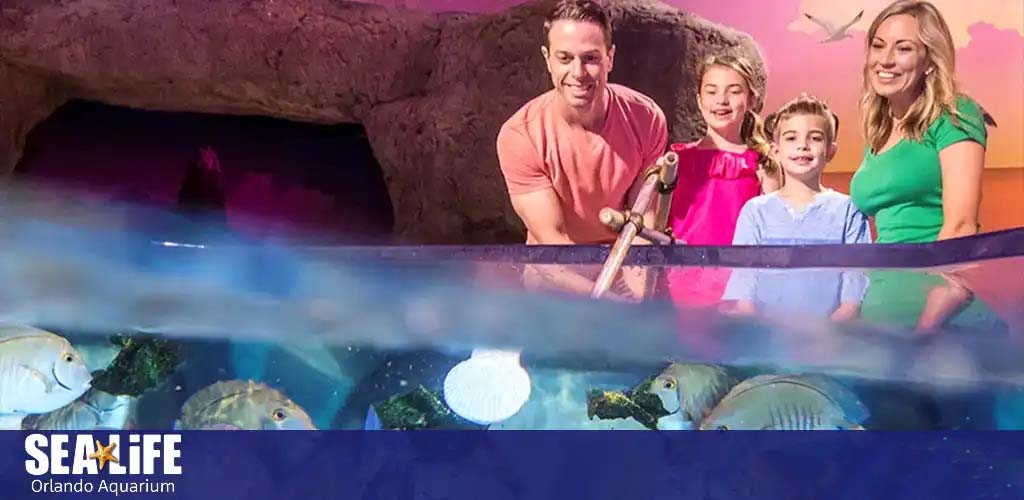 You can enjoy the experience of feeding a school of tangs and hear them munch with frenzy while you feed them. Don't forget to take a moment and snap a one-of-a-kind picture with your family feeding all the fish in the pool!
Have a great time while feeding the fish with your Sea Life Orlando discount tickets from GreatWorkPerks today!
COASTAL ROCKPOOL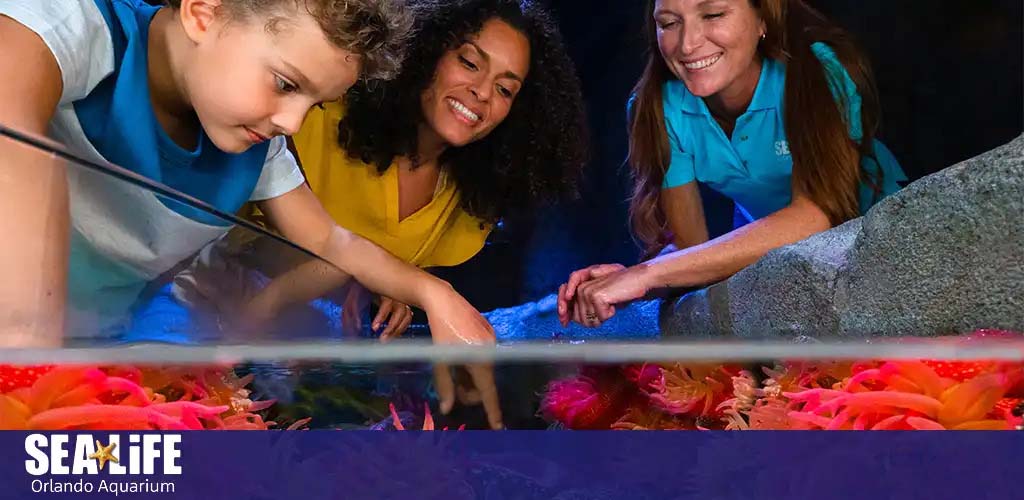 Have you ever had the feeling of wanting to touch these wondrous creatures? Then this is the place for you! Experience the scaly and slimy feeling in this amazing micro-habitat that's full of incredible creatures like starfish and anemones. Your kids will have a blast as they experience what it's like to meet these incredible sea creatures in real life.
Have a fun and friendly experience with the sea creatures with your discount Sea Life Orlando tickets from GreatWorkPerks
Frequently Asked Questions for Sea Life Orlando Aquarium
Are reservations required for discount Sea Life Orlando tickets?

Yes, reservations are required, please pick a date and time for your visit.

What are their operating hours?

Sea Life's opening hours are normally at 11 am- 6 pm on any day of the week. They'll only accept guests until 5 pm. Please note that their schedules are subject to change, so we recommend checking their calendars for any changes they have made.

Where is Sea Life Orlando Aquarium located?

You can visit the aquarium at 8449 International Drive, Orlando, FL 32819. Don't forget to buy your discount Sea Life Orlando tickets from GreatWorkPerks before dropping by!

Are face coverings required?

Yes, all guests are highly recommended, but not required, to wear masks inside SEA LIFE Orlando Aquarium. We encourage guests to follow the guidance of the Centers for Disease Control and Prevention and the recommendations of local authorities.

How will social distancing measures be enforced?

Guests will be guided with directional markings, allowing them to better distance themselves while exploring the attraction. Their employees will also remind guests to maintain a respectful distance when necessary.

What type of payments does the aquarium accept?

SEA LIFE has gone cashless. They are only accepting contactless payment methods and the use of debit and credit cards.

What attractions or offerings are currently closed?

As an added safety measure the following attractions and interactive elements, the following are temporarily closed:

Kids Play Area
Talks, dive shows, and feeding demonstrations.

Do I need to print my tickets?

Tickets purchased online don't need to be printed, as they can be easily scanned from your mobile device.

Can I reschedule and visit at a later date?

In the case you came to visit on a closed date, just visit again when they are open and simply present your unused ticket at any ticket counter. No reservations are required.
Last updated March 31, 2023.
Sea Life Aquarium Tickets