Buy your Busch Gardens Tampa discount tickets starting at only $81.98 vs $138.99 gate price! Save up to 60%! Lowest prices guaranteed on GreatWorkPerks.
Brand New - Limited Time Only
Unlimited Visits to 4 Parks + FREE Parking Ticket | Valid for use for up to one (1) year from date of purchase. | Discounted Price $209.50

NOW OPEN: Iron Gwazi!
Get ready to experience the newest addition in the famous theme park, the Iron Gwazi. It is a hybrid coaster design that combines the classic wooden coaster with innovative steel tracks and adds many surprising components.
This roller coaster will take you to another level of height with its 206-foot-tall peak and unimaginable plunges from a 91-degree drop. Riders will experience an all-new roller coaster adventure that speeds up to 76 miles per hour. A heart-plunging adventure you shouldn't miss out on!
Crowned as North America's Tallest and World's Fastest and Steepest Hybrid Coaster, make sure to buckle up as you board the Iron Gwazi with your Busch Gardens Tampa discount tickets from GreatWorkPerks. This once-in-a-lifetime ride will give you the most unforgettable moments ever!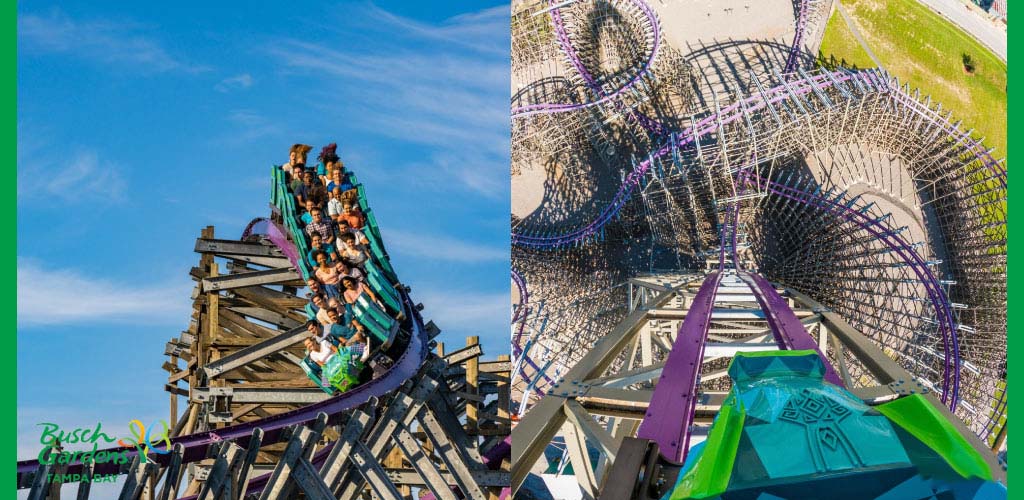 What is Busch Gardens Tampa Bay?
This theme park is one of the most visited theme parks in the United States. It is known for incredible and sophisticated rides. Whether you are a thrill-seeker or just looking for some fun in the park, you'll surely get to enjoy the wide variety of activities and roller coasters to choose from.
This theme park also features a serene African-themed environment and its design combines the beauty of nature and the fun of amusement parks. Guests can experience a close encounter with over 200 animals in the park. So, if you love animals, you will most certainly enjoy this incredible opportunity to get closer to some exotic animals!
If you are planning to visit with your family, this is a perfect option, Busch Gardens Tampa Bay is a certified family-oriented theme park that brings joy to each member of the family. There is so much entertainment, adventures, and shows to look for! Make sure to check out their seasonal events to get the most out of your Busch Gardens Tampa discount tickets.
Is Busch Gardens Tampa Bay worth it?
The park is one of the crowd's favorites for a reason! With so many rides, lovely animal encounters, and even yummy treats in the park, its definitely a winner of the "best getaway" title. You will be enjoying a lifetime of memorable experiences!
This amazing zoo is really popular, so hurry up and purchase your Busch Gardens Tampa discount tickets! Trust us, your Busch Gardens Tampa discount ticket from GreatWorkPerks is worth every penny!
Why choose GreatWorkPerks for your discount Busch Gardens Tampa ticket?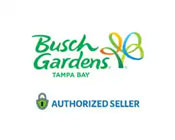 Why Choose GreatWorkPerks for your discount Busch Gardens Tampa ticket?
GreatWorkPerks is an authorized seller of discount Busch Gardens Tampa tickets. We are one of the largest sellers of discount tickets in the country, and we couldn't have thrived for over 30 years if we weren't highly trusted by our customers. We would love you to join our family and enjoy the best price for the Busch Gardens Tampa tickets and many other nationwide attractions!
Hassle-Free Transaction, Skip the Lines!
Another benefit of purchasing with GreatWorkPerks is that you do not need to print your discount tickets. Consider your phone your new best friend because all you need to do is present your discounted Busch Gardens Tampa tickets at the gates and in you go!
What to Expect at Busch Gardens Tampa Bay?
The park is proud to host many great experiences - fun activities for all ages include arcades, indoor games like laser tag, outdoor games like Go-Karts, and even water slides. GreatWorkPerks's General Admission ticket gives you admission to all of them. Save money and have an awesome time, all in one place!
High Thrill Roller Coasters at Busch Gardens Tampa Bay
If you are a thrill seeker, you'll surely love the high-thrill roller coasters available with your Busch Gardens Tampa discount tickets. Get ready to soar with these extreme roller coaster adventures:
Tigris
Who doesn't love Tigers? This roller coaster mimics the agility of these wonderful creatures giving its guests a breath-taking roller coaster experience. With its innovative structure, the Tigris features multiple looping twists as well as forward and backward motions, incredible drops, and a 150-foot skyward surge.
Are you ready to get on this 60 mph ride that has more than 1,800 feet of track, making it a dream-come-true for coaster enthusiasts? Hop on the Tigris with your discount Busch Gardens Tampa tickets.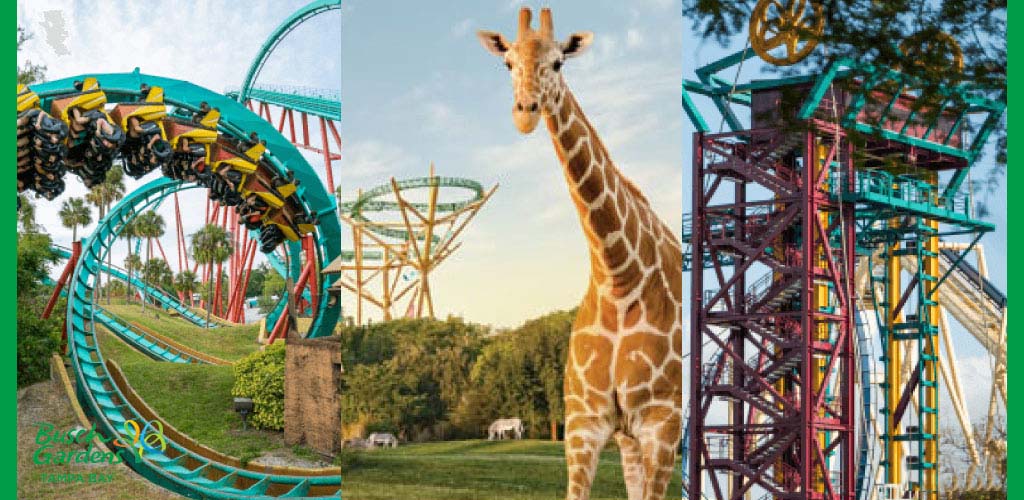 Montu
Looking for even more challenging adventures? Head straight to Montu, a roller coaster that features very intense inversions! It is considered Florida's favorite inverted roller coaster as it has the most intense thrills and inverted stunts.
Guests will experience a twisting drop, 60-foot vertical loops, a weightless roll, and an Immelmann loop which is a simultaneous roll and loop. It has seven inversions that make it the ultimate thrill! Grab your discount Busch Gardens Tampa ticket and come and see why the Montu became the coaster enthusiasts' all-time-favorite!
Cheetah Hunt
Don't miss the opportunity to celebrate the fastest animal on earth, the Cheetah! Here in the famous theme park, guests can race through as fast as a Cheetah while boarding the longest and quickest roller coaster. This ride is also one of the top favorites, as it carries the riders to heart-stopping heights, and races down along a rocky gorge at a length of 4,400 feet!
Purchase your Busch Gardens Tampa discount tickets and don't forget to stop by this park's longest thrill ride attraction!
Water Rides at Busch Gardens Tampa Bay
Prepare yourself for a big splash! With your Busch Gardens Tampa discount ticket, head straight to these water rides perfect to cool off on a very warm day in the park!
Congo River Rapids
If you are looking for some watery adventures, then this is the place to go! At Congo River Rapids, you will experience a thrilling plunge, so be ready to get soaked in the looming waterfalls. Enter the mysterious caves and enjoy riding this fun family raft!
With your Busch Gardens Tampa discount tickets, you will be able to climb aboard this refreshing water ride that will send you twirling down the river with spouting jets and waterfalls. You might also get soaked by bystanders firing the water spray jets at the unsuspecting adventurers! Hurry up and buy your discount Busch Gardens Tampa discount ticket!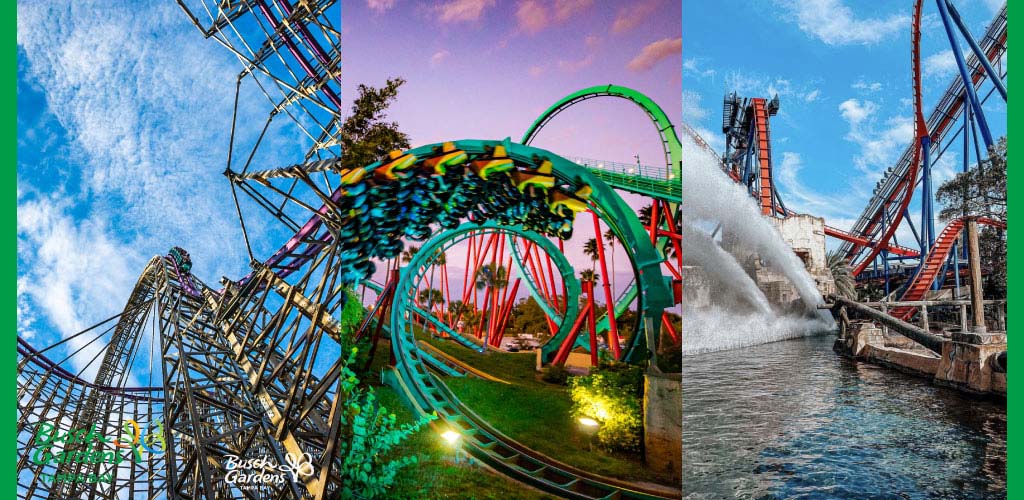 Stanley Falls Flume
Looking for a family-friendly water ride? This is the perfect place to cool off with your family! Hop on a family-friendly log flume that's perfect for all ages. Ride a twisting, turning adventure through the jungle. There's also a final 40-foot splashdown! Did you know that you will have unlimited access to this ride with your Busch Gardens Tampa discount ticket? Buy your discount Busch Gardens Tampa tickets from GreatWorkPerks and have a lot of fun!
Kid Friendly Rides at Busch Gardens
If you plan to visit with the kids, don't worry, there are a lot of fun rides and activities for the little ones! Good news: these are all included in your discount Busch Gardens Tampa ticket.
Serengeti Express

Kids are naturally curious! Take them into the Serengeti Express Train Ride and enjoy a fun ride while observing the free-roaming herds of African animals in the park including zebras, giraffes, antelopes, and others! They will learn so many fun facts. Learn and have fun with your discount Busch Gardens Tampa ticket!

Air Grover

If you are looking for a roller coaster that is safe and suitable for the kids, Air Grover is the perfect ride for them! This is a kid and toddler-friendly roller coaster located in the Sesame Street Safari. This junior coaster set is specially designed for the little ones. Mom, Dad or another family member can accompany them throughout the ride. This great kiddie ride is included in your discount Busch Gardens Tampa ticket from GreatWorkPerks

Wild Surge

Anyone looking for some junior rides will love this Wild Surge Kids Drop Tower! With your Busch Gardens Tampa discount tickets from GreatWorkPerks, you can board this drop tower with the kids! It launches out of a mountain crater and gives kids a thrilling view of the Jungala's village. Children can look out for the flying foxes and gibbons as they soar past the animal habitats!
If roller coasters aren't your thing, what else can you do at Busch Gardens?
If you do not like to board roller coasters or water rides, no worries because the theme park is not only about these attractions! They also have a lot more activities to look out for when you are planning to spend your time in the park!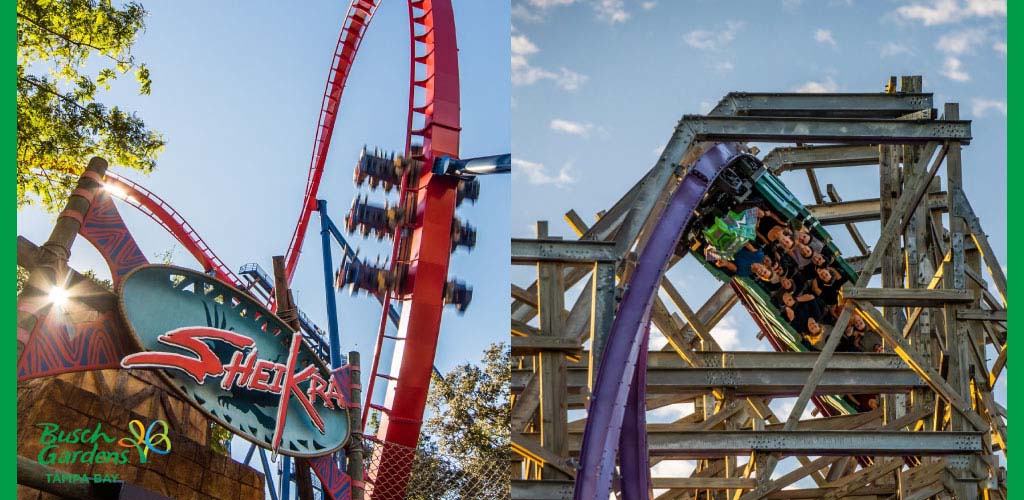 Connect with Wildlife

When you purchase our discount Busch Gardens Tampa ticket, you not only get access to ride every single roller coaster, but you'll also get to reconnect with nature and wildlife! When roaming around the park, take some time to visit the animal exhibits and make an inspiring connection with a variety of their famous animal ambassadors. You can see the animals up close, learn about the park's conservation efforts, and observe the animals in their natural habitats.

Soar high on the Skyride

Sometimes, all you need is a relaxing view of the park! When you board the Skyride, you will enjoy the panoramic view of all the animals and rides! This cable car runs through the opposite sides of the entire park. This is a nice activity to start off your day or end your adventure in the park! Skyride is included in your Busch Gardens Tampa discount ticket.

Enjoy a great Show

Catch the Tampa Bay's Best live shows with your friends or family! All of their world-class entertainments and exciting shows are included in your discount tickets from GreatWorkPerks.

The park features "Turn It Up!" which celebrates skating performances, "Cirque Electric" which brings acrobatic moves, and others! There are a ton more shows to watch out for! Grab your Busch Gardens Tampa discount ticket and get ready to have a great time.

Join a park tour

If you are a certified animal lover and you really want to have a more meaningful connection with wildlife, we recommend that you join an immersive Tampa Animal Tours to enrich your knowledge of animals and their habitats.

You'll come across many tours that will allow you to have a diverse range of animal encounters in the park. Choose from the Orangutan Insider Tour, which allows guests to swing over to Jungala and view the Orangutans, the Elephant Insider Tour, that allows guests to know how the park cares for elephants, and others! Catch the other theme park tours accessible with your Busch Gardens Tampa discount tickets!

Enjoy Special Events

Don't forget to check out the special events during your day of visit. Participating in these events is a great way to spice up your adventures! Special events vary per season. Check them out before visiting! Some events may require a separate ticket to enter.
Meet the animals at Busch Gardens
Sloths

Come and see the unique tree-dwelling animals, Sloths. They are known for their slow-moving lifestyle and how they uniquely hang from the tree branches. With your Busch Gardens Tampa discount ticket, you'll get to see them spend their time upside down the trees.

Lemurs

Busch Gardens Tampa also houses lemurs that are typically found in the tropical rain forests in Madagascar. These primates whose soft fur is reddish-brown to gray or black have noses and whiskers that resemble a cat.

Penguins

Who doesn't love penguins? At Busch Gardens, you will get the chance to see a playful colony of African Penguins in a 65-degree chilled water habitat. Make sure to stop by the Penguin Point in Nairobi to see them play.

Orangutans

Your journey in the wild won't be complete without stopping by the Jungala to see the Orangutans in the park. Your kids will surely enjoy watching them swinging from one branch to another. Check the complete list of animals exhibited in the park accessible with your discount tickets.
Dining Options at Busch Gardens
Roaming around the park, visiting the animals, and engaging in fun activities can make you hungry. Don't worry though, we listed down all the best dining options inside: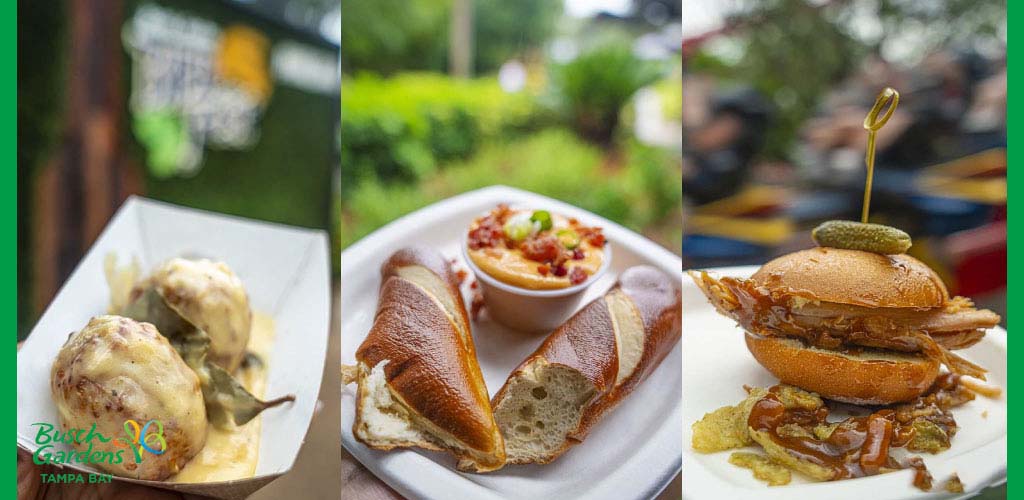 Chick-Fil-A

If you are craving some Chick-fil-a lunch or dinner meals, this is the perfect dining option to satisfy you! They also offer sandwiches, nuggets, fries, waffles, and more! Kids will also enjoy their selection of fan-favorite beverages and desserts such as frosted lemonade, brownies, cookies, and milkshakes. Try their specialties at the Jungala Area in the park. They are open from Monday to Saturday.

Zambia Smokehouse

Who wants a tasty barbecue after all the adventures? If you want to have some delicious barbecue ribs, head straight to the Zambia Smokehouse! You'll surely be enticed by the aromas of their exciting and flavorful meal in their open barbecue pit.

Oasis Pizza

Pizza simply never goes out of style. Satisfy your taste buds with freshly baked pizza or enjoy a delicious entrée such as fresh salads in the Oasis Pizza found at the Serengeti Overlook. Indulge in a delicious meal while enjoying the beautiful scenery.

Zagora Cafe

Run over to the Zagora Cafe, they are known to serve fresh-from-the-grill cheeseburgers, chicken tender platters, delicious desserts, and some other delicious plates! This great dining option for families.
Tips for Visiting Busch Gardens
Purchase your Busch Gardens Tampa tickets in advance

Save time and plan your trip ahead of time! Bonus tip: Choose GreatWorkPerks for your purchase of Busch Gardens Tampa discount tickets and save quite a few bucks.

Use the Park Map

Roaming around the park can be very challenging especially if you are visiting with kids. To help you navigate the theme park with ease, make sure to download the park map HERE. Having a copy of the park's map will also help you find the must-visit fun rides, attractions, animal exhibits, and dining options in the park without getting lost.

Bring Extra Clothes

Keep in mind that water rides will drench you in water, so bring some extra clothes! You will have the best time ever!

Charge your Phone

You will need it to present your Busch Gardens Tampa discount ticket so make sure you have your battery fully charged. You might want to keep it handy so you can use the camera to capture lasting memories in the park.

Wear comfortable footwear

If you plan to ride the high thrill roller coasters and water rides, it is a must that you wear comfortable and secure footwear. Closed and comfortable shoes are recommended.
Covid 19 Safety Guidelines
Amidst the COVID-19 pandemic, your safety is the topmost priority in Busch Gardens Tampa Bay. If you plan to visit, keep in mind these guidelines:
If you can wear facial coverings or masks, please do so for preventative measures.
Try to sanitize your hands routinely while in the park.
Assess your own risk when visiting. Make sure that you are not feeling sick before and on the day of your visit.
Proof of COVID-19 full vaccination is recommended but is not required for guests.
Frequently Asked Questions about Busch Gardens Tampa Bay
Are reservations required?

No, reservations are not required.

Do I need to purchase an advance date-specific Busch Gardens Tampa tickets to visit?

No, you don't need to. If you purchase a general Busch Gardens Tampa discount ticket at GreatWorkPerks it will be valid for a year after your purchase.

Where is Busch Gardens Tampa Bay located?

The theme park is located at 10165 McKinley Dr, Tampa, FL 33612, USA.

What time does the park open?

Busch Gardens is open from 10 am to 10 pm.

Which days are the busiest?

They are busiest on weekends, special event days, and holiday weeks.

Can I bring food inside the park?

No outside food is allowed. Don't worry, there are a lot of dining options to choose from inside the park to refuel your energy.

Is there free parking?

No, parking rates apply when you visit Busch Gardens Tampa.

Do I need to print my discount Busch Gardens Tampa tickets?

There is no need to print your Busch Gardens Tampa discount ticket. Just present them through your mobile phones at the gate.

How soon will I receive my discount Busch Gardens Tampa tickets?

You will receive your discount ticket instantly when purchase it here in GreatWorkPerks.

What items should I not bring?

Avoid bringing hazardous items inside the park.

Are pets allowed inside?

Unfortunately, bringing your pets inside the park is not allowed.

Does the park have access for guests with disabilities?

Yes, Busch Gardens Tampa Bay accommodates persons with disabilities. You can even rent wheelchairs or strollers for mobility purposes.

Are lockers available?

Yes, there are lockers for rent in Morocco section.

Can you wear a beanie or hat on a roller-coaster?

No, take off any head coverings when you ride a roller coaster.

Is re-entry allowed?

Yes, you can leave and re-enter during the day. Just make sure to keep your discount Busch Gardens ticket with you as well as your parking tickets.
Last updated November 27, 2023
Busch Gardens Tampa Bay Tickets