Check out other The Escape Game locations:
Save 28% on The Escape Game Grapevine discount tickets from GreatWorkPerks Only $26.60 vs $36.99 regular price. Lowest prices guaranteed.

Reservations required after purchase of discount tickets. Please call 214-692-2180.

The Escape Game is the premier provider of escape rooms, and their games are like action-packed thrillers full of unexpected plot twists and shocking revelations! The 60-minute journeys they take you on are a one-of-a-kind way to feel legendary tales come to life. Here's how it goes: Your quest will need your team to solve puzzles, overcome obstacles, and work together to reach the end goal. To escape, you'll need to work together, communicate well, use your wits, and be willing to take risks.
Everyone from close-knit families and groups of friends to thrill-seeking visitors and office parties will have a blast at The Escape Game. And by creating the world's most accessible and immersive escape rooms, The Escape Game's adventures become more thrilling and appealing, and everyone has a chance to rescue the day.
Buy The Escape Game Grapevine discount tickets from GreatWorkPerks today to enjoy the best savings!
The LOWEST-PRICED The Escape Game Grapevine Discount Tickets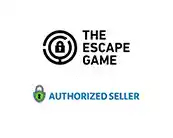 Lowest Prices Guaranteed!
GreatWorkPerks is an authorized seller of The Escape Game Grapevine discount tickets. We couldn't have thrived for over 30 years if we weren't highly trusted by our customers. We would love for you to join our family and enjoy the best price for The Escape Game Grapevine discount tickets, as well as other attractions nationwide!
Hassle-Free Transaction, Skip the Lines!
Another benefit of purchasing from GreatWorkPerks is that you do not need to print The Escape Game Grapevine discount tickets. Consider your phone your new best friend because all you need to do is present your e-tickets at the gates, and in you go!
Tips and Tricks for You!
To escape, you'll need to decipher complex codes and puzzles. But there's a catch: time is ticking away, and you only have one hour. Will you be able to do it? Follow these guidelines, and escaping will be easier than ever before!
Examine Your Surrounding: Look Everywhere!
Look around the room thoroughly as soon as you enter it. Pay attention since you can find the first clue in that room to begin moving. Remember to check under furniture and behind bookcases and examine each picture in detail.
Look for Patterns
The answer is sometimes in a different light. Examine the prints on the walls, items, and clues you locate to look for patterns or discrepancies. They could be the missing piece to the puzzle!
Use Everyone's Skill
Some team members excel at putting together jigsaw puzzles, while others excel at spotting and analyzing patterns. As escaping requires everyone's best efforts, play to each other's strengths and pitch in where you can.
Keep Track of Solved Puzzles and Used Clues
When a riddle or hint has been solved or used, it is typically unnecessary for further progress. For the same reason, this is crucial so that people save time attempting to solve problems that have already been answered.
Don't Lose Hope. Stay Positive!
It's disheartening to sit and do nothing as the clock keeps ticking. Try not to give up! Escape rooms are all about teamwork and having a good time with friends!
How to Get Started?
As a newbie in this game center, you must know some essential things before entering the game area. Below are the expected things to do once you arrive at The Escape Game Grapevine.
Select a Theme
There are a lot of exciting and mind-blowing themed rooms to play with your friends. As starters, you must pick a room that interests you the most. If you're unfamiliar with each playroom, you can start with the Playground, as it is the best room for beginners. If you want to explore and are ready to face harder challenges, you can try out the Prison Break.
Meet your Game Guide
After selecting a room, you will meet your game guide. Your game guide will take you to your room, explain the game rules, and answer all the questions you have in mind.
Enter the Game and Watch a Mission Video
Once you're on the adventure, you will be watching a mission video with your teammate that will inform you what kind of world you're into. Remember, you only have 60 minutes! Your time will start immediately after watching the video.
Escape the Room!
Use your wits. Bring out your inner detective. Crack the codes! Clues might be anywhere. Look for patterns, solve puzzles, and decipher codes.
Get A Clue
A little help from your game guide might help you out! If you are stuck in your mission, you can ask for help. Your game guide is ready to help you get through your mission, so don't be shy.
Escape Rooms
You may pre-select a room to play before you go by checking them below: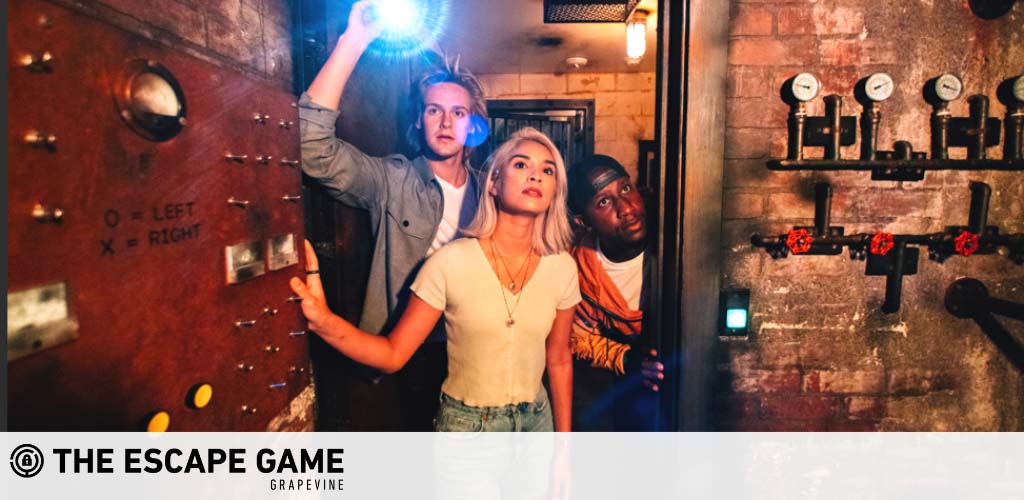 Prison Break
In Prison Break, players are locked in a 1950s-style jail and must cooperate to escape. The only way to escape jail is to sneak into the warden's office. You will be locked up for life if you try to escape and fail.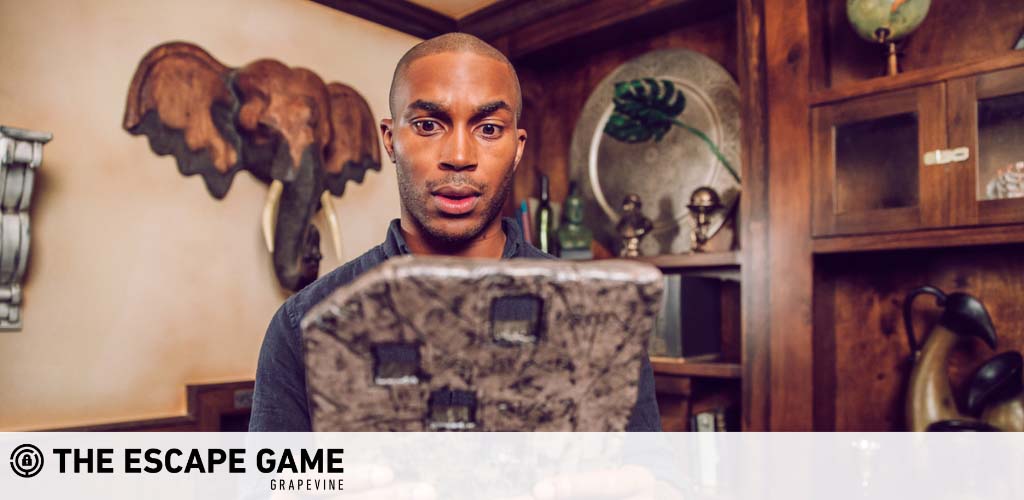 The Heist
The Barclay Museum of Historical Art recently lost a Monet painting worth a lot of money. The curator of the museum, Vincent Hahn, took it. Your mission is to sneak through the museum galleries without getting caught, break into Hahn's office, steal back the painting, and run away before he notices.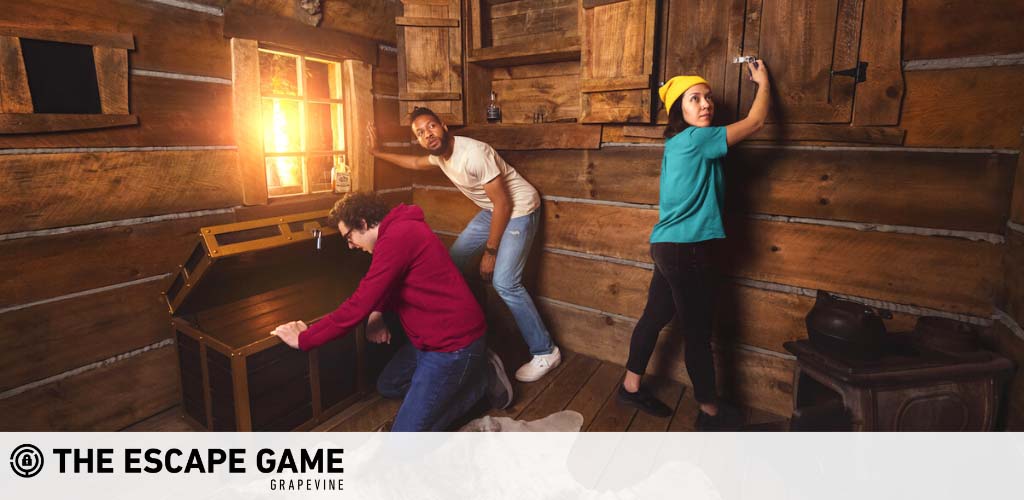 Gold Rush
During the 1800s California gold rush, many people got lucky and made a lot of money. No one knew this better than your relative Clyde Hamilton, who just died. He left quite a lot of gold behind. As his only living relative, he wants you to take the gold fortune as your inheritance—if you can find it.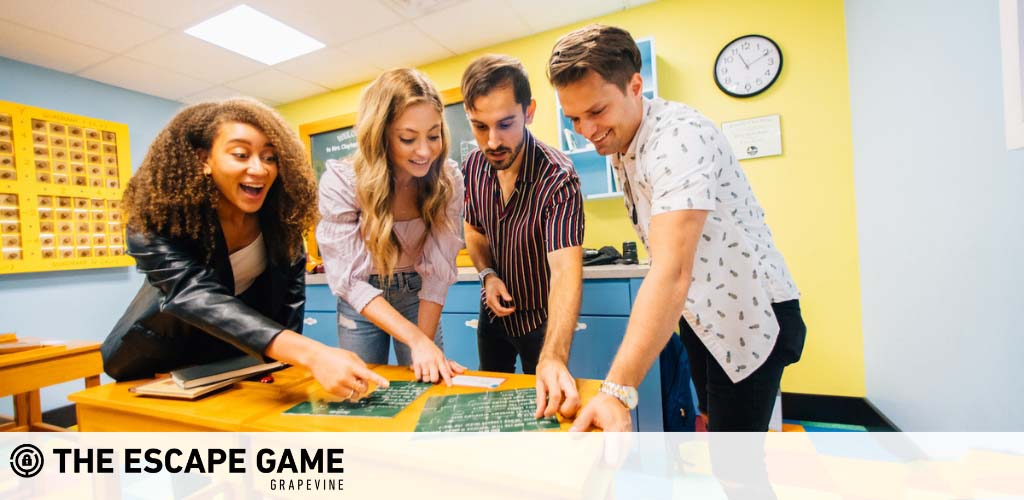 Playground
The playground room is a favorite. The game will begin in a classroom where you must do all your homework before the day is through if you want to take a summer vacation. But be prepared, these tasks are unlike anything you've ever seen in school!
Frequently Asked Questions
Do I need to make a reservation before going to The Escape Game Grapevine?

Yes, reservations are a must. Please call 214-692-2180. Pick the best date and time for you and your escape buddies.

Where is The Escape Game Grapevine located?

It is located at 3000 Grapevine Mills Parkway, Suite 604, Grapevine, TX 76051.

Can I reschedule my visit?

Rescheduling is possible up to 4 hours before your reservation time. Within 4 hours of the start time, tickets are no longer transferable and non-refundable.

What are the operating hours of the game center?

Operating hours vary daily and are subject to change without prior notice. Please check their official website to get day-to-day updates.

Is there free parking?

Parking is available at Grapevine Mills' parking lots.

How soon will I get my GreatWorkPerks Escape Room tickets?

You will get them instantly, along with your receipt via email!

Do I need to print them?

No. Smartphone tickets are accepted.

Should I buy my child a separate The Escape Game Grapevine discount ticket?

If your child is four years old and under, they are FREE of charge. However, if your children are five years old and above, they need valid Escape Room tickets to enter.

Is there an age limit?

No. Games are recommended for guests ages 13 and up.

Are the game rooms wheelchair accessible?

Yes! Please call (214) 692-2180 to help select the best room for your team.

Can I bring food and drinks inside the game room?

No outside food and drinks are allowed.
Last updated November 21, 2023.
The Escape Game Grapevine Tickets