Golf N Stuff discount tickets starting at $20.60 vs. $52 gate price saves you 63% off! Lowest prices guaranteed on GreatWorkPerks

Home to hundreds of virtual games and indoor activities, Golf N Stuff Norwalk is the most exciting and fun playground in California! Whether you prefer to keep your clothes on and play some dry arcade games or splash around in the water, there are activities for the whole family to enjoy. There is a world-class golf course and a wide variety of fun recreational activities that are great for people of all ages to enjoy. You won't be disappointed; you will have a great time! Our Golf N Stuff tickets allow you to choose whichever activity you like. Buy your tickets at the lowest price and enjoy infinite entertainment!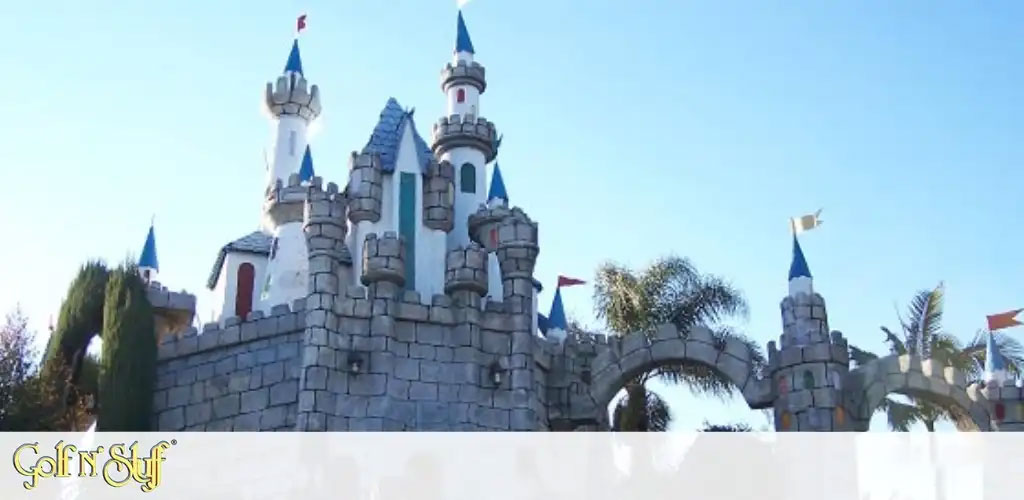 Please note that the park hours and ride closures are subject to change without notice. Other than that, the park can also close without prior notice due to unforeseen weather or maintenance. For the park's availability, please call the attraction directly to confirm the days and operating hours.
If you can't reach the attraction through call, please dial us, and we'll be glad to assist you with your concerns. Reach us at 888-295-7375 or help@greatworkperks.com from 7 AM to 10 PM PST.
The LOWEST-PRICED Golf N Stuff Discount Tickets
Lowest Prices Guaranteed!
GreatWorkPerks is an authorized seller of Golf N Stuff discount tickets. We couldn't have thrived for over 30 years if we weren't highly trusted by our customers. We would love for you to join our family and enjoy the best price for Golf N Stuff discount tickets, as well as other attractions nationwide!
Hassle-Free Transaction, Skip the Lines!
Another benefit of purchasing from GreatWorkPerks is that you do not need to print your Golf N Stuff discount tickets. Consider your phone your new best friend because all you need to do is present your e-tickets at the gates, and in you go!
Tips for your Visit!
Arrive earlier for more fun.
It's always preferable to arrive at your destination early. If you have an all-day admission Golf N Stuff discount ticket to Norwalk and unlimited rides, you shouldn't waste a second of your time. Opening times for the park shift throughout the week. To make the most of your stay, we've compiled the following brief time guidance to follow:
Winter Hours (November 7, 2022 – June 4, 2023)
Monday – Thursday
Golf 10:00 am to 10:00 pm.
Arcade 10:00 am to 10:00 pm.
Rides 4:00 pm – 9:30 pm.
Friday
Golf 10:00 am to 12:00 am.
Arcade 10:00 am to 12:00 am.
Rides 4:00 pm to 11:30 pm.
Snack Bar 6:00 pm to 10:00 pm.
Saturday
Golf 10:00 am to 11:00 pm.
Arcade 10:00 am to 11:00 pm.
Rides 1:00 pm to 10:30 pm.
Snack Bar 12:00 noon to 9:00 pm.
Sunday
Golf 10:00 am to 12:00 am.
Arcade 10:00 am to 12:00 am.
Rides 12:00 pm to 11:30 pm.
Snack Bar 12:00 noon to 10:00 pm.
Purchase your Golf N Stuff tickets in advance.
Golf N Stuff discount tickets must be purchased online in advance to guarantee your park entry. Fun Express will guarantee you a spot. Our Golf N Stuff tickets are also the most affordable, so you'll save a lot of money. Have lots of fun while spending less!
Keep in mind the park rules.
The park has different rules for each ride and game within. The minimum height requirement for drivers of select rides is 56 inches, and they must be at least 18 years old; passengers should be between 36 and 56 inches tall.
All guests under the age of 18 are required to have an adult member accompany them at all times while at the park. Please keep in mind that passengers must also have a ticket, as the rules specify that no one can ride for free.
Get ready.
On certain rides like Go Karts, wearing any of the following is strictly prohibited: No bare feet, open-toe shoes, crocs, flip flops, high heels, or sandals. Wearing closed shoes is best for a safe ride. For water activities, you can bring extra sandals or slippers to wear.
Also, long hair below the shoulder should be tied, and loose clothing should be secured when entering the ride. All these guidelines are for your safety – your safety is a priority!
What to expect at Golf N Stuff Norwalk?
This interactive park has been a staple of family fun in the area for almost 50 years! Miniature golf courses, go-kart tracks, and bumper boats are the most popular choices around the United States. Each location boasts a variety of rides, attractions, and water elements, including some beautiful landscapes.
You will have so much fun playing the newest and most innovative video and prize arcade games! Everyone can find something that they will enjoy. Visit Golf N Stuff Norwalk with our Golf N Stuff discount tickets to get access to these fantastic and one-of-a-kind experiences!
Different Interactive Fun Games and Rides at the park:
Miniature Golf
There are four thrilling 18-hole courses to choose from at Golf N Stuff Norwalk, and they take great pride in being the most outstanding miniature golf in the area. The game's rigorous interaction allows players of all ages to assume the roles of intrepid explorers in a fantastical world replete with breathtaking landscapes, charming towns, and exhilarating adventures.
The Tree House (where the world record for tree sitting was set), the Haunted Mansion, the Western Scene, the Magic Castle, the Moroccan Castle, the Spanish Mission, the Lighthouse, the Candy House, Big Ben, and other great golf courses await you! Take advantage of our Golf N Stuff discount tickets and have a great day at this indoor playground!
Lit'l Indy Raceway
Prepare to have your heart thumping with excitement as you race your Lit'l Indy Car along a circuit full of twists and turns by hopping into the driver's seat of your vehicle. You may also take the shotgun position and enjoy the action without worrying about controlling anything.
Crank your engines because these single-seaters and two-seaters are more exhilarating than ever! You can ride this once you purchase your Golf N Stuff tickets from GreatWorkPerks.
Guidelines:
There is a minimum height requirement of 56 inches for drivers and 36 inches to 56 inches range for passengers.
Go-karts are for shoes only, no bare feet, open-toe shoes, crocs, flip-flops, high heels, or sandals.
All loose clothing and hair must be secured above the shoulders before entering the ride area.
People who have casts on their limbs are not allowed on rides because they could be severely hurt.
You need to be 18 to drive with a passenger.
Disk'O Thrill Ride
Experience the thrill of this brand-new rollercoaster, which will be the first of its kind in the country! Disk'O is unlike anything else you've tried because it combines a dual rocking and spinning motion while sitting on a pedestal seat resembling a motorbike and looking outward. The seat will remind you of a motorcycle's handlebars.
Our Golf N Stuff discount ticket will take you on a ride you will never forget, so get ready!
Guidelines:
Long hair must be secured above the shoulders, and all loose clothing must be fastened before entering the ride area.
The minimum height for a rider is 48 inches. The rides comply with ASTM Standards for Amusement Rides and Devices, as required by the California Department of Industrial Relations Division of Occupational Safety and Health.
Bumper Boats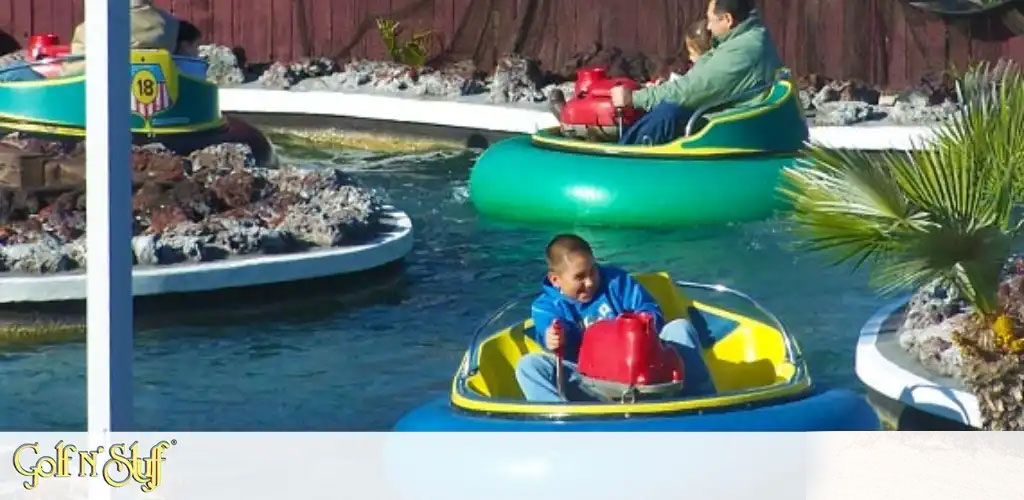 Get your anchors ready! You can climb in a bumper boat and head out onto a dangerous lagoon full of excitement and mayhem in either the driver's or the passenger's seat. You'll need to chart a course and steer clear of the approaching waves and boats, but you've been forewarned that this will be one crazy and wet experience! Ready to soak someone or get soaked?
Get our Golf N Stuff tickets to race with your family and friends!
Guidelines:
Drivers must be at least 48 inches.
Passengers must be at least 40 to 48 inches tall.
Should not exceed 450 pounds in total combined weight.
Cannonball Express Train (Kiddie Train)
Kids and adults of all ages will enjoy this imaginative walk that takes them through a miniature golf course and a small railway depot. It is now time to board the Cannonball Express! Purchase your Golf N Stuff discount tickets through GreatWorkPerks to experience this one-of-a-kind and perfect kid-friendly ride!
Guideline:
Riders 3 years old and under ride for free but must be accompanied by an adult, who has to have a valid ticket. Strictly 1:1 (1 child: 1 adult).
Arcade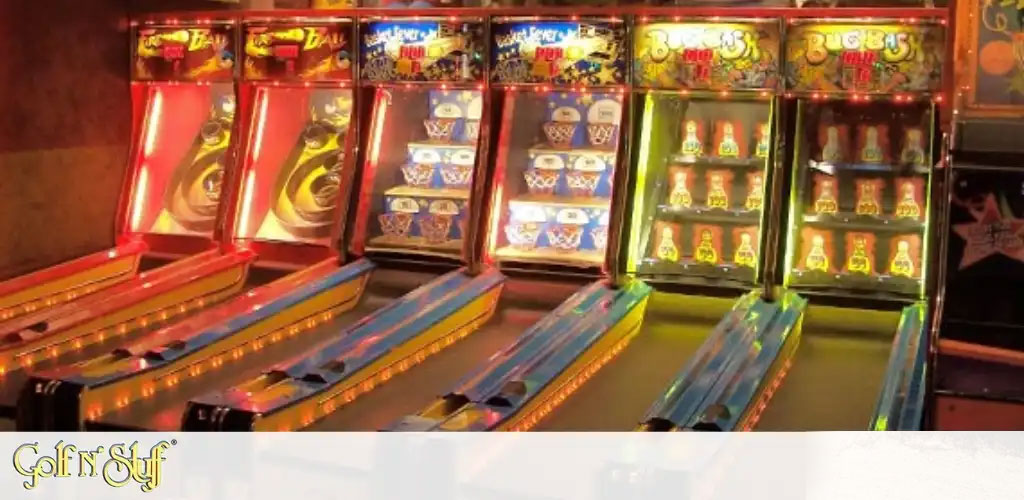 This entertainment center is amazing offers because it features more than one hundred different arcades and prize games that are both tough and interactive. Check out the newest releases, such as Guitar Hero Arcade, Razing Storm, Rambo, Justice League, Blazing Angels, and Time Crisis 4!
Deal or No Deal, Big Bass Wheel, Monopoly, Jungle Jive 2, Smokin' Token, and Wonder Wheel are some of the fascinating games you and your friends can compete in if skill games are your preferred type of arcade attraction. Your hard work will be rewarded at our well-equipped prize redemption center, where there is something for every customer.
You may play Ms. Pac-Man, Donkey Kong, Joust, and a variety of pinball games (including Elvis and Lord of the Rings) also! Those who are nostalgic or want to travel back in time will really enjoy this!
You won't find a better selection of video games anywhere else in town, and there's something fun for everyone! You may use your Golf N Stuff tickets to enter the arcade world of Norwalk!
Snack Bar
This dining option inside the attraction is open only on select days (Fridays, Saturdays, and Sundays). The delectable snack bar provides mouthwatering classics like nachos, hamburgers, hot dogs, and thirst-quenching soft drinks that can satisfy your cravings for something to drink.
You may choose to eat inside or outside, there is plenty of seating available; however, on particular days and times seating may be restricted due to parties or other events that have been arranged.
The snack bar and the adjacent terrace are the only portions of the area that are accessible to guests with disabilities.
Strictly no food or drinks are allowed from outside.
Frequently Asked Questions for Golf N Stuff Norwalk
Are reservations required at Golf N Stuff Norwalk?

No, reservations are not required at Golf N Stuff Norwalk. Buy your Golf N Stuff tickets at a low price today to enjoy everything the park has to offer for you and for your family!

When do these Golf N Stuff tickets discount ticket to Norwalk expire?

The Golf N Stuff discount tickets for Norwalk do not have an expiration date. Given this convenience and perk, these Golf N Stuff tickets are perfect for gifts or any special occasion! They can be used whenever you want!

Where is Golf N Stuff Norwalk located?

Golf N Stuff Norwalk is located at 10555 Firestone Blvd, Norwalk, CA 90650. Grab your Golf N Stuff discount tickets today and drop by Golf N Stuff Norwalk – ANYTIME!

What should I wear to Golf N Stuff Norwalk?

Please note that go-kart riders must wear closed-toe shoes in order to operate the vehicles at Golf N Stuff Norwalk. To ride the rides, long hair must be pulled up above the shoulder.

What are the guidelines for the go-kart drivers at Golf N Stuff Norwalk?

The drivers at Golf N Stuff Norwalk must be at least 18 years old and 56" tall. The passenger must be between 36" and 56" tall, and both the driver and passenger must have a ride ticket.

Do I have to print out my discounted GreatWorkPerks tickets to Golf N Stuff Norwalk?

No need to print out your discounted tickets. Through GreatWorkPerks, you can just show your Golf N Stuff tickets on your phone for easy entry. When the gate opens, you can immediately start your adventure.

How soon do I receive my Golf N Stuff discount tickets from GreatWorkPerks

You will receive your Golf N Stuff tickets instantly after your purchase along with your receipt! These e-tickets are instantly sent to your email once purchase is done online.

Are outside food and beverages allowed in Golf N Stuff Norwalk?

No, but Golf N Stuff Norwalk has their own snack bar that sells hot dogs, pizza, nachos, and other yummy options!

What are the COVID-19 precautionary measures taken by Golf N Stuff Norwalk to help prevent the spread of the virus?

For Guests:

The current Order of The Health Officer from the County of Los Angeles Department of Public Health recommend guests to wear face mask indoors, regardless of the vaccine status.

For Staff:

Staff members are reminded to take their own safety seriously and adhere to all applicable federal, state, and local regulations.
Cleaning of offices and break areas occurs hourly.
The cashier stations have air conditioning and ventilation fans for comfort.
Staff members are instructed and reminded to keep a safe distance.
At each desk, there is a hand sanitizer dispenser for employees to use.
Advised to perform regular hand washing.
Last updated November 03, 2023.
Golf N' Stuff Norwalk Tickets