Check out other Hurricane Harbor locations:
Buy your Hurricane Harbor Phoenix discount tickets starting at $25.41 vs the gate price. Lowest prices guaranteed on GreatWorkPerks
---
The 2023 season has officially ended. See you in 2024!

Splash The Heat Away!
Get ready to get soaked! Hurricane Harbor Phoenix is the best water park located in Arizona. With approximately 35 acres of land and many exciting rides & slides, you are sure to have a splashing good time.
While you're at Hurricane Harbor Arizona, make sure to check out the Bahama Blaster, the first dueling H20 Coaster in the World! If you are visiting with family, drop by the Big Kahuna and enjoy a family-friendly white water rafting experience. There are plenty of fun and thrilling things to do at Hurricane Harbor Arizona. But that doesn't mean you can't have a relaxing time as well. Hurricane Harbor Phoenix has revitalizing lazy rivers and family friendly play areas.
Get your Hurricane Harbor Phoenix tickets through GreatWorkPerks for a huge discount!
The LOWEST-PRICED Hurricane Harbor Phoenix Discount Tickets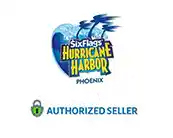 Lowest Prices Guaranteed!
GreatWorkPerks is an authorized seller of Hurricane Harbor Phoenix discount tickets. We couldn't have thrived for over 30 years if we weren't highly trusted by our customers. We would love for you to join our family and enjoy the best price for Hurricane Harbor Phoenix discount tickets, as well as other attractions nationwide!
Hassle-Free Transaction, Skip the Lines!
Another benefit of purchasing from GreatWorkPerks is that you do not need to print your Hurricane Harbor Phoenix discount tickets. Consider your phone your new best friend because all you need to do is present your e-tickets at the gates, and in you go!
Plan Your Visit!
Park Hours and Schedule
The park is usually open from 11:00 AM to 5:00 PM. Visit on any day you choose using your Hurricane Harbor Phoenix ticket from GreatWorkPerks until October 1, 2023. Pro-tip: Be sure to check their official website on the day of your visit for an updated schedule.
Protocols
Based on the newest guideline from CDC and local health guidance, face coverings are no longer mandatory for vaccinated guests but are recommended for unvaccinated visitors.
You are welcome to wear a mask, even if you're vaccinated.
Park's Accessibility
The park is wheelchair accessible; however, wheelchair rentals are currently not available at the park. Guests are recommended to bring their wheelchairs or ECVs.
Tips and Tricks for Your Upcoming Visit
Get your Hurricane Harbor Phoenix discount tickets in advance.
Purchasing Hurricane Harbor Phoenix tickets in advance is the best bet! Pre-visit purchases allow you to save money by getting the best discounts from GreatWorkPerks. Buy your discounted tickets through GreatWorkPerks and enjoy up to 57% savings!
Bring your card.
The park is now CASHLESS. Purchases such as souvenirs, food, drinks, and parking should be paid using cards. You may use the following cards to pay:
Visa
Mastercard
American Express
Discover
Debit Card
If you don't have a card, you may head to the nearest Cash-to-Card Kiosks inside the park.
Arrive Early at the Park
To enjoy the best experience, we suggest you arrive early at the park. Discover everything the park has to offer and maximize the fun!
What to Expect at Hurricane Harbor Phoenix?
You will have the greatest time at the park! There is something for everyone to enjoy!
Kids Rides
Coconut Bay
Coconut Bay is a family and kid-friendly water park in a tropical setting. It is full of water slides, spray areas, and plenty of shade where parents can relax while their children enjoy some of the park's most popular rides.
Visit this attraction with your discounted Hurricane Harbor Phoenix tickets from GreatWorkPerks.
Soak 'em Playground
Visit this awesome, kid-friendly interactive sprayground. It is full of fun water games, ideal for little visitors! The splash ground features a mushroom-shaped water shower that cascades in the center and a goofy pelican that sprays water out of its mouth, both of which the kids may dance and splash around.
Splash Island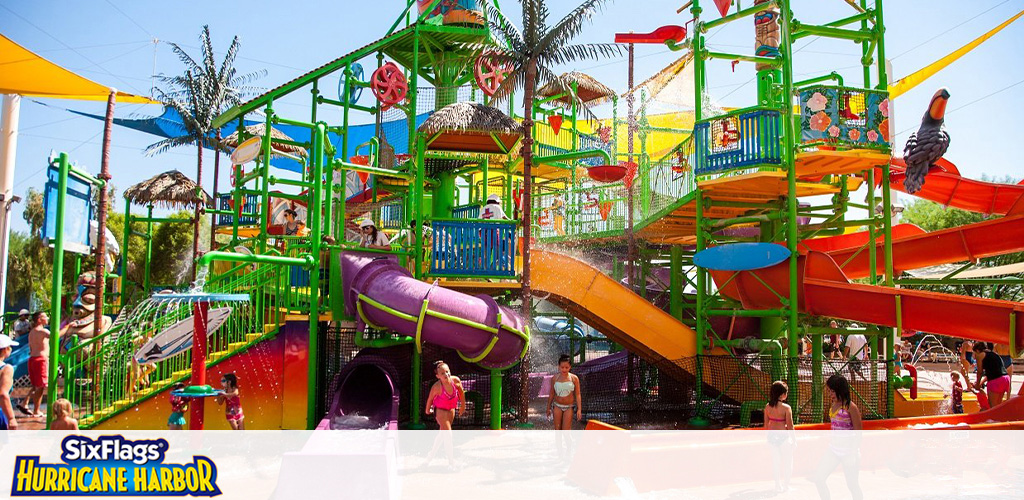 Five different play areas, nine different slides, and many other surprises are just some features of this multi-story complex bursting with color and activity. This area's main draw is a large bucket at the structure's peak that tips over, dumping 300 gallons of water on the crowd below.
Enjoy this fun playground with your Hurricane Harbor Phoenix ticket.
Family Rides
Paradise Island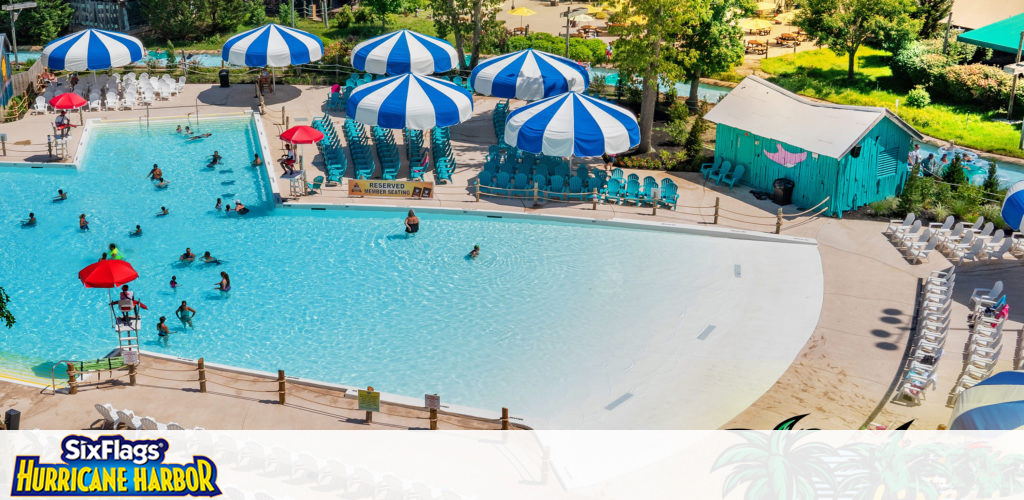 With almost a quarter of a million gallons of clear, blue water, the 12,000-square-foot activity pool at the brand-new Paradise Island will surely be a hit among guests looking to cool down from the scorching Phoenix sun.
Wahoo Racers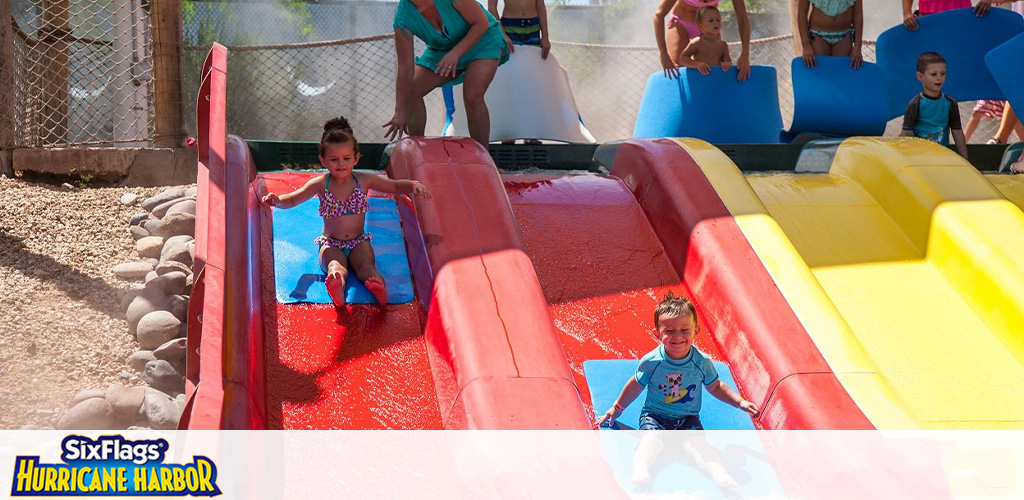 The Wahoo Racers transports guests head-first on a racing mat into an enclosed tube, then loops them onto a six-lane downhill speedway from four floors up. Challenge your friends and family to a side-by-side race on this thrilling ride and find out who the fastest rider in the group is!
This fun experience is included in your Hurricane Harbor Phoenix tickets from GreatWorkPerks.
Hurricane Bay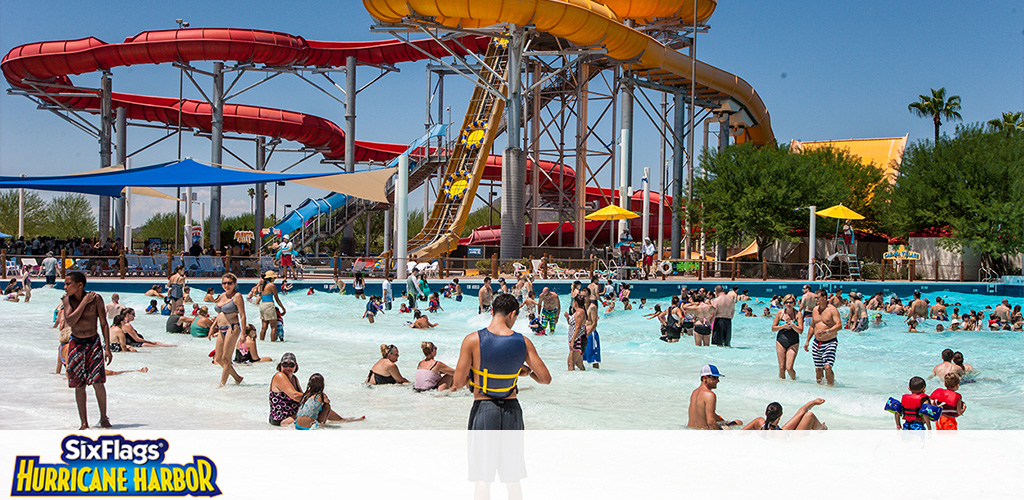 Visit the enormous Hurricane Bay wave pool and ride the waves. You may either body surf or ride a tube on waves that are four feet high for the ultimate ocean experience. If you're looking for a more laid-back adventure, Hurricane Bay's shallow end is great for lounging in the surf.
Thrill Rides
Tornado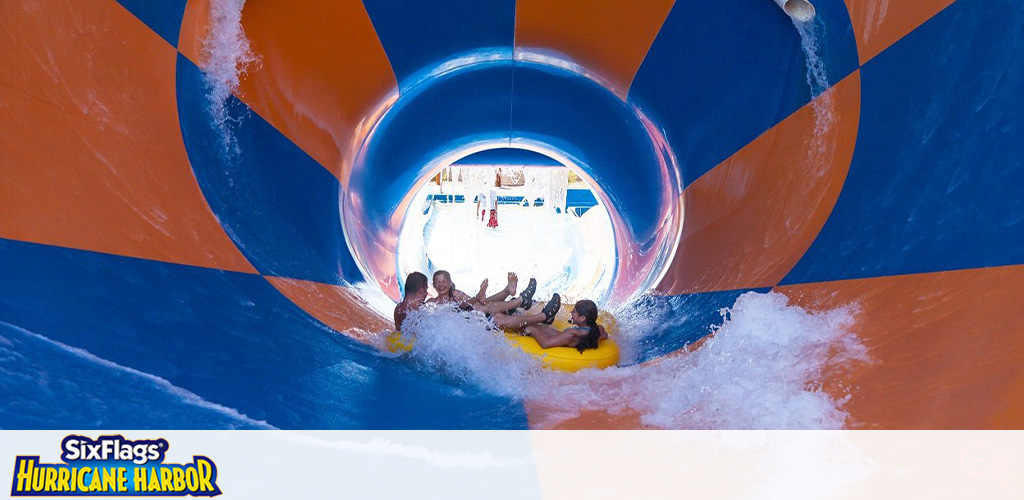 Before falling into the storm's eye, you'll start your journey by launching from 38 feet in the air and through a 160-foot tunnel. Ride on a two or four-person clover-leaf tube that spins around the Tornado's funnel and splashes back and forth through the turbulent water before being dropped into the calm shallows below.
Do you have the guts to try this one? No worries! This ride is included in your Hurricane Harbor Phoenix ticket.
Bahama Blaster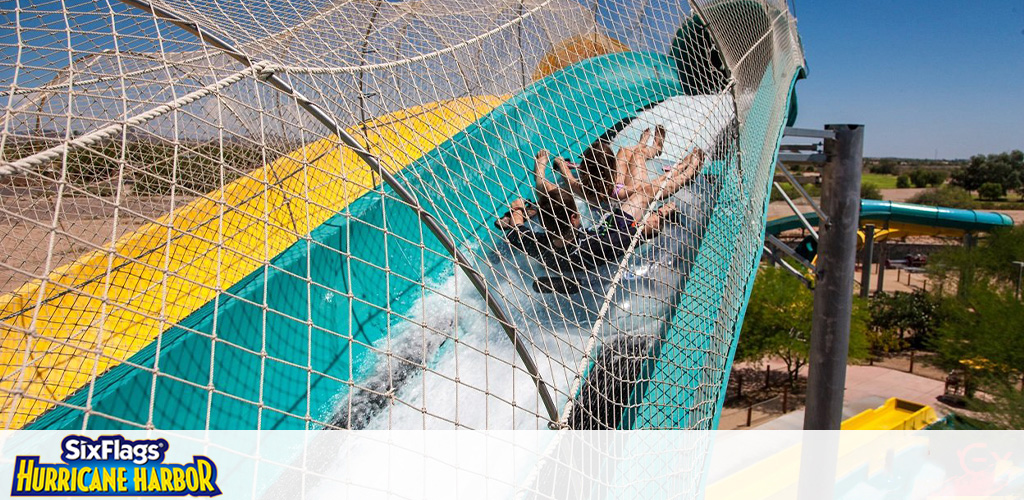 The Bahama Blaster is the fastest water slide in the world, taking thrill-seekers to a whole new dimension. Guests can race each other in tandem tubes down two parallel slide tracks on this first-of-its-kind ride.
Mammoth Falls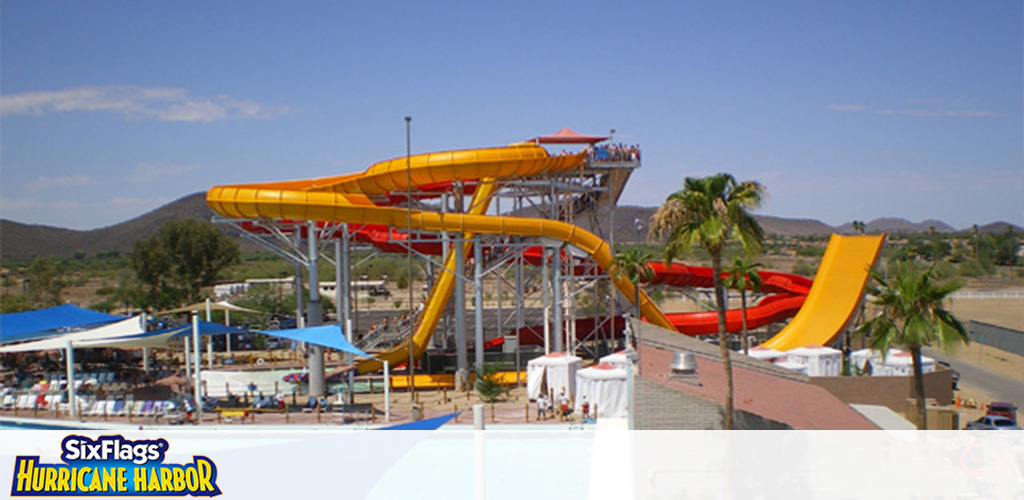 Extreme whitewater rapids! The thrill of white-water rafting, with an unplanned detour over Mammoth Falls. Guests can experience a free fall of 57 feet before the raft goes vertical and shoots up a wall before safely landing in the tranquil waters below.
Experience the fun at Mammoth Falls with your Hurricane Harbor Phoenix tickets!
Shops and Gifts
The best park visits leave lasting memories, and the best souvenirs help you hold on to those. Only at Six Flags can you get the newest styles in:
Trendy tees and caps
Cuddly plush toys
Priceless photographs of your friends and family riding the tracks of a massive roller coaster.
You can have just as much pleasure collecting and wearing the park's wide variety of great products as you will riding the park's great roller coasters, which are guaranteed to put a smile on your face.
Restaurants and Dining
The dining options at Six Flags Hurricane Harbor Phoenix span a wide range of cuisines and themes. They offer everything you need to stay going for the rest of the day, whether a snack or a full meal.
You may visit the following restaurants and food stalls inside the park:
Beachside Grill

Cowabunga Street Tacos

Dippin' Dots Cart

Fry Bread Cart

Funnel Cakes

Paradise Grill

Sharky's

Slush Factory

Surfer's Sweets & Ice Cream

The Bar

Tidal Wave Café

Wavepool Refill Station
Please note: Stores may be closed on a specific day without prior notice. But no worries, there are a lot of options to choose from.
Frequently Asked Questions for Hurricane Harbor Phoenix
Do I need to make a reservation before going?

GreatWorkPerks offers Any Day Ticket; you don't need to pick a date and time to visit. Visit any day from the date of purchase until October 1, 2023.

How do I access the savings per Hurricane Harbor Phoenix discount ticket from GreatWorkPerks

No need to use a promo code, as discounts are automatically applied at checkout.

Where is the park located?

It is located at 4243 W. Pinnacle Peak Road, Glendale, Arizona 85310.

What are the park's operating hours?

The park is usually open from 11:00 AM to 5:00 PM. Park hours may change without prior notice.

Can I re-enter the park on the same day?

Yes. You may re-enter the park on the same. Just get your hand stamped.

How soon will I get my GreatWorkPerks discount Hurricane Harbor Phoenix ticket?

You will receive them instantly, along with your receipt through email.

Do I need to print my Hurricane Harbor Phoenix discounts?

No need! You can show your ticket through your mobile device, and you'll be let in – easy and fast.

Do you offer rainchecks or refunds for inclement weather?

Unfortunately, we do not issue rain checks or refunds for this.

What should I wear inside the park?

The park has a family-friendly environment. We recommend guests wear appropriate clothing.

Is the park cashless?

Yes, the park only accepts card payments. Cards such as Visa, debit cards, and American Express are accepted.

Can I bring alcohol to Six Flags?

Alcoholic beverages are strictly forbidden in the park.

Can I bring my pet to the park?

We're sorry, but pets are not allowed inside. Only trained service animals are allowed.

Can I smoke at the park?

No. The park is a smoke-free area. Smoking, including e-cigarettes, is prohibited.

Can I bring a selfie stick or monopod when I visit?

Selfie sticks, monopods, and similar devices are prohibited at the park.
Last updated October 2, 2023
Hurricane Harbor Arizona Tickets