Check out other Hurricane Harbor locations:
Purchase your discount tickets to Hurricane Harbor Concord starting at only $32.39 vs $59.99 regular price! Save up to 46%. Lowest prices guaranteed on GreatWorkPerks
Weekend: Valid for any Saturday or Sunday at Hurricane Harbor Concord through September 24, 2023.
Tickets are non-refundable. Children aged two and under receive free admission.
** Six Flags has limited purchases to 10 tickets per transaction. To make a purchase of more than 10 tickets, please create a separate transaction for the excess. **

Welcome to Six Flags Hurricane Harbor, Northern California's Most Thrilling Waterpark!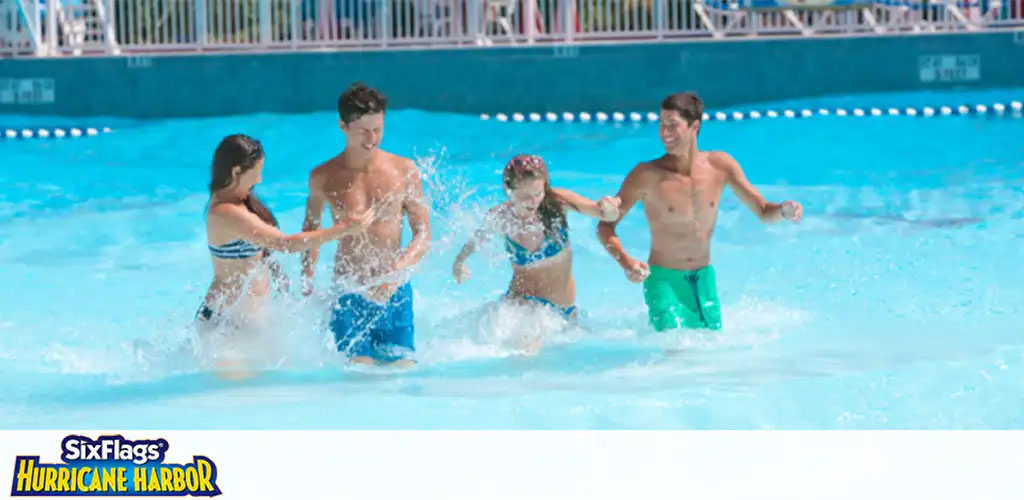 Are you ready to have some splashing fun? Ride a body slide and have the time of your life on Bonzai Pipelines. There's so much for you to enjoy! Are you vacationing with your loved ones? Then try out the Bamboo Racer and have a great time. Don't leave Castaway Cove without taking your kids, they will love it! Kids will splash, play and laugh in this playground.
You have so many fun activities to choose from. Take a peek at the many exciting attractions that are available at Six Flags Hurricane Harbor, from heart-pounding speed slides to kid-friendly activities. You will also want to stop by one of the eateries for a yummy treat and be sure to pick up some souvenirs at the many gift shops before you leave!
Buy your Hurricane Harbor Concord discount tickets today through GreatWorkPerks to experience lots of fun while spending less!
The LOWEST-PRICED Hurricane Harbor Concord Discount Tickets
Lowest Prices Guaranteed!
GreatWorkPerks is an authorized seller of Hurricane Harbor Concord discount tickets. We couldn't have thrived for over 30 years if we weren't highly trusted by our customers. We would love for you to join our family and enjoy the best price for Hurricane Harbor Concord discount tickets, as well as other attractions nationwide!
Hassle-Free Transaction, Skip the Lines!
Another benefit of purchasing from GreatWorkPerks is that you do not need to print your Hurricane Harbor Concord discount tickets. Consider your phone your new best friend because all you need to do is present your e-tickets at the gates, and in you go!
Important Things You Need to Know Before Going
Park Hours and Schedule
Six Flags Hurricane Harbor Concord's operating hours vary daily. Hours may change without prior notice. For information on updated hours of operation, please check Six Flags Concord's official website.
Safety Protocols
There are changes in the safety protocols due to CDC and local guidelines. Please read the changes below:
People who haven't been vaccinated must cover their faces in all indoor places.

Face coverings aren't required outside, but people who haven't been vaccinated are still advised to wear them.

Make sure you know about and practice good hygiene while you are there.
Accessibility
The park is wheelchair accessible. Rentals are available next to the lockers after the Entry Plaza for $25. Wheelchair rentals are available on a first-come, first-served basis; thus, we recommend you bring your own or arrive early at the park to reserve.
Park Policies
Dress Code
When visiting the park, we recommend guests wear appropriate clothing to maintain the family-friendly environment. When swimming, wear proper attire, such as bathing suits or board shorts. Transparent swimwear is prohibited.
Inclement Weather
Certain rides may be closed for your safety on days when the weather is severe, such as heavy rain. But restaurants remain open. Rides will re-open as soon as it is safe to operate. There are no refunds and rainchecks for inclement weather.
Pets
Pets are not allowed inside, except for registered service animals.
Re-Entry
To re-enter the park on the same day, you must have your hand stamped.
Smoking
Six Flags Concord is a smoke-free environment. Smoking, including e-cigarettes, is prohibited within the park. Guests must exit the front gate and smoke 25 feet away.
What to Expect Inside the Park?
Kids Rides
Caribbean Cove
Caribbean Cove is the best area for young explorers to enjoy a water play day. The small pool is great for wading and splashing, and there are numerous sprays, fountains, jets, and a geyser in the tropically themed area for kids. The Kaanapali Kooler Lazy River can be reached from here as well.
Family Rides
Breaker Beach
Use a raft to navigate each crest like a ship at sea, or try it freestyle by expertly riding between the waves. This wave pool is a lot of fun. Are you ready to have a great time on a hot summer day?
Kaanapali Kooler Lazy River
If you're looking to unwind, the longest lazy river in the area is the place to do it. This water trail will do the trick if you're in the mood to relax and take in the park's scenery.
Get on board for a relaxing and enjoyable trip with your discount Hurricane Harbor Concord ticket from GreatWorkPerks
Splashwater Island
Splashwater Island is a gigantic, state-of-the-art water play area. You can enjoy the massive, four-story play structure with over a hundred features spread across more than a fifth of an acre. You can climb ladders, have fun on the slides, and race with your friends.
This experience is included in your Hurricane Harbor Concord discount tickets.
The Big Kahuna
Your whole family will have a blast sliding down the Bay Area's giant slide. Each raft has enough room for up to four people. Kids under 42" tall can ride with an adult. There are thrilling curves and spins on this slide. Everyone in the family will enjoy this thrilling voyage!
Thrill Rides
Break Point Plunge
Fly down more than six stories on this amazing slide. When you get to the top, you can take in the stunning panorama of the water park below before getting into a sealed launch capsule and go off on a 270-foot-long heart-racing journey.
Tornado
Are you ready to slide directly into the path of this tornado's eye? This slide is incredible high-speed fun. Get swept away by the tornado slide. You will have a splashing good time while being whirled 75 feet in the air!
GreatWorkPerks Tips for You!
Purchase Hurricane Harbor Concord discount tickets in advance.
To enjoy the best prices and discounted deals on your Hurricane Harbor Concord discount tickets, we highly recommend you buy them in advance through GreatWorkPerks to enjoy savings of up to 55% on each ticket!
Arrive Early at the Park
Arriving earlier is the best bet to maximize the fun with your family and friends! You won't have to rush over trying everything once you're there – have fun and take your time!
Be Sure to Bring Your Card!
The park only accepts card payments (in every location) for parking toll booths, restaurants, retail stores, and ticket windows. You may pay using Visa, Mastercard, American Express, Discover, or any debit card. There is also a cash-to-card conversion stand inside the park.
Frequently Asked Questions
Do I need to make a reservation before going?

No. Reservations are not required.

Do I get free parking when I visit?

Parking is not included for 1-Day Hurricane Harbor Concord discount tickets, but you can purchase parking time online. Parking may only be paid using a card or other mobile payment methods.

Where is the park located?

It is located at Six Flags Hurricane Harbor, 1950 Waterworld Parkway, Concord, CA 94520.

What are the park's operating hours?

The park's operating hours vary daily. Please check their official website for the updated schedules.

Do I get a refund if I don't want to go anymore?

Our Hurricane Harbor Concord discount tickets are non-transferable, non-refundable, and non-exchangeable.

Do you offer rainchecks?

Six Flags does not offer rain checks.

How soon will I get my Six Flags Hurricane Harbor Concord discount tickets from GreatWorkPerks

You will receive Hurricane Harbor Concord discount tickets instantly, along with your receipt. Hurricane Harbor Concord discount tickets are sent to the email you provide at checkout.

Do I need to print my Hurricane Harbor Concord discount tickets?

No need! Just present your Hurricane Harbor Concord ticket from your mobile device, and you'll be granted entry – easy and fast!

Do children get in for free at the park?

Children under the age of 2 get in the park for FREE without having to purchase Hurricane Harbor Concord discount tickets.

Can I bring a selfie stick or monopod to the park?

Monopods, selfie sticks, and similar items are prohibited inside Six Flags parks.

Can I bring my pet when I visit?

We're sorry, but pets are not allowed inside the Six Flags Theme Parks. The only exception is for trained service animals.

Can I re-enter the park on the same day?

Yes. Guests who wish to go outside and want to go back in must have their hands stamped before leaving. Re-entry will only be granted if you have a proper hand stamp.

Can I smoke inside the park?

No. The park is a smoke-free environment. If you want to smoke, you need to exit the gate and get at least 25 feet away from the entrance.

Can I bring food and beverages to the park?

No. Strictly no outside food and drinks are allowed inside. The only food exceptions are for food allergies and infant food in non-glass jars.
Last updated August 10, 2023.
Hurricane Harbor Concord Tickets