Check out other Hurricane Harbor locations:
Splash away the summer heat with your discount Hurricane Harbor NJ tickets from GreatWorkPerks, only for $29.74 vs $69.99 gate price! Save 58%. Lowest prices guaranteed.
Tickets purchased are non-refundable. Children aged two and under receive free admission.
Weekday: Valid for any one day from Monday to Friday at Hurricane Harbor New Jersey through September 4, 2023.
Weekend: Valid for any Saturday or Sunday at Hurricane Harbor New Jersey through September 4, 2023.



**Six Flags has limited purchases to 10 tickets per transaction. For purchases of more than 10 tickets, please create a separate transaction for the excess.

The Hurricane Harbor New Jersey will once again open in May. Its operating hours vary, and it is best to check its official website for detailed schedules.
Splash Away the Summer Heat at Hurricane Harbor New Jersey!
Take a refreshing break from the hot season at Hurricane Harbor New Jersey! It is a perfect time to take your family and friends on a splashy adventure filled with unlimited fun. The water park has served many visitors since its grand opening in 2000. Each trip is a one-of-a-kind experience, and there's always something new to explore!
Need to refuel after all that action? Hurricane Harbor has over thirteen dining options, each offering menus with different tasty food and drinks, such as Caribbean Bar and Grill, Casa De Quesadilla, Blue Lagoon Cafe, Paradise Pizza & Grill, and many other tasty places! Forgot something at home? Don't worry - all the water park essentials and snacks are available at any of the shops! You will also find superb souvenirs in the shops, so pick out some perfect gifts for your loved ones! Purchase through GreatWorkPerks, where your discount Hurricane Harbor NJ tickets have the lowest prices guaranteed!
Buy your GreatWorkPerks Hurricane Harbor New Jersey discount tickets!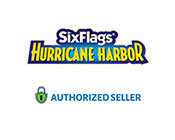 Lowest Prices Guaranteed!
GreatWorkPerks is an authorized seller of Hurricane Harbor New Jersey discount tickets. We are one of the country's largest sellers of discount tickets, and we couldn't have thrived for over 30 years if our customers didn't highly trust us. We would love you to join our family and enjoy the best price for Hurricane Harbor and other nationwide attractions!
Hassle-Free Transaction, Skip the Lines!
Another benefit of purchasing with GreatWorkPerks is that you do not need to print your discount tickets. Consider your phone your new best friend because all you need to do is present your discount tickets at the gates, and in you go!
Things to Note Before Your Trip!
Safety Protocols
Following the CDC and local health guidelines, the water park has updated its safety protocols for everyone's health and well-being. The changes are listed below:
Wearing facemasks during your trip is not required but is recommended for unvaccinated visitors.

Be sure to apply proper hygiene during your visit. The park advises frequently washing your hands and using hand sanitizers available across the venue.
Dress Code
The water park wishes to maintain a family-friendly environment for everyone's enjoyment therefore implementing a dress code. Guests should wear casual and comfortable clothing, and guests are required to dress appropriately, such as wearing shirts, shorts/pants, and footwear during the trip. Wearing a cover-up or shirt and shorts/pants over bathing suits is required.
Re-Entry
Should the guests temporarily leave the park, they must get their hands stamped before their exit. When returning to the park, they must show the stamp at the re-entry gate.
Smoking
The park promotes a smoke-free environment for everyone's safety and enjoyment. There are designated smoking areas where guests may smoke, including e-cigarettes. Marijuana is not allowed inside the park.
What are the Rides at Hurricane Harbor New Jersey?
There's a ride for everyone at this fun-filled water park! Twelve different and exciting water rides will offer an amazing adventure for the whole family. Experience the lowest prices by purchasing your discount Hurricane Harbor NJ tickets from GreatWorkPerks
Big Wave Racer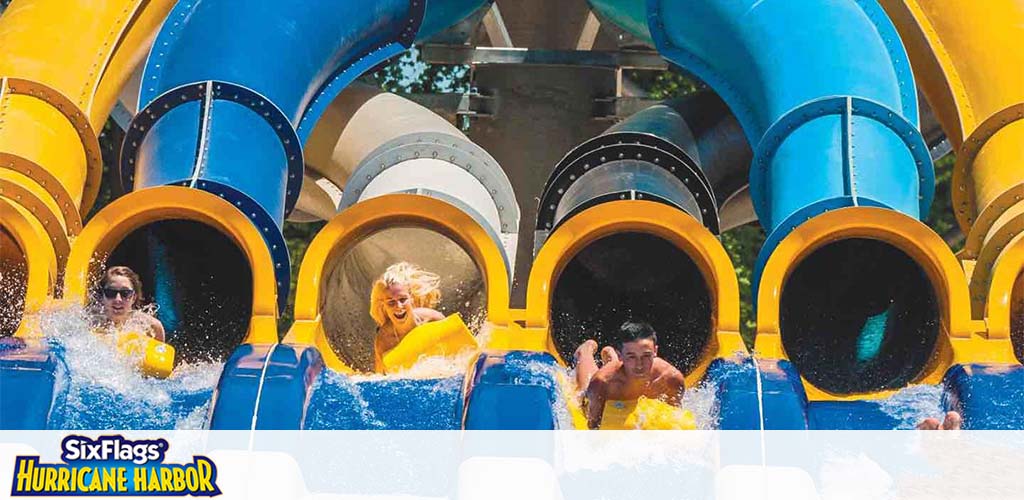 Hop on a water sled and prepare for the ultimate race on a 1,800 feet water slide! The Big Wave Racer lets you challenge your family and friends in a friendly competition while having a thrilling and unique experience. Six lanes will take you on an unpredictable and speedy ride as you and your rivals race to the finish line! For the safety of the participants, the attraction implements height and weight restrictions of a maximum weight of 300 lbs and a minimum height of 42".
Enjoy this exciting experience by purchasing your discount Hurricane Harbor NJ tickets from GreatWorkPerks today!
Bada Bing, Bada Bang, Bada Boom!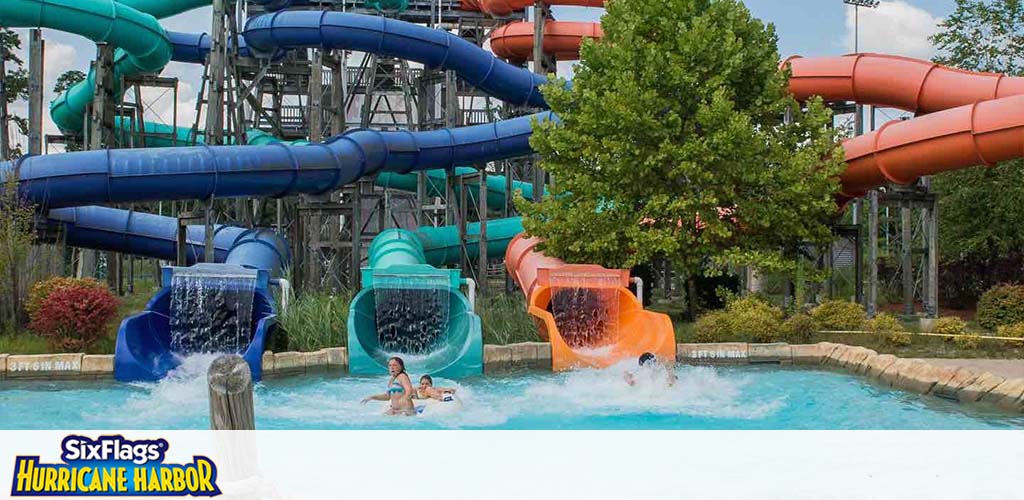 At five stories tall, you'll arrive at the entrance of the complex of three massive water slides. Each slide has its own color and experience to give you, but whichever route you choose, it's guaranteed to be a fast-paced ride! The purple slide, Bada Bing, is designed with back-to-back straightaways that will increase your acceleration as you make your way down. Bada Bang, the teal-green slide of 430 feet, is a perfect combination of everything - twisting down into a corkscrew before swiftly going through a long and uncurving descent that will launch you into the pool! The orange tunnel filled with swirls and twists, Bada Boom, will give you a crazy spin-around until you're propelled into the pool!
The height and weight restrictions for this ride are as follows:
Minimum height of 48".
Maximum weight of 200 lbs for individual riders.
Maximum weight of 400 for double riders.
Experience a lifetime of adventure with your discount Hurricane Harbor NJ tickets from GreatWorkPerks The lowest prices for the best memories are guaranteed!
Calypso Springs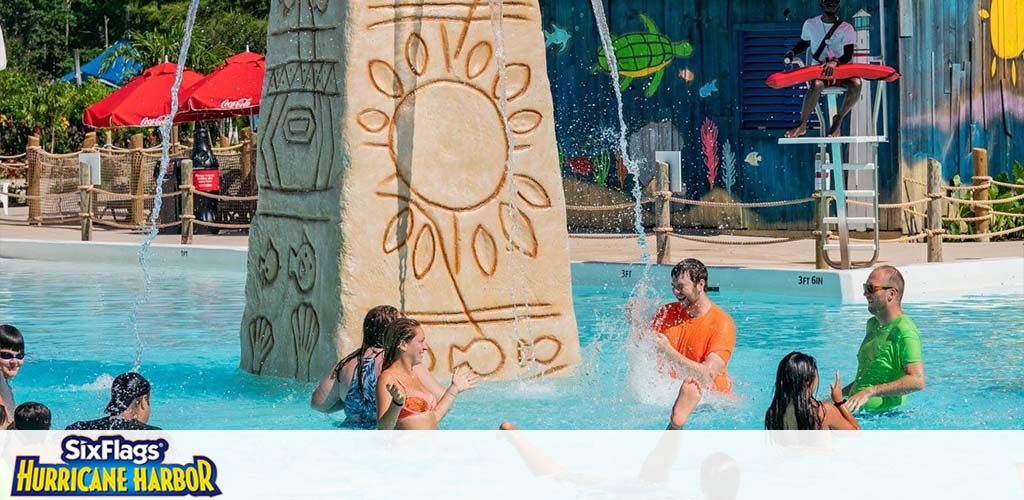 Step into a massive pool and relax from all the adrenaline-rushing fun! A beach-entry-styled swimming pool holding 100,000 gallons of water offers everyone a light-hearted experience and relaxation. An obelisk-themed fountain with a spontaneous erupting geyser will give you a splash and refresh you from the heat! Want to sunbathe for a while? The huge open lounge deck provides hundreds of chairs perfect for sunbathing! Over-sized umbrellas are also available if you choose to take a break from the sun. Is your stomach grumbling? Don't worry - the Calypso Grill is ready to serve delicious food to refuel you!
There are no height or weight restrictions for Calypso Springs, making it a perfect attraction to spend time with your family and friends. Hurry, and purchase your discount Hurricane Harbor NJ tickets from GreatWorkPerks for the lowest prices!
Taak It Eez Ee Creek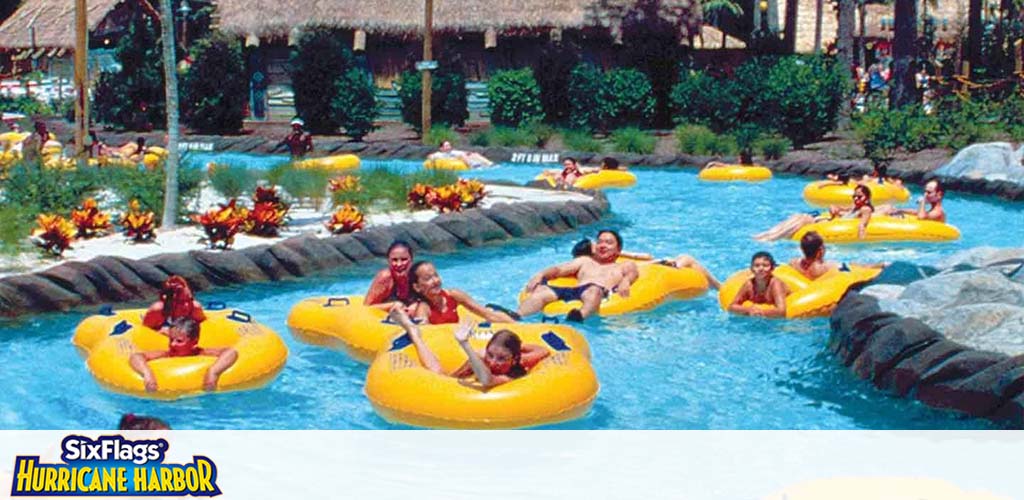 As the name says, take it easy and enjoy the beautiful scenery of the Taak It Eez Ee Creek with the whole party. Let the gentle flow of the lazy river drift your worries away and relax. The 2,150 feet river runs through the center of Hurricane Harbor and provides everyone with a mellow ride on a tube. Take in the stunning view of greenery and landscape as you slowly drift through the cool waters. For the safety of the guests, those who are not good at swimming are encouraged to wear a life jacket. Free swimming is not allowed due to safety protocols.
Relax and have fun with your discount Hurricane Harbor NJ tickets from GreatWorkPerks A great time at the lowest prices is guaranteed!
Frequently Asked Questions for Hurricane Harbor New Jersey
Where is the attraction located?

The water park's location is 1 Six Flags Blvd, Jackson Township, NJ 08527. Remember to buy your discount Hurricane Harbor NJ tickets from GreatWorkPerks while planning your trip!

Are reservations required?

Purchasing your tickets online in advance is highly recommended to save money and time. You can buy discount Hurricane Harbor NJ tickets at the lowest prices with GreatWorkPerks

Is there a parking fee?

Yes. Be sure to bring a card, as the park only accepts cashless payments, including parking. There are cash-to-card kiosks available at the venue.

Is the park wheelchair accessible?

Yes! Most of the facilities inside the park are wheelchair accessible. Wheelchairs are available for rent next to the lockers after Entry Plaza. Please keep in mind that there are only limited rentals, and bringing your own for assurance is suggested.

Can I bring selfie sticks?

Hurricane Harbor New Jersey does not allow monopods, other similar devices, and/or selfie sticks inside.

Are alcoholic beverages allowed?

No. You may purchase alcoholic drinks from several dining options. Guests must be aged 21 or older to be able to purchase them.

Are pets allowed inside the waterpark?

Service animals, not pets, are the only ones allowed inside. They must be trained and leashed or harnessed.
Last updated July 11, 2023.
Hurricane Harbor New Jersey Tickets