Check out other Hurricane Harbor locations:
Go on a fun splash adventure with your discount Hurricane Harbor Rockford tickets from GreatWorkPerks for only $23.39 vs. the $49.99 gate price! Save 52%. Lowest prices guaranteed.
Valid for one admission to Hurricane Harbor Rockford in Rockford, IL on one regular operating day until September 4, 2023. Children aged 2 and under get in free.
**Six Flags has limited purchases to 10 tickets per transaction. For purchases of more than 10 tickets, please create a separate transaction for the excess.

Hurricane Harbor Rockford will be open from May to September, and its operating hours may vary. Kindly check their official website for detailed and up-to-date information.
Beat the Heat at Hurricane Harbor Rockford!
Prepare yourself for the ultimate refreshing adventure at Hurricane Harbor Rockford! The water park continues serving guests after its grand opening in 1984, giving every family memorable and fun journeys. There's unlimited fun with 11 rides to experience and enjoy, seven restaurants offering a wide variety of tasty food, and a shop where you can find awesome gifts and merch!
There is something fun for everyone here, from smooth-sailing and lighthearted play areas to adrenaline-rushing water slides! Let the little ones enjoy a fun splash at the Caribbean Cove and discover new things. Unleash the daredevil inside by trying out a heart-pounding tall water slide, Riptide Rush! It will be the best adventure to have with family and friends, and your will enjoy it at the best rate with GreatWorkPerks. Purchase your discount Hurricane Harbor Rockford tickets from us today!
Buy your GreatWorkPerks discount Hurricane Harbor Rockford tickets!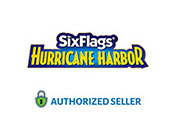 Lowest Prices Guaranteed!
GreatWorkPerks is an authorized seller of discount Hurricane Harbor Rockford tickets. We are one of the country's largest sellers of discount tickets, and we couldn't have thrived for over 30 years if our customers didn't highly trust us. We would love you to join our family and enjoy the best price for Six Flags Hurricane Harbor and other nationwide attractions!
Hassle-Free Transaction, Skip the Lines!
Another benefit of purchasing with GreatWorkPerks is that you do not need to print your discount tickets. Consider your phone your new best friend because all you need to do is present your discount tickets at the gates, and in you go!
Things to Know Before Your Trip!
Safety Protocols
The park has implemented changes in its safety protocols as per the CDC and local guidelines. The list of changes is listed below:
Wearing face masks while your visit is not required but recommended for unvaccinated guests.
Guarantee that you understand and carry out proper hygiene during your trip.
Dress Code
The park requests the guests dress appropriately to maintain family-friendly surroundings and comply with the water park's dress code. Proper swimwear, such as board shorts or bathing suits, is required. Transparent swimwear, street clothing, or athletic attire at attractions are prohibited.
Re-Entry
Guests who leave the park but plan to re-enter must have their hand stamped at the exit. Hand stamps are non-transferable.
Smoking
The park maintains a smoke-free environment, and smoking is only allowed in designated smoking areas. The same rules apply to e-cigarettes.
What are the Rides to Experience at Hurricane Harbor Rockford?
The water park offers eleven rides with varying thrill levels for everyone's enjoyment! There are kid rides, family rides, and high-thrill rides. Each ride will be a new and exciting experience! Purchase your discount Hurricane Harbor Rockford tickets from GreatWorkPerks for a fun-filled adventure at the lowest prices!
Bermuda Triangle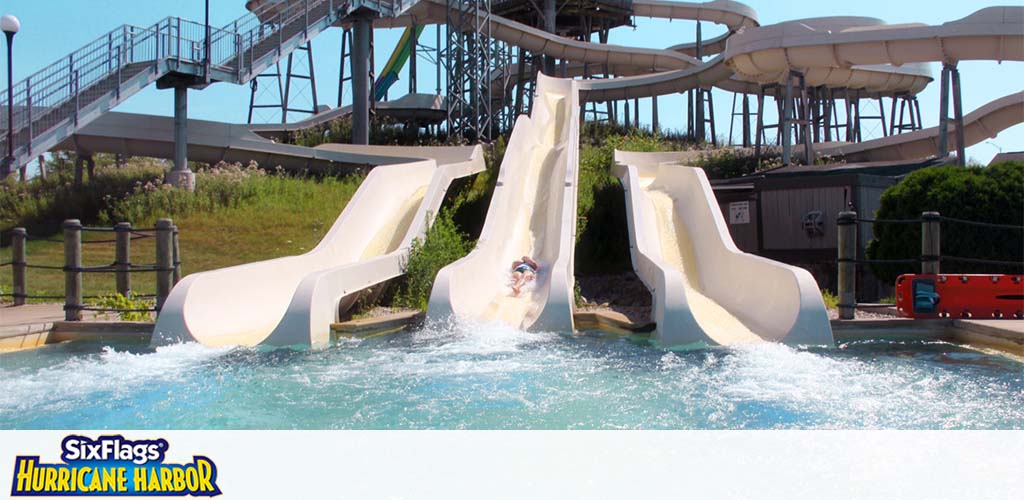 With the thrill level of maximum, hold on tight as you twist and turn to reach the bottom of the Bermuda Triangle! You'll start at five stories high, where you must choose which slide you'll take. Take your pick, the right slide is filled with twists, the left one has many swift turns, or would you prefer the rapid one in the middle? No matter which one you choose, it's guaranteed to be a mind-blowing experience as you slide into the splash pool!
You can take on this thrilling experience at the lowest price by purchasing your discount Hurricane Harbor Rockford tickets from GreatWorkPerks
Little Lagoon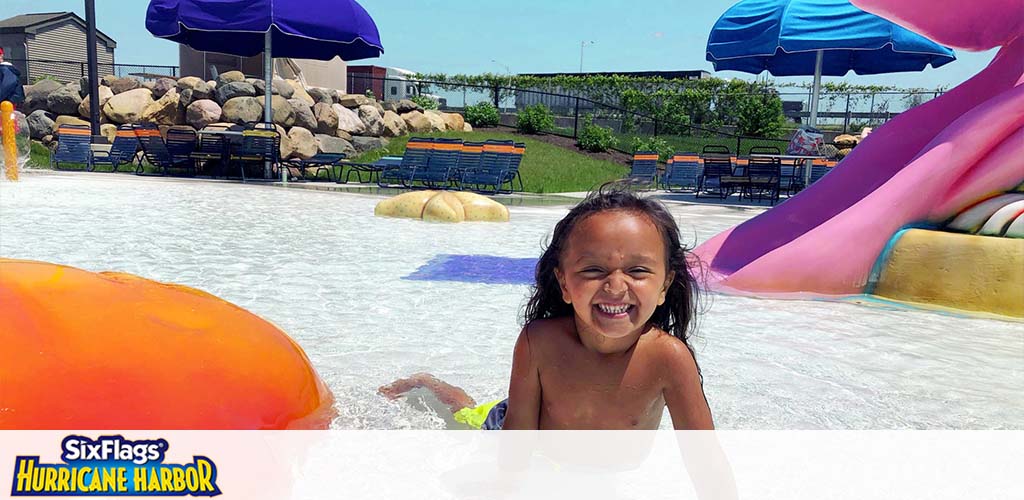 For some family bonding with the little ones, the Little Lagoon is perfect for having colorful sprinklers and playful ocean animals! The adults can relax as they sit and watch the kids having unlimited fun and discovering new things. It will be a great time to spend with everyone in the family in this awesome water play area! For the lowest price, GreatWorkPerks offers you discount Hurricane Harbor Rockford tickets for a lighthearted adventure!
Castaway Creek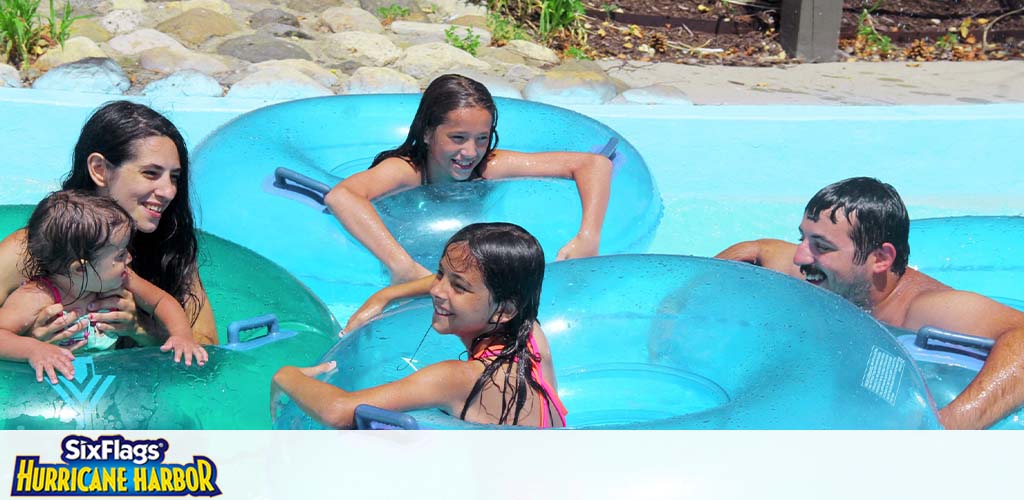 Hop in a tube for a magical experience down the river! Gently float through Castaway Creek and relax as you let the easy currents wash your worries away. It is a perfect way to wind down from the adrenaline of fun and decide what your next exciting adventure will be. Admire the pleasant scenery of the river's rich greenery, intricate rock formations, and waterfall! Enjoy a moment of peace by sitting back and relaxing in the refreshing waters.
Purchase your discount Hurricane Harbor Rockford tickets from GreatWorkPerks today for great fun at the best price!
Typhoon Terror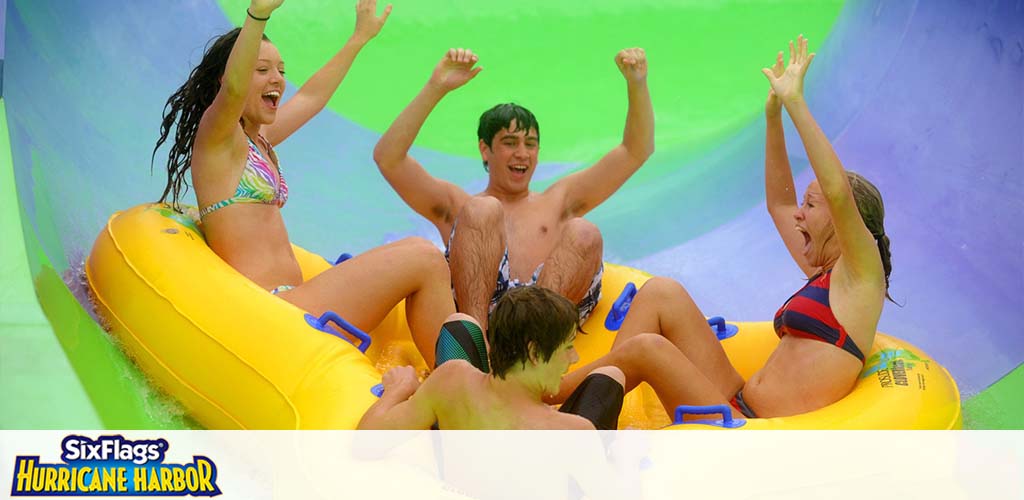 This one isn't for the faint of hearts, as you'll start at 65ft high up and board a four-person raft! Hold on tight as you rapidly travel through Typhoon Terror's savage twists and turns. You will see what it's like to be in the eye of a storm when you're launched into a gigantic funnel! Don't worry – as the saying goes: there is calm after the storm.
Get ready for a stormy ride with family and friends with your discount Hurricane Harbor Rockford tickets from GreatWorkPerks
Frequently Asked Questions for Hurricane Harbor Rockford
Where is the water park located?

The water park location is 7820 Cherryvale N Blvd, Cherry Valley, IL 61016. Don't forget to buy your discount Hurricane Harbor Rockford tickets from GreatWorkPerks before making your trip!

Are reservations required?

No, your discount tickets are open-dated. Purchasing your tickets online in advance is highly recommended to save money and time. You can buy discount Hurricane Harbor Rockford tickets at the lowest price with GreatWorkPerks

Is there a parking fee?

Yes. Please bring a card. Hurricane Harbor Rockford only accepts cashless payments, including parking. Cash-to-card kiosks available at the venue.

Are pets allowed?

Pets are strictly not allowed inside the waterpark. Service animals must be leashed/harnessed and trained.

Are alcoholic beverages allowed?

Bringing alcoholic beverages into the waterpark is prohibited. There will be alcoholic drinks available for purchase in multiple dining options.

Can I bring selfie sticks into Hurricane Harbor Rockford?

The waterpark does not allow those items, as well as monopods, and other similar devices inside.

Is the park wheelchair accessible?

Yes! Most of the facilities inside the park are wheelchair accessible. Water wheelchairs are available for rent at the First Aid station.
Last updated May 15, 2023.
Hurricane Harbor Rockford Tickets