Check out other Hurricane Harbor locations:

Buy discount tickets to Hurricane Harbor Arlington starting at only $25.32 vs the $69.99 regular price! Save up to 64%. Lowest prices guaranteed on GreatWorkPerks
Any Day but Saturday: Valid for Any Day but Saturday at Hurricane Harbor Arlington until September 24, 2023.

Saturday: Valid for Any Saturday at Hurricane Harbor Arlington until September 24, 2023.
Tickets purchased are non-refundable. Children aged two and under receive free admission.
** Six Flags has limited purchases to 10 tickets per transaction. For purchases of more than 10 tickets, please create a separate transaction for the excess. **
Welcome to Six Flags Hurricane Harbor!
Are you ready to experience a rush? Take off on a looping body slide on the Bonzai Pipelines. There's so much action at the water park for you to enjoy! This extreme adrenaline trip is mind-blowing. Are you vacationing with loved ones? Try out the Bamboo Racer and have a little friendly rivalry. Don't forget to take your kids to Castaway Cove! They will love it! They will have so much fun in this splash park.
Where do you even start with so many options? Take a peek at the many exciting attractions that are available at Six Flags Hurricane Harbor, from heart-pounding speed slides to more mellow activities suited for little visitors. Please stop by one of the eateries for a bite to eat and be sure to pick up some souvenirs in our gift shops before you leave.
Get your Hurricane Harbor Arlington discount tickets today through GreatWorkPerks to experience more while spending less!
The LOWEST-PRICED Hurricane Harbor Arlington Discount Tickets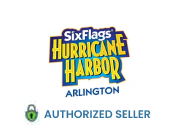 Lowest Prices Guaranteed!
GreatWorkPerks is an authorized seller of Hurricane Harbor Arlington discount tickets. We couldn't have thrived for over 30 years if we weren't highly trusted by our customers. We would love for you to join our family and enjoy the best price for Hurricane Harbor Arlington discount tickets, as well as other attractions nationwide!
Hassle-Free Transaction, Easy and Fast!
Another benefit of purchasing from GreatWorkPerks is that you do not need to print your Hurricane Harbor Arlington discount tickets. Consider your phone your new best friend because all you need to do is present your e-tickets at the gates, and in you go!
What to Expect Inside the Park?
Kids Rides
Hook's Ship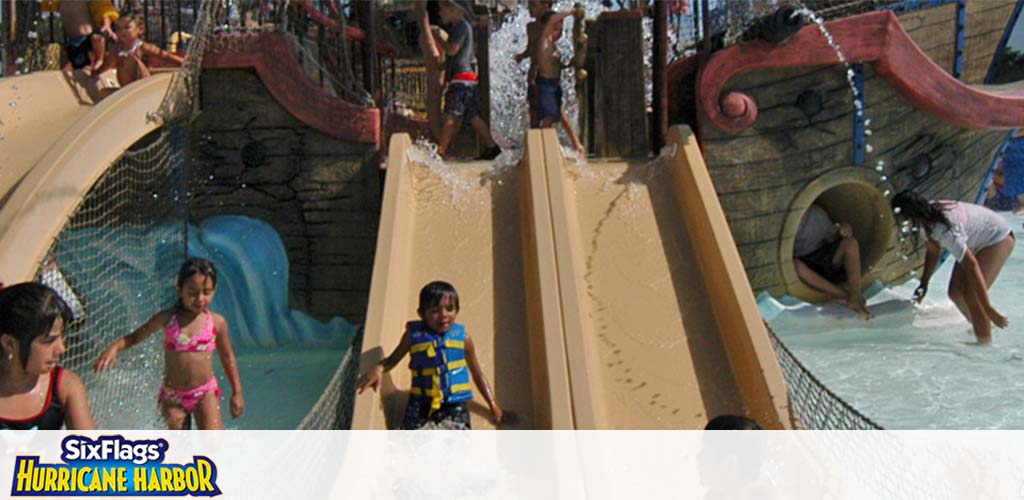 Captain Hook's Ship is the best area for young explorers to enjoy a water play day. With shallow waters for wading and splashing, numerous water sprays and water slides, kids will love to visit this playground!
Family Rides
Atlantic Panic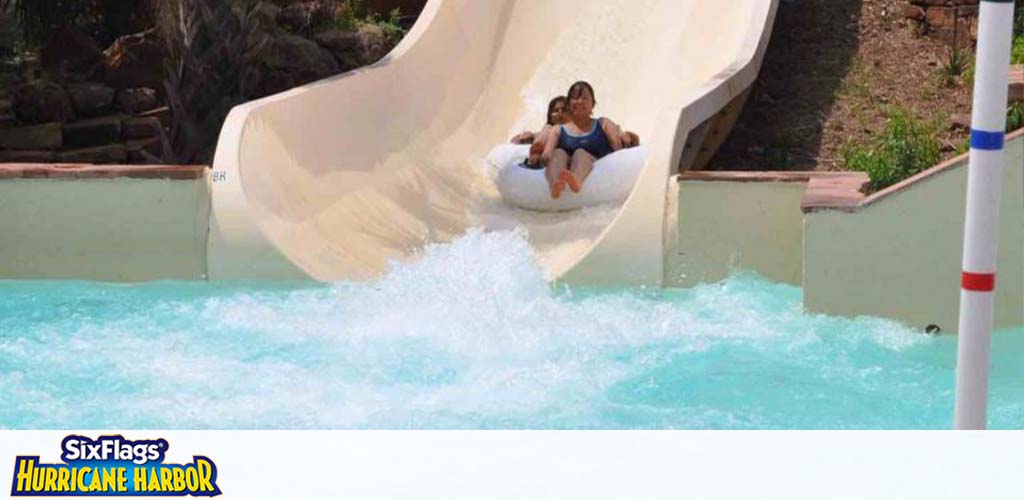 The rough waters of the Atlantic propels you down an open-air slide with the force of a hurricane! Atlantic Panic has high walls and shoots you through a sloping and twisting track! Get ready to feel thousands of gallons of water pushing down this course. This ride is incredibly fun!
Lazy River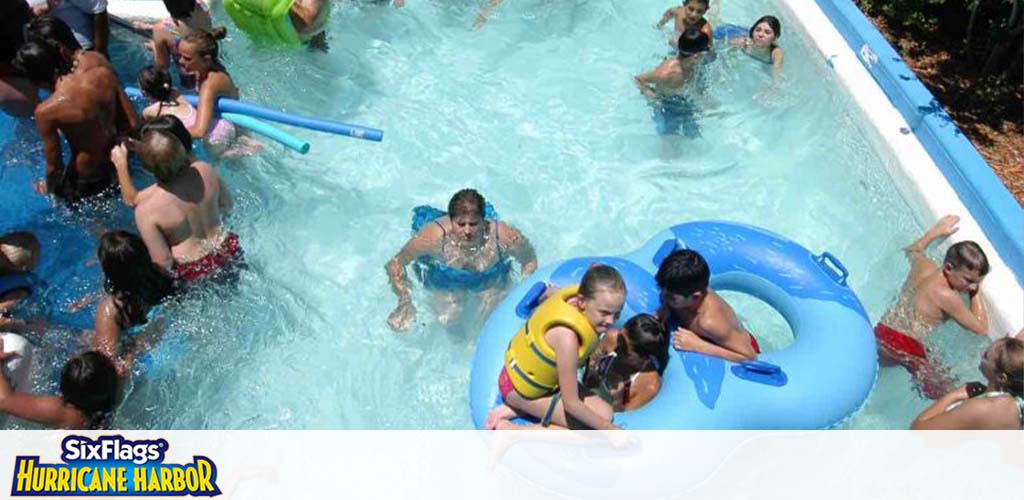 You deserve some rest and relaxation, and what better place than on a Lazy River cruise. Weave through the slow-moving waters around the park and take the time to enjoy life at a mellow pace. Kick back and put on some shades while you rest on the water.
Get on board for a relaxing and enjoyable voyage with your Hurricane Harbor Arlington ticket from GreatWorkPerks
Sea Wolf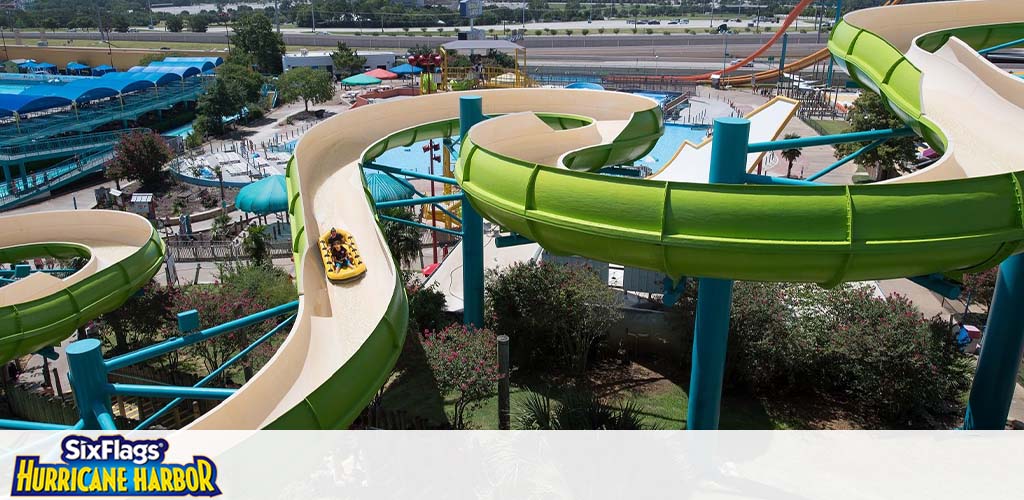 The Sea Wolf was a famous old ship that sailed the rough seas with the spirit of adventure. Now, brave through the high seas on an open-air raft voyage with high slippery walls. Your over-sized raft has room for three, so grab your friends and get ready to slide down at maximum speed and splash your team to the bottom like a good captain should.
This experience is included in your Hurricane Harbor Arlington tickets.
Thrill Rides
Black Hole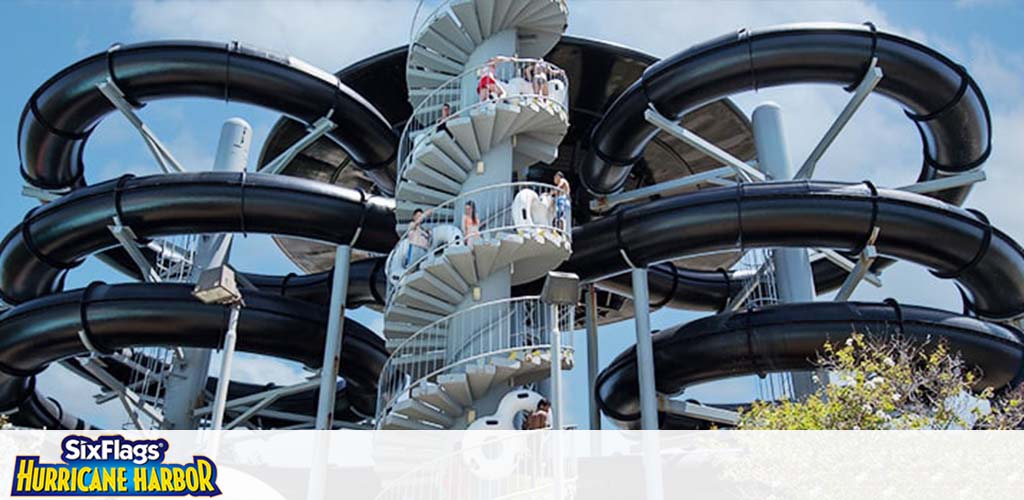 A black hole is one of the most mysterious phenomena in the universe. It's so powerful that nothing can escape its grasp, not even light. Jump on a two-person raft and prepare for a descent into total darkness. The walls are totally blacked out, so you will have absolutely no idea where you're going or where you've been, as you slide through the darkness where it's impossible to predict twists and turns.
Tsunami Surge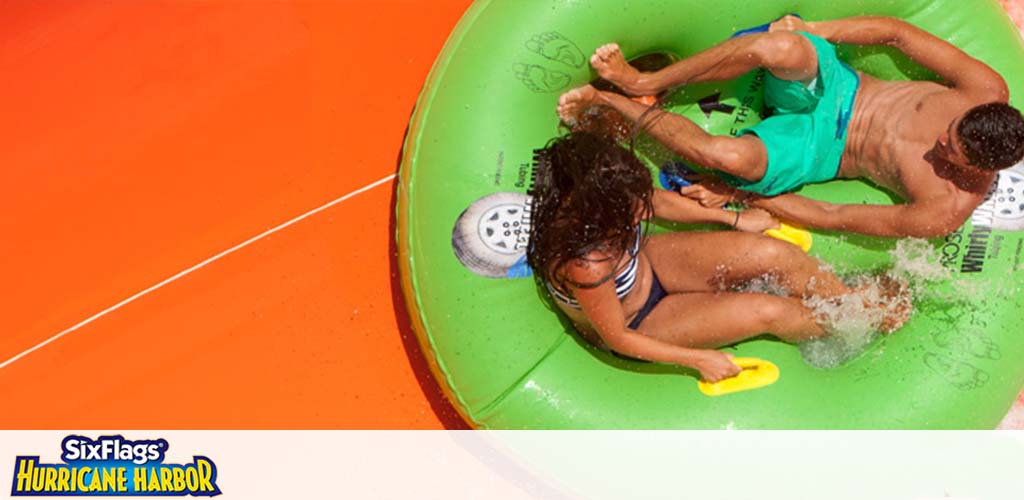 Tsunami Surge made landfall at Six Flags Hurricane Harbor in summer 2013. Twist and turn down a 68-foot enclosed tunnel and build speed to take on a 40-foot wave slide on the other side. You'll experience zero-gravity as you surge to the top of the slide before gliding into the landing pool.
GreatWorkPerks Tips for You!
Purchase Hurricane Harbor Arlington tickets in advance.
We highly recommend you hurry up and buy your tickets now through GreatWorkPerks to enjoy the best savings on your Hurricane Harbor Arlington tickets!
Arrive Early at the Park
Arriving early is always a safe bet. You will be able to enjoy the entire day without having to rush.
Be Sure to Bring Your Card!
The park has gone cashless. They only accept card payments for parking toll booths, restaurants, retail stores, and ticket windows. Accepted payments are Visa, Mastercard, American Express, Discover, or debit cards. There is also a cash-to-card conversion kiosk near the park entrance.
Prepare Your Trip Before Visiting
Park Hours and Schedule
Six Flags Hurricane Harbor Arlington is now open! Their usual operating hours vary from 11:00 AM till 6:00 PM or 11:00 AM till 7:00 PM depending on the day. Do note that hours may change without prior notice. If you want to know the updated schedule, you can check Six Flags Arlington's official website.
Safety Protocols
The CDC and local guidelines have applied new changes to their rules, so we recommend following their policies.
Face coverings are not mandatory during your visit but are recommended for unvaccinated individuals.
Please keep in mind it's important to practice healthy hygiene during your visit.
Dress Code
The park has certain rules regarding clothing and swimwear. We recommend guests wear appropriate clothing to maintain the family-friendly environment and when swimming, please observe proper attire, transparent swimwear is strictly prohibited.
Inclement Weather
On certain days when the weather is severe, some rides might close to keep guests safe . Don't worry, though restaurants will remain open so you can rest and relax while waiting for the weather to get better. Rides will re-open as soon as it is safe to operate. Just remember that there are no refunds or rainchecks for inclement weather.
Pets
The only animals allowed inside are trained working service animals. Pets and emotional support animals are not allowed inside.
Re-Entry
If you need to go outside of the park briefly, you may re-enter, only if you have your hand stamped before leaving.
Smoking
Six Flags Arlington is a smoke-free environment. Any forms of smoking, including e-cigarettes and vapes, are not allowed within the park. Guests must exit the front gate and smoke 25 feet away.
Frequently Asked Questions
Do I need to make a reservation before going?

Yes. Reservation is a must to enter the park without hassle. During checkout, select a date that works best for you.

Do I get free parking when I visit?

Parking is not included for Hurricane Harbor Arlington tickets, but you can purchase parking in advance online. Parking may only be paid using a card or other mobile payment methods.

Where is the park located?

It is located at Six Flags Hurricane Harbor, 1800 E Lamar Boulevard, Arlington, TX 76006.

What are the park's operating hours?

The park's operating hours vary daily. Regular operating hours will be around 11:00 AM till 7:00 PM. Please check their official website for the latest opening and closing hours update.

Do I get a refund if I don't want to go anymore?

All Hurricane Harbor Arlington discount tickets are non-transferable, non-refundable, and non-exchangeable.

Do you offer rainchecks?

Six Flags Hurricane Harbor does not offer rain checks.

How soon will I get my Hurricane Harbor Arlington discount tickets from GreatWorkPerks

You will receive your tickets instantly along with your receipt in the email you provided at checkout.

Do I need to print my Hurricane Harbor Arlington tickets?

No, you don't! Just show your Hurricane Harbor Arlington tickets from your mobile device, and in you go!

Do children get in for free at the park?

Children aged 2 years and under get into the park for free.

Should I buy my child a separate Hurricane Harbor Arlington discount ticket?

Children aged 3 and over need to purchase Hurricane Harbor Arlington discount tickets.

Can I bring a selfie stick or monopod to the park?

Monopods, selfie sticks, and other similar items are prohibited.

Can I bring my pet when I visit?

We're sorry, but pets and emotional support animals are not allowed inside the Six Flags Theme Parks. The only exception is trained service animals.

Can I re-enter the park on the same day?

Yes. Guests who wish to go outside and want to go back in must have their hands stamped before leaving. Re-entry will only be granted if you have a proper hand stamp.

Can I smoke inside the park?

No. The park is a smoke-free environment. If you want to smoke, you may exit the gate and walk at least 25 feet away from the park.

Can I bring food and beverages to the park?

No. Strictly no outside food and drinks are allowed inside. The only food exceptions are for food allergies and infant food in non-glass jars.
Last updated June 13, 2023.
Hurricane Harbor Arlington Tickets