Check out other Legoland locations:
Buy your LEGOLAND California discount tickets starting at only $68.23 vs $111.79 gate price! Savings of up to $43.56!

How to upgrade your discount LEGOLAND California ticket:
Any client ticket can be used to upgrade to a Sea Life, Water Park, Resort Hopper or Membership but it must be done on the day of your visit at Guest Services.
Water Park ticket upgrades can only be purchased at Water Park Guest Services or the Main Gate for $30.00 a ticket on the day of, if capacity permits.
NEW: Holidays at LEGOLAND 2023
Celebrate and Save Big at LEGOLAND!
Dreaming of a magical family holiday packed with festive fun and savings? Look no further! LEGOLAND California's Holidays at LEGOLAND from November 18 to December 31 offers a world of excitement just for you. And with GreatWorkPerks, it's all about festive deals! Grab your discounted LEGOLAND California tickets and embark on a joyful journey without spending big bucks!
Step into a Winter Wonderland
From November 18th, feel the festive vibes at LEGOLAND California. Everywhere you look, the holiday spirit shines bright, inviting families to dive into memorable experiences that will be talked about for years! Experience the fun along with your discounted LEGOLAND California tickets today!
Celebrate with Festive Favorites!
Your discounted LEGOLAND California tickets open the door to holiday magic. From friendly Santa Claus to the energetic Toy Soldier and the sweet Gingerbread Man, there's magic around every corner. They're all set to make your visit special with fun photo moments and warm greetings!
Experience the LEGO Lights Magic!
With your discounted LEGOLAND California tickets in hand, head over to Fun Town. Here, the stunning 30-foot LEGO Christmas tree, decorated with over 400 LEGO pieces, awaits you! And when night falls, watch as the Holiday Light Show lights up the surroundings, complete with festive tunes and a touch of snow.
Enjoy Shows and Tasty Treats
Get ready for holiday-themed shows that are Santa-approved! And when it's time for a snack, festive treats and drinks will be there to satisfy your cravings. All of this and more can be yours with discounted LEGOLAND California tickets from GreatWorkPerks!
Stay and Play a Little Longer
Why leave so soon? Extend your visit by booking a stay at one of the two LEGOLAND Hotels. Located right by the park's entrance, they promise to keep the holiday mood going from morning to night. (Note: LEGOLAND Hotel reservations are paid separately from the park tickets).
Unwrap the Magic at LEGOLAND!
As the festive bells begin to chime, LEGOLAND California transforms into a radiant tapestry of twinkling lights, jubilant melodies, and heartwarming moments that families will cherish for years to come! This season at GreatWorkPerks, we're adding an extra sprinkle of joy: significant savings that will make your celebrations even more memorable.
Why let such enchantment remain a mere dream? Step into the magical world of festive wonder and wallet-friendly adventures. Secure your discounted LEGOLAND California tickets today, and immerse yourself in a holiday narrative where magic meets affordability. Embark on this incredible journey today!
ALL NEW! MINILAND San Diego
MINILAND San Diego is the hottest spot to check out this Spring! Don't miss out on all the fun and excitement! Experience the ultimate San Diego adventure in just one day! Check out over 55 iconic landmarks of this beautiful city, all made from millions of LEGO bricks!
The most incredible LEGO creation was hand-crafted by 70 Master Model Builders, featuring a 30-foot beach and thousands of LEGO locals! Check out MINILAND San Diego, located in the heart of LEGOLAND California Resort and surrounded by over 60 amazing rides, shows, and attractions! Plus, you can also visit LEGOLAND Water Park and SEA LIFE Aquarium while you're there using your 2-Day Resort Hopper ticket!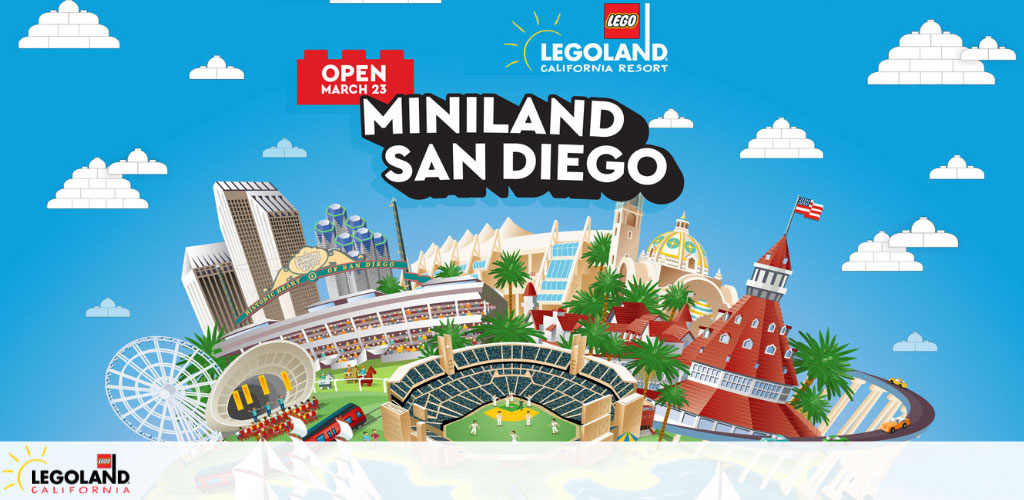 What to Expect?
Models of New York, Washington, D.C., Las Vegas, and San Francisco will all be included in the new MINILAND U.S.A. at the Park's heart. A group of 70 Master Model Builders created a 30-foot beach, streets with 120 palm trees, and 55 San Diego landmarks using more than 5 million LEGO bricks, including:
The Rady Shell
This 65,490 LEGO block replica of San Diego's outdoor concert venue features 380 LEGO seats for the audience.
Petco Park
Over a thousand multicolored Minilanders cheer on the Padres on the animated Jumbotron at Petco Park, a stadium replica of over 150,000 LEGO bricks
Coronado Bridge
The famous Coronado Bridge was rebuilt with 101,943 bricks. There are lights on each pillar, and together they cast a beautiful glow across the bridge.
Emerald Plaza
The unique Emerald Plaza was built out of 204,060 LEGO pieces, and its hexahedral towers are all lit up by LEDs.
San Diego Convention Center
Model of the Convention Center in San Diego Hundreds of costumed figures based on collector Minifigures were erected by builders who took their cue from Comic Con.
The San Diego County Fair
Attractions at the San Diego County Fair include the Ferris Wheel, the Hammer Swing, and the Gravitron, as well as a variety of tasty fair foods, a farm animal contest, a chili cookoff, and a competition for giant vegetables.
Downtown and Gaslamp Quarter
You can see Minilanders in suits on their way to work, musicians performing in the streets, and even a Mariachi band in Old Town. This visit to the Downtown area and the Gaslamp Quarter will be unforgettable.
ALL NEW: LEGO Ferrari Build & Race
Start your engines for the new LEGO® Ferrari Build & Race Experience, now open at LEGOLAND® California Resort!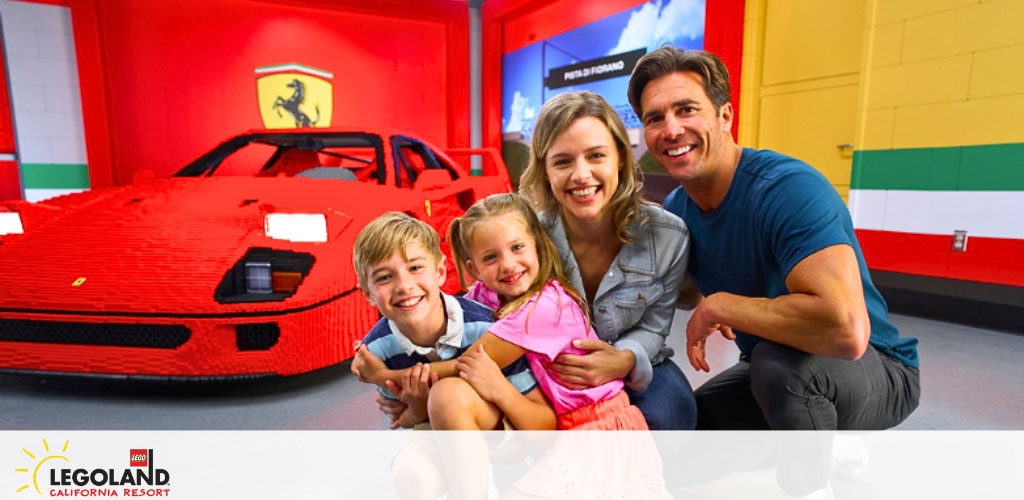 Get inspired by racing history in the "LEGO Ferrari Garage" as you sit in a life-size Ferrari F40 made entirely from LEGO bricks. Enter the "Build Zone'' and let your imagination run wild as you create your own LEGO Ferrari race car. Improve your vehicle's performance in the "Test Zone", which has three extreme testing tracks, each one with different obstacles. Finish your creation by digitally customizing your race car, before taking on other racers in the "Virtual Race Zone". Finish first by speeding up and driving the fastest lap and be the one to get to see the checkered flag.
Our youngest drivers can enjoy the LEGO DUPLO® build zone and use their imagination as they design their own Ferrari creations with bigger bricks. Get your LEGOLAND California Discount Ticket from GreatWorkPerks
What is LEGOLAND California?
Purchase your LEGOLAND California discount tickets from GreatWorkPerks and experience a whole deal of fun at this one-of-a-kind attraction!
LEGOLAND California is a theme park in Carlsbad, California that focuses on the use of LEGO in its attractions, making it the perfect theme park to visit with your kids. The LEGOLAND park has over 60 interactive rides and attractions and receives about a million visitors each year. The rides are divided into ten themed areas: Fun Town, Explorer Island, The Beginning, Sea Life Aquarium, Pirate Shores, LEGO City: Deep Sea Adventure, Castle Hill, Land of Adventure, Imagination Zone, MINILAND USA, and NINJAGO World.
These are all accessible with your LEGOLAND California discount tickets from GreatWorkPerks
Visit the park today with your friends and family! LEGOLAND California is now open seven days a week from 10:00 a.m. to 5:00 p.m. or 6:00 p.m. depending on the day.
How big is LEGOLAND California?
The whole park is 128 acres. It's located in Carlsbad, California. It also has its own water park, Sea Life Aquarium, and five-star hotels. Families will be happy to know that LEGOLAND California tickets from GreatWorkPerks are less expensive than the tickets at gate price, which provides guests with the best savings on the market!
Get LEGOLAND California discount tickets from GreatWorkPerks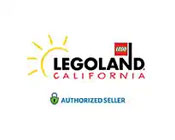 Hassle-Free Transaction, Skip the Line!
Another benefit of purchasing from GreatWorkPerks is that you do not need to print your LEGOLAND California discount tickets. Consider your phone your new best friend because all you need to do is present your GreatWorkPerks LEGOLAND California tickets at the gates and, viola, in you go!
Tips for Visiting LEGOLAND California
Purchase LEGOLAND California discount ticket in advance.

Save time and money by buying your LEGOLAND California discount ticket through GreatWorkPerks before coming to the park! Skip the line at the ticket booth and head straight inside the park to begin your adventure. Purchasing through GreatWorkPerks also ensures a hassle-free ticket buying experience! Your discount ticket will be emailed to you immediately after you purchase.

Choose the best day to visit.

As mentioned above, the park is open seven days a week; however, there are days that the park may be closed due to the slow season, stormy weather, and/or for maintenance purposes. There are also seasonal events at the park, so you may want to check out their schedule if you want to catch these fun-filled events.

Download the App.

Having the app on your phone before your visit will help with planning your trip itinerary. The app will show all the rides, accommodations, dining areas, hotels, and more. The mobile app also features a park map of the themed park. That's less trouble searching for when you're going next!

Know your kid's height.

While not all rides require a height limit, knowing beforehand which ones are available to your children will save you time. Some rides require at least 40" to be accommodated on rides and attractions.

Bring some extra clothes.

Whether you are coming to the water park or not, be sure to bring extra clothes for the family. There are lots of rides in the land park that include water splashing and activities where you could get wet.

Charge your phones or cameras.

Capture every memory and have your kids pose in front of iconic structures and characters. Be sure to have enough storage space on your phones or cameras for all the photos! You can even post them on Instagram and tag us @GreatWorkPerksBenefits! Plus, you will need your phone to show your LEGOLAND California discount tickets to gain easy entry and skip the ticket booth.

Protect yourself from the sun!

Your day of adventure is mostly under the hot sun! Make sure to apply sunscreen and bring extra to reapply during your theme park visit. You can also wear sunglasses and hat for eye protection. When the heat gets too intense, there are also multiple places where you can buy refreshing drinks to cool off at the theme park.

Bring cashless payment methods.

Be sure to bring your debit/credit cards or use other cashless payment methods such as Apple Pay because the park no longer accepts cash. This applies to all purchases, including retail, food, beverages, games, and parking. In case you forget, there are also multiple cash-to-card kiosks found throughout the park where you can effortlessly turn cash into a prepaid card.

Be early.

Save more time by coming to the park early. Most days, there will be long lines, so arriving earlier will lessen your wait times.
What are rides are good for smaller children at LEGOLAND California?
LEGOLAND California is a kid-friendly theme park!Your little explorers will definitely have their choices when it comes to rides and attractions. Here are a few of the rides available in the park suited for toddlers:
Build and Test
Visit Build and Test where your little kid can build to their heart's content! They can create anything they can think of out of Lego. Here's an idea; visit this kid attraction, build your own car and have a friendly family race!
Cole's Rock Climb
Keep your kids active and healthy while increasing their concentration and focus! LEGOLAND has this fun activity for the whole family! This awesome adventure is open for everyone, and there are no minimum height requirements! Have a blast while keeping your body active!
Lost Kingdom Adventure
Are your kids in the mood for something a little more adventurous? Lost Kingdom Adventure is the perfect ride for you and your family! Buckle up and journey through the Lost Kingdom. You'll be armed with laser blasters as your task is to battle mummies, snakes, skeletons and more! The minimum height requirement for this ride is 30" or they must be accompanied by a supervising companion.
Junior Driving School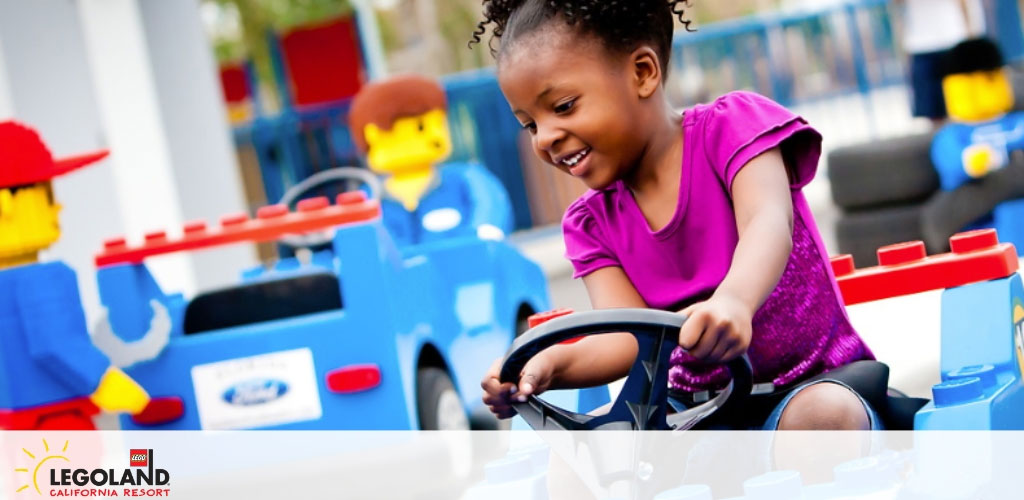 Calling all little drivers! This attraction is the perfect one for you! Kids ages 3 to 5 will definitely enjoy driving around in their very own whimsical ride! Take your kids here and they'll even earn their own LEGOLAND California Driving License! This attraction is accessible with your discount tickets from GreatWorkPerks.
Jay's Lightning Drill
Let's get your reflexes tested! Yes, you read it right! In this game, you will have to prove if you are as fast as lightning. Jay's Lightning Drill is a unique-featured LEGOLAND California offers you! This attraction is not just open to kids but parents can have a blast as well! Let's see how fast you react!
Adventure's Club
Take your little kid on an adventure! This one-of-a-kind attraction will transport you through the Amazon rain forest, ancient Egypt and even the icy-cold Arctic! This is the perfect place to take those post-worthy pictures. Don't forget to tag us @GreatWorkPerksBenefits.
Emmet's Super Suite
Is your child a fan of THE LEGO MOVIE? If yes, you'll definitely want to bring them over to this attraction! Your little adventurer will meet some of their favorite characters from the movie. Make sure to capture those pictures!
LEGO Dots Build Your Art Gallery
Possibilities are never-ending here at LEGOLAND California! Try its newest attraction of LEGO dots and create your own masterpiece! Show the world your artistic dotes!
Hideaways
Kids will have an amazing time when they get to play around here! Are you ready to have an awesome time? This zone is an interactive area where kids will face obstacles like climbing on ladders, challenging rope activities, and sliding down tunnels! Don't miss this chance to watch your kids have an amazing and adrenaline-filled time!
Fun Town Police and Fire Academy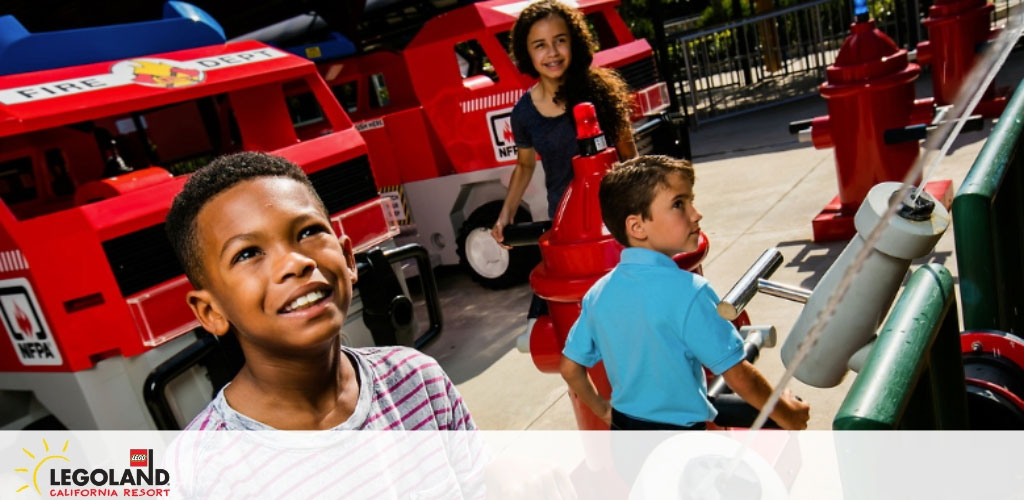 Have you ever imagined what it feels like to be someone's hero and save the day? You can actually experience that in Fun Town Police and Fire Academy at LEGOLAND California! Play along with your family and fight some fires! Get your LEGOLAND California Tickets from GreatWorkPerks today!
What are some great rides and attractions for older kids?
No need to worry, pre-teens and teens have many options of exciting rides to choose from at the park! Here's a few of the rides and attractions you might want to catch (all available with your discount LEGOLAND California ticket from GreatWorkPerks):
Bionicle Blaster
Spin, spin, spin! You'll surely never miss one of the funnest rides at LEGOLAND California! The faster you spin, the more you will think you might bump into each other. But don't worry, you won't! This ride is a must!
LEGO City Space
Have you ever imagined being on a space station? If you are an outer space fan, then you should not miss out on this part of the theme park! Become an astronaut, and help build a space shuttle! You might even get to try your own creation out. Are you ready to complete the mission, astronaut?
LEGO Ferrari Build & Race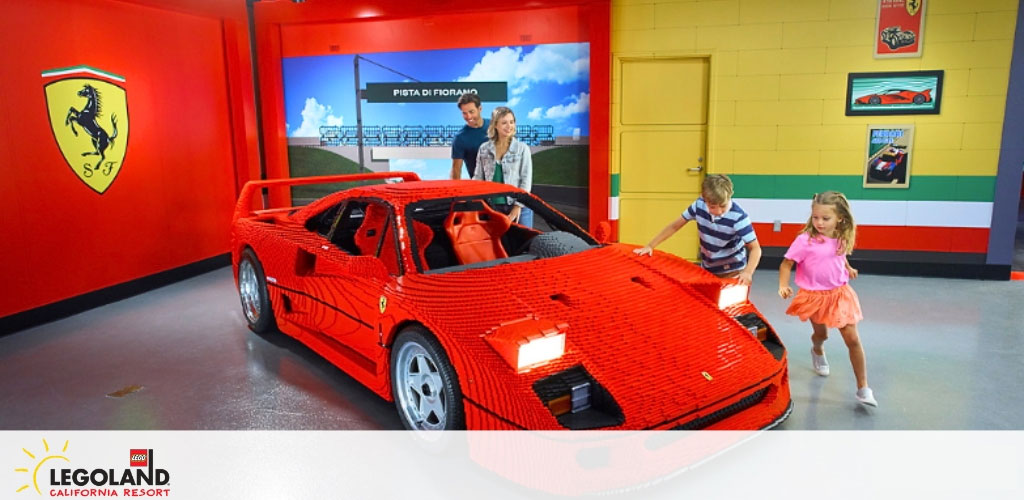 Well, everyone dreams of becoming an automotive engineer and building as many cars as possible! Here at LEGOLAND California, you can actually make your dreams come true! Build your own race car, scan your vehicle, and watch it speed away! Get ready to test it out and race on the LEGO racetrack!
LEGO Mindstorms
Build your own robots and bring them to life! LEGO Mindstorm gives you the chance to become a robotics engineer while having a great time!
LEGO Technic Coaster
If you're a roller coaster fan, this ride is a must! Enjoy the rush once you hop on and the track starts twisting, turning, and dropping at high speeds!
Beetle Bounce
If you're really into an extreme adventure, why not try this Beetle Bounce ride? Bounce up and down over and over from a very large height. Keep in mind that this ride's minimum height requirement is 36 inches. Get your LEGOLAND California tickets from GreatWorkPerks today!
Dune Raiders
Feel like taking a trip down memory lane? Who hasn't loved going down slides as a kid? If you want to feel that rush again and have a great time with your family at the same time, then give Dune Raiders a try! You will have so much fun while racing others and trying to win first place! Just remember - the minimum height requirement for this ride is 36 inches.
LEGO City: Deep Sea Adventure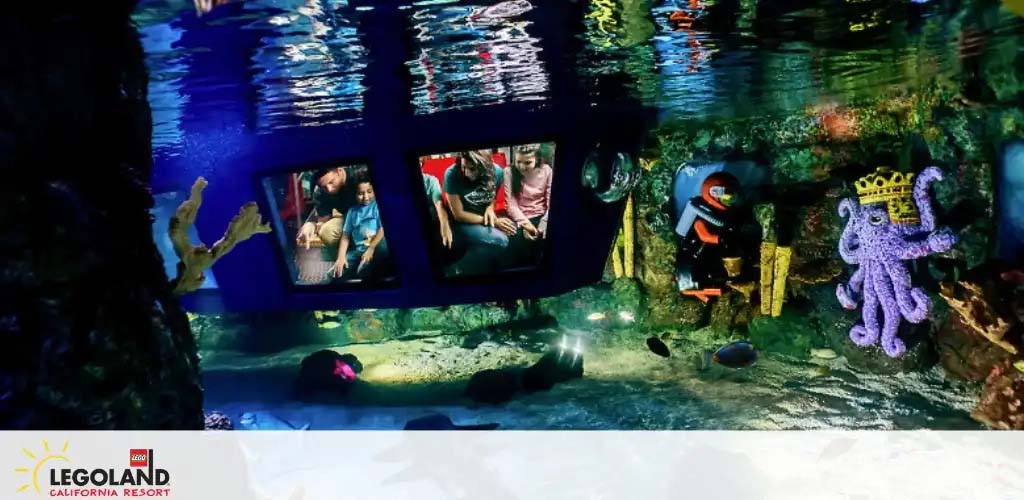 Have you ever been on a submarine? If not, jump on this LEGO City Deep Sea Adventure and get ready to be amazed as you dive underwater and run into different sea creatures. You might even get to spot some treasures! The minimum height requirement for this submarine ride is 52 inches tall, smaller children must be accompanied by a supervising adult to get in.
The Dragon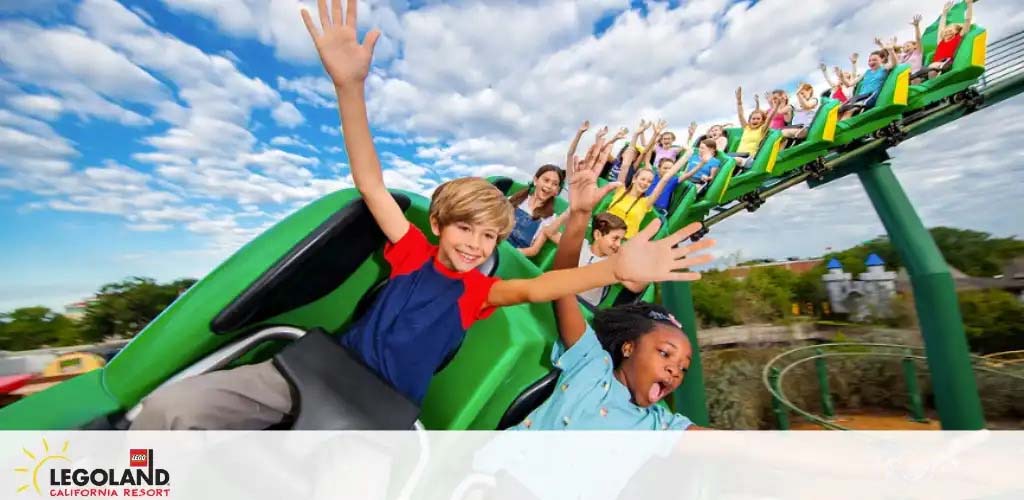 Who wouldn't love to try this enchanting dragon ride? You will be able to take a magical journey and see different characters inside the castle, including a giant red dragon! You can't miss this amazing coaster ride!
Driving School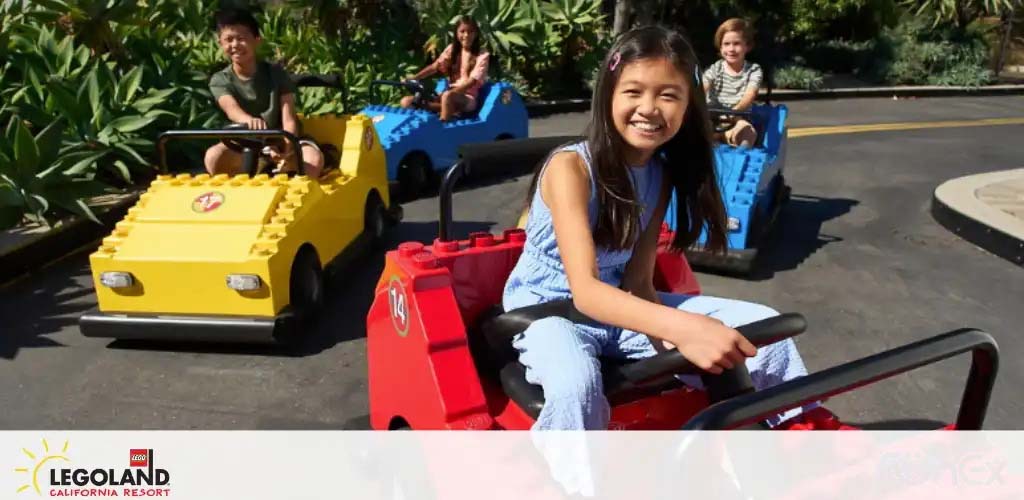 Have you ever imagined that driving lessons can be fun and easy? Take some super fun classes and get your LEGOLAND Driver's License! There is no tracks to follow so just buckle up, and let your imagination soar! Drive your car through city streets surrounded by buildings made entirely out of LEGO bricks! Get your discount ticket from GreatWorkPerks if you're up for a unique driving lesson!
Safari Trek
Have you ever wanted to take a wildlife safari trip? Visit the Safari Trek at LEGOLAND and transport yourself into the wild land of Africa! Discover life-size animals made only for you by LEGOLAND California! You may be able to spot some gorillas, elephants, crocodiles and other creatures as you ride along the safari area!
Captain Cranky's Challenge
Looking for a thrilling ride? Visit Captain Cranky's Challenge at the theme park! This exciting attraction will put your sea skills to the test as you take a fun-filled journey on a pirate ship. The minimum height requirement to ride this ship is 42 inches tall. If the passenger is 34" – 42", they would still be able to ride, but only if accompanied by a responsible rider.
Coastersaurus
Feel like having some super fast fun on a rollercoaster? Then try out this unique rollercoaster that will take you on a prehistoric journey through the jungle. You will run into colorful dinosaurs made out of LEGOs! Keep in mind passengers must be 36 inches tall and accompanied by an adult. If the guest wishes to ride alone, they must be at least 48 inches tall.
Kid Power Tower
This exhilarating ride will give you a bird's eye view of the theme park! Soar all the way up to the sky, and then drop back to the bottom. It's so much fun you will want to do it over and over again. Riders must be at least 40" to ride Kid Power Tower.
Splash Battle
Have some Splash Battle fun! Ride on a ship and shoot your own water cannon as you cross pirate-infested waters. Make sure to aim and not miss ! The minimum height requirement for this interactive ride is 36 inches.
LEGO NINJAGO THE RIDE
Do you want to become a ninja? You will definitely put your ninja training to the test in this interactive California ride. Learn to control the elements – use the power of fireballs, lightning, ice and shockwaves to defeat the Great Devourer! There is no minimum height requirement for this ride. However, guests under 48 inches tall must be accompanied by a responsible rider.
There are many more fantastic rides and attractions that you can enjoy at this beautiful theme park! To access the rides listed above and many others, get your LEGOLAND California discount tickets from GreatWorkPerks to enjoy the lowest price guaranteed.
Also Visit: MINILAND USA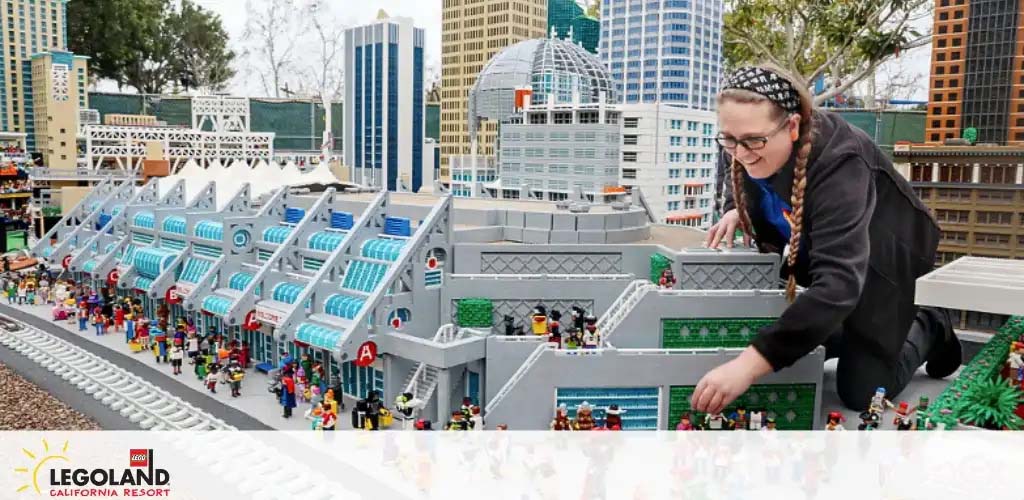 Don't miss out on MINILAND USA, LEGOLAND California, where everyone becomes a giant! Yes, that's right! All the rides and attractions here are made in a miniature scale, and they are completely built with Legos. You will get to see some of the world's most amazing buildings and places made out of Legos. Be sure to not pass this up!
If you visit MINILAND USA-Themed Park, you might want to stop by these attractions too:
Coast Guard Build-A-Boat
Las Vegas
Sofi Stadium
New Orleans
New York
San Francisco
Southern California
Washington D.C
What are the new attractions at LEGOLAND California?
The NEW LEGO Movie World
Is your child a fan of the LEGO MOVIE? If so, then you cannot miss out on visiting this brand-new incredible area at this famous theme park!
Experience three new attractions, new restaurants and shops in THE LEGO® MOVIE™ WORLD, where the hit movie comes to life in LEGOLAND California!
We are sure that you will love the three new rides in LEGO Movie World;
Emmet's Flying Adventure Ride – A non-optional visit for Legos fans at the park is Emmet's Flying Adventure Ride, the biggest attraction in the LEGO MOVIE WORLD! Experience this family-friendly ride that will transport you to the LEGO MOVIE universe. Riders must be 40 inches tall and accompanied by a responsible rider. If they wish to ride alone, they must be 48".

Unikitty's Disco Drop – Visit the theme park's brand-new drop tower ride! Unikitty's Disco Drop will take you on a journey through this beloved character's many moods. You'll be taken to the top of Cloud Cuckoo Land and dropped back to earth on this exhilarating ride. This LEGO MOVIE inspired ride will surely be a thrilling family bonding experience! Guests must at least be 40 inches if they wish to ride.

Queen Watevra's Carousel – This new ride puts a twist on the classic carnival ride. Ride with the queen and her 60 horses!
Inside the Movie World, you can also enjoyEmmet's Super Suite, Benny's Playship, and Build Whatevra You Wa'Na Build.
Also located in the Movie World is the newest souvenir shop:The Awesome Shop (with really cool stuff). This shop offers a selection of the LEGO Movie merchandise, including LEGO sets, t-shirts, mugs, and much more! If you're looking to bring home something to remember your day of adventure at the theme park, then The Awesome Shop is a must-go-to shop.
3 NEW ATTRACTIONS!
Emmet's Super Suite
Hurray! Just like in fairy tales, dreams do come true! Meet Emmet and Wildstyle of The LEGO Movie in Emmet's Super Suite! This new attraction brought to you by LEGOLAND California is very child-friendly as these characters will happily entertain your kiddos! You may also see some of Emmet's friends around the suite, like Spaceman Benny and General Sweet Mayhem!
Benny's Playship
After visiting Emmet's Super Suite, you can head out to Benny's Spaceship. Have a blast in this colorful playground. You can run, jump and play all over the place. This new Benny's Playship attraction is a perfect getaway for future astronauts as this playground is completely space-theme inspired! Jump on board this spacecraft and be ready for take-off!
Build Watevra You Wa'Na Build
Who wants to become a Master Model Builder? LEGOLAND California offers you the Build Watevra You Wa'Na Build! attraction. Construct and design whatever ideas you have in mind. You don't want to miss this Lego-free building zone in Bricksburg that's perfect for your kids to play at and use their imagination!
The NEW LEGO City: Deep Sea Adventure Submarine Ride
The park is filled with underwater life! LEGOLAND California has added one of the largest attractions in the park. This is such an incredible ride to be on.. Guests can ride a mini submarine, which will go underwater and give you the chance to dive into a magical underwater journey. Explore colorful fish and other under-the-sea critters. Like most activities in the park, the ride provides educational and interactive experiences for the whole family.
Meet & Greets!
Join the fun at LEGOLAND California for an unforgettable Meet & Greet experience with your beloved LEGO characters! Prepare for a journey filled with creativity, bricks, and exclusive photo moments.
Perfect for fans of all ages! Get your discounted LEGOLAND California tickets now!
World of LEGO DREAMZzz with Mateo & Izzy
Embark on a journey of imagination with Mateo and Izzy from LEGO DREAMZzz. Experience Mateo's artistic awakening and Izzy's bold, fun-loving adventures!
A Visit to Emmet's Apartment from THE LEGO MOVIE
Enter the quirky world of Emmet from The LEGO Movie. Don't miss the chance to meet your favorite characters and immerse yourself in their unique universe.
Interactive Fun with the LEGO Friends
Join the LEGO Friends on a virtual adventure! Engage with eight unique characters and explore the essence of friendship and its endless possibilities.
Unleash Your Ninja Spirit with LEGO® NINJAGO
Get ready to channel your inner ninja with the iconic characters of LEGO NINJAGO! A thrilling opportunity to encounter your ninja heroes and delve into their epic tales.
Surprise Encounters with Your Favorite LEGO Characters
Stay alert during your park visit for surprise meet-and-greets with various LEGO characters – a thrilling addition to your LEGOLAND experience!
Don't miss out – secure your discounted tickets to LEGOLAND California today and enjoy a world of LEGO excitement!
Dining Options in LEGOLAND California
Get ready to eat tasty food! You can forget about packing food and snacks because the park not only has the best rides and attractions but also has great dining options that your family can enjoy. The theme park has all your classic favorites like cheeseburgers, pizza, sweet treats, tasty salads, fried chicken, plus many other options! Popcorn, novelty ice cream, and cold beverages are also available at carts throughout the park. LEGOLAND offers more than 20 diverse food stands and restaurants. Try out all the delicious food with your LEGOLAND California discount tickets from GreatWorkPerks
You should check out these top six restaurant options and food stands at the park:
Granny's Apple Fries -

Number one on the list: LEGOLAND's signature treat! Make sure to try this place when you visit. Their Granny Smith apples are coated with cinnamon sugar and secret ingredients plus topped with a vanilla cream dipping sauce. Yum! This sugary fix is something that you should not miss on your LEGOLAND California visit. You can find this food stand inside Castle Hill.

Knights' Smokehouse BBQ -

This restaurant is best for everyone who enjoys original Texas BBQ. Their chicken is slowly cooked over the fire, making it so tender it will melt in your mouth. They also offer the best pulled pork, beef brisket and pork ribs. Don't eat meat? Don't worry! This outdoorsy dining option also features many vegetarian options on their menu. They even serve alcohol and beer. You can find this restaurant inside Castle Hill.

Pizza & Pasta Buffet -

A pasta buffet in a theme park? Yup, you bet there is! And it's the best one inside Castle Hill! Their menu is full of options cooked with quality ingredients that will definitely fill you up for a day filled with adventure. They serve pizza, homemade pasta, breadsticks and even fresh salads. There are also refreshing soft drinks available for purchase at the buffet. Satisfy your family's cravings by indulging in the best pizza place in the park.

Castle Burger + Castle Ice Cream -

If your family is looking for a great combo to eat, then Castle Burger and Castle Ice Cream Food Stands are your options. These are both located next to the Dragon Coaster on Castle Hill. You can enjoy the all-beef hamburgers or a wide selection of sundaes. They also have fries, cappuccino, lattes, and espresso.

Fun Town's Urban Kitchen -

Your family will surely enjoy the experience at Fun Town's Urban Kitchen where their chefs cook your meal in front of your eyes! They offer a variety of food from hotdogs, food wraps, fruit snacks, and sandwiches. You'll also love their Create-a-Shake where you can create your shake's recipe.

Ocean Journey Café -

Last on our list, but definitely not least, this restaurant is located within SEA Life Aquarium near the entrance. You can still dine in here without a Sea Life Aquarium admission. They have fresh and flavorful food like beef burgers, salads, mac and cheese, and more!

With so many dining options, there isn't much to worry about on the day of your visit. Fun? Covered! Food? Covered! Drinks? Covered! That's why buying your discount tickets through GreatWorkPerks is the best option! Save big with our low prices. Skip a headache with our hassle-free ticket buying experience.
What hotels are near LEGOLAND California?
One day may not be enough for your family to fully enjoy and experience all the rides and attractions in the park, but do not worry because there are some great nearby hotels!
We also offer up to 10% off on LEGOLAND California Hotel reservations, so you may as well book now to get the best pick from all options! Find the LEGOLAND California Hotel discount offers here.
LEGOLAND Hotel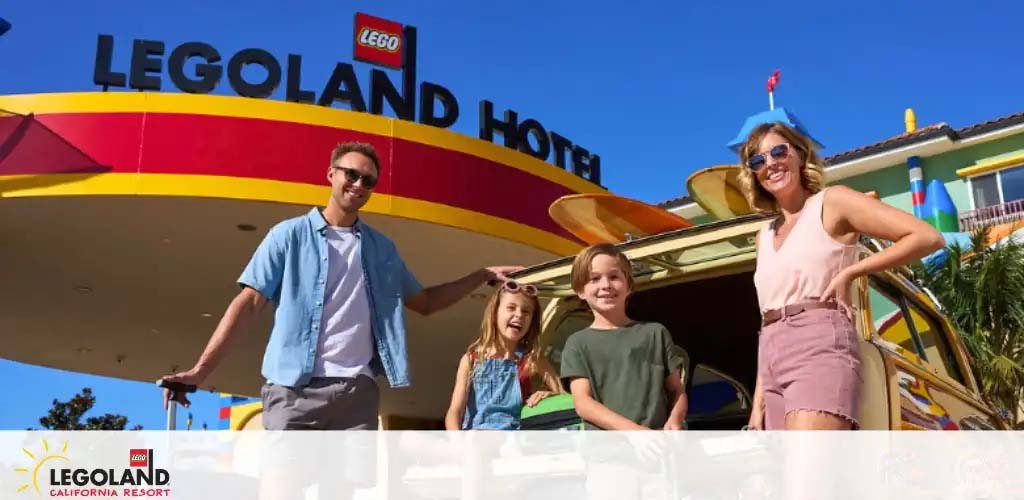 Give your family the ultimate LEGO experience: a day at LEGOLAND® California and a night at the LEGOLAND® Hotel! Did you know this is listed as the sixth-best hotel for families in the United States on TripAdvisor?
The LEGOLAND® Hotel is only a few steps from the theme park's entrance. The hotel has 250 rooms and suites, each with a unique LEGO theme specially designed for children. A FREE breakfast buffet, evening entertainment, character meet-and-greets, and in-room treasure hunts are some of the many amenities available, and much more awaits!
LEGOLAND Resort Hotel
Endless incredible adventures await here at LEGOLAND Resort Hotel! It includes a multi-themed hotel using LEGO features. The hotel room themes for you and your children to choose from include Pirate, Kingdom, Adventure, LEGO NINJAGO, and LEGO Friends!
All rooms include king beds for adults (two adults) and a kids' sleeping area with bunk beds (up to three kids); pull out the trundle, and voila, there you go! Every room also has LEGO bricks to play with and build during your stay!
Pirate Room
Ahoy, mate! The captain's cabin is ready for you! These pirate-themed rooms are filled with so many treasures your kids will absolutely love to stay in this room. There are so many high sea adventures to enjoy!
Kingdom Room
This chamber will give royal luxury and enjoyment whether you are a king or queen, prince, or princess! Relax and live the moment by lying on your bed like a royal after an exhausting adventure! This room provides comfort and fun!
Adventure Room
LEGOLAND has prepared an awesome explorer-friendly room for the whole family! There is even a treasure hunt included. Kids have their own sleeping space, making it a great option to rest and play in!
LEGO NINJAGO Room
Who would want to miss check-in if you are staying at LEGOLAND NINJAGO Room? These incredible suites will make you feel and sleep like a victorious ninja? LEGOLAND is waiting for you to master the elements while experiencing the ultimate ninja sleepover in the LEGO NINJAGO rooms!
LEGO Friends Room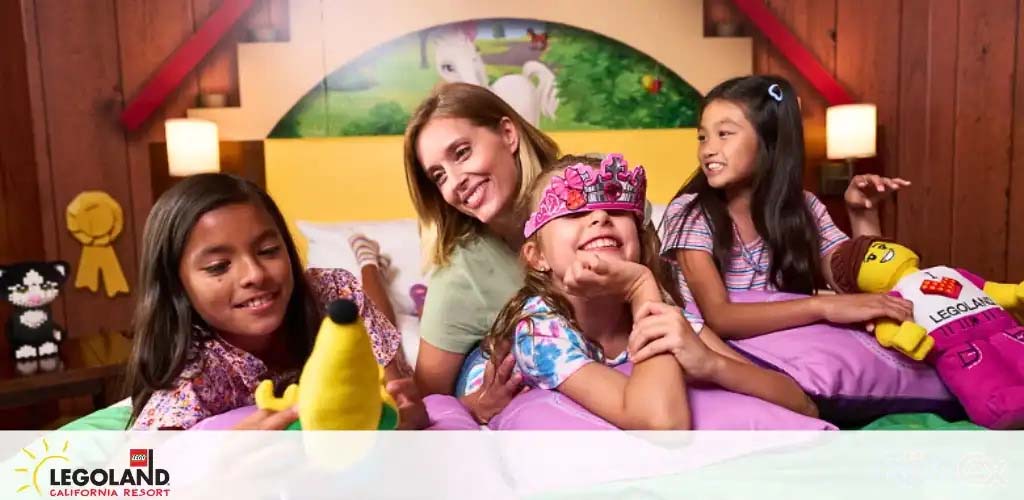 Ready to throw the ultimate BFF sleepover at LEGO Friends rooms? Spend a night in a cute, colorful space decorated by your LEGO Friends: Emma, Mia, Andrea, Stephanie, and Olivia. Have some fun with all your Lego Friends like Felix the Cat, Scarlett the Dog, and Goldie the Bird! Your children will have a restful night's sleep in the Friends Tree House-themed bunk and trundle beds.
LEGOLAND® Castle Hotel
Discover a family journey fit for a king at the LEGOLAND Castle Hotel, where almost every brick is brimming with LEGO enchantment and magical tales of faraway lands!
There are over 250 LEGO Castles-themed rooms to choose from: Knights Dragon, Magic Wizard, or Royal Princess, are some of the options found here at LEGOLAND Castle Hotel!
Your stay at the hotel also comes with a FREE full hot breakfast buffet and a Ultimate Kid's Quarter, where your kids can enjoy their night with a separate area filled with LEGO building tables and scavenger hunt in every room! This hotel also has a fascinating feature where you can enjoy and access the enhanced pool area full of interactive water play features all around!
Book LEGOLAND Castle Hotel here and get a discounted reservation from GreatWorkPerks; consistently low prices are guaranteed!
Knights and Dragons Room
We are calling all knights in shining armors! The ultimate Knight's room, suited for our Castle's champion, greets you with a hero's welcome! Come along and step into this mesmerizing Knights and Dragons room where beautiful family memories are made out of LEGO bricks, celebration banners, shields, and even a stained-glass window over the bed!
Royal Princess Room
Become the Princess of the kingdom while you stay at the beautiful, colorful LEGOLAND Castle Hotel Princess Room. Enjoy this fairytale suite located in the newest hotel at the LEGOLAND® California Resort.
Magic Wizard Room
ABRA-KAA-DAAAABRICK! See what magical spells and potions you might encounter in this Magic Wizard-themed episode at LEGOLAND Castle Hotel! The Magic Wizard Room enchants all Wizard apprentices! Every block in this incredible room is full of LEGO® enchantment. This Wizard's room, equipped with glowing potions, magic, and LEGO® creatures, is where magical family memories come to life with LEGO Bricks.
HOTEL BENEFITS (LEGOLAND® Resort Hotel vs. LEGOLAND® Castle Hotel)
LEGOLAND California Hotel is the perfect place to regain energy, but with a fun-filled twist!
At LEGOLAND® Resort Hotel
Welcome Treasure Hunt!
Book your LEGOLAND California discount tickets at GreatWorkPerks and start looking for clues all over the hotel to figure out the secret combination for the treasure chest in your room. Unlock it to reveal an exclusive LEGO surprise within! Can you believe a bucket of LEGO bricks will be in your room to create your own LEGO masterpieces throughout your stay!
At LEGOLAND® Castle Hotel
LEGO PLAY
The hotel has interactive LEGO features, such as an outdoor castle courtyard with interactive games for young knights and princesses! With LEGO designs and surprises throughout every turn, LEGO sparkles within every area!
POOL PERKS!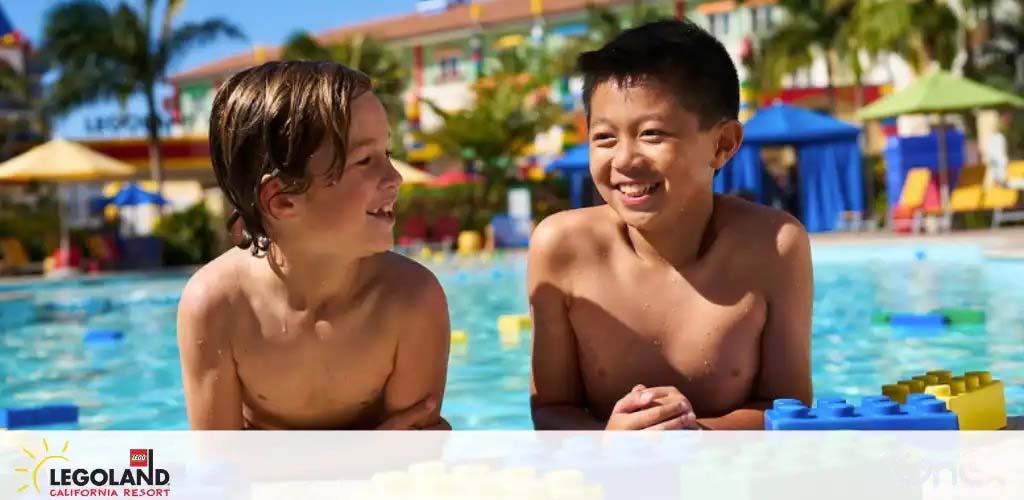 Were you wondering if LEGOLAND California hotels have some great pool areas? Well, good news: Both LEGOLAND Resort Hotel and LEGOLAND Castle Hotel do!
Just prepare your tickets and some extra clothes as you jump in the fun, heated pool. This resort-style experience which includes LEGO soft bricks to construct while splashing around in the water, is an incredible experience! LEGOLAND Resort Hotel California provides pool-side food and beverage service, and cabanas are available for rent seasonally, making them ideal for the entire family. Children under 14 are not permitted in the pool area unless accompanied by an adult. Parents are accountable for constantly watching their children at the pool. Children whose height is below 48" must wear a U.S. life jacket that the Coast Guard has authorized.
Featured Movie Shows
Make every penny of your LEGOLAND California discount tickets count! Dive into a world of captivating LEGO movies that promise a cinematic extravaganza like no other!
LEGO® NINJAGO®: Master of the 4th Dimension
With your discounted LEGOLAND California tickets, immerse yourself in an unparalleled dojo experience with the beloved LEGO® NINJAGO® characters! Join the whirlwind of 4D action as Master Wu guides the ninjas through the mysterious 'Scroll of the 4th Dimension'!
Reminder: Please leave strollers outside the LEGO Show Place Theater and arrive at least 15 minutes ahead of showtime. Latecomers will not be accommodated.
LEGO® City 4D: Officer in Pursuit!
Unleash the full potential of your LEGOLAND California discount tickets by diving into the heart-pounding chase scenes of LEGO City! Rally behind the LEGO City Police in their pursuit of a sly crook, maneuvering through water, wind, and bubble filled streets, all while being captivated by riveting music and dazzling special effects.
LEGO® DREAMZzz™ 4D: Z-Blob Rescue Rush
Unlock a dreamy dimension with your discounted LEGOLAND California tickets! Journey with Mateo and Izzie as they embark on a mission to safeguard the dream world from the shadowy clutches of the Nightmare King. A voyage of wonder awaits!
Ensure you don't miss out on these spellbinding shows and attractions available with your discounted LEGOLAND California tickets. Secure yours today and plunge into the enchanting world of LEGO!
Shows and Activities at LEGOLAND California
Step into captivating shows that whisk you away on adventures to hands-on activities that fuel creativity, each experience at LEGOLAND California is a chapter in an unforgettable story!
Begin this magical journey with special discounted LEGOLAND California tickets from GreatWorkPerks!
Must-See Shows
Once Upon a Brick:

Dive into the comedic tales of the Kingdom at Castle Stage. Engage with the King of Castle Hill and his delightful stories, filled with interactive fun. It's laughter galore!

Benny's Dance Party:

Blast off to Benny's cosmic dance realm! Groove with space adventurers in a dance-off that's simply out of this world.

School of Spinjitzu:

Step into a ninja's shoes! Immerse yourself in the world of martial arts, learning the art of the spin, chop, and balance. A thrilling experience you can't miss out on!

DJ Brick Beatz:

Dance the evening away to pulsating techno rhythms. Let the kids take center stage and flaunt the trendiest dance moves!
Interactive Activities
Minifigure Trading
Dive deep into the art of trading with your discounted tickets. Eyeing a particular Minifigure on a Model Citizen's badge?
Get a Minifigure: Bring your Minifigure or grab one at the park. Ensure it's a complete LEGO® Minifigure (LEGO® Friends Minifigures are exceptions).
Spot & Seek: Fancy a Minifigure? Approach a Model Citizen or visit Trading Posts.
Trade & Triumph: Engage in a friendly swap and renew your collection as often as you like!
Trading Tips!
Engage with staff, inspect their badges for exciting trades.
Stay in the know about the latest Minifigure releases.
Organize your trade-ready Minifigures and keep a wishlist.
And remember, Model Citizens are always there to help!
Pop Badge Quest
Embark on a hunt for LEGOLAND's signature pop badges spread across the Resort. Each badge has its story, from classic LEGO® Minifigures to innovative designs. But, the crown jewel? The elusive Mr. Gold badge! Spotting one is a triumph! Choose wisely: keep the rare badge or exchange it at Guest Services for a unique prize.
Kick off your LEGO adventure on the right foot with GreatWorkPerk's exclusive LEGOLAND California discounted tickets!
Frequently Asked Questions about LEGOLAND California
Are reservations required for LEGOLAND California?

No. Your discount LEGOLAND California tickets are date-specific, and they will be considered as your reservation.

Where is the park located?

It is located at One LEGOLAND Drive, Carlsbad, CA 92008, just 30 minutes north of San Diego and one hour south of Anaheim.

What time does LEGOLAND California open?

The park is generally open from 10:00 a.m. to 5:00 p.m. or 6:00 p.m. depending on the day.

At what age do kids get into the park for free?

Kids who are two years old or younger are granted free entry into the park and do not need a LEGOLAND California ticket.

How much is parking at LEGOLAND California?

Standard parking per vehicle at the park is available per automobile. Re-entry is available with a valid parking stub during the same day of your visit. Disabled parking spaces are available near the park entrance with a valid ID.

Does the park accept cash payments inside the park?

The park does not accept cash. Payments must be made using credit or debit cards, contactless bank cards, or Apple Pay. This applies to all purchases, including retail, food, beverages, games, and parking.

What happens if it rains on the day that I visit?

Rain or inclement weather may require the park to temporarily close or suspend some rides and attractions. If a portion of the rides and attractions are closed for an extended period, Resort Management will activate their "Rainy Day Promise," meaning that those with LEGOLAND California discount tickets will be able to use their existing ticket for one more visit within one year from the original reservation date. Please check their operating calendar for available dates. The park will not offer refunds for rainy days.

What do I do if we are unable to make our already confirmed advanced reservations?

Visit LEGOLAND California's online Booking Portal. You will be able to reschedule your advanced reservations on your own up to two times and use your discount tickets another day. Reservations can be adjusted up to two days prior to your visit before being locked into their system.

Does GreatWorkPerks really have the lowest prices in the industry?

Of course! In fact, GreatWorkPerks's LEGOLAND California discount tickets are cheaper than AAA and Costco prices! GreatWorkPerks is one of the largest authorized resellers of LEGOLAND California tickets, and we give great deals and exclusive savings to our valued customers – no catch! Our prices cannot be beat!

Can I tour the park in a day?

Yes, you can tour the park in a day! For a more in-depth exploration of the park, you may also purchase the 2-Day Sea Life Hopper, which you could use to stay in LEGOLAND California for two full days.

Do I need to print my discount LEGOLAND California tickets for entry?

No, LEGOLAND California tickets do not need to be printed when purchased from GreatWorkPerks. You can show them on your phone to gain entry to the park.

How soon do I receive my LEGOLAND California discount tickets from GreatWorkPerks

You will receive your LEGOLAND California tickets instantly right after your purchase. They will be emailed to you along with your receipt.

Can I bring food inside the park?

Coolers and outside food are not permitted inside the park; however, bottled water and any food or beverages required for specific dietary needs are allowed.

What nearby hotel should I stay at?

The LEGOLAND Hotel is by far the best hotel nearby! They have themed rooms and it is located at the main entrance of the park. Like most hotels, it is recommended to book in advance to ensure that there are rooms available. You can check the hotel's availability and GET A SPECIAL 10% OFF on your booking HERE.

When is the best time to go?

The park is quieter when schools are in session, generally from late August to late February, excluding days close to major holidays. The peak hours are between 11 a.m. and 3 p.m. Be sure to consider this when planning your itinerary and buying your LEGOLAND California discount ticket.

Is the park wheelchair accessible and accommodating to those with disabilities?

Most attractions are accessible to disabled guests depending on the nature of the disability. Detailed health restrictions are posted at each ride. The park does provide special accommodations for visual and hearing disabilities. Please contact Guest Services two weeks prior to your visit and before you purchase your LEGOLAND California discount ticket.

What are the COVID-19 safety measures implemented at the park?

Decreased capacity, cashless payments, social distancing practices, and enhanced cleaning regimes are all part of their complete strategy of enhanced health and safety measures at the park. Temperature checks are no longer required upon arrival.

Do I need to wear a mask or facial covering?

While masks are no longer required for vaccinated guests, the park strongly encourages unvaccinated guests to continue to wear one.

Is proof of vaccination required for guests?

No, both vaccinated and unvaccinated guests can enter the park.

How can I contact LEGOLAND California?

For further questions, you can contact them at 760-786-0034. If you want to avoid a long wait time, you can always call/text GreatWorkPerks at 888-295-7375 or email us at help@greatworkperks.com for prompt service and assistance with making your reservation and resolving your discount LEGOLAND California ticket concerns.
Last updated November 28, 2023.
LEGOLAND California Tickets
1 Day LEGOLAND Ticket

ages 2+ yrs

Regular price $111.79

Discounted Price From 68.23

Savings $43.56

LEGOLAND has limited purchases to 8 tickets per transaction. If you would like to purchase more than 8 tickets, please create a separate transaction for the excess.

**Waterpark access NOT included.

Buy Now

2-Day LEGOLAND + SEALife Hopper

Regular price $127.15

Discounted Exclusive Ticket Price From $82.23

Savings $42.92

LEGOLAND has limited purchases to 8 tickets per transaction. If you would like to purchase more than 8 tickets, please create a separate transaction for the excess.

*Ticket includes Two (2) Day admission to LEGOLAND®️ California Theme Park AND SEA LIFE Aquarium. 2nd Day must be used within nine (9) days of first visit.
** You do not need to visit both attractions on the same day but your visit to the second attraction must be within nine days and you will need to bring your ticket to Guest Services to receive a replacement ticket for the second attraction.

Buy Now