Check out other Legoland locations:
Buy discounted LEGOLAND Chicago tickets starting at $19.99! Enjoy savings of up to 26% off the gate price!
Ticket purchases are non-refundable and cannot be used with any other discounts.

About LEGOLAND Discovery Center Chicago
Ready for an exciting day out with the kids Visit this indoor LEGO playground complete with rides, a 4D cinema, fun surprises, and millions of LEGO bricks. Fly on Merlin's Apprentice ride, shoot down skeletons in the Kingdom Quest ride, catch a glimpse of your favorite characters in the LEGO 4D Theater, and construct magnificent LEGO models with the help of master builders. Get ready for an epic day like no other here in Chicago with your GreatWorkPerks LEGOLAND Chicago discount tickets!
The LOWEST-PRICED LEGOLAND Chicago Discount Tickets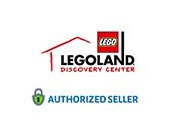 Hassle-Free Transaction, Easy and Fast!
Another benefit of purchasing from GreatWorkPerks is that you do not need to print your LEGOLAND Chicago discount tickets. Consider your phone your new best friend because all you need to do is present your e-tickets at the gates, and in you go!
Things You Need to Know Before You Go!
Purchase LEGOLAND Chicago tickets in advance.
The only guaranteed way to enter is by buying tickets and making your reservation in advance. Your time slot is guaranteed when you buy discount tickets from GreatWorkPerks because our e-tickets are timed and dated already.
Face Masks and Coverings
For your safety, LEGOLAND Discovery Center Chicago recommends wearing face masks or coverings during your visit.
Family Amenities Available
Discovery Center Chicago provides the following facilities for your convenience during your stay:
Baby-changing stations
Family-friendly restrooms
The LEGO attraction is stroller and wheelchair friendly.
No weapons are permitted on the premises!
Weapons of any kind are not permitted under any circumstances. No weapons, real or otherwise, are allowed on the premises. This is done so everyone stays safe.
A Whole Lot of Fun and Adventure Awaits You!
LEGOLAND Discovery Center Chicago is the place to go if you want to live out your wildest LEGO fantasies! LEGO replicas made with over 1.5 million Lego brick await our little builders! All these exciting activities will make your day BRICK-tastic! Buy your GreatWorkPerks LEGOLAND Chicago discount tickets now!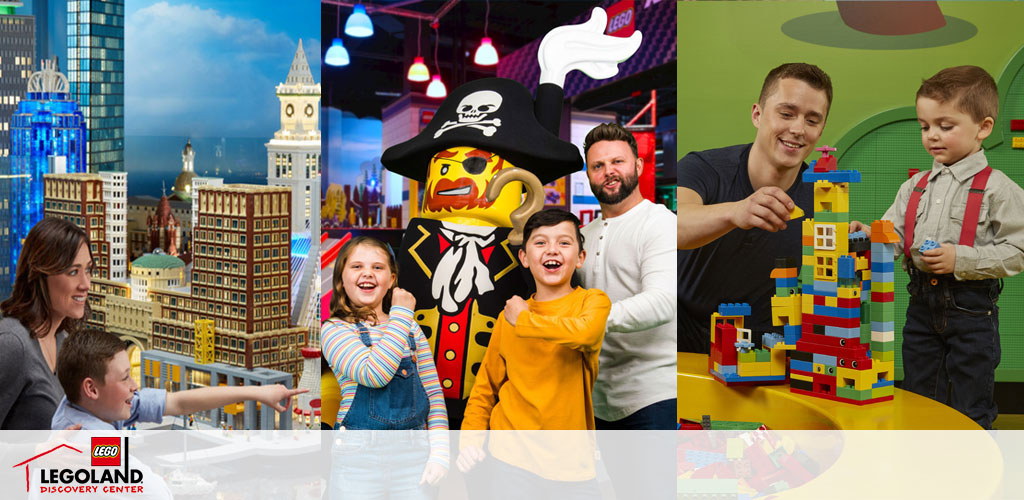 MINILAND
Be sure to stop by MINILAND, where thousands of LEGO bricks were used to create a miniature version of Chicago's most famous landmarks. You will be amazed at these incredible cities.
Meet LEGO Characters
Kids who are crazy about LEGO characters will love the opportunity to meet some of their heroes. It would be a precious moment to see children give them a real-life hug! Keep an eye out for them on your visit and take some really cool photos!
Pirate Adventure Land
Yes, sir! Kids' vivid imaginations will be set free on this fantastic journey to Pirate Island. Kids can build sandcastles out of LEGOs, find secret marine creatures, and explore a crystal cave!
LEGO Jungle Expedition
Hey, what's up, rookie explorers? Participate in the LEGO Jungle Expedition and meet some LEGO versions of real-life jungle animals. There's no doubt that the young explorers will love this place. Tigers, monkeys, and many other wild creatures await you.
DUPLO Village
The DUPLO Village is an animal-themed playset where young builders can let their creativity run wild. Create a vibrant bloom for the garden, or goof off in the cottage. The village is made to promote kids' growth and development through socially engaging play. It's so much fun!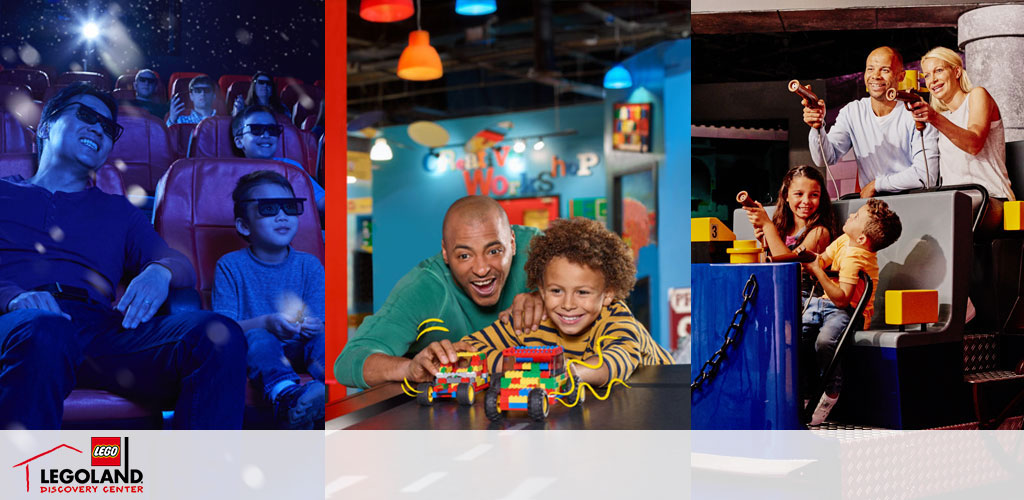 LEGO 4D Cinema
Are you prepared to kick back and watch some action starring your favorite LEGO characters? If you're exhausted from playing so much with LEGOs, head to the LEGO 4D Cinema for a fun and relaxing break. Movies play every 30 minutes, so you can just watch one or choose to stay for all of them!
LEGO Racers: Build & Test
Compete with your pals on the test track once you've built a high-speed car in our Build & Test area. Is your race car going to be the first to cross the finish line? Build away and find out!
Kingdom Quest Ride
Riders of the Kingdom Quest ride must board their chariots and set out to free the captured Princess. Trolls and stealthy skeletons are hiding behind every corner, so be careful!
What About Some Other Exciting Activities?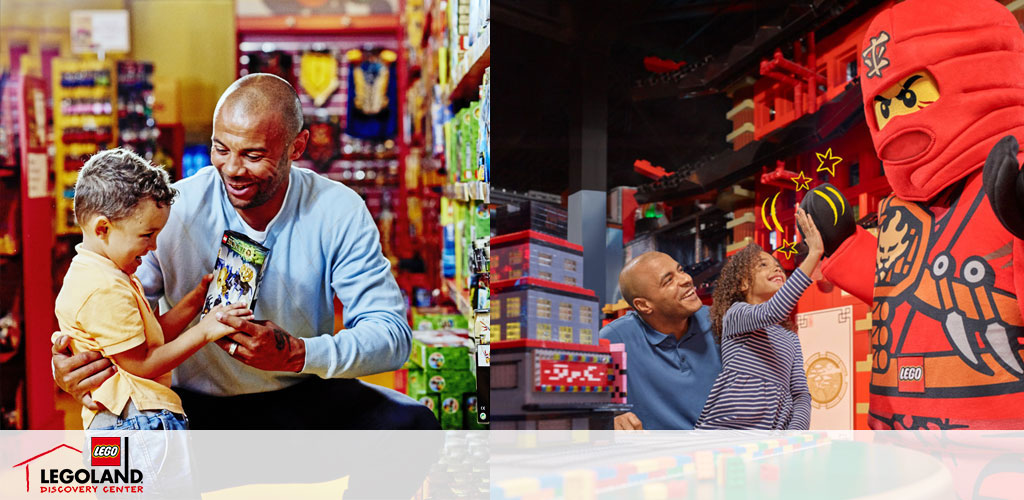 Stop by the LEGO Store!
Go to the Discovery Center Retail Shop to pick up some great keepsakes to remember your trip by. LEGO has a wide variety of toys and sets that kids and LEGO lovers of all ages will enjoy. You can visit the shop on Sundays through Fridays between 10 AM and 6 PM and Saturdays between 10 AM and 7 PM.
Take a BRICK at the Coffee Shop!
Before you go, have a cup of coffee at the LEGO-themed coffee shopThey have many quick-eat options to choose from. Remember to energize yourself with good food so you can tackle the day!
Frequently Asked Questions for LEGOLAND Discovery Center Chicago
Where is LEGOLAND Chicago located?

LEGOLAND Discovery Center Chicago is located at 601 N. Martingale Road, Suite 130, Schaumburg, IL 60173.

Do I need to make a reservation before I visit?

Yes, a reservation is a must to guarantee entry. Thanks to GreatWorkPerks, your purchases of LEGOLAND Chicago tickets serve as your reservation. You will be asked to pick a date and time during your online purchase.

What are the operating hours of the attraction?

They are usually open daily from 10:00 AM to 5:00 PM or 7:00 PM. Opening hours vary daily. Please check their official website and head through the Opening Times section to see their updated schedule.

Can I request a refund if I can't go?

Please note that all LEGOLAND Chicago tickets are non-refundable. Once purchased, it is final

Do I need to buy a separate ticket for my child?

Kids aged one (1) and under enter for free in the ultimate play area. However, kids aged two (2) and up should have discount LEGOLAND Chicago tickets to enter. GreatWorkPerks allows you to save up to 26% per ticket!

How soon will I get my tickets from GreatWorkPerks

You will instantly receive your LEGOLAND Chicago discount tickets from GreatWorkPerks with your receipt!

Do I need to print my discount LEGOLAND Chicago tickets from GreatWorkPerks

No need! Our LEGOLAND Chicago discount tickets give our customers the utmost convenience! Just present your tickets from your phone, and you're good to go! Easy entry!

Can I visit without a child?

No. At least one child must accompany adult guests.

Can a child go without an adult?

No. All kids should have an adult companion to supervise them at all times.

Is this a guided visit?

No, you will not be guided on your visit.

How long are guests allowed to stay inside?

Usually, typical visits take 2-3 hours of play and fun. But you can stay longer if you want to!

Am I allowed to bring food and beverages inside?

Unfortunately, no. Outside foods and beverages are not allowed except for those with dietary needs. Please get in touch with LEGOLAND Discovery Center Chicago in advance.

What if I can't make it on time?

You can still be admitted if you're late half an hour but expect longer wait times. If you purchased your tickets online, you might fall in line at the "I Have Tickets" line and still expect longer waiting times.

Is the attraction handicapped-accessible?

Yes. The attraction is open to guests of all ages, including people with reduced mobility using wheelchairs, visual impairments, and hearing impairments. Materials to help with your needs are available upon request.

Is there free parking?

Yes. You may access the accessible parking facility across from AMC Loews Movie Theater.

What time is last entry?

The last entry is 90 minutes before closing time.
Last updated February 13, 2023.
LEGOLAND® Discovery Center Tickets
General Admission

Adult(ages 13+)

Regular price $26.24

Discounted Price $19.99

Savings $6.25

General Admission

Child (ages 2 -12)

Regular price $26.24

Discounted Price $19.99

Savings $6.25