Check out other Legoland locations:
Buy your discount LEGOLAND Discovery Center New Jersey tickets from GreatWorkPerks, starting at only $24.39! Savings of 31% vs regular price!
The ultimate indoor LEGO® playground located in New Jersey offers an exciting adventure with not only rides but shows and fun build activities for the whole family to enjoy! GreatWorkPerks offers general admission tickets to LEGOLAND New Jersey for a discounted price.
Be creative in LEGOLAND Discovery Center New Jersey!
You will be surrounded by color and wonder in this Discovery Center! Take on an epic adventure with your kids and build whatever your heart desires. Hop on their interactive ride and join the multiple LEGO activities the Discovery Center has to offer!
You can also take a break in their LEGO-themed coffee shop and eat some tasty treats while having fun! Their menu is sure to have a wide variety of delicious snacks and drinks, so make sure not to miss out by purchasing your discount tickets from GreatWorkPerks today.
Buy your GreatWorkPerks discount LEGOLAND Discovery Center New Jersey tickets!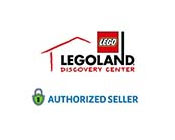 Hassle-Free Transaction, Easy and Fast!
Another benefit of purchasing with GreatWorkPerks is that you do not need to print your discount tickets. Consider your phone your new best friend because all you need to do is present your discount tickets at the gates, and in you go!
Have a blast at LEGOLAND New Jersey's Playgrounds
So much fun awaits your family at this Discovery Center! The indoor playground has several areas for everyone to enjoy and discover new and fun adventures. It is a perfect way to make your imagination come to life and create long-lasting memories with your little ones.
A discount LEGOLAND New Jersey ticket from GreatWorkPerks will take you on an unforgettable journey with your family.
Imagination Express
Hitch a train ride and travel through an interactive LEGO world full of imagination and color. Wave your magic wand around to collect points as you go and watch your kids have a fun time. Buy your discount LEGOLAND Discovery Center tickets from GreatWorkPerks today and spend quality time with your family!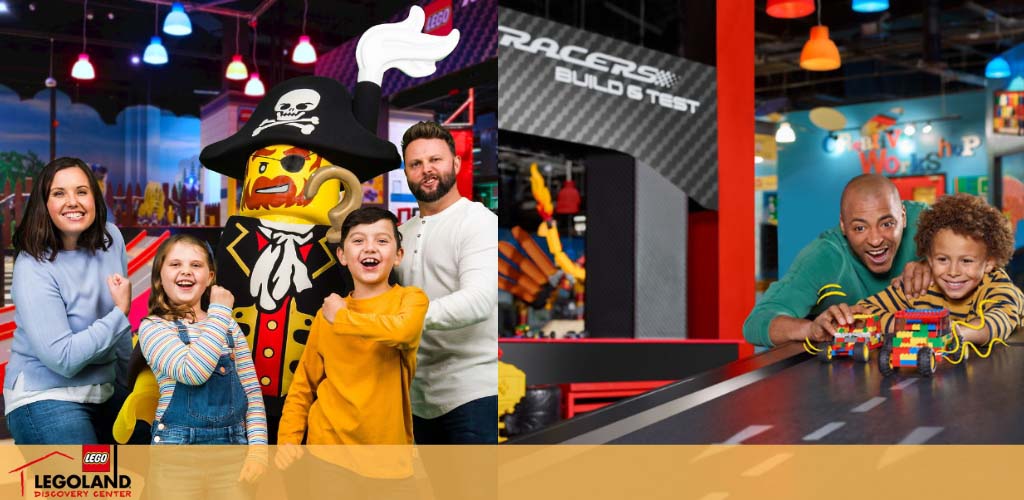 LEGO Racers: Build & Test
Build your own speedster LEGO race car and race against your family and friends on the test track at the Build & Test zone. Will your race car zip through the tracks towards the finish line first or will your friends leave yours in the dust? Make the best build with your discount LEGOLAND Discovery Center New Jersey tickets from GreatWorkPerks
LEGO NINJAGO Soft Play
Your kids can be a ninja for a day at LEGO NINJAGO Soft Play zone! Kids will have the chance to explore the soft play structures, take part in ninja training exercises, and then put their build skills to the test on the NINJAGO build table. Buy your discount Legoland New Jersey tickets today and let your kids enjoy this unique experience!
DUPLO Park
The DUPLO Park in the Discovery Center is the perfect way to bond with your kids! Help your children enjoy and put their creativity to the test with colorful, bright and educational building blocks from LEGOLAND. Discover new things and have so much fun with your kids with your lowest priced GreatWorkPerks LEGOLAND Discovery Center New Jersey tickets!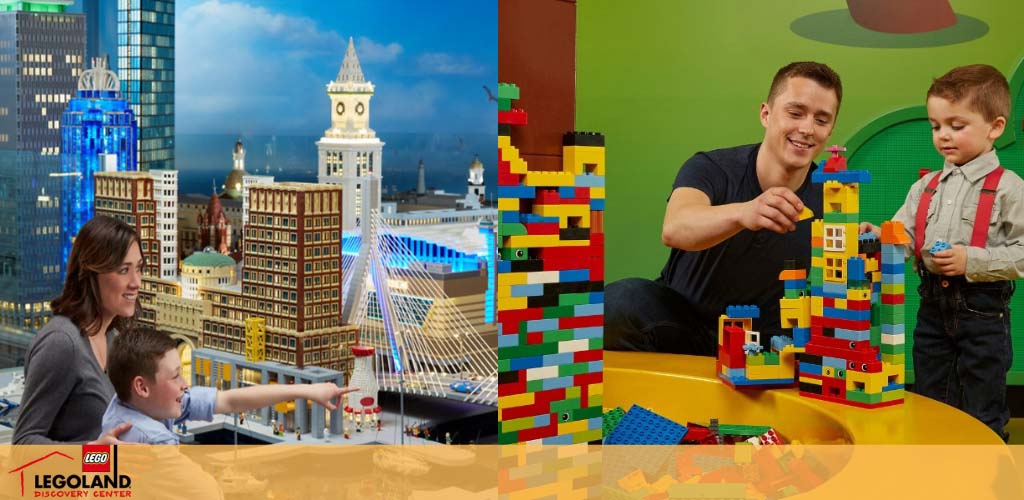 Mini World
If you've toured New Jersey, then this place is a must see for you and your family. Explore and view familiar landmarks and also discover new places you've never seen before. Famous scenes and structures are waiting to be visited by your family! Purchase your discount LEGOLAND Discovery Center New Jersey tickets from GreatWorkPerks today and venture out on this fun-filled journey.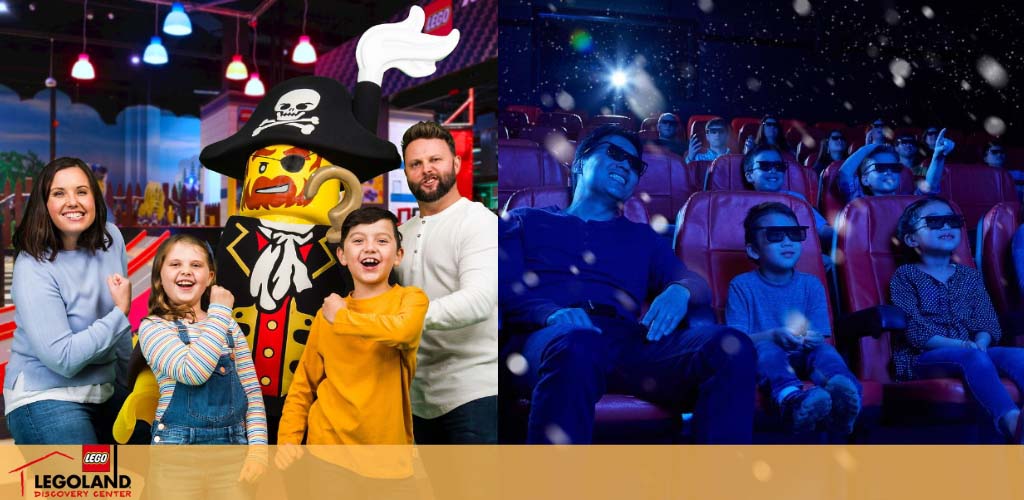 4D Cinema
Experience LEGO characters come to life with special effects from their 4D Cinema! You will wear a pair of special glasses as you go on an exhilarating experience. This unique 4D experience is available at the lowest price only at GreatWorkPerks Hurry up and purchase your discount LEGOLAND New Jersey tickets!
Creative Workshop
The Master Model Builder can create ANYTHING from LEGO bricks! Join in one of their special workshops that takes place throughout the day to discover unique LEGO tips and super tricks when building with LEGO. GreatWorkPerks offers discount tickets to save you money and have a great time.
Frequently Asked Questions for LEGOLAND Discovery Center New Jersey
Where is the LEGOLAND Discovery Center New Jersey located?

You can visit the Discovery Center at 1 American Dream Way, East Rutherford, NJ 07073. Remember to buy your discount LEGOLAND Discovery Center New Jersey tickets from GreatWorkPerks before going out on your way.

Is there a line to get in?

You might have to wait a short while in the "I Have Tickets" line when visiting during peak times. A live show that lasts about 15 minutes is the first activity at the Center. Guests might have to wait in line until the start of the next show.

Is there free parking in LEGOLAND Discovery Center New Jersey?

American Dream offers convenient parking to all guests. The first 30 minutes of parking are free, and after that, their respective rate will apply.

What if we are late for our reserved time?

The "I Have Tickets" line will be open to guests who arrive 30 minutes or more after their scheduled time, but they might have to wait longer than normal.

What time does LEGOLAND Discovery Center New Jersey open?

The Discovery Center opens at 10 am - 5:30 pm on weekdays and 10 am - 7 pm on weekends. Do note that the times they are open are subject to change so it's best to check their schedule first before visiting.

Can adults visit without any children?

No, adults must be accompanied by children to enter.

Are guests required to wear face masks?

Face coverings are highly recommended for guests (3+) and you must maintain social distance.

How will social distancing be enforced?

They have reduced the daily ticketed capacity to allow for social distancing and the best possible guest experience. There is clear signage along with monitoring staff to ensure proper social distancing while in line for a ride or experience. There are new seating arrangements to ensure social distancing in their dining areas. Guests entering classes, shows, or theaters, will be separated in accordance with social distancing requirements.

Are there stroller or wheelchair rentals?

Yes, they are fully accessible for visitors with disabilities and wheelchair users. They do not provide wheelchair or stroller rentals at the attraction.
Last updated April 10, 2023.
LEGOLAND® Discovery Center New Jersey Tickets
General Admission

Child ages 2-12 yrs

Regular price $32.51

Discounted Price $24.39

Savings $10.92

General Admission

Adult ages 13+ yrs

Regular price $32.51

Discounted Price $24.39

Savings $10.92
Sea Life New Jersey Tickets
Sea Life General Admission

Adult (13+)

Regular price $32.51

Discounted Price $24.39

Savings $10.92

Child (2-12)

Regular price $27.18

Discounted Price $20.39

Savings $9.59