Check out other Legoland locations:
Buy your LEGOLAND Westchester discount tickets through GreatWorkPerks Prices start at $23.99. Save up to 26% vs gate price!

Have a BRICK-tastic Day at Westchester this 2023!
Bring your A-game to LEGOLAND Discovery Center Westchester for a day of fun and excitement! Your kids' LEGO fanatics will have a blast here, as the place is packed with wonderful and entertaining activities that will spark their boundless creativity. And not just that, LEGO fans of all ages (including YOU) can do great work there, too! Plenty of LEGO bricks are waiting for you, so unleash your imagination and show the world what you can do! Buy LEGOLAND Westchester tickets at a discount from GreatWorkPerks and make your trip one to remember!
The LOWEST-PRICED LEGOLAND Westchester Discount Tickets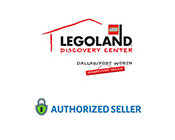 Hassle-Free Transaction, Easy and Fast!
Another benefit of purchasing from GreatWorkPerks is that you do not need to print your LEGOLAND Westchester discount tickets. Consider your phone your new best friend because all you need to do is present your e-tickets at the gates, and in you go!
Things You Need to Know Before You Go!
Our top priority is ensuring that your next family trip is enjoyable beyond your wildest dreams! The LEGOLAND Discovery Center Westchester is a bright, happy place full of thousands of LEGO bricks, an open play space, and a place to share a fun time with the family. We are sure that you will have a wonderful time. Here are a few things you should know before visiting.
Hours of Operation
Typically, the attraction is open every day from 10:00 AM until 7:00 PM. Sometimes they are open from 11:00 AM to 5:00 PM. The hours of operation may change without prior notice. To see an updated schedule, please check their website on the day of your visit.
Location and Parking Information
Address
The LEGOLAND Discovery Center Westchester is located in Yonkers, New York, at 39 Fitzgerald Street, in the Ridge Hill Mall.
Parking
Multiple parking facilities are available nearby to the attraction. North Otis is the nearest. Scan your parking validation at the entrance for two hours of free parking. After two hours of free parking, the regular parking rate will apply.
Accessibility
The facility invites visitors of all ages—including those in wheelchairs—to enjoy and have fun inside, regardless of their physical limitations.
See below the list of available special services:
Wheelchair Accessible
All the attractions' shops, restaurants, and cafes, as well as most of the rides, are wheelchair-friendly.
Wheelchair users can also access the ride lines.
For Visually Impaired Visitors
Strobe lights and 4D effects are used in the theater. Visitors with visual impairments are welcome to ask for assistance. Comfortable inside seating at the 4D Theater is available for all guests, including those with mobility restrictions.
Visitors with Hearing Impairment
Scripts are provided upon request for visitors with hearing problems. Wheelchair users get access to several front-row seats in the 4D Theater.
Experience the Ultimate LEGO Fun!
Earthquake Table
Get set for some challenging competition! Challenge up to three close friends or family members to a tower-building competition. Will your towers hold up in an earthquake?
LEGO Factory Tour
Little explorers' minds must be racing with the myriad of questions about the LEGO bricks and the idea they manifest. Finally, I'll let you in on the secret... Do you want to know? Get the inside scoop by joining the LEGO Factory Tour!
Merlin's Apprentice Ride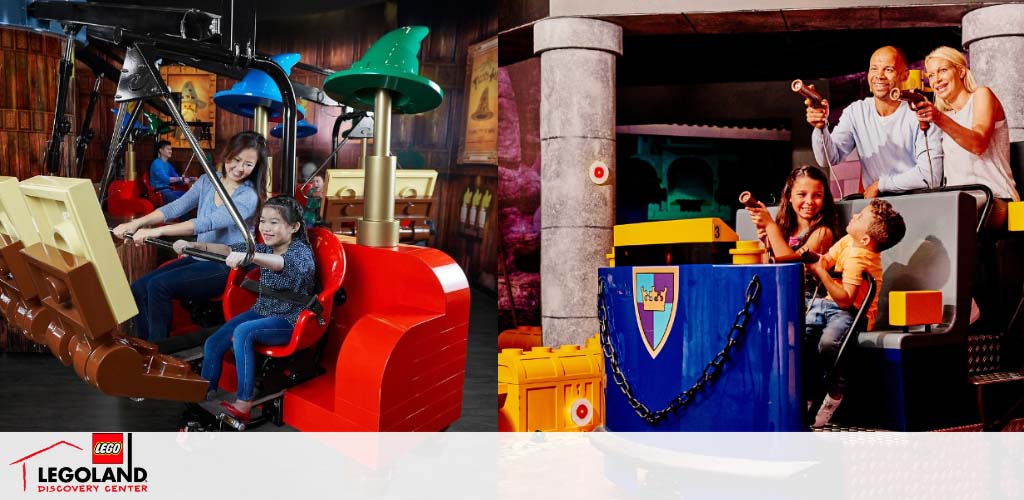 Are you ready to get your hair blown back by a hilariously dizzying ride? Thrill seekers, hop on Merlin's Apprentice, a circular thrill ride with rapid speed! How far would you go to become a wizard's apprentice?
Kingdom Quest Ride
Hop on this ride in Kingdom Quest and help save the Princess! Little heroes will have to be brave and fight off those nasty trolls and sly skeletons! Complete the quest and destroy them all!
Meet LEGO Characters
A trip to LEGOLAND wouldn't be complete without a personal encounter with some of your favorite LEGO characters. Get some incredible shots with your gigantic LEGO pals, and feel free to give them a warm hug whenever you see them! On weekends, these characters often appear at 11:00 AM.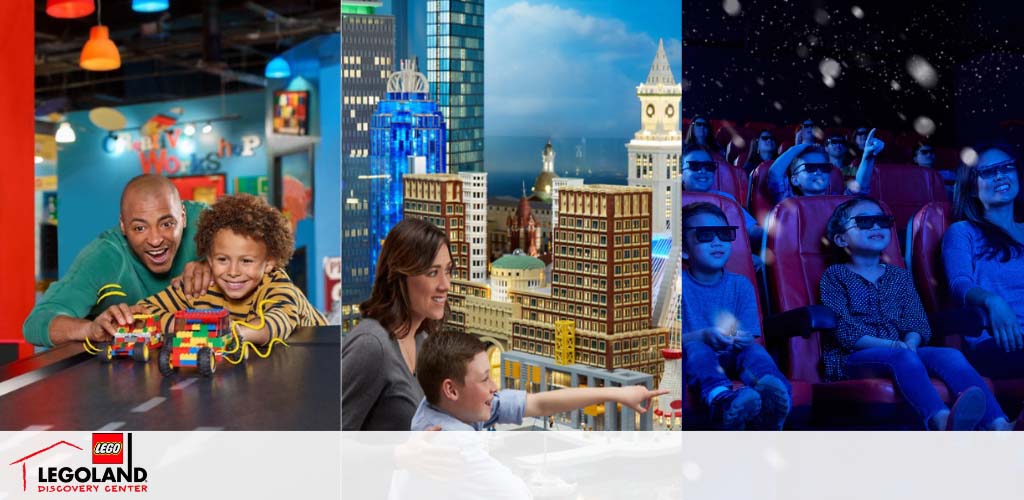 LEGO Racers: Build & Test
The race to create the fastest LEGO car is on, so let your imagination run wild. Get your engines revved up and beat the other young designers with your race cars! Will you be able to cross the finish line? Learn from the Playmaker's insider knowledge of how to make your car the fastest in its class.
MINILAND
Come to MINILAND and marvel at the 1.5 million LEGO brick New York City replica, which features all of the city's famous sites in breathtaking detail. Discover several well-known locations by giving the Minifigure a good look. How many of them can you identify?
LEGO 4D Cinema
The LEGO Movies with actual weather effects like snow, rain, and wind are the best! Just think about how much you'd like to have these at once. I mean, this is the nicest thing ever! This show at the Discovery Center will surely be a hit for young visitors.
Other Places You Might Want to Visit!
Check out the LEGO Store
Fans of LEGOs are guaranteed to love all of the LEGO products in the store. Stop by the shop and pick up some fantastic souvenirs.
LEGO Store hours are 10:00 AM to 7:00 PM, Sunday-Saturday.
Dine in at the LEGO-themed Café
After hours of indoor play, why not rest at the LEGO-themed café? Refuel your energy with cold drinks and get ready for more action. You can also try some good foods while chitchatting with your family and friends.
GreatWorkPerks Tips and Tricks for YOU!
Purchase discount LEGOLAND Westchester tickets in advance.
Buying LEGOLAND Westchester discount tickets is your best chance to save money and time during your trip to Westchester. When you purchase your GreatWorkPerks tickets in advance online, you can save up to 26% off the price at the gate! Pre-purchasing our discounted tickets works as your reservation, allowing you to skip the lines upon arrival.
Arrive early!
If you want to see everything the Discovery Center offers, you must get there early. The typical length of a visit is 2-3 hours; however, you are welcome to stay as long as you like! Plus, if you arrive early, you will have plenty of time to locate a good parking spot.
Frequently Asked Questions for LEGOLAND Discovery Center Westchester:
Do I need to make a reservation before visiting LEGOLAND Discovery Center Westchester?

No additional reservations are required for LEGOLAND Westchester ticket purchases made through GreatWorkPerks. You can choose your preferred visit at the time of purchase.

Where is LEGOLAND Discovery Center Westchester located?

The attraction is located at 39 Fitzgerald Street, Yonkers, New York 10710.

Do you have free parking spaces for guests?

Yes. To receive your two free hours of parking, scan your LEGOLAND Westchester discount ticket at the parking lot entrance. After the two hours of free parking, regular parking rates apply.

Can I get a refund if I decide not to go?

Please note that there are no refunds or exchanges for LEGOLAND Westchester tickets.

What are the LEGOLAND Discovery Center Westchester's hours of operation?

Typically, you can visit there any day of the week between 10 AM and 7 PM. The hours of operation may change with no prior notice. Daily updates can be found on the Discovery Center's official website.

When will I get my GreatWorkPerks LEGOLAND Westchester discount tickets?

Your purchase confirmation and LEGOLAND Westchester tickets will be mailed to you immediately.

Do I need to print my LEGOLAND Westchester tickets?

Purchasing GreatWorkPerks LEGOLAND Westchester tickets is quick and simple. Mobile tickets are accepted. All you have to do is show them at the entrance!

Is a separate ticket required for my child?

LEGOLAND Discovery Center Westchester offers free admission for children aged one and under. Children two and older must enter with a valid entry ticket.

Can I come without bringing my kids?

At least one child under 17 must accompany each adult guest.

Can I leave my child unattended for hours?

No. There must always be an adult around to watch the kids.

Does this experience include a guide?

No. This is not a guided tour. Indulge in some quality time with the family by taking your time while exploring the playground.

Can I bring in my drinks and snacks?

No. No outside food or drink is permitted inside, except for infant formula and those with dietary needs. There are many deliciously made snacks and refreshing beverages inside the café.

Can people with disabilities get into the Discovery Center?

YES! They adhere to ADA standards. For a list of currently available special services, see their official page.

Can I bring my dog or cat inside?

Only properly harnessed and leashed service animals are permitted inside. The Kingdom Quest and Merlin's Apprentice rides are not accessible to guests with service animals.

What if I can't make it on time at my scheduled time?

Visitors who are 30 minutes or more behind schedule can still enter the Discovery Center, but they should be prepared to wait in longer lines than usual.

16. How long does an average visit take?

Average visits are between two to three hours, but longer stays are welcome.
Last updated February 23, 2023.
LEGOLAND® Discovery Center Tickets
General Admission

Adult(ages 13+)

Regular price $27.21

Discounted Price $23.99

Savings $7.22

General Admission

Child (ages 2-12)

Regular price $27.21

Discounted Price $23.99

Savings $7.22