Check out other Medieval Times locations:
Get your Medieval Times discount tickets starting at only $39.30 vs the gate price of $49.25! Save up to 20%. Lowest prices guaranteed on GreatWorkPerks
Reservations are required. Please call us at 888-295-7375 from 7:00 AM to 10:00 PM PST to make your reservations and for up-to-date show schedules and availability. These tickets are valid for general admission seats. Upgrades are available upon request.
What is Medieval Times?

Medieval Times Dinner and Tournament is the perfect bonding experience for you and your family! It's a family dinner theater that features medieval-style games, jousting, and sword fighting. You will be transported to a feast and tournament inspired by the 11th century. Travel back to the Middle Ages and enjoy world-class entertainment with gallant knights, galloping horses, thrilling swordplay, and so much more fun, all while enjoying a fine four-course feast.
Fancy visiting the show? Purchase your family's discount Medieval Times tickets through GreatWorkPerks today! The lowest price is always guaranteed.
Why choose GreatWorkPerks for your discount tickets?
We have the lowest prices guaranteed!
GreatWorkPerks is an authorized seller of Medieval Times Arizona tickets. We are one of the largest sellers of discount tickets in the country, and we couldn't have thrived for over 30 years if we weren't highly trusted by our customers. We would love for you to join our family and enjoy the best price for Medieval Times tickets and other attractions nationwide!
Hassle-Free Transaction, Skip the Line!
Another benefit of purchasing through GreatWorkPerks is that you do not need to print your discount tickets. Consider your phone your new best friend because all you need to do is present your discounted Medieval Times Arizona tickets at the gates and in you go!
What to Expect at The Dinner Show and Tournament
Want to know what will happen during your visit? Here's a short guide of what to expect on your magical trip to the 11th century:
Buy your discount Medieval Times tickets from GreatWorkPerks

Before visiting the dinner show, you'll need a reservation and a Medieval Times ticket. For a hassle-free buying experience, buy your discount Medieval Times ticket through GreatWorkPerks There is also no need to print them out; show them at the gate on your smartphone, and you will be good to go.

Arrive at the Castle

Once you've set a reservation by purchasing our discount tickets, it's time to head to the dinner show's castle. This unique feature of the Scottsdale landscape is hard to miss! And don't worry, they have free parking spaces around the Castle. It's time to take some post-worthy pictures while you stroll over the impressive drawbridge.

Enter the Castle Gates

The castle gates open 60 minutes before showtime. Don't forget to arrive early so you can get the best pictures! You can go ahead and check-in at the kiosk. Once you are checked in, you will be crowned as part of Her Majesty's kingdom. The color of your crown decides which noble Knight you will be cheering for. If you are celebrating a special occasion, ask the front desk about being Knighted by the Queen! There are always ways to make your celebration extra special in this fantastic show. Grab your discount Medieval Times tickets and celebrate your special occasion in a majestic castle!

Explore the Castle!

Medieval Times Arizona is genuinely an exciting sight! As you enter the Hall of Arms, you will be transported back in time with all the suits of armor, giant candelabras, and treasures. You can even stop by the Gift Shop and don your Knight's colors with swords, flags, shields, or even a T-shirt! At the Hall of Arms, you can enjoy a refreshing drink from the Queen's full-service Bar. Another must-visit at the Hall of Arms is the Museum of Torture, but be fully aware! What you will see in the museum is not for the faint of heart.

Your Feast Fit for Royalty is On the Way!

Settle in your seats and wait for your four-course dinner. You will be served drinks, and the feast will be served in courses. Make sure to let your server know if you have special dietary needs. The dinner show and tournament can happily accommodate most dietary restrictions. Dinner is served with two rounds of select beverages. You can also order an alcoholic drink, if you are over 21 years of age. Bar Servers are available to take your order and keep those spirits flowing!

The Show Begins!

At the venue, you will experience not only a delicious four-course meal but also two hours of exciting entertainment! When the lights dim and the music plays, you know the tournament is about to begin. Sit back and enjoy clashing swords, hand-to-hand combat, extraordinary horsemanship, falconry, and more! At the dinner show and tournament, you will have an unforgettable experience. Buy your discount Medieval Times ticket through GreatWorkPerks to enjoy this one-of-a-kind experience at the lowest price!
Where is Medieval Times Arizona located?
It is located at 9051 East Via De Ventura, Scottsdale, AZ 85258
Do you want to enjoy their spectacular shows at a different location? No worries, they have over ten branches! You can easily check out our website to fine one near you at the best price!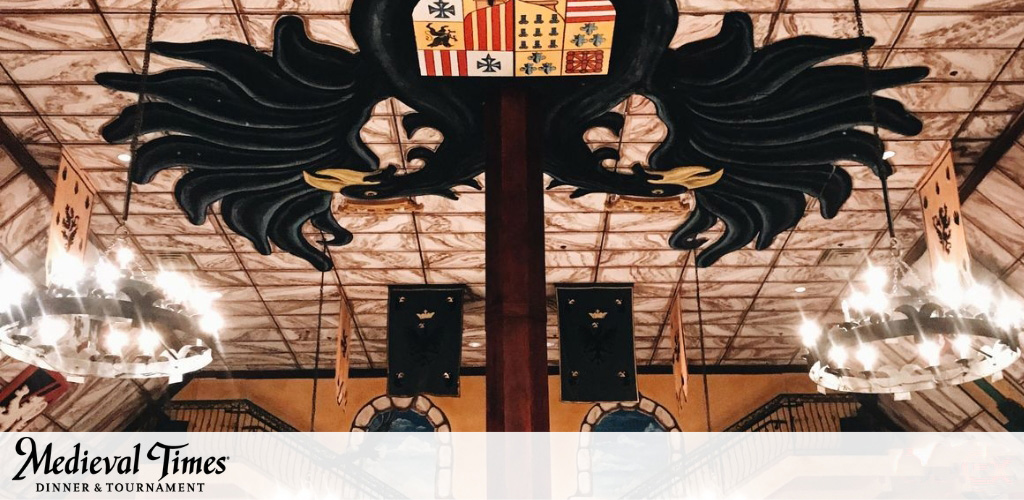 What are the Food Options in Medieval Times Arizona?
The Banquet menu lists delicious food options like garlic bread, tomato bisque soup, sweet corn, roasted chicken, herb-basted potatoes, dessert, coffee, and two rounds of select non-alcoholic beverages.
There is also a full-service bar ready to serve you alcoholic refreshments.
Special diet options

The attraction accommodates vegetarian and vegan guests. The vegan meal includes a generous portion of hummus served with carrots and celery sticks. The main course is a three-bean stew with fire-roasted tomato and brown rice. You can also choose fresh fruit or Italian ice cream for dessert. The vegetarian options include all of this, along with warm pita bread. If you have a special dietary need, you may tell the server.
Frequently Asked Questions about Medieval Times Arizona:
Are reservations required when visiting Medieval Times Arizona?

Yes, reservations should be made as soon as possible, assuming availability. Please call us at 888-295-7375 from 7:00 AM to 10:00 PM PST to make your reservations at least one week in advance, but no later than 24 hours before the show, due to limited capacity and know up-to-date show schedules. All Medieval Times tickets are nonrefundable.

Do I need to print out my Medieval Times tickets?

When you buy your Medieval Times discount tickets through GreatWorkPerks, there is no need to print them out! Just show the reservation confirmation on your phone, and you are good to go.

Are my tickets refundable?

All tickets are non-refundable/non-returnable. We cannot issue refunds or exchanges after a purchase has been made or for lost, stolen, damaged, or destroyed. Packages and prices are subject to change without prior notice.

What is the running time of the show?

The show runs for approximately two hours long.

Is the Medieval Times Arizona accessible to those with disabilities?

Of course! Upon arrival, let their staff know that you require accessible seating, and they will happily accommodate you.

How early should I arrive?

The Castle gates open an hour before showtime. They recommend you arrive as early as possible.

Do people dress up?

If you prefer to dress up in costume, you most definitely can! However, they prohibit hats or headdresses that may block the view of guests. Weapons/fake weapons are not allowed.

Is there free parking?

Yes, free parking is available around the Medieval Times Arizona castle.

Do children get free admissions?

Children under the age of 3 get free admission if they sit on adults' laps and eat from their plates. If you prefer the child to have their own seat and meal, the appropriate rates apply.
Last updated October 02, 2023.
Medieval Times Arizona Tickets