Check out other Medieval Times locations:
Buy Medieval Times discount tickets today starting at only $35.20! Save up to 14% vs gate price! Lowest prices guaranteed on GreatWorkPerks
Reservations are required. Please call us at 888-295-7375 from 7:00 AM to 10:00 PM PST to make your reservations and for up-to-date show schedules and availability. These tickets are valid for general admission seats. Upgrades are available upon request.

Overview
Have a fun feast and enjoy a tournament from the 11th century at Medieval Times, it's an entertaining show perfect for the whole family! Guests will enjoy a delicious four course meal, while watching six knights compete in a joust and defend their kingdom. Enjoy a two-hour fascinating drama set in medieval Spain that includes jousting, swordsmanship, thrilling hand-to-hand fighting, displays of remarkable horsemanship, and falconry!
Your meal includes dessert, two rounds of beverages and coffee! You will be treated like noble at Medieval Times. There is also a fully stocked bar for those aged 21 and over. If you have a dietary restriction, don't worry, there are vegetarian, vegan and gluten-free meal options available. Visit the souvenir shop, the Hall of Arms which displays many types of medieval weaponry, and the Museum of Torture at Medieval Times. Purchase your GreatWorkPerks Medieval Times ticket and have a great time with your family. Have fun while saving big!
Best Deals on Medieval Times Tickets at GreatWorkPerks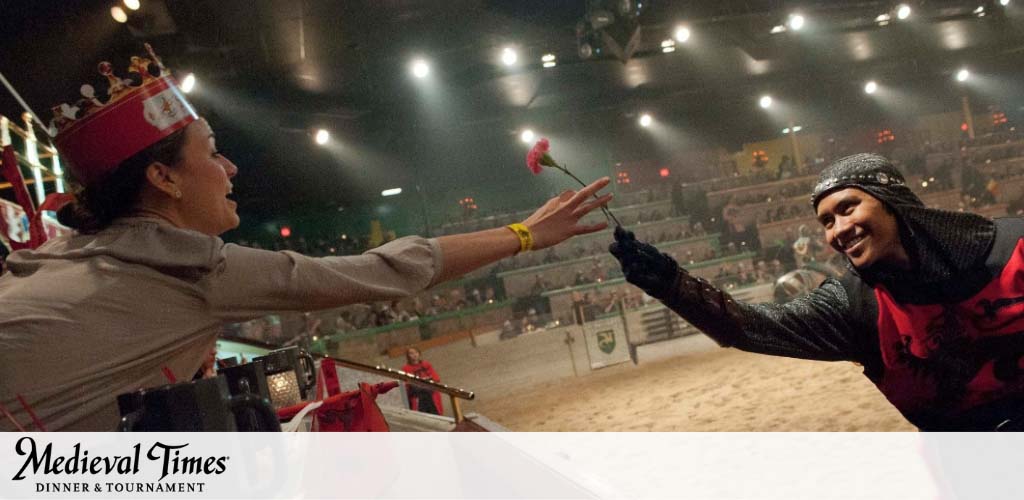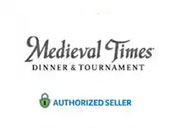 Lowest Prices Guaranteed!
GreatWorkPerks is an authorized seller of discounted tickets for Medieval Times Dinner & Tournament, Chicago. We are one of the country's largest sellers of discounted deals, and we couldn't have thrived for over 30 years if our customers didn't highly trust us. We would love you to join our family and enjoy the best price of Medieval Times tickets and other attractions nationwide!
Hassle-Free Transaction, Skip the Line!
Another benefit of purchasing from GreatWorkPerks is that you do not need to print your Medieval Times discount tickets. Consider your phone your new best friend because all you need to do is present your GreatWorkPerks discount from your phone!
If you purchase Medieval Times tickets in advance through GreatWorkPerks, you don't need to line up at the ticket booth or gate entrance; skip the long lines!
What to expect at Medieval Times Chicago?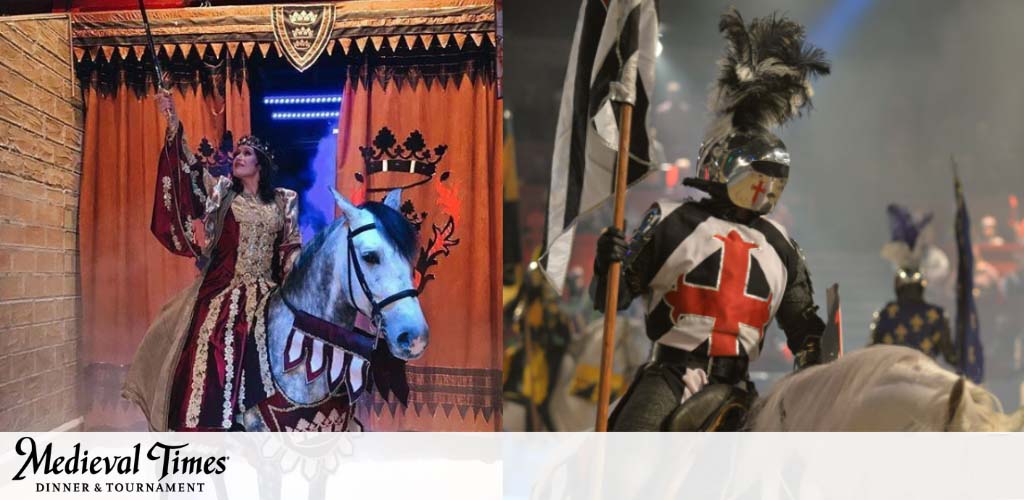 On your way to the castle
Travelling back in time to the 11th century is sure to be one of the most enjoyable things you can do in Chicago. Everyone will have a great time at Medieval Times.The Illinois Castle is difficult to overlook because of its location in Schaumburg, where it is situated. The Castle is a direct drive from the city center of Chicago. It's located just off Interstate 90.
Get ready to enter the Castle.
The gates to the Castle open an hour before the event starts, allowing you ample time to take pictures, explore, and mingle with the Royal Family. As soon as you enter the Castle, your picture will be taken! Be sure to smile!
It is an honor for Her Majesty, the Queen, that you attend the tournament with her. Keep in mind that it is a very popular show, so it's better to get there early. The excitement awaits once you enter the castle!
Take a walk around the Castle
You won't believe your eyes once you get to the Hall of Arms! Armor suits fill the hallways, enormous candelabras dangle from the ceiling, and there are treasures all over the castle. The Queen keeps her falcons and stunning Andalusian stallions at her castle. If you have some extra time, you might want to meet all the beautiful horses and majestic birds of prey. Explore the castle's treasures with your GreatWorkPerks Medieval Times discount tickets!
Enjoy a delicious four course meal.
Your humble waitress will be eager to greet you as you settle into your seat and are welcomed to the Castle. You will enjoy a timely beverage service and a multi-course meal fit for a king. Do not hesitate to inform your server of any dietary restrictions you may have.
GreatWorkPerks friendly tips and tricks for a better experience!
Purchase Medieval Times tickets in advance.
There is a limited number of tickets available, and there is limited seating. If you want to save a ton of money and avoid headaches when purchasing tickets online, then purchase your Medieval Times discount tickets in advance through GreatWorkPerks. Our online purchases are easy, fast and affordable!
Arrive early at the castle.
Your trip to Medieval Times Chicago would be incomplete without some great post-worthy pics. Do a little pose around the castle grounds and take some great pictures for social media. Arrive early so you don't miss out on this opportunity. The gates open one hour before the show starts.
Frequently Asked Questions for Medieval Times Chicago
Where is Medieval Times Castle located in Chicago?

The castle is located at 2001 North Roselle Rd., Schaumburg, IL 60195. For more information regarding directions, please give (847) 882-1496 a call.

Are reservations required?

Yes! Medieval Times recommends guests make a reservation before the desired visit schedule to ensure a seat and entry. Please call us at 888-295-7375 from 7:00 AM to 10:00 PM PST to make your reservations and for up-to-date show schedules and availability.

Do you offer refunds on your Medieval Times discount tickets?

No. All sales are final. Tickets are nonrefundable.

Is it a family-friendly show?

Yes! The show is suitable for guests of all ages.

Do children get free admission to the Medieval Times Chicago?

Kids aged three and below are free of charge as long as they are seated on their parent's laps and eat from their plates. Appropriate child charge(s) will be applied if you want them to enjoy their own meals and have a separate seat.

How long will the show run?

The medieval show's running time is two hours long.

Is there a dress code inside the castle?

You can wear anything casual! Consider bringing a light sweater or jacket just in case. Keep in mind you may not wear any type of headdresses or hats, as it might block other's view.

Am I allowed to bring my camera inside the Medieval Times Chicago?

Yes, but you can't use flash.

Am I allowed to purchase alcohol inside the castle's bar?

Of course, as long as you are at least 21 years old and have a valid photo ID to show at the counter.

Can I bring outside food inside the castle?

We regret to inform you that Medieval Times does not allow guests to bring food or beverages inside for health and safety purposes. They do have vegetarian, vegan, and gluten-free options available inside if you should require.
Last updated October 2, 2023
Medieval Times Chicago Tickets