Check out other Medieval Times locations:
Reservations are required. Please call us at 888-295-7375 from 7:00 AM to 10:00 PM PST to make your reservations and for up-to-date show schedules and availability. These tickets are valid for general admission seats. Upgrades are available upon request.

Medieval Times Baltimore!
This tournament is something that cannot be rivaled by anything else – Medieval Times Baltimore is the most epic dining experience! To determine who will have the privilege of protecting and defending the crown, the most skilled knights in the land will duel with their swords. Join us and celebrate. An invitation to a celebration in the distant past is being extended to you by the Queen of the Royal Court. You will have the chance to admire valiant warriors and stunning horses.
Participating in this competition will allow you to witness the highest level of bravery and pageantry. The instant you enter the castle grounds, exciting new adventures begin! You are about to witness a once-in-a-lifetime battle, and it will provide you with memories that will last a lifetime! Bring your entire family, join the feast, and purchase GreatWorkPerks Medieval Times tickets – you will have a blast!
GreatWorkPerks Medieval Times Discount Tickets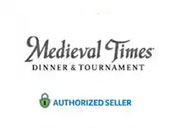 Lowest Prices Guaranteed!
GreatWorkPerks is an authorized seller of discounted tickets for Medieval Times Dinner & Tournament, Baltimore. We are one of the country's largest sellers of discounted deals, and we couldn't have thrived for over 30 years if our customers didn't highly trust us. We would love you to join our family and enjoy the best price of Medieval Times tickets and other attractions nationwide!
Hassle-Free Transaction, Skip the Line!
Another benefit of purchasing from GreatWorkPerks is that you do not need to print your Medieval Times discount tickets. Consider your phone your new best friend because all you need to do is present your GreatWorkPerks discount ticket from your phone!
If you purchase Medieval Times tickets in advance through GreatWorkPerks, you don't need to line up at the ticket booth or gate entrance; skip the line!
What to expect at Medieval Times Baltimore?
Have you purchased your discounted GreatWorkPerks Medieval Times tickets yet? Get a sneak peek at what your visit includes before you go! We are here to provide you with the best attractions available at the lowest prices in the market! Enjoy this dazzling Medieval Times Dinner & Tournament experience!
Experience the 11th century in Baltimore!
Visiting the 11th century is a lot of fun; you can do it right here in Maryland! Everyone from toddlers to grown-ups that want to enjoy the kingdom's complete bar will have a great time at Medieval Times Baltimore. The Maryland Castle is a prominent landmark in Arundel Mills Mall. In the middle of the mall, between doors one and five, is where you'll find the Castle.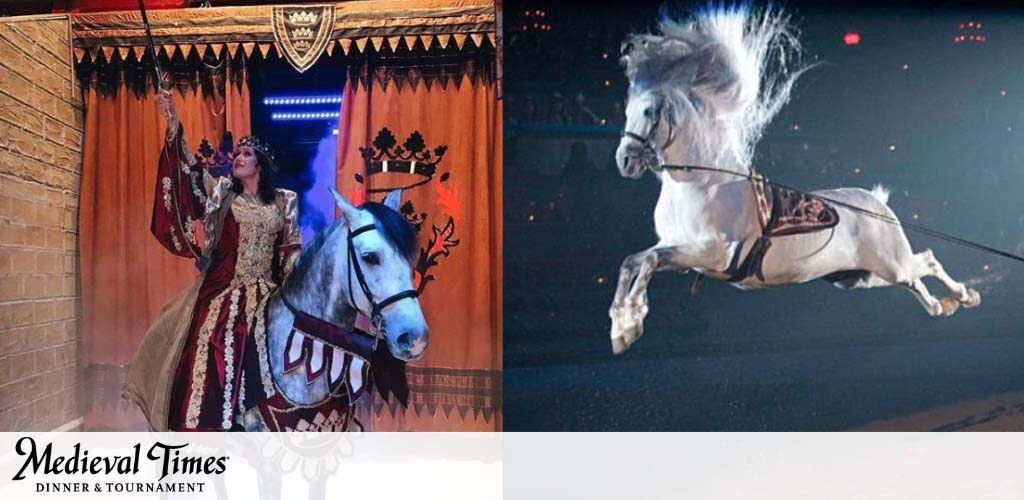 While the Castle's entrance is inside the mall, the experience is only complete with some shots in front of the actual Castle building. Take some media-worthy pictures to look back on in the future!
Wear your designated colored crown.
After you've checked in, you'll be formally welcomed into the realm of Her Majesty. To which valiant Knight do you pledge your allegiance? That depends on the color of your crown! The louder your cheers, the harder your Knight will battle for you, so make sure to use your outside voice!
Explore the castle!
Aside from the joust, you can enjoy many other activities within the castle. There's a souvenir shop where you can buy something to add to your collection or to give to your royal family members as a keepsake, and don't miss out on the bar where you can relax with a drink.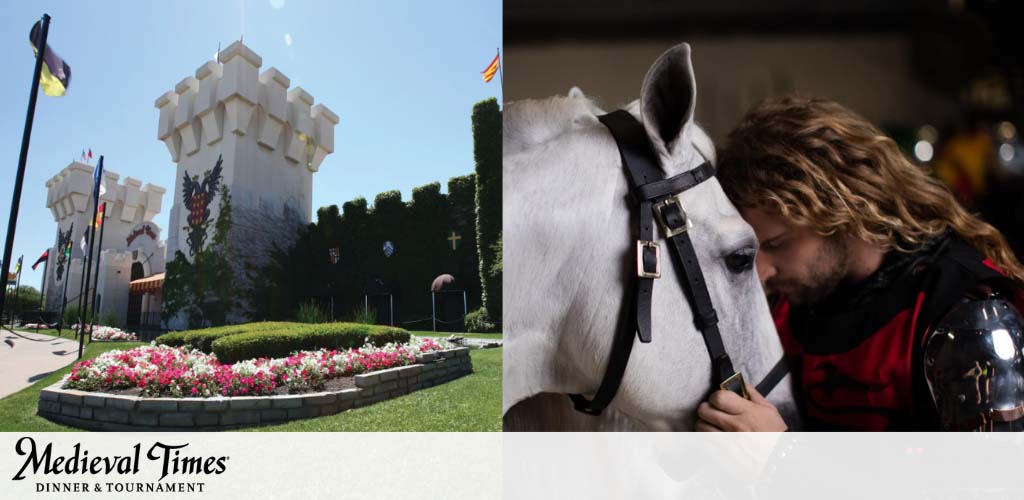 GreatWorkPerks friendly tips and suggestions for YOU!
Purchase Medieval Times tickets in advance.
Tickets to the feast sell out quickly because of the popularity of Medieval Times Dinner & Tournament. Thus, we advise you to get your Medieval Times discount tickets in advance, considering seating is also limited.
Arrive earlier.
The gates will open 60 minutes before the show starts. Guests are also given ample time to explore the palace grounds and chat with the royals. There's a lot to see and do, so don't be late for the event.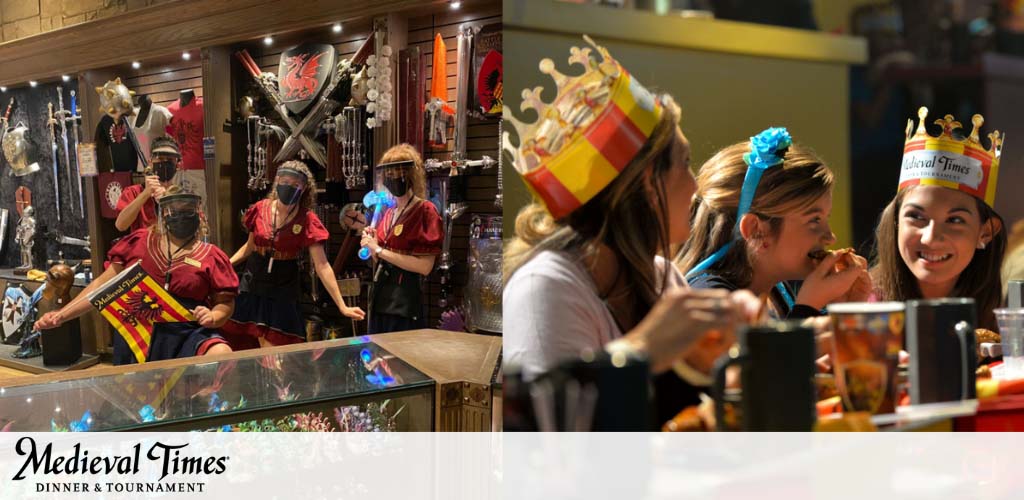 Be sure to know what to bring!
Be aware that the castle has a strict policy against bringing in outside food or drinks, balloons, full-face costumes or masks, and weapons of any type (fake or otherwise) before you visit.
Frequently Asked Questions for Medieval Times Baltimore
Do I need to make a reservation?

Yes. Reservations are required. Please call us at 888-295-7375 from 7:00 AM to 10:00 PM PST to make your reservations and for up-to-date show schedules and availability.

Where in Baltimore can one find Her Majesty's Castle?

Location: 7000 Arundel Mills Circle, Hanover, MD 21076. Phone: (443) 755-0011.

Do you offer refunds for your Medieval Times tickets?

No, unfortunately, all online purchases are final and cannot be returned, exchanged, or refunded after they have been made. It would be best if you first double-check your availability. First-come, first-served seating, dates, and times are all subject to availability. If the day you want isn't available, please choose another.

Can I bring my kids for free?

Kids under three eat for free at the banquet as long as they sit on their parent's laps and eat their food. Separate plates and chairs for them to use will incur additional costs.

How long is the show?

The duration of the entire show will be close to two hours.

Is there a dress code?

Dress comfortable! There is a restriction on wearing headdresses of any kind that block other guest's view of the show.

How much is the parking fee?

The massive, free-of-charge parking lot is located just outside the castle. All Medieval Times Dinner & Tournament Castles have free parking.

Can I bring a camera into the castle?

You can take pictures, but you can't use flash.
Last updated October 02, 2023
Medieval Times Baltimore Tickets