Buy Noah's Ark Waterpark discount tickets through GreatWorkPerks and enjoy savings of up to xx% off! Lowest price guaranteed!
Come and experience the ultimate aquatic adventure at Noah's Ark!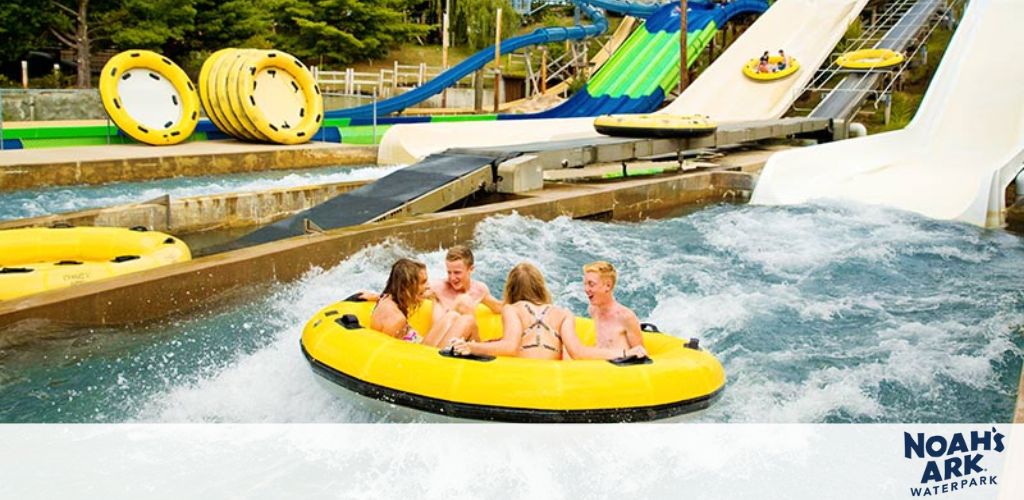 Immerse yourself in the refreshing waters and embark on an unforgettable journey filled with excitement and thrills. Whether seeking a thrilling water slide experience or simply relaxing in the crystal-clear pools, Noah's Ark offers something for everyone. So, don't hesitate any longer - take the plunge and discover the greatness of Noah's Ark!
If you are seeking lots of engaging activities to partake in with your beloved family in the enchanting destination of Wisconsin Dells, your search ends here. Experience the ultimate adventure at Noah's Ark Waterpark, where memories are made, and stories are written. Join us for a day filled with excitement, thrills, and endless fun. Prepare to embark on an unforgettable journey that will leave you with memories to cherish forever!
Noah's Ark offers an impressive array of exhilarating water rides and thrilling slides, providing endless excitement for all who visit. Noah's Ark offers various exciting activities and entertainment for individuals of all ages, from the youngest toddlers to fully-grown adults. For those seeking an adrenaline rush, the exhilarating water coaster will take you on a wild and unforgettable ride, leaving you craving more. And if you're in the mood for some laid-back relaxation, our two lazy rivers offer the perfect oasis to unwind and soak up the sun.
At Noah's Ark, every moment of the day is filled with excitement and adventure, creating a whirlwind of unforgettable experiences that will be cherished for a lifetime. Experience a delightful day brimming with loved ones and an array of exhilarating activities in the captivating destination of Wisconsin Dells with your GreatWorkPerks Noah's Ark Waterpark tickets!
The LOWEST-PRICED Noah's Ark Waterpark Discount Tickets
Hassle-Free Transaction, Avoid Long Lines!
Another benefit of purchasing from GreatWorkPerks is that you do not need to print your Noah's Ark Waterpark discount tickets. Consider your phone your new best friend because all you need to do is present your e- Noah's Ark Waterpark tickets at the gates, and in you go!
Frequently Asked Questions:
Do I need a reservation to visit Noah's Waterpark?

No need! Your GreatWorkPerks Noah's Ark Waterpark ticket is ready to use on the day of your choice. Head straight to the gate with our discount tickets.

Where is Noah's Waterpark located?

The Waterpark is located at 1410 Wisconsin Dells Parkway, Wisconsin Dells, WI 53965, (608) 254-6351.

What are the park's hours of operation?

The park is usually open from 10:00 AM to 6:00 PM. Hours may fluctuate by season; please check their official website for the most accurate and latest updates.

Do you offer ticket refunds for unused Noah's Ark Waterpark tickets?

No. All discount Noah's Ark Waterpark tickets are non-refundable, non-exchangeable, and non-returnable.

When will my discount Noah's Ark Waterpark ticket expire?

Your ticket is valid for one single-day entry from purchase until September 4, 2023.

Is there free parking at the Waterpark?

Only paid parking is available at the park. Varying parking fee rates may apply and may change without notice.

Can I exit and reenter again on the same day?

Yes, re-entry is permitted in the park. Be sure to get or receive a stamp from the Admission Attendants before leaving to reenter hassle-free.

What is the chaperone policy of the park?

A parent or an adult guardian must accompany visitors under 18 at all times. The park is not liable for any unattended minors.

Is the park accessible for those with disabilities?

Yes! If you have a disability, you may visit the Guest Relations upon arrival. They will guide you on which rides and attractions are accessible for you!

Does the park offer locker rentals?

Yes! The park offers locker rentals in standard, large, and jumbo size. A passcode will be provided.

Where can I take a shower and change clothes?

Changing facilities are located near the Wave Pools and Paradise Lagoon.

Is smoking allowed?

Noah's Ark is a non-smoking environment; however, the park has designated smoking areas. Please look for the wall signs or ask an employee.

Does the park provide towels?

For your safety, they do not provide towels. Please bring your towel to dry off. If you forgot to bring one, you can purchase them at the shop inside the park.

Can I bring my food and drinks?

Strictly no outside food and beverages are allowed inside. There are a lot of food selections to choose from inside the park.

How soon will I get my GreatWorkPerks Noah's Ark Waterpark discount ticket?

You will receive them instantly! Noah's Ark Waterpark tickets are e-tickets that will be sent to your email after a successful purchase, along with your receipt.

Can I print my Noah's Ark Waterpark discount ticket?

No need to print them! Present your discount Noah's Ark Waterpark ticket through your smartphone, and you will be allowed entry easily and quickly!
Last updated July 27, 2023.
Noah's Ark Waterpark Tickets