Buy discount SeaWorld San Antonio tickets starting at only $47.99 vs. $89.99 gate price. Save up to 54%! Lowest prices guaranteed.
---
NEW: SeaWorld Christmas Celebration!
Craving a touch of festive enchantment?
Plunge into SeaWorld San Antonio's Christmas Celebration from November 9 to January 4, 2024! Delight in festive activities as you stroll through snow-dusted trails adorned with shimmering lights, and let the tantalizing scent of holiday treats guide you into a world of yuletide joy!
Why break the bank for holiday cheer? With GreatWorkPerks, we ensure your celebrations are both magical and affordable! Secure your SeaWorld San Antonio discount tickets with us and immerse yourself in the season's joy!
Dive into the holiday magic today!
Main Attractions and Experiences
Stroll through the bright pathways, brilliantly illuminated by millions of sparkling lights, and discover 12 unique Christmas-themed zones that bring ageless tales to life, ensuring every corner is a photo-worthy memory!
Dive deeper into the festive mood with the Tunnel of Lights; courtesy of your SeaWorld Texas discount tickets from GreatWorkPerks, and be awed by the synchronization of lights and heartwarming festive melodies.
The holiday doesn't stop there; indulge in unforgettable festive feasts, whether it's dining beneath radiant Christmas chandeliers with Santa and Mrs. Claus or stepping into a snowy haven with Rudolph and friends!
As snowflakes grace the ambiance, draw close to a crackling fire for some Fireside S'mores, warming both your hands and heart. And for that perfect memento, pose beside the unique cowboy-hat-wearing Santa! Access all of these with your SeaWorld San Antonio discount tickets from GreatWorkPerks!
Christmas Shows
O Wondrous Night:
Experience the enchanting story of the first Christmas, told from the perspective of forest animals. This tale is enriched with captivating puppetry, mesmerizing dances, and touching carols.
Elves Christmas Story:
Beneath a canopy of twinkling stars and gentle snowfall, watch the elves craft stories filled with festive magic, joy, and delightful surprises.
Merry Mariachis:
Dive into a Christmas fiesta every Saturday, where mariachis set the mood with their joyous tunes and energetic beats. This is a highlight of your SeaWorld San Antonio discount tickets.
Sesame Street Shows and Parade:
As snowflakes gracefully fall, join Elmo, Cookie Monster, and their friends in a festive parade and shows celebrating the season's magic.
Rudolph's Christmas Tree Light Show:
Stand in awe as the magnificent LED Christmas tree lights up the night, harmonizing with the iconic "Rudolph the Red-Nosed Reindeer". Enjoy this show with your SeaWorld San Antonio discount tickets!
Festive Food!
The Cozy Christmas Kitchen:
Relish dishes that evoke holiday memories under the soft illumination of golden lanterns.
St. Nick's Express:
Let every bite take you directly to Santa's joyous banquet.
Kringle's Coffee & Confections:
Warm yourself with aromatic spiced coffees and creamy hot chocolates.
Christmas Market Café:
Surrender to the sweet allure of cinnamon-infused delicacies.
Shops Galore!
Holly Jolly Marketplace:
Wander through glittering aisles filled with festive finds.
Christmas Currents:
Pick up unique holiday decorations for your home.
Mistletoe Market:
Discover the vintage charm with a selection of holiday treasures.
Celebrate the Season
Dive into the heart of festivity at SeaWorld San Antonio's Christmas Celebration. As the year comes to an end, choose us to experience the true warmth, joy, and magic of the holiday season.
Capture the spirit of Christmas in its full splendor. Secure your SeaWorld San Antonio discount tickets today!
Tidal Surge, Now Open!
Tidal Surge is the Fastest and Tallest ride of its kind in the world! Experience this one-of-a-kind swinging ride only at SeaWorld Texas. This high thrill attraction will swing you up to 135 feet at 68 miles per hour. Not only will this ride get your heart pumping, but you'll also get an aerial view of SeaWorld San Antonio. Get your SeaWorld tickets and be among the first to try this new thrill ride!
What is SeaWorld San Antonio?
Visit SeaWorld Texas for a unique sea experience! This family-friendly theme park has it all, from up-close animal experiences to thrilling rides & rollercoasters. Adrenaline junkies will surely enjoy their exciting one-of-a-kind rides like Texas Stingray, the tallest, longest, and fastest wooden rollercoaster in Texas! Another thrill rollercoaster that is a must-try is Journey to Atlantis, a family-friendly ride that's part coaster and part water ride. They also have kid-friendly rides that your little adventurers will surely adore. There are Muppet-themed rides like the Super Grover Box Car Derby, a fun coaster perfect for kids! You'll also experience interactive activities, live shows, and more on your visit. Get to see your favorite aquatic animals, from dolphins to penguins and even killer whales! Purchase your discount SeaWorld tickets and get up to 27% off on your marine adventure.
SeaWorld San Antonio tickets from GreatWorkPerks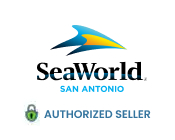 Lowest Prices Guaranteed!
GreatWorkPerks is an authorized seller of SeaWorld San Antonio tickets. We are one of the largest sellers of discount SeaWorld San Antonio tickets in the country, and we couldn't have thrived for over 30 years if we weren't highly trusted by our customers. We would love for you to come to join our family and enjoy the best price for SeaWorld San Antonio and other attractions nationwide!
Hassle-Free Transaction, Skip the Line!
Another benefit of purchasing with GreatWorkPerks is that you do not need to print your SeaWorld San Antonio discount tickets. Consider your phone your new best friend because all you need is to present your discount e-tickets at the gates and, in you go!
What are the Rides at SeaWorld San Antonio?
There are many activities that you can enjoy on your visit to SeaWorld Texas! They have great rides and coasters for all ages. From high thrill rides to kid-friendly attractions, there is a lot in store for you and your family to explore. Get your discount SeaWorld tickets and enjoy these world-class rides: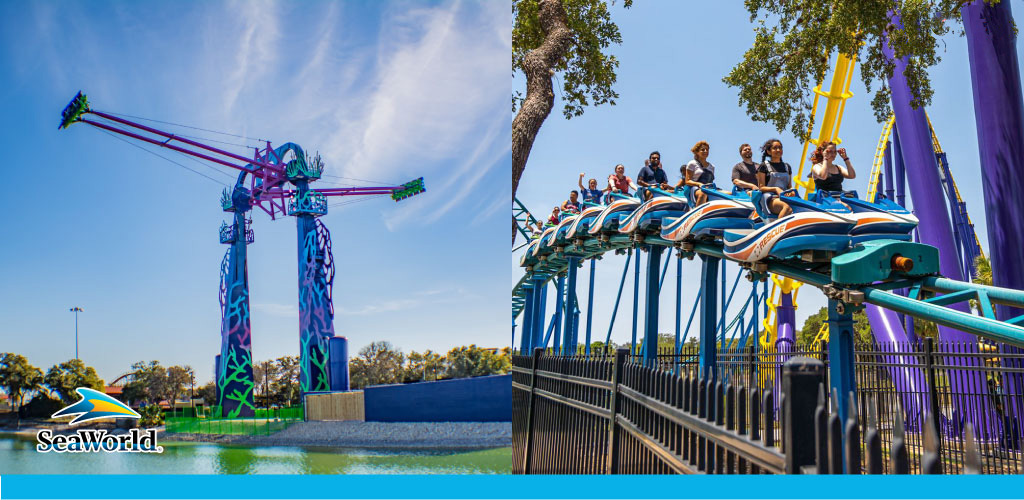 Steel Eel Roller Coaster

This SeaWorld Texas attraction is a hyper coaster with a vertical drop of 15 stories followed by twists and turns that will leave passengers feeling weightless! This high thrill rollercoaster is perfect for those searching for an exciting activity. The minimum height requirement for this ride is 48". Get your SeaWorld ticket from GreatWorkPerks and get access to the Steel Eel Hyper coaster at a discount price.

Rio Loco

This SeaWorld San Antonio attraction is a kid-friendly ride that the whole family can enjoy together. There's a high probability that you'll get soaked at this water ride! Be splashed with water as your rafts bounce through the crazy river's twists and turns. Watch out; there are waterfalls! The minimum height requirement for this ride is 42". Catch a ride on this family-friendly attraction with your discount tickets from GreatWorkPerks.

Super Grover's Box Car Derby

Catch this Muppet-themed ride at SeaWorld San Antonio! This colorful steel rollercoaster is the perfect beginner coaster for young thrill-seekers. The minimum height requirement for this kid-friendly ride is 38".

Wave Breaker: The Rescue Coaster

Are you looking for more adrenaline-pumping rides? Try this SeaWorld Texas rollercoaster! Wave Breaker will launch you on a thrilling adventure on a jet-ski style car traveling along 2,600 feet of twisting and turning track. Join the SeaWorld Rescue team on this exciting rollercoaster ride. The minimum height requirement for this SeaWorld San Antonio ride is 48". This ride is accessible with your discount ticket from GreatWorkPerks.
What are some of the Animal Experiences at SeaWorld San Antonio?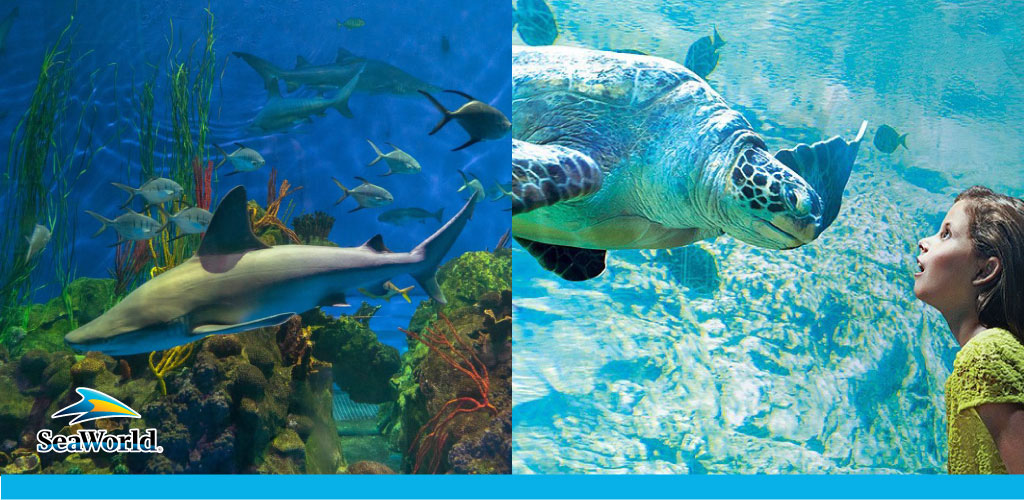 It would not be SeaWorld without special appearances from our favorite aquatic friends! SeaWorld Texas has several up-close animal encounters that you can enjoy with the whole family! See animals like penguins, sea lions, killer whales, beluga whales, sharks, and more! Different rates may apply for some interactions.
Sea Lion Tour

Seeing these sea lions up-close will give you a happy feeling! At this SeaWorld Texas meet and greet, you'll get to touch, feed, and even get photos with a sea lion. Learn more about these lovely marine animals from their trainers.

Penguin Tour

At this SeaWorld San Antonio tour, get to see your favorite waddling friend up close! Learn more about penguins when you get a chance to chat with professional penguin trainers.
Where is SeaWorld San Antonio?
The exact address for SeaWorld Texas is 10500 Sea World Dr. San Antonio.
What time is SeaWorld San Antonio open?
They are usually open from 10:30 AM to 6:00 PM.
Where can I eat at SeaWorld San Antonio?
There's no need to worry about food on your SeaWorld Texas visit! They have multiple restaurants and dining options available. From indoor restaurants to quick snack shops. Here are a few of the dining options you can explore: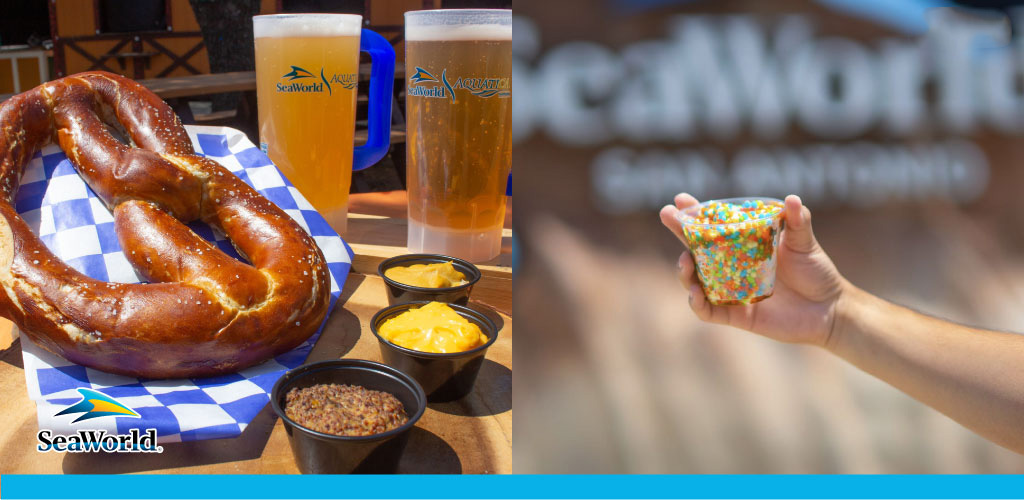 Harbor Market

At SeaWorld Texas' Harbor Market, there are various food choices that you can explore. The indoor and outdoor seating restaurant has an expansive menu featuring Asian, Italian and American favorites. There are also plant-based options available.

Rosita's Cafe

Enjoy food with a fresh taste at Rosita's Café! This family-style dining option has an Italian menu that you and your family will surely enjoy. They feature salad and pasta bars where you can customize your meal to your liking. They also serve SeaWorld's signature pizza.

Lone Star Lakeside Bar

After a day under the hot sun, you'll surely enjoy some refreshing drinks! Lone Star Lakeside Bar serves frozen specialties, craft alcoholic selections, and mixologist-curated cocktails. They have an outdoor seating area where you can relax and sip on your drink of choice.
Explore Shops Around SeaWorld San Antonio!
Enjoy an extraordinary shopping adventure at SeaWorld San Antonio! Here, you'll discover the perfect blend of memorable keepsakes, trendy apparel, and all your essential items.
Get ready to explore a world of unique shopping experiences with your discounted SeaWorld San Antonio tickets from GreatWorkPerks. Let's take a peek at what's in store for you!
Currents
Dive into the trendiest SeaWorld branded gear at Currents! This tween-focused store brims with stylish apparel, cool headwear, and must-have accessories.
Discovery Point Gifts
Capture the essence of your visit with a souvenir from Discovery Point Gifts. This shop is your go-to for unforgettable keepsakes and striking memorabilia, perfect for holding onto those special SeaWorld moments!
Island Traders
Island Traders is your ultimate convenience hub! Whether you need to rent a stroller, buy a baby bottle, or grab some trendy sunglasses and cameras, this store has all your park day essentials covered!
SeaWorld Store
Wrap up your day with a visit to the SeaWorld Store! This is the prime spot for snagging those last-minute gifts and souvenirs. With a wide range of T-shirts and keepsakes, you're bound to find the perfect items to commemorate your thrilling day at the park.
Sea Star Market
Submerge yourself in the Sea Star Market's ocean of treasures! This shop is a haven for beach-themed gifts, chic swimwear, and playful toys!
Ocean's Treasures
Enter the realm of marine magnificence at Ocean's Treasures. Here, you can find an exquisite selection of collectibles featuring dolphins, sharks, and tropical fish!
Frequently Asked Questions About SeaWorld San Antonio :
Are reservations required?

No, there is no need for you to make a reservation. Bring your SeaWorld San Antonio tickets and have the staff scan your mobile phones.

Do I need to print out my SeaWorld ticket?

The beauty of purchasing through GreatWorkPerks is that there is no need to print out your e-ticket. Just show your SeaWorld ticket on your phone, and you are good to go!

When will I receive my SeaWorld San Antonio tickets?

You'll receive your SeaWorld tickets immediately after your purchase. They will be emailed to you along with your official receipt.

Do children get free admission?

Children two years old and younger get in free! Children ages three and older require their own discount SeaWorld ticket.

Can I bring food and beverages inside the park?

Unfortunately, outside food and drinks are not allowed inside the park. You may bring a refillable water bottle with you. Exceptions are made for guests with dietary restrictions.

Are pets allowed inside the park?

Pets are not allowed inside the park, apart from service animals. They have a pet kennel located outside the park entrance free of charge.

Is smoking allowed inside the park?

Smoking is allowed only in designated smoking areas.

What are the forms of payment accepted inside the park?

Accepted modes of payment inside SeaWorld Texas are cash, JCB, credit or debit cards (Visa, Mastercard, Discover, and American Express)
Last updated November 27, 2023.
SeaWorld San Antonio Tickets
LOG IN TO SAVE
UP TO 59%
ON TICKETS

to see your special discount price.
SeaWorld San Antonio Tickets