SeaWorld San Diego discount tickets start at $58.50 vs $114.99 gate price! Save as much as 64%. Lowest prices guaranteed on GreatWorkPerks!
Christmas Celebration at SeaWorld San Diego!
Ignite the festive spirit at SeaWorld San Diego's Christmas Celebration, shining brilliantly from November 17 to January 7, 2024! Gather your family and friends, and step into a wonderland filled with shimmering lights, timeless traditions, and heartwarming surprises to craft memories that you will remember for years!
This season, transform your festive days into extraordinary memories. Browse our holiday guide below and remember to purchase your discounted SeaWorld San Diego tickets through GreatWorkPerks to embark on this enchanting journey!
Dive into a Winter Fantasy
Step into a breathtaking setting every night where snowflakes gently fall, harmonizing beautifully with dazzling displays – from palm trees adorned like candy canes to the majestic 320-foot Skytower Tree of Lights!
Relish the magic of a white Christmas blended with SeaWorld's captivating festive illumination!
Captivating Shows
A Stocking Full of Soul:

Swing along with the incredible Bryan Cheatham from "America's Got Talent". Enjoy a dynamic mix of holiday anthems and lively performances, adorned with your favorite SeaWorld characters!

Donner and Blitzen's Laser Light Show:

Kickstart your night with a dazzling laser spectacle near the park's entrance as vibrant rays synchronize to cheerful tunes!

Mrs. Claus' Parade:

With your discounted SeaWorld San Diego tickets, accompany Mrs. Claus and her enthusiastic elves, spreading joy across the park not once, but twice daily!

30-Foot Tree Lighting Ceremony:

Each twilight at Jingle Bell Square, northern emissaries illuminate the SeaWorld Christmas Tree, ensuring a cherished moment for every family.
Joyous Activities
Festive Scavenger Hunt:

Embark on a playful journey to find Santa's treasures. Secure a map at The SeaWorld Store and once you complete it, claim your exclusive reward!
Timeless Meet and Greets
Santa's Enchanted Village & Rudolph's Christmastown

Step into Christmas euphoria where Santa awaits your wishes, and a memorable encounter with the iconic Rudolph promises to brighten your festivities.
Savory Festive Delights
Taste into festive main courses, delicious desserts, and indulge in SeaWorld's signature hot chocolate. Add zest with a chilled beer, refined wine, or a classic holiday concoction!
Festive Finds
Holly Jolly Marketplace:

Discover a collection of Rudolph-themed goodies, fashion, and collectibles!

The Christmas Shoppe:

Embark on a festive shopping spree! Select precious gifts ranging from ornaments and wearables to elegant home accessories and kitchen novelties.
Join the Celebration!
With every snowflake and glimmering light, and every tuneful note and memorable meeting, magic is in the air!
Plunge into the holiday season, soak in the festive ambiance, and let SeaWorld's Christmas extravaganza warm your soul! Secure your discounted SeaWorld San Diego tickets through GreatWorkPerks today!
NEW: Arctic Rescue, NOW OPEN!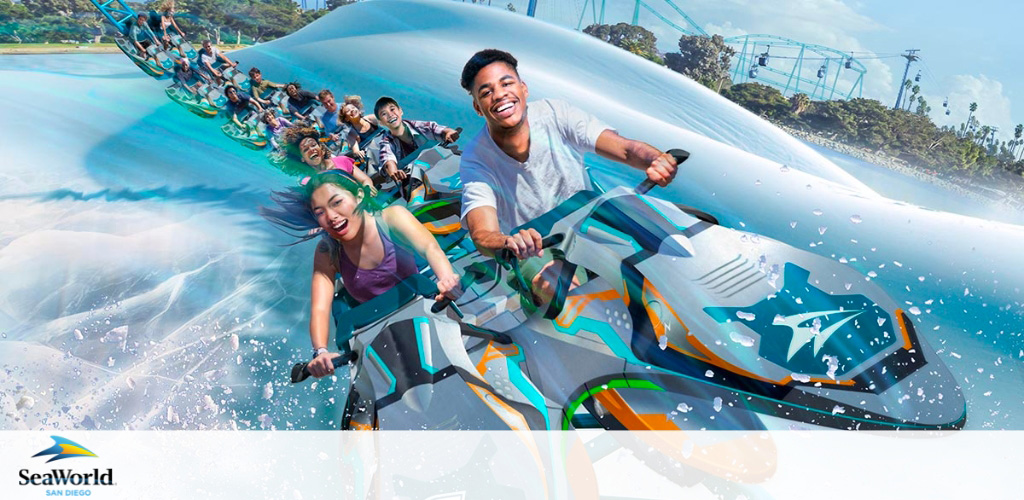 Ride the West Coast's Fastest and Longest Straddle Coaster!
The Arctic creatures are in danger since the ice is melting! Get on your snowmobile and head to the rescue immediately! Join the team and experience the thrill of Arctic Rescue, the West Coast's quickest and longest straddle coaster. Navigate three thrilling launches and reach wind-whipping speeds of 40 mph to fully experience every icy delight.
NEW: Rescue Jr, NOW OPEN!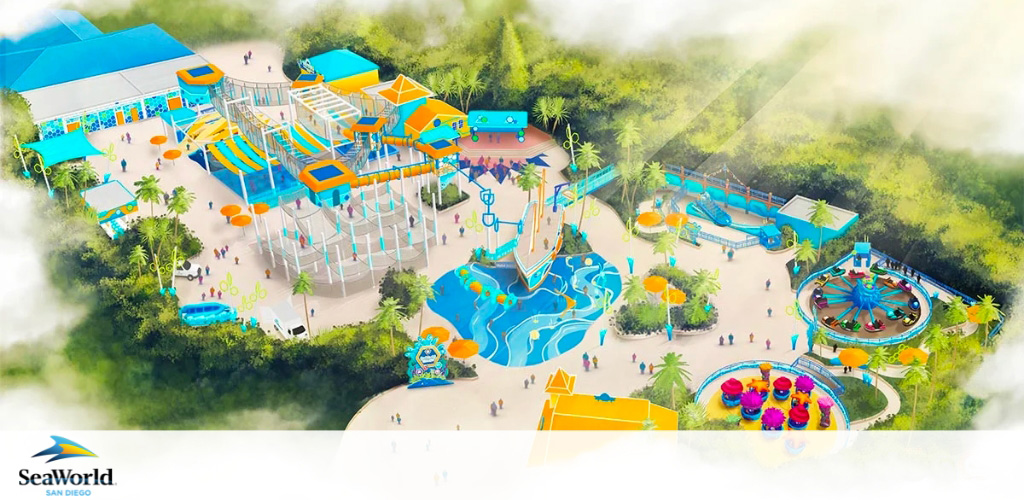 Visit this fun new kid-friendly spot where you get to experience awesome rescue-themed rides, splash about in the splash zone, get a close-up look at actual rescue vehicles, and much more. The best part is that you'll have fun while learning about animals and ways to support conservation!
Here are some rides at Rescue Jr!
Rescue Riders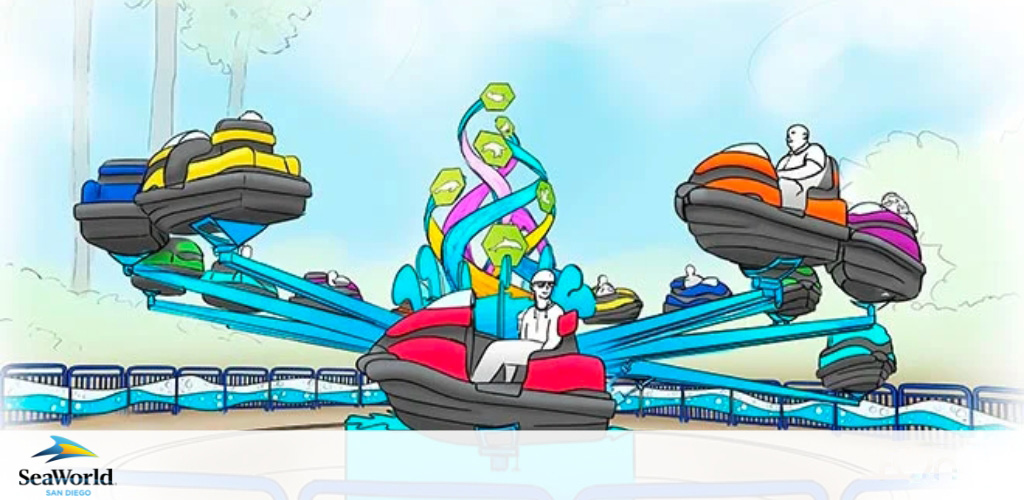 Prepare to experience the thrill of adventure and the wind in your hair while riding Rescue Riders, the ultimate adventure for young heroes who want to save creatures on the water! Like a real-life rescue hero, buckle up and ride on your own jet ski!
Rescue Rafter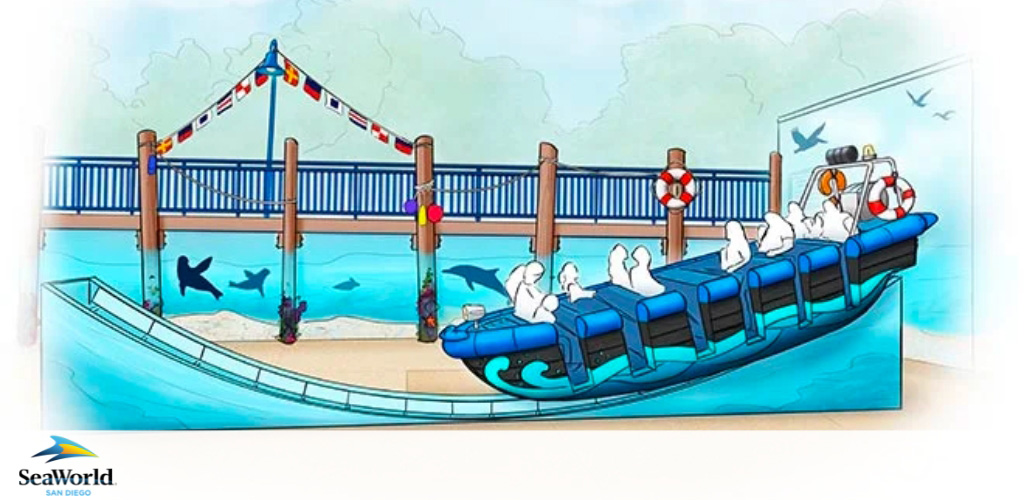 Get on Rescue Rafter, a fully equipped rescue boat, and ride the waves like the dedicated SeaWorld Rescue teams! Experience the calm swaying and unexpected spins that rescue efforts might bring from the water.
Tidepool Twist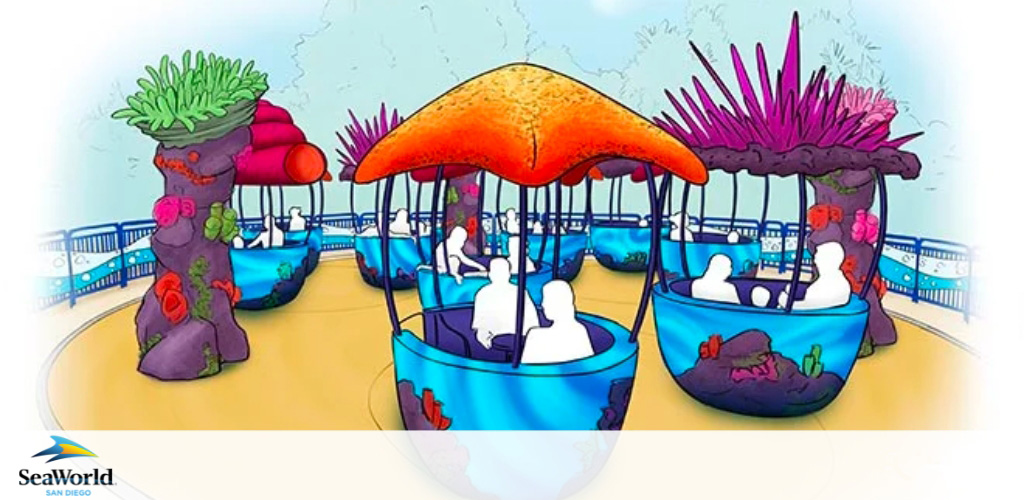 Do you want to know the differences between the types of sea life found in tide pools? Journey around and around, twist, turn, and learn through informational graphics in the Tidepool Twist!
Mini Rescuer Training Zone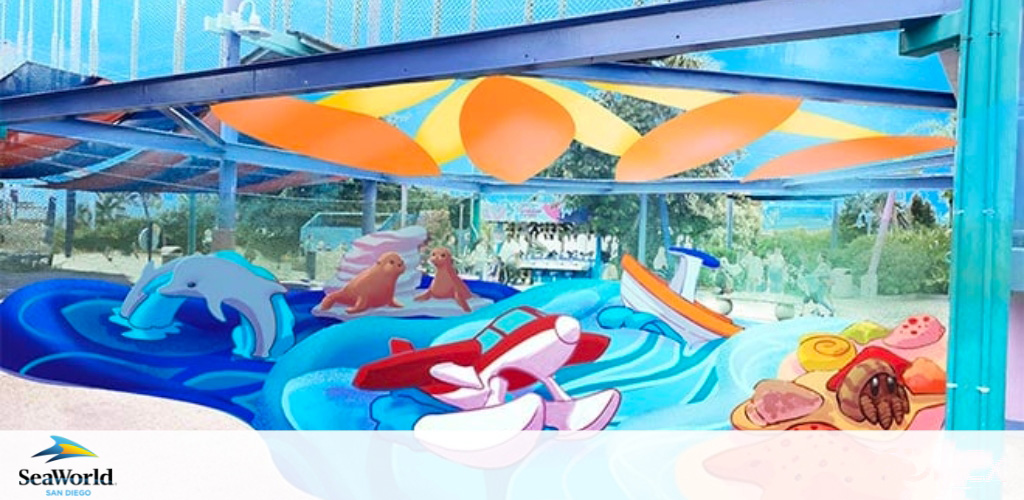 Have fun trying out your rescue skills in this zone! Play structures fill this ocean-themed soft play area! Aside from having adventures with dolphins and sea lions, you may also sit and play on a rescue boat and a plane, climb on a sandcastle and ocean rocks, and stand on a pier!
Meet Real Heroes!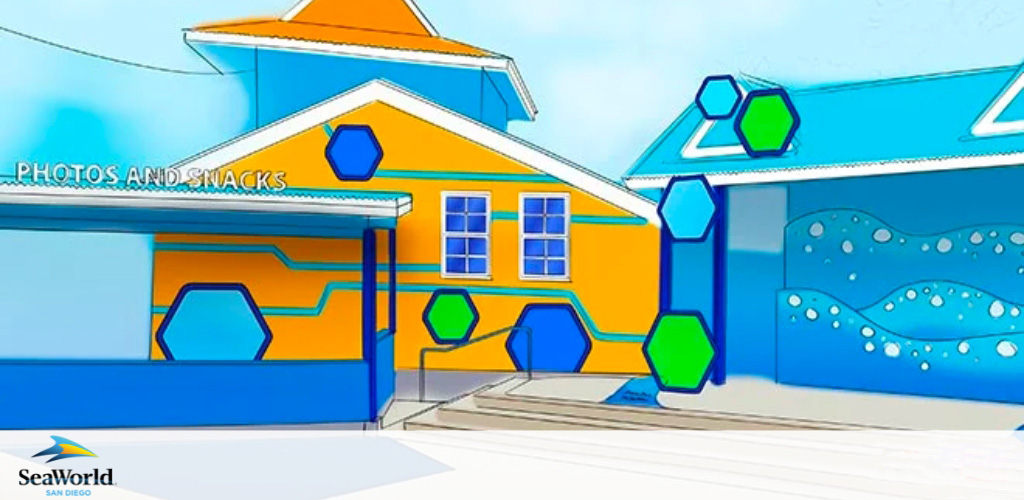 During daily lectures, you will get to know Animal Conservation Ambassadors and discover a variety of interesting, rescued animals. This entertaining and instructive presentation tells stories of animal care, rescue, and conservation ambassadors.Meet a variety of amazing rescued species, including marsupials, primates, and reptiles, and discover their fascinating tales!
Experience this and many other surprises at SeaWorld San Diego with your discount SeaWorld tickets!

Visit SeaWorld San Diego
Located in Mission Bay Park along the shore of the Mission Bay, San Diego, SeaWorld San Diego has been a favorite family destination for decades. This theme park first opened on March 21, 1964, displaying various shows exhibiting sea lions and dolphins. The park may have had humble beginnings, but it quickly became popular in California and grew exponentially in the next few years.
Today there are three different locations to choose from – one is located in Texas, another one in Orlando, and the original San Diego aquarium. SeaWorld welcomes around 1 million visitors annually.
The park started off simple, offering many fascinating marine life shows, but over time has grown into a world of amusement with the addition of rollercoasters, restaurants, and different attractions. SeaWorld San Diego has 16 different rollercoasters for guests to enjoy, ranging from fast-paced thrillers to charming children's rides. Going along with the theme of the park, most rides are inspired by the Ocean's wonderful marine life – some of which you can actually get to meet in the theme park.
Come visit with your SeaWorld tickets from GreatWorkPerks We have the lowest-priced SeaWorld San Diego tickets in the market. That's a guarantee!

All New Dive Coaster: Emperor
The new Emperor ride has been the center of attention for being the fastest, tallest, and longest dive rollercoaster in California.
The Emperor ride is inspired by the largest type of Penguin and was designed to mimic the defying movements of Penguins underwater. Climbing over 153 feet into the air before being suspended at a 45-degree angle and then dropped down a vertical track, the Emperor is any thrill seeker's favorite. It offers guests a chance to ride the state's only floorless rollercoaster. Ride this with your discount SeaWorld tickets from GreatWorkPerks
People from all over come to SeaWorld to watch the breathtaking shows held every day displaying incredible presentations of marine animals. The park's Orca show is iconic and has become so popular that it's become a classic in the aquarium. The performances are the gems of the aquarium, and you should not miss any of them. These shows are included in your SeaWorld discount tickets!
The park's 100-acre grounds demand a full day of exploration in order to be truly appreciated. From world-class shows to educational exhibits to thrilling rollercoasters, there are so many options to enjoy while visiting the theme park. If you want to experience everything this theme park has to offer and more at a fraction of the cost, then buy your SeaWorld San Diego tickets through GreatWorkPerks, where we offer the lowest pricing in the industry. Saving on your SeaWorld San Diego tickets means you will be able to have way more fun.

History of SeaWorld San Diego
The theme park was first introduced to the public on March 21, 1964. Founded by George Millay, Milt Shedd, Ken Norris, and David Demott, the park was first thought out to be an underwater restaurant. When the four men realized that creating an underwater restaurant with live marine shows was impossible, they moved their focus to an ocean-themed amusement park – one of the first of its kind.
They chose the newly developed Mission Bay Park as their setting and got to work creating what is now one of America's favorite theme parks. When the park first opened, there were only a few exhibits centering around dolphins and sea lions rather than the iconic Killer Whale, which the park would eventually become known for.
During the same time the park opened, a new television program would air that centered around dolphins becoming a smash hit. It was connected to the theme park, which quickly became a brilliant success. In its first year, the theme park welcomed a remarkable 400,000 guests, a number that would grow exponentially as the years went on.
The original park housed several sea lions, dolphins, and seawater aquariums which held hundreds of fascinating fish species. Although humble in its beginnings, these attractions were enough for the park to garner enough attention and began to grow exponentially in 1968 after going public. SeaWorld then began to open up new parks in different locations across the U.S.
The second location for SeaWorld to open its zoological park was in Aurora, Ohio, in 1970, followed by a third park in Orlando, Florida, in 1973, and finally, its fourth and largest park in San Antonio, Texas, in 1988. SeaWorld became a smash hit once it expanded, and was able to include a variety of aquatic shows and hands-on sea life exhibits.
One of the brightest moments of the park was the introduction of Shamu, the Killer Whale, in 1965. Shamu entered the theme park in December of 1965 from Seattle's public aquarium after being captured in Puget Sound, Washington. Shamu was taught tricks and soon began doing performances which became an instant success – thus starting the iconic and widely controversial Orca shows.
Although Shamu would later die in 1971, this killer whale had left her mark. The park continued her legacy with more orcas performing the Shamu Show, which would later be renamed the "Orca Encounter." This live performance showcases Orcas while educating the audience on the Orca's habits, hunting behaviors, and exciting facts about these fascinating creatures. The Orca Encounter show is one of the park's most popular attractions and is world-renowned.
Since then, multiple 'encounter' shows have opened, from dolphins to penguins to even sharks! Then in 1997, the park began to combine beloved marine animals with the fun amusement rides families have come to adore. The creation and installation of Journey to Atlantis added a whole new side to the theme park, and after its success, the theme park was quick to bring in more and more rides over the years.
Today, they have their own company that not only operates the three different parks in San Diego, Orlando, and San Antonio but they have also expanded to include different theme parks such as Sesame Place. SeaWorld San Diego, the original park, is a beloved staple to any California visit. Its world-renowned aquatic shows, rollercoasters, and restaurants guarantee taking a trip to SeaWorld is sure to create new, happy memories for both kids and adults.
Bring your family along and buy your SeaWorld tickets through GreatWorkPerks now! We offer the lowest-priced discount SeaWorld San Diego tickets in the market.
Buy SeaWorld San Diego Discount Tickets
If this sounds like the next family vacation destination for you, or you're keen on experiencing the park on your own, then buy your SeaWorld San Diego tickets through GreatWorkPerks for huge savings! We have the lowest prices guaranteed. Your savings from each SeaWorld San Diego discount ticket can then be spent instead on snacks, souvenirs, and memorabilia from your fantastic time at the park.
These low prices are exclusive to GreatWorkPerks, meaning you can't find a deal like this anywhere else. So, save time and money by booking your next family outing through GreatWorkPerks
Why choose GreatWorkPerks for your discount tickets?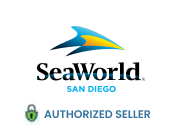 Lowest Prices Guaranteed!
GreatWorkPerks is an authorized seller of discount SeaWorld San Diego tickets. We are one of the largest sellers of Seaworld discount tickets in the country, and we couldn't have thrived for over 30 years if we weren't highly trusted by our customers. We would love for you to join our family and enjoy the best prices in discount SeaWorld tickets and many other attractions nationwide!
Hassle-Free Transaction, Skip the Lines!
Another benefit of purchasing with GreatWorkPerks is that you do not need to print your discount SeaWorld tickets. Tickets are delivered instantly after purchase. Consider your phone your new best friend because all you need is to present your e-tickets at the gates and, voilá, in you, go!
What to Expect at SeaWorld San Diego
SeaWorld has expanded from being a normal aquarium to being an amusement park complete with shows, rides, and restaurants. Everyone in the family can find something to enjoy while in the park – from thrilling rollercoasters to kid-friendly educational attractions. It's impossible to be bored while visiting the theme park.
The rides vary in terms of thrill levels. There is an option for everyone! From small children to adrenaline-seeking adults, there is a ride for all. The shows on the other hand, are family-friendly and exciting. You might want to visit all of the incredible aquariums where you will feel immersed in the wonder of the underwater world. Get access to these rides and activities by purchasing your SeaWorld tickets with GreatWorkPerks
The park also hosts a variety of different festivals and events throughout the year. Viva La Musica is a celebration of Latin music that occurs most weekends of May and showcases concerts in the park (free with admission). There are also firework displays that occur throughout the spring and summer to enjoy. There's always something new and exciting happening at the park. Get your SeaWorld San Diego discount tickets through GreatWorkPerks and see what exciting event awaits you.
Other festivals you can enjoy are the Craft Beer Festival in late summer, Howl-O-Scream and Spooktacular during Halloween, SeaWorld Christmas Celebration, and even a Red, White, and Blue Celebration honoring all those in service for the United States. These celebrations and events are included in your discount SeaWorld tickets.
No matter what time of year you decide to visit with your SeaWorld San Diego tickets, you are guaranteed to have a fun, memorable time. The attractions listed below are open year-round and ensure you have a great visit every time.
Attractions at SeaWorld San Diego
Far from only housing the original aquariums that the park started with, the theme park has grown to encompass 100 acres of Mission Bay Park and houses 16 rollercoasters, 4 shows, 4 interactive exhibits, 10 close encounter experiences, 13 restaurants + snack shops, a Sesame Street play area, and 7 different stores to purchase gifts and souvenirs from.
The park is very big, and it takes a full day of exploration to truly appreciate everything the park has to offer. When planning your trip to the theme park, it's best to plan your day around the amazing encounter shows – Orca Encounter, Sea Lions Live, Dolphin Days, and Trainer Talk at Sea Lion Point, which run at different times throughout the day. These shows are top-rated and fill up fast, so it's best to go 30 minutes early and reserve your seat in advance.
Below are all the attractions you can expect to see during your visit to the park, all accessible with your SeaWorld ticket from GreatWorkPerks:
Rides and Rollercoasters at SeaWorld San Diego
We've organized the rides into different categories, so you know which rides the adults and thrill-seeking teens will enjoy, which are family-friendly, and which are specifically designed for kids. The best way to categorize the rides is into High Thrill, Medium Thrill, and Low Thrill rides.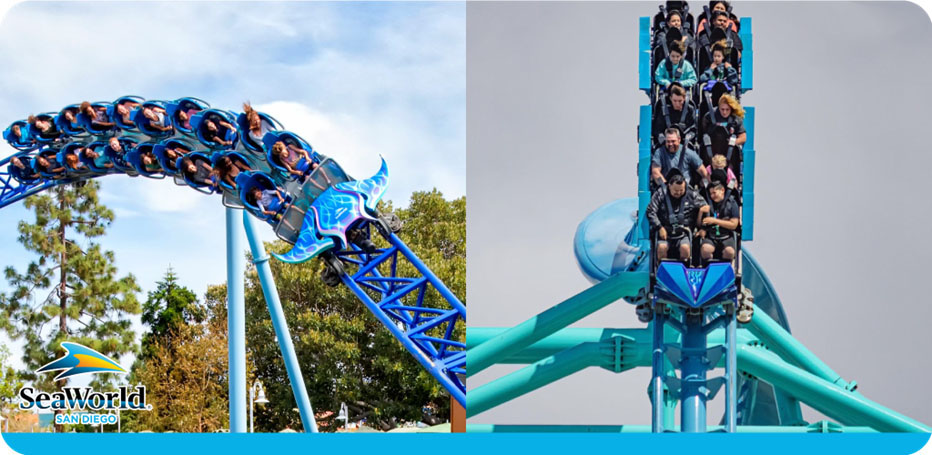 High Thrill Rides:
Emperor:
California's first floorless rollercoaster, the Emperor, is a high-speed ride inspired by the largest penguin in the world – the Emperor Penguin. The ride was created to mimic the way Penguins dive and glide underwater. The Emperor will plunge you at a 90 degrees angle down 14 stories as you race through twists, turns, and multiple loops at over 60 miles per hour. Experience this high-thrill ride with your SeaWorld San Diego ticket from GreatWorkPerks
Manta:
The Manta is a favorite among adrenaline-seeking families looking to ride at unbelievable speeds as you are launched through the track's twists, turns, and spins. The ride is inspired by the majestic creatures, the Manta Rays, and their extraordinary underwater motions. Get your SeaWorld San Diego discount tickets and experience this hair-raising ride today!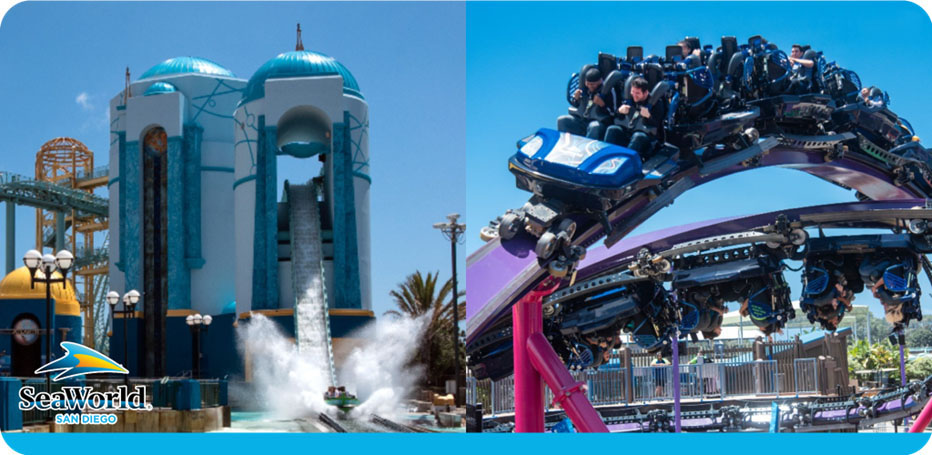 Electric Eel:
The Electric Eel is an incredible option for anyone brave enough to hop on an astonishing 150 feet high ride. You will get launched at 60 miles per hour through loops, turns, and rolls. Designed after Eels, the Electric Eel is a fast-paced ride that is sure to get your blood pumping during its stretch of 853 feet of tracks. This ride is accessible with your discount tickets from GreatWorkPerks.
Journey to Atlantis:
If you're willing to risk getting a bit wet, head to Journey to Atlantis, where you jump in a boat and rush down a steep slope before splashing through a canal. This is a perfect ride to cool down during a hot day at the park. Purchase your SeaWorld Ticket through GreatWorkPerks today at a discount price!
Tidal Twister:
Tidal Twister is a rare, dueling rollercoaster that adds even more adrenaline-packed fun into the mix with not one but two different carts speeding down the track in tandem. Fly down the figure 8 tracks at 30 miles per hour before doing a dynamic zero-G roll at the center. Ride this unique rollercoaster when you visit with your SeaWorld San Diego discount tickets from GreatWorkPerks
Medium Thrill Rides: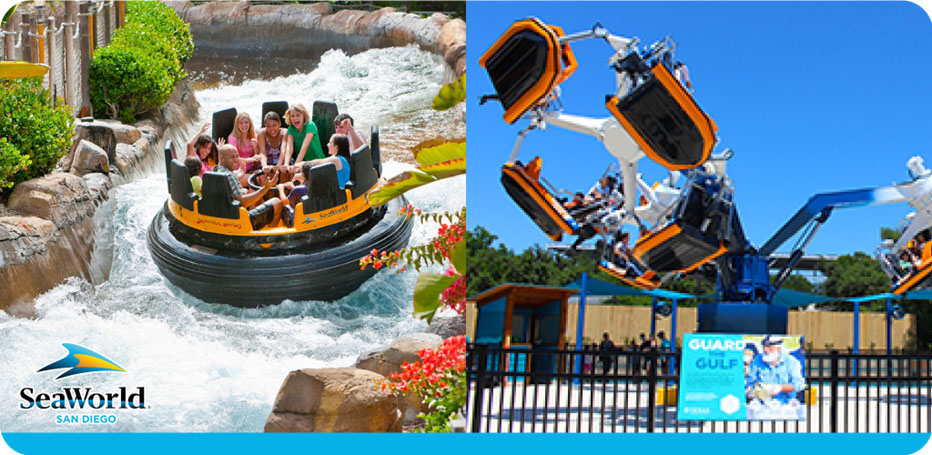 Shipwreck Rapids:
When spending a hot summer's day at the park, you want to get on this fun ride to cool down. The Shipwrecks Rapids is a classic family ride great for kids and their parents looking to get splashed. Ride a large circular tube while bumping along a lazy river before getting tossed into whitewater rapids and reaching a great waterfall for the grand finale.
Riptide Rescue:
This ride is perfect for slightly older kids and their parents. The Riptide Rescue buckles you up in your own rescue craft and twirls you around the base, mimicking the rough waters you may experience while on an actual riptide rescue mission.
Get SeaWorld San Diego discount tickets for the whole family and experience the whimsical rides at this iconic attraction.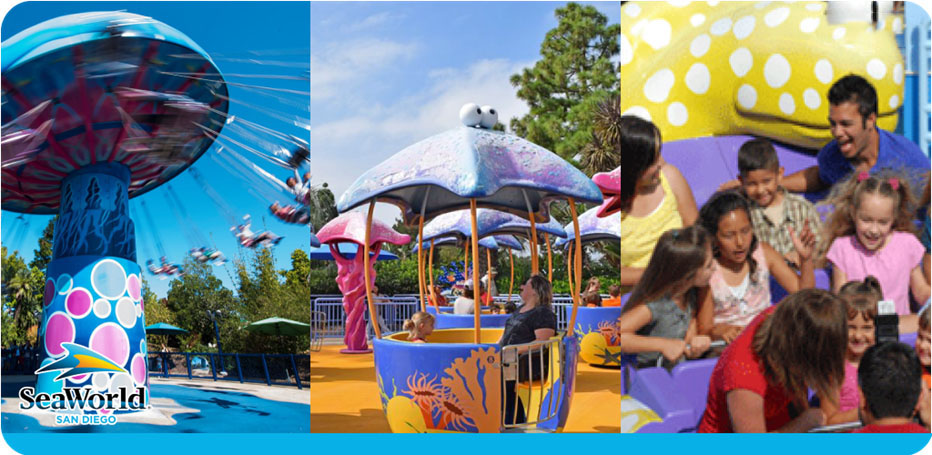 Low Thrill Rides:
These low thrill rides are perfect for your little thrill seekers! Experience these imaginative and kid-friendly rides with your SeaWorld San Diego discount tickets from GreatWorkPerks. Lowest price guaranteed!
Tentacle Twirl:
The Tentacle Twirl is a classic fair swing ride that will buckle your little ones in before they rise up and swing in a large circle. This ride will have your kids feeling like their flying while offering them some nice sights of the surrounding park. Purchase your SeaWorld ticket through GreatWorkPerks today!
Abby's Sea Star Spin:
If your kid loves spinning around, then they're going to adore the theme park's take on the classic amusement park ride. Twirl to your heart's content at whatever speed you'd like as your rotate around other Sea Star Spinners. This ride is accessible with your SeaWorld San Diego ticket from GreatWorkPerks.
Oscar's Rockin' Eel:
Themed after the beloved Oscar the Grouch character from Sesame Street, Oscar's Rockin' Eel ride will strap you into a cart as you slip, turn, and slide in what is sure to be a fun and thrilling ride for your little ones.
Aqua Scout:
Perfect for soon-to-be sea explorers, Aqua Scout will have your kids ride in mini submarines as they rise, fall, and bump along in an exciting ride. Get your SeaWorld San Diego discount ticket from GreatWorkPerks today and experience this fantastic ride!
Elmo's Flying Fish:
Go underwater with Elmo as your kid rides a small Elmo-faced fish and laughs along while the ride glides up and down in an imaginary ocean.
Octarock:
Hang on tight as you and your family are swung back and forth on this height-defying swing ride. This ride is something the whole family can enjoy. Get your whole group's discount tickets through GreatWorkPerks to save big!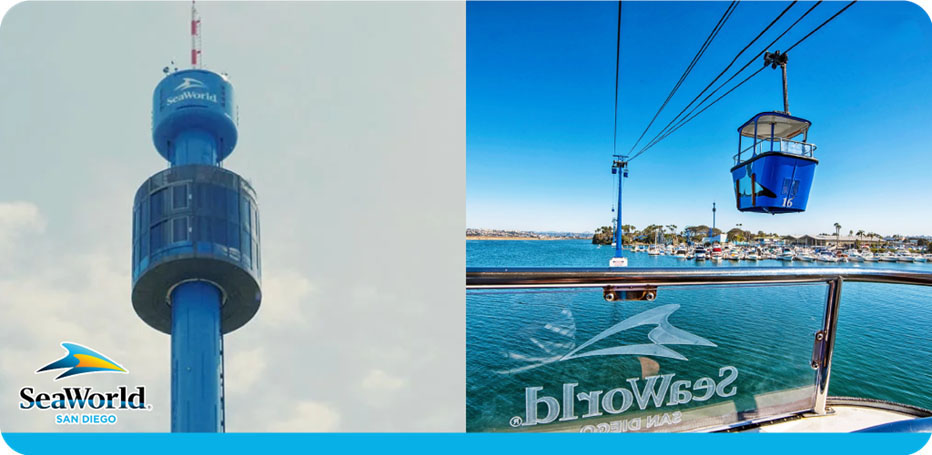 Sea Dragon Drop:
The park's fun take on the classic kids' ride, the Sea Dragon Drop, will take your kids way up high, before dropping them down in a controlled manner. This ride is sure to give kids more than just a few butterflies. Get your discount SeaWorld San Diego tickets from GreatWorkPerks to experience Sea Dragon Drop!
SkyTower:
This one isn't a ride as much as it's an observatory deck. Make your way to the very top of the SkyTower and admire the park's incredible view below you. Once you get to the top, you will be amazed by views of up to 100 miles in every direction. Get your SeaWorld San Diego tickets and enjoy this unique attraction today!
Bayside Skyride:
If you're looking to rest your feet a little bit, then head to Bayside Skyride, the park's gentle gondola ride that will grant riders some spectacular views. Get your discount SeaWorld ticket through GreatWorkPerks today!
SeaWorld San Diego Shows
Now that you've got an idea of rides that you and your family can enjoy while waiting for one of the park's iconic shows, let's talk about what shows you can see during your visit.
The Shows at the theme park are world-renowned for their entertainment and educational value. You can see some of the oceans' most beloved and fascinating creatures up close and personal in a safe manner. The animals are trained and perform different tricks and routines. During each show, you'll also learn some interesting facts about the lives, habits, and behaviors of these majestic animals. You will get so close, you might get splashed by these playful marine animals!
Let's go into detail about what you can expect to see in each show. All of these amazing live shows and animal encounters are accessible with your Discount SeaWorld San Diego Tickets from GreatWorkPerks. Get your discount tickets today to not miss out on all the park has to offer!
Orca Encounter:
Formally known as the Shamu Show, the Orca Encounter is by far the most popular show at the park. Centered around one of the ocean's most fascinating creatures, the Killer Whale, the Orca Encounter will amaze, educate, and entertain anyone who visits. Guests will learn about this animal's hunting habits, communication, and the importance of playing and family. Guests get to watch their fascinating behaviors from an amphitheater. For an even more vivid experience, you can sit in the splash zone, where you can get a big wet welcome from one of the oceans' fiercest creatures.
The Orca Encounter is a busy show, and there's usually only one showing per day, so you'll want to reserve your seats ahead of time and show up about 30 minutes before the show begins. The show's hours change day to day with the park's calendar, so you'll want to check out the interactive calendar beforehand in order to best plan out your day. Buy your SeaWorld San Diego discount tickets from GreatWorkPerks and experience the world-famous Orca Encounter!
Sea Lion's Live: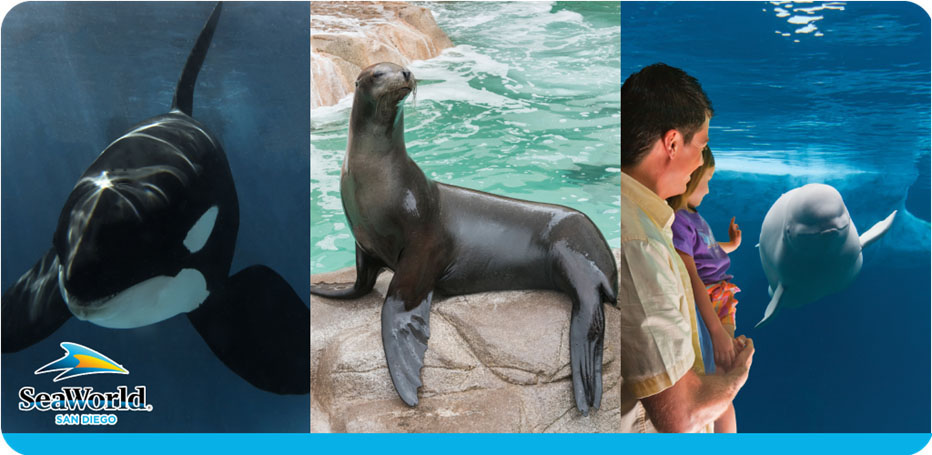 See these lovable ocean creatures up close in the Sea Lion's Live show. This show is full of mischievous fun as the beloved sea lions Clyde, and Seamore get up to some funny business with the help of their host. The presentation will have you amazed by all the tricks, funny moments, and fascinating facts of Clyde, Seamore, and OP Otter. Guests will have a great view of amphitheater's fun and educational content.
Just like other shows, the Sea Lion's Live show times change on a daily basis, so it's best to check the interactive schedule beforehand to see which show is the best for you and your family. It is best to reserve your seats and show up about 30 minutes before the show starts. The seating is outdoors, so make sure you prepare by bringing sunblock, hats, and plenty of water to keep cool. Don't miss out on the playful Sea Lions and get your discount SeaWorld San Diego tickets through GreatWorkPerks today!
Trainer Talk at Sea Lion Point:
If you really enjoyed the Sea Lion's Live show, then you can watch the Trainer Talk at Sea Lion Point, which will dive deeper into the stories surrounding these hilarious Californian Sea Lions. The Sea Lion trainers gather at Sea Lion Point and share their first-hand stories of their days spent with the trouble-making pair of Sea Lions while sharing some more interesting facts about these fantastic, goofy creatures.
These talks happen at different times throughout the day, so you'll need to coordinate with the Calendar and show up early in order to get some seating while you listen to the trainers. Get your SeaWorld tickets so you don't miss out on this amazing show!
Dolphin Connections:
Get to know of the most beloved marine animals in the world, Dolphins. These creatures are intelligent, loveable, and friendly. Dolphin Connections brings you close to the action, where you'll see these playful creatures interact with each other, the trainer, and even other guests. Dolphin Connections is an educational presentation that focuses on the family bond of the park's dolphins and the connection between dolphins and their trainers.
Located at Dolphin Point, guests are encouraged to visit and be entertained, educated, and intrigued by all the facts, tidbits, and behaviors of the bottle-nosed dolphins at the park. Want to see a dolphin? Get your discount SeaWorld tickets through GreatWorkPerks
Dolphin Days:
If you're keen on seeing the park's family of bottle-nosed dolphins in action, then the Dolphin Days show is great for you. Dolphin Days introduces you to the high-flying acts and tricks of bottle-nosed dolphins living at the theme park. This presentation celebrates the behavior and life of dolphins and the special connection that trainers share with them. You'll be treated to a spectacular display showcasing the dolphins as they perform tricks and movements, some of which may splash you.
Dolphin Days operates at different times during the day, so you'll need to check the park's interactive calendar for your date of attendance and see what time the show is. It's best practice to reserve your preferred seating ahead of time and to show up 30 minutes before the show. Get your discount SeaWorld ticket to experience this must-see show!
Dolphin Up-Close Encounter:
Families can pay an extra fee to have an up-close and personal encounter with the playful bottle-nosed dolphins. This specialized encounter experience allows guests to spend quality time with these playful creatures and learn some behind-the-scenes facts about their behaviors in the wild and at SeaWorld. A specialist will sit with guests at the poolside while teaching them the different hand signals used by trainers in order to communicate with the intelligent ocean animals.
This experience costs extra but is well worth it. This interactive experience with one of the world's most beloved sea creatures in a safe environment, will blow your mind! This is a very popular excursion, so you'll want to ensure a spot by booking well ahead of your arrival date. Another helpful tip is to purchase your SeaWorld San Diego discount tickets through GreatWorkPerks Experience all that the park has to offer at the lowest price possible.
Other Kid-Friendly Rides and Play Areas included with your SeaWorld San Diego discount tickets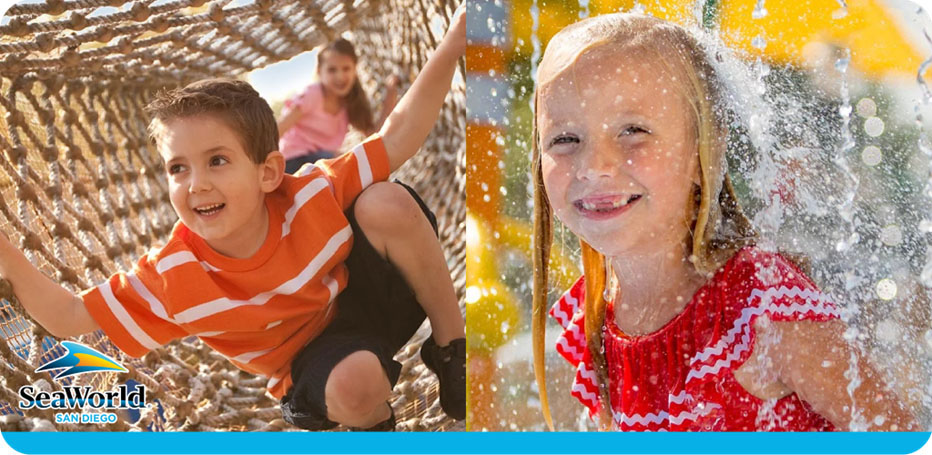 The theme park also has a lot of options for kids. Enjoy unlimited access to these play zones with your SeaWorld San Diego discount tickets from GreatWorkPerks
Net Climb
Send your kids on an adventure! This play zone is has many levels of rope climbing fun! Kids will have a great time passing through tunnels and swinging around! An adventure that your children will undoubtedly enjoy and remember!
No height or age restrictions; found at the Sesame Street Bay of Play. This play-zone is included in your SeaWorld San Diego discount ticket from us!
Splash Pad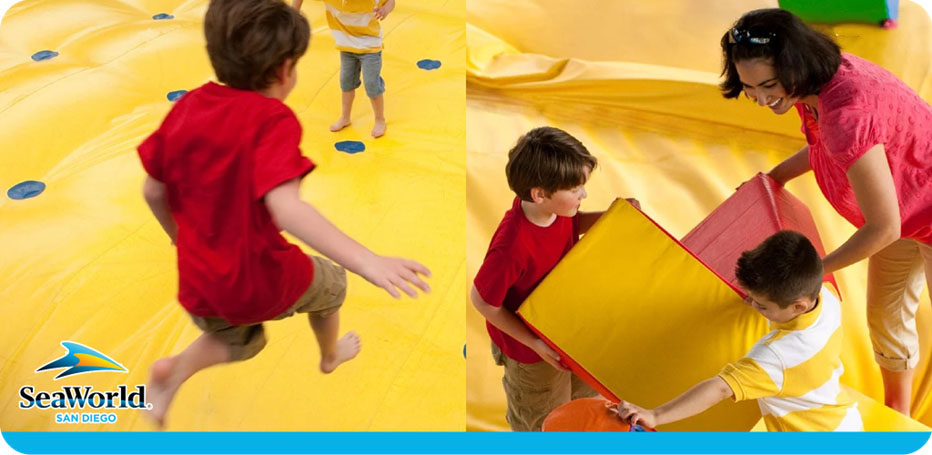 If you want to have fun in the sun and enjoy some cool splashes, come to this Splash Pad. You won't be disappointed! This interactive water play area will brighten your toddler's day and create some unforgettable memories!
Because there are no height or age requirements, it is ideal for children aged two and under. And if you want to, give it a go! The more, the better. Crash on Splash Pad with your SeaWorld San Diego discount ticket from GreatWorkPerks
Air Bounce
Enjoy this completely shaded and coverd bouncy house and let your kids jump away! Air Bounce is the perfect spot for them! They will have so much fun while they make new friends, thanks to this interactive play area!
The play area separates the young guests into two groups: one for children ages 5-7 and the other for children four years old and under. Adults and babies are not permitted!
Purchase your GreatWorkPerks discount tickets and have fun playing!
Toddler Mat
Let your children run around and do anything they want when they visit Toddler Mat at the theme park. Let them play and make new friends in this entirely soft and safe playground!
Make the most of your vacation using our SeaWorld San Diego discount tickets! This game zone is intended for children aged five and under.
Enjoy Sesame Street: Bay of Play with your SeaWorld San Diego discount ticket!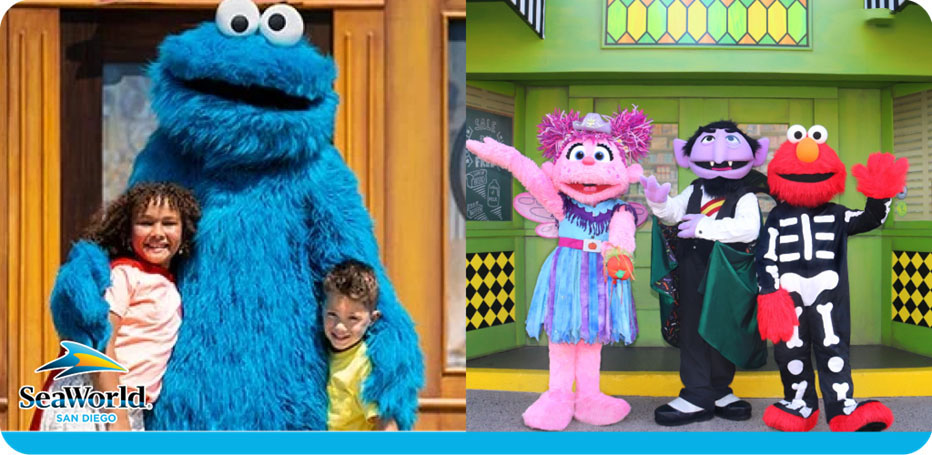 Storytime with Sesame Friends
Who doesn't love a good bedtime story? C'mon over to Sesame Street Bay of Play and let them listen to some Storytime tales by Sesame Friends! This spectacular encounter is included in your SeaWorld San Diego discount ticket from GreatWorkPerks.
Funny Friends Dance Party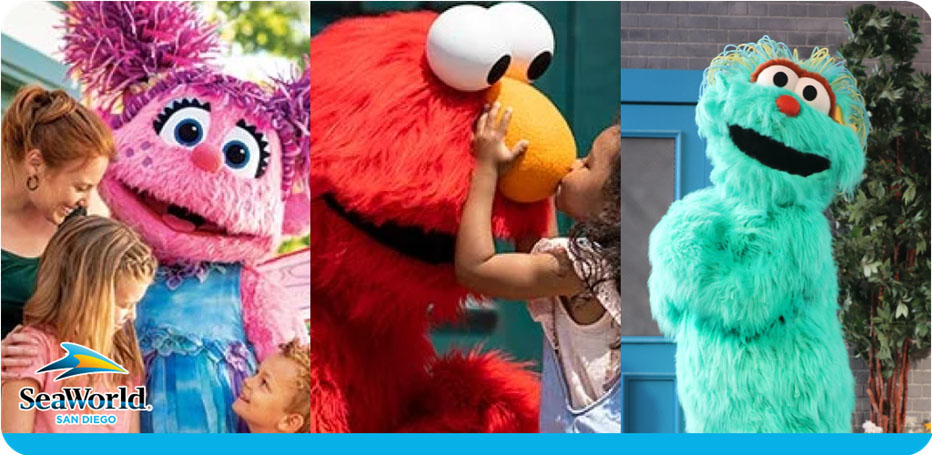 Sing, dance and get groovy with your furry pals! Get ready to dance away at this fun musical party!
This dance party is included with our SeaWorld San Diego discount tickets, so don't pass up the opportunity to have a party at the park!
Your SeaWorld San Diego discount ticket grants you full access to Sesame Meet-and-Greets!
Meet your favorite Sesame characters at Sesame Street Bay and Play with your SeaWorld San Diego discount ticket from GreatWorkPerks
Meet Abby Cadabby
Come meet and greet Abby Cadabby, a magician who will yell "Abracadabra" whenever she sees you! Be careful, she floats when she's pleased, but don't make her mad, or she'll transform you into a pumpkin! She's one of the favorite Sesame Street characters, because she's intelligent and funny!
Meet Abby with your SeaWorld San Diego discount ticket from us!
Meet Cookie Monster
Do you enjoy eating tons of cookies as well? Then you should meet Cookie Monster! Meet and greet Cookie Monster in the heart of Sesame Street, and don't forget to take tons of selfies with him! This interaction is included in our discount ticket.
Meet Elmo
Meet this red furry monster at Sesame Street when you visit the theme park! Have fun and make the most of your encounter with this cheerful red monster who has won our hearts. Purchase your SeaWorld San Diego discount ticket today and meet everyone's favorite - ELMO!
Meet Rosita
With your SeaWorld San Diego discount ticket from GreatWorkPerks, you will get the chance to meet one of Sesame Street's most innovative characters – Rosita! Give her a great big hug if you enjoy reading books, singing, and playing musical instruments! You're just as talented as her!
Become Rosita's new bff at Sesame Street!
Dining Options at SeaWorld San Diego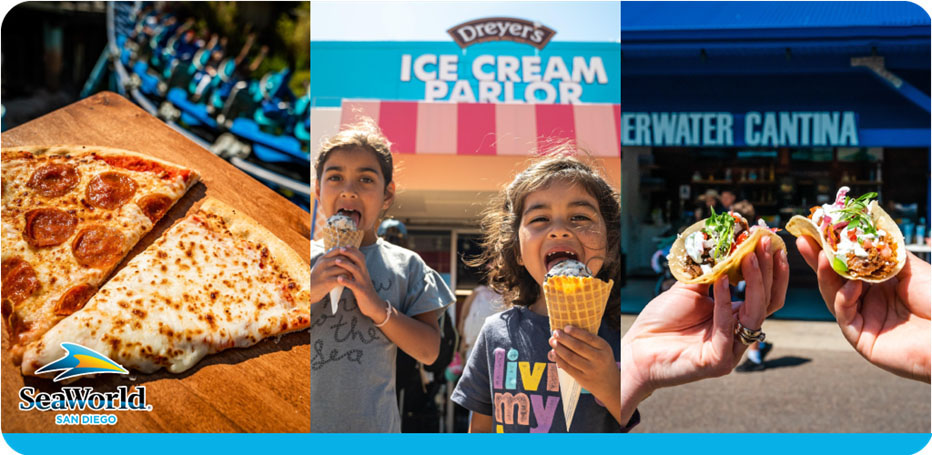 We recommend stopping at one of the 13 restaurants and snack shops scattered around the park for some classic American meals. Treat yourself (and your family) to a delicious lunch, snack or dinner. With so many different places to choose from, even the pickiest of eaters can find something to enjoy while at SeaWorld.
Helpful tip: Have a bigger budget for food when you purchase your SeaWorld San Diego discount tickets through GreatWorkPerks. We have the lowest priced tickets available. This means spending less on SeaWorld tickets and more on delicious food that will fuel you up for a day of adventure!
Manta Pizza:
Whether you just got off the thrilling Manta ride, or you and your family are pizza fans, then heading to Manta Pizza is the perfect lunch idea. Serving mouthwatering pizza, you and your whole family will find the best slices at Manta Pizza.
Dreyer's Ice-cream Parlor:
Newly opened, Dreyer's Ice-Cream Parlor is the perfect cool-down treat during the afternoon. Beat the heat with an enormous brownie sundae or a scoop or two of your favorite ice cream flavors. You can even get your cone hand-dipped to add even more deliciousness to the mix.
High Tide Brews:
If adults need some time away, step into the High Tide Brews – a craft brewery complete with gardens and live music for the exact adult entertainment you have been looking for.
Underwater Cantina:
If you're feeling like having a great cocktail, head over to the Underwater Cantina, where you are offered a fine selection of mixed drinks and cocktails to enjoy while chilling on the patio.
Big Bird's Bistro:
The new Big Bird's Bistro is the perfect spot for you and your kid to grab a quick treat while exploring the Sesame Street Bay of Play area. You can find fair favorites such as funnel cake and soft serve, as well as fresh fruit mixes to enjoy.
Calypso Bay Smokehouse:
If you're looking for a great meal, then look no further than Calypso Bay Smokehouse. This barbecue restaurant is filled with BBQ favorites such as ribs, chicken, and brisket. There is a hand-breaded chicken nugget meal for the kids to feast on while you dig into your BBQ tastes.
Shipwreck Reef Café:
Shipwreck Reef Café offers guests the classics! From burgers to a chicken Caesar salad in a sit-down location inspired by a sunken ship.
Explorer's Café:
The Explorer's Café is the perfect place to unwind with burgers, wraps, or chicken tenders for lunch or dinner. Take a break and relax for a while by sitting down at a table and refueling with some delicious amusement park classics.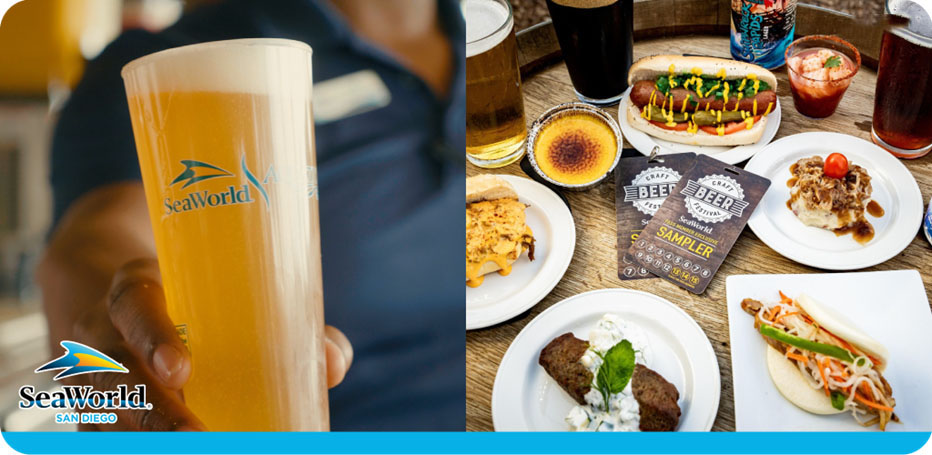 Pretzel & Coffee Shop:
Need a mid-day pick-me-up? Head to the Pretzel & Coffee shop for a delicious salty snack and some specialty Starbucks coffee.
Coral Market:
The Coral Market, located near the park's entrance, is perfect for snacks and coffee. Filled with Starbucks specialties such as Frappes and Espresso, as well as a selection of pastries and snacks, there are so many goodies to choose from at the Coral Market.
Manta Bar:
Adults looking for a fun way to cool down while quenching their thirst? Head to Manta Bar for a fun selection of frozen cocktails and craft beers to enjoy while your kids go on the nearby rides.
Electric Eel Bar:
Another option for some deliciously quenching frozen cocktails and specialty beers. The Electric Eel Bar is great for a drink.
Craft Beer Trailer:
San Diego is known for its beer, and that is honored with this Craft Beer Trailer that offers a revolving selection of 8 quality local craft beers. The Craft Beer Trailer is located just under the SkyTower.
Shops to Explore at SeaWorld San Diego!
Immerse yourself in the charm and stories of SeaWorld San Diego's captivating shops! Each item here is more than a purchase; it's a memory waiting to find its place in your home!
New! Build-A-Bear Workshop
Enter our new Build-A-Bear Workshop and let your creativity soar! Create a personalized, cuddly companion, complete with SeaWorld-exclusive accessories—a treasured keepsake from a day full of wonder!
New! Discoveries Fresh Market
Embark on a taste journey at Discoveries Fresh Market! Savor its selection of fresh, healthy snacks and convenient meals. Discover gifts so unique, as they feel like hidden treasures of the park!
Sea Rescue Merchandise
Join them in their mission to protect marine life with Sea Rescue merchandise! Every piece you buy, from stylish apparel to trendy accessories, contributes 5% to the SWBG Conservation Fund. Be a part of the change!
Sea Pixels
Capture the magic of your visit at Sea Pixels! From group photos at the iconic SeaWorld rock sign to vibrant park entrance snapshots, they freeze your joyous moments in time!
The Turtle Rescue Shop
Explore The Turtle Rescue Shop, a haven for turtle enthusiasts! From exclusive trinkets to unique apparel, it's a paradise for those passionate about these enchanting creatures!
End Your Day with a Splash of SeaWorld Shopping!
Discover the perfect souvenir to encapsulate your SeaWorld adventure! From furry friends to exclusive marine-themed gifts, its stores are brimming with keepsakes that will keep your day alive in memory!
Grab your discounted Sea World San Diego tickets today from GreatWorkPerks!
How do I redeem my 2 FREE Guest tickets from my Silver Pass?
The two free guest tickets from the Silver Pass are uploaded during different times of the year. Please log into the Pass Member Portal to check on the status of your free guest tickets after activation of the pass. Pass Members must be present with the Friend for Free Ticket holders on the day of the guest's visit:
Free guest tickets must be redeemed via the Pass Member Portal prior to park entry. Pass Member must be present with the guest upon entering the park.
SeaWorld San Diego FAQ
Are reservations required at SeaWorld?

No, you don't need reservations to enter SeaWorld as long as you purchase tickets from GreatWorkPerks. With GreatWorkPerks, you not only get your tickets at a discount price, but you also get the flexibility to get them when you like. The weekday tickets are valid on any Monday – Thursday, while the any-day tickets can be used on the weekend as well.

How do I get my discount SeaWorld San Diego tickets?

Once you've purchased your discounted SeaWorld tickets through GreatWorkPerks, you'll receive them immediately on the email you provide at checkout, along with your receipt.

How soon do I receive my discount SeaWorld San Diego tickets?

Instantly, after purchase. Once you've paid for your discount tickets, you receive them immediately through the email your provided.

Do I have to print my discount tickets?

No, you can simply scan the SeaWorld ticket on your phone once at the gate in order to enter the park.

How do I get to SeaWorld San Diego?

The address of SeaWorld San Diego is 500 Sea World Drive, San Diego, CA 92109.

What time is SeaWorld San Diego open?

This changes from day to day and season to season. Basically, they are open from 10:30 AM – 5:00 PM on weekdays and then 10:00 AM-6:00 PM, 7:00 PM, or 9:00 PM on the weekends, depending on the time of year. For specific times on your date, be sure to check out the interactive calendar.

Is there free parking at SeaWorld San Diego?

Yes, but only for Annual Pass Membership holders. General and Up-close parking are available for purchase at the park.

Can I use cash at the theme park?

Yes, cash payments are still permitted at the theme park for the restaurants and shops. There is also Apple pay and interact for debit/credit cards. For even more savings, you can purchase GreatWorkPerks's single-day "Eat Free" discount ticket and show it to participating restaurants for food.

Are there ATMs at the theme park?

Yes, there are several ATMs located around at the theme park.

Do children get free admission to SeaWorld San Diego?

Children ages 2 and under get free admission. Everyone aged 3 and over must buy discount SeaWorld tickets to enter the park.

Are guests allowed to bring their own food/snack to SeaWorld San Diego?

No outside food and drinks are allowed at SeaWorld San Diego. The only exceptions are refillable water bottles, baby food, and those with dietary restrictions and special food needs.

Is there public transportation to SeaWorld San Diego?

Yes, there is public transportation available that will take you to the park. The Metropolitan Transit System operates a daily bus service from the Old Town Transit Center via bus routes 8 and 9.

How many rides and rollercoasters are there at SeaWorld San Diego?

There are 16 different rides and rollercoasters that guests can enjoy while at SeaWorld ranging from ultra-thrilling rollercoasters to tame kiddie rides.

Is there free Wi-Fi at the theme park?

Yes, there is free Wi-Fi at the theme park. However, the connection may vary depending on location in the park and the type of device you're using.

Is alcohol served at the theme park?

Yes, alcohol is served at various bars and stalls. You must be 21 years and older with valid ID to purchase alcohol.

Is smoking allowed at the theme park?

Smoking is only allowed in the park's designated smoking areas.

Are service animals allowed at the theme park?

Yes, service animals are allowed at SeaWorld San Diego. However, rides are not suitable to accommodate them.

Will I be allowed to reenter if I have to leave for some reason?

Yes, please have your ticket and ID ready for re-entry at the main entrance. Without these, re-entry will not be possible.
Last updated November 27, 2023.
SeaWorld San Diego Tickets
LOG IN TO SAVE
UP TO 60%
ON TICKETS

to see your special discount price.
SeaWorld San Diego Tickets