Experience Las Vegas as you have never before with your discounted SkyPod tickets, starting at only $10.00 with GreatWorkPerks
The SkyPod observation decks are open daily from 10 AM - 1 AM, while the thrill rides are also accessible daily, only from 2 PM - 10 PM.
Reach New Heights!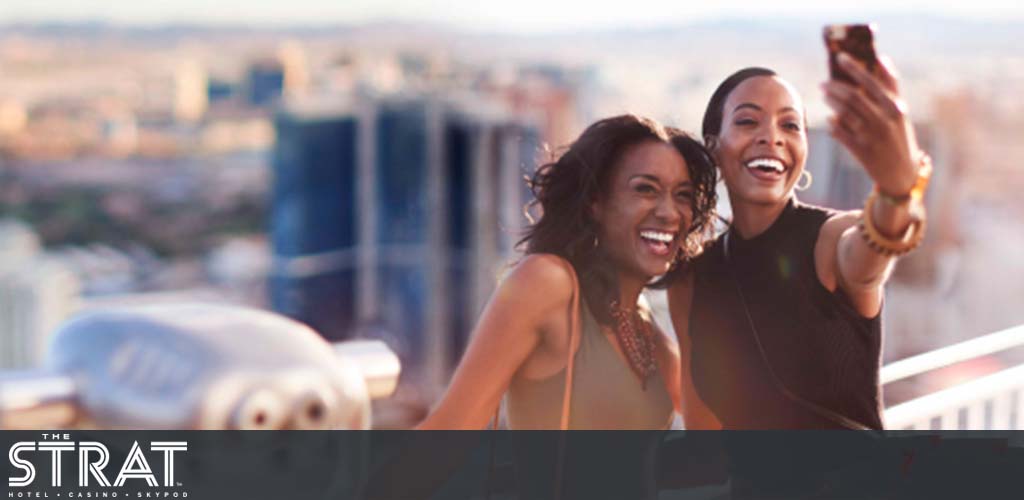 Year after year, SkyPod Experience takes the crown for having the most votes as the Best Place to View the City! They welcome every guest with heart-stopping thrill rides and breathtaking scenic views. Reach new heights on the 1,149 feet tall tower and witness a stunning 360° view of the dazzling Sin City! An indoor observation deck will allow you to take in the entire sight behind the angled windows and air-conditioned room. The outdoor observation deck lets you see the city with viewfinders and enjoy the fresh air. You may also unleash the daredevil inside you by hopping in on the thrill rides just above the sky deck!
You may choose up to two thrill rides to experience during your trip! Here's a quick list of them:
Big Shot -

take a seat and get ready to be launched 160 feet at 45mph into the sky! Experience the ultimate thrill of being shot back up and down while overlooking the beautiful Las Vegas Valley.

X-Scream -

scream your heart out by hopping in on a giant see-saw-like ride 866 feet up in the air! Twenty-seven feet over the edge of Skypod Las Vegas, you will be rocketed and dangled above the city before being pulled back and launched again!
Experience a one-of-a-kind adventure with your discounted SkyPod tickets from GreatWorkPerks
Buy your GreatWorkPerks discount SkyPod tickets!
Hassle-Free Transaction, Skip the Lines!
Another benefit of purchasing with GreatWorkPerks is that you do not need to print your discount SkyPod tickets. Consider your phone your new best friend because all you need to do is present your discount tickets at the gates, and in you go!
Frequently Asked Questions for Skypod Las Vegas
Where is SkyPod Las Vegas located?

You can visit the SkyPod Experience at 2000 Las Vegas Blvd. S, Las Vegas, NV 89104. Remember to purchase your discount SkyPod tickets from GreatWorkPerks before dropping by!

Are pets allowed inside?

Only trained service animals are allowed inside.

What are the requirements for the thrill rides?

The guests must be at least 48" tall to ride the Big Shot, while the minimum height requirement for the X-Scream is for the guest to be 52" tall.

Is rescheduling possible?

Yes, you may reschedule 24 hours before your scheduled visit.
Last updated March 22, 2023.
SkyPod Experience Tickets
Tower Admission Only

Regular price $34.00

Discounted Price starts at $10.00

Tower Admission & Unlimited Rides Pass

Regular price $44.95

Discounted Price starts at $25.00

**Prices are dynamic and may change without notice. Purchase your tickets in advance to get the lowest prices.