Check out other Six Flags locations:
Buy discount Six Flags Great Adventure tickets from GreatWorkPerks to save up to 61%! Tickets start at $38.39 vs $99.99 gate price! Lowest prices guaranteed.
Children two and under receive free admission. Hurricane Harbor entry not included.
Weekday: Valid any Monday to Friday thru 01/01/2024.
Weekend: Valid on any Saturday and Sunday thru 01/01/2024.
**Holiday in the Park is included with park admission from November 24, 2023 to January 01, 2024.
**Six Flags has limited purchases to 10 tickets per transaction. For purchases of more than 10 tickets, please create a separate transaction for the excess.
NEW: Holiday in the Park!
Embark on a mesmerizing holiday adventure at Six Flags Great Adventure, starting November 24, 2023, and culminating on January 1, 2024! This season, the park transforms into a realm of festive enchantment, complete with a stunning five-story Christmas tree, and an array of heartwarming encounters with Santa and whimsical characters!
Get ready for a spellbinding experience with festive delights at every turn. Secure your discounted Six Flags Great Adventure tickets now for a holiday escapade filled with wonder and cheer!
Event Highlights
Tree Lighting Extravaganza:

Marvel at the grandeur of a five-story tree lighting up in a magnificent holiday show.

Santa's Cheerful Meet:

Enjoy precious moments with Santa Claus and let your holiday wishes soar to the North Pole!

Festive Ambiance:

Stroll through the park's uniquely themed sections, each sparkling with lights, offering sensory delights of seasonal scents and sounds.

Enchanted Encounters:

Send your wish lists to Santa and mingle with magical beings like the Poinsettia Princess and the Evergreen Queen!
Winter Fantasy Zones
Colonial Christmas Street:

Immerse yourself in a nostalgic Christmas experience along a Main Street adorned with an LED-lit tree and a gentle flurry of snow.

Gingerbread Fun:

Enter a world of sweets in Gingerbread Junction, complete with a giant inflatable gingerbread man and a carousel aglow with festive lights!

Superhero Holiday:

Discover a holiday-themed Metropolis, featuring popular attractions like JUSTICE LEAGUE: Battle for Metropolis, all decked out in festive colors!
Seasonal Entertainment
Reindeer Games with Prancer:

Dance along with Prancer in a lively holiday fitness routine.

Mrs. Claus' Storytime:

Gather around for heartwarming holiday tales read by Mrs. Claus herself!

Elf-led Mirror Maze:

Navigate the twists and turns of a fun-filled mirror maze in Santa's workshop.
Gourmet Holiday Treats
Holiday Food Festival:

Savor the flavors of the season with a variety of festive dishes and sweet delights!
Holiday Shopping Spree
Festive Souvenirs:

Browse through a selection of holiday-themed merchandise, perfect for gifting or as a keepsake of your magical visit.
Unwrap the holiday gift!
Celebrate this holiday season at Six Flags Great Adventure, where festive lights, enchanting shows, and joyous activities come together to create an unforgettable family experience.
Plan your festive journey now! Purchase your discounted Six Flags Great Adventure tickets and be part of the extraordinary holiday festivities at Holiday in the Park!

What can I do at Six Flags Great Adventure?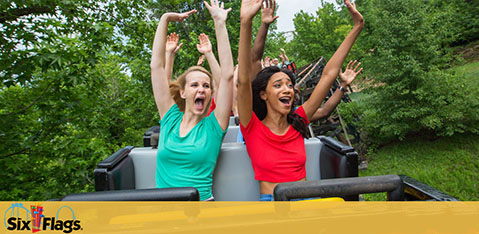 With over 50 world-class rides, Six Flags Great Adventure once again welcomes guests and is ready to give them a one-of-a-kind experience! Several of their rides are themed and named after well-known superheroes and villains you sure wouldn't want to miss out on. Purchase your Six Flags Great Adventure discount tickets from GreatWorkPerks today and have a great time!
A wide variety of restaurants and dining areas will offer delicious snacks and dishes throughout the park. You won't have to worry about getting hungry from having a blast at the events and activities! You can buy cool merchandise and gifts at the numerous shops. Don't forget to stop by and bring home some awesome souvenirs to remember your visit.
Buy your GreatWorkPerks discount Six Flags Great Adventure tickets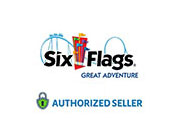 Lowest Prices Guaranteed!
GreatWorkPerks is an authorized seller of discount Six Flags Great Adventure tickets. We are one of the largest sellers of discount tickets in the country and we couldn't have thrived for over 30 years if we weren't highly trusted by our customers. We would love you to join our family and enjoy the best price for Great Adventure tickets and other nationwide attractions!
Hassle-Free Transaction, Skip the Line!
Another benefit of purchasing with GreatWorkPerks is that you do not need to print your Six Flags Great Adventure discount tickets. Consider your phone your new best friend because all you need to do is present your discount tickets at the gates and in you go!
Spring Break 2023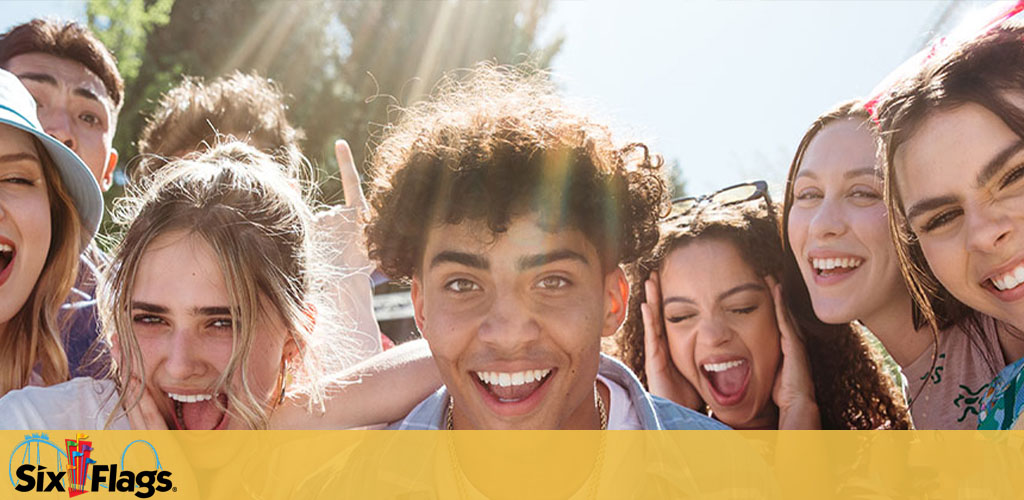 Mark your calendars for April 1st - April 16th - Six Flags Great Adventure will open its gates for this year's spring break! It is the perfect way to spend the season; have a thrilling time on the rides the park offers, even better when you bring your friends. Stay tuned for more details!
Physics Day 2023
Pack your things for school and head to Six Flags Great Adventure on April 28th! There's no better way to learn than while having fun while being educated in physics. Buying a Six Flags Great Adventure discount ticket from GreatWorkPerks will grant you a sweet deal of unforgettable fun experiences and knowledge!
Grad Nite 2023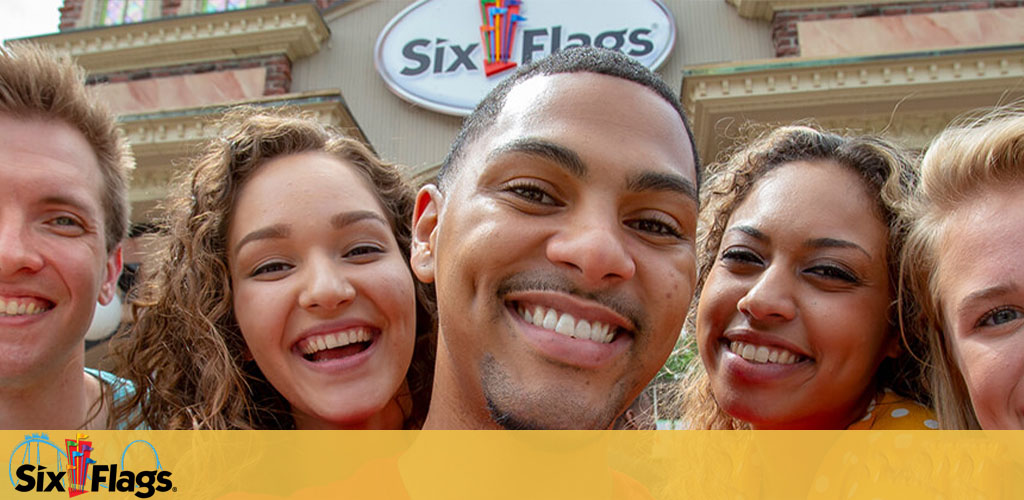 Just graduated from being a high school senior? Join us at Six Flags Great Adventure on June 9th from 8 PM - 1 AM for a grand party! The park will give exclusive park hours to the fresh graduates and let them go all out on the celebration. Let out all that energy while dancing to the live DJs' music and have fun on the thrilling rollercoasters. Everyone can feast on the all-you-can-eat buffet!
Enjoy this once-in-a-lifetime celebration by purchasing your Six Flags Great Adventure discount tickets from GreatWorkPerks
Summer Vibes Festival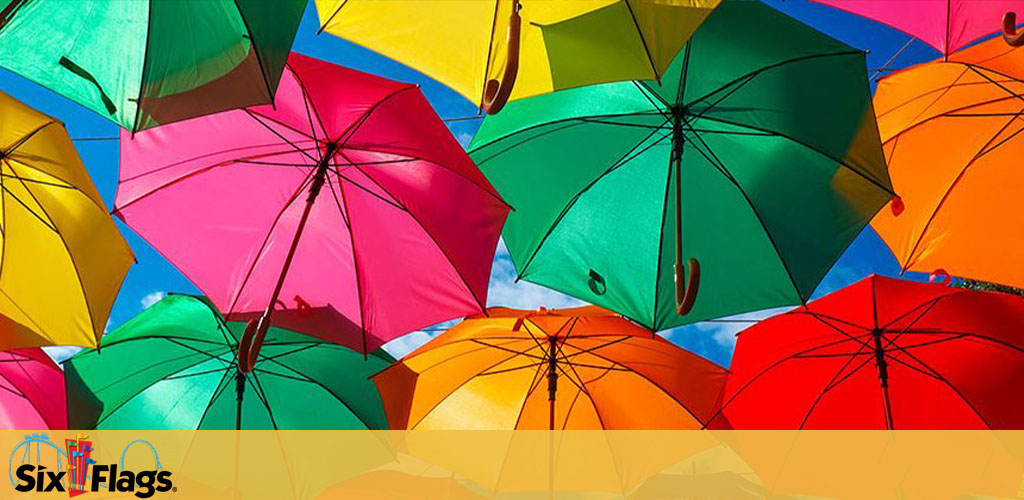 Create your summer kaleidoscope-like and vivid memories at Six Flags Great Adventure from July 8th to August 12th! Walk a bright, colorful path down the Boardwalk, and look at the beautiful and unique blooms and extraordinary living art in the Forgotten Garden. If the summer heat picks up, don't worry, there'll be a hydration zone for you to cool off!
Enjoy this colorful season and buy tickets from GreatWorkPerks at a discounted price.
July 4th Fest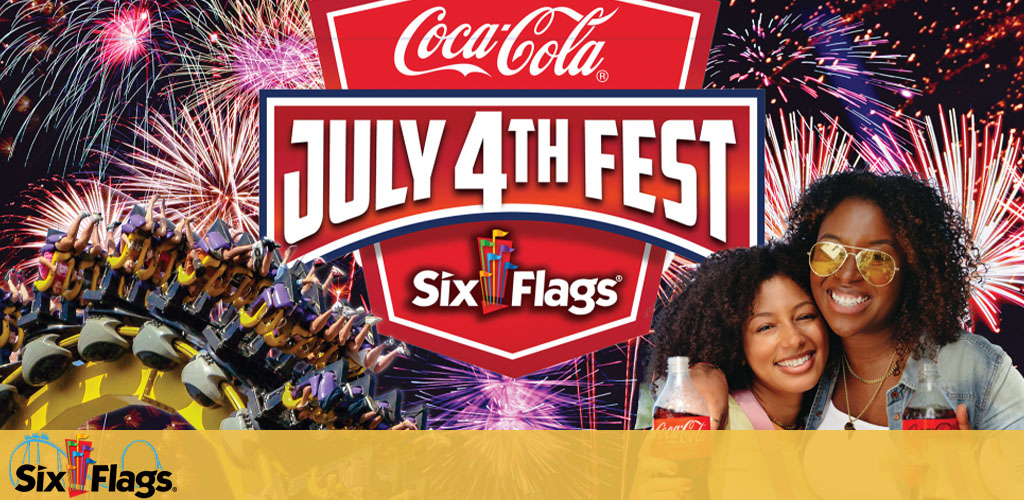 Love to celebrate freedom? Party with us at Great Adventure on July 1st - 4th. You wouldn't want to miss the breathtaking fireworks display splashing the night with bright colors! Keep an eye out for more details coming soon.
What rides are available at Six Flags Great Adventure?
The Great Adventure has over 50 rides for everyone to try out! Family, kiddie, and thrill rides are available to hop on and get an unforgettable experience. Some ride names might ring a bell; themed after famous superheroes and villains- BATMAN™ The Ride, GREEN LANTERN™, Medusa, THE JOKER™. Buying your discount tickets from GreatWorkPerks will save you money and give you a one-of-a-kind experience!
GREEN LANTERN™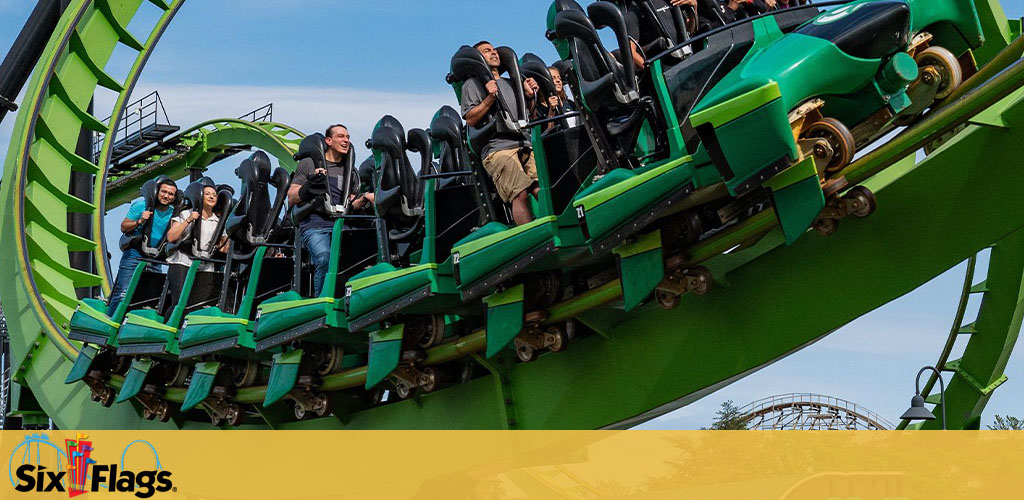 Everyone might have experienced wild rollercoasters, but have you ever imagined a a stand-up coaster? Inspired by the iconic traits of the superhero Green Lantern, this ride will put your courage, confidence, and strength to the test! On this ride, you will know what it's like to fly as a hero - at the speed of 63mph, you'll be zooming through crazy loops!
SUPERMAN: Ultimate Flight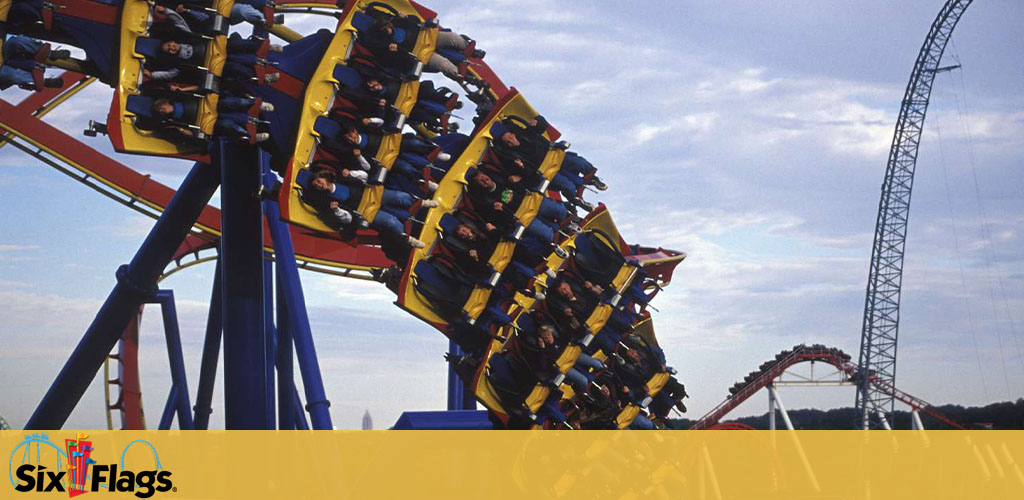 Ever wondered what the world looks like through Superman's eyes? Jump on this ride to find out! Enjoy one of the world's most creatively designed coasters and feel just like a superhero. Get ready, you will be soaring face down and headfirst just like Superman, while going through twists and even a pretzel loop!
Don't forget to purchase your Six Flags Great Adventure discount tickets from GreatWorkPerks and experience this thrilling ride at max!
Enchanted Teacups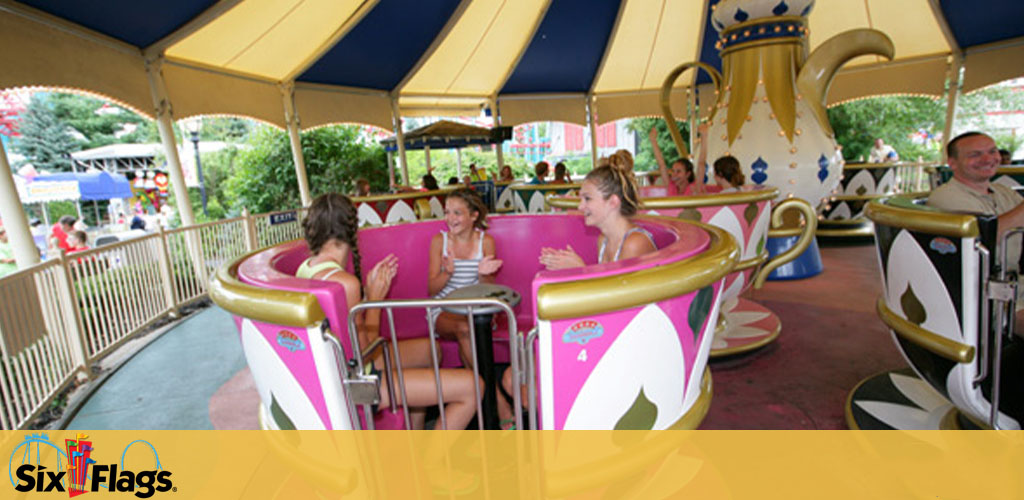 Hop on in one of the 12 oversized teacups and have a party with five of your friends! These are no ordinary teacups; you'll be spinning and twirling around, and if it feels too slow, just take hold of the wheel in the center of the cup and twist it! Have a great time and choose the speed you want to spin around in.
Big Wheel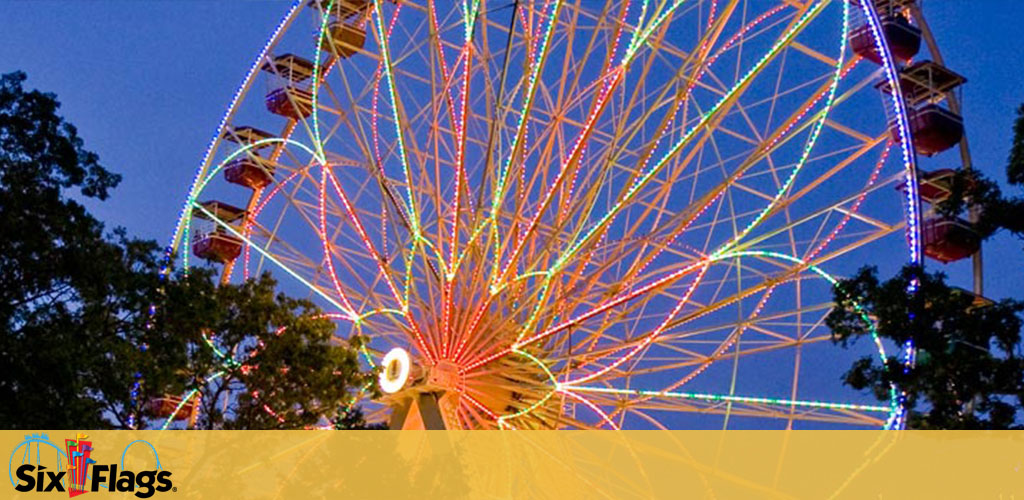 After trying out Great Adventure's wild coasters, nothing sounds better than a relaxing and classic ride on a Ferris wheel. This gentle ride is the perfect way to make unforgettable memories with someone you cherish. Witness over 8,000 LED lights magically color the 150ft tall wheel with beautiful patterns at night. This classic ride never gets old.
Don't forget to buy your tickets from GreatWorkPerks at a discounted price and enjoy this magical experience!
Wild Safari Drive-Thru Adventure
Guests in Six Flags Great Adventure can venture into the 350-acre animal preserve in Jackson, New Jersey. The adventure takes about 1.5 to 3 hours by vehicle, and you will be able to witness intriguing and exotic animals live. A Six Flags Great Adventure discount ticket from GreatWorkPerks can take you on this wonderful journey at a very low price!
Wild Plains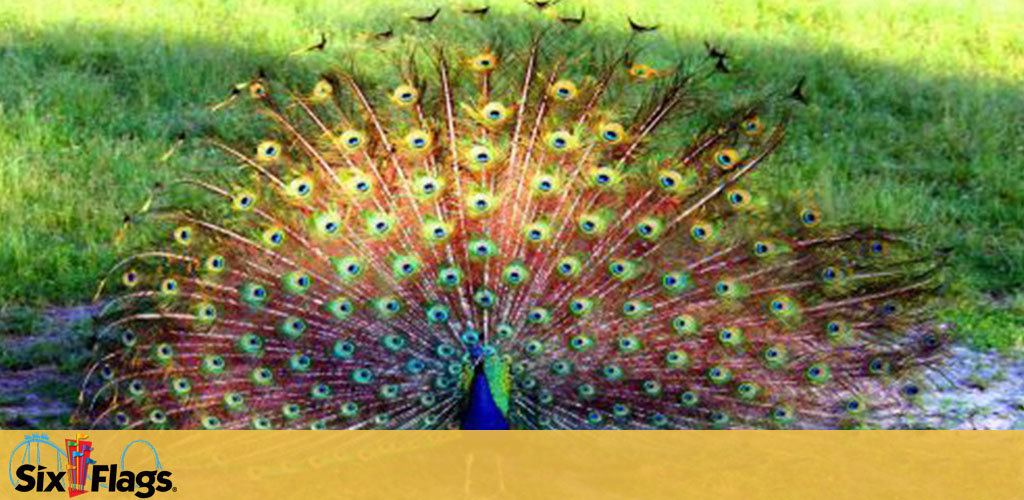 This section of the preserve contains a variety of antelopes, hoof stocks, and peacocks. Admire these beautiful creatures in person and take amazing photographs at a safe distance.
Tigris Asiana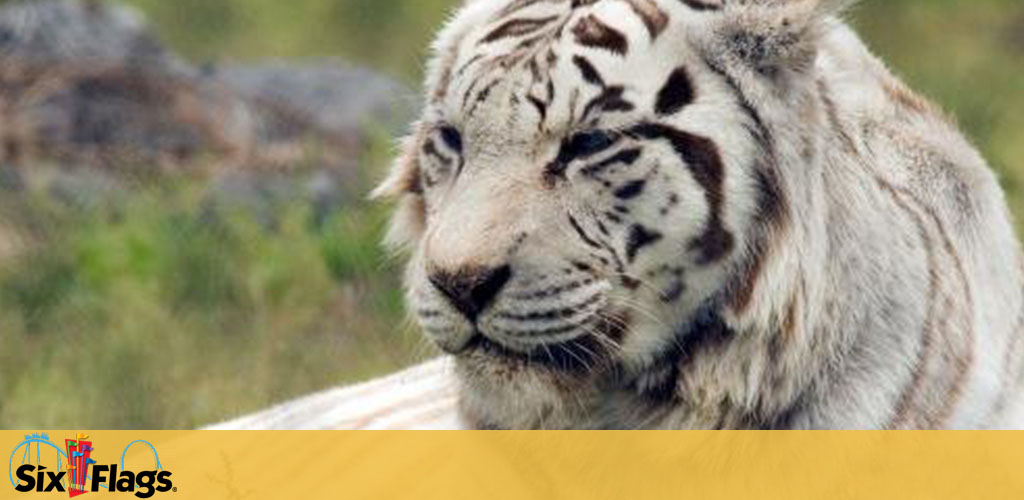 Knowing that tigers are one of the endangered species on the planet, the park is fortunate to have Bengal and Siberian tigers under its care. This area is also home to other Asian animal species, such as Nilgai, Yak, and Aoudad.
Kingsland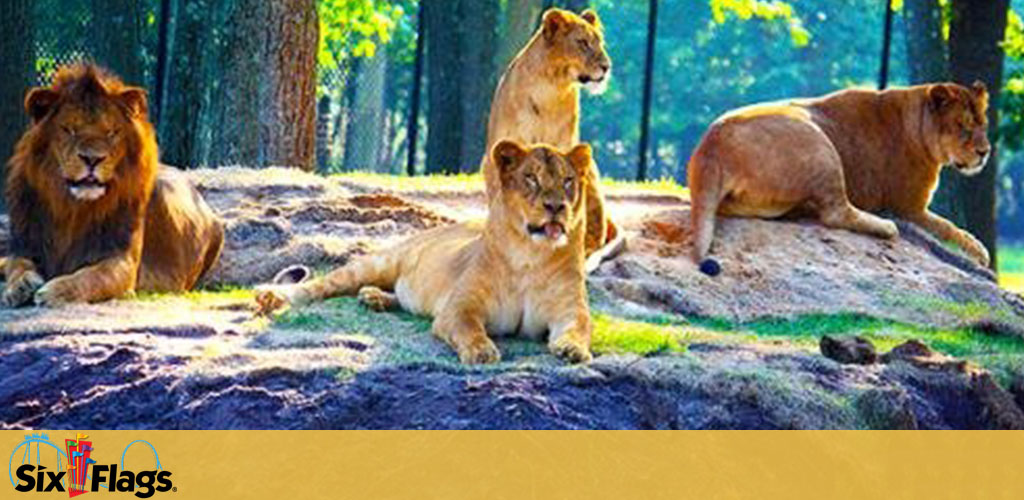 Lions are majestic creatures, and they are the only social cat species that live in family groups called prides. African lions rule the grasslands at Great Adventure's preserve, come and meet them with a discount ticket from GreatWorkPerks.
Frequently Asked Questions for Six Flags Great Adventure
Are reservations required for Six Flags Great Adventure tickets?

Reservations are no longer required, though it is highly recommended to purchase your Six Flags Great Adventure discount tickets through GreatWorkPerks early in order to save time and money.

Is there parking?

Don't forget to buy your parking pass online before visiting. Six Flags does not accept cash and will only accept card payments.

Where is Great Adventure located?

You can visit the park at 1 Six Flags Blvd, Jackson Township, NJ 08527. Remember to purchase your discounted tickets from GreatWorkPerks before going!

Is smoking prohibited inside?

Six Flags maintains a smoke-free environment in all areas of the park except for the designated smoking areas. E-cigarettes are also only permitted in designated areas, while marijuana is strictly prohibited in the park.

Are selfie sticks allowed?

Selfie sticks, monopods, and similar devices are not allowed inside The Great Adventure.

Can weather affect the park's operating status?

Yes. Guest safety is the number one priority, so the park might close earlier than scheduled or remain closed due to certain weather circumstances.

What are the height requirements for the roller coasters?

The height requirements vary for each ride. They are listed in the Park Map & Guide that you'll receive at the venue.

Are pets permitted at Great Adventure?

Only service animals that accompany the visually and hearing impaired are allowed entrance. Other pets are not allowed inside the park.

Can I bring my own food and drinks to Great Adventure?

Only guests who have special dietary needs, food allergies, and infant food are allowed to bring outside food into the park. The containers must be non-glass. Park Security or Guest Relations will need to be notified to provide a stamp when these are accepted.

Can I re-enter the park when I left on the same day?

Yes, but you must get your hand stamped at the exit gate. When you come back, you must enter through the main entrance turnstiles and show your hand stamp for re-entry. Without a hand stamp, you will not be permitted to go back in.

How soon will I get my Six Flags Great Adventure tickets from GreatWorkPerks

You will receive your Great Adventure tickets in your email instantly after your purchase, along with your receipt.
Last updated November 21, 2023.