Buy Six Flags White Water discount tickets today starting at only $29.57 vs $64.99 gate price. Savings of up to 55%. Lowest prices guaranteed on GreatWorkPerks
Tickets are non-refundable. Children aged two and under receive free admission.
Weekend: Valid for any Saturday and Sunday at Six Flags White Water. Tickets are valid until 09/10/2023.



**Six Flags has limited purchases to 10 tickets per transaction. Please create a separate transaction for the excess for purchases of more than 10 Six Flags White Water tickets.

The Newest Caribbean Cove!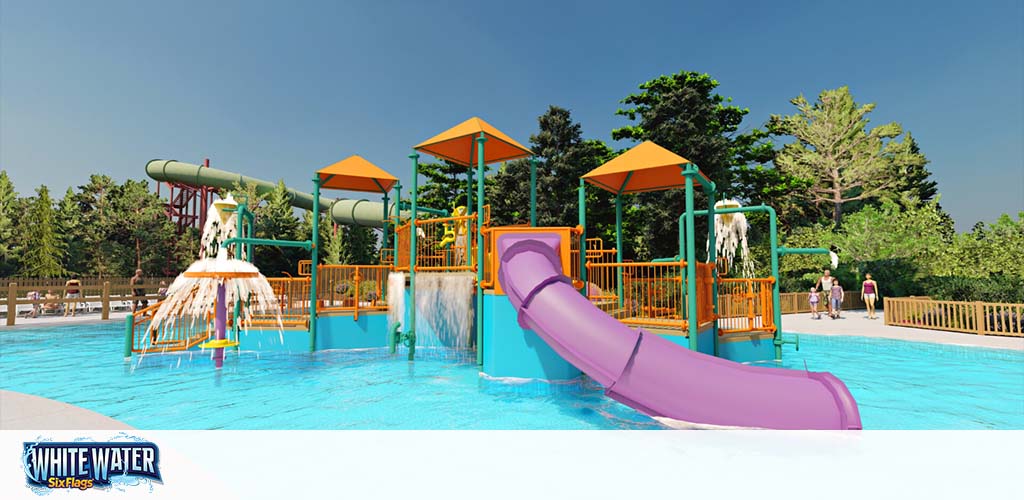 Get ready to step into the crystal-clear waters of Caribbean Cove, a brand-new children's AquaPlay structure coming to Six Flags White Water this summer! Kids can play with over 25 interactive water elements and splash their way down four mini-water slides.
Caribbean Cove is also the perfect place for older thrill seekers to relax and cool off while the little ones play. The shallow waters provide plenty of space to pull up a lounge chair and dip your feet in the pool while keeping an eye on the kiddos.
Get your discount Six Flags White Water tickets today to experience this newest waterslide inside Six Flags Georgia!
Overview
Experience these splashing thrills in Atlanta, including their newest Caribbean Cove, that's a great option for the little explorers! Plunge into deep waters and feel the zero gravity as you loop down 54 feet of high-speed slide on the Phyton Plunge! There's so much more to try out at the waterpark!
From kid-friendly rides to extreme thrills, visitors will have so much fun at Six Flags White Water, the best water park in the South!
The LOWEST-PRICED Six Flags White Water Discount Tickets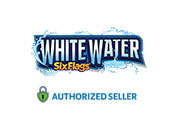 Lowest Prices Guaranteed!
GreatWorkPerks is an authorized seller of Six Flags White Water discount tickets. We couldn't have thrived for over 30 years if we weren't highly trusted by our customers. We would love for you to join our family and enjoy the best price for Six Flags White Water discount tickets, as well as other attractions nationwide!
Hassle-Free Transaction, Skip the Lines!
Another benefit of purchasing from GreatWorkPerks is that you do not need to print your Six Flags White Water discount tickets. Consider your phone your new best friend because all you need to do is present your e-tickets at the gates, and in you go!
Some things to know!
Park Operating Schedule
The park usually operates from 11:00 AM to 7:00 PM. Park hours may change without prior notice. Check the official White Waters website for the latest updates.
Safety Measures
Wearing face coverings is optional but is recommended for visitors who haven't received the COVID-19 vaccine. Frequent handwashing is encouraged. Hand sanitizers are located throughout the park.
Park Location
Traveling from nearby cities? Six Flags White Water is in Marietta, Georgia. The park is easy to reach from Nashville, Birmingham, Montgomery, Greenville, Augusta, and Macon.
What to Do at Georgia's Six Flags White Water?
With kid-friendly play zones and heart-pounding rides that will take you to new heights of adventure, this site is the perfect pick if you're looking for a hip and enjoyable family-friendly spot to visit this summer. Purchase your Six Flags White Water tickets through GreatWorkPerks today!
Kids Rides
Buccaneer Bay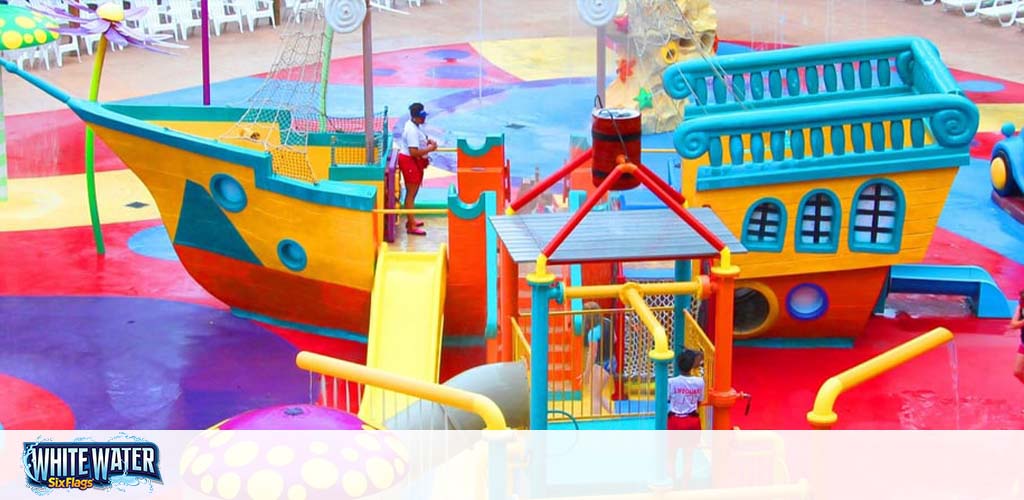 The expansive Buccaneer Bay is a great choice for families, with plenty of places to play and things to do. Young fish will enjoy the ample space to swim and play since the water depth always stays within a comfortable waist depth.
Lilypad Crossing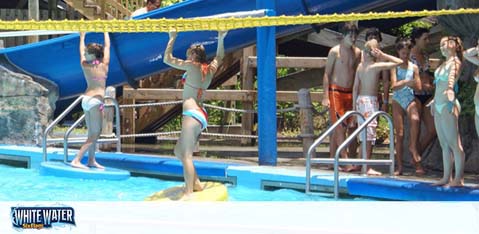 At White Water, you can practice your hand-eye coordination, agility, balance, and focus on a fun way. A long row of enormous lily pads are floating in Wildwater Lagoon. Try to make your way across them without falling!
Little Hooch River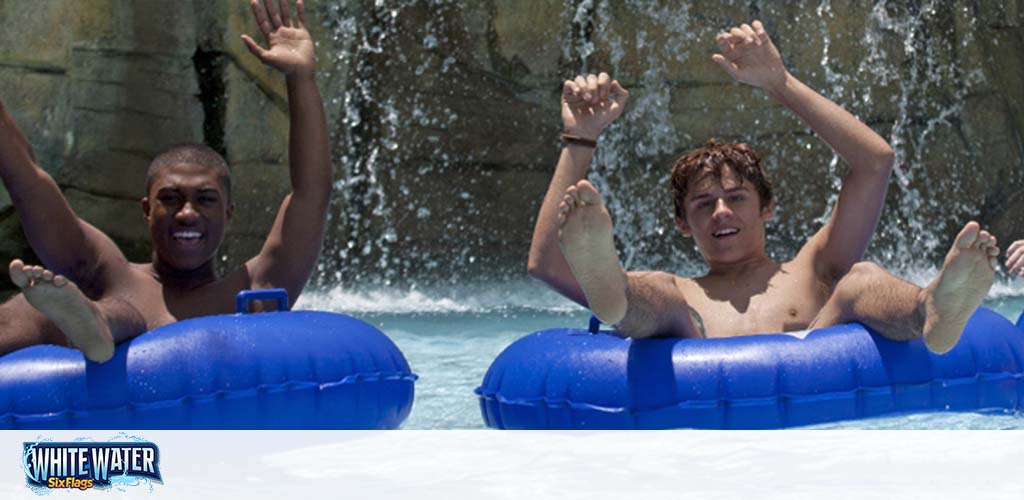 The Little Hooch River is a relaxing, flowing river perfect for lounging on a tube. Let the river guide you around as you relax on a raft and enjoy White Water's picturesque bridges and trees.
Purchase your Six Flags White Water tickets through GreatWorkPerks and have a great time with your family!
Family Rides
Bahama Bob Slide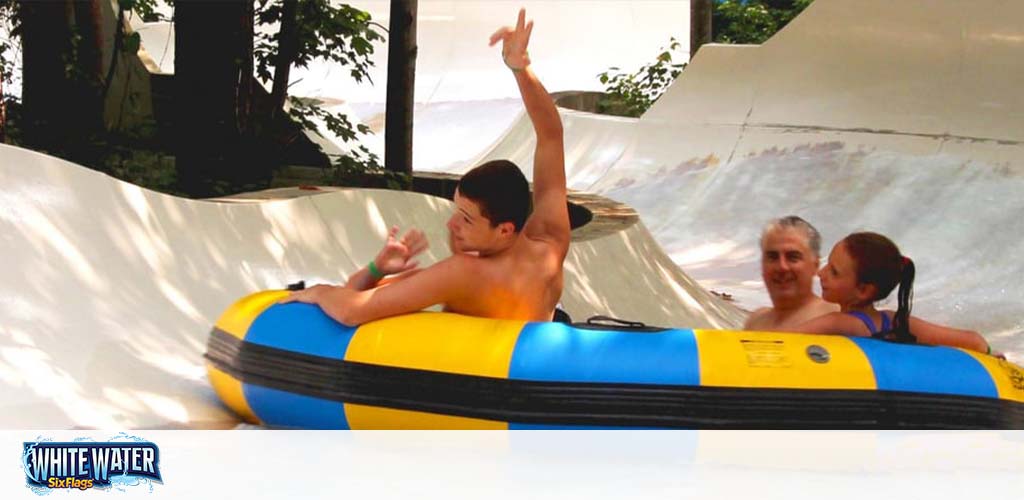 With this six-story open-air slide, you and your group may float down a river of white foam and have some wild fun. It'll be a crashing, splashing, wall-banging race as you all slide down insanely steep slopes at crazy speeds.
Bermuda Triangle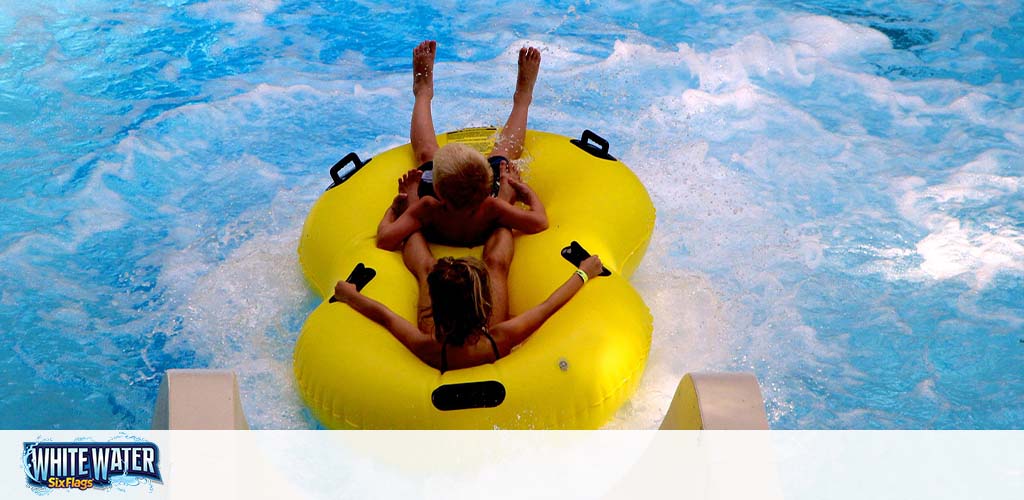 Grab your buddy, hop into a unique tube made for two people and plunge headfirst into the unknown. First, you'll race down a raft slide with tall, slippery walls. Once your tube blasts into the pitch-black tunnel, you will enter the triangle. When you finally emerge into daylight, you'll be relieved—except that you must go through the Bermuda Triangle twice!
This experience is already included in your Six Flags White Water ticket from GreatWorkPerks.
Skull Island
Skull Island is one of the largest water parks in the world, with 100,000 square feet of wet and wild excitement. This massive playground has all the fun surprises you can imagine!
Dragon's Tail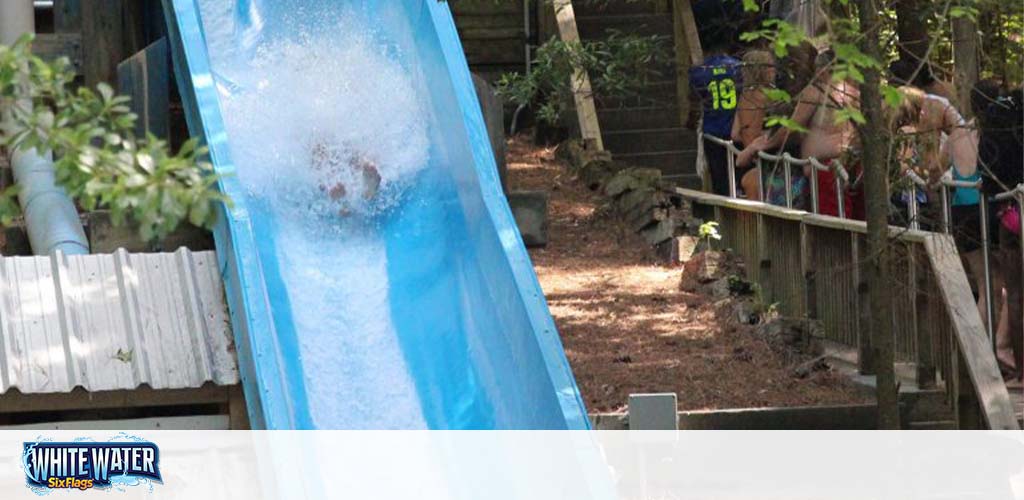 Get ready for some serious fun when you leap over three consecutive, unexpectedly steep drops. This lightning-fast descent has no curves, so you will reach incredible speeds as you race to the bottom.
Get your Six Flags White Water discount tickets today to experience the thrill at Dragon's Tail!
Thrill Rides
Atlanta Ocean Wave Pool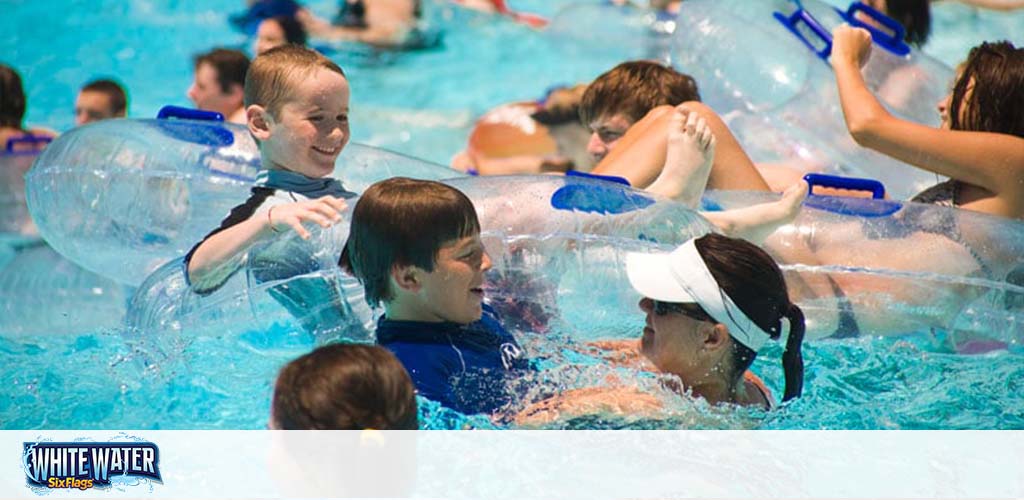 Being swept away by a wave is a thrilling experience. With 700,000 gallons of space, you can ride the waves to your heart's content. You can get a raft and cruise over the four-foot waves like a ship or surf like an expert.
This experience is included in your Six Flags White Water tickets from GreatWorkPerks
Python Plunge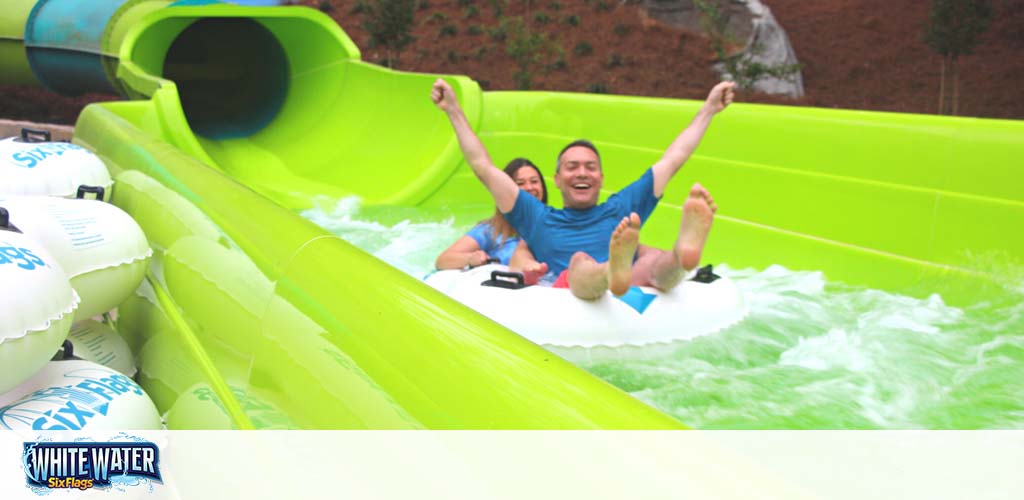 Climb into your two-person raft and glide gracefully across the park's picturesque natural scenery and around the rims of four slanted saucer bowls. Fasten your seatbelts as you hurtle down the hill at lightning speed through a spiral slide into the water below!
Tips and Tricks for A Family Fun Day!
Ideal Visit
Visit the theme park when attendance is lightest to make the most of your trip and avoid big crowds. You may visit on weekdays in summer and any regular day during May and September.
Purchase GreatWorkPerks Six Flags White Water discount tickets in advance
To enjoy the best discounts, we recommend guests purchase Six Flags White Water tickets before visiting. Enjoy savings of up to 55% off only at GreatWorkPerks
Arrive Early at the Park
We recommend you come to the park as early as you can, that way you will be able to have so much fun! Pro-tip: For shorter queues, you may start your adventure by going to the furthest attraction from the main entrance.
Restaurants and Dining
You can find a wide range of delicious cuisines at the park. All of the diners are guaranteed to satisfy your appetite. They have delicious food that you and your family will enjoy. You can always find exactly what you're looking for, whether you want to grab a quick snack between rides or settle down for a hot pizza.
You may find these food stalls and restaurants inside the park. Listed items are subject to change without prior notice.
Activity Pool Cart
Atlanta Ocean Dippin' Dots
Beachside Smoothies
Boardwalk Burger & Fries
Buccaneer Bay Dippin' Dots
Catered Picnic Pavilion
Front Gate Dippin' Dots
Granny's Funnel Snack
JB's Smokehouse
Main Street Dippin' Dots
Primo's Pizzeria
Seaside Fries
Sternwheeler
Totally Kickin' Chicken
Upper Bath ICEE
Wave Pool Cart
Wave Pool ICEE
Frequently Asked Questions for Six Flags White Water
Do I need a reservation to enter?

No, reservations are not required at Six Flags White Water.

Where is the park located?

Visit the park at 250 Cobb Parkway N #100, Marietta, GA 30062.

What are the operating hours of the attraction?

They are usually open from 11:00 AM to 7:00 PM. Please note that hours of operation may change without prior notice, so you can check the official website for the latest update.

Can I request a refund if I can no longer go?

No. All Six Flags White Water ticket purchases are non-refundable, per the attraction's policy. The park does not offer cancellations, refunds, rainchecks, or exchanges.

How soon do I get my Six Flags White Water discount ticket from GreatWorkPerks

You will receive them instantly, along with your receipt!

Do I need to print my e-tickets?

No need to print them! Show your discounted Six Flags White Water tickets through your mobile device, and you'll be ready to start having fun!

Am I allowed to bring a selfie stick inside?

Selfie sticks, monopods, and any other similar device are strictly prohibited inside the park, so please leave them at home.

Can I bring alcoholic beverages inside the park?

You can't bring any type of alcoholic beverages! However, you may purchase them inside. Only visitors that are 21 and older are permitted to consume alcohol. Proper Identification is required when purchasing and consuming alcohol.

Is there a place in the park where I can store my belongings?

Yes. Guests may rent lockers at the park on the day of the visit—strictly no reservation. Lockers are available on a first-come, first-served basis.

Are pets allowed inside the park?

No, pets are not allowed inside the park. The only exception is for service animals.

Can I rent a stroller at the park?

Stroller rentals are not available at White Waters.

Can I re-enter the park after leaving?

Yes, you can, as long as you have your hand stamped before leaving the park. Re-enter at the gate and show your hand stamp. Please remember: no hand stamp, no entry.

Can I smoke inside White Water?

No. The park is smoke-free; smoking, including e-cigarettes, is not permitted inside. You may use your e-cigarettes at designated smoking areas.

Can I bring food and drinks to the park?

Outside food and beverages are not allowed inside. The only food exceptions are for food allergies and infant food stored in a non-glass jar.

Should I buy my child a separate Six Flags White Water discount ticket?

Children ages two and under get free admission at White Waters. If the child is three years old already, keep in mind they need a valid and separate Six Flags White Water ticket to enter.
Last updated August 10, 2023.
Six Flags White Water Tickets