Get 10% off on LEGOLAND California Hotel discount bookings from GreatWorkPerks Exclusive discounts for LEGOLAND Hotel and LEGOLAND Castle Hotel!

GreatWorkPerks Saves You 10% off for LEGOLAND California Hotel
You will be amazed once you visit this awesome hotel! Each room is a unique adventure that families will love! Come stay at the LEGOLAND Hotel and discover all the LEGO themed rooms and activities. Buy your LEGOLAND California Hotel discount tickets today. Get ready to have a lot of fun!
Save big while having a wonderful time at the LEGOLAND California Hotel by purchasing your GreatWorkPerks LEGOLAND California Hotel tickets!
Terms And Conditions
Requires Full Prepayment
When making a reservation, you will be required to make a full payment for the room, as well as the Resort Fee and any taxes that may apply. Please keep in mind that once the payments have been made, you will not be able to cancel, make changes, or receive a refund.
Disclaimers
Discount and room nights are subject to availability.
Blackout dates may apply.
Not applicable to all room or theme types.
Not valid on previously booked rooms.
Offer cannot be combined with any other offers, discounts, promotions or group rates.
Additional restrictions may apply and are subject to change without notice.
Overview of the LEGOLAND California Hotel
Stay at the best family hotel in California – the LEGOLAND California Hotel in LEGOLAND Resort California. There are two magnificent hotels at the park: Castle Hotel and the LEGOLAND Resort Hotel. Each hotel features 250 rooms, each one packed with Legos and themed play areas. The hotel is located within a short distance from the amusement park's entrance.
Both the Resort Hotel and the brand-new Castle Hotel are available to guests of LEGOLAND California. Any of these choices would be perfect for a night's stay with the family. If you want to give your family the chance to enjoy the most unforgettable LEGO experience imaginable, you might want to think about spending the day at the coolest theme park and the night at the LEGOLAND California Hotel. Stay at the Castle Hotel and you and your royal family will enjoy some LEGO magic and fascinating tales of faraway lands and royal kings and queens. GreatWorkPerks has the best deals for your stay at the LEGOLAND California Hotel, and you can get your LEGOLAND California Hotel discount today!
Why chooseGreatWorkPerks for Your LEGOLAND California Hotel discount?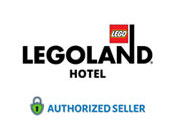 We have the lowest prices in the market!
Our company offers the lowest prices on discounted tickets to your favorite destinations. We offer our customers exceptional discounts and the lowest rates for LEGOLAND Hotel. We have provided tens of thousands of users with the most affordable LEGOLAND California Hotel discounts and passes, as well as excellent corporate benefits. Buy your tickets now to enjoy the benefits of saving big!
No Separate Bookings Required!
GreatWorkPerks offers the best service! Our LEGOLAND California Hotel discounts grants you access to whenever is most convenient for you. You are not required to make another reservation, but we do strongly advise to pick a date for your visit, as they may have to accommodate your stay! This benefit will make you smile! Your LEGOLAND California Hotel discounts are available whenever you choose to use them!
Visits are Made Easier: Skip the Long Lines!
Once you purchase your LEGOLAND Resort discount tickets through GreatWorkPerks, you won't have to wait in line to get in – this is another benefit of buying your tickets through GreatWorkPerks To avoid waiting in line at the hotel, you can make your reservations in advance through online purchase and save the hassle. Check-in time at LEGOLAND California Hotel is at 4:00 PM and check-out time is 11:00 AM.
Sign Up Now and Get Access to Even More Exclusive Deals!
The best part is that if you have an Employee Access Code (EAC) or work email, signing up for the service as an individual or registering your company is completely free of charge. If you sign up, you'll get deep savings on attractions like the one-and-only LEGOLAND California Hotel and other great places to visit across the United States, like theme parks, water parks, museums, and outdoor and indoor activities, etc.
Perks of buying GreatWorkPerks Discount tickets to LEGOLAND Hotel
Your LEGOLAND California Hotel discount from GreatWorkPerks offers you the chance to experience staying in these themed hotels that are filled with a variety of interactive LEGO features: from LEGO-inspired rooms to activities that are sure to amaze your kids! You will have an incredible stay and save money if you choose GreatWorkPerks to purchase your stay at the LEGOLAND California Hotel!
You have the option of choosing whatever Lego-themed room you would like to stay in at the LEGOLAND Hotel. Your accommodation at the LEGOLAND Resort can have a variety of themes, including Lego Ninjago or Lego Friends, as well as an adventure theme, a pirate theme or even a kingdom one. Each and every one of these rooms is incredible and full of surprises for the entire family!
Your discounted deal at the LEGOLAND California Hotel comes with a complimentary breakfast buffet at the hotel. Doesn't that sound wonderful?
LEGOLAND Hotel Rooms
If you're planning a family vacation to LEGOLAND California Resort, you'll need to book a room at a hotel that offers you a comfortable stay. LEGOLAND Hotels guarantee that you'll have a wide range of accommodations to choose from, making them one of the finest hotels in California! Both the Resort Hotel and the Castle Hotel are highly recommended places to enjoy your stay and relax after a day of fun.
To help you choose which hotel is best for you, here's a list of their key features and amenities:
LEGOLAND Resort Hotel
LEGOLAND Castle Hotel
Free Breakfast (Hot Buffet!)
Free Breakfast (Hot Buffet!)
Great entertainment for kids!
Great entertainment for kids!

Themed Rooms:

Adventure, Lego Ninjago, Kingdom, and Pirate-themed rooms.

Themed Rooms:

Has more than 250 Lego Castle-themed rooms (Knights & Dragons, Magic Wizard or Royal Princess)

Location:

Near the entrance of Lego California Themed Park.

Location:

Near the entrance of Lego California Themed Park.
Access to Treasure Hunt throughout hotel.
Has Ultimate Kid's Quarter
Access to Pool with soft bricks to build!
Has access to an exclusive pool area with interactive water play features!
-
Has an entertainment courtyard.
-
Has lots of playful surprises for you to enjoy!
Now that you have a general idea of each hotel, read on for a more detailed description of each one, and the special amenities you'll enjoy the most. Make the most of your trip to Lego California with a premium stay at the LEGOLAND Hotel, thanks to our LEGOLAND California Hotel discount deals!
All About LEGOLAND Resort Hotel – Inside Preview
If you want to make sure that your vacation is one that your kids will never forget, consider booking a room at the LEGOLAND Hotel, which is located in the heart of the LEGOLAND California Resort. Take advantage of the savings you will make if you purchase your LEGOLAND California Hotel discount deals through GreatWorkPerks
LEGOLAND Resort Hotel Themed Rooms
Lego Ninjago-Themed Rooms
As you go into the world of Lego Ninjago and become a master of the elements, you can relax in your cozy chamber and fantasize about one day becoming a ninja master. Kids who think it would be cool to wake up to a ninja-themed bedroom will love this space. This room was designed for families, so everyone will have a great time. When you use your LEGOLAND California Hotel discount from GreatWorkPerks, you can quickly reserve an awesome stay at the LEGOLAND Hotel.
Room features:
Room designed entirely with a Lego-Ninjago theme
Designed to fit a family of five
Separate adult and child area to sleep
Pirate Themed Rooms
Once inside Captain Brickbeard's pirate cabin, all you have to do is follow the clues to find the hidden treasure chest. Take some time to relax in your king-size cabin while your younger shipmates play Legos and imagine sailing the seven seas. Reserve your pirate themed room through GreatWorkPerks using the LEGOLAND California Hotel discounts today!
Room features:
Room for 5 family members
A separate sleeping room for children
Treasures for your kids to find!
Lego Friends Themed Rooms
You and your LEGO Friends are in for some non-stop fun and excitement. Rooms have been meticulously designed to make you feel part of the Best Friends group from Heartlake City, so you may relax in style and have a fun time during your visit. With its bright wall painting and details these rooms are spot-on recreations of Heartlake City. Using the GreatWorkPerks LEGOLAND California Hotel discount deals, you can treat your friends to a sleepover in one of the beautifully crafted Lego-themed rooms at the Resort.
Inside Features:
Room inspired by Lego Friends
Designed to fit a family of five
Separate sleeping areas for kids
Hidden treasure for your kids
Kingdom Themed Rooms
The amenities and services in this accommodation are fit for a king, a queen, a prince, or a princess. There's a treasure to be found before your royal children retire to their own majestic rooms. Are you ready to discover this incredible kingdom full of dragons, shields and treasures?
Extras on the Inside:
Room inspired by the Kingdom theme
Designed to fit a family of five
Separate sleeping areas for kids and grown-ups
Hidden Treasure
Adventure Themed Rooms
These rooms are only for brave explorers. Spend a few nights in a premium Adventure suite and experience an unforgettable vacation! You and your kids will love your stay! When you use our LEGOLAND California Hotel discounts, you can save big!
What's Inside?
Room is entirely decorated as a Lego Adventure
Designed to fit a family of five
Separate sleeping areas for kids and adults
Treasure Hunt included
Shop at the Lego Store, It is Awesome!
If you are a huge Lego's Fan, then you have to stop by the store. Lego Shop features a major amount of some really cool Lego-related items for sale. They also have variety of goods that you might need on your vacation, such as:
Lego Collectibles
Personal Care and Toiletries
Souvenirs
LEGOLAND Resort Hotel Services Offered
The hotel provides not just high-end accommodation but also a range of services (in case). For example:
Parking at a daily rate
Laundry Service
Wi-Fi
Room Service
LEGOLAND Castle Hotel Inside View
Come visit the all-new Castle Hotel, where every brick is filled with Lego enchantment and captivating tales of Knights, Wizards, and Kingdoms from other regions. The famous California Resort is pleased to welcome you. Today, through GreatWorkPerks, you can book the perfect weekend getaway and take advantage of the great rates we offer. Just make your reservation for the LEGOLAND California Hotel discount, and you'll be good to go!
Castle Hotel Themed Rooms
The Knight-themed chamber is the place to stay if you're waiting for your chance to become a hero and defeat magnificent beasts. If you're more into potions and spells, you might want to book a room with a wizard theme!
Knights & Dragons Themed Rooms
If you choose these rooms, you will receive a hero's welcome! Perfectly designed for the castle's champion. A stained-glass window hangs above the bed in this whimsical Knights & Dragons room decorated with colorful flags and shields. Reserve your room at LEGOLAND Resort today through GreatWorkPerks's LEGOLAND California Hotel discount tickets and save up to 10% off!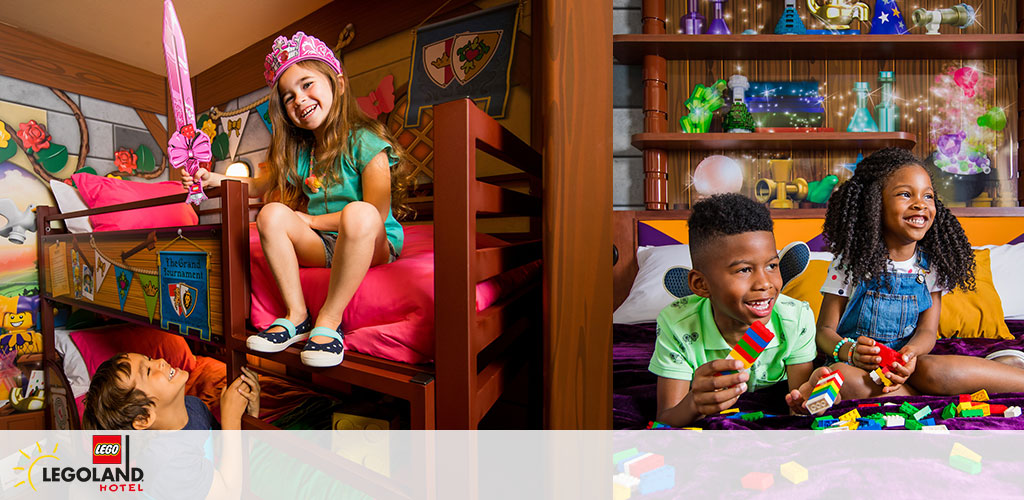 Royal Princesses Themed Rooms
Feel like a real princess in this colorful, fancy room. Are you ready to create some Lego memories? You and your princesses will feel so happy while you hunt for a Lego treasure in this beautiful and royal room. Your kids can sleep and play in their own separate space. This hotel's standard rooms and suites both feature the Royal Princess design, so you can choose which type you would prefer. Enjoy your stay while saving money with your LEGOLAND California Hotel discount tickets exclusively for GreatWorkPerks members!
Magic Wizard Themed Rooms
The Magic Wizard Room is great for anyone who wishes to learn magic and stir some potions. The Wizard's chamber is bursting with magic inside. Would you like to learn how to make some magical spells? GreatWorkPerks is the best way to save up to 10% on your LEGOLAND California Hotel during your stay, so if you want to see some magic, you should book now through GreatWorkPerks
Hotel Benefits
Any of the Legoland Hotels are great if you are looking for a unique stay. Have fun and rest at these awesome resorts.
At Resort Hotel
Welcome Treasure Hunt!
You can get a discount on your hotel stay by booking it via GreatWorkPerks, and once you get to the hotel, you can begin searching for clues all over to help you figure out the combination to the treasure chest that is in your room. Unlock it to find a special gift that's been hidden inside! During your stay, a bucket of LEGO bricks will be in your room for you to use in creating your own masterpieces.
At Castle Hotel
Lego Play
The hotel contains interactive Lego elements, such as an outdoor courtyard in the form of a castle that is equipped with interactive games for young noblemen and ladies. There are so many surprises that can be found around every corner.
Pool Perks!
Are you considering which hotels offer the best pool privileges to stay at? Both the Resort Hotel and the Castle Hotel have some great pools!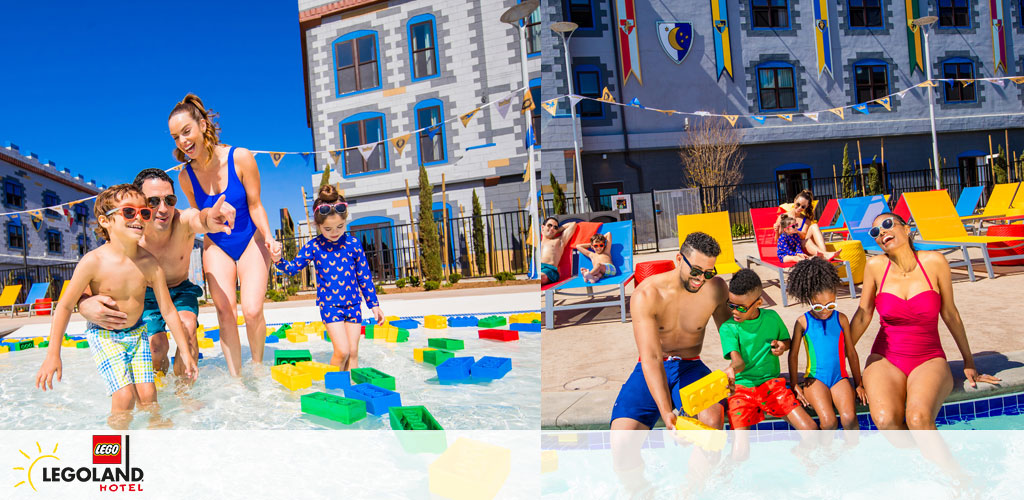 You just need to get your discount tickets and some spare clothing to be ready to start splashing around in this luxurious, heated pool. There are soft bricks in the water for you to build and play with while you swim. This will make your trip even more memorable. Cabanas can be rented seasonally at the Resort Hotel California, and there is a food and beverage service available right by the pool. This accommodation is suitable for the entire family. Children younger than 14 years old are not allowed in the area surrounding the pool unless they are accompanied by an adult. Parents are solely responsible for the children's safety. Children who are under 48 inches tall are required to wear a life jacket that has been authorized by the United States Coast Guard.
When you book your hotel discount tickets at GreatWorkPerks, where the lowest prices are guaranteed, you and your family will have the opportunity to experience all of these wonderful and humorous moments together!
Visit LEGOLAND California Resort During your LEGOLAND Hotel Stay!
You might want to double the fun by going to the LEGOLAND California Resort, which is only a few steps away from the Hotels. Enjoy more than 60 rides, shows, and attractions in this hands-on theme park experience. It's a perfect place for families and kids. In addition to having the world's first Lego Water Park, the Resort is also home to the world-famous Sea Life Aquarium. It's also located less than three kilometers from the nearest beach, making it a great option for those who've always wanted to visit many great places in one stay.
Hurry up and purchase your theme park discount ticket here!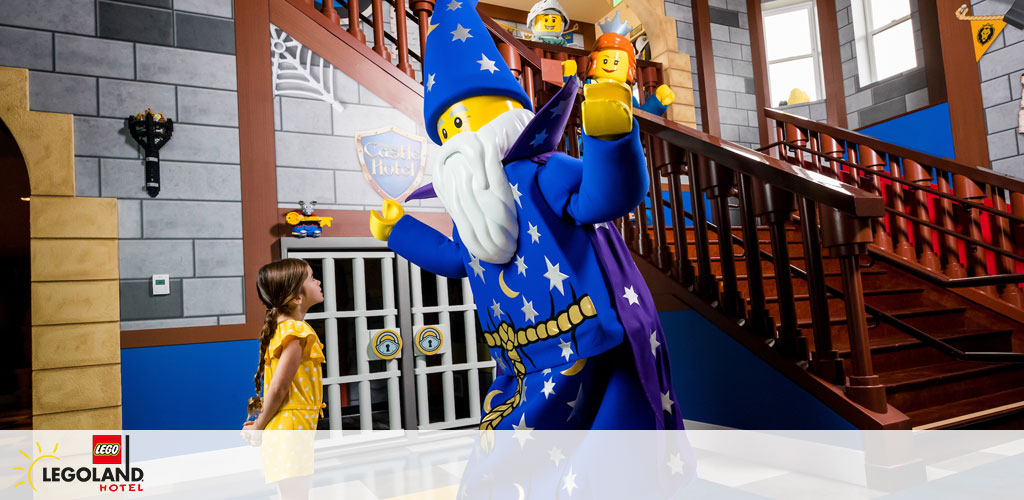 How big is LEGOLAND park?
It is located in Carlsbad, California. The total park is 128 acres in size. There are several attractions, including a land park, a water park, a Sea Life Aquarium, and a number of five-star hotels. Great news! Buy your tickets to LEGOLAND California from GreatWorkPerks instead of paying the gate price, and save huge!
Frequently Asked Questions for LEGOLAND Hotels
Are reservations required when staying in LEGOLAND Hotels?

Yes, absolutely. You will need to make a reservation. When you make your reservation in advance online for your LEGOLAND California Hotel discounts, you will be asked to select a date when you expect to check in as well as the number of guests that will be staying in your room (adults and kids).

Where is the hotel located?

The hotel is located right at the entrance to the LEGOLAND California Resort. At LEGOLAND One Drive, Carlsbad, California 92008, the Hotel can be found directly across the street from the primary entrance of the theme park.

What is the check-in hours at LEGOLAND Hotels?

The hotel has a 4:00 pm check-in. Check-out is at 11:00 am. Guests who remain in the hotel past their scheduled check-out time will have additional charges added to their credit card automatically.

Is there free parking with your LEGOLAND California Hotel discount ticket?

A reservation to the hotel does not entail a free parking space for guests. General and valet parking are available at the Castle Hotel and the LEGOLAND Resort Hotel.

How much is a reservation for LEGOLAND California Hotel?

The cost of your hotel room depends on the room type that you select when you check in. Reservations for hotel stays come in a variety of price levels. However, if you book your accommodation with GreatWorkPerks, you are guaranteed to receive a discount of 10% on any and all hotel reservations you make, regardless of the option you select.

Is there free breakfast included in my hotel stay?

Yes, without a doubt! If you make a reservation, you are guaranteed to a complimentary breakfast buffet during your entire duration of stay there. Guests who did not include breakfast in their reservation options have the option to purchase it upon arrival and at an additional charge.

Are there strollers or wheelchairs available for rent at the hotel?

Unfortunately, there are no strollers or wheelchairs for rent at the hotel, but these can be rented within the Legoland park to be used there.

Can I bring my own stroller/wheelchair instead?

Yes. Guests are encouraged to bring their own wheelchairs and strollers, however other wheeled vehicles, such as bicycles and skateboards, are not allowed inside the venue.

Are children allowed to access the pool?

Yes. However, children under the age of 14 are required to be accompanied at all times by an adult who is at least eighteen years old. Children who are less than 48 inches tall are required to wear the life jacket that is provided. Yes, life jackets are provided and can be borrowed for free by any children who might require one.

Do visitors need to be vaccinated?

Guests are no longer required to show proof of vaccination, a negative COVID-19 test, or wear face masks before entering LEGOLAND California; however, the California Department of Public Health strongly recommends that all guests be fully vaccinated before entering the park to reduce the risk of spreading the disease.
Last updated October 5, 2023.
LEGOLAND® Hotel California
LEGOLAND HOTEL SAVINGS.

GreatWorkPerks members can receive a 10% discount on LEGOLAND Hotel bookings!