Overview
This is no ordinary zoo. The Austin Zoo is a residential space for rescued animals, and the forever home of 300 animals, across 100 different species. As you wander about, learn the name of each animal, discover its furry or scaly past, and find out how it came to be at the zoo from the story boards by each enclosure.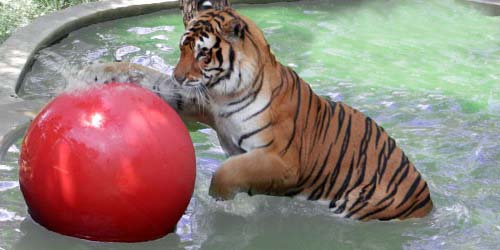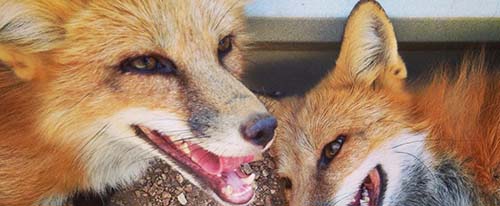 Alternatively, wait for the live demos and talks by the passionate staff!
Want to feed the goats, deer, llamas, alpacas, and sheep? Just buy them some food from the gift shop and see who's hungry.
Why pick GreatWorkPerks

Our company guarantees to give you discounted tickets to your favorite attractions at the best price.
As the largest reseller of discount Austin Zoo tickets, we are able to provide our customers with exclusive discounts and best prices for Austin Aquarium tickets. For the past 30 years, we have offered the cheapest discount tickets and discount passes possible and great corporate benefits to thousands of companies.
Buy your Austin Zoo tickets now to enjoy the biggest discounts in the industry!
Here's the perfect part: company sign up and individual registration are totally free with your employee access code (EAC) or with your work email address. Yes, reading that again will not change the words. It is free! After registration, you can enjoy huge discounts on theme parks, water parks, museums, zoos, aquariums, and outdoor and indoor adventures!
Need some clarification? Find the answers to your questions below or reach out to us through text/call at 888-295-7375 or help@greatworkperks.com
Another benefit of purchasing with GreatWorkPerks is that you do not need to print your Austin Zoo discount tickets.
Consider your phone your new best friend because all you need to do is present your discounted Austin Zoo tickets at the gates and viola, in you go!
Animals to Find at Austin Zoo
Austin Zoo has a wide array of animals and species, available for you to meet face-to-face! Get to see them when you visit or scroll on down to get a preview of the surprises and wonders waiting for you at the zoo.
Feline Family
Their big cat family consists of lions, cheetahs, cougars, tigers, jaguars, and leopards. Unfortunately, these big cats are either threatened or endangered. It is imperative that we support movements and organizations that prioritize the safety and protection of these animals.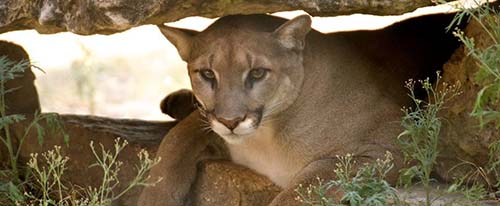 Reptiles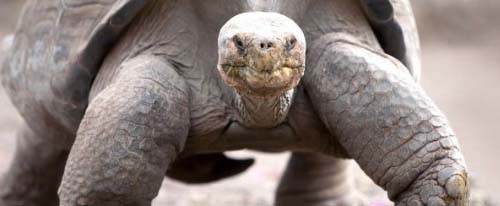 Reptiles are non-arguably one of the most amazing creatures to ever walk (or slither) on the grounds of the Earth! Here at Austin Zoo, catch the most mesmerizing reptiles that include tortoises, turtles, lizards, and snakes!
A fun fact: One of the most notable differences between tortoises and turtles is that tortoises spend most of their time exploring and roaming on land while turtles are more into spending time in the water.
Feline Family
Whether they are birds that fly or not, find them at the Austin Zoo! Their birds include cockatoos, macaws, and peafowls! Peafowls include male peacocks and – wait for it – female peahens! Their beautiful fluff of feathers are sure to capture anyone's attention with shades of blue and green on elegant display.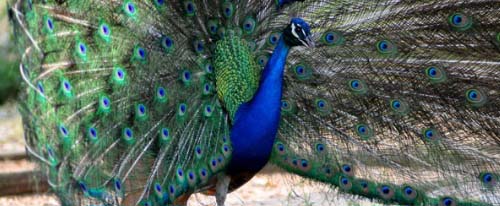 Where's the Map?
Attractions like the Austin Zoo could get a little difficult to navigate. Make sure to be one step ahead of the others and download the maps to the park by clicking this link.
You may also view it below for your convenience and start planning out your itinerary.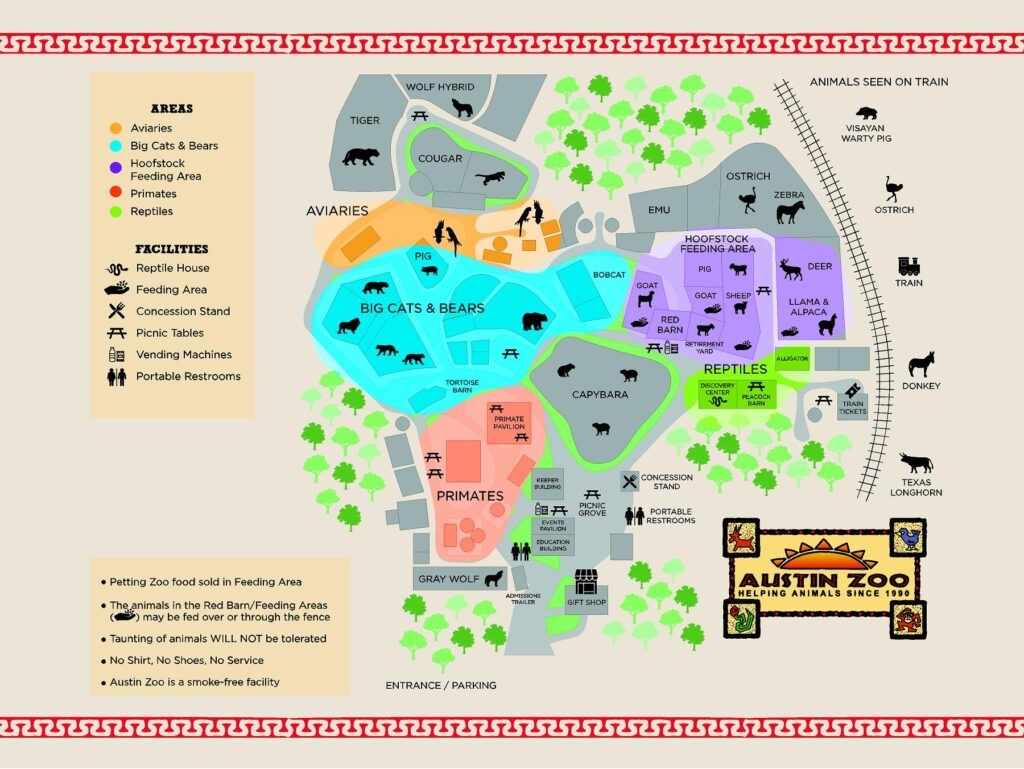 Frequently Asked Questions
Are reservations required?

A: Yes. Consider your dated tickets as your reservation to the zoo. No additional reservations are needed.

What are the hours of operation of the zoo?

A: The zoo's regular hours from February 1 to October 31 is 9:30 AM to 5:00 PM from Monday to Thursday and 9:30 AM to 6:00 PM on Friday, Saturday, Sunday, and national holidays. The zoo is closed on Thanksgiving and Christmas Day.

Where is the zoo located?

A: You can find the zoo at 10808 Rawhide Trl, Austin, TX 78736-2716.

What are the COVID-19 precautionary measures implemented by the zoo?

A: The zoo requires the wearing of face masks. Please be sure to bring your own. Additionally, there are hand sanitizers all around the zoo. Their tickets are only sold online and transactions and/or additional purchases inside the park are all non-cash.

What does the ticket price include?

A: Discount tickets start at $10.72 for one-day admission vs $13.95 gate price! Tickets are emailed immediately after purchase and includes any processing fees.

Do I have to print my tickets out?

A: These discount tickets do not need to be printed out! You can show them on your phone for easier entry. These discount tickets include processing fee(s) and will be giving the guest access to the zoo for their preferred date of visit. With these tickets, you can explore this small zoo and meet the animals that include big cats, domestic animals, Texas wildlife, birds, bears, and many more!

Why can I not choose a time slot for my chosen date?

A: When there are no time slots available on the day you prefer to visit, you may enter the zoo anytime then!
Tips before visiting the zoo
Since the trails are made of gravel, comfortable walking shoes are recommended for you on the date of your visit.

Animals are not allowed to be brought both into the zoo and/or outside of the zoo.

Come early to enjoy all that there is to explore! Last admission is an hour before closing time.
Austin Zoo Discount Tickets
General Admission Tickets (Adult)

Ages 12+

Regular price $15.43

Discounted Price $13.89

Savings $1.54

General Admission Tickets (Senior, Student, and Military)

Ages 60+/with valid student ID

Regular price $14.52

Discounted Price $13.07

Savings $1.45

General Admission Tickets (Child)

Ages 2-11

Regular price $12.70

Discounted Price $11.43

Savings $1.27