Regal tickets at only $9.00 vs $14.75 gate price! Get to save up to 39% on your movie tickets! E-tickets are emailed immediately. No expiration dates.
Physical tickets ordered on weekends and after 3PM PST on weekdays will be shipped on the next business day.
Watch your long-awaited movies at your favorite theater, Regal Cinemas! Purchase your discount tickets to Regal Cinemas today and save up to 39% off the box office price!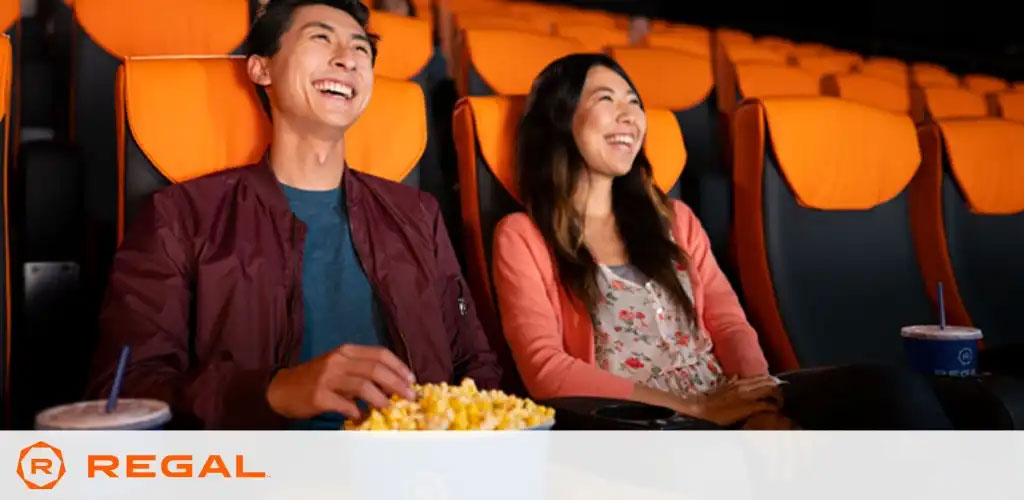 Regal Cinemas discount tickets never expire, so they make the perfect gift for any occasion! Kids who are two years old or younger do not require a seat and are FREE except in reserved seating and recliner locations.
Download this PDF file for a step-by-step guide on how to redeem your tickets via Regal Cinemas mobile app.
Special movie events such as double features, marathons, fan screenings, MET Opera, Fathom Events, some foreign language films, athletic events, private screenings, and concerts are not eligible for premiere tickets/e-Tickets. Regal has the right to amend or add surcharges at any time without prior notice.
These movie tickets are nonrefundable, nonreturnable, and nonexchangeable.
Overview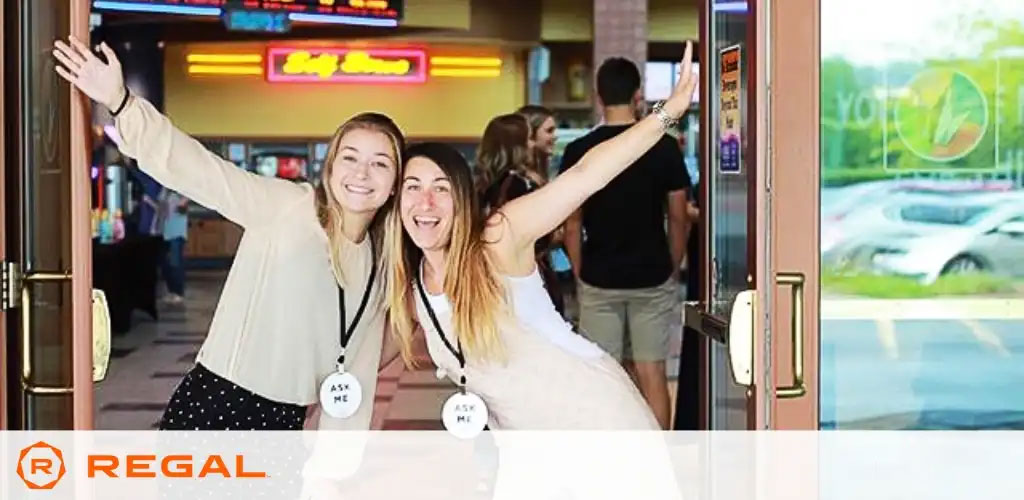 Movie lovers will have a great time at Regal Cinemas! This prestigious cinema is the largest motion picture exhibitor in the United States. With over 514 locations in 42 states, you are sure to find a Regal movie theater near you.
Regal Movies provide an enjoyable and high-quality movie experience for all movie fans. Catch the latest and greatest movies in their comfortable theater seats. You might want to catch some 4DX, IMAX, RPX films for an unbelievable experience. They always feature family-friendly movies that are a perfect way to bond withyour loved ones.
A movie is always a perfect way to kick back and relax so get your Regal Cinemas discount tickets from GreatWorkPerks Enjoy Regal Cinema tickets for only $8.99 vs $14.75 gate price! Save up to 39% and time! When purchasing your Regal discount tickets, E-tickets are emailed immediately to you with no expiration dates.
---
Why choose GreatWorkPerks
Our company guarantees to give you the lowest-priced discounted tickets to your favorite attractions. Regal Cinemas is one of the hundreds of attractions that we offer at the greatest rate. For the past 30 years, we have offered the cheapest discount tickets and discount passes in the market and great corporate benefits to thousands of companies. Buy your Regal Cinemas tickets now and enjoy the biggest discounts in the industry!
Here's the perfect part: company sign-up and individual registration are totally free with your employee access code (EAC) or with your work email address. Yes, you read that right. They are free! After registration, you can enjoy huge discounts on theme parks, water parks, museums, zoos, aquariums, and other adventures across the United States!
Have any questions or doubts? Feel free to reach out to us through text/call at 888-295-7375 or help@greatworkperks.com.
Another benefit of purchasing with GreatWorkPerks is that you do not need to print your Regal Cinemas discount e-Tickets. All you need to do is present your discounted e-tickets at the box office and, voilà, in you go!
Movies at Regal Cinemas
Regal Cinemas always has the newest movies at a location near you. Make sure you catch your most awaited movies with Regal Cinemas discount tickets. When buying from greatworkperks.com, enjoy up to 39% discounts and no expiration dates! You can catch a great movie any time you want.
There is always family-friendly movies to watch. Bring the whole family and have a great time. Always check the full show schedule! Click HERE.
Cinema Features
Regal Cinemas is committed to being the best place to watch a movie! Regal Movies showcase the best of the latest movies in 6,885 screens across 42 states. You surely will enjoy a top-notch experience. Enjoy Regal Cinemas discount tickets when you buy from greatworkperks.com!
Here are a few features you will love when you visit at Regal Movie Theater:
Cutting Edge Theater Technology

Regal Cinemas offers you prime quality, always. They offer a high-quality watching experience with their state-of-the-art theater technology. At Regal Cinemas, you can enjoy movies in IMAX, RealD ® 3D, RPX, ScreenX, 4DX and Dolby Atmos!

Theaters with Reclining Seats

Kick back and enjoy Regal King Size Recliners while watching your favorite film! These Luxury recliners are offered in select theater locations. What better way to enjoy a relaxing time than to recline and rest while enjoying up to 39% off on Regal discount tickets from GreatWorkPerks For a full list of Movie Theaters with Reclining Seats, please click

HERE.

Captioning and Descriptive Video

With Regal Cinemas, experience is inclusive for everyone! The theaters provide assistive and advanced technology to accommodate guests who are deaf, hard of hearing, blind or have low vision. They proudly offer Assistive Listening, Audio Description and Closed Captioning for both 2D and 3D movies. Regal team members are glad to help upon request.
My Way Matinee
Regal Movie Theaters features Sensory Friendly Movies! My Way Matinee gives the opportunity to experience a movie with lights turned up and volume down. This safe space allows guests to express themselves by singing, dancing, crying, walking, talking or shouting while enjoying the film of your choice. All sensory friendly movies are screened at 10:30AM on the second and fourth Saturday of the month.
For a list of participating theater locations, please click HERE.
COVID-19 Safety Information
Regal Movie Theaters welcomes back movie fans to a safe watching experience. Regal Cinemas commit to the safety of all patrons and employees. CinemaSafe is a program dedicated to promoting protocols and guidelines that support a safe movie going experience. Commissioned by the National Association of Theatre Owners (NATO), this program puts the health and safety of our guests and employees at the center of movie theatre operations across the country.
The CDC recommends masks and social distancing for unvaccinated people. Wearing of masks or facial coverings will not be required at the theater unless mandated by state and local guidelines. In the case that masks are mandated, they can be removed only while eating and drinking. Employees monitor auditoriums throughout each movie showing as a standard practice.

Movie Theater capacity will be reduced when required by state or county mandate.

Regal Cast Members undergo daily health screenings. All employees are required to wear masks where required under state or county mandate.

Regal works closely with relevant authorities to constantly monitor and adjust to safety requirements.
Frequently Asked Questions about Regal Cinemas:
Are reservations required for Regal Cinemas?

No, reservations are not required for Regal Cinemas.

When do these discount tickets for Regal Cinemas expire?

Regal Cinemas discount tickets do not have an expiration date. You may use these Regal Cinemas discount tickets at any time.

Do I need to print my discount tickets for Regal Cinemas?

No, you can just show your discounted e-Tickets for Regal Cinemas on your mobile phone to gain easy entry. You do need to bring your physical discount tickets to enter the theater if you have purchased physical discount tickets.

When will I be able to get my discount tickets for Regal Cinemas?

You will receive your Regal Cinemas discount tickets right after your purchase (for discount InstaPrint e-Tickets). Discount physical ticket orders received by 3 p.m. Monday through Friday, excluding holidays, are processed and shipped the same business day. Orders are not processed after business hours or on weekends or holidays for physical discount tickets. Once shipped, delivery dates are determined by the USPS.

Can I get a refund on my Regal Cinemas discount tickets?

GreatWorkPerks discount tickets for Regal Cinemas are non-refundable, non-transferable, and non-exchangeable.

What movies are playing right now at Regal Cinemas?

Check out Regal Cinemas' Now Playing page from their website to be up to date on currently playing movies!

How can I find movie times at Regal Cinemas?

You can use the theater locator from Regal Cinemas to find your theater's movie times.

Does Regal Cinemas have an age policy for tickets?

Regal Cinemas child tickets are for ages three to 11. Kids under three get in free except for reserved seating locations. Children ages six and younger are not allowed into R-rated movies even if their parents are with them. Senior tickets apply to those who are at least 60 years old.

Can you resend my order confirmation email in case I lost it?

Yes, we can! Please call us at 888-295-7375 for assistance.

Am I required to wear a mask or facial covering at Regal Cinemas?

Masks are not required unless mandated by local and state guidelines.
What precautionary measures is Regal Cinemas taking to help prevent the spread of COVID-19?
To see the complete list of actions Regal Cinemas has taken to ensure safety inside their theaters, please click HERE.
Last updated July 19 2023.