Check out other American Dream attractions:
Buy your Blacklight Mini Golf discount tickets from GreatWorkPerks starting at only $xx vs $xx gate price! Lowest prices guaranteed.
Have some glow-in-the-dark fun!

Come visit Blacklight Mini Golf. It is one of the most unique courses ever, and you're guaranteed to have a fantastic time here! A whole new spin on golf in the dark, where you will be surrounded by bright and colorful neon lights and music. You will have a glowing fun time!
Navigate out-of-this-world landscapes, unexplored planets, and exciting spacecraft while bathed in a rainbow of colors and the radiance of blacklights. Your family's round of mini golf will be taken to a new level when you play on this galactically fantastic 18-hole course! Come have an awesome time with your GreatWorkPerks Blacklight Mini Golf discount tickets!
GreatWorkPerks Lowest-Priced Blacklight Mini Golf Discount Ticket Prices!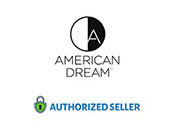 Lowest Prices Guaranteed!
GreatWorkPerks is an authorized seller of discounted tickets for Blacklight Mini Golf American Dream. We are one of the country's largest sellers of discounted deals, and we couldn't have thrived for over 30 years if our customers didn't highly trust us. We would love you to join our family and enjoy the best price for this deal and other attractions nationwide!
Hassle-Free Transaction, Skip the Lines!
Another benefit of purchasing from GreatWorkPerks is that you do not need to print your Blacklight Mini Golf discount tickets. Consider your phone your new best friend because all you need to do is present your GreatWorkPerks discount ticket from your phone!
If you purchase Blacklight Mini Golf discounts in advance through GreatWorkPerks, you don't need to line up at the ticket booth or gate entrance; skip the waiting and start having fun!
What to expect at the Blacklight Mini Golf American Dream?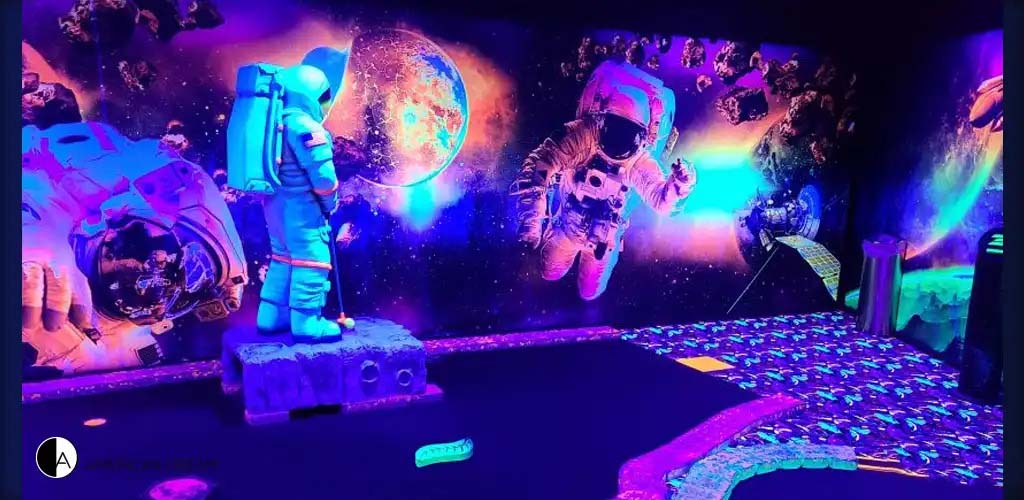 Post-worthy Golf Course!
Take pictures worthy of being posted on all of your social media and share your mini golfing experience. Show off your golf skills with great pictures and illuminating murals as your background.
A Galaxy of Fun!
Enter a dynamic environment where 3D sculptures and great music help set the mood for the neon lighting effects strategically placed throughout the course. Enjoy a whole new experience where you will have an amazing time with GreatWorkPerks Blacklight Mini Golf tickets!
Shoot for the Stars!
Become a member of the spaceflight crew and light up your family's day while having fun. Enjoy this unique space-themed golfing experience. With all the futuristic lights and glowing objects, you will feel like you are traveling to the future!
What should you do before you go?
Purchase GreatWorkPerks Blacklight Mini Golf tickets in advance.
The attraction highly recommends that guests should secure Blacklight Mini Golf tickets in advance to avoid waiting in line. Tickets sell out fast, and the park has a maximum capacity to ensure everyone's safety against the virus; thus, purchasing a Blacklight Mini Golf ticket in advance is a great idea!
What to bring?
The attraction strongly prohibits guests from bringing any kind of outside drinks and food. The American Dream is not responsible for any lost, damaged, or stolen items.
Wearing of mask is encouraged.
Visitors to American Dream who are vaccinated are no longer required to wear face masks while at the venue. Those who have not had all of their recommended vaccinations should nonetheless cover their faces and maintain an appropriate social distance (at least six feet) when they pay a visit.
Check out their hours.
Park hours prices are subject to change without notice. They are usually open from 10 AM to 10 PM. Please check American Dream Mall's official website for up-to-date hours.
Frequently Asked Questions for Blacklight Mini Golf American Dream
Are reservations required?

No. Reservations are not required.

Can I get a refund on my Blacklight Mini Golf discount tickets if I can't go?

We are very sorry to tell you that all purchases are non-refundable and non-exchangeable. Make sure to choose a date that works for you.

Where is the American Dream located?

The indoor mini golf is at 1 American Dream Wy, East Rutherford, NJ 07073, USA.

Can I use my GreatWorkPerks Blacklight Mini Golf discount tickets on special events?

This ticket cannot be used to enter any private or special events.

When will I receive my Blacklight Mini Golf tickets?

You will receive them instantly in your email, along with your receipt. Please make sure to check your spam folder if you do not see them in your inbox.

Do I need to print out my tickets?

No, there is no need to print them. You can just show your tickets on your phone.

Do they offer free parking?

American Dream offers free parking for the first 30 minutes. In case you are staying longer than expected, appropriate charges may apply. Check out American Dream's website to check current parking fees.

Do I need to purchase a separate Blacklight Mini Golf discount ticket for my child?

Good news, all guests aged two (2) years and under can enter the Blacklight Mini Golf American Dream for FREE! If you have any more questions, feel free to reach out to us!

Is my ticket valid for other attractions at the American Dream?

No. Tickets are not valid or exchangeable for other attractions. You will need to get individual tickets for each of the park's attractions. This offer is good for one round of mini golf (18 holes), with a maximum of four players per group.

How will the Blacklight Mini Golf course be cleaned throughout the day?

Cleaning and sanitizing are very important at American Dream. The staff pays particular attention to high-traffic areas and the use of products and procedures that adhere to the standards set forth by the United States Environmental Protection Agency (EPA) and the Centers for Disease Control and (CDC).

How do I get to the Blacklight Mini Golf American Dream?

Please check out these directions the American Dream has prepared for you.
Blacklight Mini Golf Tickets