Check out other Boomers locations:
Closed for the season. See You in 2024!

Visit Big Kahuna Water Park!
If there's one place to have an ultimate family day under the sun, it's Big Kahuna water park! This Destin waterpark is part of the Boomers family, so they are guaranteed to bring you top tier fun. The attraction has countless water park rides that's suitable for all ages. Bring over the whole family and enjoy a splashing good time at Big Kahuna Destin!
This awesome water park is filled with thrilling rides, exciting slides and kid-friendly attractions. The possibilities are endless when you visit this action-packed park. You could catch a ride on the famous Cowabunga Racer or float along the fantastic Thunder River. If you're visiting with kids, you might want to bring them over to the Kiddie Slides or watch them play around at Buccaneer Cove. They also have Adventure Park attractions that you can visit if you don't have any plans on getting wet. Again, possibilities = endless.
Get your discount tickets through GreatWorkPerks to experience a splashing good family day of adventure at Big Kahuna Destin. Lowest price guaranteed!
The Lowest Priced Big Kahuna Destin Discount Tickets from GreatWorkPerks
Lowest-priced ticket in the industry!
GreatWorkPerks is an authorized seller of Big Kahuna water park discount tickets. We are one of the largest sellers of Big Kahuna Destin discount tickets in the country, and we couldn't have thrived for over 30 years if we weren't highly trusted by our customers. We would love for you to come join our family and enjoy the best price for discount Big Kahuna water park tickets as well as other attractions nationwide!
Hassle-Free Transaction, Skip the Line!
Another benefit of purchasing from GreatWorkPerks is that you do not need to print your Big Kahuna Destin discount tickets. Consider your phone your new best friend because all you need to do is present your Big Kahuna Destin discount tickets at the gates and, viola, in you go!
What are the Water Park Rides at Big Kahuna Destin?
Tons of awesome activities and water park rides await you at this family-friendly attraction. The whole family is guaranteed to have fun under the sun with their endless supply of the best entertainment.
Get your discount tickets through GreatWorkPerks to experience these fantastic water park rides and attractions: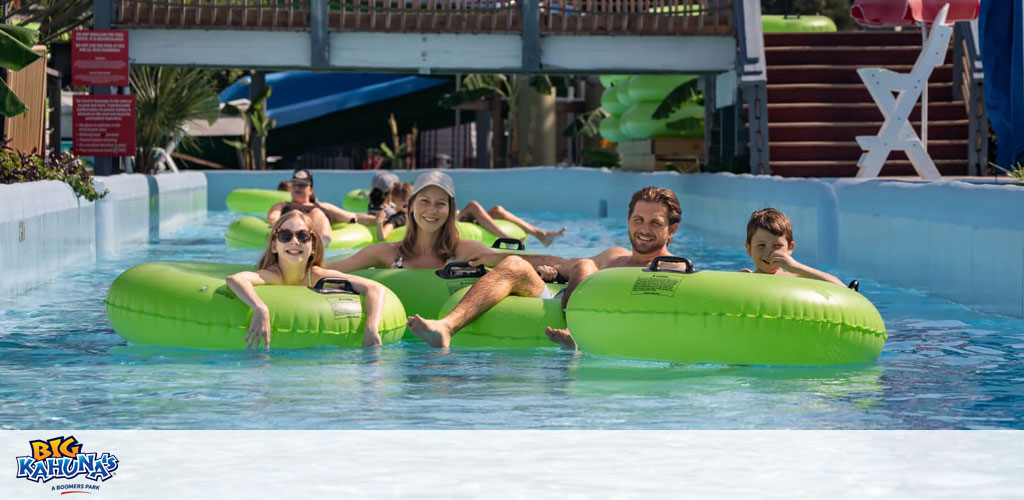 Kowabunga Racer
Head over to the Kowabunga Racer if you're up for a speedy ride! This 4-lane slide is nearly five stories high. Experience a thrilling race with your family and friends on a race course with twists, tubes and a scream-inducing drop! Bring out your competitive side on this awesome Big Kahuna Destin ride.
Riders must be at least 42" tall to ride.
Thunder River
Experience one of Big Kahuna water park's most popular attractions. Relax on a tube when you ride with Thunder River. But be warned! This is NO lazy river. It has exciting twists, curves, and drops.
The minimum height requirement for this ride is 44" tall.
Jumanji
Experience 70 feet of pure thrill with Jumanji! Lie on your back and enjoy free-falling into darkness. This Big Kahuna water park attraction will definitely provide a unique experience that you will want to repeat again!
Riders must at least be 48" to ride. Get your discount tickets through GreatWorkPerks to ride on this slide that's 100% awesome!
Lazy River
No water park is incomplete without the classic lazy river. At Destin waterpark, they've got one that's waiting for you! Float on a comfy inner tube and enjoy the sunshine at this relaxing water park ride. Perfect for when you need to catch your breath!
Kiddie Slides
At Destin waterpark, kids get to have tons of fun too! Their Kiddie Slides provide kid-friendly fun for your little adventurer. Get your discount tickets from GreatWorkPerks and enjoy awesome slides like the Piranha, Tahiti Twister, Hydro Max and Blue Mamba. Your little ones will surely have the time of their lives.
The minimum height requirement for the Kiddie Slides are 42". But don't worry, if they don't meet the limit, they will be provided with a complimentary USCG approved lifejacket.
Buccaneer Cove
Bring over your little ones to this Water Park ride! Buccaneer Cove is an imaginative splash playground that's perfect for your little ones. This pirate-themed adventure features fun activities such a water sprays, giant buckets that rain down water and even more surprises.
The minimum height requirement for this attraction is 48". If they're under 42", kids are required to be supervised and must wear a life jacket.
Monkey River
Up for even more slides? Head over to Monkey Ride and experience a thrilling adventure on your visit to Big Kahuna Water Park. This impressive slide comes with twists, 360 degree turns and water coming down the slide to make you go even faster. Don't miss out on this memorable ride!
Cobra Twister
For a unique experience, ride the Cobra Twister! This fantastic ride and land straight into the lazy river. This ride is extremely fun, but moderately thrilling. Perfect for those who aren't a fan of extreme rides.
The minimum height requirement for this ride is 42" tall.
Boomers Big Kahuna Destin Adventure Park Rides
Aside from the splashing good water park rides at Destin waterpark, they also other exciting activities that you may want to check out. These fun-filled attractions are also perfect if you don't want to get wet.
Get your Big Kahuna Water Park discount tickets through GreatWorkPerks and experience these awesome Adventure Park Rides: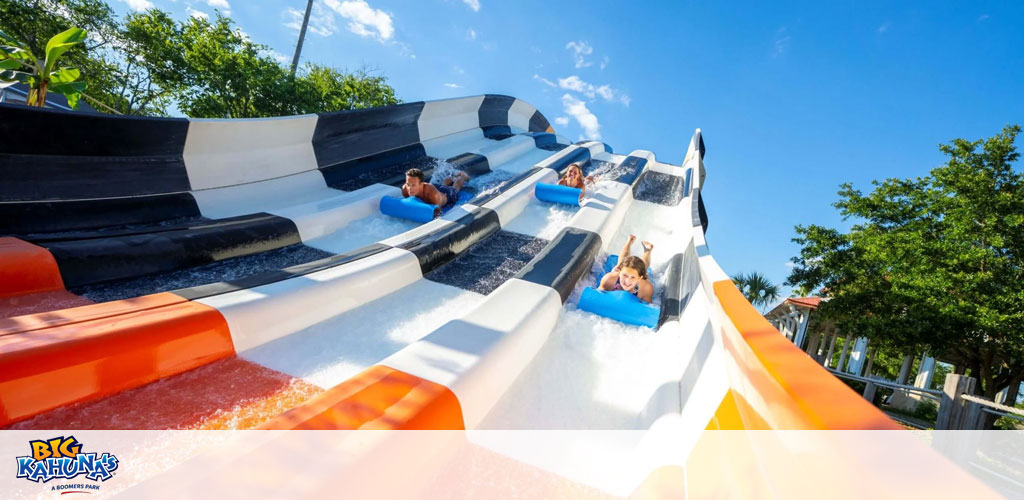 Tropical Mini Golf
Boomers is known for their picturesque miniature golf courses. You may want to check out their popular golf course that has 54 challenging holes on three different courses. Bring out your competitive side and challenge your family and friends to a game of mini golf!
Sky Coaster
Do you want to go flying? At Big Kahuna Destin's Sky Coaster, you'll feel like you are! This exciting thrill ride will have you 100-feet in the air at speeds up to 60 mph. You are guaranteed to have a thrilling time.
Boomers Big Kahuna Water Park Dining Options
Looking to grab an energy boost? There are several dining locations inside the Destin waterpark that you might enjoy. Whether you want a filling meal or something to snack on, you'll find it at Big Kahuna water park. Here's a list of the delicious dining options:
Golf Hut
Kowabunga Café
The Cove Snack Stand
Bombs Away Café
Food Court
Pro tip: Get a bigger budget for food when you purchase our Big Kahuna Water Park discount tickets from GreatWorkPerks
Tips and Tricks when visiting Boomers Big Kahuna Destin
Here at GreatWorkPerks, we're passionate about bringing you awesome family adventures that you'll remember for years to come and at the same time, won't break the bank. In addition to bringing wallet-friendly Destin waterpark discount tickets, we also have a list of tips and tricks so you have less to worry about on your day exploring water park rides:
Don't forget Sun Protection

A must bring to your trip to Big Kahuna Destin is all your sun protection needs! Apply SPF so you're protected against the harmful rays of the sun and remember to reapply throughout the day. You could also bring a hat or sunglasses for extra-eye protection. Plus, you'll look extra cool in photos!

Bring extra clothes!

Spoiler alert, you're going to get soaked! To fully enjoy the water park rides, make sure you bring a swimsuit. You might also want to pack a change of dry clothes for after your fun day at the Destin waterpark.

Purchase your discount tickets in advance

Skip the long lines at the ticket booth and head straight to the entrance when you buy your Big Kahuna Destin discount tickets from GreatWorkPerks. Better yet, get your discount tickets through GreatWorkPerks We offer the best deals and a hassle-free ticket buying experience.
Frequently Asked Questions about Big Kahuna Destin
Are reservations required when visiting Big Kahuna Water Park?

No. When purchasing your Destin waterpark discount tickets through GreatWorkPerks, there will be no need to make a reservation.

How soon will I receive my discount tickets?

We send your Big Kahuna Water Park discount tickets immediately after purchase. They'll be sent to your email along with your receipt.

Do I need to print out my discount tickets?

There's no need! One of the hassle-free benefits of purchasing through GreatWorkPerks is that there's no need to print out your tickets. Just present the e-ticket on your phone at the entrance and you'll be good to go.

Do children get free admission?

Yes, children aged two and below get in free of charge.

Where is Big Kahuna Destin?

Their exact address is 1007 US Highway 98 East. Destin, Florida 32541.
Last updated October 17, 2023.
Big Kahuna's Destin Tickets