Check out other Boomers locations:
Buy your Boomers Livermore CA discount tickets from GreatWorkPerks starting at only $34.87 vs $49.99 gate price. Save up to 30%! Lowest prices guaranteed on GreatWorkPerks

Overview
If you're looking to spend an epic fun-filled day, there's only one place to go to and that's Boomers Livermore! This family fun center is filled with legendary arcade games and tons of exciting indoor and outdoor activities. Boomers arcade has something for everyone. This means loads of fun for kids and for those who are kids at heart. A happy place indeed!
It is a fantastic location that's perfect for having a good time. In addition to this family fun center's awesome activities, they also serve satisfying food. Experience a whole day of adventure and grab some tasty food to fuel up. Get your discount Boomers Livermore tickets through GreatWorkPerks today!
Where is Boomers Livermore Located?
The Family Fun Center is located at 2400 Kitty Hawk Rd, Livermore, CA 94551, United States.
Boomers Livermore Hours
Boomers Arcade's opening hours may vary on certain days, but they are usually open from 11:00 AM to 10:00 PM.
Count on GreatWorkPerks with your Boomers Livermore Discount Ticket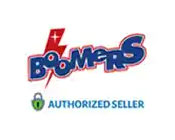 Lowest-priced tickets in the market!
Our company guarantees to provide you with the best discount tickets to your favorite theme park, Boomers Livermore CA, at the best price. We provide our customers with exclusive discounts and the best prices for several locations across the country. For the past 30 years, we have offered the best wallet-friendly discount tickets and passes to thousands of companies. Buy your discount Boomers Livermore tickets now to enjoy the cheapest prices in the industry!
No need to Pick a Date or Make a Reservation!
Our tickets allow you to visit whenever it is most convenient for you. You don't have to pick a date and you do not need to make a reservation! That is one of the perks from GreatWorkPerks that will make you smile!
What is there to do at Boomers Livermore CA?
The theme park is the go-to center for all things fun! They have loads of fun-filled attractions for guests of all ages to enjoy. Enjoy an action-packed day at Boomers arcade, a Mini-Golf course, laser tag, and other fun games! These are some of the fun attractions you should visit with your Boomers Livermore discount tickets from GreatWorkPerks: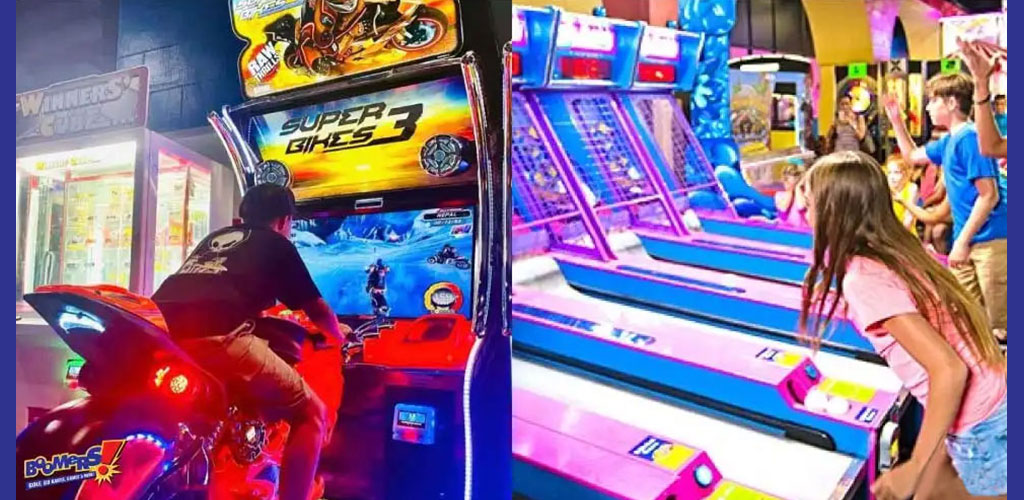 Boomers Arcade
Experience epic virtual adventures at Boomers Arcade. They have a state-of-the-art game room that's filled with incredible games designed to make you have fun for hours on end! They even have awesome redemption games where you can win tickets. Earn as many tickets as you can and claim an instant prize from their redemption center.
Miniature Golf
Challenge your family to a wacky game of golf with your Boomers Livermore discount tickets. Visit the photo-worthy golf courses that have great features and as well as thrilling challenges for the whole family to enjoy. Get your golf game on at Boomers Arcade!
Lazer Tag
Experience an epic Lazer Tag battle at the theme park! Bring your friends and enjoy a high-tech and unique game of tag. Enter the black-light battleground and grab your Laser gun. May the best player win!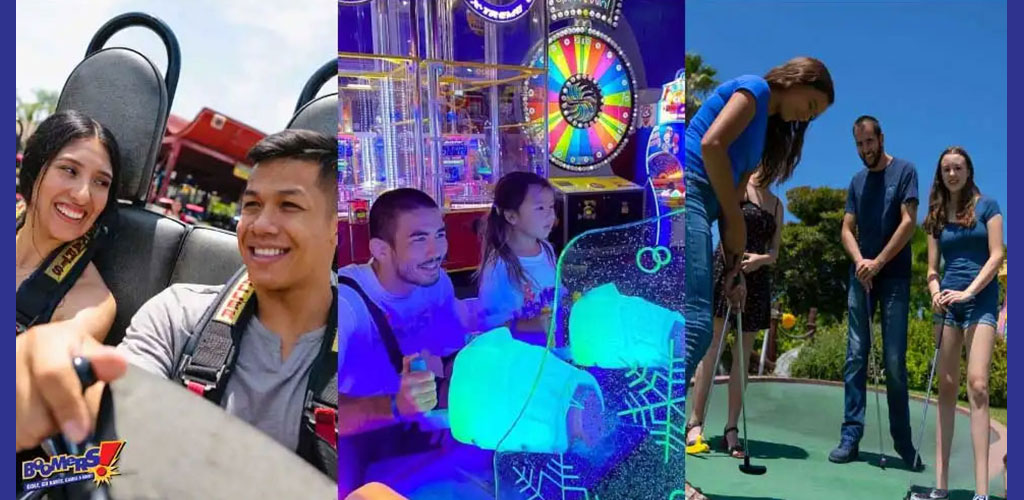 Bumper Boats
This one-of-a-kind attraction is simply amazing! You have no idea the amount of fun you will have on these boats! Boomers presents Bumper Boats, an action-packed cruise that will have you splashing around. Aim your boat's very own water cannon and shoot away. Get your discount tickets from GreatWorkPerks to experience this thrilling ride.
Thunder Road Go Karts
Get ready for high speeds on Boomer Arcade's Thunder Road Go-Karts! This exciting attraction features hi-octane cars. Experience riding this thrill-filled Go Kart and race to the finish line! To Drive this ride, you must be 58" tall (60" or 58" and with a driver's license for drivers with passengers). Go Kart Passengers must at least be 40" tall.
Other Boomers Arcade Locations:
Looking for a Boomers location near you? There are quite a few locations where you can enjoy their fantastic attractions. Here are some other locations:
Irvine, California
Modesto, California
Los Angeles, California
Boca Raton, Florida
Santa Maria, California
If you're looking to visit this awesome attraction, hurry up and don't forget to purchase your Boomers Livermore discount tickets from GreatWorkPerks at the best price possible. We also offer tickets to the other Boomers arcade locations and fun-filled attractions across the country as well!
Last updated April 26, 2023.
Boomers Livermore Tickets