Check out other Boomers locations:
Buy Boomers Irvine discount tickets starting at only $34.87 vs $49.99 gate price. Save up to 30%! Lowest prices guaranteed on GreatWorkPerks
NEW! at Boomers Irvine

Starship
Fly aboard this cutting-edge rotating drum, which will spin you around at full speed. Its zero-gravity levitating motion will leave every rider amazed of the dropping sensation. This ride is one of the newest rides that can be found at Boomers Irvine. It's one of the rides that everyone loves!

Overview
Boomers is a favorite destination in California for people of all ages looking for an engaging, entertaining, and once-in-a-lifetime experience! All of the rides, games, and attractions that you're looking for are available, including their famous Miniature Golf, Go-Karts, and Arcades!
It is a great place to have a good time! You'll be able to enjoy both indoor and outdoor activities at this park, as well as a wide variety of mouthwatering meals. This is a perfect place for family entertainment. Purchase your Boomers discount ticket from GreatWorkPerks and check out everything Boomers Irvine, CA has to offer. Guaranteed lowest prices!
Where is Boomers Located?
This attraction is located at 3405 Michelson Dr, Irvine, California, United States. It's about 1 hour way from Downtown Los Angeles. However, if traffic is heavy, travel time can be extended up to 30 minutes.
Boomers Irvine Hours
Boomers Irvine hours vary day by day. But usually, they are open 11 AM or 12 noon and closes 8:00 PM or 10:00 PM. You may check their exact opening and closing hours on their official website.
Count on GreatWorkPerks with your Boomers Discount Ticket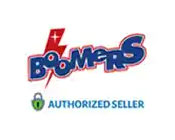 Lowest-priced Ticket in the Market!
Our company guarantees to give you discounted tickets to your favorite, Boomers Irvine, at the best price. We are able to provide our customers with exclusive discounts and best prices for several locations. For the past 30 years, we have offered the biggest savings on discount tickets and discount passes possible and great corporate benefits to thousands of companies. Buy your discount Boomers tickets now to enjoy the biggest discounts in the industry!
No need to Pick a Date or Make a Reservation!
GreatWorkPerks provides the biggest advantage that you will never find anywhere else! Our tickets allow you to visit your favorite Boomers theme parks, rides, and attractions whenever it is most convenient for you. You don't have to pick a date and you do not need to make a reservation! That is the perk that will make you smile from ear to ear!
What to Expect at Boomers?
You will have the chance to experience activities for all ages include arcades, indoor games such as laser tag, and outdoor games like Go-Karts! An awesome experience all in one!
Boomers Irvine Attractions and Activities
Arcade
Do you like to play video games? Or do you love playing games that let you use your imagination? If so, you'll love this area called the Arcade. This huge standing game room is a great place to play any games you want. You can be the captain of your own ship or a three-point shooter and win the Most Valuable Player award.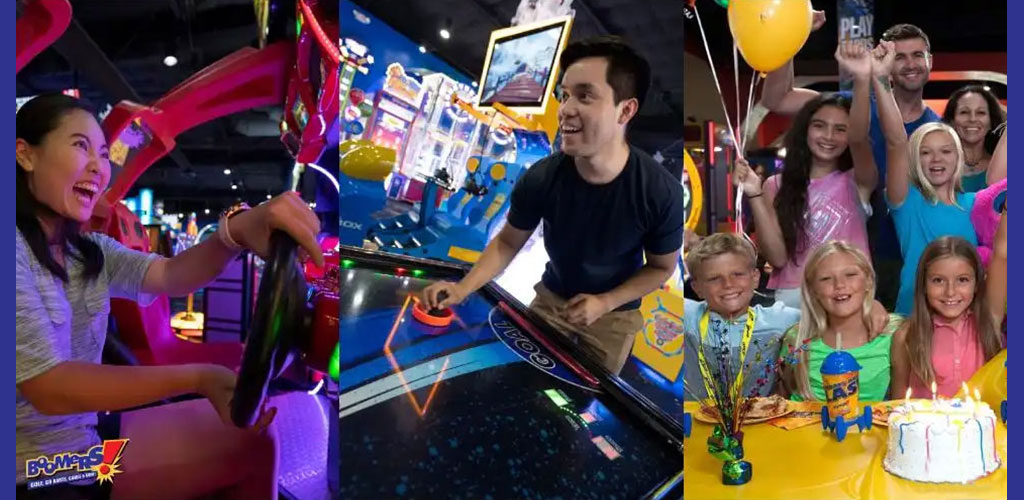 Battling Cages
A trip to the batting cage is a great idea if you have any interest in batting at all, whether it is for the sheer enjoyment of it or in the hopes of gaining a competitive advantage. You are welcome to use the batting helmets and bats that the park has provided, or you might just bring your own. Their pitching machines for slow pitch softball, fast pitch softball, or baseball are capable of simulating speeds of up to 70 miles per hour. Battling Cages will assist you with honing your batting eye and getting your swing into a rhythm.
Reservation to access this activity is required.
Flame Thrower
If you are looking for a ride that will provide you with both an incredible adventure as well as a terrifying experience that will force you to scream thanks to its speed and its flipping action, then Flame Thrower is the ride that you need to try out! During the very first movement, you are going to be taken aback as it lifts you into the air at such a rapid speed that you won't even have time to brace yourself and build up your strength for the rest of your ride! Because everything strikes so quickly, be on your guard. This ride is intended for two thrill seekers, and you may choose to go with friends, family, or loved ones depending on what works best for you. Make the most of your experience by purchasing a Boomers discount ticket from GreatWorkPerks.
Bumper Boats
When it comes to having fun in the water, the park is the place to be! If you ride at full speed with other riders alongside you, you should be expecting to have some water splashed on you. You should also watch out for other riders, as they might crash over your bumper boat! If, on the other hand, you prefer calm cruises and much less active play with your children, there is another choice available to you: the boat comes equipped with its very own water cannon!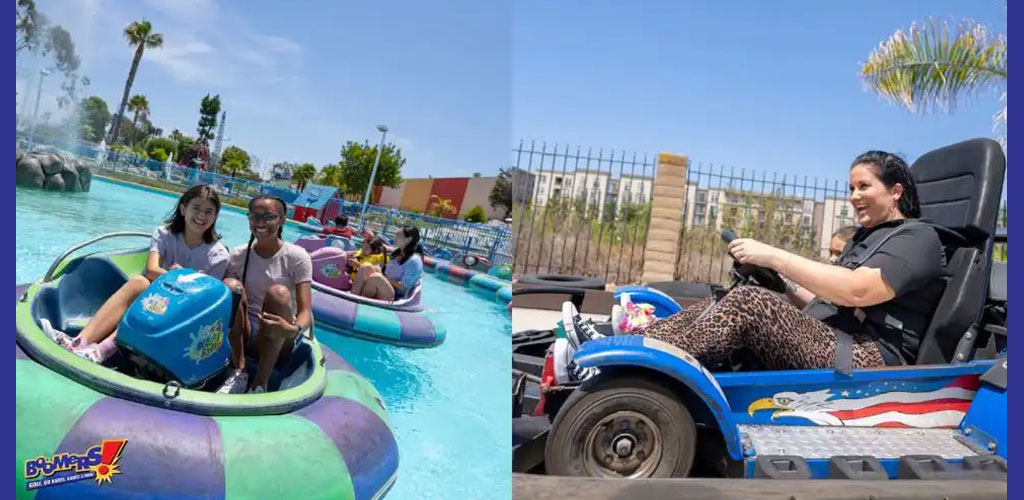 Thunder Road Go Karts
With these high-speed Go Karts that are easily capable of reaching 45 miles per hour, you can get a real rush while going as fast or as slow as you choose. These go karts are driven by octane, which enables the rider to quickly navigate tight twists and curves while maintaining a fast speed. The minimum height requirement for drivers is 58 inches. The minimum height requirement for a passenger seat is 40 inches and the minimum height requirement for a driver is 60 inches, and they must have a valid driver's license. What are you waiting for?
Lazer Tag
Everyone of all kinds may have a thrilling time playing the Lazer Tag game that's located within the amusement park! Because it provides the finest possible experience in battle, it is suitable for people of all ages, including children and adults. As you wage battle with your friends within the arena, this game will completely shake up your life, so keep an eye out for any danger. If you have been tagged, a penalty point deduction will be levied, and your vibrating chest plate will let you know if this has happened. Therefore, you should never give them the opportunity to tag you so that you can win and overcome the other players. Your scores are available after 5-minute-long game. I wish you the best of luck regardless of the outcome!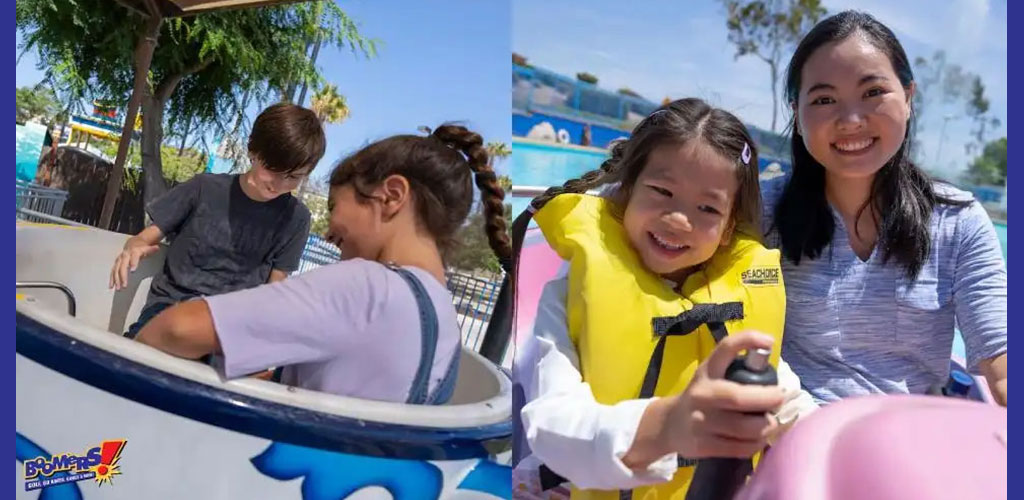 Lil' Thunder Rookie Go Karts
Who says that only adults can ride Go Karts? At Lil' Thunder Rookie Go Karts, kids can also ride Go Karts and enjoy the fun turns and twists. Don't worry about it! Your little version of you will be safe in these Go Karts, which are made for kids who want exciting rides.
Height Requirement: Riders must be between 42 inches to 58 inches tall to drive.
King Arthur's Carnival
The King Arthur's Carnival is one of the best playgrounds of fun for little guests at the park. With its rotating and spinning teacup-inspired cart that brings butterflies to your stomach and the speed that will twist your minds, they have something for everyone! This ride is much of a kid-size, but the adventure is big enough for them to enjoy!
Miniature Golf
The park has been a home of entertainment for all ages. And the Miniature Golf stands as the greatest evidence of that! Golf is a club-and-ball sport intended for adults who want to hit balls into a hole. But, here in Miniature Golf, little guests who are curious how to play this game can actually try it! It's free for little guests five (5) years old and below. Fun, right? Teach your kids how to strike a pose and shoot the ball in one go! It's not easy, but they'll surely do have plenty of time to practice until they can do it one more time!
Starship
Fly aboard this cutting-edge rotating drum, which will spin you with such force that you will be spread out in all shapes. Its zero-gravity levitating motion will leave every rider heightened of the dropping sensation. This ride is one of the newest rides that can be found at Boomers Irvine; also, one of the rides that everyone loves trying out!
Dining Options
When it comes to food, the park has so many mouthwatering choices to offer. They have cheese starters, cheese entrees, imported beers, starter foods, pizzas, desserts, and so much more! You'll have plenty of menu to choose from and try out! If you want an inside look of Boomers Irvine foods at the park, see the listed options below (not included in tickets):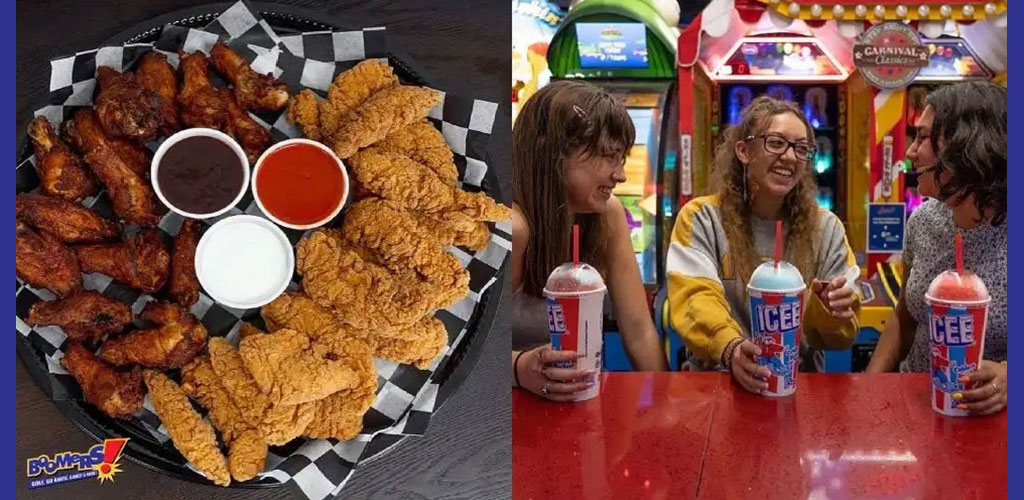 Beverages
Fountain Beverages – This 330z refreshing drink comes with a collectible cup to commemorate your visit journey.
ICEE – Looking for some brain-freezing drinks after your exposure to extreme heat? Get refreshed at ICEE and pick the flavor to savor your choice.
Keurig Regular Coffee – This coffee station is perfect for coffee lovers who want to sip one while at the park. They brew 1 cup at a time to maintain the flavor packed. You'll have the perfect drink while relaxing.
Desserts
Mini-Melts – This mini-melt ice cream is sold in two sizes: Large and Small.
Churro – Grab this golden churro coated with cinnamon and sugar. Choose between two sauces available: Caramel and Chocolate.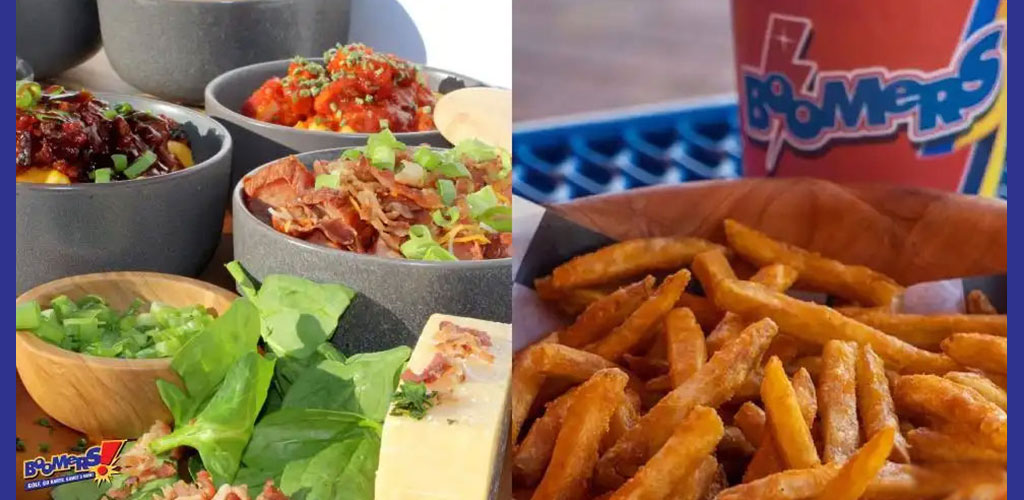 Entrees
Grilled Chicken Sandwich Basket – All chicken breast fillet with cheddar cheese, lettuce, tomato, and onion toppings.
Chicken Tenders Basket – All meat chicken tenders with an additional of yummy fries or onion rings (choose your bet).
Mini Corn Dogs Basket – Golden corn dogs served with your choice of either onion rings or fries.
Hot Dog Basket – Savor these beef hotdogs with a side of either mustard or ketchup, plus served with your choice of fries or onion rings.
Kids Meal Chicken Nuggets with Fries – Kids will surely love these chicken nuggets served in a basket with ranch and ketchup.
Boomers Burger Basket – The must try signature burger with so many fillings topped with lettuce, cheddar cheese, tomato, and crispy onion rings.
Family Bucket of Chicken & Fries – This bucket of chicken is the perfect bucket for families to eat for lunch.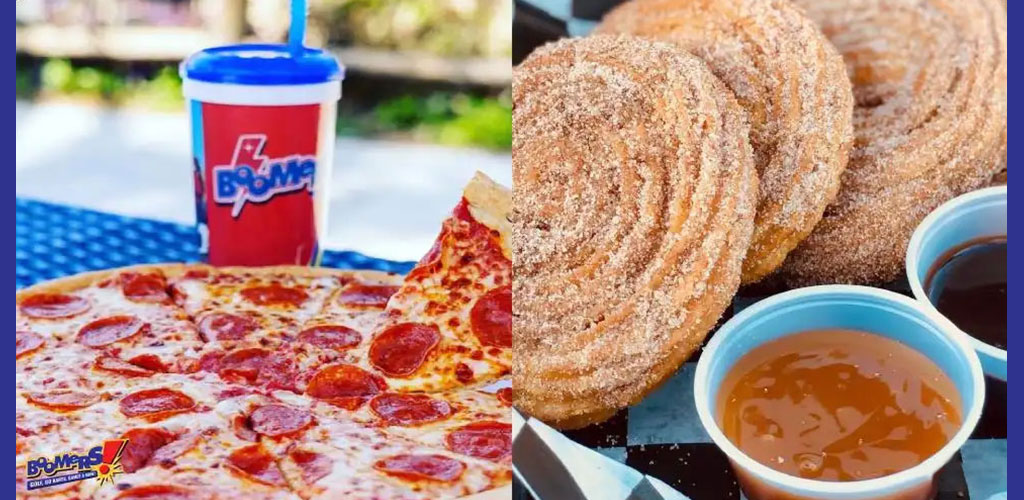 Pizza
½ Cheese – ½ Pepperoni Pizza – Large pizza with two flavors in one round (cheese + pepperoni) and 10 slices.
Pepperoni Pizza –Large pizza cut in 10 slices.
Cheese Pizza –Large pizza cut in 10 slices.
Cheese Flatbread Pizza – Served in rectangle basket with a side of marinara and ranch.
Pepperoni Flatbread Pizza - Served in rectangle basket with a side of marinara and ranch.
When you are at the park, you will find that you have a large number of options to choose from. There are so many yummy options to choose from!
Please check out the dining option's hours:
Hours are subject to change without notice. Please check the operating calendar at boomersparks.com for the most up to date hours of operation.
| | |
| --- | --- |
| Sunday | 11:00 am - 11:00 pm |
| Monday | 11:00 am - 11:00 pm |
| Tuesday | 11:00 am - 11:00 pm |
| Wednesday | Closed |
| Thursday | 11:00 am - 11:00 pm |
| Friday | 11:00 am - 11:00 pm |
| Saturday | 11:00 am - 11:00 pm |
How They Ensure Your Safety
As a result of the pandemic's continued toll on daily life, the park has evolved to become resilient and resourceful enough to sidestep the growth of harmful bacteria. As a result of the use of the upgraded safety measures, the park has become one of the parks that has established the highest standards in terms of overall safety for everyone. Aside from the risk posed by COVID-19, daily sanitary and mechanical inspections help verify that there are no flaws in the system, which is essential to guarantee that everyone remains safe when riding rides and experiencing attractions.
Here are the enhanced measures implemented:
Cleaning and Sanitizing
In an aim to minimize the spread of disease and keep customers healthy, they do regular application of disinfectants on high-touch surfaces as well as with tables, handrails, and benches. In fact, over the course of the day, they will momentarily shut the restrooms so that they may conduct a thorough cleaning. Aside from that, the park has maximized the signage placement and mounted more sanitation locations in order to encourage guests to properly wash their hands before touching their faces or mouths. This can help prevent the spread of viruses. And here's the important part: each ride gets a regular cleaning after every single usage!
What are you waiting for? Visit Boomers Irvine and use our discount Boomers ticket to go to one of the safest attractions in California.
Personal Protective Gear
Nothing makes an experience more delightful than knowing that your wellness is a top priority. Every visitor, from child to adult, is provided with an incredible amount of comfort and convenience. Personal safety equipment such as masks, gloves, and face shields are all available for purchase at the park. Most importantly, it is strongly suggested that any visitors who have not been vaccinated should wear a face mask. However, this does not imply that visitors who have been vaccinated are not encouraged to wear one; you are not required to do so, but you certainly have the option to do so in order to protect yourself.
If you're thinking where to head next, then I must say, go to Boomers! And for the pass, purchase your Boomers discount ticket through GreatWorkPerks and enjoy exclusive deals and save more money! Now, that's the savings that got to make you smile!
Frequently Asked Questions FAQs
Where is Boomers Irvine located?

Boomers has several locations. For Boomers Irvine, it is located at 3405 Michelson Dr, Irvine, CA 92612, United States.

Do you still need a reservation for Boomers Irvine?

No, reservations are not required. Just present your electronic Boomers discount ticket during your visit.

What are Boomers Hours?

The park's opening hours vary day by day. Some days, they are open from 11:00 AM to 8:00 PM; some days, they are open 12:00 noon to 10:00 PM. To check the hours of your desired visit, you may click HERE to see the full schedule.

Do they have free parking?

Yes. Using our Boomers discount ticket, you'll have free access to the parking.

Are tickets required at Boomers?

Yes, everyone entering Boomers Irvine must have a valid Boomers discount ticket or pass – even if you don't plan on going on any of the rides. For the lowest-priced Boomers tickets, buy them through GreatWorkPerks and receive discounted prices.

Do I need to print my ticket?

No, your electronic pass or your discount Boomers ticket does not need to be printed out when entering at the gate. Consider your phone your new travel buddy! Just show your electronic Boomers discount ticket at the gates, and in you go! However, if you prefer to print your discount Boomers ticket, you may still do so.

Will I receive my Boomers discount ticket right away?

Once you've secured your Boomers discount tickets through GreatWorkPerks, you will receive them instantly in your email, along with your receipt.

I can't find my Boomers tickets after purchase, where should I find it?

If you haven't received your Boomers discount ticket after your purchase, please check your spam folder or search the word "GreatWorkPerks" in your email. You may also access the tickets from your GreatWorkPerks account under Order History. For additional assistance, you may contact our customer service representatives via email at help@greatworkperks.com. or via calling our line from 7AM to 10PM PST at 888-295-7375.

Are Boomers tickets refundable?

No. All Boomers tickets are non-refundable, non-transferable, and non-reusable.
Last updated April 22, 2023.