Get your Belmont Park San Diego discount ticket for only $35 vs $60.00 gate price! Enjoy unlimited rides! Save up to 41%. Lowest prices guaranteed on GreatWorkPerks

Enjoy your adventure with our discounted Belmont Park ticket! Enjoy unlimited access to rides and attractions to make your Beachfront Fun complete! You will be able to ride rollercoasters that will lift your spirits for the day! Not only that, but with our Belmont Park discount ticket, you'll also receive your park wristband! What are you waiting for? Buy your discounted Belmont Park tickets from GreatWorkPerks and enjoy huge savings that will make you smile!
What's New: Winter Wonder at Belmont Park!
Delight in a one-of-a-kind beachside holiday celebration at Belmont Park's Winter Wonder! From November 11 to December 31, 2023, immerse yourself in an array of classic park attractions and festive activities! Dive into holiday-themed treats, enjoy beverages, and enjoy the fun entertainment for all ages!
In search of exclusive holiday discounts? Discover the festive magic with specially discounted Belmont Park tickets available through GreatWorkPerks, ensuring fantastic value for unforgettable experiences!
Winter Wonder Highlights
Million Lights:

Wander beneath a million glistening lights as Belmont Park transforms into an enchanting holiday haven that creates moments to remember.

Live Music and Holiday Characters:

Groove to live tunes every weekend and be charmed by appearances of holiday favorites, elevating the festive mood!

Holiday Specials:

Taste some candy cane-inspired delights and heartwarming dishes crafted for San Diego's cool nights, ensuring your festive spirit is both warm and satisfied.
Miracle at Draft
Dive into the magic of "Miracle" at Draft, debuting this holiday season! Explore the kaleidoscope of vibrant decor, savor expertly mixed cocktails, and cherish the season with collectible mugs!
From November 20th to December 31st, let each cocktail at Draft transport you into a realm of holiday euphoria. Here's to a season brimming with sparkle, spirit, and splendid sips!
Holiday Greetings
As we wrap up the year, Belmont Park emerges as San Diego's center of holiday celebrations. From the captivating Winter Wonder to the bewitching Miracle at Draft, experience the perfect blend of cherished traditions and fresh festivities!
Let Belmont Park be your holiday escape, ensuring a season bursting with joy, surprises, and cherished memories.
Secure your discounted Belmont Park tickets through GreatWorkPerks today!
What's New at Belmont Park San Diego
As the nights become longer, we're excited to unveil new signature events designed to redefine your weeknight experiences at Belmont Park! Whether you're drawn to enchanting musical evenings or stimulating intellectual contests, they've crafted special moments tailored for you!
Before heading out, make sure you have secured your exclusive Belmont Park discounted tickets through GreatWorkPerks!
Trivia Nights at Draft!
Elevate your Tuesday nights, from 6PM to 9PM, with a dose of exhilaration! Wear your thinking hats and call your comrades for an unforgettable Trivia Night!
From sports, music, to the vast realm of pop culture, they've got categories that resonate with everyone! And for the trivia aficionados, the top three contenders will be be able to win some exciting rewards!
Complement the fun with Draft's delicious dishes and outstanding beverages, keeping your spirits high and minds sharp.
Acoustic Sunsets at Cannonball!
Dive into rhythmic evenings every Tuesday and Thursday, from 5PM to 8PM. Cannonball presents the finest local talents, serenading you with tunes spanning from pop and rock to reggae and jazz!
When the night comes, enhance your experience from the stunning ocean landscapes with exquisite sushi paired with the harmonious notes of live acoustic sessions!
Marvelous Deals Await!
Mark your calendar and make Belmont Park your top choice for dining and entertainment! Look forward to great music, fun trivia games, and delicious food for enjoyable evenings out!
Don't forget to secure your discounted Belmont Park San Diego tickets! With GreatWorkPerks, we make your visits even more memorable!
Belmont Lanes
Try out this new indoor game at the theme park and let your kids enjoy this mini-bowling activity designed just for them! They will absolutely love it! Suitable for guests aged three and above. Get ready to win in this four-lane mini-bowling game and have so much fun!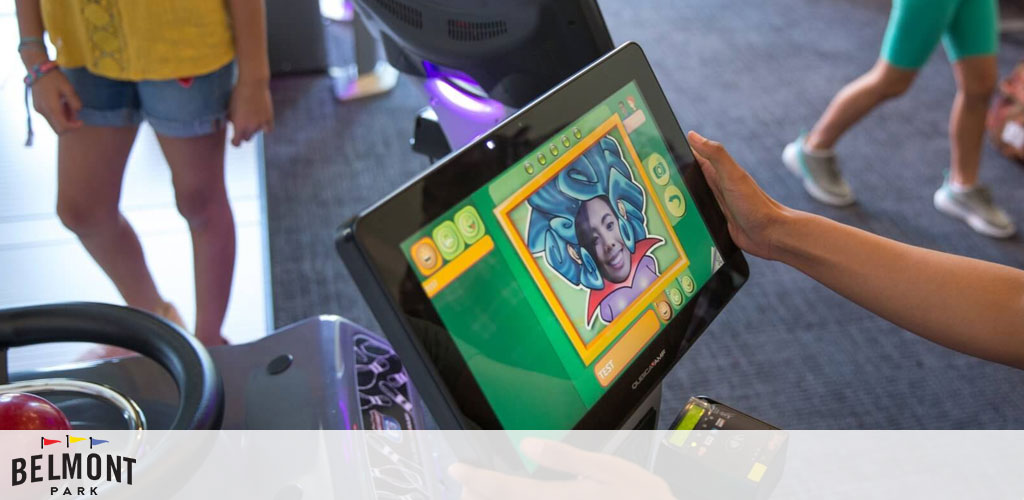 NEW! Flip Out – Interactive Thrill Ride
Ready to take your ride experience to the next level? Take control of the entire ride by simply using the buttons on your shoulder restraint to decide which direction to rotate! It's all about being in charge of your adventure.
Every ride on Flip Out is a unique and exhilarating experience. Riding can be exhilarating or a serene experience, all depending on the settings!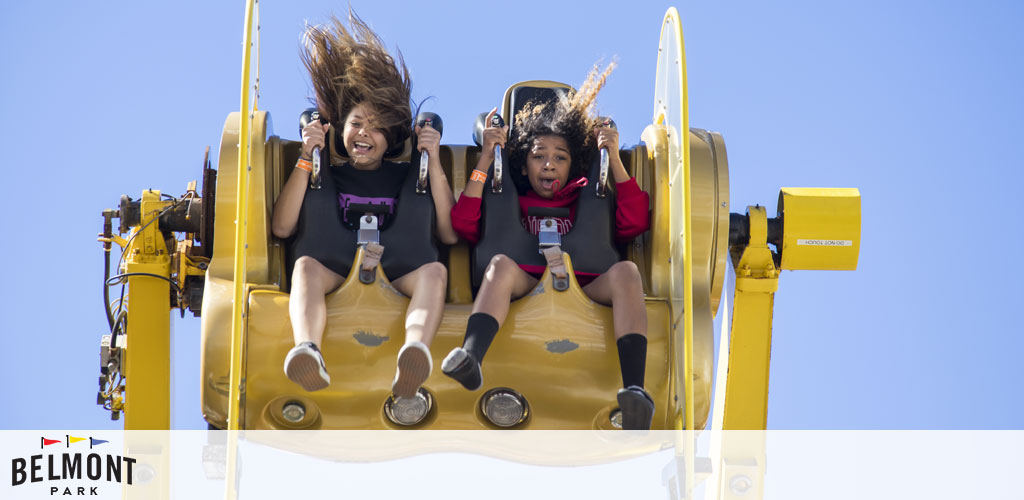 Terms and Conditions:
Ticket is valid for an entire day of fun at the park (for either child or adult)
Unlimited access to rides and attractions
Ticket has no expiration date.
Get the same wristbands issued at the park on your visit.
What's included in your Belmont Park discount ticket from GreatWorkPerks
Our discount ticket gives you unlimited access to various rides, attractions, and shows in the park. One of the best things about purchasing your tickets through GreatWorkPerks is that you don't need to pick a date, you can use your Belmont Park discount tickets any day. We have the lowest prices guaranteed!
Overview
California has a lot of unique places for tourists and locals to visit! The state is known for its vibrant cities, amusement parks, natural wonders like mountains, forests, islands, beaches, and national parks.
If you are looking for a perfect place to visit, then this theme park is the right place for you to visit! Enjoy the perfect beach view while having a very fun time.
Visit the most iconic beachfront boardwalk: Belmont Park San Diego! You can enjoy various activities while walking on the beach!
At the theme park, you will find rides and attractions for everyone! Plus, there are many different restaurants to try out across the entire park. Explore dishes from various cultural cuisines, and have great family fun! There is so much to enjoy with this beachfront fun experience! This theme park has it all!
About Belmont Park San Diego
The park is located in San Diego, California, and has been known to be this city's most famous and iconic beachfront boardwalk. The park has been offering beachfront fun since the year 1925. It is open year-round for anyone looking for amusement and beachside activities!
The park has 14 different amusement park rides that are really fun for all ages. They also have games, events, more than ten dining options, and incredible shops!
Count on GreatWorkPerks with your Belmont Park Discount Ticket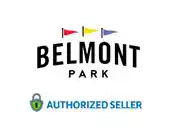 Lowest Prices in the Market!
Our company guarantees to provide you with the best discount tickets to your favorite attractions at the lowest price. We have been providing our customers with exclusive discounts and best prices for Belmont Park and other attractions for the past 30 years. We offer great corporate benefits to thousands of companies. Buy your Belmont tickets now to enjoy the biggest discounts in the industry!
No need to Pick a Date and Make a Reservation!
GreatWorkPerks gives you the chance to save money any day you choose to visit! Our discount tickets allow you to visit your favorite theme parks, rides, and attractions whenever it is most convenient for you. You don't have to pick a particular date and you do not need to make a reservation!
Enjoy Unlimited Rides, Games, & Attractions with your Belmont Park discount tickets from GreatWorkPerks
From chill rides to more extreme ones, you will find something fun for everyone! Enjoy gliding on ziplines, playing some mini golf, experiencing a 7D theater, playing laser tag, hopping on rollercoasters, driving bumper cars, and so many other fun things you can do! All of these rides and attractions are sure to make you smile!
Hurry up and purchase your Belmont Park discount tickets from GreatWorkPerks
Kid-friendly Rides at Belmont Park San Diego
Overdrive Bumper Cars
Hop on these colorful and fun vehicles at the park. This is an excellent interactive ride for your children to enjoy with you. You can have the time of your life with your family on this 2,000-square-foot driving floor. Buckle up and bump into others, just have a great time! This is one of the benefits of purchasing our discounted Belmont Park tickets!
Minimum Height Requirement: You must be at least 48 inches tall to drive alone, if not, you must ride with a companion.
Krazy Kars
Looking for a fun ride for your children? This Krazy Kars ride is a must-try! Ride your tube-shaped car, and race, spin, and bump into other riders. Try this out at night, it lights up with disco balls, music, and some awesome lights! Are you ready to party? Buckle up and get ready to have fun with our Belmont Park discount tickets from GreatWorkPerks
Minimum Height Requirement: Riders or drivers must be at least 42 inches tall, no exceptions.
NEW | Mic Drop
Try the all-new Mic Drop experience and soar up three stories in the air before dropping back down! This is a family-friendly ride ideal for your children to have a fun and thrilling time. Using your discounted GreatWorkPerks Belmont Park tickets, you will be delighted at the chance to ride Mic Drop!
Minimum Height Requirement: 42 inches.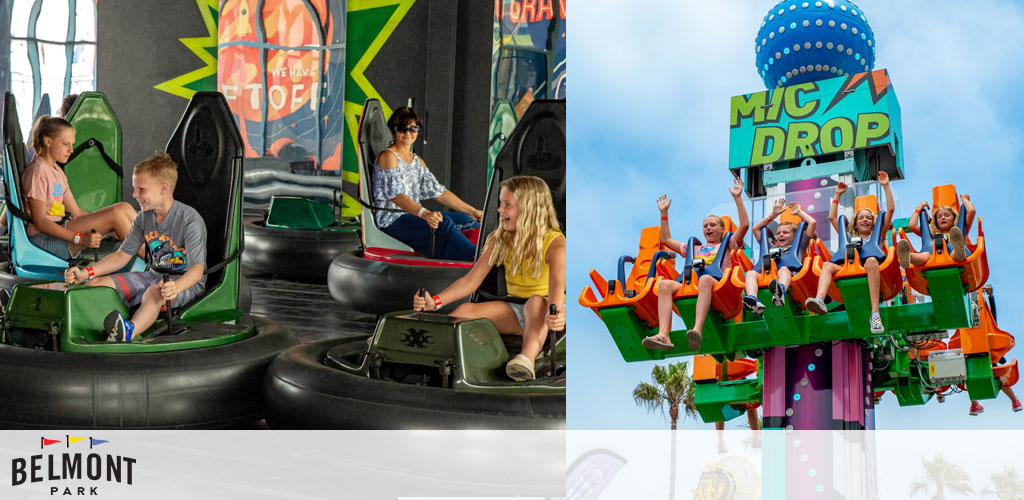 Dip N Dive
Dive on this submarine and prepare to ride some waves! This theme park has this Crazy Submarine that will wave up to 20 feet in the air in a clockwise and counterclockwise motion. With our Belmont Park discount ticket from GreatWorkPerks you can make the most of your underwater experience.
Minimum Height Requirement: Must be at least 42 inches to ride alone or else, ride with a companion.
Liberty Carousel
Kids will have so much fun while riding a horse in this classic merry-go-round! Come on over to Liberty Carousel and capture some special moments as they spin along on the ride! Your kids smiling on this ride is a priceless memory. Capture a moment that will last a lifetime with our discounted Belmont Park tickets! Make sure to tag us when you post your pics!
There is no height requirement; however, children under 2 years of age require an adult to help them.
Tilt-A-Whirl
With the cheapest prices in the market your GreatWorkPerks Belmont Park discount ticket, be sure to try out this one-of-a-kind attraction shaped like an ice cream cone! The sweetest ride is perfect for your little ones. This classical ride is so much fun! Tilt and spin away with your GreatWorkPerks discount tickets!
The rider must be at least 46 inches tall to ride alone.
Speedway
Drive these cute Nascar-inspired cars with your Belmont Park discount tickets from GreatWorkPerks and enjoy the race! Fits up to two riders! Buckle up and race around the oval track!
Minimum Height Requirement: Riders must be at least 36-inch tall to ride alone.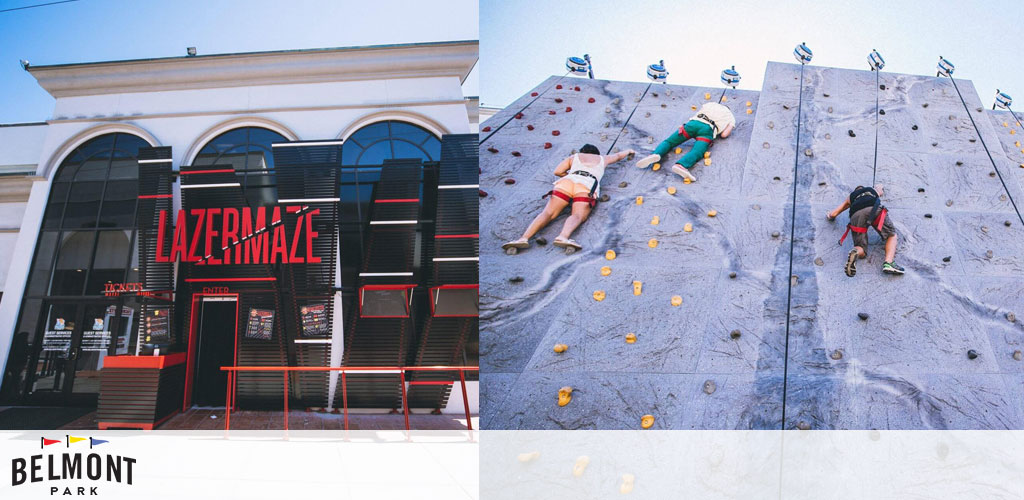 Belmont Express
If you want to enjoy the mesmerizing view of this amazing theme park, then you should try riding the Belmont Express. Belmont Express is a classic train that has all the gadgets that trains use, but made to enjoy a ride around the park with your kids! Use your discounted Belmont Park tickets to ride this colorful train, and relax a little while before continuing on to your next destination.
You must be 36 inches tall to ride alone. If your child is under 36 inches tall, a chaperone must ride along.
Zero Gravity
Launch this rocket ship above Belmont Park San Diego's rooftop and take a deep breath as it drops you at rapid speed in zero gravity! Perfect for young thrill seekers looking for an intense bouncing adventure. If you dare to ride in Zero Gravity, simply use our Belmont Park discount tickets from GreatWorkPerks.
Height Requirement: at least 42 inches tall; maximum height is 76 inches tall.
Thrill Rides for Adults at Belmont Park San Diego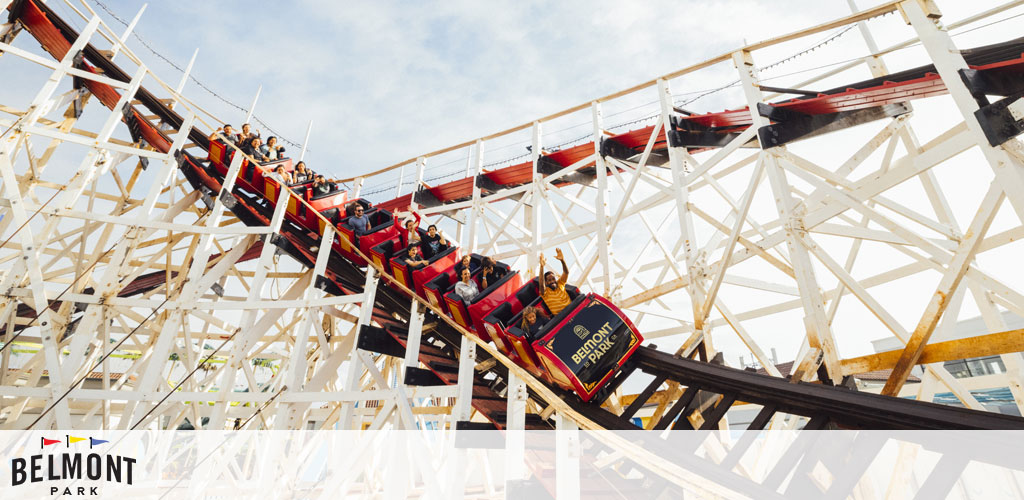 Giant Dipper Roller Coaster
Get ready to have an exciting time on this iconic roller coaster that stands in front of the San Diego oceanfront. This roller coaster will make you scream as it speeds at 48 mph through tremendous twists, turns, and dips in zero gravity! Don't miss out on the amazing beach view that you will be able to enjoy on the ride. Jump in the Giant Dipper with our great-priced Belmont Park tickets!
You must be 50 inches tall to ride, no exceptions.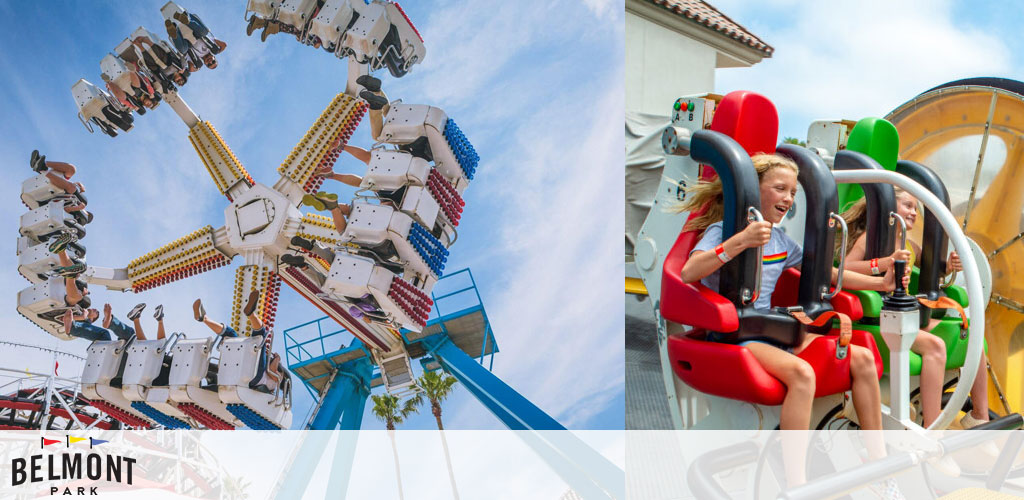 Control Freak
Have fun on this interactive ride! Use the buttons on your seat to control which way you would like to spin. Don't miss the opportunity to ride on the Control Freak! You will have so much fun getting flipped over and spinning around! This ride is included with our Belmont Park discount tickets!
Height Requirement: 52 inches tall (minimum) and 77 inches tall (maximum).
Beach Blaster
Beach Blaster is one of the theme park's most intense experiences. You will never be ready for the next turn on this thrilling ride. Are you ready for some high-speed twists, flips and spins? You'll feel butterflies in your stomach as you ride Beach Blaster with our discounted Belmont Park tickets!
Minimum Height Requirement: You must be 48 inches tall with no exceptions.
Octotron
Control the direction you want to move by using the joystick in front of you! This Octotron ride lets you choose whether you want to go forward or backward, and the speed you want to travel. This is a super fun ride to enjoy with your family and friends.
Note: Try riding it at night since the neon lights provide a gorgeous glow! This ride is available with our Belmont Park discount tickets from GreatWorkPerks.
Minimum Height Requirement: You must be 48 inches tall.
Attractions and Games included with your Belmont Park Discount Ticket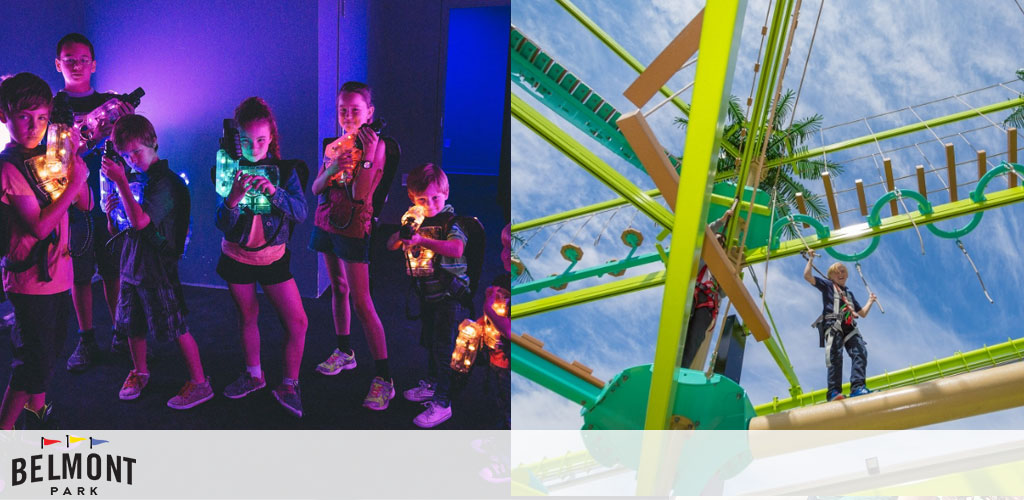 Laser Tag
Team up with your friends as you play Laser Tag with our Belmont Park discount ticket. Shoot some lasers and win all three levels with your teammates to win the battle.
Restrictions: For you to be able to play, Laser Tag's vest must be a comfortable fit on you.
Lazer Maze
Try this exciting Lazer Maze game and win while dodging laser beams! This engaging and entertaining game is suitable for people of all ages. Complete the mission in the smallest time possible! Don't get shot at, or you will lose points! Another perk of buying our low-priced Belmont Park discount tickets!
No restrictions apply. Fun for everyone.
Sky Ropes
Climb on Sky Ropes obstacle course and face 26 challenges, including a zipline, that will test your strength and balance. You will have to jump from one rope to another and over trees in this 2-story high canopy of Tiki Town Jungle. Purchase our Belmont Park discount ticket to access this activity, trust us, you'll looooove it!
Restrictions: You must be at least 48 inches to climb alone. If you do not meet the requirements, you must come with a chaperone.
Rock Wall
Test your strength at Belmont Park San Diego's Historic Plunge Building and climb with your buddies. This dynamic climb will bring out the best in you! You can climb alone or with friends. This is perfect for everyone looking for a new experience in the park, and it comes in three different levels: beginner, intermediate, and advanced rock climber levels. This attraction is available with your GreatWorkPerks discount Belmont Park tickets!
Restrictions: Climbers must have a weight ranging from 50-250 pounds. Closed-toe shoes are required to climb, no exceptions.
Tiki Town Mini Golf
This mini golf course is great for everybody. Perfect for anyone who would like to learn how to golf.
Perfect game for all ages!
Xanadu 7D Theatre
You can choose any adventure, from pirates to zombies, and enjoy this awesome Xanadu 7D Theatre. You will be transported other dimensions on this modern ride. Be amazed by the special effects and realistic motions. Use our Belmont Park discount tickets to ride this.
Riders must be at least 40 inches tall and have a maximum weight of 350 pounds.
Coconut Climb
If you really like rock climbing, then Coconut Climb is one of the best interactive games for you! Race with your friends on this unique version of a rock climb. Ring the bell when you reach the top to win! With our cheap rates, you will surely enjoy your theme park visit. Purchase through GreatWorkPerks and try this Coconut Climb. Have some tropical fun at the park!
Keep in mind that you must weigh between 30 to 250 pounds and wear closed-toe shoes to climb.
Grab Some Quick Bites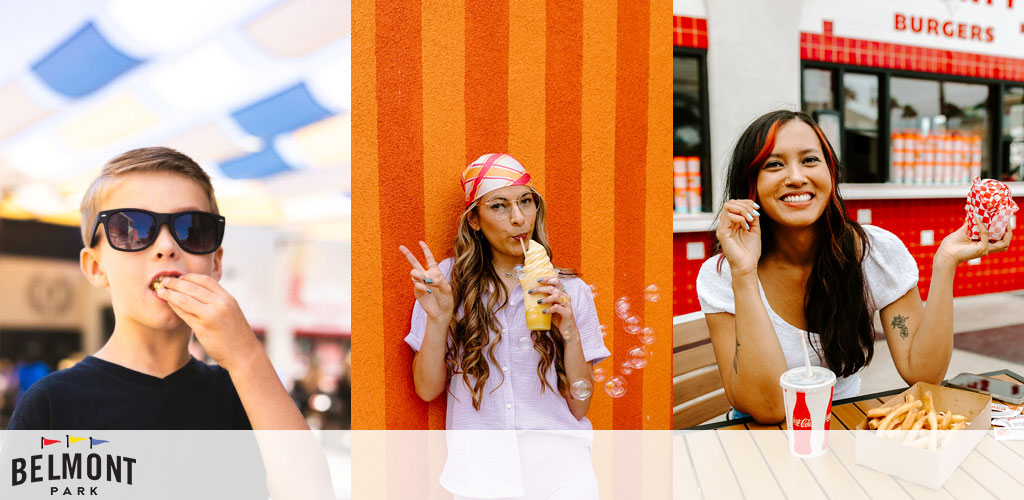 Draft Coffee
Indulge in the most exquisite and authentic Italian flavors at our charming coffee shop nestled by the pristine beaches of San Diego, CA. Please take a moment to relish the irresistible scent of our expertly crafted coffee and treat yourself to our mouth-watering pastry assortment, all while taking in the breathtaking ocean vistas!
El Jefe Taco Shop
Craving some delicious Mexican flavors? Their menu offers you mouth-watering options like juicy carne asada, savory al pastor, and flavorful chicken tinga. Don't miss out on this fantastic foodie experience!
Dole Soft Serve
Looking for the perfect way to quench your thirst and satisfy your cravings? Visit Soft Dole Serve and enjoy this delicious treat to enjoy on a beautiful day by the beach. These amazing soft-serve flavors are the perfect way to satisfy your sweet tooth and cool off in the sun!
Hot Dog On A Stick
While enjoying the beautiful weather in Belmont Park, stop by Hot Dog On A Stick for a tasty treat. Traditional hot dogs on skewers are always a welcome snack.
Belmonty's Burgers
Just off the boardwalk, you'll find Belmonty's Burgers, serving American standards with tried-and-true flavor combinations. These delcious burgers are crafted with premium, fresh ingredients and perfectly grilled.
Sweet Shoppe
Whether you're looking to cool down on a hot day or reward yourself after an exciting ride, traditional ice cream flavors, and homemade sweets are the way to go.
Beach Treats
If you're looking for a sweet treat that will blow your mind, check out Beach Treats on the Mission Beach boardwalk! Their monster cones, shaved ice, and other mouth-watering sweets are seriously next level!
Midway Snacks
If you're looking for a quick and delicious snack to munch on while gaming, Midway Snacks is the place to be! As you take in the sunny beach vibes, the extensive selection of treats is ideal for satisfying any craving!
Dippin' Dots
You may cool off from the day's excitement with these flash-frozen ice cream dot treats. Dippin' Dots is the best-frozen dessert ever since it comes in so wide delicious varieties, both old and new.
Round Table Pizza
Enjoy a slice of pizza fit for a king at Round Table Pizza while taking a break from your park explorations. You may travel the world and yet not find a better pizza than the one served by the Knights of the Round Table.
Shops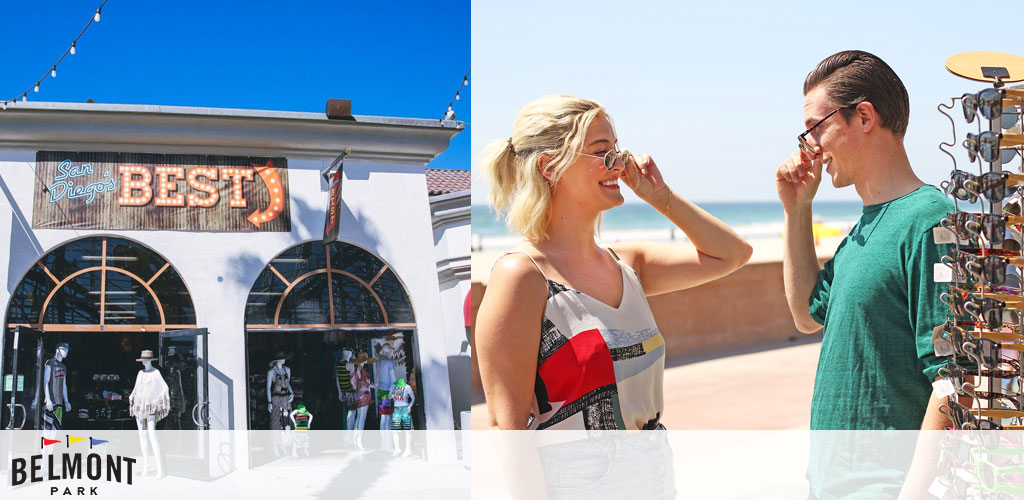 San Diego's Best
Clothing presents and mementos with beach themes are available at San Diego's Best in appreciation of the city and the Californian way of life.
You may bring some of San Diego's timeless sense of fun, ease, and leisure back in one of its many excellent gifts or keepsakes to help you remember your trip.
Beach Trader
All of your beach needs are met here. You'll find all sorts of unique goods and beachy necessities at Beach Trader. You'll find it here whether you're looking for beachwear or some beach art.
Midway Carts
Visitors of all ages might find a unique souvenir or trendy clothing item at one of the Midway carts. Visitors are big fans of their individualized selection of magnets, postcards, key chains, bracelets, tank tops, T-shirts, sweatshirts, and more.
Belmont Beach Gifts & Apparel
Transform your home into a stunning beach house oasis with the stunning selection of beach-inspired décor. Immerse yourself in the serene beauty of the ocean with this hand-picked selection that will transport you to the sandy shores no matter where you are!
Tips and Tricks for Your Belmont Park Visit
Pre-purchase Belmont Park discount tickets.
Enjoy savings of up to 41% off each ticket vs the gate price when you purchase your Belmont Park discount tickets in advance through GreatWorkPerks GreatWorkPerks offers many discounts, and you can save big time with every purchase!
Arrive Early at the Park.
Want to have the ultimate Belmont Park experience? Make sure to arrive early! Take advantage of all the unique experiences that this park has to offer. Enjoy every single experience and leave no stone unturned!
Plan Ahead of Time
One day of fun can be exhausting if you try to rush through it to check everything off your list! Planning is the key! Make sure to note all the must-see attractions and activities in order of priority. This way, you won't miss out on any fun and can maximize your adventure!
Know These Things Before You Go!
Park Rules
Belmont Park is an amusement park for everyone. Please follow the park policies and staff's verbal instructions to ensure guest safety and enjoyment.
Alcoholic beverages, weapons and knives are prohibited in the park.
Only service animals and leashed dogs are allowed. Please clean up after your dog and keep them under control.
The park prohibits smoking, including vaping. Parking lots have smoking zones.
No skateboarding, running, rollerblading, bicycling, etc. The midway allows bicycle walking. Midway entrances have bike racks.
Belmont Park is not liable for lost or stolen items.
Disruptive or objectionable dress is forbidden.
Belmont Park maintains the right to reject entry or request that person leave the property if someone violates these rules.
Frequently Asked Questions about Belmont Park
Are reservations required?

No, reservations are not required at the theme park. Bring your Belmont Park ticket to the park and get your wristbands!

Where is the park located?

The exact address is 3146 Mission Blvd., San Diego, CA 92109.

What are the operating hours of Belmont Park San Diego?

The park is open 11 AM to 6 PM from Monday to Thursday, 11 AM to 10 PM on Friday and Saturday, and 11 AM to 9 PM on Sundays. Please note that park hours may change without prior notice.

What are the operating hours of the restaurants at the theme park?

The Beach House is open daily from 11 AM until sunset; Draft is open from Monday to Friday 11 AM to 9 PM and on Saturday & Sunday from 9 AM to 9 PM; Cannonball is open from 11 AM to 9 PM; and Draft Coffee is open daily from 7 AM to sunset.

Is there free parking at Belmont Park San Diego?

Yes, there is free parking!

Do I have to print out my Belmont Park tickets from GreatWorkPerks

No, through GreatWorkPerks, you can just show your Belmont Park discount tickets on your phone at the entrance for easy entry.

How soon do I receive my Belmont Park tickets from GreatWorkPerks

You will receive your Belmont Park discount tickets instantly after your purchase along with your receipt!

What items are not permitted at the park?

The park is open to everybody that wishes to have fun and let loose! To keep the environment kid-friendly and safe please refrain from bringing the following items into the park:

Weapons
Knives: or any item that may cause harm to other guests
Pets (with the exception of service animals)
Cigarettes: or any alternative such as to e-cigarettes and vapor pens.

Additionally, biking, skateboarding, rollerblading, and other accident-prone activities are prohibited inside the park.

How big is the park?

The park is approximately 7 acres big!

Is smoking permitted at the park?

Smoking at the public and common areas of the park is strictly prohibited, to ensure the comfort of all guests. Designated smoking areas can be found within the parking lots.
Last updated November 8, 2023.