Get discount tickets to Dinner Detective for 24% off of gate price! Available in three locations starting at $59 vs $77.12. Lowest prices guaranteed on GreatWorkPerks
A reservation is needed. Email your preferred branch to reserve.
LA County : lax.info@thedinnerdetective.com

Orange County : oca.info@thedinnerdetective.com

Thousand Oaks : ths.info@thedinnerdetective.com
Reservations are required at least 7 days prior to the Murder Mystery Show that you wish to attend.**

Presenting the nation's best dinner theater murder mystery production! Laugh your way through the resolution of a humorous mystery as you have a delicious meal. Be careful! The criminal is probably standing right before you, and you might be the prime suspect before you even realize what's happening! Experience this unique attraction that is unlike your typical murder dinner mystery show.
At The Dinner Detective, the actors will be sitting among the crowd, so always be on the lookout! What follows is an incredible evening that everyone will enjoy since it is friendly and stimulating. In addition to the award-winning murder mystery show, the ticket price covers a full-plated meal, the wait staff, and several other surprises during the evening! Any audience member, including yourself, may be called upon to engage in this Dinner Mystery Show! Experience a one-of-a-kind evening incorporating uniquely made twists with your GreatWorkPerks Dinner Detective tickets!
GreatWorkPerks Dinner Detective Discount Tickets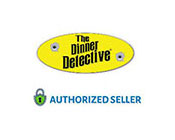 Lowest Prices Guaranteed!
GreatWorkPerks is an authorized seller of discounted tickets for The Dinner Detective. We are one of the country's largest sellers of discounted deals, and we couldn't have thrived for over 30 years if our customers didn't highly trust us. We would love you to join our family and enjoy the best price of Dinner Detective tickets and other attractions nationwide!
Hassle-Free Transaction, Skip the Lines!
Another benefit of purchasing from GreatWorkPerks is that you do not need to print The Dinner Detective discount tickets. Consider your phone your new best friend because all you need to do is present your GreatWorkPerks discount e-ticket and you are set!
If you purchase The Dinner Detective tickets in advance through GreatWorkPerks, you don't need to line up at the ticket booth or gate entrance; With GreatWorkPerks you skip the line!
What to expect at The Dinner Detective Mystery Show?
Unlike other murder dinner mystery shows, The Dinner Detective is an entirely new and original experience. The show is completely interactive, everybody there can participate. At some point during the evening, a crime will be committed, a clue will be uncovered, and the Detectives will assist the audience in solving the mystery. The Top Detective, who delivers the most convincing solution before the murderer is exposed will get a Prize Package.
Warning: The performance includes simulated gunfire, loud prop guns, and brief power outages. So, don't panic! It's all part of the show they've prepared for you! Make the most of it with The Dinner Detective discount tickets from GreatWorkPerks
Intriguing Clue-Solving Mystery
As you work together to solve the case, the evening's excellent supper rapidly becomes a murder mystery, delivering incredible excitement and hilarity to your party. A plotted mystery has been committed, and you and your fellow detectives will put your metaphorical magnifying glasses on the trail—warning: one of the guests will perish unexpectedly. The creative team will create the setting for a thrilling evening of investigating, where anyone, including YOU, could be the MURDERER!
TIPS for your Dinner Mystery Show
Purchase The Dinner Detective tickets in advance.
Bear in mind that The Dinner Detective Dinner Mystery Show happens only some days in a month and given the limited-time event they have and how the murder show piques everyone's interest, tickets sell out very fast!
Purchasing tickets in advance will ensure you a seat! Purchase The Dinner Detective discount tickets through GreatWorkPerks starting at $59.00 and save up to 24% on each ticket!
Reserve your tickets 7 days before the event.
The Murder Mystery Show that you desire to attend requires making reservations at least seven days before the event.
Dress accordingly.
Except as otherwise specified, the standard dress code is business casual/dressy casual. Dress like you're going out on a Saturday night! Fashionable denim is OK. Hats, shorts, and t-shirts are not permitted. Those not meeting the dress requirement will be denied entry. So, plan your night outfit ahead! Play your role well!
Arrive early.
The guests attending the Dinner Mystery Show are strongly advised to arrive early, or at least 15 minutes before their confirmed check-in start time, to minimize the chances that they will miss anything exciting happening at the crime scene.
Frequently Asked Questions (FAQs)
Are reservations required?

Yes. Reservations are required a week before the event. For more information, please visit your desired location's website or call them at (866) 496-0535. Please note that reservations should be made in advance to secure a seat.

Do I need to print my GreatWorkPerks discounted The Dinner Detective tickets?

No, you don't need to print out The Dinner Detective discount tickets from GreatWorkPerks. Just present your discounted ticket from your phone at the entrance and in you go!

What times does the show have?

The Dinner Detective or the Dinner Mystery Show performs Saturday nights from 6:00 PM to 9:00 PM. However, show times may vary from one location to the other, so it's safer if you visit your chosen location page. Secure your schedule on the links above under the "TIPS" section.

Where is it located? Where can I park?

The performances of The Dinner Detective will take place at the following venues: for parking details, please see the list below.:

| Location | Address | Parking |
| --- | --- | --- |
| LA County | 401 S San Fernando Blvd Burbank, CA 91502 | Free street parking. Free parking in hotel also available. |
| Orange County | Hotel Lulu - 1850 S Harbor Blvd, Anaheim, CA 92802 | Free self-parking is available. |
| Thousand Oaks | 299 S Moorpark Rd, Thousand Oaks, CA 91361 | Free self-parking is available. |

Is there an age requirement at the Dinner Mystery Show?

Yes. At each and every one of its venues, The Dinner Detective performance maintains a strict minimum age requirement of 15 years old. The show is only intended for adults. Toddlers and infants are not permitted to attend the event under any circumstances.

Do I need to be a part of the show?

There is zero pressure for you to take part in the show if you don't want to. Attendees are welcome to perform or participate but are not obligated to do so. Actors are concealed in the crowd, so random spectators may approach you and question you without any warning.

What size are the tables? Can all of my friends or family sit together?

Your entire party can sit together if you request it. Each guest will be seated at one of the round banquet tables that can hold up to ten people. Please have all members of your party who are making separate reservations indicate the original party's last name in the Party Seating Request field. If you have more than 10 people in your group, they will try to arrange you at neighboring tables. Seating requests cannot be guaranteed unless they are notified at the time of your order.

Can I get a refund?

No, tickets are nonrefundable and nonexchangeable.
Last updated June 19, 2023.