Buy Dutch Wonderland discount tickets starting at only $29.99 vs $66.94 the gate price. Tickets are sent via email.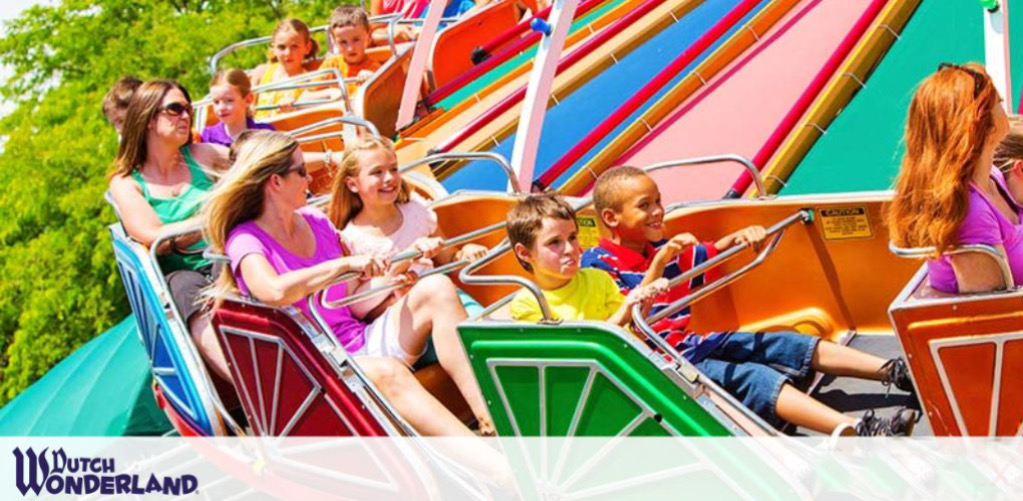 The Kingdom of Fun is Waiting for You!
Welcome to the Wonderland Family Amusement Park, a whimsical kingdom where children's dreams come to life and endless fun awaits! This enchanting destination is specifically designed to cater to the imaginations of our young visitors, providing them with an unforgettable experience full of magic and wonder. At Wonderland, children are transported to a world where their magical dreams become a reality, creating cherished memories that will last a lifetime!
Join us in this extraordinary realm, where the possibilities are as limitless as a child's imagination. Families of all ages are welcome to join the delightful experience that has over 30 exhilarating rides and attractions, captivating live shows, and many entertainment areas designed to ignite joy and laughter. Immerse yourself in a world of enchantment and wonder as you embark on a captivating journey through the majestic kingdom with our discount Dutch Wonderland tickets!
The LOWEST-PRICED Dutch Wonderland Discount Tickets
Hassle-Free Transaction, Skip the Line!
Another benefit of purchasing from GreatWorkPerks is that you do not need to print your Dutch Wonderland discount tickets. Consider your phone your new best friend because all you need to do is present your e- Dutch Wonderland tickets at the gates, and in you go!
Top Things to do at Dutch Wonderland, Lancaster
Prepare yourself for an exhilarating and joyous experience with all the rides and attractions available! These attractions are great for visitors of all ages! Have fun on the amazing rides designed specifically for younger visitors or choose to be a daring adventurer on a heart-pounding thrill ride.
Pro-tip: Don't forget to bring your Dutch Wonderland discount tickets for easier entry!
Topsy Turvy Tea Party (New Ride)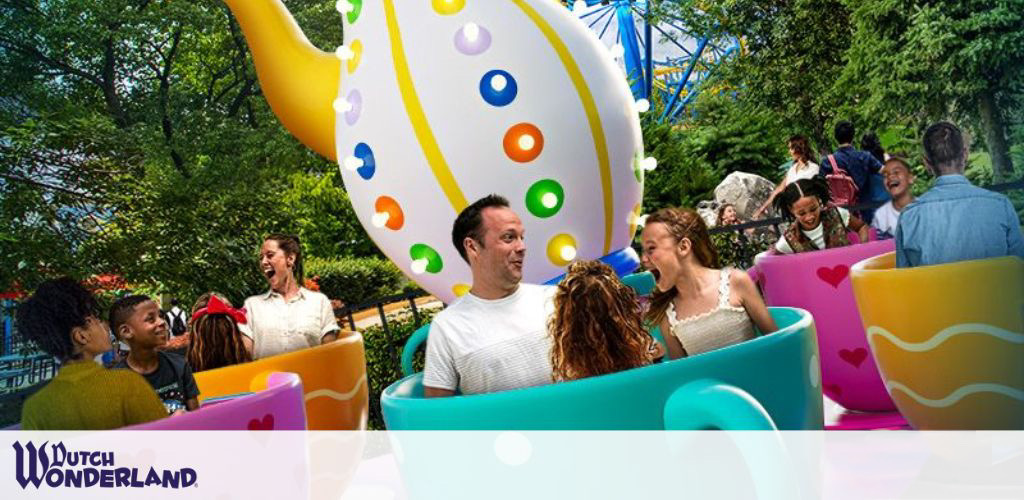 Experience the whimsical charm of Wonderland's enchanting version of the timeless teacup ride. Enjoy this delightful experience as you have fun with your loved ones once you embark on this whimsical adventure. Let the cup's magic envelop you as you spin and twirl, creating memories that will last a lifetime.
Merlin's Mayhem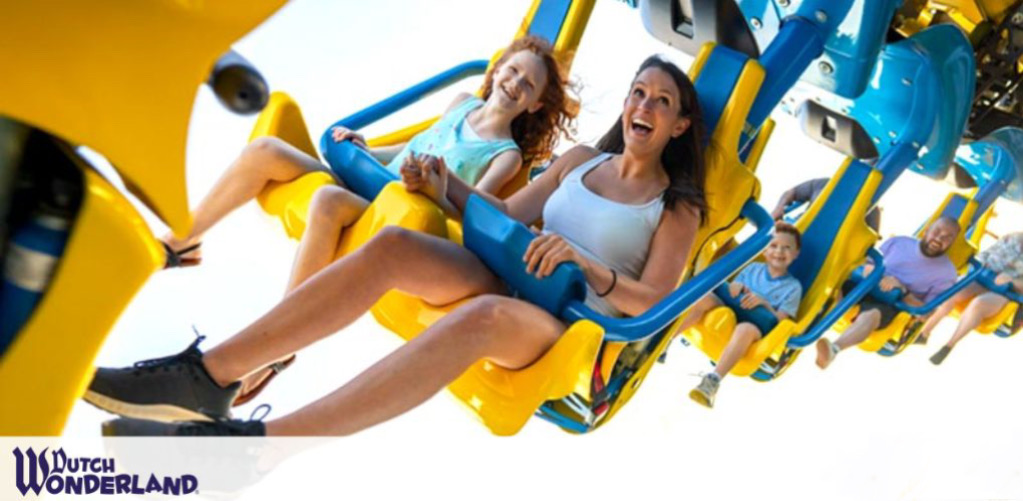 Wonderland is buzzing with excitement as it sets to unveil its latest thrilling addition - a remarkable suspended family roller coaster. This captivating attraction takes guests on an enchanting journey alongside Dutch Wonderland's beloved magician, Merlin. With Merlin as your guide, expect the unexpected as you go on some thrilling adventures. Brace yourself for heart-pounding moments and surprises at every corner. Get ready to be swept away in the whimsical world of Merlin's Mayhem, where the magic is real, and the excitement is endless!
Kingdom Coaster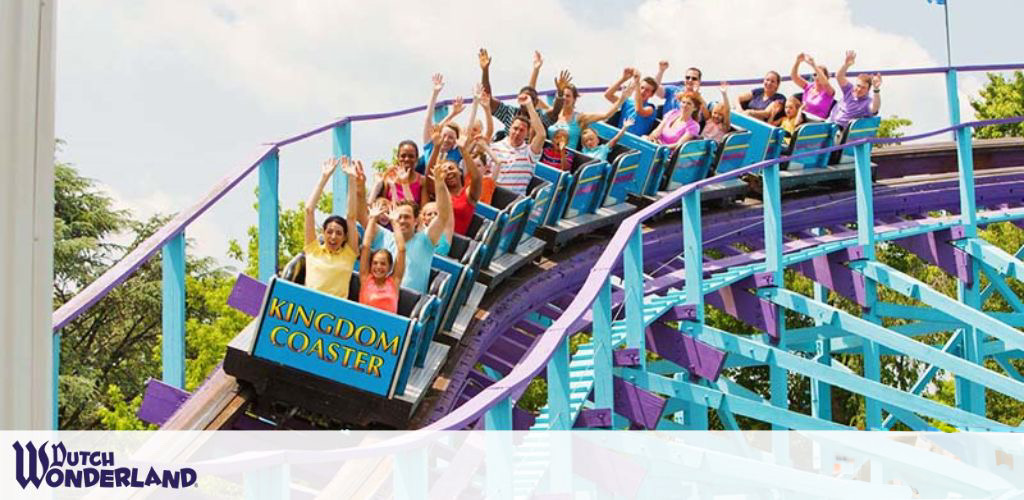 Get ready to put your bravery to the test as you embark on a heart-pounding adventure full of thrilling twists and turns. Hold on tight as you ascend to great heights, only to plunge rapidly. Feel the adrenaline rush as you pass through all the exhilarating loops and curves that will leave you breathless. This laugh-inducing coaster promises an unforgettable experience that will challenge your courage and leave you craving more. Are you ready to go on the ride of your life?
Frequently Asked Questions
Do I need a reservation to enter Wonderland?

Head straight to the gate! You do not need to make a reservation with your Dutch Wonderland discount ticket from GreatWorkPerks

When will my discounted Dutch Wonderland ticket expire?

Your Dutch Wonderland discount ticket is valid for single-day entry until September 16, 2023.

Where is Dutch Wonderland located?

It is located at 2249 Lincoln Highway East, Lancaster, PA 17602.

What are the operating hours of the family amusement park?

Operating dates and times may vary daily. Please check and confirm the hours of operation first before going to the park.

Are Dutch Wonderland tickets refundable?

No. Dutch Wonderland tickets are non-refundable, non-exchangeable, and non-returnable. All ticket purchases are final.

Do they offer free parking?

Parking fees for General, Accessible, and Preferred spaces apply. To check parking prices, you may visit Dutch Wonderland's official website.

Is the amusement park wheelchair accessible?

Yes, guests are welcome to enter and bring their wheelchairs. Wheelchairs and Electric Vehicles are available for rent on a first-come, first-served basis at Junction Rentals near Wonderland Special Train Station.

Am I allowed to bring food and drinks inside?

Outside beverages and food are strictly prohibited inside except for one small snack (per person). Baby food may be brought inside. Visitors can bring their food inside the park, if it is medically necessary (e.g., allergy-safe foods for allergies).

How soon will I get my Dutch Wonderland discount ticket from GreatWorkPerks

Instantly! These are electronic Dutch Wonderland tickets that will be sent to your email, along with your purchase receipt.

Do I need to print my GreatWorkPerks discount Dutch Wonderland ticket?

No! You can show your tickets via smartphone to enter faster and easier. Travel paperless with GreatWorkPerks That's another one of our great perks!
Last updated August 7 2023