Check out other The Escape Game locations:
Buy San Francisco's The Escape Game discount tickets starting at only $29.65! Savings of up to 34% vs $44.99 regular price. Lowest prices guaranteed.
Reservations required after purchase of discount tickets. Please call 415-940-7808.
Be a Hero, Save Your Teammates!
If you're looking for an escape room, look no further! Visit The Escape Game. These expeditions bring legendary tales to life like no other. Go into one of the many interactive worlds and try to retrieve a stolen masterpiece, locate some missing gold, or escape from jail.
With five unique themes, The Escape Game San Francisco houses one of the most challenging escape rooms, Prison Break. For most rooms, the maximum number of players is 8, except for the Playground, which may host up to 12 players. Each game is a multi-room, in-depth adventure ideal for the whole family.
Remember, you only have 60 minutes to finish your mission, so hurry up and solve the quest or be locked inside forever! Get your GreatWorkPerks Escape Room discount tickets today to experience fun like no other at the best price!
The LOWEST-PRICED San Francisco The Escape Game Discount Tickets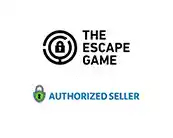 Lowest Prices Guaranteed!
GreatWorkPerks is an authorized seller of San Francisco's The Escape Game discount tickets. We couldn't have thrived for over 30 years if we weren't highly trusted by our customers. We would love for you to join our family and enjoy the best price for The Escape Game discount tickets, as well as other attractions nationwide!
Hassle-Free Transaction, Skip the Lines!
Another benefit of purchasing from GreatWorkPerks is that you do not need to print The Escape Game discount tickets. Consider your phone your new best friend because all you need to do is present your e-tickets at the gates, and in you go!
San Francisco Escape Room Themes
Prison Break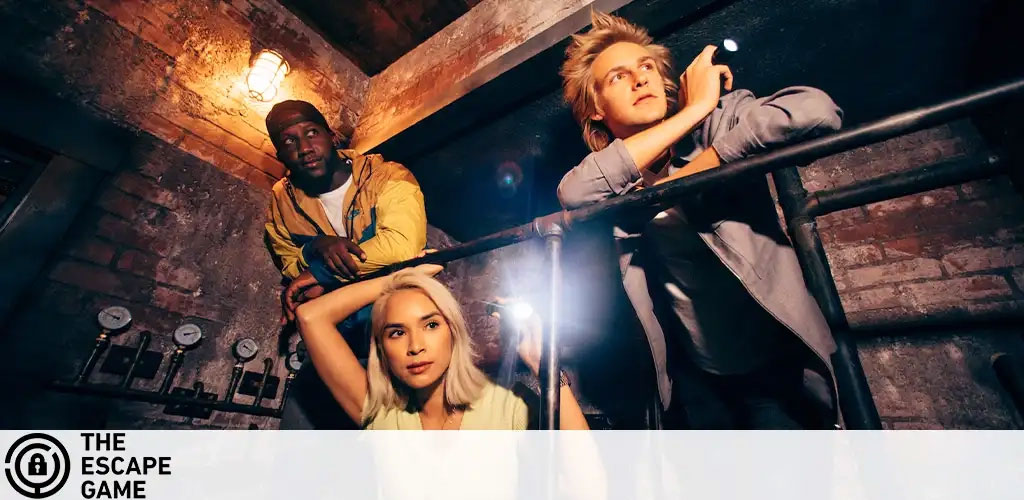 Enter a prison themed world and escape through the Warden's Office. Players will be divided into two different prison cells and must communicate with each other to get out of this 1950s prison. This escape room is the hardest – will you get out in time?
This experience is included in The Escape Game discount tickets from GreatWorkPerks.
The Heist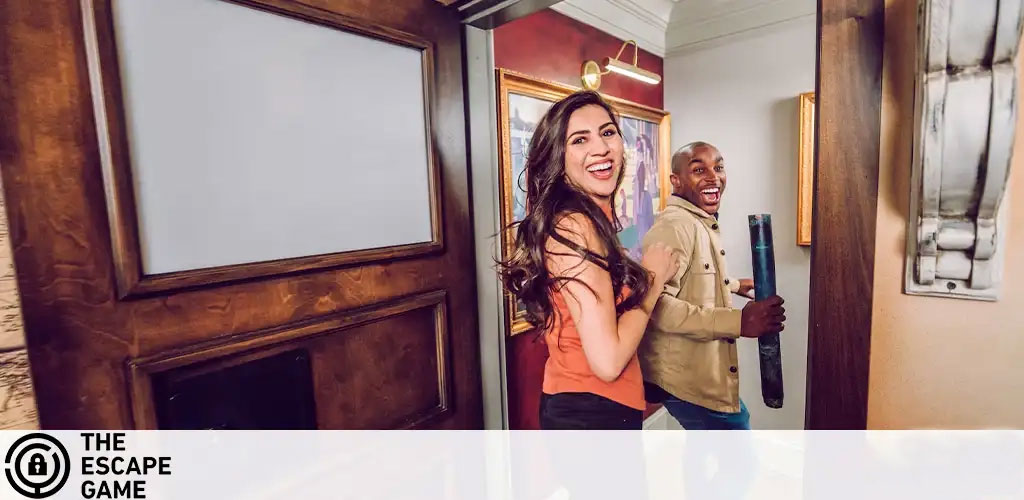 Could you snatch the stolen Monet painting from the Barclay Museum of Historical Art? Rumors have been circulating that it's been robbed by Vincent Hahn, the museum's curator. This is an ultimate museum heist, so be extra careful!
The Escape Game discount ticket includes this game for you to play.
Special Ops: Mysterious Market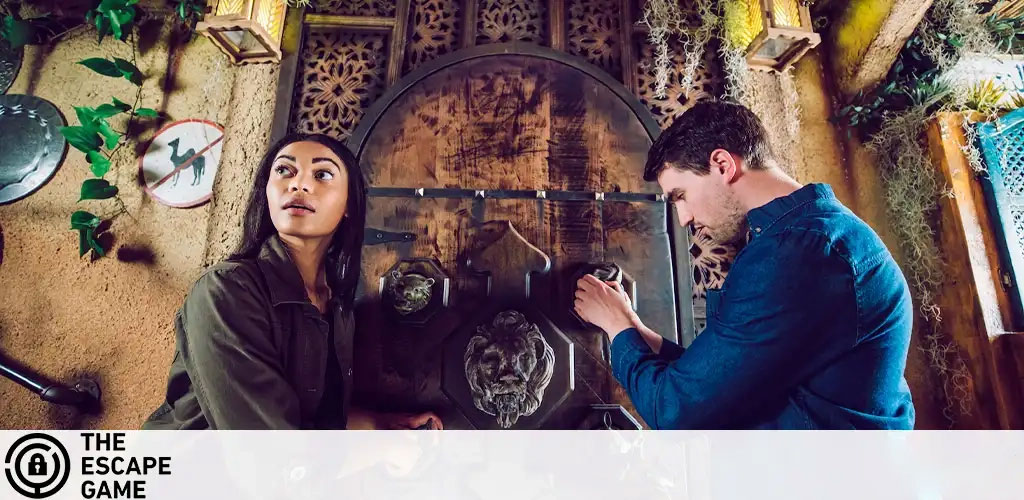 When you're a special operations agent, going on secret missions all over the world is routine. Yet, a typical trip to the spice market uncovers a surprising find... You are now responsible for resolving a global emergency threatening mankind.
Enter the world of this Mysterious Market with The Escape Game discount tickets from GreatWorkPerks.
Gold Rush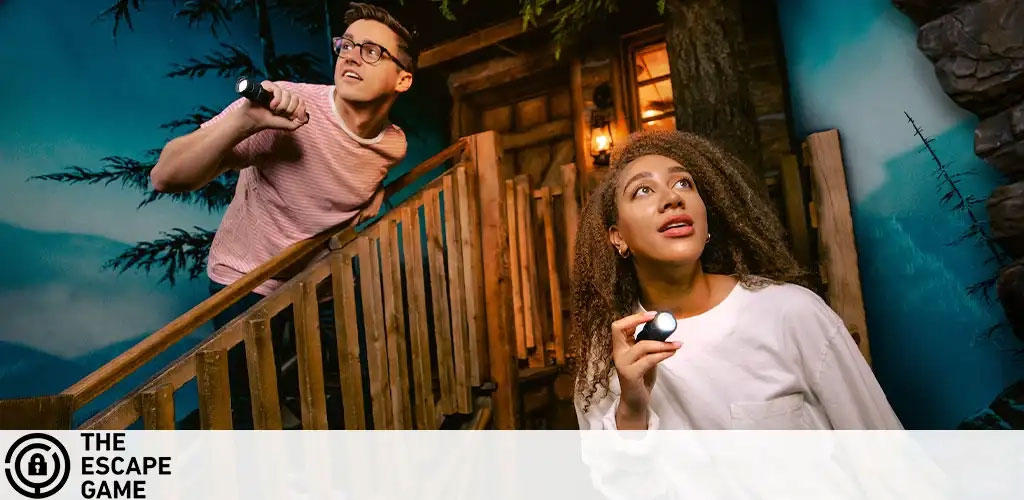 When the gold rush hit California in the 1800s, anyone might strike it rich. Your late relative, Clyde Hamilton, was the only one who could have enlightened you on this. Though he has since died, the prospector left a substantial amount of gold. Since you are his only heir, you will inherit all of it. The question is, will you be able to find it?
Experience the rush at Gold Rush with The Escape Game discount tickets from GreatWorkPerks.
Playground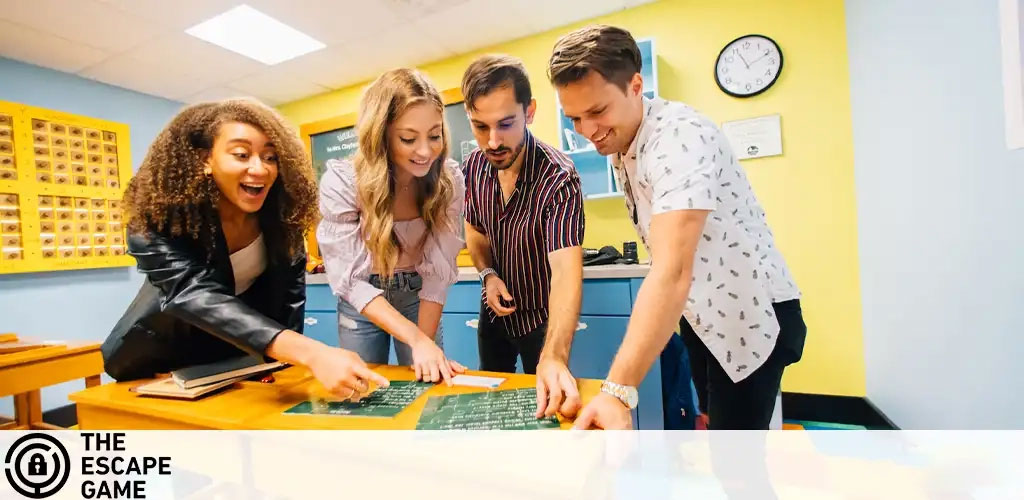 The Playground room is a favorite because it is exciting, brings back good memories, and really fun to play. Your game will begin in a classroom, where you must complete all your assignments by the end of the day or miss out on summer vacation. Get ready because these tasks are unlike anything you've ever done in school.
Get your discounted The Escape Game discount tickets today to play.
Here's What To Expect with your Escape Room Experience
Choose a Theme
Pick an epic room! Each room is great for anyone looking for an action-packed experience, and they are all family-friendly!
Meet your Game Guide
After selecting a room, you'll be meeting with your game guide. Your game guide will take you to your chosen room and explain the game rules. If you have any questions or need a clue to accomplish the mission, you can always ask your game guide.
Watch a Mission Video
Once inside the room, you will watch a mission video to be guided on what to accomplish and to get to know what kind of world you will be in.
Escape the Room
Your primary objective – escape the room! You only have 60 minutes to do it (or you'll be locked in forever!). To escape, you must look for patterns, clues and hints and solve puzzles.
Get A Clue
Do you need help? Try to reach out to your game guide. Your game guide will not only explain the game rules, but they're also there to help you to make your escape game extra fun!
Escape Room Tips
Be Observant
Look everywhere, literally! Don't just stand and wait for others to help you escape. Work as a team. Once inside, look through everything. Pro-tip: Look under rugs, check the bookshelves, and look closely at the paintings.
Search for Pattern
Looking for a starter clue could be challenging. But once you find one clue, it will be so much easier. Look for any patterns or irregularities. They could be the key to solving the puzzle.
Use Everyone's Skills
Always work with your teammates, not alone. Escaping and solving puzzles is best when working together. Some might not be as fast at deciphering code, but they might be experts at analyzing patterns.
Keep Track of your Solved Puzzles
Keeping track of your solved puzzles could help you maximize your time looking for other unseen clues and hints.
Stay Positive
If you feel like you're not progressing anymore, cheer up. Y After all, the fun and games are what matter most!
Frequently Asked Questions
Do I need to make a reservation before going?

Yes. Reservation is recommended. All you need to do is call 415-940-7808 to reserve The Escape Game discount tickets from GreatWorkPerks.

Where is The Escape Game San Francisco located?

It is located at 150 Kearny Street, San Francisco, CA 94108.

What are the operating hours of the Game Center?

The Escape Game San Francisco's operating hours vary daily. To get updated schedule, you may visit their official website.

Do I get free parking when I visit?

The Escape Game has no parking lot, but paid garages are nearby.

How early should I be at the Game Center?

The recommended arrival time is 10 minutes before your game time to give yourself time to check in.

Should I buy my children separate The Escape Game discount tickets?

Children ages 4 and below are free of charge. Children ages 5 and up need valid and separate The Escape Game discount tickets to enter and play.

Is the game suitable for kids?

The game is recommended for ages 13 and over. However, little players are welcome to play. For adults with kids ages 4 years and under, call the Escape Game before making a reservation to add their spot to your reservation.

Do I need to print them?

No need! Show The Escape Game discount tickets from your mobile device, and in you go!

Am I allowed to bring food and drink inside?

No, outside food and beverages are strictly not allowed inside.

Are your game rooms wheelchair accessible?

Yes, please call (415) 940-7808, and they will help you pick the best room for your team!

Can I leave the room?

Each room is equipped with an exit button. If you want to leave the room, you are free to do so.
Last updated November 21, 2023.
The Escape Game San Francisco: Downtown Tickets