Buy your Fleet Science Center discount ticket today, starting at $18.95, and enjoy up to 9% off the gate price.

Overview
Visitors of all ages can explore the potential and transformative power of Science at the Fleet Science Center. Our goal is to make San Diego a place where people from all over the globe can enjoy and feel the impact of science.
Visit the Eugene Heikoff and Marilyn Jacobs Heikoff Giant Dome Theater and get captivated by an IMAX film journey that highlights the wonders of the planet—and much more—while exploring more than 100 interactive exhibits designed to stimulate your interest.
Pizzas, sandwiches, salads, and nutritious delights can be found in Craveology, while the North Star Science Store sells educational toys and games, books, IMAX DVDs, and many other surprises.
Be sure to gather your family in this one-of-a-kind experience that will surely bring out the scientist in everyone! Enjoy this immersive Science Center in Balboa Park. Buy your discount Fleet Science Center ticket through GreatWorkPerks to save more money!
The LOW-PRICED Fleet Science Center Discount Tickets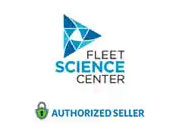 Hassle-Free Transaction, Easy and Fast!
Another benefit of purchasing from GreatWorkPerks is that you do not need to print your Fleet Science Center discount tickets. Consider your phone your new best friend because all you need to do is present your e-tickets at the gates, and in you go!
Things To Do Before You Visit!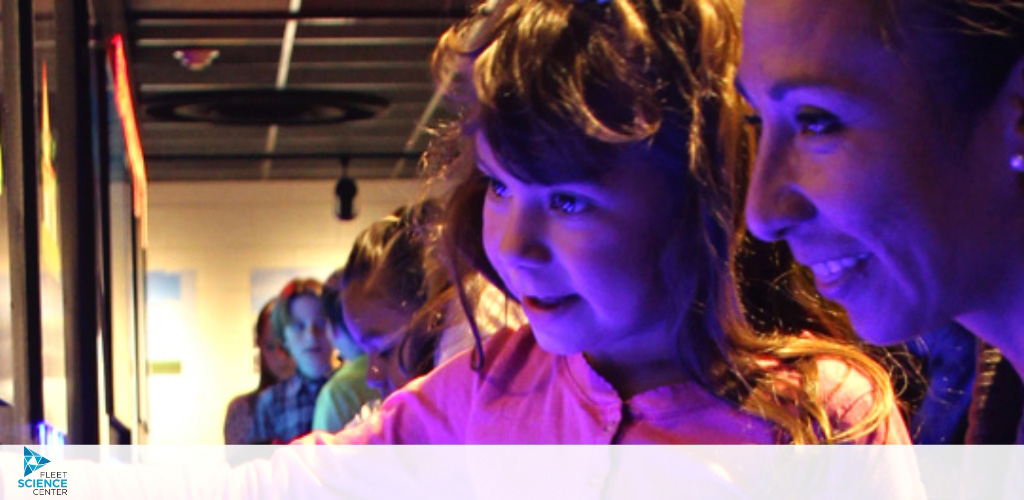 You might find these hints and tips helpful to make the most of your visit. Check out below.
Prepurchase discount Fleet Science Center tickets through GreatWorkPerks
Enjoy the best deals with your GreatWorkPerks Fleet Science Center discount tickets in advance. You can enjoy savings of up to 9% vs the gate price! You will have the greatest time while learning and saving money!
Know The Hours and Admission
San Diego's Science Center is open daily from 10:00 AM to 5:00 PM. With your Fleet Science Center ticket, you can enjoy various exhibit galleries and documentary films in the Giant Dome Theater!
Note: Your Fleet experience includes one (1) documentary in the Heikoff Giant Dome Theater and all the available exhibit galleries.
Attraction's Accessibility
On Wheelchairs
The facility is wheelchair accessible. Wheelchair seating is available in the Heikoff Dome Theater. Wheelchair users can use any of the Fleet's accessible restrooms. Please use the toilets closest to the Main Exhibit Gallery entrance for convenience and privacy.
Captioned Screenings
Closed captioning is available in the Heikoff Dome Theater, and the Fleet is happy to provide it. This new cupholder captioning device lets viewers position the captions where they can see them most clearly during the film.
Assistive Listening Device
Those with hearing impairments can borrow specialized headphones to improve their Dome Theater experience. By amplifying the voiceover and dialogue and dampening the music and sound effects, the headsets improve the intelligibility of presentations given in a theatre setting.
Ear Defenders
The Fleet Science Center provides visitors with earplugs if the environment is too loud. You can ask the Heikoff Giant Dome Theater box office staff if you have any questions.
What to See Inside the Science Center?
Curious kids and adults alike will enjoy exploring these permanent, hands-on exhibits at their own pace. Science can be found everywhere you look, from the depths of space to the inside of your body. Buy your Fleet Science Center tickets through GreatWorkPerks today and explore Science from every angle!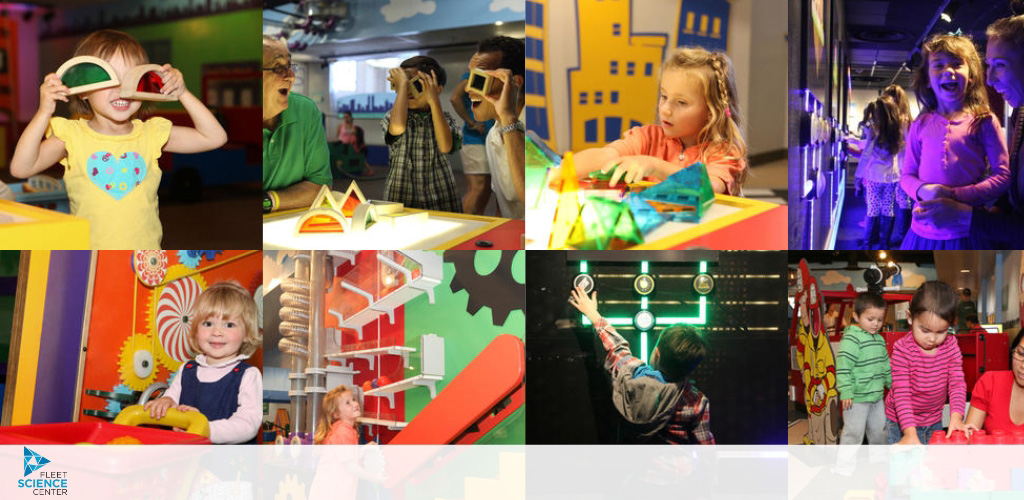 Design Zone
Inside the Design Zone, you will get a glimpse of the mathematical processes behind the scenes of creating video games, music, and skate parks.
Illusions
The new Illusions Gallery at the Fleet will trick your head and show you how your mind can play tricks when processing information. You'll perceive details where there are none, recognize familiar faces in unexpected locations, and learn unexpected truths from the most basic images. Explore the fascinating realm of optical illusions and learn that what matters is how you interpret what you see.
It's Electric
It's Electric brings its scientific and historical background to life by exploring electricity's foundations, varieties, and applications. There are many interactive stations where visitors can learn more about electricity and its history and examine topics such as magnetic fields, electric charges, and battery technologies.
Kid City
The Ball Wall, which features numerous chutes, rails, and moving items, is where the thrill begins. Children in the area can spin a set of colorful pinwheels or generate musical noises by directing an air blower in various ways!
Nano
Explore the nano realm to learn about its usefulness in the real world. In this exciting new exhibit, visitors will learn about science, technology, and engineering.
Power Play San Diego
Together with San Diego Gas & Electric, the Fleet has created a cutting-edge new exhibit that explores the inner workings of the San Diego electricity system, from generation to distribution to the people's houses. The Mezzanine Gallery upstairs at the Fleet has opened as the new home of Power Play San Diego.
Pulseworks VR Transporter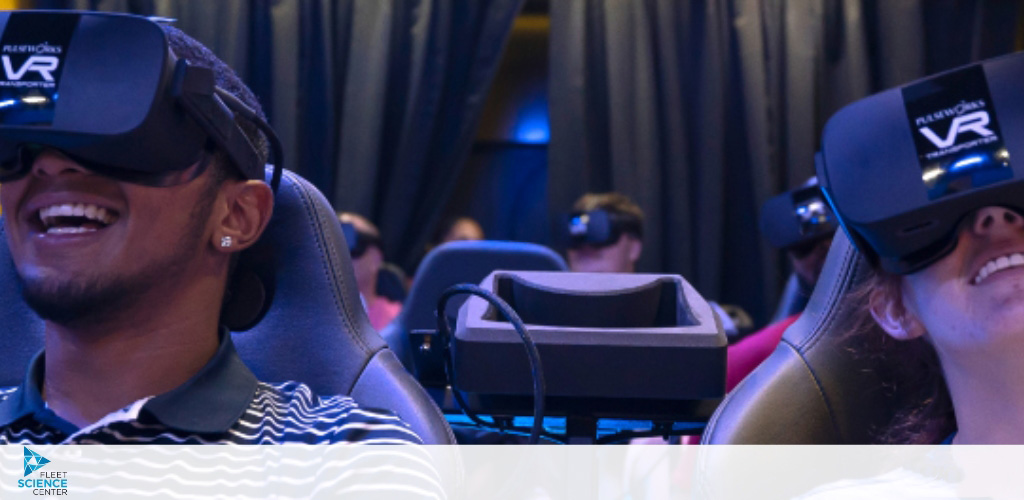 A stunning virtual reality adventure simulator called the Pulseworks VR Transporter can send you speeding through space, on a spacewalk, or to the Moon. With the VR Transporter, enjoy this incredible VR experience that will blow your mind!
San Diego's Water
Learn where San Diego's water comes from, how it's transported and treated. The importance of water preservation and conservation are explored through interactive features!
So Watt!
Yes, Watt! The Fleet Center's illuminating exhibit, An Illuminating Look at Energy, covers how electricity is generated, renewable energy options, and simple energy-saving techniques that can be used anywhere.
Space Gallery
Learn about the history, present, and future of space travel. Learn the skills required to comprehend new findings about our Earth, Sun, Solar System, and Universe by participating in exciting interactive Earth and space science activities found in this gallery.
Studio X
Visit this engaging activity where you will get some hands-on experience with power tools like screwdrivers, drills, soldering irons, and glue guns. Studio experts are available to help you every step of the way!
Sun, Earth, Universe
This 500-square-foot exhibition gets you in touch with cutting-edge NASA science research and sends you on an adventure through the Universe. Everyone will enjoy the engaging and entertaining displays of the Sun, Earth, and Universe.
Frequently Asked Questions for Fleet Science Center
Do I need to make a reservation before I visit?

No, visiting the Science Center does not require any reservation. Just present your Fleet Science Center tickets directly at the ticket booth.

What are the operating hours of the center?

The Fleet is open daily from 10:00 AM to 5:00 PM. Note: The gallery closes at 8:15 PM on the first Wednesday of the month for The Sky Tonight planetarium show.

Where is the Fleet located?

1875 El Prado, San Diego, CA 92101.

The Science Center is in the heart of Balboa Park, east of the El Prado pathway, next to the majestic Bea Evenson Fountain.

Do I get free parking when I visit?

Yes. You may park at Space Theater Way off of Park Blvd for free.

What is your refund policy?

All Fleet Science Center discount tickets are non-refundable and non-returnable. We cannot issue exchanges or refunds after purchase or refund lost, stolen, damaged or destroyed tickets.

Ticket packages and prices are subject to change without notice.

How soon do I get my GreatWorkPerks Fleet Science Center tickets?

You will receive your discount Fleet Science Center tickets instantly, along with your receipt! Tickets are sent via email.

Do I need to print my GreatWorkPerks discount Fleet Science Center ticket?

No need to print them! Just present your Fleet Science Center discount tickets through your mobile phone, and you'll be granted entry – easy and fast!

Do I need to purchase a separate discount Fleet Science Center ticket for my child?

Yes. Kids aged 3 to 12 should have a valid discount Fleet Science Center ticket to enter the attraction. Children ages 2 and under get in for free.

Am I required to wear a mask when visiting the attraction?

As of the date of writing, 4/20/23, the Science Center recommends all guests wear a mask when inside. The attraction will provide one if you do not have a face covering or mask.
Fleet Science Center Discount Tickets
Hands-On Galleries Experience

Child (ages 3-12)

Regular price $22.95

Discounted Price $20.95

Hands-On Galleries Experience

Senior (ages 65+)

Regular price $19.95

Discounted Price $18.95

Hands-On Galleries Experience

Adult (ages 13-64)

Regular price $24.95

Discounted Price $22.95