Purchase our Knott's Scary Farm discount tickets starting at only $53.99 vs. $109 gate price! Get and enjoy exclusive discounts! Daytime admission to Knott's Berry Farm is not included.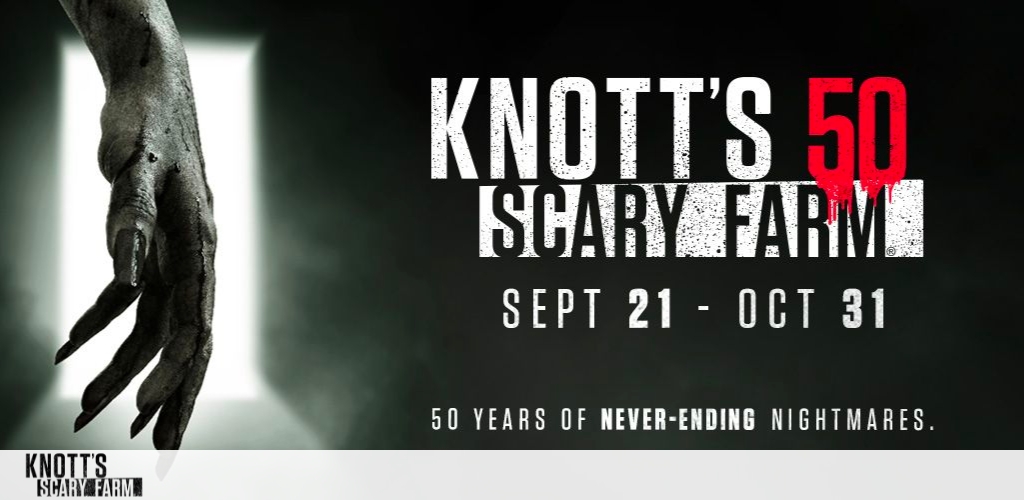 Knott's Scary Farm hours
7PM - 1AM: Select Tuesday, Wednesday, Thursday and Sunday
7PM - 2AM: Friday and Saturday.
KNOTT'S SCARY FARM'S CHAPERONE & BAG POLICY
Effective April 22, 2023, these policies are extended to all event nights of Knott's Scary Farm. Under this policy, all guests ages 15 years old or younger must be accompanied by a chaperone who is at least 21 years old to be admitted to the park after 4PM local time to close.
**Guests 16 years old or older may be asked to present a valid government-issued photo ID with date of birth at entry to verify their age. If guest is unable to verify, they may be denied entry into the park.
Chaperones may accompany no more than 10 guests (ages 15 or younger) per day, all with valid paid admission for that evening's event.
The chaperone must present a valid government-issued photo ID with date of birth. Pictures of IDs will not be accepted.
Chaperones must accompany their party during entry, remain inside the park during the visit, and be available by phone throughout their stay.
Guests ages 15 years old or younger without chaperones will not be permitted to enter or remain in the park after 4PM local time to close.
Guests will not be permitted to bring bags larger than 5" x 8" x 2", as well as clear plastic bags smaller than 12" x 12" x 6" into the park. All bags will be searched prior to entry.
Nights of terror await you from September 21st to October 31st, 2023.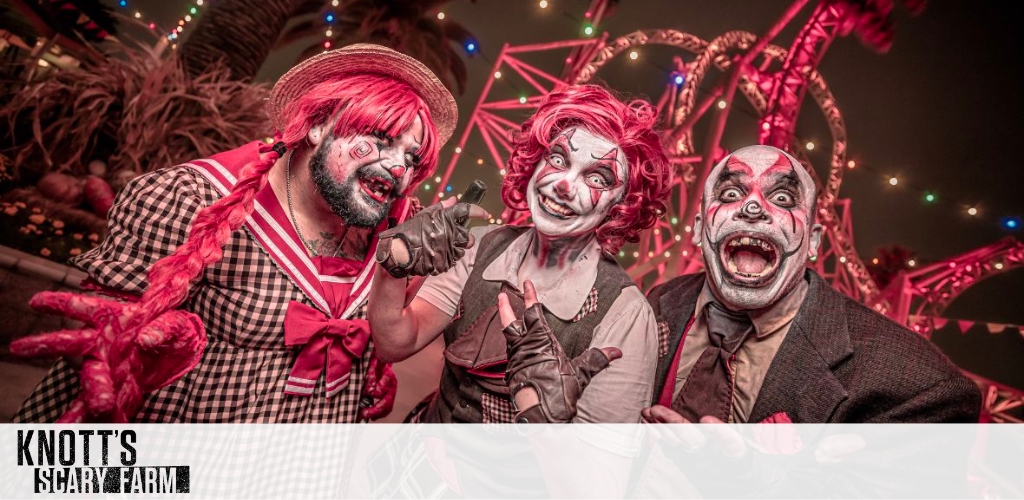 Beware, for Scary Farm lurks in the shadows, a sinister Halloween theme park event that has plagued Southern California for ages, its haunting presence enduring through the years. Scary Farm has thrown its victims into a never-ending abyss of terror for half a century now. Unleashing unspeakable horrors, it has delved into the darkest depths of the human psyche, leaving no soul unscarred. Every tomb has been pried open, every crypt disturbed, and every fear mercilessly exploited.
Prepare to be consumed by the evil essence that has festered for half a century within this twisted theme park. Brace yourself as you navigate the nightmarish mazes, each infused with a sinister energy that will leave you trembling in fear. Witness the maleficent shows that will send shivers down your spine as the darkness envelops you, and the horrors unfold before you. Beware, for over a thousand awful creatures lie in wait, lurking in the dense fog, ready to pounce upon unsuspecting souls who dare to venture into their realm. No inch of this park is safe from the clutches of these unspeakable terrors as they skulk and hide, eagerly awaiting their next victim.
Venture into the treacherous depths of Knott's this Halloween season, where unspeakable horrors await to surprise. Prepare yourself to be engulfed in a nightmarish realm that will haunt your every waking moment. Dare to enter this wicked abyss and have some spooky fun! Children under 13 are not advised to join this scary event at Knott's. Beware, for within the realm of this haunted park, every soul, young or old, must possess a paid admission Knott's Scary Farm ticket of their own! Are you ready?!
GreatWorkPerks Knott's Scary Farm Discount Tickets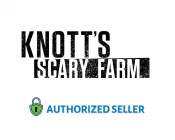 Our company guarantees to provide you the best benefits in the industry with discounted tickets to your favorite attractions. We are able to provide exclusive discounts and best prices on Knotts Scary Farm tickets.
Hassle-Free Transaction, Skip the Line!
Your GreatWorkPerks discount tickets will allow you to skip the lines at the gates and enjoy and head straight into Knott's Scary Farm.
Free Sign Up for more Exclusive Discounts!
Here is the perfect part: company sign up and individual registration is totally free with your employee access code (EAC) or with your work email address. After registration, you can enjoy huge discounts on theme parks, water parks, museums, and outdoor and indoor adventures all over the United States!
What to Expect at Knotts Scary Farm with your Knott's Scary Farm Discount Ticket
Your trip to Knotts Scary Farm has gotten more entertaining and eerie. When you visit California's Scariest Farm, with our Knott's Scary Farm Discount Ticket, you will enjoy unlimited admission to all rides, attractions, and shows!
You will have limitless entry to Knotts during your visit and you'll have the finest Halloween experience ever with these 5 horror zones, 8 mazes, 4 experiences, and 6 performances! Please keep in mind that Knott's Rides, Attractions, and Shows are not suitable for children but are ideal for adults.
Buy our Knotts Scary Farm discount ticket today to experience all these!
Terror in the Scariest Knotts Farm!
These haunted attractions provide all of the elements of a genuinely scary nightmare. But, unlike most dreams, Knott's Scary Farm is a nightmare from which you cannot awaken – making it the ideal Halloween destination.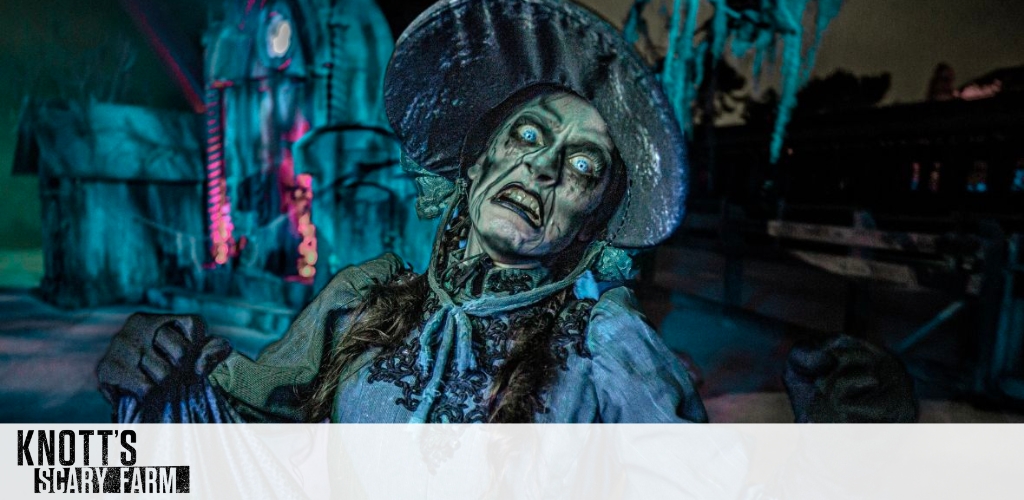 Knott's Scary Farm is Southern California's largest and most scary Halloween event, featuring inconceivable horrors and creative shocks not found somewhere else.
The renovated theme park offers haunting mazes and attractions that are one-of-a-kind, ominous shows and over 1,000 terrifying monsters lurking in the fog and hidden in every part of the park.
Knott's Scary Farm is not suitable for children under the age of 13. Every visitor, regardless of age, must have their own purchased entry.
Knott's Scare Zones
Wondering what you can experience with your Knotts Scary Farm ticket? Here's a list of Knotts Scary Farm's scare zones for you to try,all included in your Knott's Scary Farm ticket from GreatWorkPerks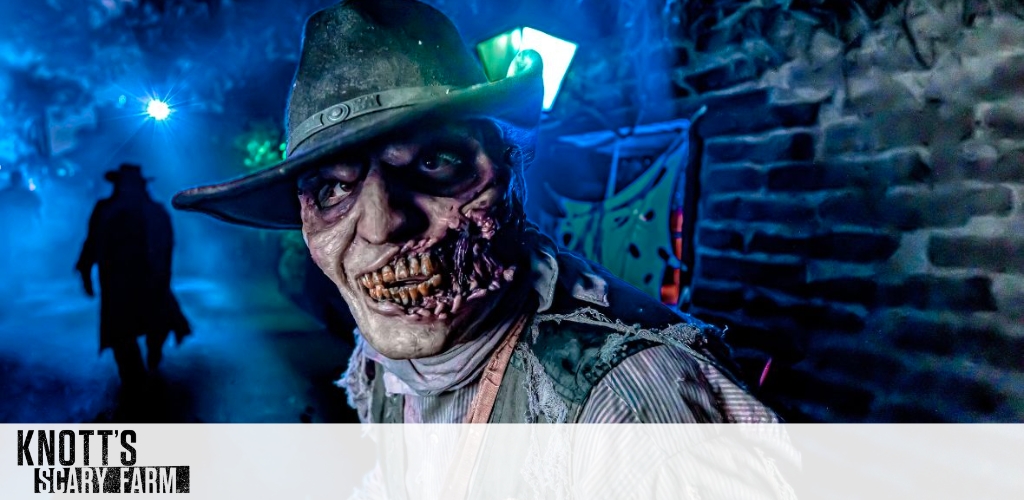 CarnEVIL
Run for your life as you pass through Knotts Scariest CarnEVIL fright zone! If you're seeking for a frightful nighttime experience at the park, this CarnEVIL is a must-try. Are you afraid of clowns? If you do, this is not the right place for you since these clowns will follow you wherever you go! Plus, they are widespread, so be cautious! They might startle you. Begin your clown adventure with our Knott's Scary Farm discount ticket. Save your energy before arriving; these clowns never tire, so you shouldn't either!
Forsaken Lake
Uncover your inner nightmares and venture into the Forsaken Lake. Forsake Lake consist of gloomy monsters with lifelike forms and disturbing looks. Take a good position! You might be the next victim of these Forsaken to pull as they return to their graves.
Ghost Town Streets
Looking for an intense terrifying journey that will make you feel like the main character in a horror film? In Ghost Town Streets, you'll be thrown into a horrifying and eerie realm as you struggle for your life against these resurrected ghosts! You may experience the chills and amazing jumps that will make your heart race. Begin your scary adventure with us!
The Hollow
Walk through the city of the rising dead creepy characters and ready to be terrorized everywhere! They appear all over the place and in hazy locations, so you won't notice them approaching. With our Knotts Scary Farm ticket, you'll have a really harrowing experience.
Knott's Maze Experiences
With our discounted Knotts Scary Farm tickets, you can also try their spooky maze experiences.
Dark Entities
Escape this ship-themed maze and defeat the dreadful creature before it finds you! Find your way out of the ship in the absolute darkness, surrounded by dead bodies. This will not only terrify the crap out of you, but you'll dread finding the exit as the maze becomes increasingly weird. Look for dead bodies that come back to life; they may rule the maze and you won't be able to escape once they see you.
Dark Ride: Castle of Chaos
Have you been binge-watching horror films set in an abandoned location? This Dark Ride will transport you to an ancient carnival attraction, and you will feel the presence of the carnie people in the darkness. This Castle of Chaos is ideal for unnerving seekers peeking for an epic survival experience in the middle of Knott's.
Origins: The Curse of Calico
Learn about the mythology surrounding the Scariest Knott's monsters who stalk the streets late at night. Go on your own and explore the evil at Origins: The Curse of Calico as the town became wicked when Sarah Marshall was accused of witchcraft and countless fatalities occurred.
Paranormal Inc.
Here comes everyone's worst nightmare: being locked inside an abandoned hospital with a slew of spirits that will harass you whenever you visit. Inside this Paranormal Inc., you will be scared by the mysterious happenings that surround you! You'll go to an abandoned hospital where victims were tortured, causing them to become malevolent spirits out for vengeance!
Pumpkin Eater
Afraid of the axe? As Pumpkin Eater chases visitors, find your inner power and start on the trail. Although you are not a pumpkin, you are however likely to be eaten. Escape the wrath by completing the quest, and you may come across a way to outsmart Pumpkin Eater's wrath. Enter the silent village of victims and immerse yourself within the cave filled with swarming creatures.
The Depths
Just like horror movies showing people who took a journey under the cave, something bad happens. Worst case scenario, they never get out alive; or otherwise, they can get out but fighting between life and death. Which likely are you if you're on the situation? The Depth has the same thing for you to test out. Unravel the mystery of the mining men who went missing beneath the cave! Be the first to solve the mystery and the first to leave Knotts Farm alive!
Wax Works
Dr. Augustus Scratch, a former plastic surgeon, created his lifelike wax masterpiece within the Wax Works and secretly uncover them by walking through the trails of an abandoned wax museum. The tales about the voices echoing within the hall that these are victims thrown in a hot boiling wax have spread like wildfire. If you dare, get our Knotts Scary Farm discount tickets to discover the terrible artwork hidden within the hall, but be cautious if you don't want to be a part of many of his gathered masterpieces of human beings molded into wax.
Other Things to Do Inside Knott's Scariest Farm
Scary Farm Food and Beverage

The cuisine at Knotts Scary Farm with frightening foods and delights to satiate your appetites are to crave for. Enjoy tasty treats with a frightening twist, such as Petrified Pizza Burgers and Murderous Midnight Funnel Cakes!

Here are the lists of what you can eat inside the Scary Farm:

Eerie Eats
Carnage Chupacabra Burger
Ghoulie Goulash Mac & Cheese
Hound Dog Tater Bites
I'm Going to Dill You Pickle Spears
Mesmer's Bacon & Cheese Fries
Petrified Pizza Burger
Mummy Dogs
The Hollow's Chorizo Pizza
From The Depths Spaghetti & Spicy Meatballs
Vampire Garlic Pizza
Freaky Frog Leg
Sweet Treats
Murderous Midnight Funnel Cake
Wicked Wafflewich
Witch's Finger Matcha Shake
Bobbing for Apple Macarons
Chai Pumpkin Latte Whoopie Pies
Pro-tip: Have more money to spend on food when you purchase your Knotts Scary Farm discount tickets through GreatWorkPerks
Boo-fet
Treat yourself to a Knott's Scary Farm Boo-fet meal, followed by early admission to certain Knott's Scary Farm sections. The Knott's Scary Farm Boo-fet dinner includes an unlimited serving of iconic Knott's meals, desserts, and a souvenir bottle. Mrs. Knott's fried chicken, a chef carving station, boysenberry pie, and other Knott's favorites are on the menu.
Boo-feet eaters have prior access to some mazes and attractions. Before the park allows guests to enter, boo-fet visitors will also access unique monster picture opportunities.
Admission is not included in your discount tickets. Reservations are time-specific. Boo-fet closes at 7PM.
You might want to try Knott's Spooky Farm as part of your Scariest Farm Journey!
Of course! Kids do also want to experience spooky Halloween events at Knotts. Knott's Berry Farm has seasoned series of events to ensure that the attraction is perfect to visit at all times. With that, Knotts Berry Farm made an event for the upcoming Halloween special for you to visit – Knotts Scary Farm and Knott's Spooky Farm!
Frequently Asked Questions about Knotts Scary Farm
Are reservations required at Knotts Scary Farm?

No, reservations are not required to enter Knotts Scary Farm when you purchase your dated Knott's Scary Farm tickets through GreatWorkPerks.

On which days and hours does Knotts Scary Farm operate?

Knotts Scary Farm is open on weekends and weekdays from 7:00 PM until after midnight. Closing times vary.

Is there an age requirement to attend Knotts Scary Farm?

There is no minimum age requirement for Knotts Scary Farm. However, it is recommended for mature audiences and not recommended for kids under the age of 13. There are no refunds for this event. Please note, that all guests, regardless of age, need to have their own paid Knotts Scary Farm admission ticket.

Can I wear a costume or mask/make up? Is there a dress code at Knotts Scary Farm?

Costumes, face paintings or mask costumes are not allowed. This is to ensure that there is no confusion between the Knotts Scary Farm actors and visiting guests. Clothing that is generally considered offensive including suggestive pictures, profanity, or pictures of illegal substances on apparel are not allowed. For safety, shirts, pants / shorts , and shoes must be worn at all times.

Can I bring outside food into Knotts Scary Farm?

No. Outside food or beverages are not allowed inside Knotts Scary Farm.

How soon do I receive my Knott's Scary Farm discount tickets from GreatWorkPerks

You will receive your GreatWorkPerks Knott's Scary Farm discount tickets instantly after your purchase along with your receipt!

Do I have to print my discount Knotts Scary Farm ticket?

No, through GreatWorkPerks, you can just show your Knott's Scary Farm tickets on your phone at the gates for easy entry.

Can I take pictures or videos at Knotts Scary Farm? Can I use a flashlight or my phone's light?

Photos and videos are not allowed inside the mazes of Knotts Scary Farm. They are allowed in the scare zones and show performances as long as the flash is turned off. Flashlights, including phone lights, are also not allowed throughout Knotts Scary Farm.

Can I exit and reenter Knotts Scary farm on the same day?

No. Re-entries are not permitted. Once you leave the park, you will not be able to enter again.

Is alcohol served at Knotts Scary Farm?

Yes, wine, beer and other alcoholic beverages are available at select dining locations inside the park. They are for guests ages 21 and older with a valid Driver's License.

Does admission to Knotts Scary Farm include entry to shows?

Yes, admission into Knotts Scary Farm with our discount Knott's Scary Farm ticket includes access to all of the mazes, thrill rides and shows. Seating is available on a first-come basis.

Are discount tickets to Knotts Scary Farm refundable? Can they be used for another night?

Refunds are not available for Knotts Scary Farm discount ticket. Your dated Knott's Scary Farm discount tickets are only valid for the date they are purchased on.

Are strollers and wheelchairs available in Knotts Scary Farm?

Single strollers, double-seat strollers, and manual wheelchairs are all available inside Ghost Town next to the Geode Shop. Rentals are on a first come, first served basis for a minimal daily charge, plus deposit. Quantities are limited so some rentals may sell out. For questions, please contact (714) 220-5495.

Do they accept cash at the park?

The park is currently cashless. All purchases made inside the park should be paid using debit or credit cards. Visa, Mastercard, Discover and American Express Credit Cards, and most debit cards. Google and Apple Pay are also accepted.
Last updated July 26, 2023.
Knott's Scary Farm Tickets