Check out other Legoland locations:
LEGOLAND Discovery Center Bay Area tickets for only $23.99 vs. the $29.99 gate price!
What is LEGOLAND Discovery Center Bay Area?
The LEGOLAND Discovery Center is an indoor LEGO® playground located in Milpitas, California, inside the Great Mall. This attraction inspires the imaginations of children aged 2-10 with over 2 million LEGO bricks in one location! The indoor LEGO attraction is a 2–3-hour play experience with a LEGO-themed ride, a 4D cinema where you can see all your favorite LEGO characters come to life with special effects, and MINILAND™, which is a LEGO re-creation of the Bay Area's most famous landmarks. In the Creative Workshop, kids may learn from the Master Model Builder, design and test their own LEGO car in LEGO Racers: Build & Test, imagine their own LEGO world in LEGO Friends: Heartlake City, and more! With the whole family, create, build, and play!
A Brief History of LEGOLAND Discovery Center Bay Area
Merlin Entertainments, a British leisure company, operates the LEGOLAND Discovery Center brand of indoor family attractions. Models and attractions based on the Lego building toys are featured. LEGOLAND Discovery Center Bay Area was opened on June 15, 2021, in Milpitas, California, USA, which occupies 31,000 square feet. It includes models of local landmarks rendered in Lego bricks. Visitors can also discover how Lego bricks are made or participate in building workshops led by a Master Model Builder. Other Discovery Center locations may also include 4-D movie theatres offering multiple showings throughout the day.
Several children's attractions, such as small rides and play fortresses, are also available. The centers can host birthday parties as well as scholastic and group functions and include restaurants and gift shops selling Lego merchandise.
Families with young children, typically ages 2 to 12, are the target demographic for the LEGOLAND Discovery Center, while the average guest age for a typical facility is around seven years old. Discovery Centers are located near other family-friendly attractions and dining establishments. Each year, their facility can host approximately 400,000 to 600,000 visitors.
LEGOLAND Milpitas Discount Tickets from GreatWorkPerks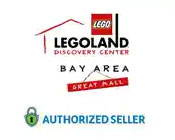 Hassle-Free Transaction, Skip The Line
Another benefit of purchasing with GreatWorkPerks is that you do not need to print your discount tickets. Consider your phone your new best friend because all you need to do is present your LEGOLAND Milpitas discount tickets at the gates and, viola, in you go!
What to Expect at LEGOLAND Discovery Center Bay Area?
LEGOLAND Discovery Center Bay Area offers different attractions full of fun and excitement. These attractions are not only for the kids but also for the kids at heart. All the attractions and activities prepared by LEGOLAND Discovery Center Bay Area are perfect for a family day.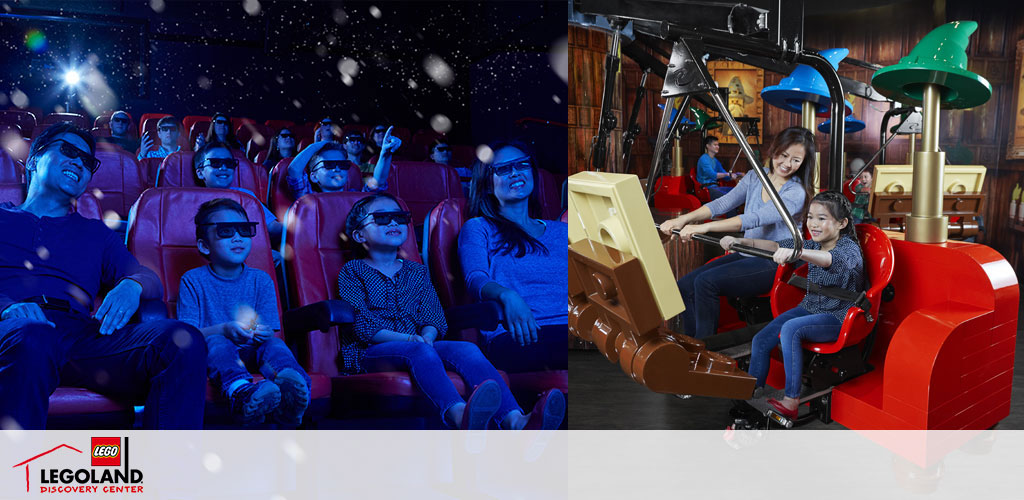 Who wouldn't want to spend the day having fun, right? Here are some of the attractions and activities you can enjoy with your friends and family inside the LEGOLAND Discovery Center Bay Area.
MINILAND Bay Area
MINILAND Bay Area is one of the attractions prepared by LEGOLAND Discovery Center Bay Area, where guests are allowed to interact and explore the Bay Area like never before. You can see miniature Lego replicas of the Bay Area's most loved landmarks that are built using over 1.5 million Lego bricks! But wait, there's more! Bricktastic fun awaits as you are tasked to spot the ghosts at the Winchester Mystery House or take in the views of the Golden Gate Bridge. There's so much to see and do at Bay Area MINILAND! While you're there at the local football stadium, try to score a touchdown!
Mischievous mini-figures are also hiding throughout MINILAND - will you be able to find them all?
LEGO 4D Cinema
Another fun activity you must try inside the LEGOLAND Discovery Center Bay Area is their LEGO 4D Cinema. This 4D Cinema will bring your movie experience to the next level as you can join your favorite LEGO characters on action-packed adventures! Watch out for supercharged wind, rain, and snow effects, as they can burst off the big screen and bring your favorite movies to life!
What's exciting is LEGO 4D Cinema experience is already included in your general admission! With this, you can already watch their 3 featured movies. These movies are LEGO® City 4D: Officer in Pursuit!, The LEGO® Movie™ 4D A New Adventure, and The LEGO® NINJAGO® Movie. Different movies run every 20-30 minutes, and shows vary daily, so it is best to check the LEGO 4D Cinema schedule once you arrive!
Imagination Express
Imagination Express is not your ordinary train ride. Hop on board and travel through an interactive LEGO world filled with color and imagination. Use your magic wand to collect points while riding the express and see how your skills match up with other passengers at the end of the ride.
The Imagination Express is a beautiful ride for everyone! But of course, your safety is the utmost priority of the attraction's management. To ensure that all passengers are safe during the ride, the management put up ride restrictions such as children under 51 inches tall and under 4 years of age must have an adult companion, passengers must wear shoes, children will board the train first and be seated inside, maximum of 5 passengers per ride, and if your party is larger than 5 guests, you are recommended to split into 2 groups. You can inquire about the "Child Swap" program of the ride to assist you furthermore.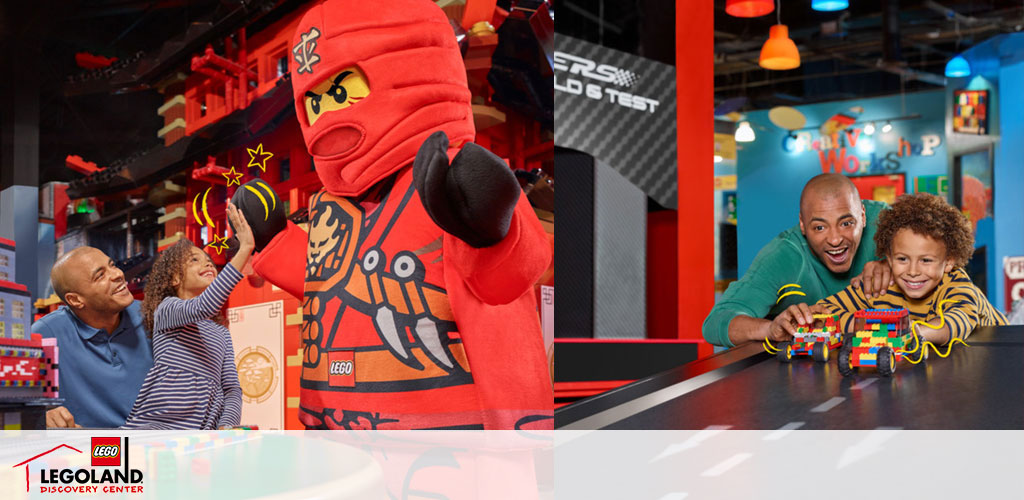 Build Challenge Circle
Build Challenge Circle is a fun-filled activity for the whole family. In this activity, you will listen to a story told by the host and let your imagination help you build a wonderful LEGO creation.
The continuously changing event area of LEGOLAND Discovery Center Bay Area encourages parents and children to join in fun-filled activities led by our hosts. That's not all! You also have a chance to meet our LEGO mascot, Bertie, personally!
LEGO Racers: Build & Test
Are you a speed freak? Have you ever dreamt of building a racecar that will beat your friends in a race?
LEGO Racers: Build & Test will allow you to create an ultra-fast LEGO race car and test your speed against your friends. You can also ask a Playmaker for some valuable tips on how to successfully build a champion racecar that will make your friends eat dust. Bring your competitive self into this activity and test your racer abilities.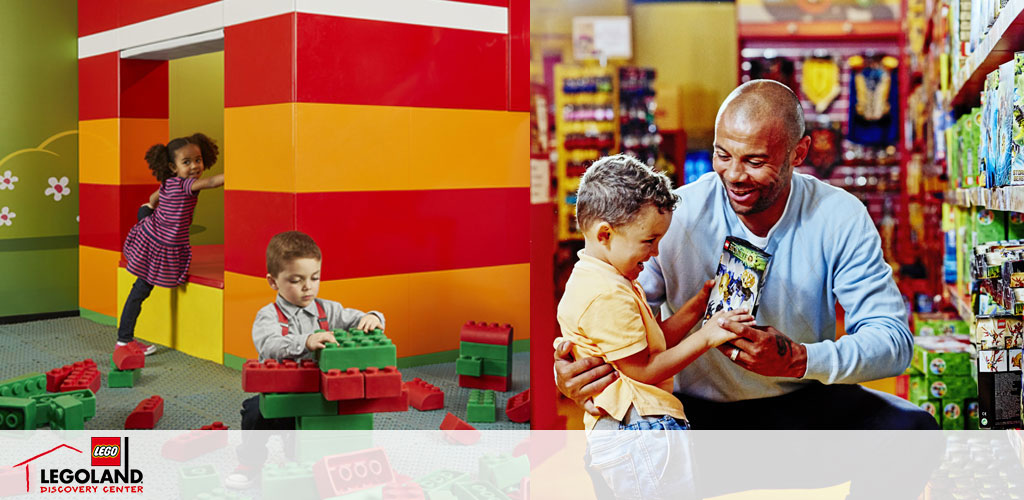 Pirate Adventure Island
Pirate Adventure Island is a LEGO-themed pirate ship that is filled with different quests that you must complete. Experience adventure through whimsical scenarios as you climb the rigging, walk the plank, and capture the flag! Activate air cannons to fight off enemy ships and amaze your mates, or escape down the slide to make it ashore to the island's castle. This attraction is open to children with a height between 36-60 inches.
LEGO NINJAGO Training Camp
Do you have what it takes to become a ninja? LEGO NINJAGO Training Camp is a fun activity that will help you improve your flexibility, agility, resourcefulness, and LEGO brick construction skills to protect NINJAGO from raiding attackers.
But that's not all; after your training, you will be going through a final challenge to test if you are ready to become a true ninja. Prepare for the ultimate NINJAGO Laser Maze challenge!
Dining Options at the LEGOLAND Discovery Center Bay Area
After trying out different activities and visiting different LEGOLAND Discovery Center Bay Area attractions, you will surely need to recharge. These dining options will refill your energy and allow you to try out more activities inside the LEGOLAND Discovery Center Bay Area.
Coffee Shop
After having so much fun with different activities and attractions inside LEGOLAND Discovery Center Bay Area, their Coffee Shop is also a must-try spot!
You got it right! Their Coffee Shop is also LEGO-themed! They offer Entrée Items, Snacks, Sweets Treats & Pastries, and of course, Beverages that you and your family can choose from! Their Entrée Items include individual round pizzas, chicken tenders, chicken corn dogs, and different sandwiches. While their Snacks and Various Grab Items include assorted chips, crackers, rice Krispy treat, oreo cookies, Jell-O strawberry, and many more!
You must also try their churro, soft-baked pretzel, muffins, and fresh chocolate chip cookies from their Sweet Treats & Pastries. Lastly, don't miss the chance to try their exceptional beverages that also serves fresh Starbucks coffee and more!
Other Dining Options Within the Mall
Dave and Buster's
After the kids have fun, it's time for the adults to enjoy and relax. Aside from the LEGO-themed Coffee Shop inside the LEGOLAND Discovery Center Bay Area, you can also visit the Dave and Buster restaurant near it. Dave and Buster's is a Sports Bar and Restaurant that will surely make you go wild.
They offer different variety of foods that you can choose from, such as Appetizers, Entrées, Wings & Tenders, Burgers & Handhelds, Salads, Wraps & Bowls, Desserts, and of course, a Kids Menu for the little ones.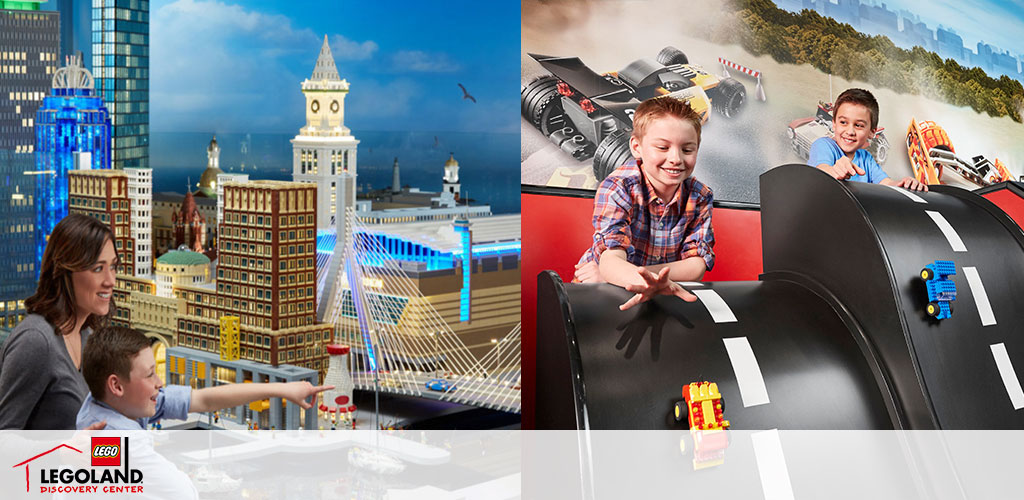 Olive Garden Italian Restaurant
Suppose you're feeling a little extra and looking for a sophisticated and elegant dining option. In that case, you can try out the Olive Garden Italian Restaurant located near LEGOLAND Discovery Center Bay Area.
Taste the best dishes in Italy with Olive Garden; some of their best dishes that you wouldn't want to miss out on are our Chicken and Shrimp Carbonara, Lasagna Fritta, Eggplant Parmigiana, Raviolo di Portobello, Shrimp Alfredo, Zeppoli, Cookie Butter Cake, Tour of Italy, Grilled Chicken Piadina, and Any Breadstick Sandwich.
Outback Steakhouse
If you're looking for something heavy and savory, there's an Outback Steakhouse near LEGOLAND Discovery Center Bay Area that you can enjoy!
They offer different variety of hearty steakhouse fares to choose from, such as a Braille Menu, Coffee, Steaks, seafood, Beers, and Cocktails. Are you a vegetarian and looking for something to eat that doesn't include meat in it? Outback Steakhouse got you covered with their Vegetarian options!
Chipotle Mexican Grill
If you're craving Mexican snacks, there is a Chipotle Mexican Grill near LEGOLAND! They offer different Mexican fares, including design-your-own burritos, tacos, bowls, quesadillas, salads, and many more! You can also try their unofficial "secret menu," which is said to consist of five items and infinite modifications. The five items are Quesarrito, Burritodilla, quesadilla, double-decker tacos, and nachos.
The foods they offer will surely make you full and help you recharge your energy to explore more activities and attractions inside LEGOLAND Discovery Center Bay Area.
Tips When Visiting LEGOLAND Discovery Center Bay Area
We understand that you would like to enjoy and have fun with your family since the past few months have been stressful for all of us. But your health and safety should be the utmost priority. Here are some tips that you might find handy as you come to visit the LEGOLAND Discovery Center Bay Area.
Make sure to purchase your discount tickets in advance!

Aside from saving time getting in line at the ticket booths, you will also be saving up to $20 when you buy them from GreatWorkPerks

Arrive early.

Lines for the different attractions and activities are at the lowest volume when you are early.

Bring extra money.

Expect that you will not just spend on your admission ticket, as there is a store inside LEGOLAND Discovery Center Bay Area. Your kid will surely ask for something to keep to remind them of your visit.

Comfortable clothes and shoes!

Your convenience will be crucial to your adventure. Make sure to use comfortable clothes and shoes for your all-day exploration and fun! Some of the activities require shoes to ensure your safety.

Follow the rules.

There are rules to follow in each activity and attraction inside LEGOLAND Discovery Center Bay Area; guests are expected to show their appropriate behavior during their visit. These rules are placed to ensure that guests will be stress-free and safe.

Try out different activities.

The LEGOLAND Discovery Center Bay Area offers a wide variety of activities for you and your family. By trying out these activities, you will be able to maximize your experience and bond with your family.

Try out different dining options.

Playing and trying out activities inside LEGOLAND Discovery Center Bay Area will surely make you feel tired and hungry. Since there is a variety of dining options inside and around LEGOLAND Discovery Center Bay Area, you might as well try them out. These dining options will never disappoint!
Frequently Asked Questions about LEGOLAND Discovery Center Bay Area
Can adults visit LEGOLAND Discovery Center without any children?

To enter LEGOLAND Discovery Center, adults (18 and up) must be accompanied by at least one child (17 and under).

Can children visit the LEGOLAND Milpitas without an adult?

All children (17 and under) must be accompanied by at least one adult (18+) and must be supervised at all times.

Are visits guided?

Visits are not guided since they want families to interact together and explore their imagination and creativity via free play. The average visit lasts two to three hours, although you are welcome to remain as long as you like. Please note that visits may be scheduled and limited due to restrictions.

Is it okay for me to bring my own food and drink?

They do not allow outside food or beverages unless there are babies or children with food allergies. In our Cafe, guests can enjoy delectable fresh dishes, snacks, coffee beverages, and ice-cold sodas.

Are pets allowed inside the attraction?

The attraction does not allow pets for safety reasons. Please visit their accessibility guide if you have any questions about service animals.

Is the center suitable for visitors with disabilities/wheelchair users?

Yes, people with impairments and wheelchair users will find the park entirely accessible. At the attraction, we do not rent wheelchairs or strollers.

What facilities are available for very young children?

They are stroller friendly with diaper changing facilities.

How long are visits? How long can I stay?

A regular visit lasts between two and three hours, although you are welcome to remain as long as you like. Please note that due to restrictions, visits may be timed and limited.

How do we ensure school and group safety as well as well-being in our attraction?

The safety and well-being of the guests and staff is their priority, and they will take all necessary precautions to ensure their continued welfare. Like many other businesses, they are closely monitoring the circumstances surrounding the Covid-19 coronavirus epidemic and maintain regular communication with local health authorities. The advice from the health authorities has not changed, so their business is operating as standard terms and conditions on bookings continue to apply.

What happens if I'm early or late?

No worries if you are running a little early or late. There is a 30-minute grace period, and they are always willing to work with you if you are running too late.

I lost my order confirmation; how do I look up my order?

If you lost your order confirmation, you can look up your order here.

Why do I need to reserve a date and time for my visit?

When booking your discount ticket, you will be asked to select a date and time for your arrival. This allows the attraction to improve your experience by lowering wait times, accelerating your access into the attraction, and reducing crowding. Once inside the attraction, you may stay as long as you like!

Can I get a refund on my ticket?

Unfortunately, they do not offer refunds on admission tickets. If you cannot make the day you purchased your discount tickets, they will be happy to switch it to another date. Leave a message at BayArea@LEGOLANDDiscoveryCenter.com with your order/confirmation number and your new requested date & time, and they will get back to you as soon as possible.

Please note that they cannot guarantee your requested date & time and will do our best to accommodate you depending on our availability.

Are guests required to wear masks?

Face masks or face coverings are highly recommended to be worn inside the attraction for everyone ages 3+, regardless of vaccination status.

Do you require proof of vaccination?

They follow all county mandates and currently do not require proof of vaccination to enter the attraction. However, masks are still required regardless of vaccination status.

Will social distancing be enforced?

According to state mandates, social distancing will not be enforced but highly encouraged.

They have reduced the daily ticketed capacity to allow for social distancing and the best possible guest experience.
Clear signage is posted throughout the attraction that encourages proper social distancing.
Health and Safety Measures
On COVID tests and vaccination:
LEGOLAND Discovery Center Bay Area does not require guests to present a negative COVID-19 test as well as proof of vaccination. To avoid getting the dangerous virus, they ask their guests to follow the health rules and wash their hands frequently. The management responded by installing additional hand sanitizing stations so guests could clean their hands.
On wearing face coverings/masks:
Face coverings are highly recommended when visiting the attraction regardless of vaccination status.
Last updated December 07, 2023.
LEGOLAND® Discovery Center Tickets
General Admission

All Ages

Regular price $29.99

GreatWorkPerks Price $23.99