Check out other Legoland locations:
Buy your LEGOLAND Discovery Center Philadelphia discount tickets today and enjoy up to 20% off the gate price.
Adults must be accompanied by a child to visit LEGOLAND Philadelphia.
Re-entry on the same day is not allowed after you exit.
Test the Incredible!

Fun for the whole family, this indoor LEGO® park features rides, attractions, a 4D theater, and millions of LEGO Bricks. Waving a magic wand while riding the interactive Imagination Express will get you points. You can also watch your favorite characters in the LEGO 4D Theater and work with master builders to make incredible LEGO creations!
Get your LEGOLAND Discovery Center Philadelphia tickets today and immerse yourself in the world of LEGOs!
The LOWEST-PRICED LEGOLAND Discovery Center Philadelphia Discount Tickets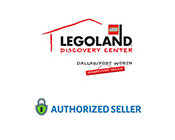 Hassle-Free Transaction, Skip the Lines!
Another benefit of purchasing from GreatWorkPerks is that you do not need to print your LEGOLAND Discovery Center Philadelphia discount tickets. Consider your phone your new best friend because all you need to do is present them at the gates, and in you go!
Things You Need to Know Before Going!
Operating Hours
Since the theme park's operating hours vary daily, you should visit the official website of the Discovery Center to get the latest update on hours of operation.
Theme Park Location
The Discovery Center is at the bottom level of Plymouth Meeting Mall, close to door #5, right next to Boscov's and directly across from Benihana. Look for the large LEGO® Giraffe outside as you get to the mall!
Parking
Visitors can park for free at Plymouth Meeting Mall.
What to Expect Inside?
Imagination Express
Explore a vibrant, imaginative, and interactive LEGO universe. Use your wand like a magic trick to rack up points and compare your score at the end to that of your fellow travelers. This experience is included in your LEGOLAND Discovery Center Philadelphia tickets from GreatWorkPerks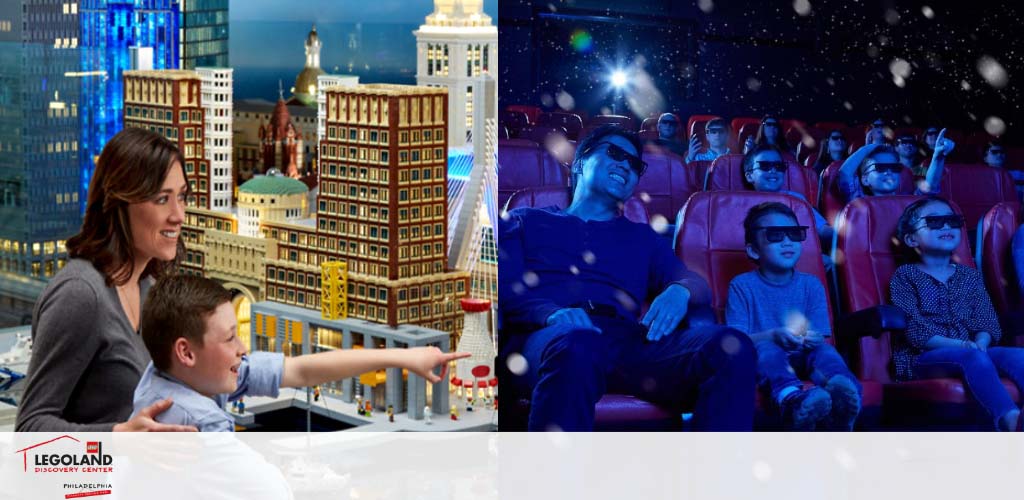 MINILAND
Check out this one million-plus LEGO® brick model of Philadelphia's most famous landmarks and experience the City of Brotherly Love up close!
LEGO 4D Cinema
In this 4D theater, you may experience thrilling adventures alongside your favorite LEGO characters. Watch for the exploding wind, rain, and snow effects that bring the movies to life!
Pirate Adventure Island
Yo ho ho! They have a LEGO pirate ship in the soft play area that you may ride around and have a pirate adventure!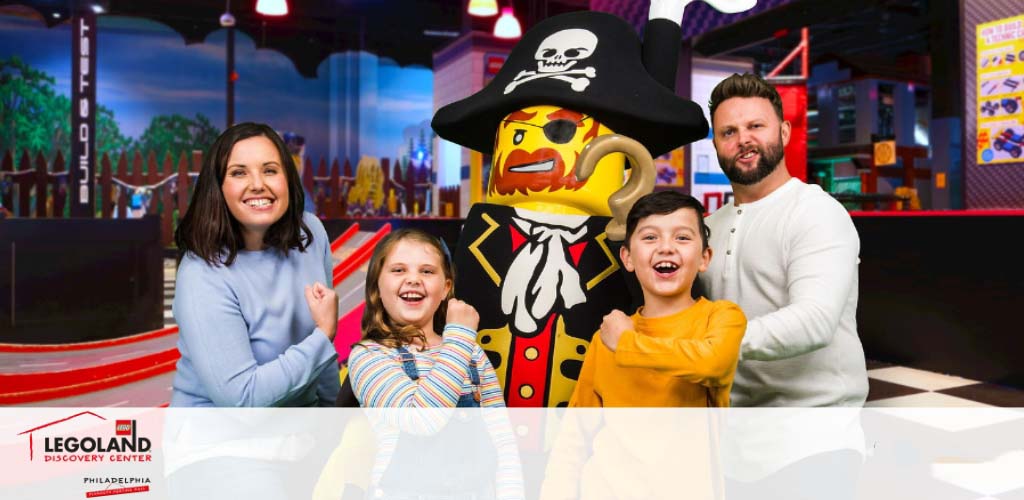 Meet your Favorite LEGO Characters
Create a lasting memory by posing for a picture with some of your favorite LEGO® figures built to life-like size.
LEGO NINJAGO Training Camp
Help defend NINJAGO from its raiding attackers by using your flexibility, agility, creativity, and LEGO brick-building skills through various interactive and challenges! Your LEGOLAND Discovery Center Philadelphia tickets from GreatWorkPerks include this must-visit area that helps enhance your building skills!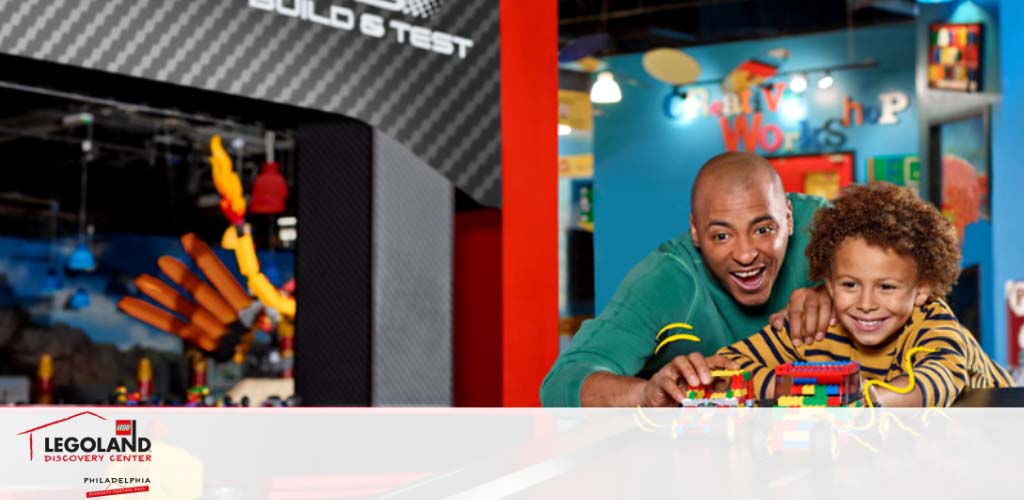 LEGO Racers: Build & Test
In this Build & Test area, you can construct a high-speed car and then race it on the test track against your friends. How fast can your car get to the finish line?
Build Challenge Circle
Get up there and shine onstage! Experience a tale, put your creative skills to work by building something out of LEGOs, or chat with Bertie, the LEGO Group's mascot.
Earthquake Tables
Have you ever tried using LEGO bricks to construct the tallest skyscraper imaginable? How does your tower fare when the ground suddenly shakes? Put your building talents to the test at the earthquake table now! Get your kid a LEGOLAND Discovery Center Philadelphia ticket to test out you own inventions!
Arctic Adventure
See the Arctic-themed LEGO display featuring a digital interactive build table, large-scale Arctic-themed building challenges, and picture ops with the great LEGO polar bear.
LEGO Friends
Add your twist to the story of Andrea, Mia, Olivia, Stephanie, and Emma from LEGO® Friends by building a vibrant city! Whether you like music, science, sports, nature, or the arts, the fab five's styles will spark your creativity in this hands-on play space.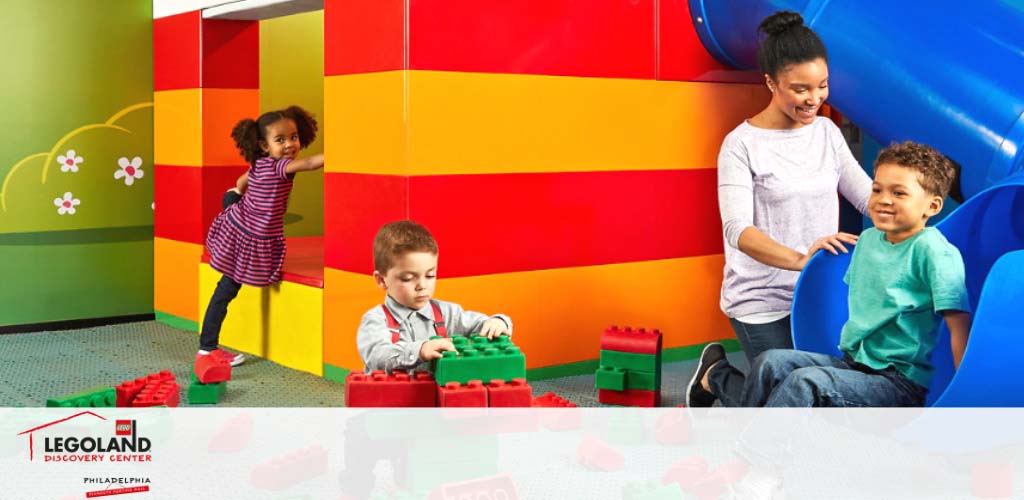 DUPLO Village
The DUPLO® Park has an animal theme, so young builders can let their imaginations run wild! Create a vibrant bloom for the garden, or goof off in the cottage.
GreatWorkPerks Tips and Tricks!
Purchase your LEGOLAND Discovery Center Philadelphia tickets in advance.
Tickets to LEGOLAND Philadelphia may be purchased at a discount of 20% through GreatWorkPerks, making it a superb discount option. And the only way to enter is by pre-purchasing admission online in advance.
Arrive Early at the LEGO Discovery Center.
As reservation passes are timed and dated, getting to the play center early before your booked visit or opening times is ideal. What's more, you can make the most of your visit!
Bring your card for payment!
The LEGOLAND Philadelphia theme park is currently cashless. If you make any purchases in the gift shop or the cafe, have your card with you.
Frequently Asked Questions (FAQs)
Do I need a reservation to enter the LEGO play area?

Yes. At checkout, you will choose a date and time of your choice.

How do I get the 20% discount from GreatWorkPerks

No need to use voucher codes – discounts are automatically applied during purchase.

Where is the Discovery Center in Philadelphia located?

It is located at LEGOLAND® Discovery Center Philadelphia, Plymouth Meeting Mall, Unit #1055, 500 West Germantown Pike, Plymouth Meeting, PA 19462.

Is parking free?

Yes. Parking is free for visitors at Plymouth Meeting Mall.

Can I get a refund if I am not able to go?

LEGOLAND Discovery Center Philadelphia tickets are non-refundable, exchangeable, and transferable.

Do they accept cash payments inside?

They are currently cashless. Be sure to bring your card when you visit.

Should I buy my child a separate LEGOLAND Discovery Center Philadelphia ticket?

Yes, kids ages 2 to 10 need an admission pass to enter the playground. However, young visitors under the age of 1 get in for free as long as they entering with an adult.

How soon will I receive my LEGOLAND Discovery Center Philadelphia discount tickets?

You will have them instantly, along with your receipt!

Do I need to print them?

It's up to you! You can have them printed out or show them from your mobile device for easy entry.

Can adults visit without any children?

Adults must be accompanied by at least one child aged 17 and under. Adults may enter without a child on Adult Night events as it is intended for Adult Fans of LEGO.

Do children get inside the Center without an adult?

No. Young visitors must also be accompanied by an adult at least 18 years or older to enter.

Can I enter on the same day after exiting the Discovery Center?

We're sorry, but re-entry is not permitted.

How long am I allowed to stay inside the Center?

Typical visits last 2 to 3 hours, but you can stay as long as you want.

Are visits guided?

No. Visits are not guided to encourage families to interact and explore things together.

Am I allowed to bring food and drink inside?

Strictly no outside foods and beverages are allowed inside, unless caring for a baby or food allergies.

Are there any food stalls inside the Center?

Yes. LEGOLAND Philadelphia offers delicious foods and snacks, cold beverages, and coffee.

Is the playground accessible for wheelchair users?

Yes! The Center is fully accessible to visitors with disabilities. Wheelchair and stroller rentals are not available at the attraction.

Can I still enter even if I'm a half hour late?

Yes, you can still enter; however, you can expect longer wait times than usual, as other visitors are coming in for their scheduled time.
Last updated April 06, 2023.
LEGOLAND® Discovery Center Tickets
General Admission

Adult(ages 13+)

Regular price $24.99

Discounted Price $21.59

Savings $5.00

General Admission

Child (ages 2-12)

Regular price $24.99

Discounted Price $21.59

Savings $5.00