Check out other Legoland locations:
Get LEGOLAND Florida discount tickets for $80.29 vs $111.28 gate price! Save up to $66.66 on multi-day tickets.
Peppa Pig Theme Park tickets available now! Buy your Peppa Pig Theme Park tickets here!
NEW! Now Open at LEGOLAND Florida Theme Park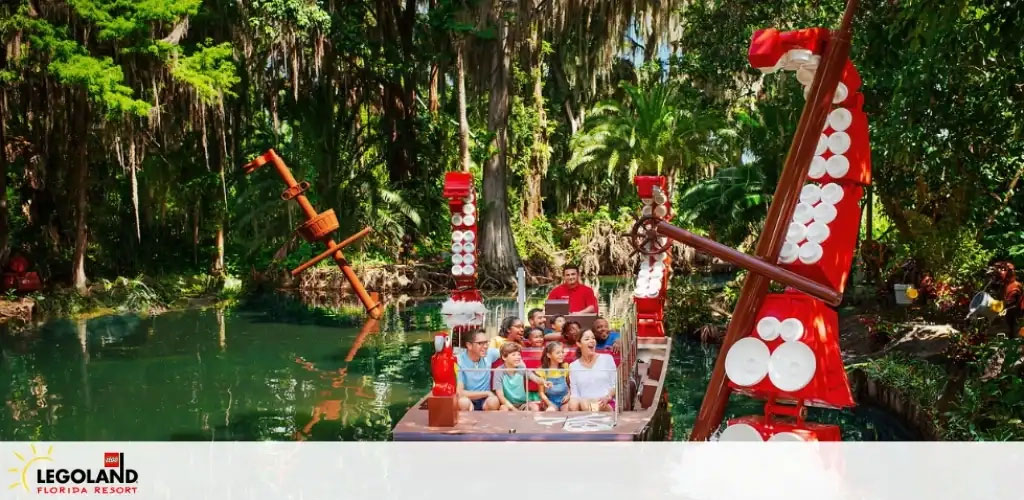 Pirate River Quest
Ahoy, mates! Join the rowdy crew of LEGO pirates as you set sail on Captain's orders to explore the murky waters and retrieve the lost treasure stolen by a troop of mischievous monkeys. Embark on this exciting adventure along with your family and friends!
Embark on an epic voyage through the uncharted waters of the legendary Cypress Gardens and unlock the secrets within its mystical canals. Enjoy this 20-minute adventure and discover the hidden gems that this enchanting destination has to offer!
Discover this fantastic new story and go on a fun-filled treasure hunt that the whole family will love! Get ready for an epic adventure at LEGOLAND on Pirate River Quest - it's finally open!
LEGOLAND Water Park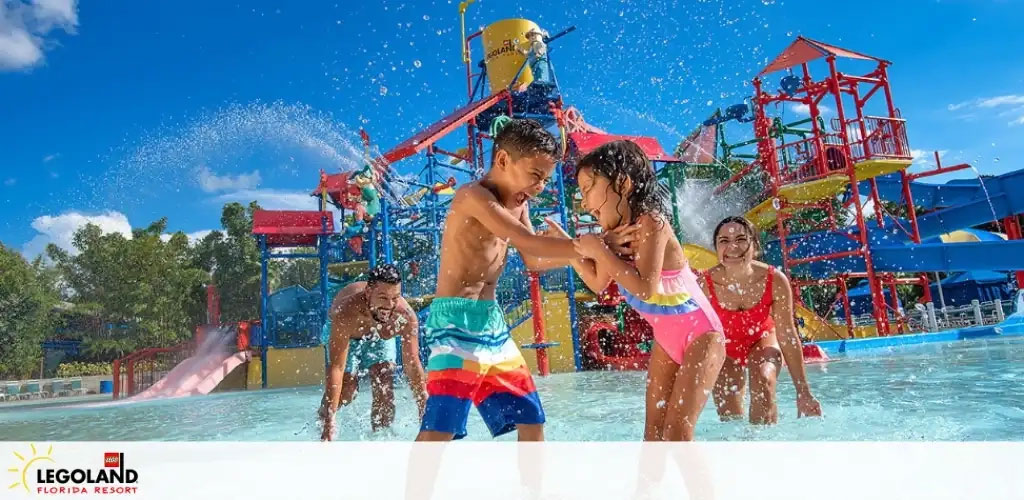 As summer approaches, prepare yourself! At the Water Park, excitement awaits you as you prepare to slide, splash, and build your way to good times! The LEGO Wave Pool, the Build-A-Raft lazy river, tube slides, body slides, and the interactive water-play structures - Joker Soaker and DUPLO Safari - will provide your children with a ton of fun, everyone will enjoy a refreshing fun time!
Water Park Rides and Attractions
Build-A-Boat
Have you ever experienced the thrill of boatbuilding and racing at the amazing Water Park? It's an absolute blast! If you're looking for a fantastic spot to hang out and get your imagination and creativity going, you've got to check out Creative Cove! There is free Wi-Fi and an awesome Build-A-Boat LEGO kit that invites you to design and race your watercraft. It's seriously so much fun!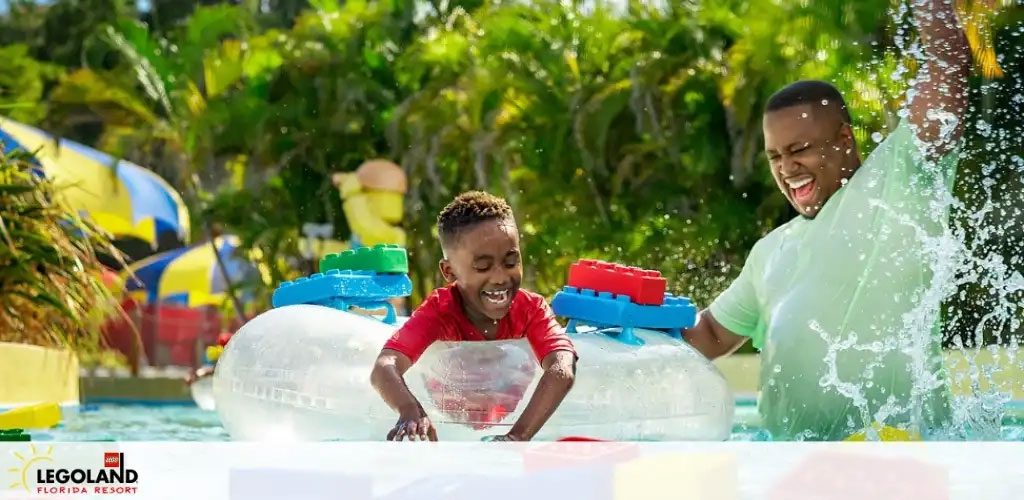 Have you ever experienced the thrill of boatbuilding and racing at the amazing Water Park? It's an absolute blast! If you're looking for a fantastic spot to hang out and get your imagination and creativity going, you've got to check out Creative Cove! There is free Wi-Fi and an awesome Build-A-Boat LEGO kit that invites you to design and race your watercraft. It's seriously so much fun!
Build-a-Raft Lazy River
Who's up for a challenge? Let's test your LEGO building skills and see who can create the most impressive raft! Get your bricks ready, and let's see what you've got! Immerse yourself in the ultimate relaxation experience as you float along a serene lazy river, surrounded by breathtaking LEGO models, lush, blooming plants, and beautiful palm trees. With a spacious thousand feet of room to let your mind wander, you will be able to unleash your creativity and construct your own LEGO vessel. Trust us; this is an experience you won't want to miss!
Joker Soaker
Prepare to slide, splash, and soak in the sun in this fantastic interactive play area! This spot is the ultimate summer destination with thrilling slides, challenging climbing areas, refreshing waterspouts, and a relaxing wading pool! Who wouldn't love getting drenched by a massive 300-gallon bucket?! It's the ultimate way to cool off and have fun in the sun!
Guests must be at least 40 inches tall to ride the slides.
LEGO Wave Pool
Surfs up, friends! Whether you're a seasoned pro or just looking to dip your toes in the water, there's no better way to beat the heat than catching some waves. And if you're travelling with the family, don't worry - we've got you covered! These waves are just the right size for everyone to have a blast!
Twin Chasers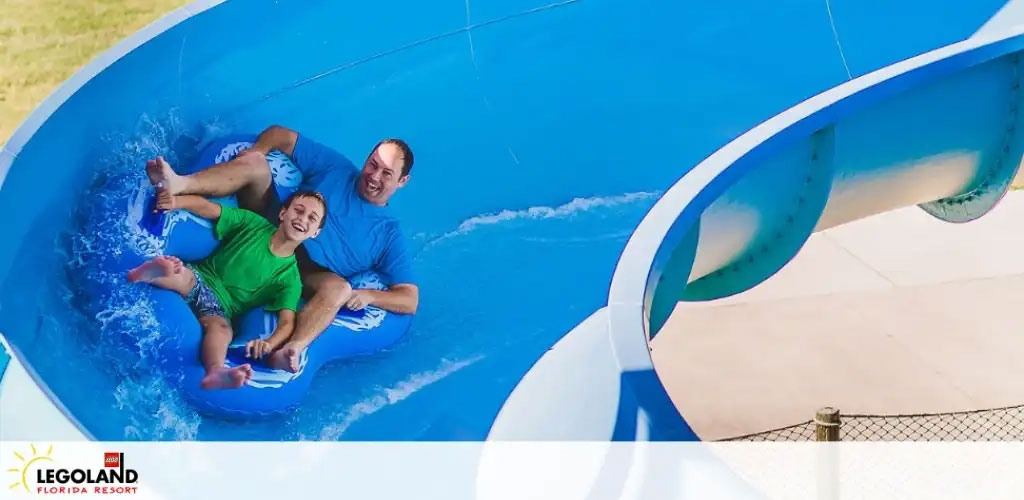 Hey guys, it's time to gather your squad and hit the slopes for some epic sliding action! Who's ready to take the ultimate plunge? Experience the rush of riding tubes 375 feet down an intertwining pair of enclosed water slides and splash into the refreshing pool below!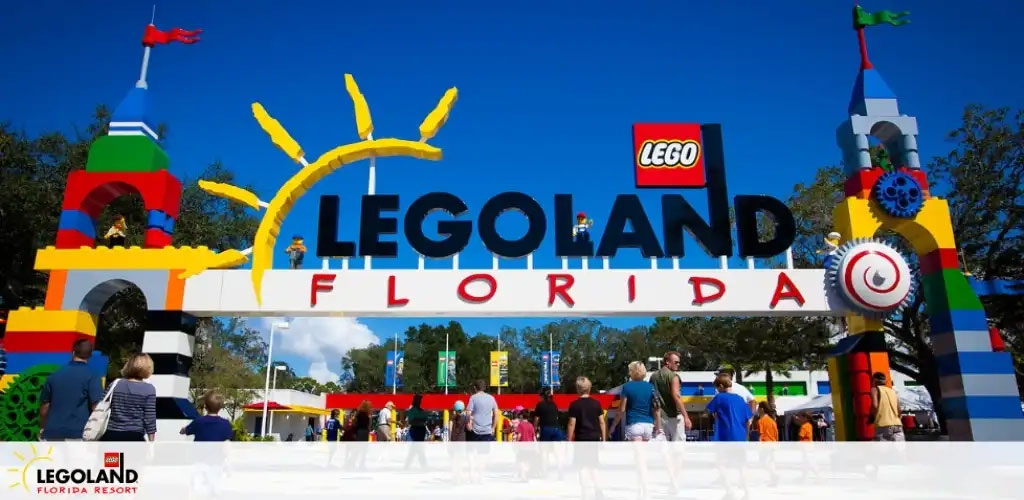 What is LEGOLAND Florida?
It is a breathtaking theme park based on LEGO brands and characters. This multi-day destination has more than 50 exciting rides, countless entertainment options, and attractions for children, including a water park to beat the summer heat. There are also 5-star hotels with thrilling pirate adventures that include the best dining experiences, beach retreats that you can enjoy, and a special place named Bricksburg where you will witness the amazing world of LEGO movies coming to life. You will want to visit this park again and again.
This incredible offer is only available if you book your LEGOLAND Florida discount tickets via GreatWorkPerks. This mind-blowing amusement park is a perfect option for you if you are looking to spend some quality time with your family and friends. It is heaven for LEGO fans. Don't miss the amazing chance to visit the park and book your discount LEGOLAND Florida tickets. Are you ready for an unforgettable day of fun, thrill, entertainment, and adventure?
Ready, set, explore!
Why choose GreatWorkPerks for your discount tickets?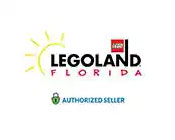 Hassle-Free Transaction, Skip the Lines!
Another benefit of purchasing from GreatWorkPerks is that you do not need to print your tickets. Consider your phone your new best friend because all you need to do is present your LEGOLAND Florida discount tickets at the gates and you are all set to go!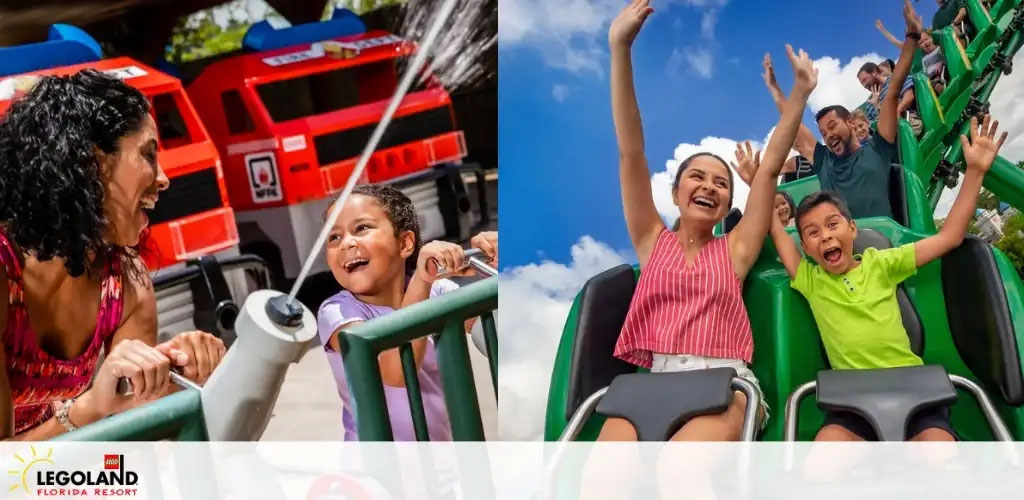 What are some of the best attractions at LEGOLAND Florida?
Some of the main attractions are:
Land of Adventure
You can discover LEGO dinosaurs, look for a hidden treasure, and set out on a safari with your friends. Other attractions that are included in your LEGOLAND Florida discount tickets are: Beetle Bounce, Coastersaurus, Lost Kingdom Adventure, Pharoah's Revenge, and Safari Trek. Access this attraction with your LEGOLAND Florida discount tickets!
LEGO City
You can find so many interesting things here! Have you ever imagined navigating a boat, earning your Lego driver's license, or controlling a police car or a fire truck? You will also simulate flying an airplane! Enjoy this attraction with your LEGOLAND Florida discount tickets!
LEGO Kingdoms
Ready to enter the world of dragons in the magical region of LEGO kingdom? Have fun in the Forest Hideout, Merlin's Challenge, and a royal joust area as well. Access this attraction with your LEGOLAND Florida discount tickets!
The LEGO Movie World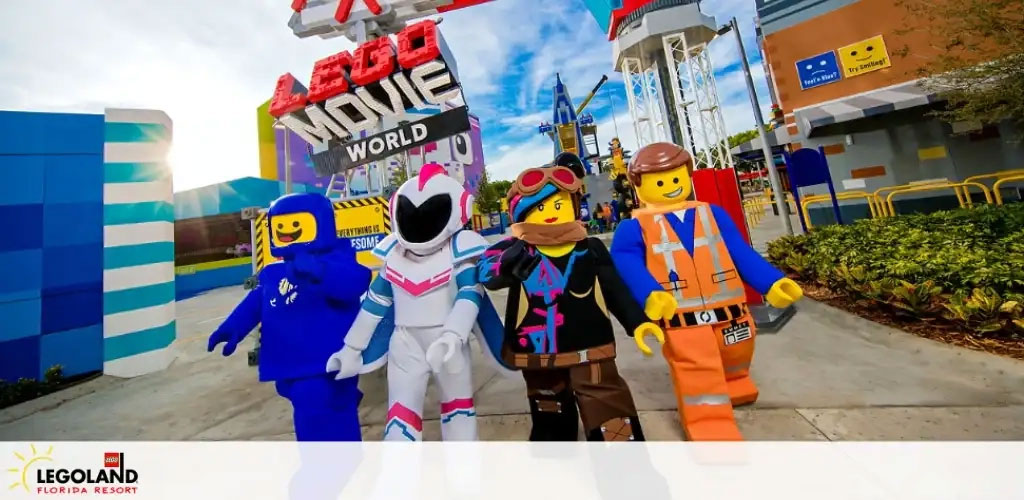 Your children will be able to have so much fun! Either on Benny's Play Ship, the Master of Flight ride, or Unikitty's Disco Drop. Kids can climb, play, and have a great time here at the park. Grab your discount LEGOLAND Florida tickets from GreatWorkPerks and get ready for a really fun time!
LEGO NINJAGO World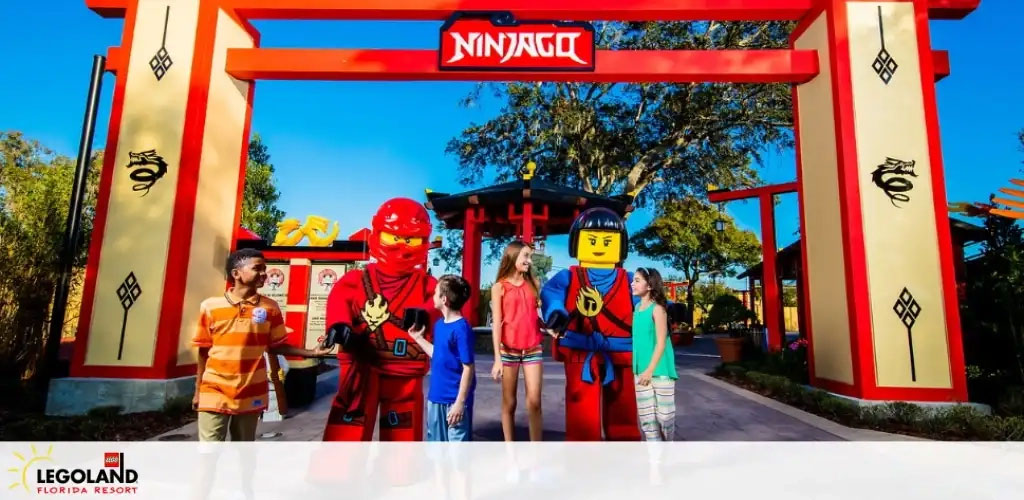 Children can immerse themselves in the exciting attractions of LEGO NINJAGO World like Cole's Rock Climb, Jay's Lightning Drill, Kai's Spinners, and Zane's Temple Build. You won't want to miss out on all this Ninjago Fun! This is all included in your discount LEGOLAND Florida tickets!
Miniland USA
Miniland USA is worth seeing. Almost 32 million LEGO bricks were used to prepare this area, where amazing replicas of the greatest cities of the US (California, New York, Washington DC, Las Vegas) are on display. Enjoy this incredible sight with your discount LEGOLAND Florida tickets!
Explore all these amazing places with your LEGOLAND Florida discount tickets from GreatWorkPerks
What are the best rides at LEGOLAND Florida?
LEGOLAND Florida discount tickets give you access to over 39 rides and attractions inside the park. We have selected the top rides for you to try in the park!
Lego Movie Masters of Flight

Our top choice! It's an indoor theater ride – a completely safe one. The action is presented on a screen with a full-dome display in this attraction. The riders will be completely involved in the story because of this. Various sensory aspects, such as scents, add to the immersive experience. Access this ride with your discount LEGOLAND Florida tickets!

NinjaGo The Ride

This is one of the crowd's favorite also! Riders have to launch colorful fireballs at the story's enemies in this ride. Sensors record the rider's score so you know who wins. Do you have the skills of a Ninja? Special effects include fog, lightning, and wind. This is a ride you should not miss if you want to get the most out of your discount LEGOLAND Florida tickets.

Lost Kingdom Adventure

Grab your laser guns and get ready to aim and fire. Riders can get points by shooting accurately. Play while you enjoy the scenery and stories. Riders must execute a rescue and save the hidden treasure, just like the adventures of Lego character Johnny Thunder. Enjoy this ride with your discount LEGOLAND Florida tickets!

Coastersaurus

Take a ride on this wooden rollercoaster and enjoy the twists and turns around the prehistoric landscape filled with LEGO dinosaurs! You can't miss this kid-friendly ride!

Merlin's Challenge

Jump aboard this magical train run by Merlin the wizard's magic! Kids will be utterly enchanted by this ride as it goes up and down.

Explore more rides with your LEGOLAND Florida discount tickets!
What are the height requirements at LEGOLAND Florida?
Some rides have a restriction of 34" like Boating School and Safari Trek. Other rides also start their height requirements at 36" like Beetle Bounce, Royal Joust, and Technicycle. There is a wide array of rides available at the Resort, but don't worry– if your child is below the required height, they will be allowed onto the ride if they are accompanied by a responsible rider 14 years or older.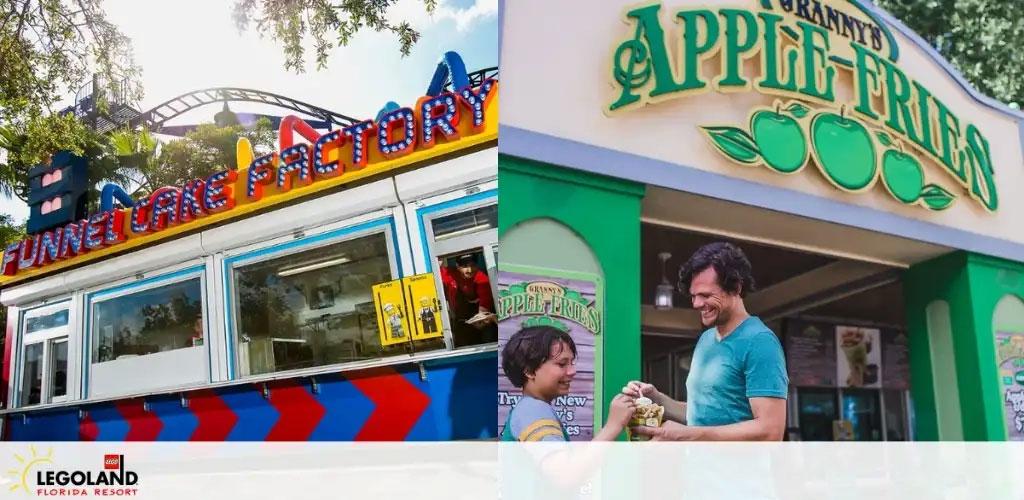 Are there good Dining Options at LEGOLAND Florida?
From pizzas to cheeseburgers or freshly prepared salads, you will find a wide range of yummy meals and sweet treats. There are many dining options available in LEGOLAND Florida. You can explore restaurants like Burger Kitchen, Dragon's Den, Firehouse Icecream, Fun Town Pizza and Pasta Buffet, Fun Town Slushes, Funnel Cake's Factory, Granny's Apple Fries, Kingdom Cone, Ninja Kitchen Food Truck, Pepper and Roni's Pizza Shop, Taco Everyday, Ultimate Sandwich Builder and Heartlake Icecream Parlour which offer uncountable delicious breakfast and dinner options that will make your mouth water.
Are There Any Hotels Near LEGOLAND Florida?
If you and your family would love to stay the night near the park, they offer multiple accommodation options that you and your family should spend the night at!
There are three hotels your family can enjoy:
Pirate Island Hotel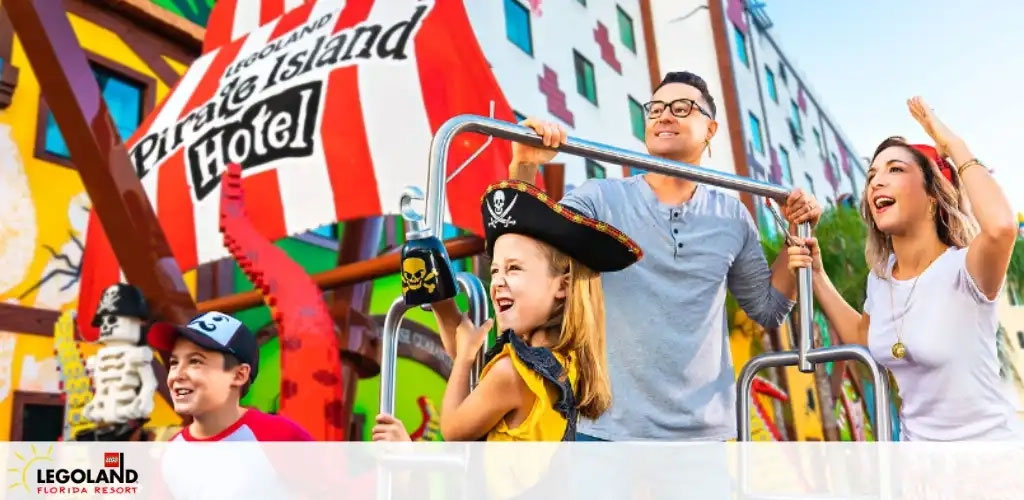 The Pirate Island Hotel is located near the main gates of the park. This hotel will turn your family vacation into an amazing pirate adventure inside your specially-themed rooms, nightly entertainment for children, and a gigantic resort pool. Free breakfast, separate sleeping spaces with bunk beds, and free self-parking are available for ye pirate crew!
LEGOLAND Hotel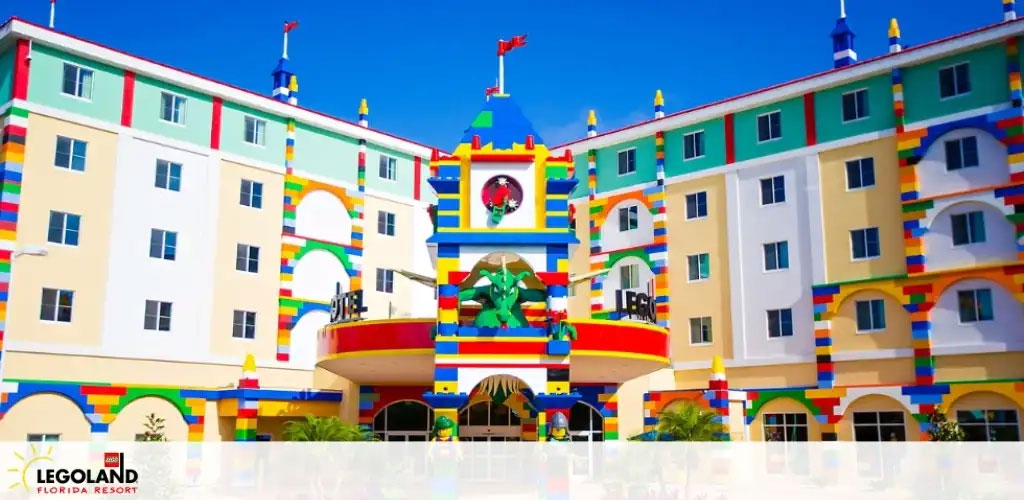 This eye-catching 5-star hotel is located just a few steps away from the theme park entrance. It has 152 luxurious rooms with a heated resort pool filled with hundreds of soft Lego bricks. Stay here and catch a breathtaking sunset view near lake Eloise, enjoy a 9-hole miniature golf course, and pontoon boat rides! This hotel is incredible.
Beach Retreat Bungalows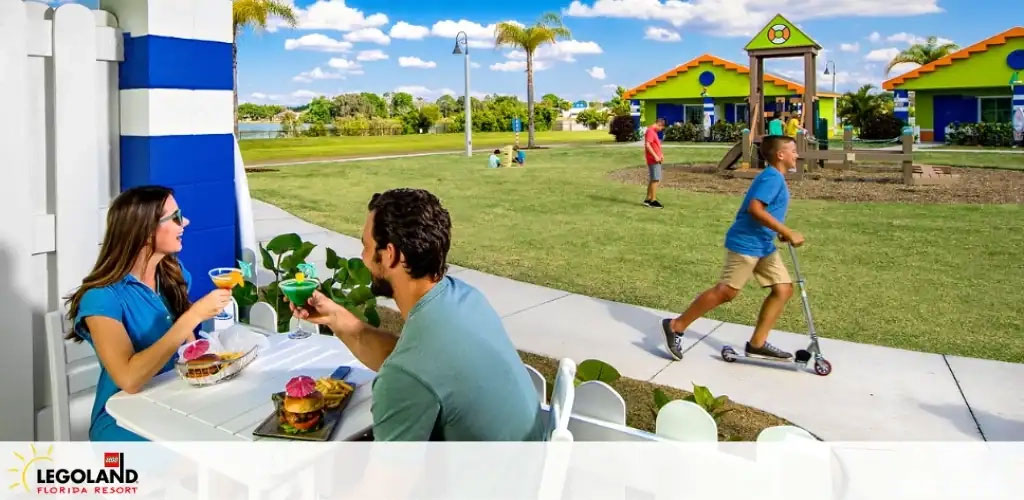 In the Beach Retreat Bungalows, you relax after a fun day in the sun. The stunning patio views of the remarkable Lake Dexter and lighthouse dining experience make this hotel a must-visit.
Note: These hotels are not included in your 1-Day Pass or 2-Day Pass and must be booked directly from the park's official website.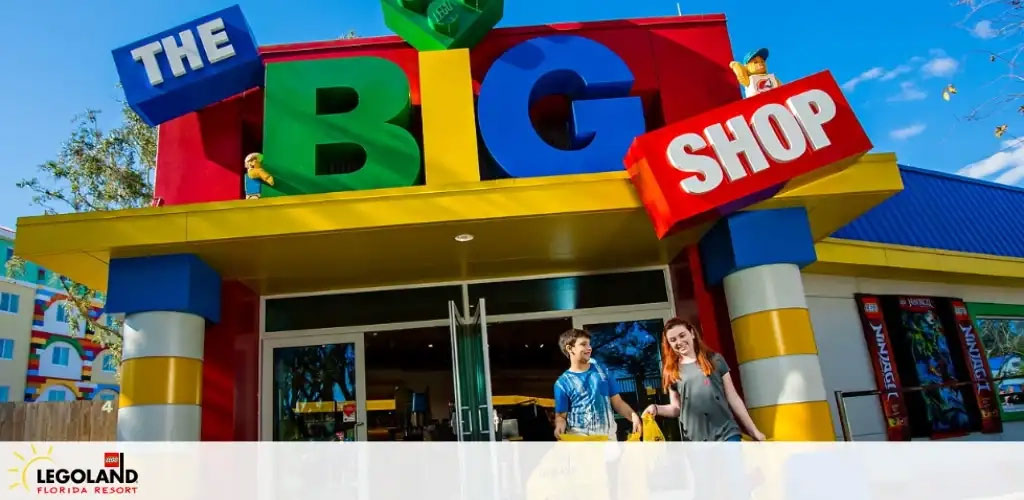 Where can I shop in LEGOLAND Florida?
Inside the resort park, you can purchase your favorite LEGO toys, LEGO dresses, and costumes at any of the following shops available.
The Big Shop
Driving School Store
Heartlake Mall
LEGO Factory Experience
Wu's Warehouse
Tips for your Day in LEGOLAND Florida
Pick a date.

Purchase your discount tickets in advance for the date that's best for you!

Check out the weather forecast.

Sunny days are the best for exploring the park. Be sure to pick out the best day for your visit.

Vehicle check!

Don't forget to perform a vehicle safety check on your chosen vehicle to avoid discomfort on the trip day.

Keep your phones and cameras charged.

Pictures and videos make memories live forever! Be sure to check you have your phone before leaving home, you will use it to show your tickets!

Pack some extra clothes!

Pack some spare masks and clothing in case you are planning for a multi-park visit and stay an extra day or two.
Legoland Florida Resort Becomes First of Its Kind to Earn the Certified Autism Center™ Designation
The first theme park resort to be certified as an autism center is LEGOLAND Florida Resort. The LEGOLAND Theme Park, Water Park, Hotel, Pirate Island Hotel, Beach Retreat, and Peppa Pig Theme Park - which debuted in February and is located right next to LEGOLAND - are all included in this resort's CAC certification. Organizations that satisfy other criteria, such as providing accommodations for visitors with cognitive differences, as well as the training and certification requirements for staff who interact with guests are granted the CAC certification by the International Board of Credentialing and Continuing Education Standards (IBCCES).
The park will provide the following as Certified Autism Centers:
Front-line staff members who are knowledgeable, kind, and prepared to better serve visitors with autism or other sensory sensitivities and make sure they enjoy their time at the resort;
A sensory guide for each attraction that explains how each of the five senses may be affected by the attraction or ride, making it simpler for people and families to plan outings that cater to their requirements and accommodations;
Low sensory zones that let visitors with sensory sensitivities unwind in a less stimulating setting;
The Guest Relations area and www.legoland.com/florida/ will also feature an updated Accessibility Guide.
Frequently Asked Questions about LEGOLAND Florida
Are reservations required for LEGOLAND Florida?

Advanced reservations or dated tickets are required for everyone. Discount LEGOLAND Florida tickets are date-specific tickets – they will serve as your reservation.

Where is the park located?

LEGOLAND Florida is located at One LEGOLAND Way, Winter Haven Fl, 33884. The park is 45 minutes away from Tampa.

Does the park accept cash payments?

They do not accept cash. Payments must be made using credit or debit cards, contactless bank cards, or Apple Pay. This applies to all purchases, including retail, food, beverages, games, and parking.

What time does LEGOLAND Florida open?

The park is open from 10:00 a.m. to 5:00 p.m. on weekdays. Opening and closing times vary on the weekends, so for guaranteed entry and more updated hours, please check out their calendar. Make sure to visit with your LEGOLAND Florida discount tickets.

How big is LEGOLAND Florida?

It is 150 acres big!

Do kids need to purchase a LEGOLAND Florida discount ticket?

Kids who are two years old or younger are granted free entry to the park.

Can I tour the park in a day?

Definitely! You may also tour the park in two or three different days with a visit to the Water Park and Peppa Pig Theme Park.

Do I need to print my LEGOLAND Florida discount tickets for entry?

No, your discount LEGOLAND Florida tickets do not need to be printed when purchased from GreatWorkPerks. You can show them on your phone to gain entry to the park.

Can I bring food inside the park?

Please note that coolers and outside food are not permitted inside the park; however, bottled water and any food or beverages required for specific dietary needs are allowed.

How much are LEGOLAND Florida tickets for parking?

Onsite Parking rates are available. Re-entry is available with valid parking stub.

What happens if it rains on the day that I visit the park?

Rain or inclement weather may require the park to temporarily close or suspend some rides and attractions. If a portion of the rides and attractions are closed for an extended period, Resort Management will activate their "Rainy Day Promise," meaning that those with paid tickets will be able to use their existing ticket for one more visit within one year from the original reservation date. The park will not offer refunds for rainy days.

Does LEGOLAND Florida Resort have a water park?

In addition to land rides, the resort also has a water park that includes a lazy river, water slides, and a wave pool. You must purchase the LEGOLAND tickets that include a visit to the water park to be able to enter.

When is the best time to go to LEGOLAND Florida?

It is fun all year, although it's very busy in March/April, during the summer, and around the holidays. If you want to spend the most time in the parks you might want to go in May, September, or early December. Plan your trip for January or September to save the most money.

What is the best age for children to go to the park?

It's great for everyone, but the best age for children to go to the resort is from four to 12 years old.

How soon do I receive my LEGOLAND tickets from GreatWorkPerks

You will receive your LEGOLAND discount tickets instantly right after your purchase along with your receipt!

How can I contact the park's customer service?

For further questions, you can contact them at +1-888-690-5346. If you want to avoid a long wait time, you can always call/text GreatWorkPerks at 888-295-7375 or email us at help@greatworkperks.com for prompt service and assistance with making your reservation and resolving your concerns.

What should I wear to the park?

The resort recommends that guests dress comfortably in shoes that they can walk around comfortably in. You should check the weather report for the day that you visit.

Are lockers available to rent at the resort?

Yes, rentals are per day, depending on the size of the locker. You can find them at the water park or in The Beginning.

Are strollers and wheelchairs available for rent in the park?

Yes, on a first-come, first-served basis, strollers and wheelchairs are available for rent. There are single-seats, double-seats, wheelchairs, and ECVs available

Does the park have free Wi-Fi?

Yes, free Wi-Fi is available inside the resort, the water park, and the LEGO hotels.

Does the park have an app?

Yes, they do! It provides information, such as directions to the park, park hours, handicap accessibility, live wait times for rides, and directions to each attraction within the resort. It also enables you to set reminders so that you do not miss shows that you want to see and exclusive access to the latest news.

What are the COVID-19 safety measures implemented at LEGOLAND Florida?

Park management encourages the use of cards for payments inside the park instead of cash. They have also implemented daily disinfection and enhanced cleaning measures. Masks are to be worn in all indoor locations at the Resort.




Acceptance of Risk
The risk of contracting the COVID-19 virus cannot be fully eradicated. The safety measures implemented and introduced by the park are intended only to minimize them. Therefore, guests visiting the Attractions acknowledge that they do so at their own risk.
Last updated August 12, 2023.
LEGOLAND Florida Discount Tickets