Buy your Crayola Experience discount ticket from GreatWorkPerks starting at only $22.50 vs $30.86 gate price! Save 27%. Lowest prices guaranteed.
---
What is Crayola Experience?

If you are looking for the most colorful destination to visit with your family, Crayola Experience is absolutely the perfect place to go! With its 60,000 square feet of colorful attraction, kids and kids at heart will surely experience the true magic of Crayola. Kids' creativity will prosper as they freely color outside the lines, learn, explore, and play!
Enjoy the fun-filled colorful journey with your family in this attraction located inside the Mall of America. Purchase your discount Crayola Experience ticket now to experience the color, technology, and chemistry all magically combined to give you a wonderful experience in one place!
Can Adults go to the Crayola Experience?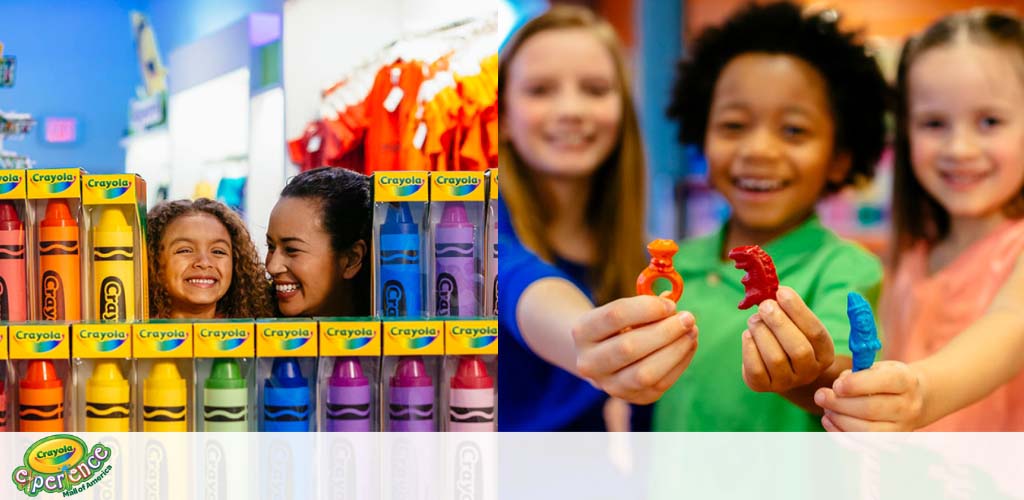 It is one of the most popular and fun kid attractions. But the good news is, it's fun for adults too! This 60,000 square-foot attraction also houses hands-on activities for adults you will definitely enjoy. Make sure to participate in their fun adult event called "Crayola After Dark".
Discount Crayola Experience tickets from GreatWorkPerks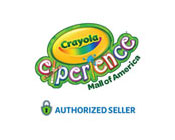 Lowest Prices Guaranteed!
GreatWorkPerks is an authorized seller of KABOOM! at LA County tickets. We are the largest seller of discount tickets in the country, and we couldn't have thrived for over 30 years if we weren't highly trusted by our customers. We would love for you to join our family and enjoy the best price of KABOOM! at LA County discount tickets and other attractions nationwide!
Hassle-Free Transaction, Skip The Line
Another benefit of purchasing with GreatWorkPerks is that you do not need to print your KABOOM! at LA County discount tickets. Consider your phone your new best friend because all you need to do is present your discount tickets at the gates and, voila, in you go!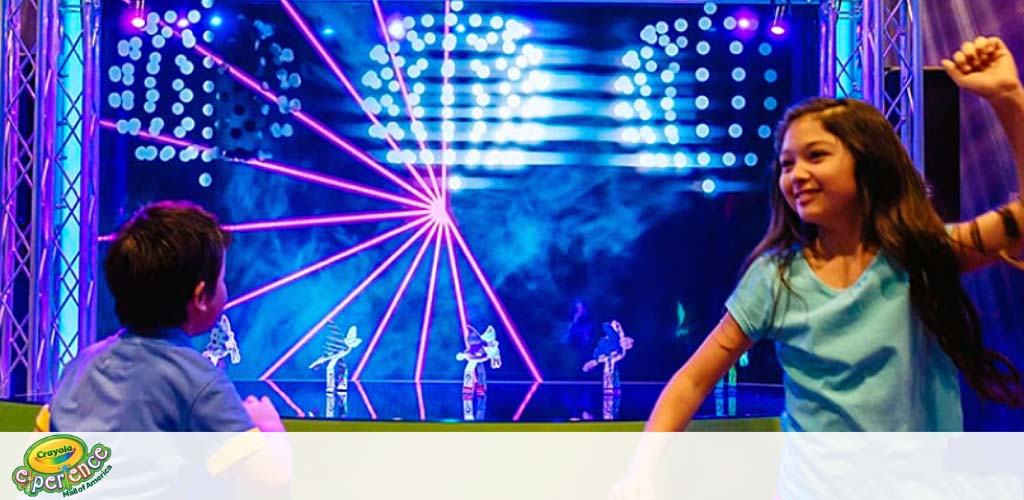 Things to do at Crayola Experience
Families often spend 3-4 hours of their day in Mall of America exploring 26 colorful attractions in Crayola Experience. Here are a list of some of the must-try hands-on activities with the kids included in your Crayola Experience discount ticket:
Silly Selfies

If your kid loves coloring and technology at the same time, they will surely love this activity that lets them color a digital mask. They can even choose to become a rock star parrot, robot unicorn, or zany pirate bunny. There are a lot of possible combinations that will challenge your kids' creativity with no limit! That's not all, their zany selfie will be projected on a big screen where they can walk up to it, touch it, or even animate it! Kids will surely enjoy their project being projected into a royal room or underwater seascape!

Activity Studio

Imagination is the only limit in this hands-on activity allowing the kid to explore craft-themed projects like a jungle explorer, superhero, or rock star. Kids will enjoy the cutting, coloring, and pasting activity in this area. So if your kid is into this kind of activity, this is the best place for them.

Modeling Madness

Sculpting is one of the activities that can challenge the kids' creativity and imagination. Using Crayola's Model Magic compound, they can sculpt anything that they can imagine! They can model it using dough and they can also color it using unique Crayola markers without messy crumbs.

Melt and Mold

Here, kids can melt their favorite Crayola color and mold it into either a critter, ring, or even their special characters! All they have to do is to add their favorite crayon color into a molding machine and watch it melt and mold.

Drip Art

There's nothing more amusing than creating swirls and whirls of colors! In this fun activity, kids can load their favorite color into a machine and let it drip into paper. As the machine spins, it will create an amazing spiral art like no other!

Rainbow Rain

You might hear others saying that there is a rainbow after the rain. But in this activity, the rain and the rainbow happen at the same time! Here kids watch their image being drenched with colorful pouring rain. This colorful raining experience is controlled by their movement making it more interactive.

Draw on the Walls

Do you ever feel bothered because your kid keeps on coloring the walls in your house? Worry no more! In this attraction, kids can freely color the walls with colorful chalks! It is the cutest 'neighborhood' you can be in.

You Design

Do they dream of becoming a designer someday? Let them have a taste of their dream with cool experience. Here, they can color and digitally accessorize their own designs to their own preference. Not only that! They can also show it off on the spotlight, dress with it, and walk on the runway with a huge projected screen! These are all possible with your purchase of Crayola Experience discount ticket!
What to do after the hands-on activities?
After all the imaginative hands-on activities with the kids, there are other fun things to experience in the neighborhood. With your Crayola Experience discount ticket, make sure to stop by these places:
Café Stage

Stop by the Café Stage where you can enjoy a live show while eating! This live show will help you learn the science and magic behind your favorite colors! They will show how your favorite Crayola products are made. Catch this show daily at 1 pm.

Visit the Crayola Store

Get the cutest and most colorful souvenirs in the Crayola Store. They have the widest selection of Crayola products and merchandise from plush to apparel.
Where can you eat at Crayola Experience?
The kids might feel hungry after all the fun-filled activities. To refuel the day, you can stop by this exceptional café:
Café Crayola
Here, you have a wide variety of delicious meals to choose from. They serve fresh hot dogs, pizza, chicken nuggets, fries, nachos, Dippin Dots, Pepsi soft drinks, popcorn, and many more! They are located just inside the attraction.
Tips for Visiting Crayola Experience
Get the most out of your Crayola Experience discount ticket with these tips:
Purchase your Crayola Experience tickets in advance

Kids often get bored falling in line at the entry gates. As a tip, we recommend that you purchase your Crayola Experience ticket before the day of your visit. It is also a great idea to purchase discount tickets to save a few bucks.

Bring extra clothes

Some of the hands-on activities will challenge the kids to dance and move. Just in case they might need to change their clothes, carry extra ones.

Charge your batteries

Surely, you'll need your mobile phones to capture your kid's colorful experience! Make sure that your batteries are fully charged and carry extra power banks if you can. Not to mention that you will also need to use your phone to present your discount Crayola Experience ticket at the entrance.

Wear comfortable footwear

Make sure to let your kid wear footwear where they feel comfortable to move around freely in the attraction. Any foot aches will definitely ruin the day!

Plan your visit

Make sure to avoid any unwanted circumstances. Prior to your visit, check their operating hours, their parking areas, their addresses, and even the places where you can stay near the attraction.
Frequently Asked Questions:
Are reservations required?

No, you can visit the attraction without reservation.

Do I need to purchase an advance date-specific ticket to visit?

No, it is not necessary to purchase advance date-specific ticket.

Where is Crayola Experience located?

The attraction is located at 300 South Avenue Level 3, Bloomington, MN 55425, United States.

What time does the park open?

Operating hours may change anytime. The park is usually open from 10 AM to 6 PM.

What days are the busiest?

Crayola Experience can be found inside the Mall of America so expect a busier day during the weekends.

Is wearing of mask required?

They recommend their guests wear a mask but it is not required.

Is there free parking?

There is a lot of free parking around the Mall of America.

Do I need to print my discount tickets?

No, just present your discount Crayola Experience ticket through your mobile phone.

How soon will I receive my discount tickets?

Right after your purchase in GreatWorkPerks, you will receive your Crayola Experience discount ticket.

Is re-entry allowed?

Yes, you can exit the attraction and re-enter the same day. Make sure that your hand stamp is still visible. You can also re-enter by presenting your Crayola Experience ticket at the gate.
Last updated October 05, 2023.
Crayola Experience Minnesota Tickets