Check out other Medieval Times locations:
Buy Medieval Times discount tickets from GreatWorkPerks starting at only $32.20 vs $40.95 gate price! Save up to 21%. Lowest prices guaranteed.
Reservations are required. Please call us at 888-295-7375 from 7:00 AM to 10:00 PM PST to make your reservations and for up-to-date show schedules and availability. These tickets are valid for general admission seats. Upgrades are available upon request.

Be Part of a Legendary Tournament!
Lo' and behold! The lights will dim, and the music will set you in the mood! Brace yourself for a heart-pounding tournament in Medieval Times. Get ready to cheer for your Knight on to an epic victory!
You will witness thrilling hand-to-hand combat, unmatched feats of chivalry, and jousting. You will also be amazed by the extraordinary displays of horsemanship and falconry. Enjoy family memories that will be cherished forever!
The fun awaits you at the castle! Purchase your discounted Medieval Times tickets now!
The Feast
At Medieval Times Dinner & Tournament, your dinner is served in a four-course meal that is fit for royalty – and by royalty, it means YOU!
You are cordially invited to share a meal with Queen Maria Isabella and the members of her royal court. The Queen, known for being a gracious hostess, has instructed her royal chefs to prepare her favorite supper just for you! Medieval isn't just about the horse jousting; the four-course meal, the desserts, and the royal beverages round up your Medieval experience perfectly!
That's not all, customers can order rotating specials and delicious refreshing drinks to enjoy while watching the entertainment.
What is Medieval Times?
Medieval Times is one of America's most exciting and family-friendly dinner attractions. Inspired by an elaborate 11th Century feast and tournament, Medieval Times transports their guests from modern times into a realm full of chivalry, rivalry, and royal characters, while indulging them with a bountiful four-course banquet.
You can expect almost two hours of wild roars and jeers as guests cheer for one of the six knights battling to be named the Defender of the Realm. Knights will compete in the joust and other tests to defend their honor. Come one, come all to the most highly anticipated realm event!
With great storytelling that features the royal Queen, you will be transported to medieval times! Experience what it would feel like to be invited by the glorious Queen centuries ago! This famous dinner attraction is truly one-of-a-kind!
This experience takes dining to another level!
A Brief History of Medieval Times
Medieval Times is based on a true story of a noble family in the 11th Century. This authenticity captures the imagination of guests of all ages. It began with two dinner/entertainment castles in Benidorm, Spain. The first Castle in America opened in 1983. Since then, more than 72 million guests have experienced the incredible banquet, heroic actions of knights and spirited horses in the Castle.
Why Choose GreatWorkPerks for your Medieval Times discount ticket?
Lowest Prices Guaranteed!
GreatWorkPerks is an authorized seller of discount Medieval Times tickets. We are one of the largest sellers of discount tickets in the country, and we couldn't have thrived for over 30 years if we weren't highly trusted by our customers. We would love you to join our family and enjoy the best price for the Medieval Times tickets and other nationwide attractions!
Hassle-Free Transaction, Skip the Line!
Another benefit of purchasing with GreatWorkPerks is that you do not need to print your discount tickets. Consider your phone your new best friend because all you need to do is present your discounted Medieval Times tickets at the gates and in you, go!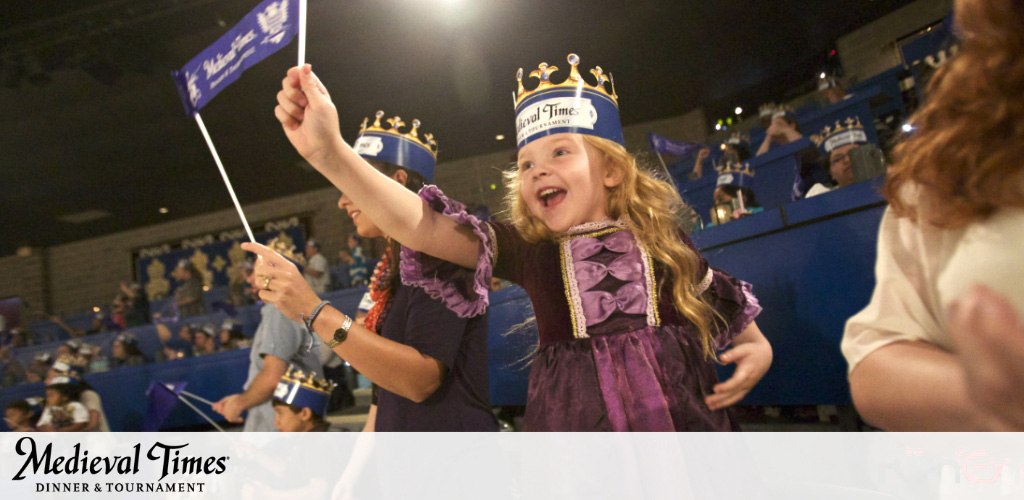 Is Medieval Times fun for kids?
What could be more thrilling than witnessing the live action of Knights and horses? Kids will surely enjoy the cheering crowd. They will be really happy while watching the tournament.
Kids will never forget the epic night of royal fun!
There are also gift shops, medieval artifacts on display, and museums available for the little curious visitors!
Is the food good at Medieval Times?
Back in the day, Medieval royalties loved to spice up their food. They indulged in sugar, vinegar, cloves, cinnamon, pepper, and other spices. At Medieval Times, the food is delicious. You will be served with nothing but the best!
You can dive into a magnificent feast with your Medieval Times discount tickets. They serve fresh garlic bread, tomato bisque soup, sweet and buttered corn, roasted chicken, and other delicious dishes. They also offer coffee and non-alcoholic beverages.
What to expect in Medieval Times?
Don't forget your Medieval Times discount tickets! Here is what to expect on your journey:
Arriving at the California Castle
It sits perfectly in the heart of Buena Park. You will easily be able to find your destination. You can expect a leisurely stroll since parking is free at the California Castle.
Tip: Once you get inside the castle, take some time to enjoy the sunshine in the beautiful courtyard of Her Majesty. California Castle is the only Medieval Times location with an outdoor courtyard, so grab a drink and enjoy the stunning view!
Approaching the Castle Gates
The Castle Gates will open 1 hour before the showtime. As you approach the Castle gates, be ready to get into character and show your battle face! This is the best time to take photos, explore the environment, and mingle with the Royalty. Like any other live event, expect to see a line at the Castle Gates. There is no need to fear! As long as you have your Medieval Times tickets from GreatWorkPerks, you'll quickly get inside the Castle. Once inside, you are officially part of Her Majesty's kingdom! The color of your crown symbolizes which noble house you are part of. Cheer for your valiant Knight because the louder you cheer, the better they fight!
Tip: If you want to upgrade your experience, you can upgrade your ticket to sit in the front row and witness the rivalry up-close. If you are celebrating your birthday, you can also commemorate the occasion by asking to be knighted by the Queen herself.
Exploring the Castle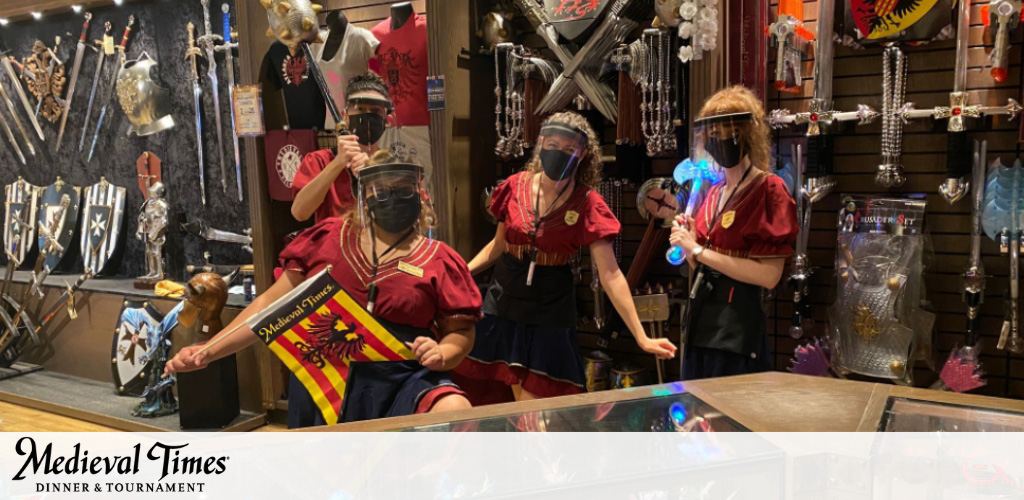 You wont believe your eyes when you see a variety of suits of armors, giant candelabras, and all the treasures inside! You can also take a tour of the Museum of Torture. Warning: Do not visit this museum if you have a faint heart! Visit the Sword Shop or the magnificent birds and majestic horses. As you enter the Hall of Arms, you can also stop by the Souvenir Gift Shop to find the perfect memento! Pick your Knight's flag color and raise it while you cheer! You can also purchase an amazing Medieval Times T-shirt!
Tip: Don't forget to sip on some refreshing beverages from the Queen's Bar.
On to your seat
The Master of Ceremony will call you by the color of your crown. Pay attention when you enter the Grand Ceremonial Arena.
The call to the table will be announced early upon opening the gates. If you missed the call, just look for the banners above the doors of the Arena. If you need additional assistance with seating, you can always inform the ticket counter.
Keep in mind that your seats are reserved with your Medieval Times tickets. No need to rush to get inside the venue. Do not forget your Medieval Times discount tickets from GreatWorkPerks
Enjoy your Four-Course Feast!
As you get to your seat, now is the time to delight in the culinary fare while watching an amazing show! The humble servers will offer drinks, followed by the four-course meal.
Tip: If you are on a diet, just let your server know. They will accommodate your dietary needs! There are alcoholic drinks available also!
Let the Show Begin!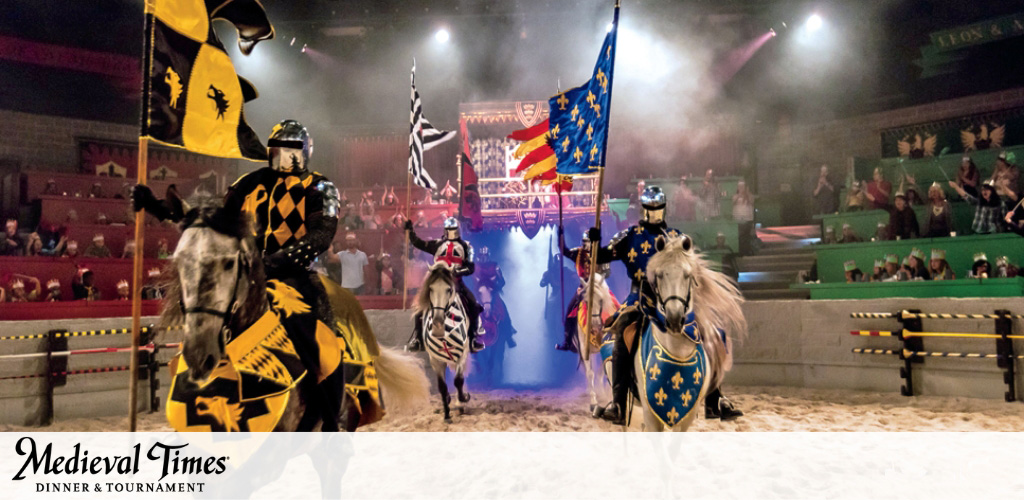 Hang on to your crown! Hold your flags tightly as the crowd begins to roar wildly! The cheering around the arena will surely give you goosebumps when the show starts!
Cheer for your brave Knight! You will get the opportunity to watch the knights compete in hand-to-hand combat.
This is truly a thrilling experience. You don't want to miss out! Buy your Medieval Times discount ticket today!
Meet the Royal Knights and Court
The Queen
Take part in a knighting ceremony with Queen Doña Maria Isabella! For the first time in the history of Medieval Times, her majesty reigns supreme and oversees the tournament. She'll be the one to judge who is worthy of being named the "Defender of the Throne".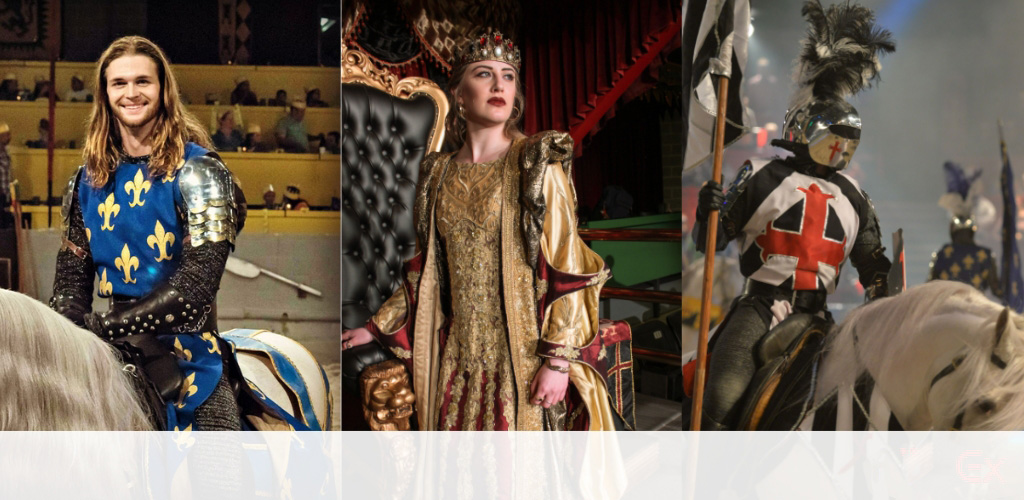 The Knights
The knights are chivalrous, strong, and agile and have a pure heart! Meet the brave Knights who fight to defend the Kingdom.
The Green Knight

The charming Green Knight of León is one of the most powerful knights in the kingdom. He is skillful in handling all weapons, from the crossbow to the battle-ax. A master in the art of war!

The Red and Yellow Knight

He is the fiercest among all the Knights! He knew he was fated for glory when he picked up a dagger to train. This agile fighter will leave you in awe with his swift sword work!

The Red Knight

He didn't earn the name "Lion's Heart" for nothing! He is a passionate warrior driven to bring honor to his people! A man with the heart of a lion. He shows courage through adversity.

The Blue Knight

He is a symbol of righteousness and is known as the champion of the defenseless. Raised in Valiente, he grew up to be strong and swore to guard his people.

The Yellow Knight

He has the most untamable force! Raised in Nevarre, he helps the vulnerable, but make sure not to challenge him because you will face his unquenchable wrath!

The Black and White Knight

For him, there is no gray area! He always strives to win because losing is not an option. Meet the mightiest among the Knights! Purchase your Medieval Times discount ticket now!
Meet the majestic horses
The tournament wouldn't be complete without the stars of the show! Meet the majestic horses at the castle.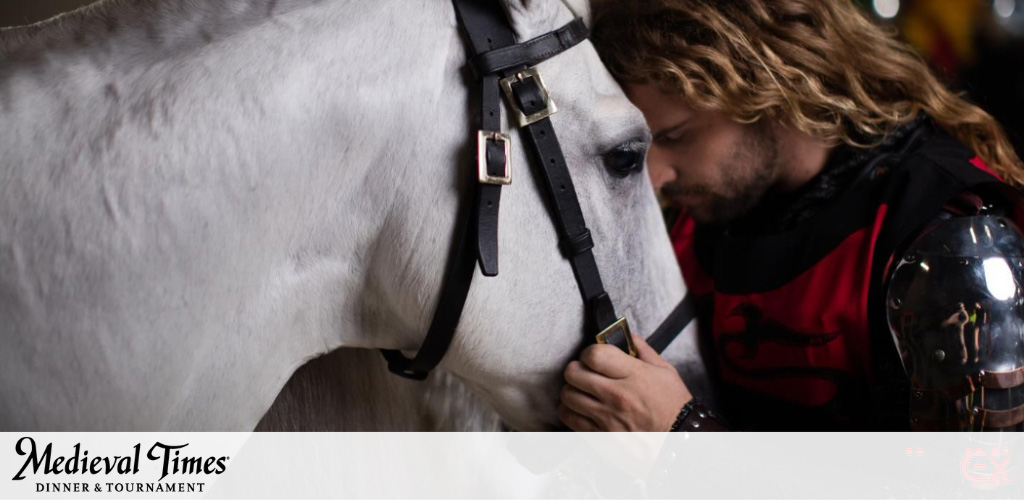 Andalusian
Guests often called Andalusians the "dancing horses" because of their precise fluid movements. These pure-bred Spanish Horses are highly respected for their unique beauty, incredible power, and breath-taking agility.
Quarter Horse
The American Quarter Horse is a star of the show! They often showcase their unmatched ability to outdistance other horses in the arena. In just a quarter mile, they are always ahead of their competitors. Their speed is the reason why they are considered treasured stars of the kingdom.
Friesian Horse
Get a chance to meet a gorgeous warhorse from the Middle Ages, Friesians. Among all the horses in the show, these have the strength to carry the knights with heavy armor into battle.
These horses are almost extinct but made their comeback as performance horses. It is an incredible experience! Buy your discount Medieval Times tickets now!
Medieval Times Menu
Queen Maria Isabella commanded her royal chefs to cook all the kingdom's specialties for you! Enjoy a four-course meal fit for royalty! They offer different meals for special diets, and it is all included in your Medieval Times discount tickets.
Vegan meals
Vegans can enjoy the three-bean stew with brown rice, fire-roasted tomatoes, and more. There's also some fresh fruit served.
Vegetarian meals
For vegetarians, yo can enjoy the same meals offered for vegans but with a piece of additional warm pita bread.
Gluten-free meals
Gluten-free meals for those with dietary restrictions are available upon request. It includes tomato bisque soup, roasted chicken, and sweet, buttered corn
Some Things to Keep in Mind when Visiting Medieval Times
Purchase your Medieval Times tickets in advance

Seats are limited. If you want your slot ensured, purchase your Medieval tickets in advance at GreatWorkPerks. This will save you time and money!

Arrive early

Since the Castle gates open 1 hour before the show, it is recommended to arrive early. This will give you enough time to explore the castle, capture some memories, and shop for souvenirs!

Have fun on your birthday!

They offer majestic birthday packages for guests who choose to celebrate with the Knights! These packages include cake, cheering banners, and a ceremony to commemorate your experience! Birthday packages are available for any age.
Meet More Nobles at Medieval Times!
Step beyond the familiar tales of chivalry and gallantry at Medieval Times! Venture into the depths of the North American castles, and acquaint yourself with the unsung heroes that complement its illustrious knights and regal royalty. Dive into these enthralling tales and enjoy your Medieval Times discount tickets from Great Work Perks!
The Master of Horse
Follow the journey of the noble horses, from playful foals to show-steeds, all under the watchful eyes of the Master of Horse.
Training: By three years old, horses find a home in the castles, each with its unique personality. The Master of Horse skillfully trains them, ensuring they're stage-ready.
Care: Continuous veterinary attention and regular check-ups ensure that the horses are always in prime condition. If you want to see the majestic horses, grab your Medieval Times discount ticket today!
The Royal Falconer
Be enchanted by the falcons' grace. The Royal Falconer, an expert in his field, oversees their care and training. With your Great Work Perks Medieval Times discount tickets, explore the stables, home of the falcons, and learn about the ancient craft of falconry.
The Squires
Behind every great knight is a supportive squire. These dedicated allies prepare their knights for the grand show, juggling duties and loyalties!
Experience all these and more with your Medieval Times discount ticket! Witness the elegance of the majestic horses, the flight of the falcons, and the steadfast loyalty of the squires as they champion the age-old traditions of chivalry. Embark on a timeless journey that promises unforgettable memories!
Tips for a Great Time at Medieval Times
Get ready to step back in time to an era of honor, valor, and royal banquets. Follow these essential tips to make your adventure truly unforgettable:
Parking: There's plenty of free space near the Castle. Walk to the castle, and take a look around. Tip: Enjoy a drink when you arrive!
Come Early: The castle opens up one hour before the show. Take pictures, look around, and chat with others. Tip: Pose like you're in olden times for a fun photo!
Become a Knight: Got a special day? Ask about getting knighted by the Queen.
Cheer for Your Knight: When you check in, you'll get a crown for a Knight. Cheer for him loudly!
Shop: Look in the gift shop for cool stuff to remember your visit. You can also buy shirts, flags, and other fun things.
See the Animals: Visit the birds and horses in the castle. Watch them during the show also!
Colors Matter: People are called in by the color of their crowns. Look for flags that match your crown's color.
Dive into a realm of courage, grandeur, and joy at Medieval Times Dinner and Tournament. With our tips, your medieval journey promises to be memorable.
Get your special Medieval Times discount tickets from Great Work Perks! Don't miss this regal experience!
Covid 19 Safety Guidelines:
The Royal Queen and the brave Knights are delighted to welcome you back to their Castle! To ensure your safety, here are a few reminders:
Guests are encouraged to wear a mask before entry.
Practice social distancing. Stay at least a sword length from fellow Royals.
Castles have a limited capacity. Book your discount Medieval Times tickets to ensure your slot.
If you want to be seated beside your friends or family, make sure to book under the same reservation.
Keep your kingdom together through the markers placed in the Majesty's halls.
For your safety, you can request disposable silverware and straws.
Meet and greet with the casts.
Frequently Asked Questions About Medieval Times:
Are reservations required?

Reservations are required as seats are limited. Please call us at 888-295-7375 from 7:00 AM to 10:00 PM PST to make your reservations and know up-to-date show schedules and availability.

Where is Medieval Times located?

It is located at 7662 Beach Blvd, Buena Park, CA 90620.

Is there free parking?

Yes, parking is free around the Castle Gates.

Do I need to print my discount tickets?

There is absolutely no need to print your discount tickets. Just present your Medieval Times reservation confirmation and photo identification at the Castle Gates to enter easily!

How long is the tournament?

The tournament lasts approximately two hours.

Is there a gift shop?

Yes, you can visit the souvenir shop before the tournament starts.

Is there a menu for people with special dietary needs?

Yes, they are willing to accommodate your special dietary needs! Just let your server know so they can assist you! They also offer a special menu for vegetarians and vegans!

Is ID required to purchase alcohol?

Yes, ID is required to purchase alcohol from the Queen's full-time bar. Only those who are 21 years old and above are allowed to purchase.

Is the show suitable for all ages?

Yes, the tournament is appropriate for all ages.

Do children get in for free?

Children under the age of 3 have free admission as long as they have to sit on an adult's lap and share their plate. If you prefer that the child have their sit and meal, you will need to purchase a ticket.

Is the show accessible for PWD?

Yes, they are accessible for PWD. Let the staff know if you require additional assistance or accessible seating upon arrival. They will make accommodations for you. When purchasing your discount Medieval Times tickets online, check "Show me ADA/Accessible Seating." This will help you reserve your seats in advance.

Is there a dress code?

There is no dress code. You can wear costumes if you want to. Just refrain from wearing hats or headdresses that may block the view of the guests behind you during the show.

Are weapons allowed?

No, weapons are not allowed, whether they are real or fake. This is to ensure the safety of every guest.

Can I bring a camera to the show?

Yes, you can bring your cameras, but flash is not allowed.

Is the show accurate?

Yes, Medieval Times is an authentic and historically accurate show.

Do you have to eat with your hands in Medieval Times?

Eating with your hands is encouraged. Silverware is available upon request.

When can I visit Medieval Times?

You can visit 365 days a year, including special occasions such as Mother's Day, Christmas, and New Year! Buy your Medieval Times discount today!

What is Medieval Times like?

When you visit Medieval Times, you'll step into a vibrant, family-friendly atmosphere that echoes the spirit of an 11th-century feast and tournament. As you savor a 4-course banquet, you'll witness knights in thrilling jousts and skill challenges, all competing for victory.

How historically accurate is the show?

The show at Medieval Times faithfully reflects Medieval history, portraying an authentic story of a noble family whose roots can be traced back to the 11th Century.

What more can you discover at medieval times?

Beyond the feast and tournament, you have the opportunity to enjoy the extensive bar offerings, purchase unique souvenirs from the gift shop, and delve into history in the Hall of Arms with its medieval artifacts.

Are strobe lights used in the show?

Yes, the show incorporates stroboscopic lighting effects.

When should you arrive?

It's advisable to arrive at the Castle gates 60 minutes prior to the show's start. This allows ample time for a smooth admission, particularly important for shows that are fully booked.

Is there merchandise available for purchase?

Absolutely, the gift shop is stocked with a variety of items including medieval-themed toys and costumes.

What does the banquet menu include?

Your banquet features an array of delights: garlic bread, tomato bisque soup, roasted chicken, sweet buttered corn, herb-basted potatoes, the Castle's exclusive dessert, coffee, and two rounds of select non-alcoholic drinks. For adults, a selection of alcoholic beverages is available. Vegetarian meal options can be requested from your server.

Can outside food or cake be brought in?

To ensure everyone's health and safety, bringing outside food or beverages is not permitted. We cater to various dietary needs with allergen-friendly, vegetarian, vegan, and gluten-free meal options. For celebrations, they can arrange cake slices upon request.

Is it possible to meet the cast?

Under normal circumstances, they offer meet-and-greet sessions with the cast before and after the show. However, these are currently paused due to COVID-19 precautions.

Can I bring balloons?

Balloons are not permitted within the confines of Medieval Times Castle.
Last updated November 23, 2023
Medieval Times Dinner & Tournament Tickets