Buy Sandcastle discount tickets through GreatWorkPerks Price starts at $xx vs $xx gate price.
Experience The Ultimate Blend of Relaxation, Thrill, And Fun with Our Exceptional Offerings!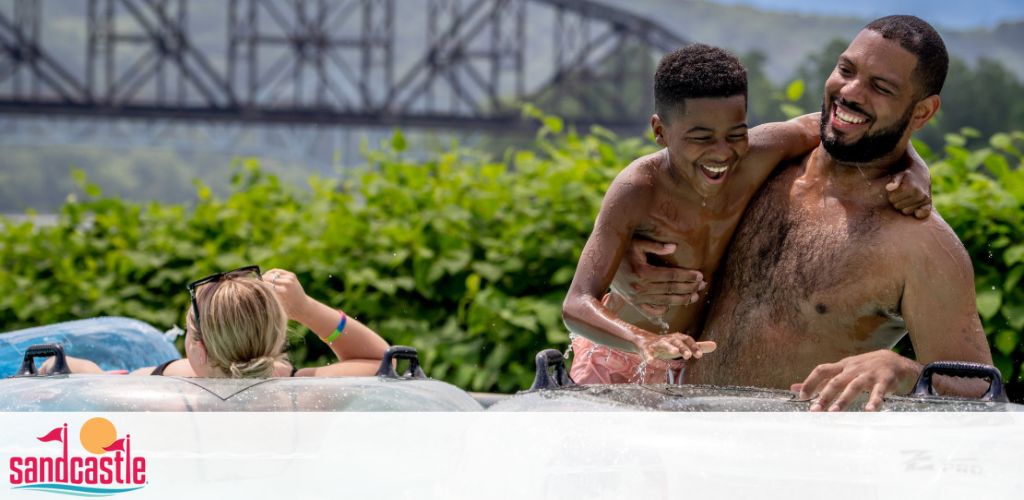 Situated near a charming boardwalk that offers picturesque views of the serene Monongahela River and a lush, green hillside, the waterpark in Pittsburgh, Pennsylvania, is an inviting haven for families seeking an unforgettable experience. Discover the ultimate aquatic adventure in Pittsburgh with a collection of fifteen exhilarating waterslides that are sure to make a splash! Brace yourself for an unforgettable experience as you plunge down the thrilling Mon Tsunami Wave Pool, where massive waves will transport you to a world of excitement.
Relax in the tranquility of the Scenic Mushroom Pool, a picturesque oasis that offers a serene escape from the hustle and bustle of everyday life. Drift along the gentle currents of the lazy river, allowing your worries to melt away as you soak up the sun. Little ones will delight in the two specially designed children's play areas, where imagination knows no bounds. With an array of attractions that cater to all ages and preferences, this water park promises endless fun and adventure for the whole family. Buy your discount Sandcastle tickets through GreatWorkPerks today!
The LOWEST-PRICED Sandcastle Discount Tickets
Hassle-Free Transaction, Skip the Line!
Another benefit of purchasing from GreatWorkPerks is that you do not need to print your Sandcastle discount tickets. Consider your phone your new best friend because all you need to do is present your e- Sandcastle tickets at the gates, and in you go!
Frequently Asked Questions for Sandcastle
Do I need to make a reservation before going?

No reservation is required. Head straight to the waterpark gate and enjoy the fun on your chosen date!

Where is the waterpark located?

The park is located at 1000 Sandcastle Drive, Pittsburgh, PA 15120.

Phone: 412.462.6666

Fax: 412.462.6666

Is there free parking?

Only paid parking is available as of now. Regular and Preferred Parking rates apply. To check the price rates, you may access the park's official website.

Do you offer refunds?

No. Discount Sandcastle tickets are non-refundable and non-returnable.

How long will my Sandcastle discount tickets be valid for?

Your Sandcastle tickets are valid for one single-day entry until September 4, 2023.

Is the water park kid-friendly?

Absolutely! Guests of all ages can enjoy everything the park offers with Sandcastle tickets!

What are the operating hours of the park?

Hours of operation may fluctuate by season. To be sure, please check their official website and get the latest updates.

Are there any height restrictions?

Height restrictions may apply per attraction. Please look for any signs near the entrance of each attraction for your guidance.

Can I bring lifejackets or puddle jumpers inside the pool?

Yes, if they are US Coast Guard-approved. You can also enjoy one, free of charge, at the Mon Tsunami Wave Pool and Mushroom Pool.

How soon will I receive my discount Sandcastle ticket?

Immediately, along with your receipt! Sandcastle discount tickets are e-tickets that will be sent to your email.

Do I need to print my discount Sandcastle ticket?

No need. Just present your discount ticket through your mobile device, and in you go – easy and fast!
Last updated September 19, 2023