Check out other Six Flags locations:
Buy Six Flags Over Georgia discount tickets today and save up to 58%! Tickets only $33.39 vs $79.99 gate price! Lowest prices guaranteed.
Valid for One-Day admission to Six Flags Over Georgia. Children aged two and under receive free admission. Hurricane Harbor inside the park is not included with general admission. White Water is a separate park and is not included with this admission.
Any Day but Saturday: Valid for Any Day but Saturday thru 1/03/24.
Saturday: Valid on Any Saturday thru 1/03/24
**Holiday in the Park is included with park admission from November 18, 2023 to January 3, 2024.
**Six Flags has limited purchases to 10 tickets per transaction. If you would like to purchase more than 10 tickets, please create a separate transaction for the excess.
NEW: Holiday in the Park!
Immerse yourself in the festive enchantment of Six Flags Over Georgia, from November 18, 2023, to January 3, 2024! Marvel at the dazzling light displays, be charmed by holiday-themed shows, and enjoy rides adorned with festive cheer!
Seize this chance to partake in an extraordinary holiday celebration! Secure your discounted Six Flags Over Georgia tickets from GreatWorkPerks today!
Highlights at the Celebration
Dazzling Lights:

Step into a winter spectacle illuminated by millions of twinkling lights, set to the tune of seasonal melodies, and enjoy special visits from Santa and his elves.

Santa Claus:

Visit Santa's North Pole workshop for a memorable encounter with the jolly man himself, complemented by delightful activities crafted by Mrs. Claus and the elves.

Entertainment:

Explore the magical winter wonderland adorned with captivating attractions, vibrant live shows, and surrounded by the joyous sounds of festive music.
Holiday Entertainment
NEW! The Grand Fir Lighting Spectacular and Oh What Fun! A Holiday Light Show:

Don't miss the illumination of our majestic 28-foot Grand Fir tree, leading into a mesmerizing LED light show perfectly synchronized with the festive music.

NEW! Together for Christmas:

Enjoy a heartwarming showcase of holiday classics performed at the Crystal Pistol Music Hall.

Bad Bob Humbug:

Engage in the holiday antics as the Sheriff and Sidekick battle the Christmas-spoiling Bad Bob Humbug.

Storytime with Mrs. Claus:

Cozy up at the North Pole and enjoy enchanting Christmas tales narrated by Mrs. Claus herself.
Winter Attractions
Candlelight Carousel:

Immerse yourself in the charm of the historic 1908 Riverview Carousel, spectacularly lit with over 100,000 lights and decorated with artificial snow, festive trees, and glowing candles!

Holiday Express:

Embark on a joyful journey aboard the Six Flags Railroad, set to the tune of beloved holiday melodies.

Merry Lane:

Stroll through a captivating tunnel of dancing LED lights, all rhythmically synchronized to classic holiday songs.

North Pole:

Experience the magic at Santa's workshop, filled with festive activities, and enjoy a special meeting with Santa himself.
Delights and Merchandise
Indulge in the festive season's delights with Italian comfort dishes from Mrs. Claus' Kitchen, complemented by exclusive treats like holiday pies, cannoli, and warm mini donuts. Gather around one of the park's three fire pits for a cozy marshmallow roasting experience.
Be sure to visit the Holiday Market and various retail spots for an array of holiday-themed gifts and souvenirs, ideal for capturing and sharing the holiday spirit!
Festive Surprises
Experience the magic of Holiday in the Park at Six Flags Over Georgia, a festive paradise adorned with dazzling lights, captivating entertainment, and cheerful attractions.
With discounted Six Flags Over Georgia tickets in hand, prepare to dive into a world of holiday joy, perfect for making unforgettable memories with loved ones this season!

Welcome to the Thrill Capital of the South, Six Flags Over Georgia! Extreme coasters, delicious treats to savor the moment, exciting performances, and fun attractions await guests of all ages at this exciting theme park. Your time at Six Flags will be unlike any other, as it is full of amazing and fun things to do! Experience the greatest attraction in Atlanta with your discounted tickets from GreatWorkPerks - you'll never regret it! Buy our discounted offers and have an incredible time at Six Flags Over Georgia!
The LOWEST-PRICED Six Flags Over Georgia Tickets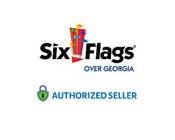 Lowest Prices Guaranteed!
GreatWorkPerks is an authorized seller of Six Flags Over Georgia discount tickets. We couldn't have thrived for over 30 years if we weren't highly trusted by our customers. We would love for you to join our family and enjoy the best price for Six Flags Over Georgia discount tickets, as well as other attractions nationwide!
Hassle-Free Transaction, Easy and Fast!
Another benefit of purchasing from GreatWorkPerks is that you do not need to print your discount tickets. Consider your phone your new best friend because all you need to do is present your e-tickets at the gates, and in you go!
What to expect at Six Flags Over Georgia?
Kids Rides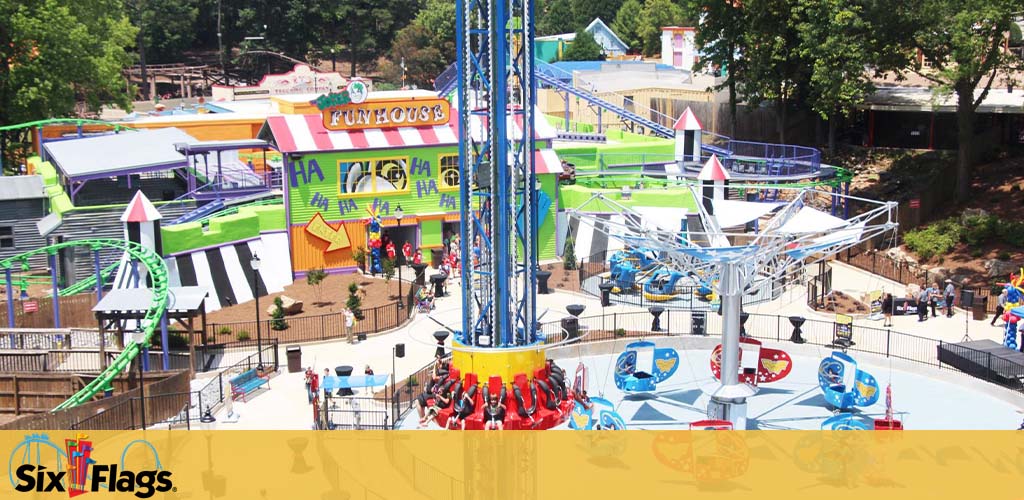 Young explorers will be thrilled by the ride's musical whirlwinds, twisting swings, and fun drops. Everyone can have a thrill here. There are so many kid-friendly activities that parents, and kids will love. The kid-friendly coasters zoom and soar, promising fantastic adventures just for the little riders!
Check out some of the top rides around that are perfect for your young explorers have fun and giggle. Height restrictions vary per ride.
Up, Up and Away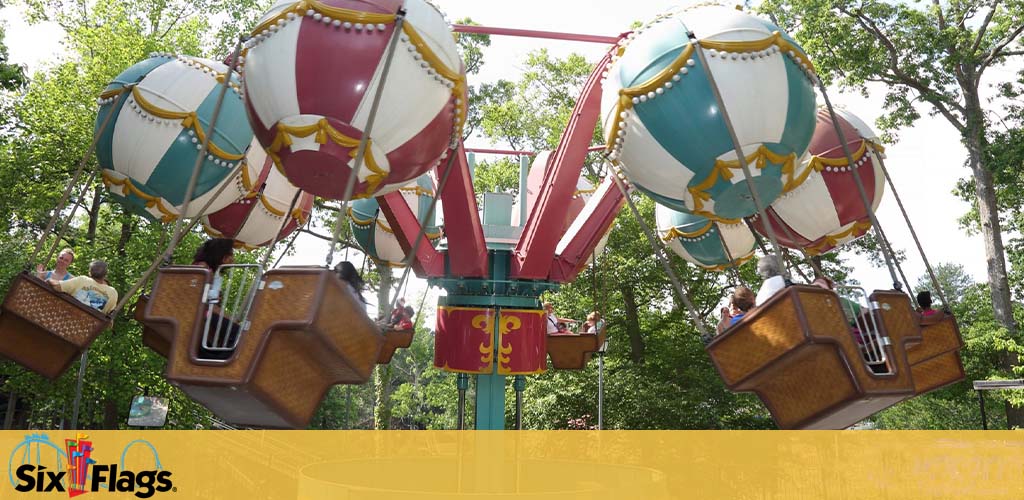 Hop in a basket beneath the striped balloons and float away through the air in a luxurious setting! You will fly high up into the air! As your private hot air balloon floats up and around in a whistling circle, you'll feel like you're cruising. Soar through the woods quickly and freely, you will be able to see the neighborhood beneath you as you feel the breeze. The balloons will begin to sway and tilt as your spin increases speed. Some first-time flyers might find this a bit overwhelming, but a group of four friends can quickly overcome your fears and enjoy the ride!
WONDER WOMAN Flight School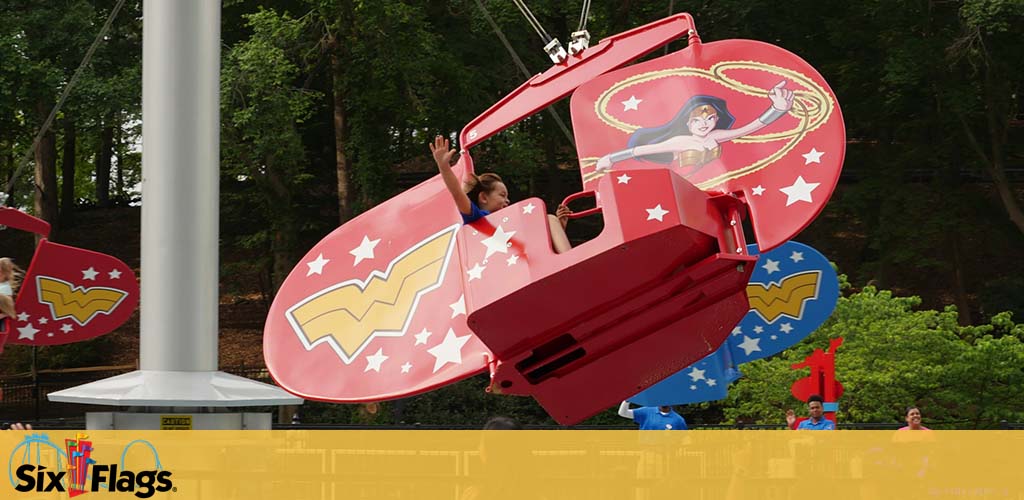 A total of eight separate aerial cars, each with a fixed rear wing and a movable front wing, make up this new exhilarating attraction. You'll be steering your aircraft, and you may decide whether to crank up the excitement for a hair-raising trip or relax and take it easy. The flight alone may be exciting enough, but thrill seekers at the controls have the power to alter the course of the journey at any time. Navigate your aircraft by controlling its front wing. You can make it go up, down, fast, slow, or do crazy dips and rises just by pushing or pulling the lever.
The BATCOPTERS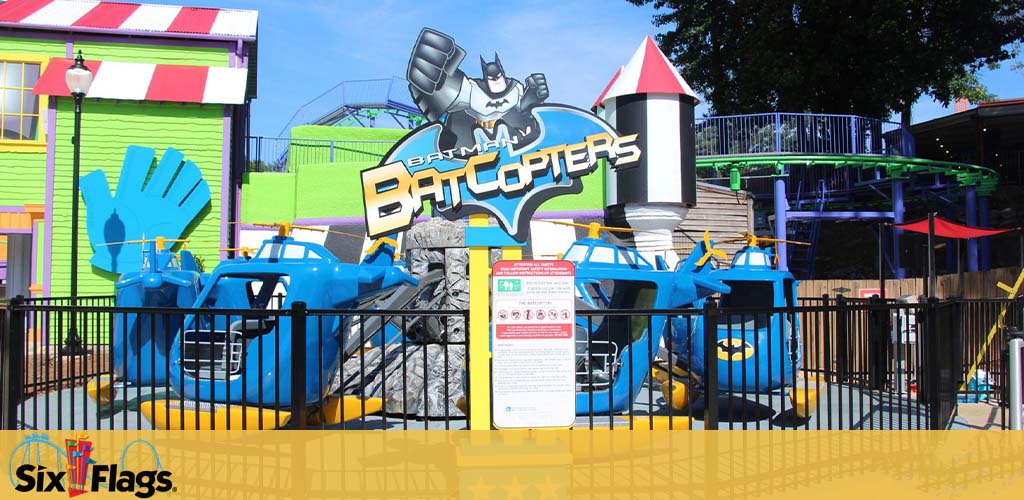 Join Batman and his elite squad of helicopters built to fly as they take you on an exciting adventure built specifically for kids! Each little aviator may choose their state-of-the-art aircraft, complete with a state-of-the-art flying propeller. These Batcopters have an easy-to-handle flight pattern that's great for new pilots. Young pilots will soar to the skies and monitor the GOTHAM area from above!
Family Rides
After sharing the thrill of these rides with your loved ones, you'll have stories to tell for years to come. Six Flags is very proud of being the ultimate destination for family enjoyment. It's time to lighten up and have some fun - there are so many rides waiting for you, from the most extreme to the most relaxing. Check it out!
THE JOKER Chaos Coaster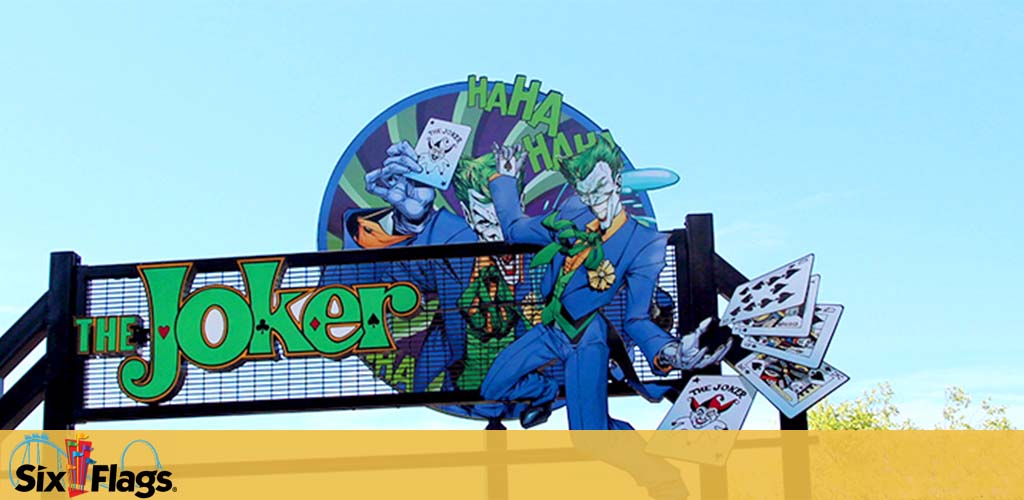 This ride is a masterpiece. You will hop on with many other riders and be on your way. Get ready to have the best time with family and friends on The JOKER Chaos Coaster! Prepare yourself for the craziness of seven looping tales of mayhem, where you will face your opponents while rocking back and forth. Are you ready to find yourself hanging upside down from a height of 72 feet? This mayhem ride is an incredible' choice that thrill-seekers will never want to miss out on!
THE JOKER Funhouse Coaster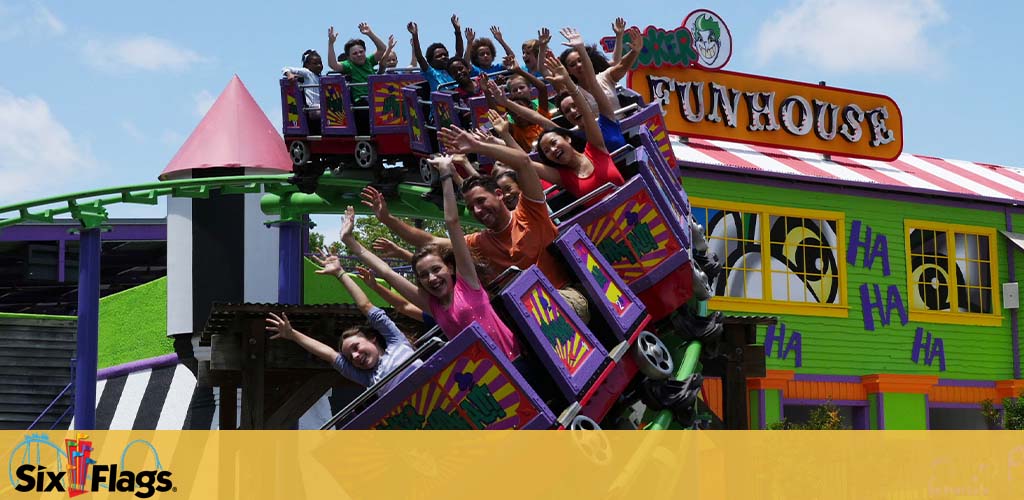 Ride along with THE JOKER on this timeless family coaster. Journey through the ultimate Funhouse full of crazy family fun! THE JOKER Funhouse Coaster is full of his usual tricks again, hoping to make you laugh. You will have a great time with your family on this fun ride. Get ready to race through the tracks at a speed of up to 30 miles per hour. This is a wholesome one-of-a-kind experience to try out!
There are so many family rides at the park! Make sure to ride them all!
Thrill Rides
Want some extreme excitement? This park has you covered. Some of the country's fastest, tallest, craziest, and most gut-wrenching rides are waiting for you. You might even ride a few record-breaking coasters. Six Flags Over Georgia is home to some of the world's most exhilarating thrill coasters; trust us! If you dare, you can check out some of the craziest rides when you visit.
Goliath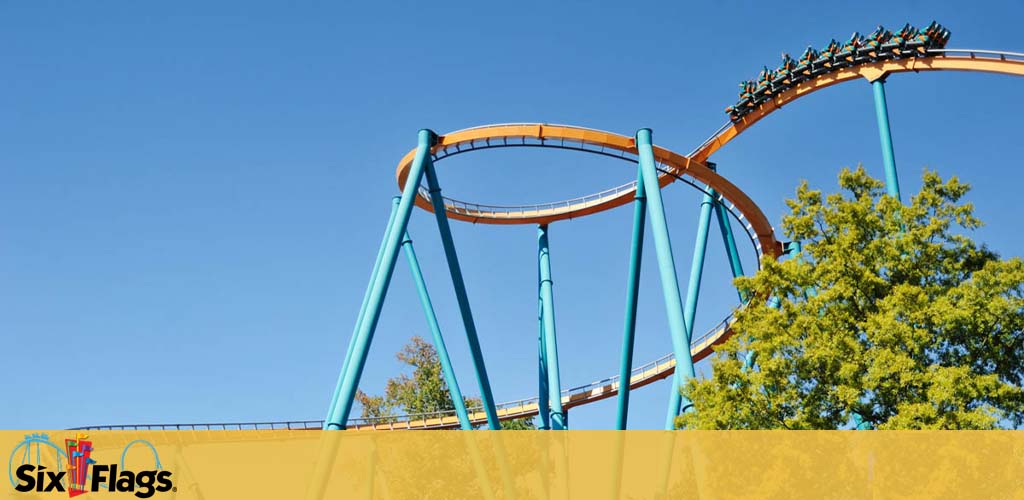 There are so many roller coasters, but Goliath is the BEAST! This thrilling kind of ride will carry you to the clouds above in no time. The first terrifying slope has a straight drop of 170 feet waiting for you at the summit. Are you ready for the extreme drops? This high-speed unique ride will blow your mind! Awesome, right? Try it out and tell us what you think!
Pandemonium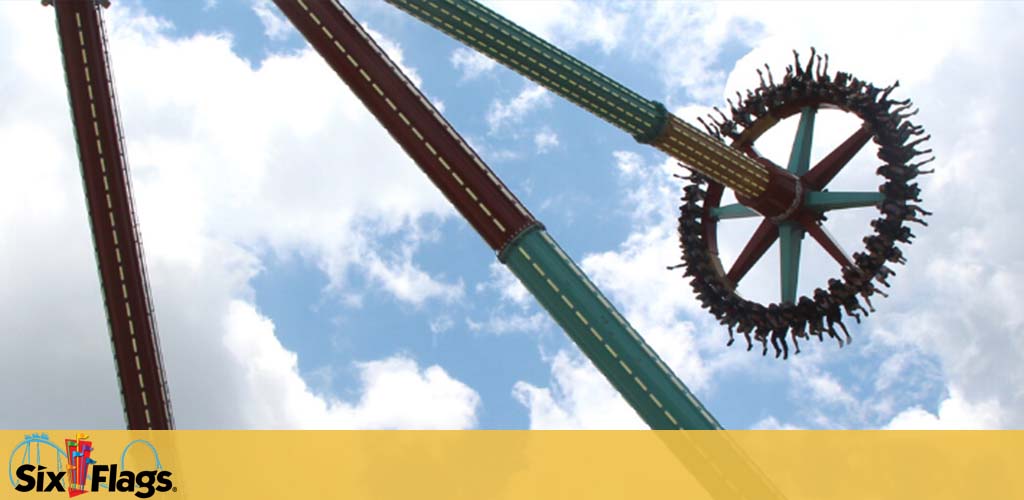 This 15-story gigantic disk will reach speeds of up to 70 mph as it whips back and forth, higher and higher, providing guests with an exciting trip over the Atlanta cityscape. Soar into the air at an exhilarating 147 feet, where riders will swing back and forth while whirling whimsically in a counterclockwise direction, giving them the sensation of weightlessness.
Twisted Cyclone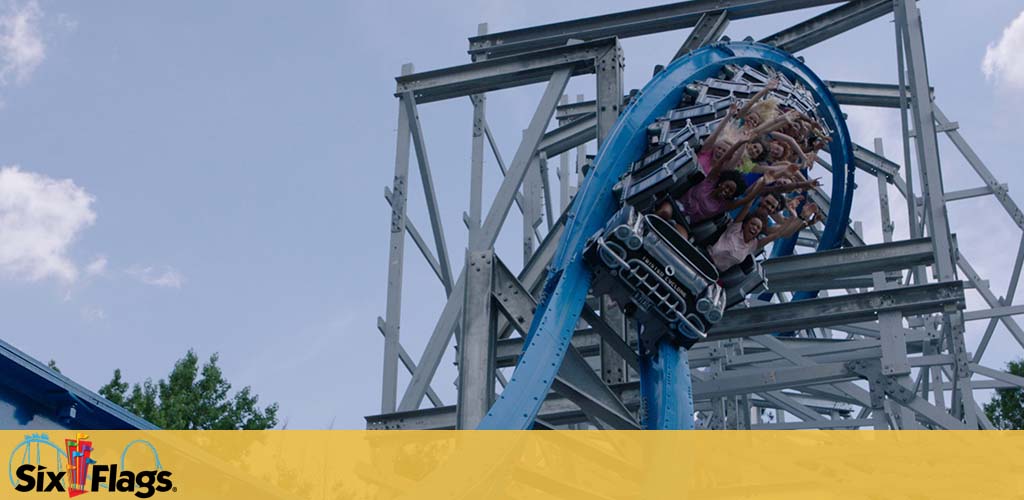 The Twisted Cyclone is a roller coaster with a wooden construction and a steel track that turns riders upside down three times for maximum thrill. You will feel the adrenaline rush as you plummet nearly ten stories down at an angle of 75 degrees and then perform a reverse cobra roll perpendicular to the earth. Feel the excitement as you perform a complete 360-degree zero gravity roll while floating in midair. Travel the almost 2,600 feet of track and experience ten heart-pounding airtime experiences.
GreatWorkPerks tips and tricks for YOU!
Purchase Six Flags Over Georgia tickets in advance.
What's not to be happy about when you can save money on tickets to a fun event by purchasing them from GreatWorkPerks Save up to 55% off regular admission when you buy your Six Flags Over Georgia tickets in advance. Best thing is you can avoid the lines at the entrance. No need to wait to purchase your ticket, just show your phone at the entrance!
Arrive early at the theme park.
To get the most out of your day at Six Flags Over Georgia, get there as early as possible. There are fewer people in the morning, so you may quickly get on and off at your own time and choose whichever rides interest you. It's easier to see multiple attractions when waiting times are minimal.
Bring only what's needed and allowed.
There are, of course, rules about what guests may and cannot bring into the parks. For instance, only service animals are allowed in the park, and there is no outside food allowed either. For a more detailed list of items that you shouldn't bring, please check out the answers to frequently asked questions like these below.
Download the Six Flags app for a better experience!
Your stay at Six Flags will be a lot easier using the mobile app. Get the most out of your visit to any of the Six Flags parks in North America by downloading the official app before you go! You can spend a day here or plan an entire season of adventures; either way, there's something for everyone!
Some of the features on the app that you might find helpful are:
The park's interactive maps to find your way around.
Pick a variety of dishes from a variety of restaurants.
Accurate day-to-day operating hours.
Place an online food order. Less wait, less contact.
Remember to drink water!
At Six Flags Over Georgia, you may have fun all day long in the sun Remember to keep hydrated during the day by drinking lots of water.
Frequently Asked Questions for Six Flags Over Georgia:
Are reservations required?

The park does not require reservations.

Is there free parking?

Unfortunately, there is no free parking. The standard parking costs apply.

Am I required to wear a mask?

The latest guideline released by Six Flags Over Georgia based on CDC and local health guidance states that:

Face coverings are no longer mandatory on your visit; however, it is recommended for unvaccinated guests.

How does the park ensure visitors' safety?

The visitors' health is the utmost priority of the park. The park encourages frequent hand sanitation by providing hand sanitizers throughout the park.

Does the park accept card payments?

Definitely! The park ONLY accepts cards and mobile payments onsite, including parking. There is cash-to-card devices found inside the park.

Can I bring my own food and beverages?

Guests are prohibited from bringing food, beverages, coolers, and grills into the park. Food allergies and infant food in non-glass jars are the sole exceptions. There are no outside beverages allowed.

What hours does Six Flags Over Georgia operate on?

The park has varying operating hours, usually from 10:30 AM to 8 PM. Please visit Six Flags Over Georgia's official website for the day-to-day update, or you may access them through their Mobile App.

What happens if it rains?

Indoor shows, gaming, and arcades are among the various attractions available, many of which are not weather-dependent. While rain or wind may cause some rides and performances to close, they will reopen as soon as the weather clears. Rainchecks and refunds are not available.

Are pets permitted?

Pets are not permitted inside the park, except for service animals. There are places to leave your pets near the front gate. These kennels are available for a fee set by the park. The park also provides water for your pets.

What are the best days to visit?

You should plan to visit when attendance is lightest. The best bets on dates to visit the theme park are Weekdays in the summer and any day in April, May, September, and October. Buy your discount tickets for a whole lot of fun!

How tall do you have to ride the roller coasters?

The height requirements vary for each roller coaster. You will receive the Park Map & Guide at the park and at each ride, and these requirements are subject to change at any time for your safety.

How soon can I receive my Six Flags Over Georgia discount tickets from GreatWorkPerks

Instantly after your purchase, along with your receipt!

Do I have to print my Six Flags Over Georgia tickets?

No. A great benefit of purchasing Six Flags Over Georgia tickets from GreatWorkPerks is just showing them on your phone at the gates for easy entry.

Does Six Flags Over Georgia have live shows?

Yes, they do! You will also find concerts and characters all around the theme park. It is the type of entertainment that will create a lifetime memory.

What are the most popular rides for thrill-seekers at Six Flags Over Georgia?

The best unique and adrenaline-pumping rides can be found at the park! Be sure to check out Goliath and Superman: The Ultimate Flight once you purchase your Six Flags Over Georgia discount tickets!

Where can I eat inside the park?

There are many dining options inside the theme park! Have your fill of chicken, fries, burgers, and many other tasty dishes. Plan your trip and buy your Six Flags Over Georgia tickets ahead of time at GreatWorkPerks
Last updated November 17, 2023