Check out other Six Flags locations:
Buy Six Flags Over Texas discount tickets through GreatWorkPerks to save up to 56%! Tickets start at $39.40 vs $89.99 gate price. Lowest prices guaranteed.
Weekday: Valid for any Monday to Friday at Six Flags Over Texas thru 1/1/24.
Weekend: Valid on any Saturday or Sunday thru 1/1/24.
**Holiday in the Park is included with park admission from November 19, 2023 to December 31, 2023.
Hurricane Harbor entry not included.
**Six Flags has limited purchases to 10 tickets per transaction. If you would like to purchase more than 10 tickets, please create a separate transaction for the excess.
NEW: Holiday in the Park!
Embark on a magical journey at Six Flags Over Texas this winter, from November 19 to December 31, 2023. Immerse yourself in a dazzling winter wonderland illuminated by countless twinkling lights. Experience the excitement of holiday-themed performances and enjoy the festive decorations adorning each ride!
This enchanting holiday extravaganza is an event that can't be missed! Secure your discounted Six Flags Over Texas tickets through GreatWorkPerks today, and step into a realm where joy and wonderment are around every turn, creating memories that will last a lifetime!
Holiday in the Park Highlights
Festive Attractions:

Dive into the heart of winter festivities with attractions adorned in holiday themes, accompanied by a symphony of festive tunes! Watch as the park transforms into a mesmerizing holiday spectacle!

Illuminated Wonder:

Witness a winter spectacle like no other, with millions of shimmering lights synchronized to seasonal melodies. Don't miss the chance to see Santa and his elves, bringing an extra touch of magic to the experience!

Santa Encounters:

Create lasting memories with Santa Claus set against a backdrop of stunning light displays. This special experience offers a charming and unique way to embrace the holiday spirit!
Winter Realms
NEW! Mystic Acres Selfie Haven:

Immortalize your festive moments in the brand-new selfie haven, designed for capturing those special holiday memories!

NEW! Krampus' Festive Fright Mansion:

Venture, if you dare, into the spine-chilling realm of Krampus, where holiday fear meets festive cheer. (Note: This is a separately ticketed event).

Illuminated Tree Extravaganza:

Marvel at the 70-foot Christmas tree, adorned with a breathtaking 360-degree display of holiday lights, showcasing the essence of festive traditions!

Luminous Candy Cane Village:

Explore a whimsically lit area, where the lights twinkle in harmony with holiday melodies, located in the enchanting France Section of the park.
Festive Performance Lineup
NEW! Nutcracker Spectacle:

Enjoy a delightful mini show featuring magical Nutcracker characters, bringing an enchanting streetmosphere to life with their festive presence!

NEW! Carol Claus Karaoke Extravaganza:

Sing along with Carol Claus in an interactive and joyous karaoke show, belting out your favorite holiday tunes in a spectacular setting!

Holiday Melodies at the Blacksmith Shop:

Listen to the heartwarming sounds of Christmas Crooners, performing live renditions of beloved holiday classics at the Blacksmith Shop.

Southern Palace Christmas Show:

Experience the award-winning spectacle at the Southern Palace Theatre, featuring classic holiday melodies and stunning visual displays, sure to captivate and enchant!
Seasonal Treats and Joyful Shopping
Indulge in the flavors of the festive season at Six Flags Over Texas with a delightful array of holiday treats. Satisfy your sweet tooth with rich holiday-flavored fudge, refreshing peppermint bark, and luxurious white chocolate candy apples!
In the spirit of the holidays, embark on a shopping journey through a wonderland of holiday-themed merchandise available at select retail locations throughout the park!
Enchanting Holiday Wonders
Immerse yourself in the festive magic of Holiday in the Park at Six Flags Over Texas! Be dazzled by an array of stunning lights, enthralled by captivating entertainment, and charmed by a variety of festive attractions!
Secure your discounted Six Flags Over Texas tickets today and step into a holiday wonderland. It's an ideal setting for creating unforgettable memories with your loved ones during this special season!

The First Six Flags Nationwide!
Have you ever wondered where the original Six Flags started? You guessed right, it's in Arlington, Texas! The largest and most thrilling theme park gives its guests the warm southern welcome with fun rides, amusements, entertaining live shows and more!
Six Flags Over Texas is a 212-acre park with lush views and multiple thrilling rides where you and the whole family can enjoy. They also feature a wide variety of live shows where you can kick back and relax! Numerous restaurants and dining options offer a wide array of delicious food to guests, also. What are you waiting for? Buy your Six Flags Over Texas discount tickets through GreatWorkPerks for your fun-filled family day!
Rides and Attractions in Six Flags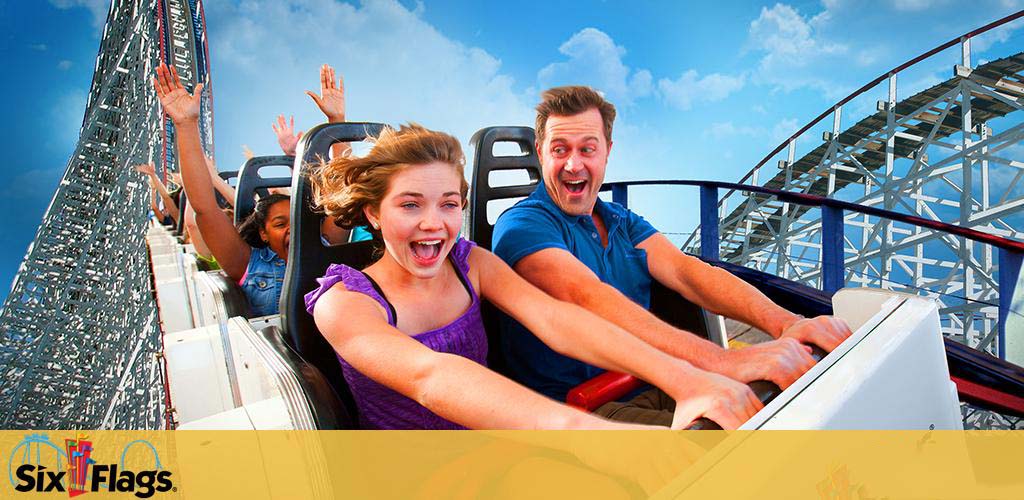 There are over 48 rides and attractions and other fun surprises waiting for you at Six Flags Over Texas! Enjoy all the fun with your GreatWorkPerks discount tickets! Make the best out of your visit by exploring all that Six Flags Over Texas has to offer!
Be sure to visit the highlights of Six Flags Over Texas, such as:
New Texas Giant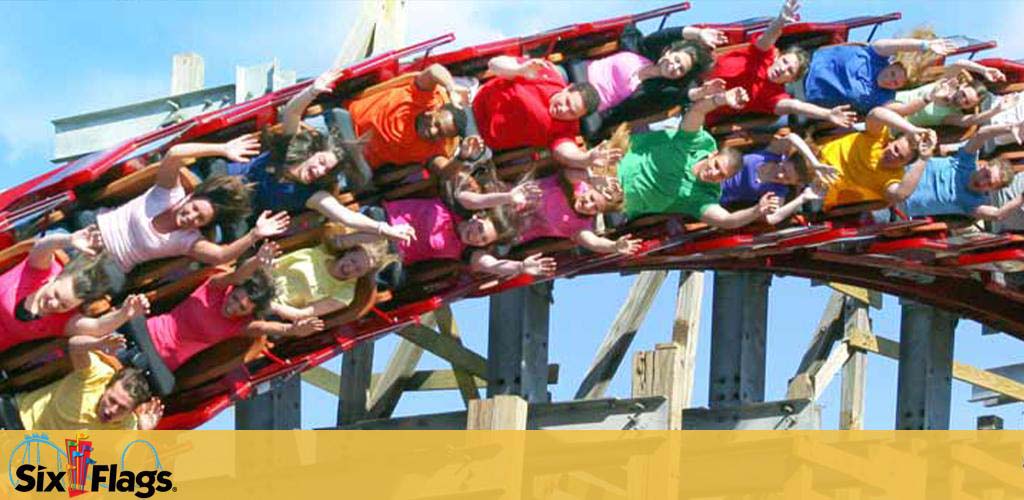 There's no debate for one of the best steel hybrid roller coasters in the world, the New Texas Giant. A hybrid coaster that combines the best classic wooden architecture and high-tech steel engineering. It all adds up to the smoothest high-speed wooden course on the planet.
The legendary Texas Giant first opened as a world class wooden coaster. To celebrate its 20th birthday, this magnificent structure was remodeled with the very latest in steel track technology, bringing back a classic coaster to the modern landscape.
Be sure to experience this gigantic ride with your Six Flags Over Texas discount tickets today!
Shock Wave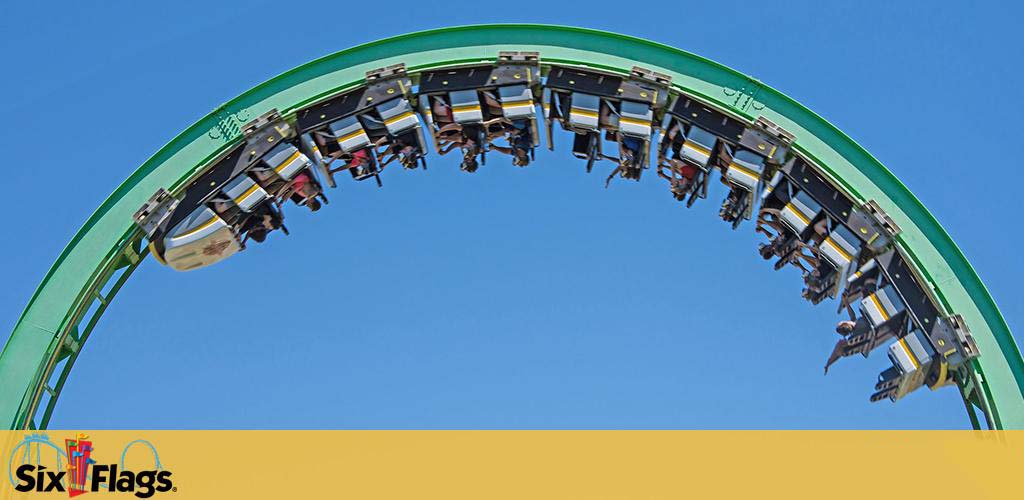 A double-looped 60 mile per hour steel roller coaster, famously known for its terrifying back-to-back loops, had thrilled riders for over 30 years. The forces of gravity will keep you nice and snug while you are thrown into a series of high banking turns, sharp, breathtaking dips and a high-speed whip-around, all designed to give you maximum airtime.
Have a looping time with our Six Flags Over Texas discount tickets!
MR. FREEZE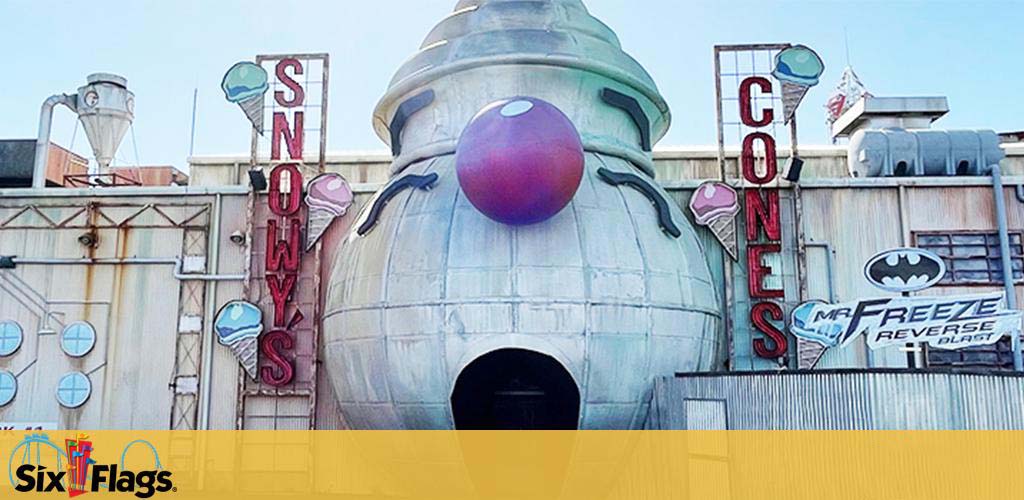 Batman's frosty nemesis uses a cutting-edge electromagnetic technology to immediately shoot you into a staggering high 90 degree twisting loop. Then you're thrown into a 180-degree overbanked turn, a big, glorious arch as wide as the sky. Careful, MR. FREEZE has saved the best part for last: a ridiculous straight launch up a 236-foot tower, only to do it again backwards!
Freeze from your seats with your Six Flags Over Texas discount tickets which you can purchase today!
Restaurants and Dining Options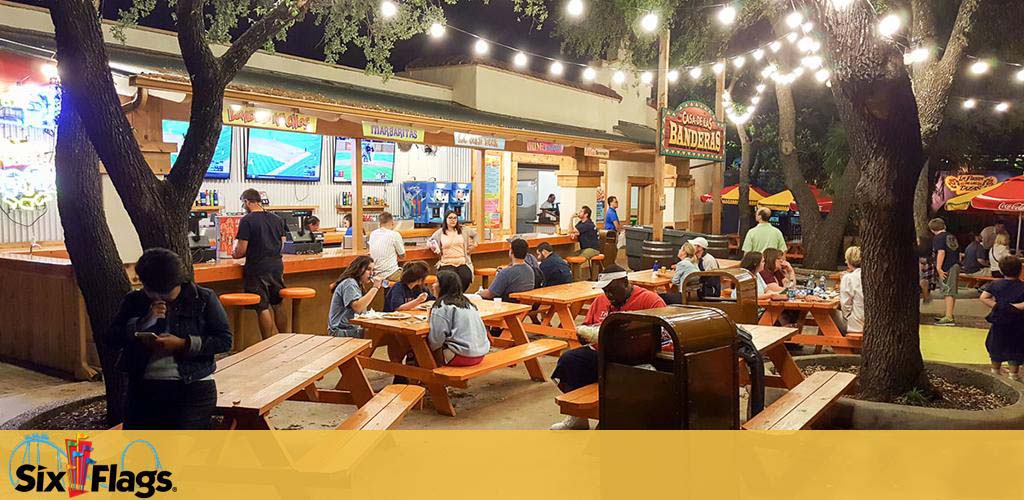 You won't have to walk around with an empty stomach during your visit! Stop by the famous food shops at Six Flags Over Texas that offer delicious food and snacks, such as turkey legs, hamburgers, fresh-roasted corn, pizza, chicken tenders, onion rings, fries, and other delicious meals!
Frequently Asked Questions about Six Flags Over Texas
Are reservations required to attend?

Reservations are no longer required. Be sure to grab your Six Flags Over Texas discount tickets today!

Where is the theme park located?

The theme park is located at 2201 E Road to Six Flags St, Arlington, TX 76011. Purchase your GreatWorkPerks discount tickets today and start having fun!

Are refunds or exchanges Six Flags Over Texas discount tickets allowed?

No, they do not offer refunds or exchanges for any reason.

What happens if it rains in the park?

They may temporarily shut down rides and outdoor shows until the weather clears up and reopen them when it is safe. Unfortunately, they do not offer rainchecks or refunds for rain as they have indoor activities, such as games, arcades, and indoor shows, to keep guests entertained.

What does my admission ticket include?

With your GreatWorkPerks Six Flags Over Texas discount ticket, you have access to all shows, rides, and attractions as well as special events.

What are the height requirements for the rides at the park?

The height requirements vary for each attraction. You can check the requirements in the Park Map & Guide that will be handed out to you at the park. You can also check the requirements at each ride. Height requirements are subject to change any time.

Will I have to pay for parking when I visit?

Yes, single-day parking is $24.94 on their website.

Do children get into Six Flags Over Texas for free?

Only children two years or younger get in for free and do not need a ticket to enter the park.

What forms of payment does the park accept?

The theme park accepts card payments only at any of their locations including restaurants, retail stores, games, ticket windows, and parking toll booths. You can either pay for purchases using a Visa, Mastercard, American Express, Discover, or debit card. Only have cash? You can convert your cash to a prepaid debit card at one of the multiple kiosks located throughout the park. We highly encourage you to pre-purchase your parking, tickets, and other daily needs online before visiting the park.

Can I bring outside food and drinks with me inside the park?

Only guests who have special dietary needs, food allergies, and infant food are allowed to bring outside food into the park. The containers must be non-glass. Park Security or Guest Relations will need to be notified to provide a stamp when these are accepted.

Can I leave and re-enter the theme park on the same day?

Yes, but you must get your hand stamped before exiting. The stamp will allow you to re-enter through the gates.

Are lockers available for rent within the park?

Yes, but they are subject to availability, and there is a separate fee to use them.

Do I have to print out my discounted GreatWorkPerks tickets to Six Flags Over Texas?

No, with GreatWorkPerks, you can just show your discount tickets on your phone at the gates for easy entry.

How soon do I receive my discount tickets from GreatWorkPerks

You will receive your GreatWorkPerks discount tickets to Six Flags Over Texas instantly after your purchase along with your receipt!

Are service animals allowed to accompany me within the park?

Yes, they are welcome in the park, but most rides are not designed to accommodate service animals.

Are wheelchairs and strollers available for rent?

Yes, wheelchairs, Electronically Controlled Vehicles (ECV), and strollers are available for rent on a first-come first-served basis if guests should need them.

Is smoking allowed at the park?

Smoking, including tobacco, marijuana, e-cigarettes, and vaporizers, is not allowed inside Six Flags Over Texas; however, there are designated smoking areas nearby.

Can I purchase alcoholic beverages?

Yes, they sell alcohol to those who are 21 years old and over, and have a valid ID.

Are face coverings required on the park?

No, they are not required, but they are recommended for those who are unvaccinated.
Last updated November 21, 2023.