Buy your USS Midway discount ticket through GreatWorkPerks today starting at only $15.00! Enjoy exclusive discounts – travel more and spend less! Lowest prices guaranteed.

Please note that the USS Midway discount tickets' 10:00 a.m. time slot allow you to visit anytime during the day between 10 a.m. – 4 p.m.
USS Midway is open daily at 10 a.m. Last admission is at 4 p.m., and the ship closes at 5 p.m. USS Midway is closed on Thanksgiving Day and Christmas Day.
Please note that USS Midway only allows cancellation on reservations at least 24 hours before date of visit. Tickets expire December 31, 2023.
Purchase your GreatWorkPerks USS Midway discount ticket starting at $15.00 and save up to 28% off per ticket. Have fun on the virtual simulator and fly away using our discount tickets. At GreatWorkPerks, we guarantee you that you travel more while spending less!
Ticket Details
10:00 AM slot. Please note that our discounted USS Midway ticket allows you to visit anytime of the day between 10:00 AM – 4:00 PM.
USS Midway is open daily from 10:00 AM and closes at 5:00 PM
Enjoy full access to 30 various restored aircrafts and many other interesting activities!
Run-Through USS Midway San Diego
The USS Midway Museum brings history to life with more than sixty historical aircraft exhibits that have been reconstructed. Explore planes from World War II and the Korean War, as well as virtual reality flight simulators. Experience what it was like to be an aviator on the Midway. These simulators allow visitors to launch an F/18, strike their targets, and complete missions. The museum also has a theater, which shows a short film on the Battle of Midway. This film recounts the events of the battle, narrated by those who were present during the battle. You can listen to presentations that were given by retired Navy pilots about how aircraft took off and landed on the carrier, an operation that was considered to be extremely risky.
The Midway Museum offers the most comprehensive and in-depth cross-section of carrier aviation anywhere in the world, with more than 30 restored aircraft and approximately 10 acres of exhibits and displays to explore. From high up on the bridge all the way down to the main engine room, you will be taken on a one-of-a-kind battleship trip that will teach you about this iconic American freedom emblem. During its 47 years of duty, the Midway transported aviators, sailors, marines, and a powerful idea: freedom is something that should be defended and preserved both on land and at sea. Their individual experiences of war and hope while serving aboard this legendary carrier serve to remind us that her legacy will live on, and that the spirit of service and sacrifice will continue to be a part of each of our lives. Watch the tales of six brave individuals in United Stories of America®, a new documentary series produced by Midway and brought to you by USAA.
Purchase your USS Midway discount tickets now and discover all the secrets aboard the USS Midway!
Count On GreatWorkPerks For Your USS Midway Discount Ticket
Count on GreatWorkPerks for your USS Midway Museum Discount Ticket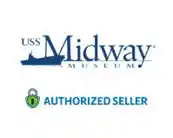 Most affordable Tickets in the Market!
Our company guarantees to give you the best prices on your discounted tickets to your favorite attractions. We provide our customers with exclusive discounts and the best prices for USS Midway Museum. We have the lowest-priced USS Midway tickets and discount passes in the market and great corporate benefits to thousands of companies. Buy your discounted tickets now and start enjoying the best discounts in the industry!
No need to Make a Reservation
GreatWorkPerks provides a great advantage: our tickets allow you to visit USS Midway Museum on the day that most convenient for you. You don't have to make a reservation! Isn't that great? You can use your USS Midway discount tickets whenever you want!
Hassle-Free Transaction, Avoid Long Lines!
You will pay less, and receive your tickets immediately! Just show them when you arrive and start enjoying your adventure right away. Purchase your discounted USS Midway tickets!
Sign up for Free and Access Exclusive Discounts!
Here is the perfect part: company sign-up and individual registration are totally free with your employee access code (EAC) or with your work email address. After registration, you can enjoy huge discounts on theme parks, water parks, museums, and other adventures across the United States!
What is included in your Uss Midway Discount Tickets From GreatWorkPerks
All attractions, exhibits, a self-guided audio tour, and indoor and outdoor activities at the museum are included in our discount USS Midway discount tickets. These are genuine discount tickets, we have been a trusted seller for more than 30 years. Another great thing is that you don't have to make a reservation for your visit and pay different prices at checkout. GreatWorkPerks is the place to go!
Automated Audio Guided Tour
The price of admission includes a self-guided audio tour that you and your family can experience at your own pace. The audio tour brings Midway's history to life and gives you the chance to experience what it was like to live onboard a floating metropolis at sea! Midway's history is brought to life through this audio tour.
TIP: To make the most out of the attraction's Audio Tour, it is essential that you bring your own wired earbuds or headphones with you when you go there.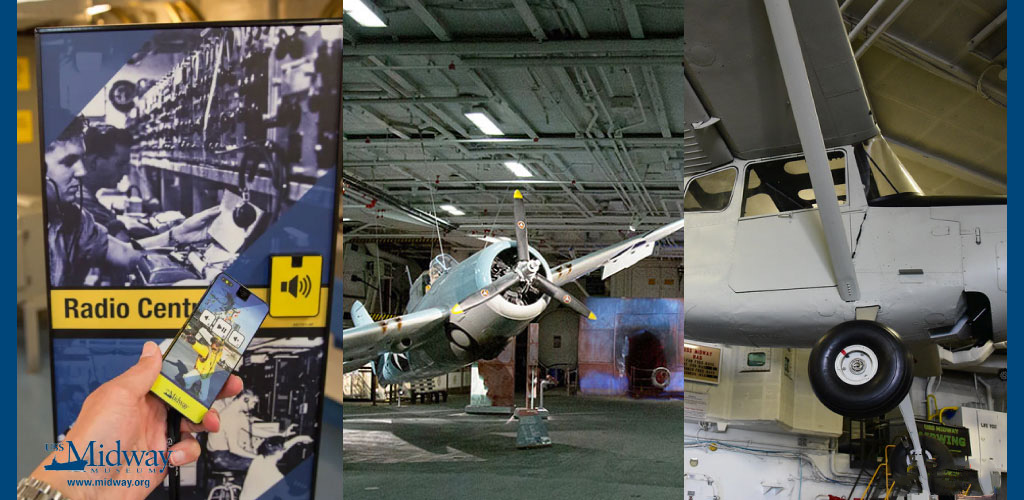 Self-Guided Audio Tour
The audio tour of Midway is divided up into three parts:
Below Deck: Exploring the Sick Bay, Galley, Laundry Room, and Engine Room are just few of the areas you can visit on the famous Midway while listening to sailors discuss their routines aboard the ship.
Hangar Deck: Hear from former Midway Sailors what it was like to drop anchor, sleep in a bed designed for enlisted sailors, and pilot aircraft during World War II.
Flight Deck: Listen to pilots from the famous Midway explain what it was like to take off from this floating airport with more than 20 different aircraft on the flight deck. Make sure to check out the Admiral's and Captain's Country, as well as the pilot Ready Rooms!
The trip is self-guided, so guests can select whatever sights they would like to learn more about. Guests should plan to spend between two and four hours to complete the audio tour.
Family Self-Guided Audio Tour
This Family Self-Guided Audio tour is perfect for kids! Airman Sam Rodriguez takes children on an educational and amusing audio tour of the aircraft carrier, and families can follow him as he guides their children to more than 30 different areas throughout the ship. Stopping by the Docent Information Center at the beginning of your stay to find out more about how your child can earn his or her Junior Pilot Wings is a great way to add some extra excitement to your trip.
The length of the Family Audio Tour is determined by the fact that it is a self-guided tour; therefore, participants are free to select which areas and stops along the tour they would want to visit and listen to. Guests should plan to spend around two and three hours participating in this trip.
Audio Tour Languages To Choose From
There are many languages to select from! The self-guided audio tours, and the map of the museum, are available in the following languages: English, Spanish, Japanese, and Chinese.
Take Part in the Exhibits Using Our USS Midway Discount Tickets
Examine airplanes that were active during World War II and get inside their authentic cockpits. Participate in the jaw-dropping Battle of Midway Theater and explore the interactive displays.
Hangar Deck Exhibits Highlights
When you visit this famous aviation museum, make sure you fasten your seatbelt and get ready for the experience of a lifetime! Your discounted tickets for the USS Midway will allow you to get a glimpse magnificent planes, up-close and personal.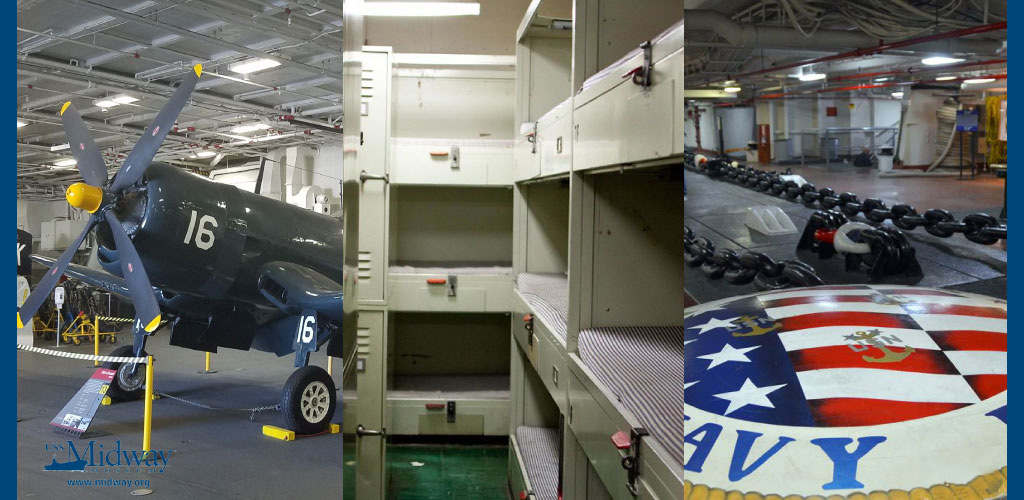 Battle Of Midway Exhibit
Take some time to visit one of the most interactive exhibits on the Battle of Midway before proceeding to the holographic theater. These displays include the meticulously rebuilt F4F Wildcat fighter and SBD Dauntless dive bomber aircraft. Try this out using our USS Midway discount tickets.
The Bird Dog
The exceptional role that the USS Midway played in rescuing refugees when Saigon fell in 1975 is commemorated in the Operation Frequent Wind display. A replica of the Bird Dog light plane, which was carrying an entire family when it was forced to make an emergency landing on the Midway's Flight Deck, can be seen perched right above this display. Purchase our discount USS Midway ticket today and witness this historical attraction!
The Engine That Won The War
Investigate the intricate inner workings of a World War II aircraft, the R-2800 Twin Wasp. Explore the engine, which has been notably sorted to demonstrate all of its parts. This exhibit is one of a kind among the displays. Explore this using our USS Midway discount ticket - the most affordable in the market!
WWII Aircraft
The USS Midway shows military aircraft designs, such as the F4U Corsair, TBM Avenger, and SNJ Texan utility plane. Learn more about the aircrafts from the World War II. Try this one out using our USS Midway ticket.
Enlisted Sailor's Bunks
Take a look at the conditions in which the team slept! To get a feel for what it was like to sleep underneath the Midway's action-packed Fight Deck, try laying down on one of the bunks using our USS Midway discount tickets.
Gallery Deck Exhibits Highlights
See a timeline of the Midway's Carrier Air Wing, learn about the history of naval helicopters, and get a sense of the routines of the pilots and their support staff in the Squadron Ready Rooms, located below the flight deck.
Fo'c'sle (Anchor Chain Room)
You're welcome to come on board and check out the anchor chains in the fo'c'sle. With our USS Midway ticket, not only will you have a fantastic time, but you can also use this space to learn about knot tying and improve your own abilities! So much vital information to discover.
Command Information Center (Cic)
Investigate the ship's brain and operational hub, the Command Information Center (CIC). There is so much to learn!
Carrier Air Group (Cag)
The regular activities of the Midway Air Wing are detailed in the CAG sections. Study their schedules and the habits they developed to achieve success. When you buy from us a USS Midway ticket, you'll get the most affordable deal offered.
Helicopter History Exhibit
Find out where helicopters came from and how they came to play such a crucial role in naval aviation. Don't miss out on this special midway presentation made for you. Reserve your USS Midway discount ticket with us now!
Flight Deck Exhibits
The Midway Flight Deck is home to almost twenty distinct aircraft types. Explore the Bridge, and the Captain's and Admiral's quarters. Learn about the fighters, bombers, and helicopters that ushered naval aviation into the jet age. Come see for yourself what it takes to land a plane at the world's smallest airport. Learn about the technologically advanced command center the Midway's naval officer used to wage Operation Desert Storm, explore the ship's global communications system array, and relax in the captain's in-port cabin.
Midway Airwing
There are twenty-six distinct aircraft on the flight deck of the USS Midway. These range from jet fighters and assault planes to helicopters and other specialized designs. Access to these 26 aircrafts using our USS Midway discount tickets from GreatWorkPerks.
You won't believe the enormous amount of historical facts you will learn along the way. The discounted tickets we have for you for the USS Midway Museum come with all of these extras.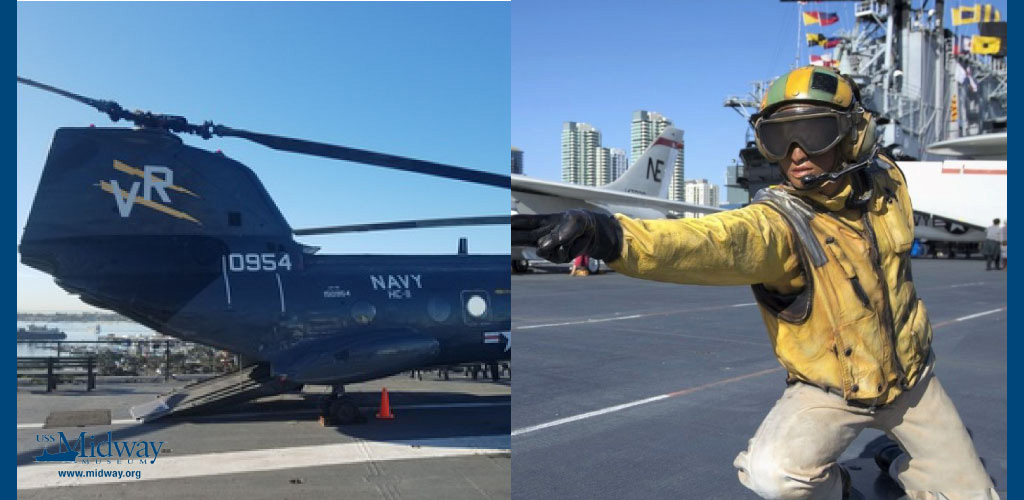 Meatball Exhibit
This exhibit recreates Fresnel Lens Optical Landing System as well as an interactive display that explains how the unusual lighting equipment that was aboard the USS Midway helped in the process of landing the aircraft. Do what it takes to be an aviator using our USS Midway discount ticket!
Pilot Ready Rooms
On the Midway, there are a total of seven pilot ready rooms, each of which is furnished by a different set of enthusiastic volunteer organizations. The guests will be given an introduction to the exciting field of carrier aircraft when they visit these exhibit places with our USS Midway ticket.
Ship's Island / Bridge
The Island/Bridge, which may be found atop the Island superstructure on the Midway, is open for explorers with our USS Midway discount ticket. From this vantage position, the captain was able to drive the ship and keep an eye on everything going on in the environment.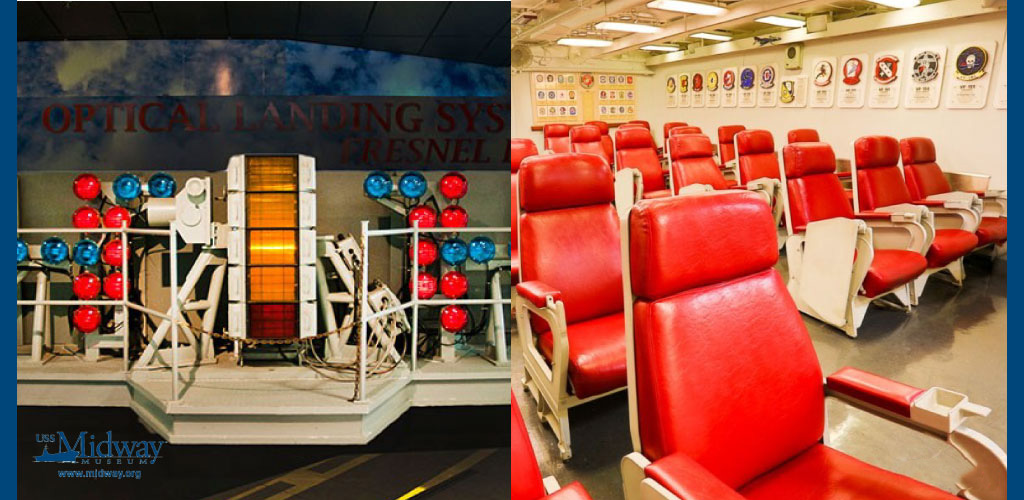 Captain's And Admirals' Country
Below the Flight Deck are the Admiral's quarters and the Command Center, where Operation Desert Storm was planned and carried out. Explore the complicated Radio Message Center as well as the Inport Cabin with the help of our USS Midway tickets.
Below Deck Exhibits
Climb into the tiny bunks that young sailors called home, watch a mobile medical unit, learn about what it takes to make more than 14,000 meals every day, and descend below the waterline to tour a vast engine room and the facilities that kept it running. All of these are accessible with your USS Midway discount ticket from GreatWorkPerks
Chow Line / Galley
You will be able to learn what it takes to produce daily food for the ship's crew by visiting the Chow Line and Galley displays, which are located below decks and may be found in the same area. Your USS Midway discount ticket from will grant you entry for this galley exhibit.
Midway Chapel
You will be able to gain some insight into the ways in which the spiritual needs of the many different religious traditions were represented on board the Midway once you pay a visit to the Chapel that is located on board the ship.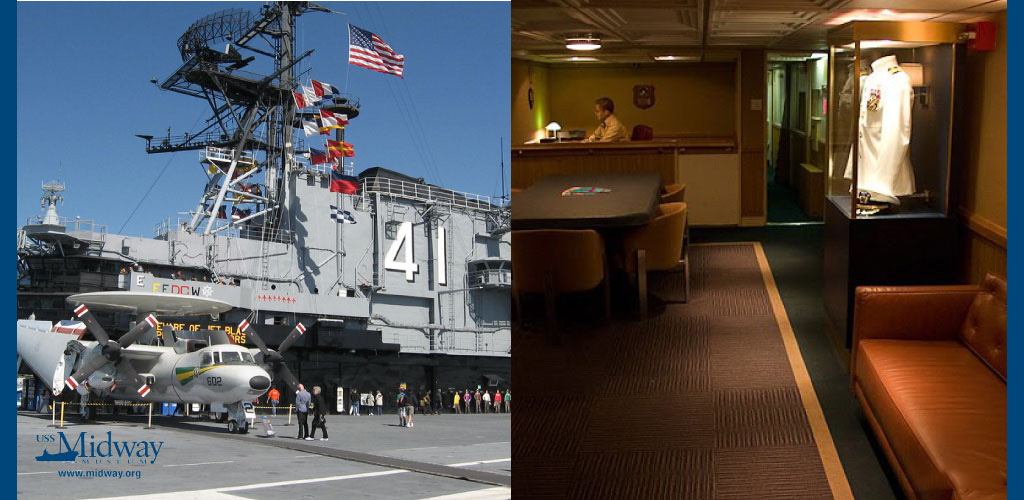 Wardroom
Learn how the officers of the USS Midway dined and interacted with one another in the Wardroom exhibit. This room was frequently used by the ship's pilots. The exhibit includes a display of the ship's log, which documents the ship's history. Through GreatWorkPerks, you can get big discounts on your USS Midway ticket.
Sick Bay / Dental
Visit Sick Bay and Dental exhibitions to get an inside look at how the crew of the USS Midway received the medical care they need, from emergency procedures to regular dental checks. Visit this exhibit using our USS Midway discount tickets and learn more!
Engineering
You can investigate the Engine Room and the Main Engine Control, both of which have been restored, if you go down many decks into the Midway with our USS Midway discount ticket.
Activities Included In Your USS Midway Discount Ticket
Battle Of Midway Theater
During your time in Midway, you shouldn't miss the opportunity to see "Voices of Midway," an engaging multimedia film on the Battle of Midway. The film will take place in the theater. The theater has a total of ninety available seats.
This intriguing film that is only fifteen minutes long tells the story of one of the most important naval fights that took place during World War II. The battle in question took place in the Pacific Theater. The fight is relived through the eyes and words of the heroes who bravely took part in this major chapter in the chronicles of American history.
This instructive journey is one that you won't want to skip out on! Your USS Midway discount ticket covers this activity.
Guided Island Tour
Enjoy a one-of-a-kind tour of the ship while it's docked, led by one of the world-class volunteer docents at the Midway!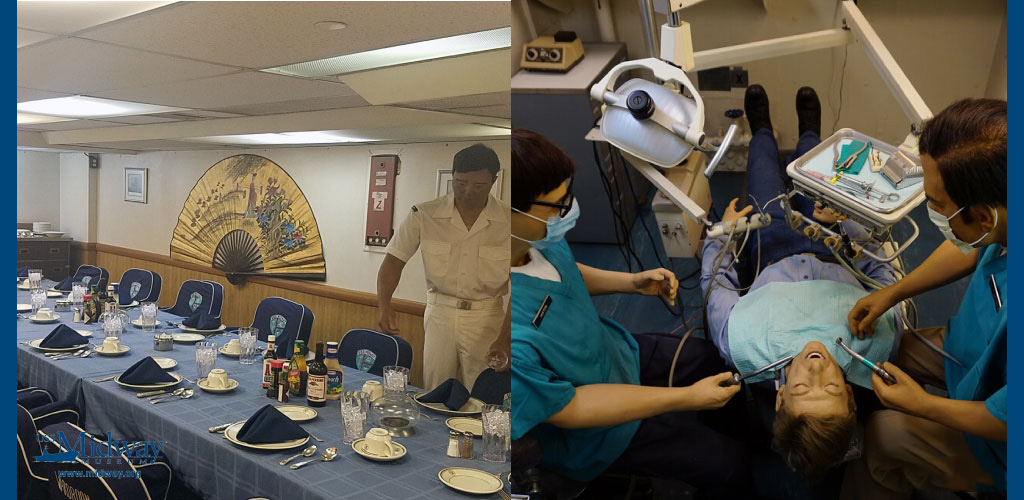 On an aircraft carrier, the island acts as both the nerve center for the entire ship and the control center for flight deck operations. It is located in the middle of the flight deck. On the flight deck, you'll find the island, which towers higher than any of the planes that are currently on board. You will go through the ship's navigation and flight control departments as part of the guided Island Tour with our USS Midway discount ticket. This tour will need you to ascend serpentine ladders and make your way around the ship.
You will have knowledgeable Midway Docents guiding you through the exhibit as you go. They will explain things like Air Operations, Pri-fly, the Navigational Chart Room, the Captain's Bridge, and the Captain's at Sea Cabin.
Junior Pilot Program
The perfect on-board entertainment for families who visit with kids! During this entertaining and educational audio tour of the aircraft carrier, which will take place under the direction of Airman Sam Rodriguez will take you and the children to more than thirty distinct locations, After the children have completed all of Sam's tasks, they will be invited to a special ceremony at Midway where kids will be awarded their Junior Pilot Wings!
Always keep an eye out for new opportunities to earn your wings! To get started, you should first make your way to the Information Booth, which is positioned at the aboard entry, so that you can pick up one of Sam's activity sheets. You will need to follow the instructions on the sheet in order to get around the ship in order to respond to the questions that Sam asks on the page. The instructions will guide you around the ship. Return to the Information Booth once you have finished your tour so that you can present the completed page to the Docent who is working there. After that, he or she will preside over a short ceremony during which your kids will be presented with your Junior Pilot Wings.
Questions? Talk to one of the volunteer docents who are wearing bright yellow hats. They will be happy to answer any questions you may have. Have a good time while using our USS Midway discount ticket and do everything it takes to obtain those wings!
Catapult & Trap Talks
Discover how aircraft landed on and took off from carrier decks with the help of expert volunteer Docents who have had first-hand experience with both operations.
Navy pilots have some of the most exciting and nerve-wracking situations of their careers when they take off and land their planes aboard aircraft carriers. The challenging procedure of taking off (also known as "catapult") and landing (sometimes known as "trap") on the restricted flight deck of an aircraft carrier is broken down by highly knowledgeable Docents, many of whom are themselves former Navy pilots.
These Catapult and Trap Talks are presented every day on the flight deck during normal museum hours, and they are included in the admission USS Midway tickets.
New And Improved Accessibility
The Museum has made many changes in order to welcome all guests throughout the years.
The Museum has made around sixty percent of its exhibits accessible to wheelchair users by installing a number of elevators and access paths positioned throughout the building. A detour that will leave you with a smile across your face!
Wheelchair Accessible
There is an elevator that travels from Navy Pier to the ship entrance, as well as an elevator that travels from the Flight Deck to the Hangar Deck and from the Flight Deck to the second deck.
On both the Hangar and the Flight Decks, there are bathrooms that are accessible to wheelchair users. You can borrow complimentary wheelchairs if you need to. About sixty percent of the Midway's attractions are accessible to wheelchair users.
Service Animals
The Midway welcomes those with disabilities who rely on service animals.
There must be a leash or harness on the animal at all times, and the animal must be under the handler's control at all times. The maximum allowable length for a leash is 6 feet. We regret that we cannot accommodate any customers who may be traveling with pets, emotional support animals, or service animals in training. Due to the presence of ladders, confined spaces, and the intricate nature of the design of Midway, the use of assistance animals may be restricted or prohibited in certain locations.
ASL & Audio Descriptive Tours
Guests who have problems hearing can take advantage of both the written audio tour script as well as the American Sign Language (ASL) tour that is offered by The Midway. A touchscreen device measuring 3.5 inches is used for the American Sign Language Tour. On this device, information about the tour may be seen being signed by an ASL interpreter. It is equipped with a captioning system.
They also conduct an Audio Descriptive tour for our guests who are blind or have low vision. This tour takes guests on a voyage around the ship's most significant features and is ideal for guests who are blind or have low eyesight. The opportunity to make a request for the tour gadgets is available to guests who arrive with sighted companions. Guests who are participating in the Audio Descriptive tour who are not accompanied by a sighted companion have the option to inquire for the aid of a volunteer Docent guide throughout their visit.
You can go on either of the ship's excursions as long as you pay the admission fee, which is included in the price of our USS Midway discount ticket.
Accessibility Video Tour
There are video kiosks situated in convenient positions on the Flight Deck, the Hangar Deck, and the Second Deck of the aircraft. These video kiosks present condensed overviews of locations and exhibitions that are difficult to reach in a feasible way. Around 60% of the exhibits are accessible to individuals with mobility challenges. Don't overlook the opportunity to get your USS Midway ticket through GreatWorkPerks today.
Frequently Asked Questions about USS Midway
Are reservations required at USS Midway?

Yes, reservations are required at USS Midway. Your dated discount tickets from GreatWorkPerks serve as your reservation.

Where is USS Midway located?

USS Midway Museum's full address is 910 N Harbor Dr., San Diego, CA 92101.

What are the operating hours of USS Midway?

USS Midway is open from Monday to Sunday from 10:00 a.m. to 5:00 p.m., and the last admission is at 4:00 p.m. They are closed on Thanksgiving Day and Christmas Day.

How much are general admission tickets for adults for USS Midway?

General admission tickets for adults when bought directly from the museum are $26.00 each. The same USS Midway tickets are discounted to $20.00 when purchased from GreatWorkPerks.

How much are general admission tickets for children at USS Midway?

General admission tickets for children (ages 6-12) when bought directly from USS Midway are $18.00 each. The same USS Midway tickets are discounted to $15.00 when purchased from GreatWorkPerks.

Do kids get into USS Midway for free?

Children who are five years old or younger get in free. Active Sworn Law Enforcement, Active-Duty Military, and Active Sworn Firefighters all with a valid ID also get in free.

Do the discount tickets to USS Midway have expiration dates?

Yes, the discount tickets to USS Midway expire on December 31, 2023.

How soon do I receive my discount tickets for USS Midway?

Instantly! Right after your purchase, your receipt and your USS Midway discount tickets will be sent to the email address that you provided.

Do I need to print my discount tickets for USS Midway?

No, you do not need to print your discount tickets to USS Midway. You can show them on your mobile phone for easy entry.

Does USS Midway have restaurants?

Yes, the museum has Café 41 and The Jet Express, which are open from 11:00 a.m. to 3:00 p.m. and 10:00 a.m. to 4:00 p.m., respectively.

Where can I buy gifts or memorabilia at USS Midway?

The museum has Jet Shop, a gift shop on the hangar deck, which is open from 10:00 a.m. to 5:00 p.m.

Is there free parking at USS Midway?

The museum does not have their own parking, but there is a parking lot owned by the Port of San Diego on Navy Pier next to USS Midway. This lot can only accommodate passenger vehicles, no RVs. Parking usually costs about $10 to $20 depending on the time of year.

Is the museum wheelchair accessible?

Yes, there are multiple elevators available to the different exhibits. Wheelchairs can also be rented on a first-come first-served basis. Approximately 60% of USS's exhibits are wheelchair accessible.

Are pets allowed inside USS Midway?

No, pets are not allowed inside the museum except for registered service animals.

Are face masks required during the visit to Midway?

They are required for those who are unvaccinated and highly recommended for those who are vaccinated while indoors.
Last updated March 04, 2023.
USS Midway Museum Tickets